Happy Friday! I am slowly but surely Transforming The Office For Under $30 Part I.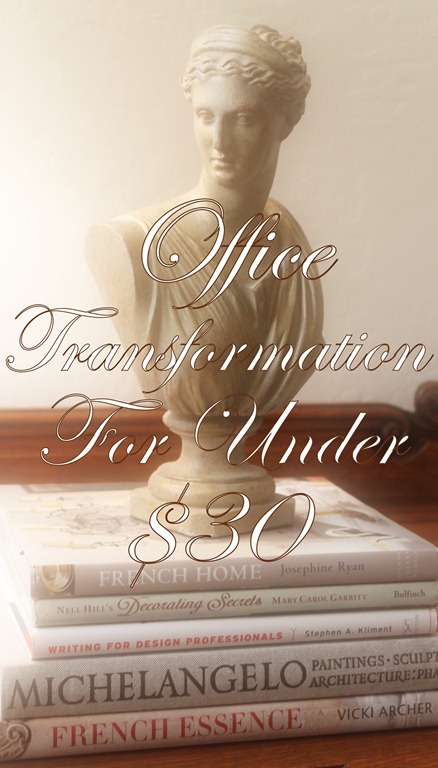 Transforming The Office For Under $30 Part I
This was the office space when we moved into the house in July. Can you say dark and dreary?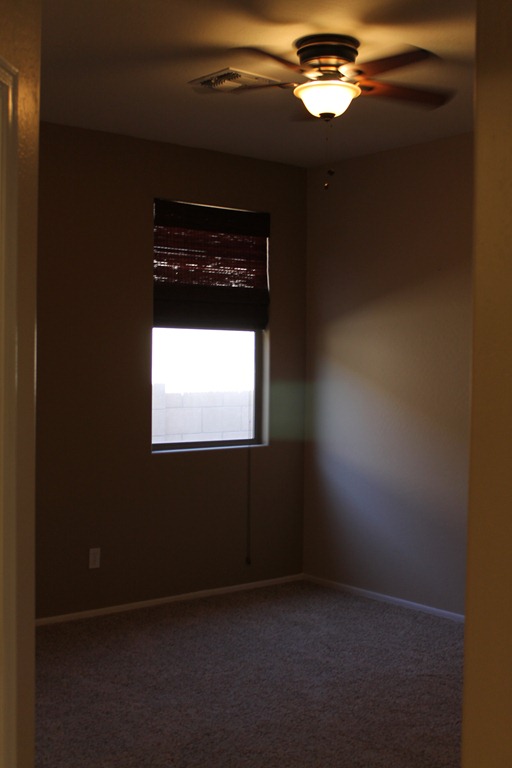 I wasn't sure what color direction I wanted to go in so I just lightened the space with some leftover paint~Dover White SW 6385.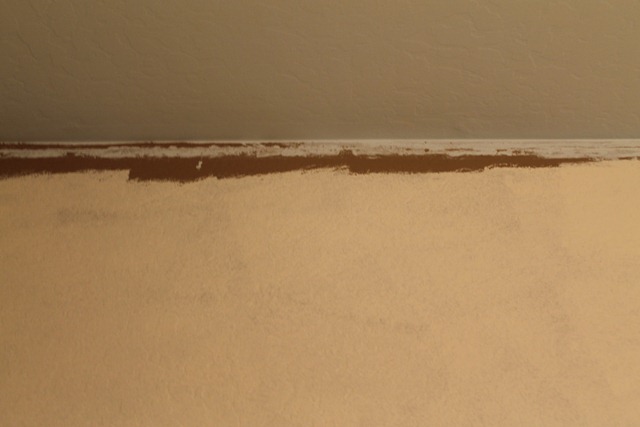 What a difference! The dark rattan blind was replaced with a white plantation blind found at Goodwill.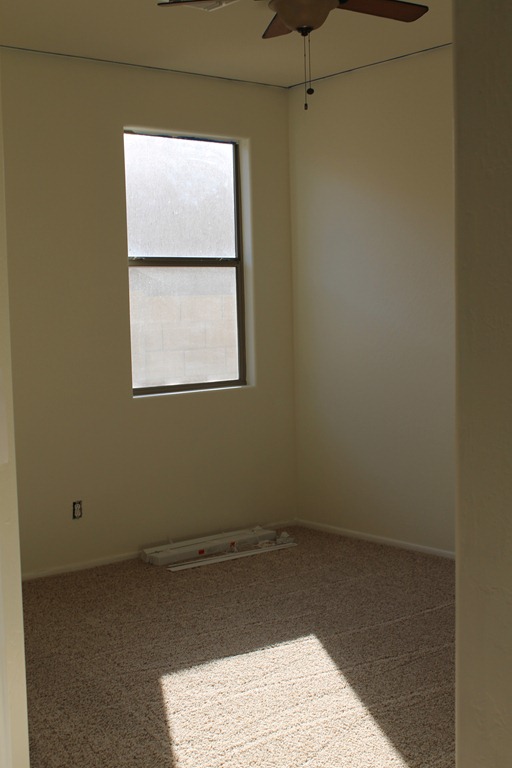 As the move was a major downsize I had created a map of the measurements of each room prior to moving in. I knew in advance that we would have to place our antique sideboard and china cabinet in the space because there was literally nowhere else for the pieces to go. There was a determination to make the room work, but reality set in.
I worked on other areas of the house first and the office became a major dumping ground for everything I could not find a home for.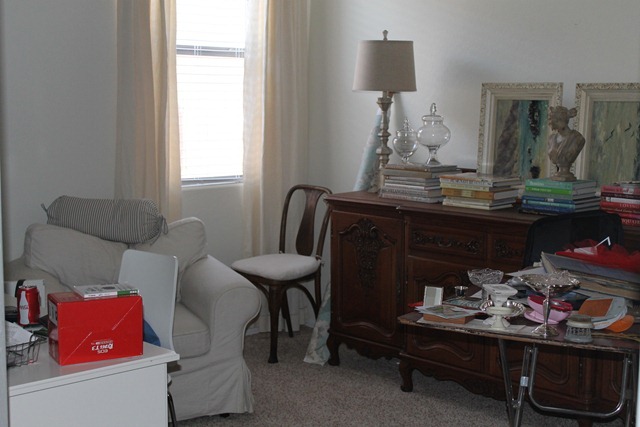 A Big Mess
Someone call Hoarders! Or Merry Maids.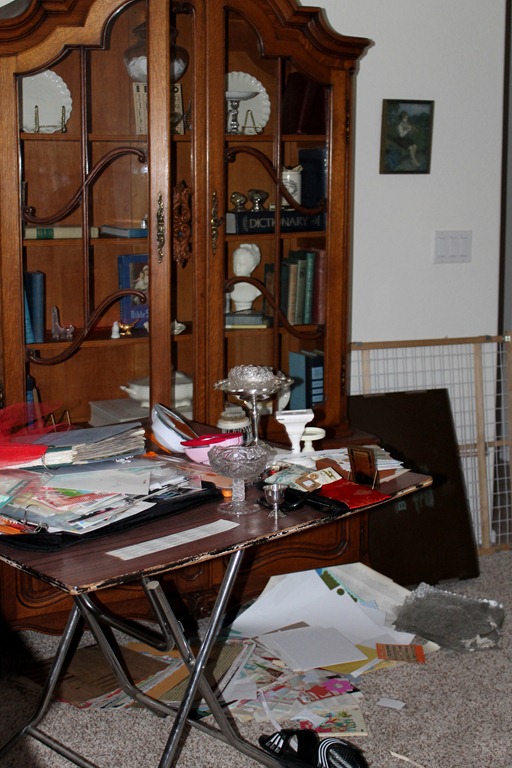 The truly scary part is that there is no door to close off this space. My shame was visible for all to see.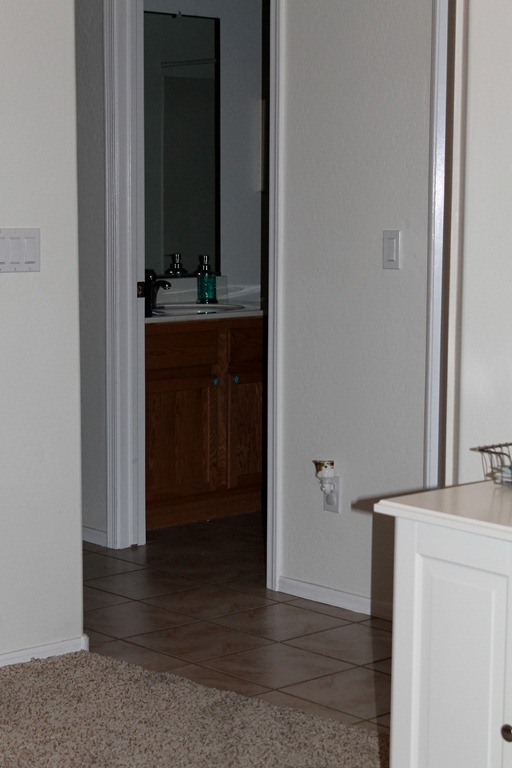 I spent an entire day filing paperwork and found a new home for the over-sized chair. The dog stayed.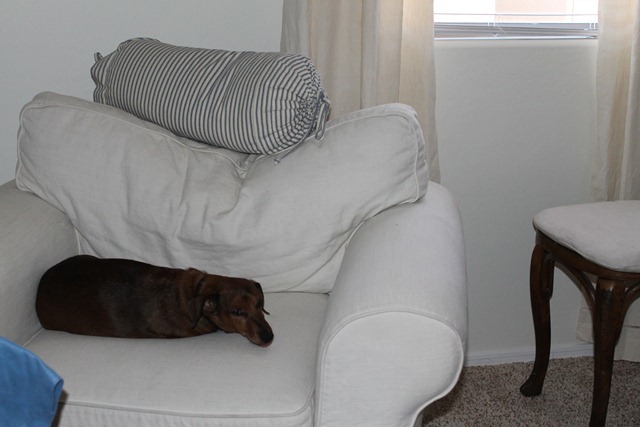 Transforming the China Hutch
It was time for the china cabinet to be transformed into a hutch. The dark interior needed to be lightened up a bit.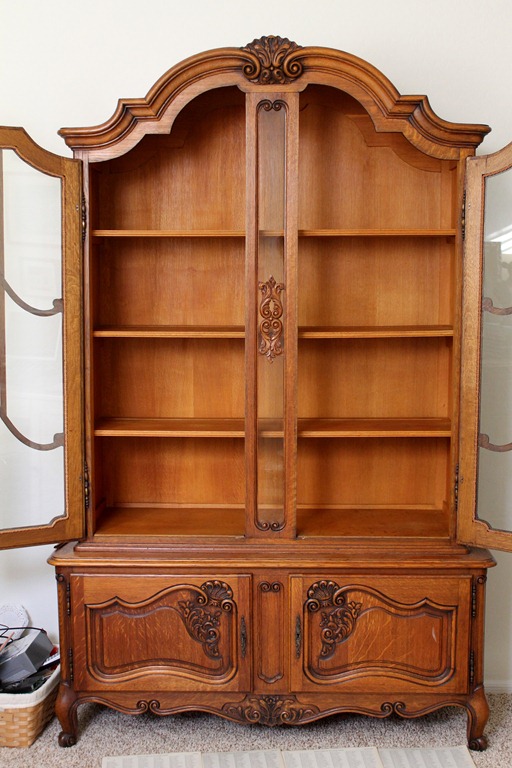 As you may know, I am a big proponent of all types of paint, but for this particular piece, given its age and intricacies, I did not want to pick up a paintbrush.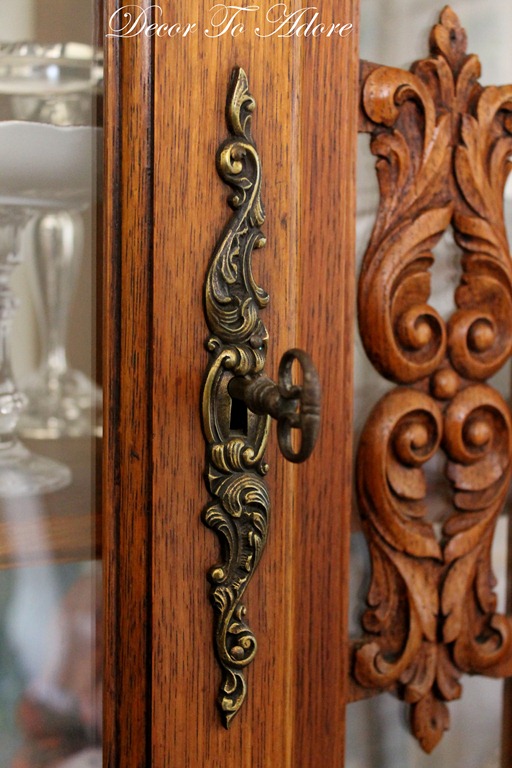 To lighten things up the back of the hutch was papered with vintage atlas glossary pages. I used a crude method of taking my hand and pushing the paper against the wood to create a pattern and then cut out the creased area. I then just tacked the paper in place with double-sided tape.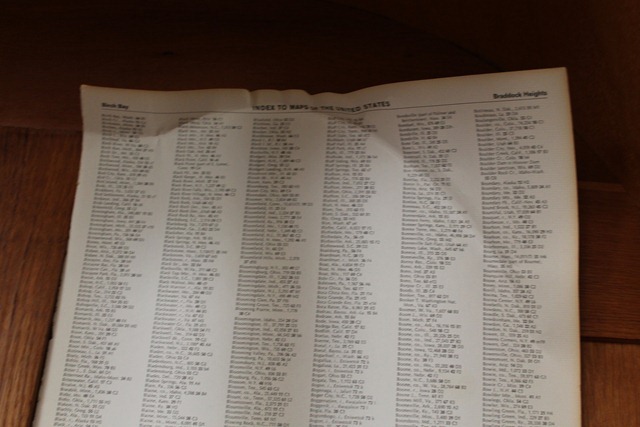 Time to filler up! A good rule of thumb when decorating a hutch, shelf or bookcase is to use a ratio of 1/3 books, 1/3 treasures, and 1/3 empty space. I could probably use a bit more empty space, but this collection is what makes me happy for the winter season.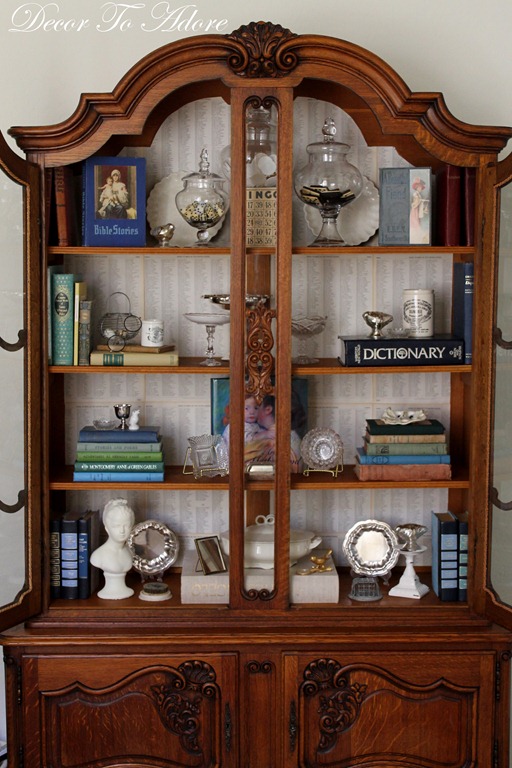 Filler Up
I have said before that the most meaningful homes tell a story.
The magnifying glass belonged to my Grandma Mary. The wee vintage bird once held tiny sugar tablets (there are still mini tongs inside). He was a gift from my dear friend Heidi. I adore his peridot eyes, my birthstone.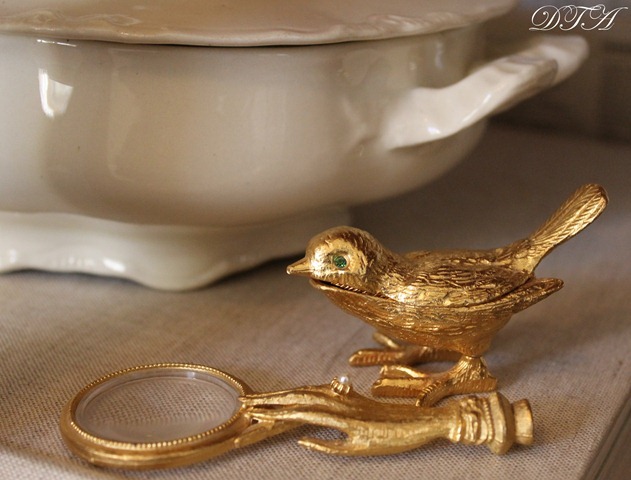 A glass bowl from Grandma Jingles childhood doll dish set, Sweet Boy's egg cup he received as a Christening gift and a china bird that was once a stopper on a child's food warming dish. I found it in Jean Luc's shop in Beaune, France.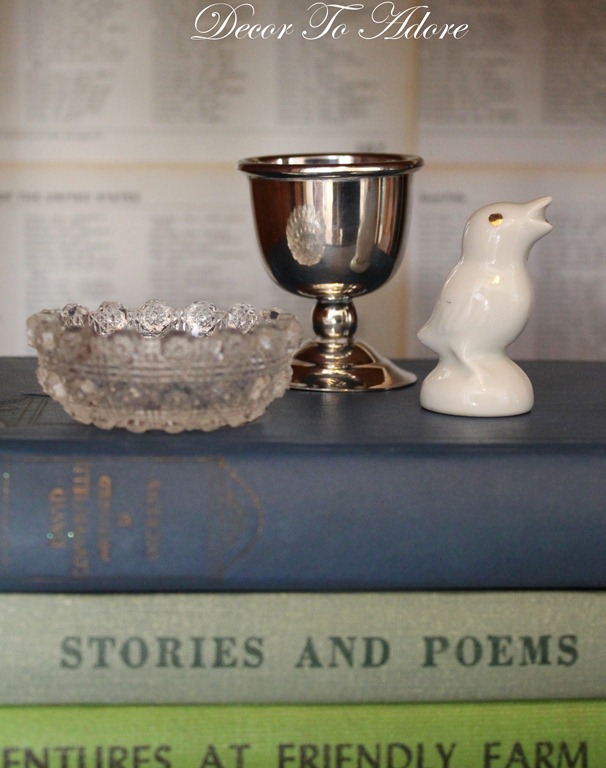 My great grandmother Emma kept her sewing pins in this pressed glass dish.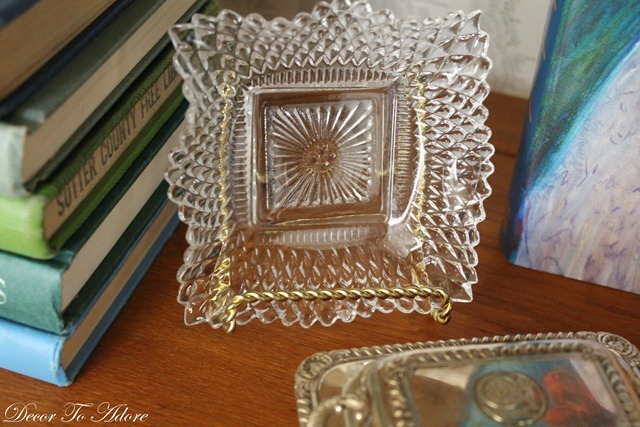 Everyone needs a good bust. I found it at Goodwill for $1 and gave her brassy self a paint job.
The silver dishes were given to Mr. Décor's mother while she lived in Panama.
Now, for the books. The Readers Digest books sat on my grandparent's bookshelves for over 40 years. Many a summer afternoon and school holiday were spent with my nose in one of those books. When I cleaned out their house I took my favorite titles with me. That is a feel-good memory that cannot be bought at any store.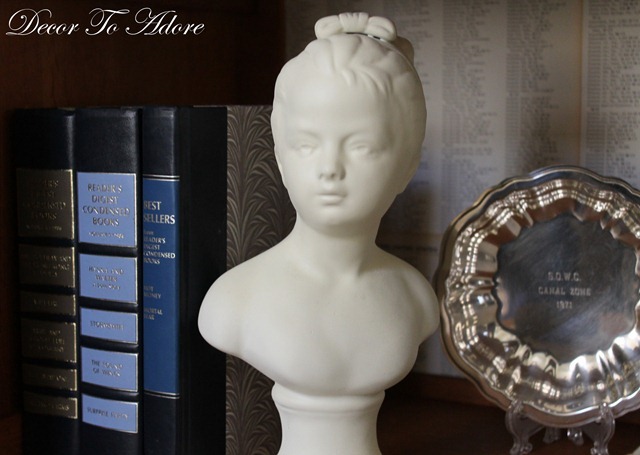 Which leads me to another TIP: Decorate with what you love and deem precious even IF no one else gets it.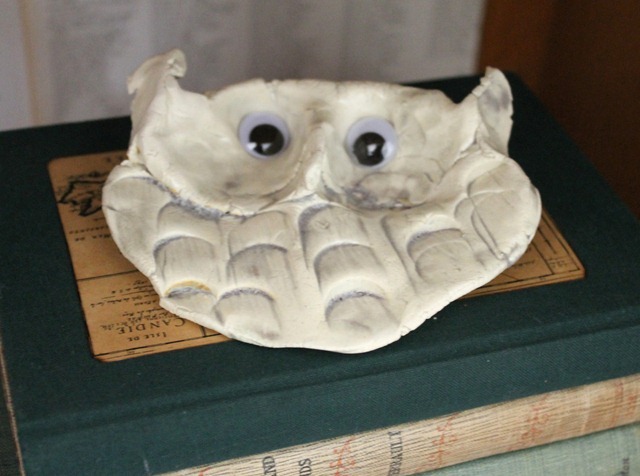 The Sideboard
Next, I worked on the sideboard. This baby is huge.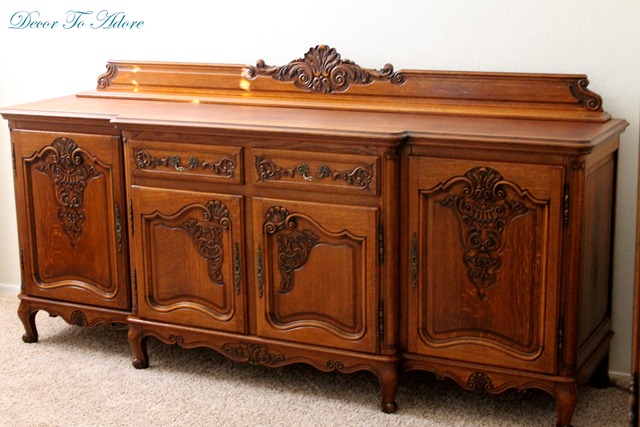 My favorite design books are now color coordinated and waiting to be read. (You can click on the image to enlarge it to see the titles more clearly.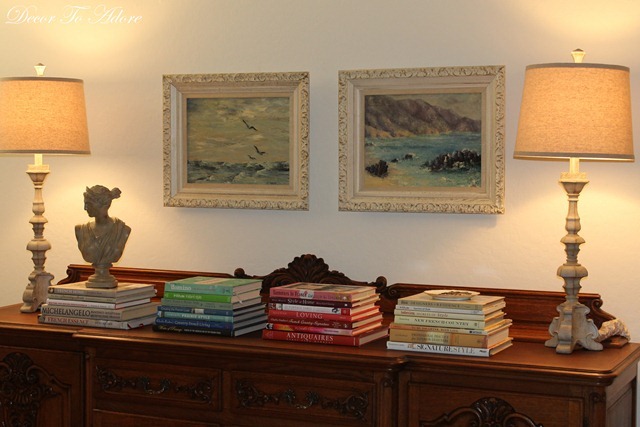 The oil paintings are thrift store glamour bought a few years ago for around $8.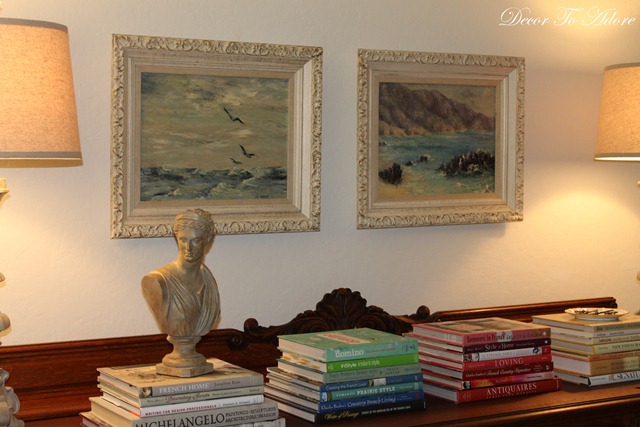 The antique keys lock up the hutch and sideboard. I keep them handy on this Limoges plate I found for 50 cents. It is practically translucent. The "R" I decided is for Rudi the dachshund's monogram.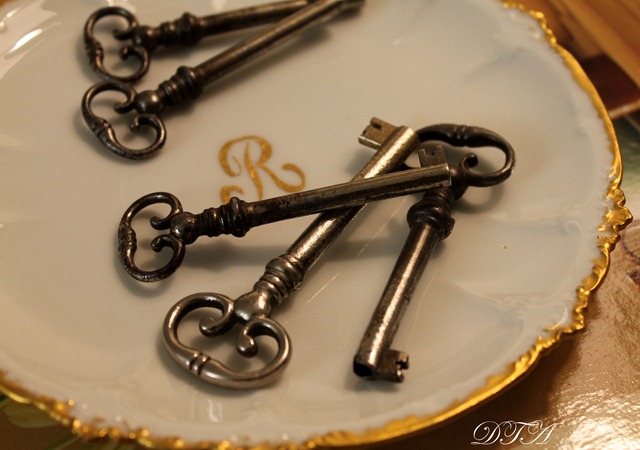 Office Desk
Also in the space was a big white Ikea desk that seemed like a good idea at the time when we bought it eight years ago.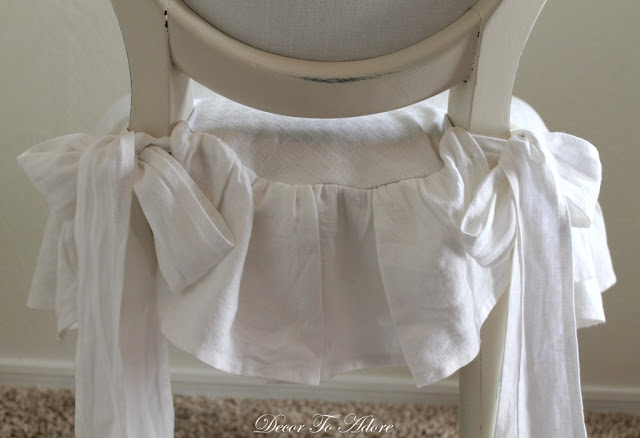 Then the desk was removed and an old piece of laminate was transformed with a bit of spray paint. I wanted it to look like aluminum. A skirt was created with a painters drop cloth that was dyed with Rit aquamarine dye then sewn to fit. 
Curtain Fabric
I took a trip over to Home Fabrics and found "Anatine" by Covington for $2.00 a yard. I bought enough to also make a curtain for the window.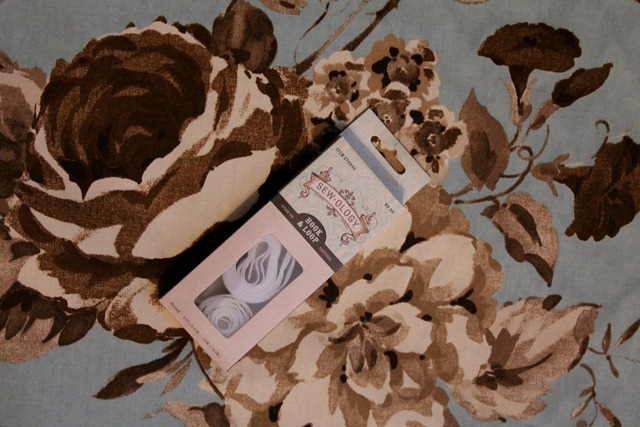 " Part II " on how they were created is now available for viewing.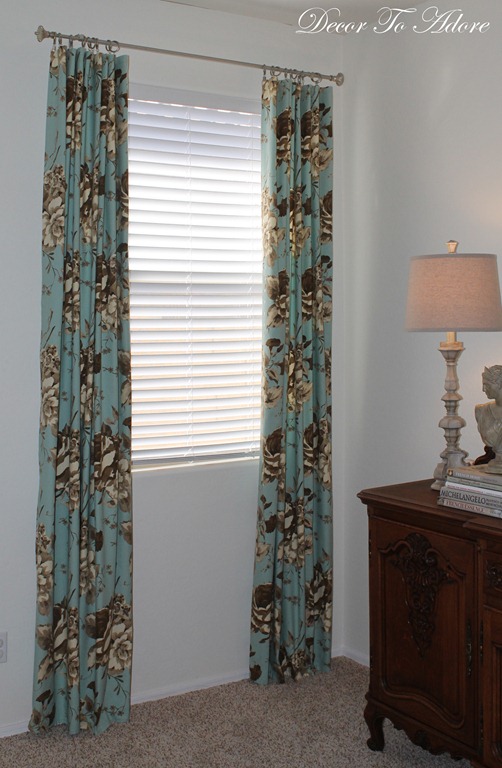 Have a happy weekend!
Laura