Many of our neighbors to the north have already begun to experience a true fall season. Their leaves are turning and providing an amazing technicolor show. But in the lower half of the United States and a good portion of Europe, it is still unseasonably warm. So here are a few tips on adding fall to a front porch when it's still hot.
Adding Fall To A Front Porch When It's Still Hot
Go Faux
Use Unconventional Colors
Create Interest By Using A Variety Of Textures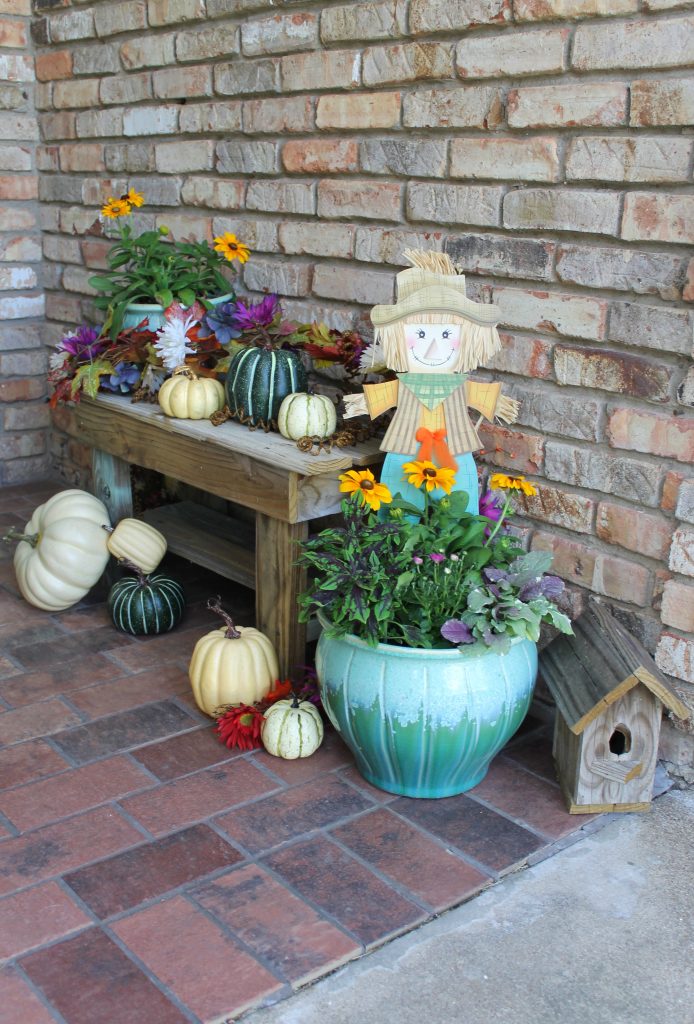 Go Faux
Pumpkins, squash, and gourds have yet to make an appearance in the supermarkets near my home in Texas. So it is a pure necessity to use faux materials in outdoor autumnal decorating.
Even if live alternatives were available I doubt that I would use them. By placing real pumpkins out in the heat there is a strong probability that they will rot rather quickly. The gourds would need to be replaced every 2-3 weeks. This could get quite costly if you leave your fall decor up until the Christmas or winter season.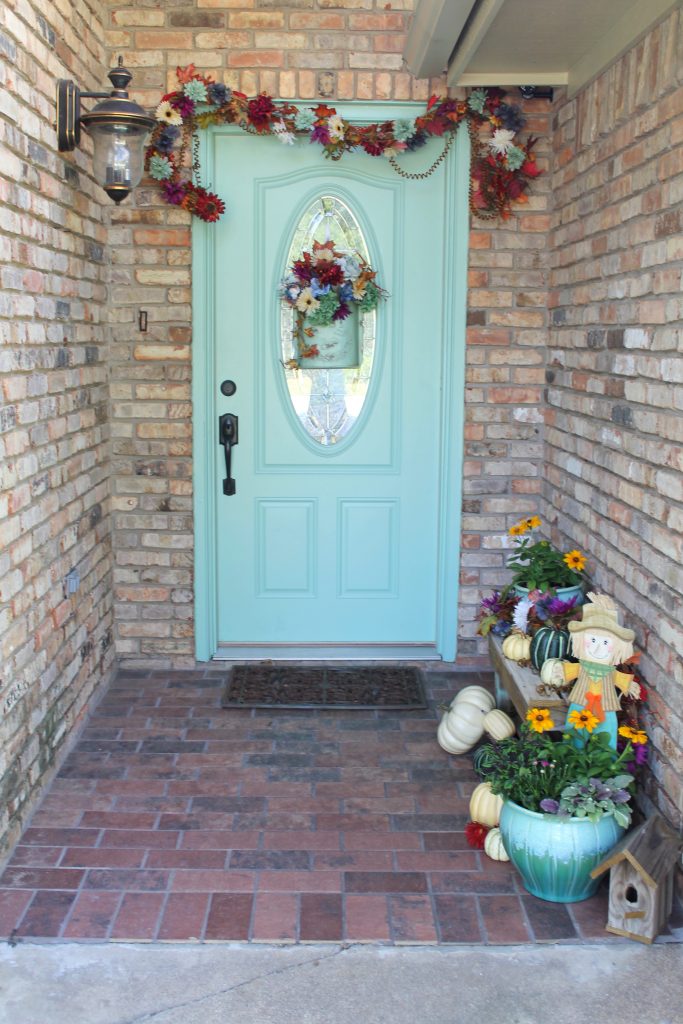 Use Unconventional Colors
Because autumn comes more slowly to some areas of the United States and Europe there is a longer growing season for bright flowers and foliage. So don't be shy in pairing these colors with the traditional colors of fall. I like incorporating soft greens and blues alongside bright berry and orange tones.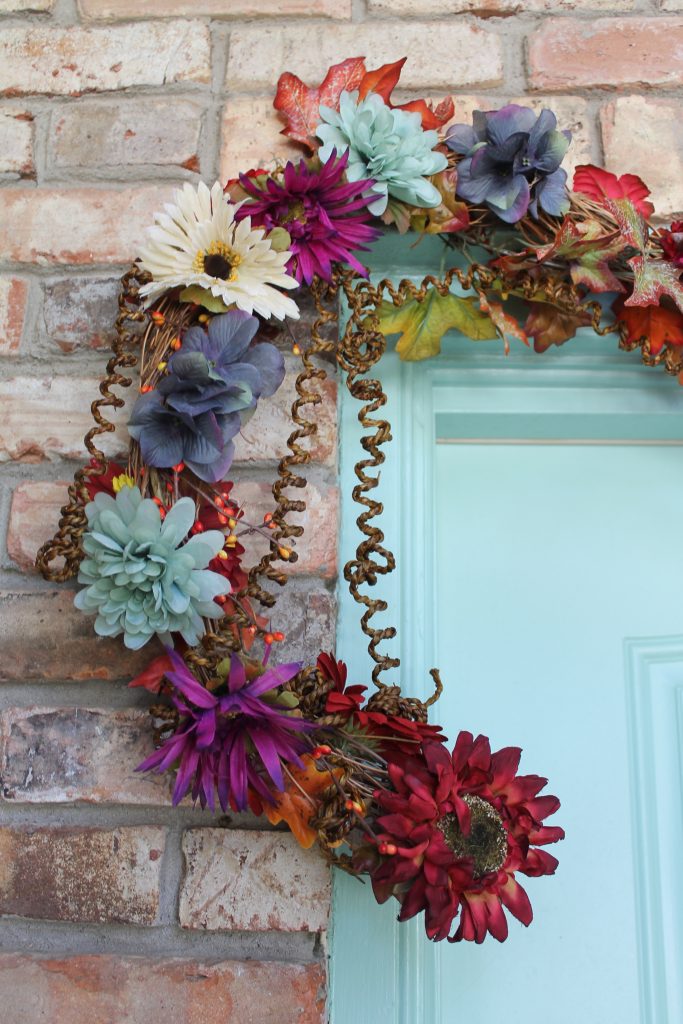 Create Interest By Using A Variety Of Textures
The sweet little gardening bench was made by Mr. Decor this past spring. It was moved from the backyard to the front porch and topped with the bounty of the season. The rough wood of the bench and grapevine creates a great textural contrast against the smooth pumpkins and soft flower petals.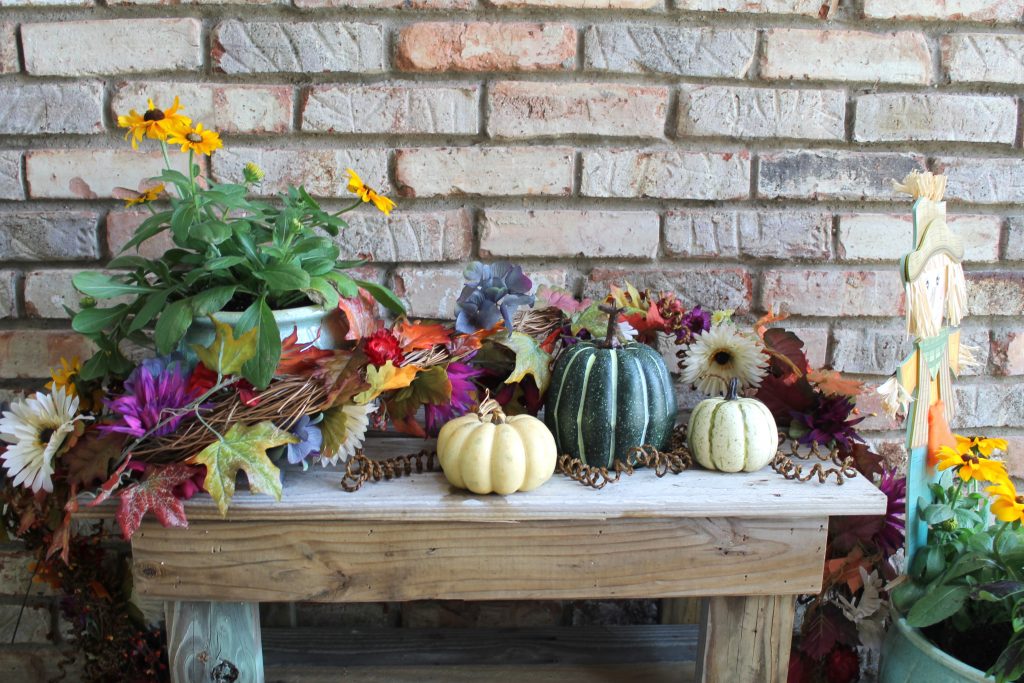 I had last used the grapevine garland to decorate my front porch in 2012.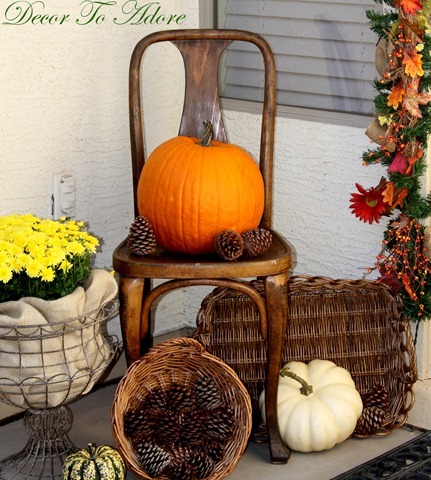 It was still in pretty good shape. I just needed to reattach a few flowers and leaves that had fallen off as well as add a few new colors to the mix. This was achieved with hot glue.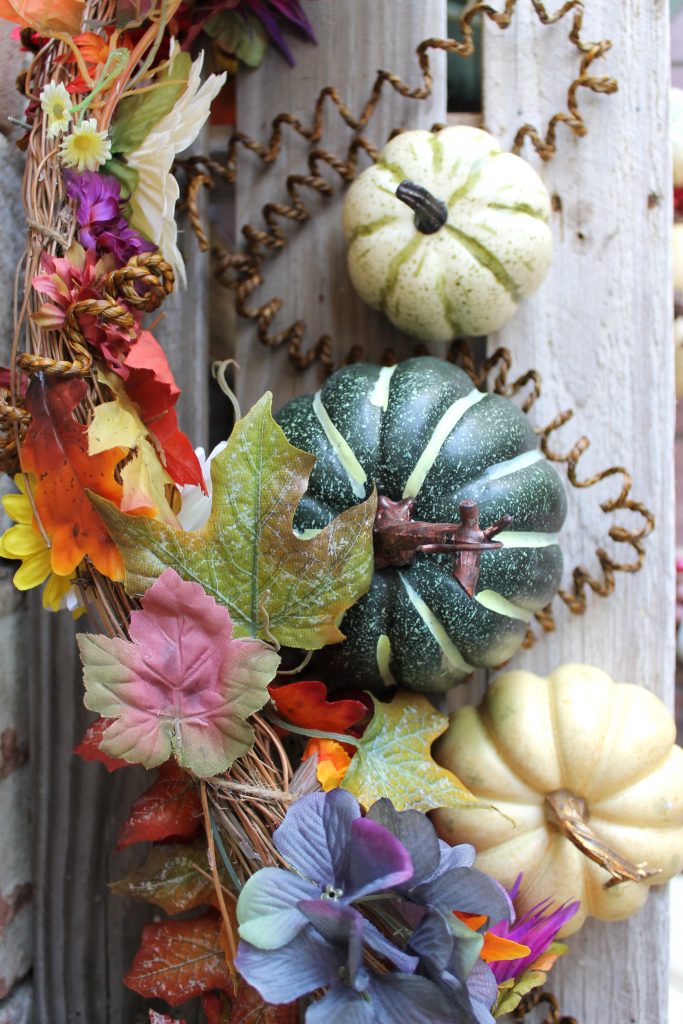 I hope this happy front porch has inspired you to decorate for fall no matter what the temperature is.
The happy scarecrow is a new addition. He was found at Walmart for under $7.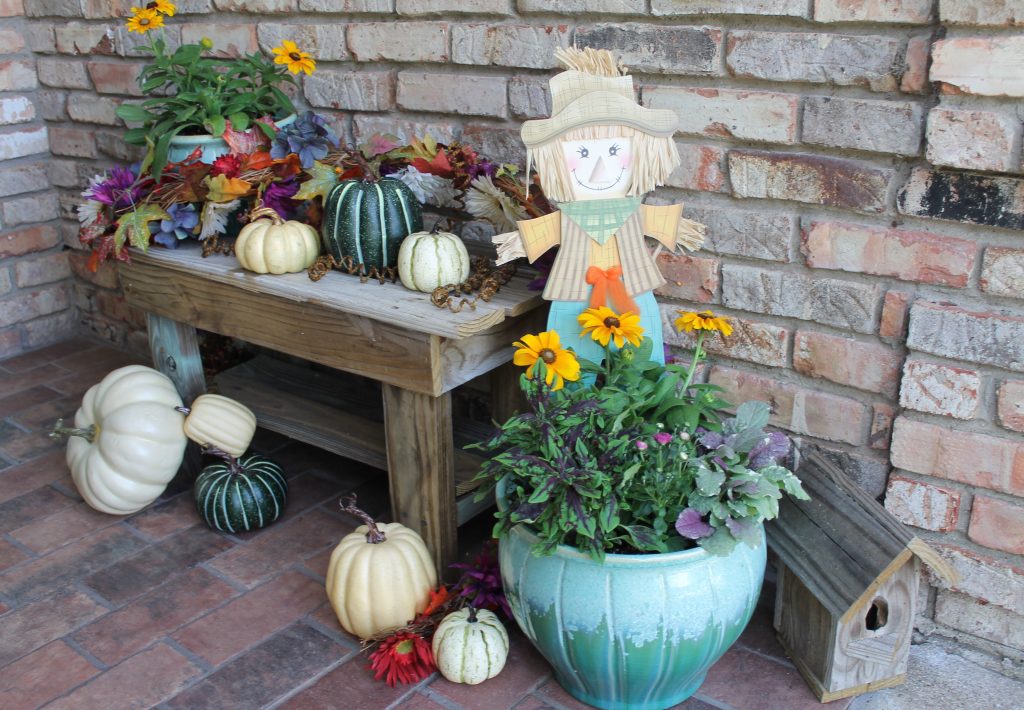 Happy Fall Ya'll!
Laura
In case some of you are curious, the curly twine used in the decorating came from materials used to create my late summer early fall centerpiece. The jute twine had been wrapped around the branches I had found at an estate sale. I saved the twine thinking I would use it in another project.
You could try wrapping just twine around a branch, saturating it with water and then letting it dry completely for a few days to see if the same effect could be achieved.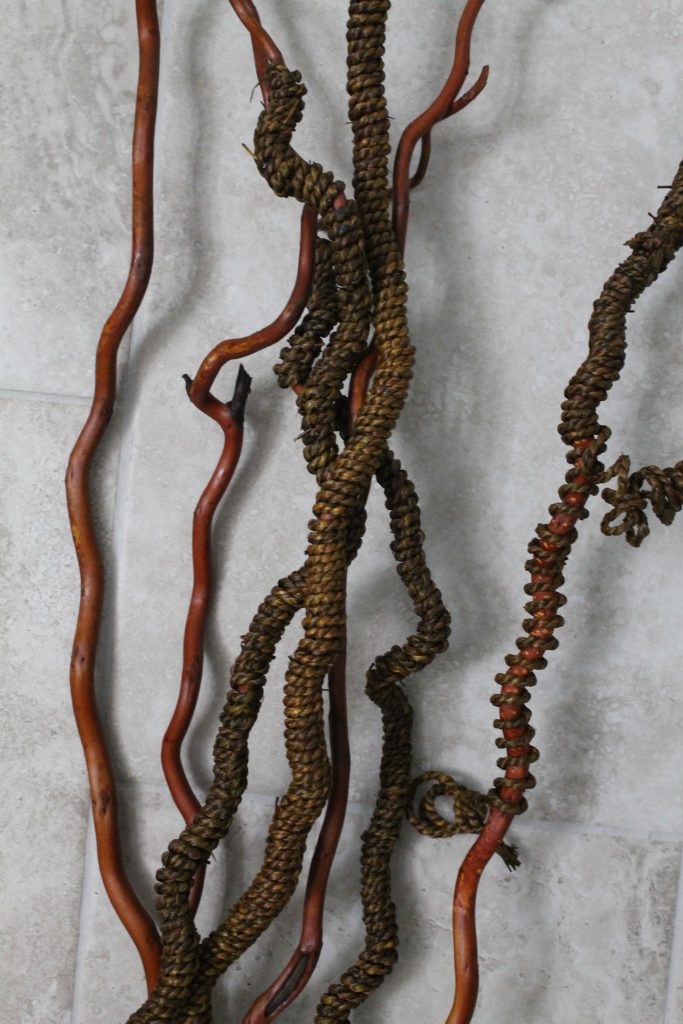 You might also enjoy this fall front porch created for under $10.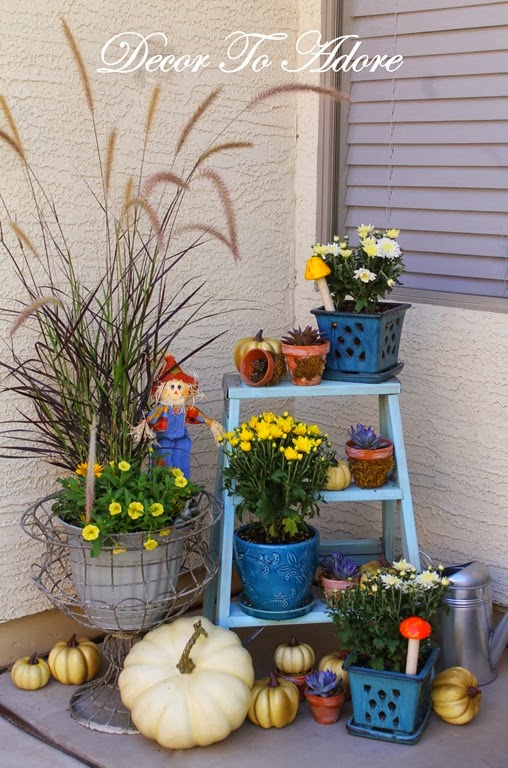 Linking to:
Inspire Me Monday, Merry Monday,The Scoop, A Stroll Thru Life, Savvy Southern Style, Share Your Style, Vintage Charm Party, Thursday Favorite Things, The Inspiration Gallery, French Country Cottage, Imparting Grace, The Charm of Home, Pretty Pintastic Party, Foodie Friday, Best Friday Feature,The SITS Girls, Funky Junk Interiors, Saturday Share, Sundays At Home, Happiness Is Homemade