Happy first Monday of the new year!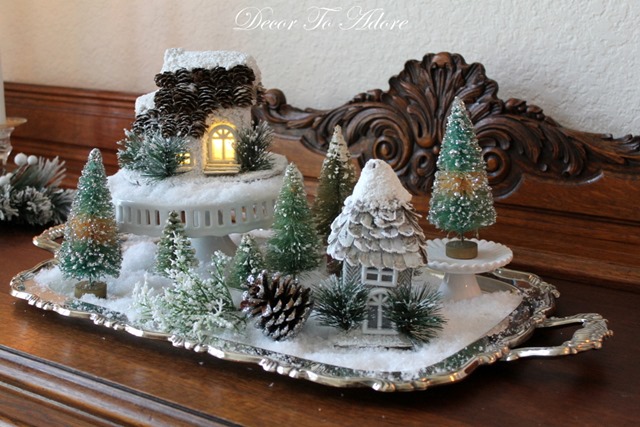 In the days after the holiday my formal dining area became the dumping ground of Christmas past.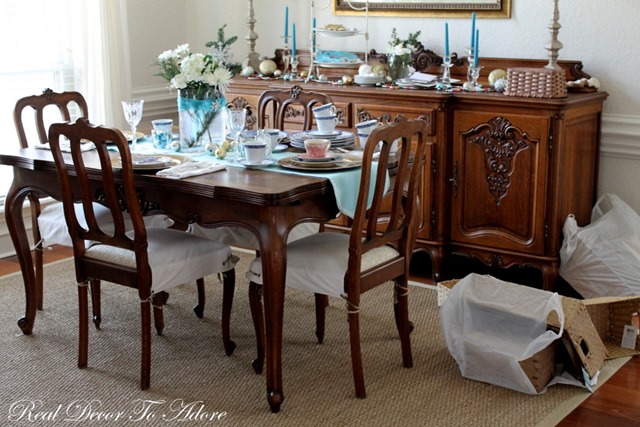 Stacks of dishes and half dead flowers were some of the things you could see.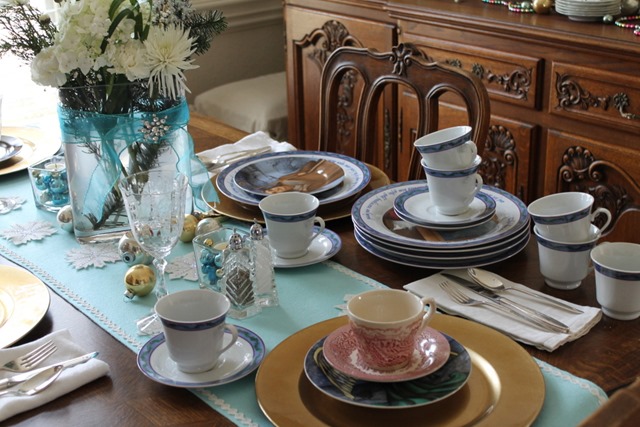 What you couldn't see was even worse.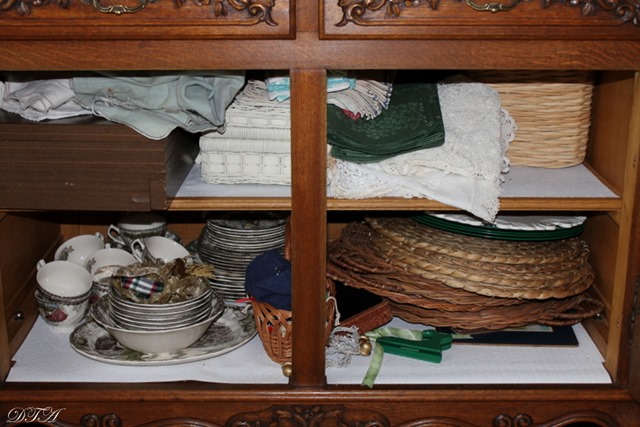 My previous half hearted attempts at organizing, using an aluminum roasting pan no less, had failed.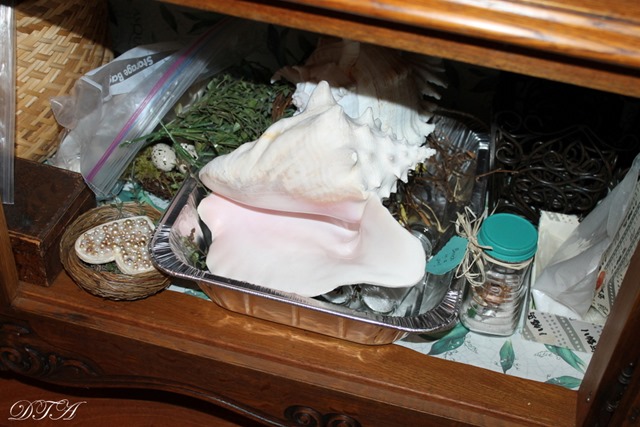 It was time to get serious.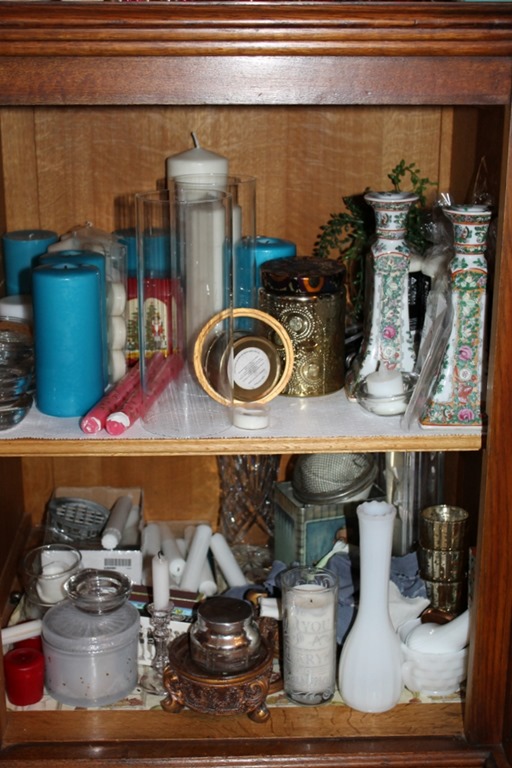 Somehow I always find myself "getting serious" at 8'oclock at night. So of course this results in "before" pictures of truly pinnable perfection.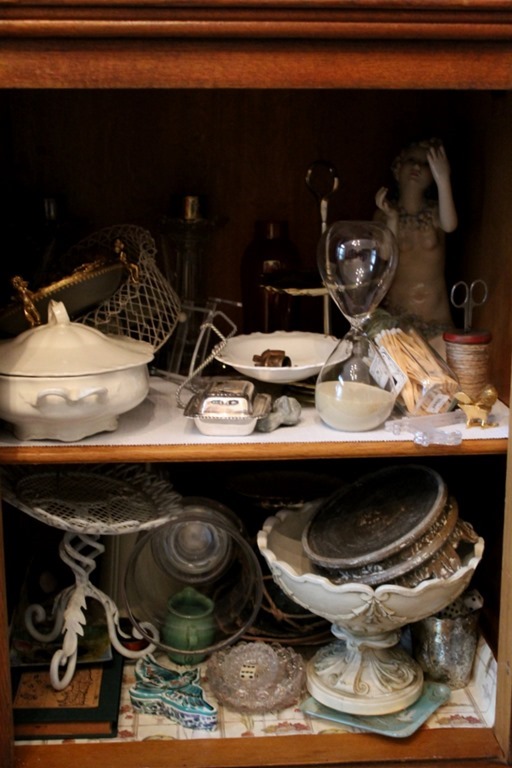 There is only way to organize properly in my opinion. You shut the cabinet and wait for another moment.
The moment came the next morning.
I moved the table and chairs out and gave the sea grass rug a good vacuuming.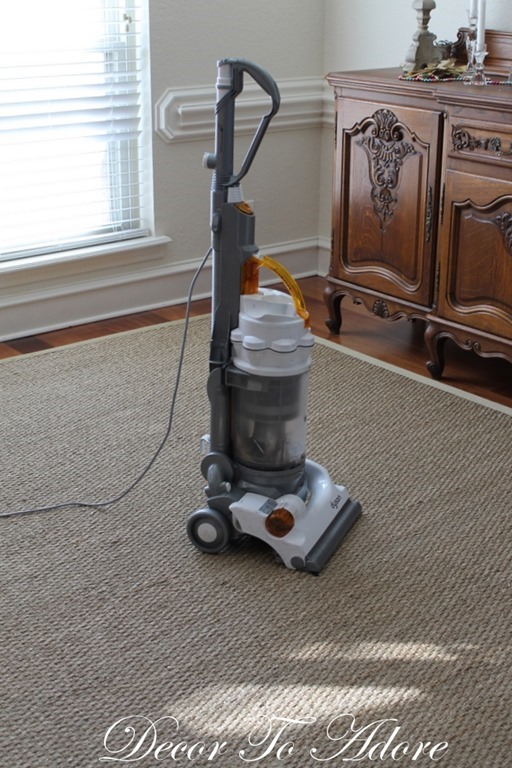 I then proceeded to empty the contents of both the buffet and china hutch onto the rug.
I grouped like items together such as candlesticks and votive holders on one shelf, candles on another.
Yes, I know I may have a wee problem.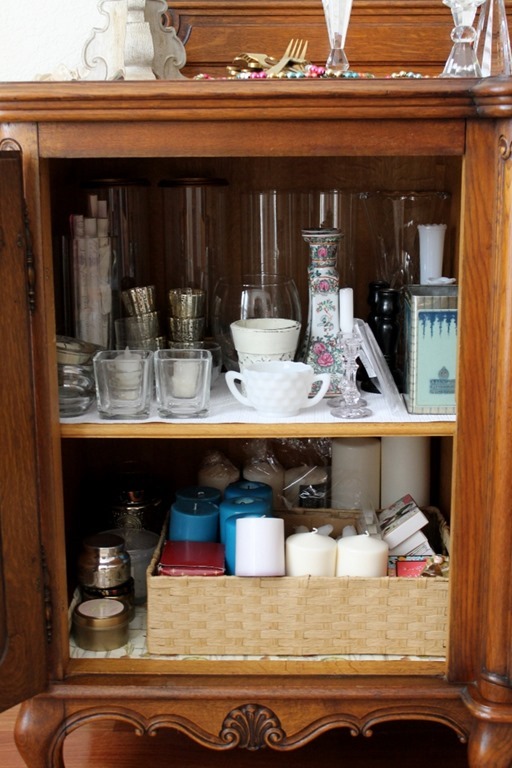 I found that baskets helped me to organize. I had received a Michael's gift card for Christmas. (Thanks cousins Sweet T and E!)  As luck would have it all of their baskets are currently 50% off.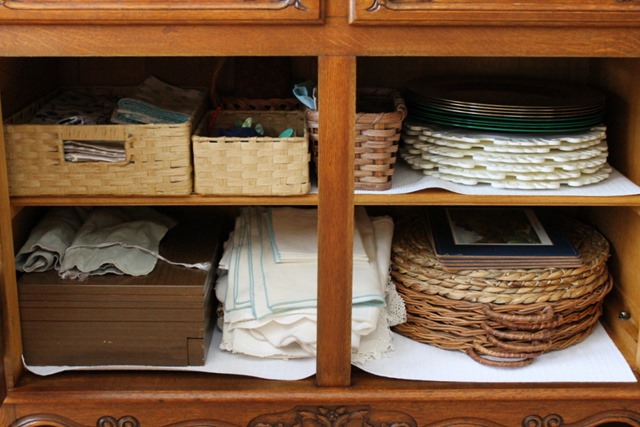 I'm hoping this will cut down the inordinate amount of time I often spend looking for things.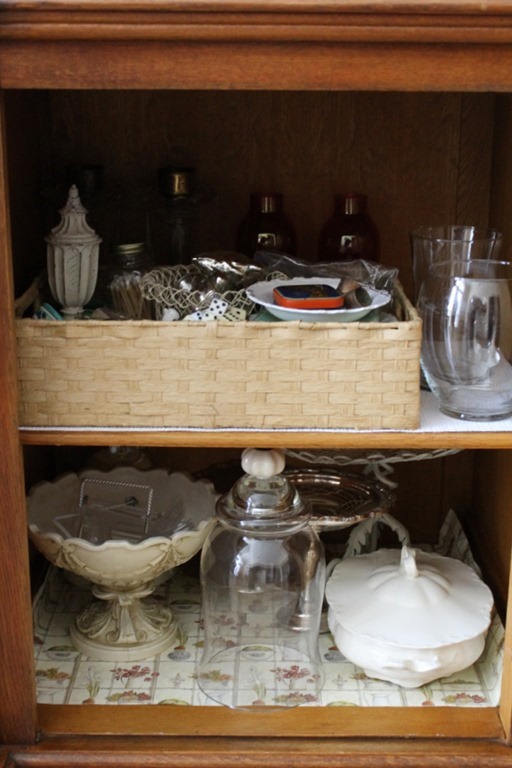 Afterwards I rolled that rug right up and took down the drapes to be washed. I cleaned and shined the hard wood floors and oiled all of the furniture.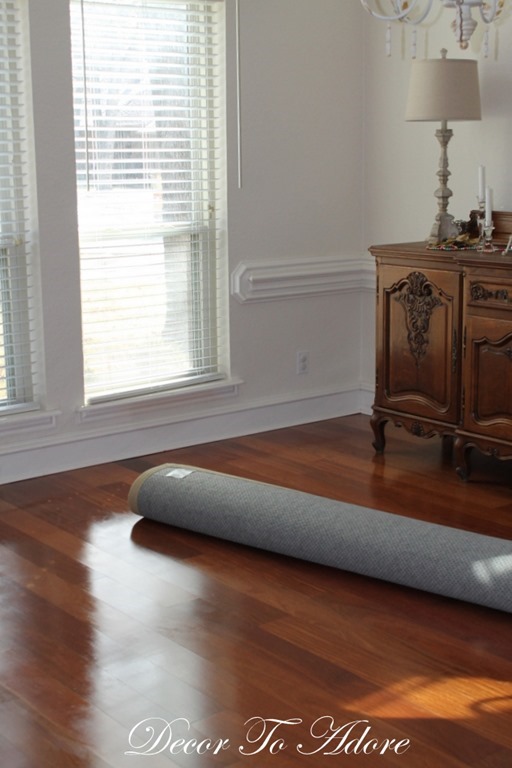 It was then time to decorate. I wanted something that would last more than a day so decided against a specific New Year's theme and settled upon a winter motif.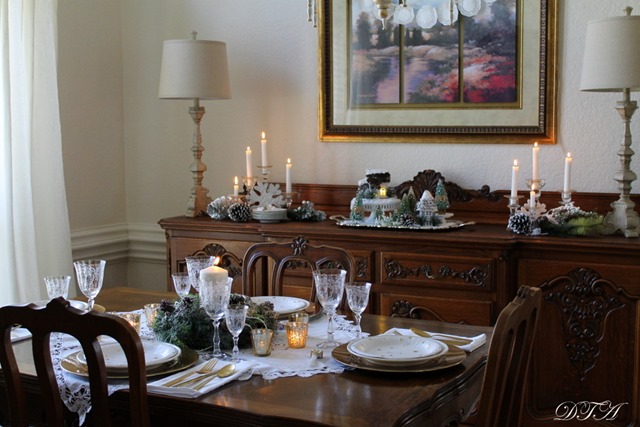 On the sideboard I gathered together snowy houses, pinecones, bottle brush trees and snowflakes.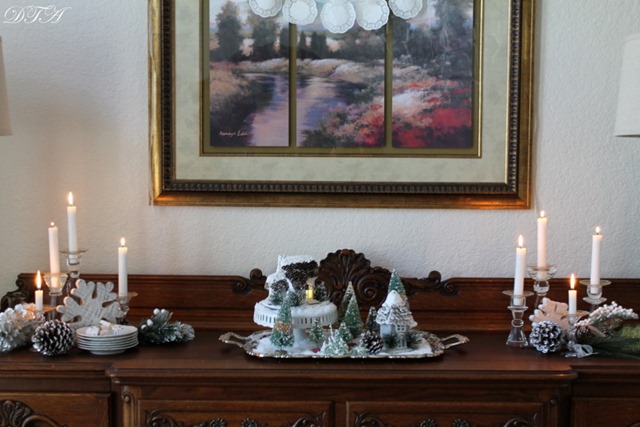 It was so cozy for our New Year's Eve feast.
A touch of golden sparkle was added to the table though for a festive flair.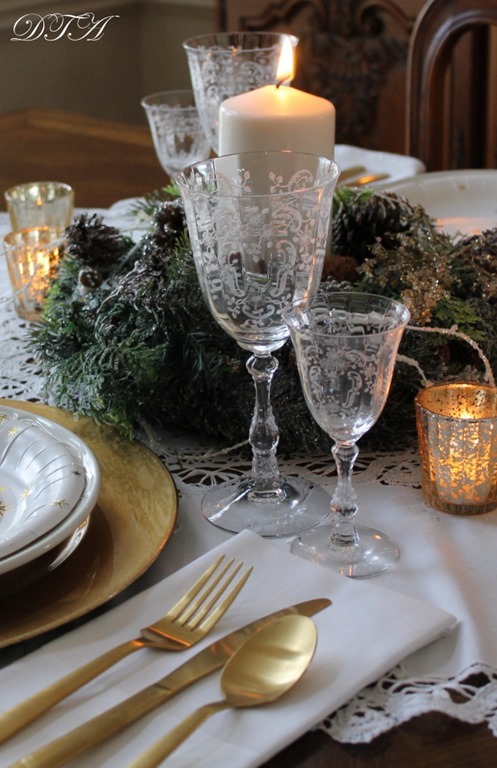 Paper plates? After weeks of holiday meals served via numerous dishes that required hand washing, yes please!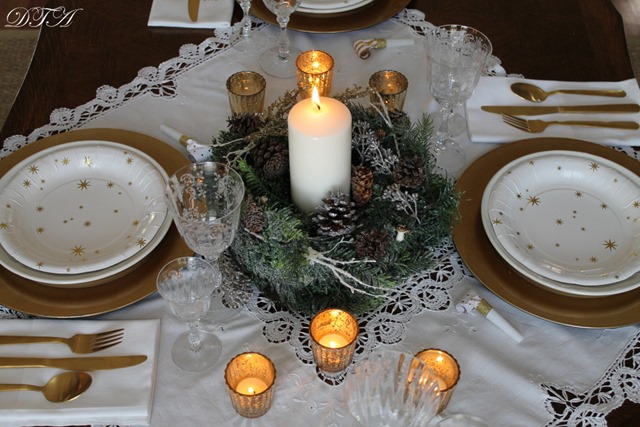 My grandfather, Roy Ingalls, loved to have only finger foods on New Year's Eve which he referred to as "pickins". I have continued this tradition with my own family. The kids get to pick out ANYTHING they want to eat. Other than their birthdays, it is the one day of the year the food police takes a night off.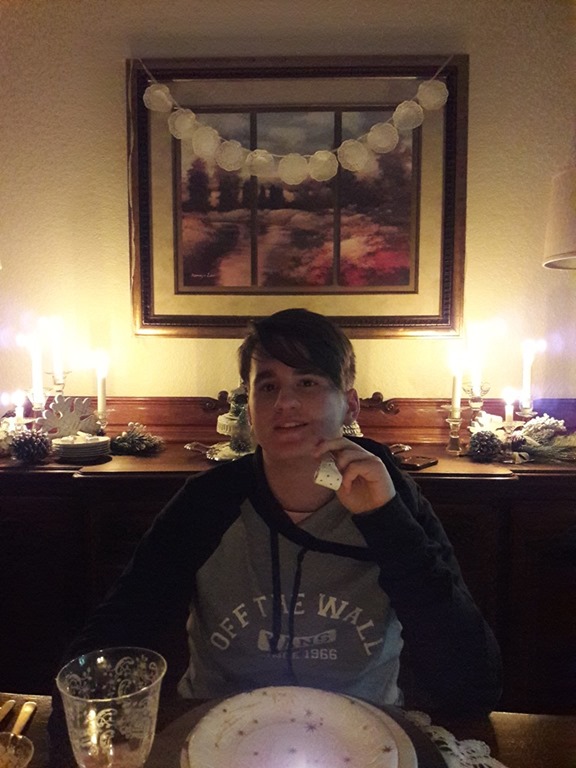 We had sliders, boneless buffalo wings, cheese sticks, and bagel bites. My attempt at a few healthy choices (carrot and celery sticks) was tolerated.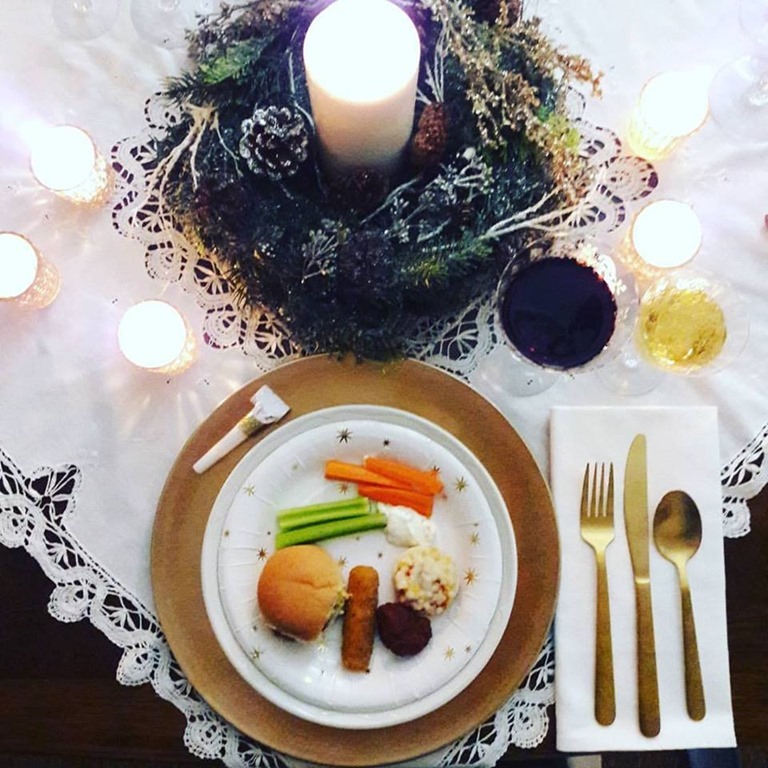 Even the dogs were given special treats. Here is Harpo Franz not releasing his chew stick for anything.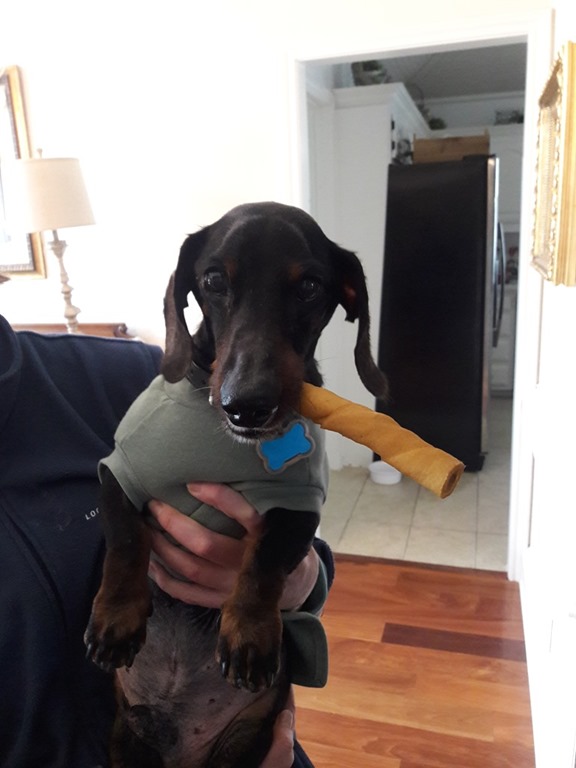 As promised, in yesterday's post, I will leave you with a shot of less than perfection in the adjoining room. I plan to put away the Christmas decor sometime this week…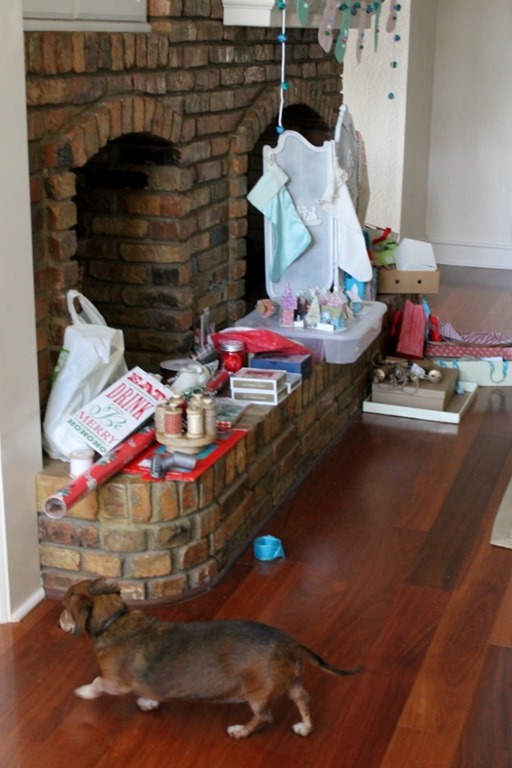 Are you in organizing mode?
Laura