I spent the weekend sewing, attending estate sales and cleaning up my newly found treasures.
Chippy child's chair + vintage basket pottery + pink petunias = perfection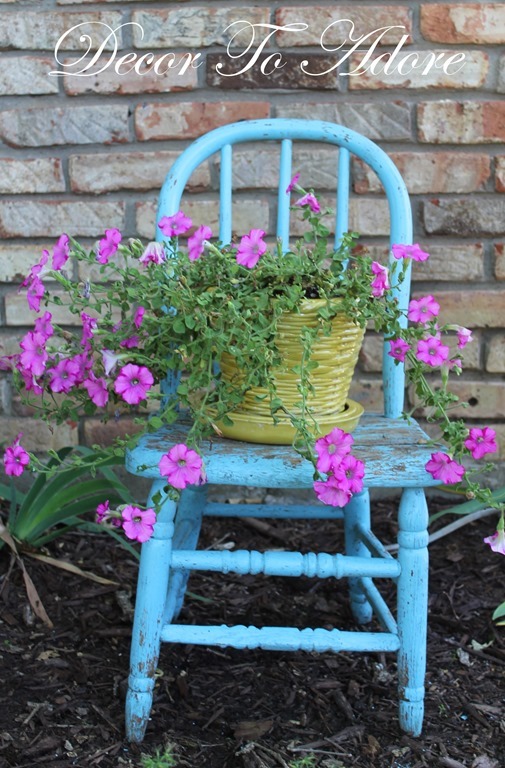 Mr. Decor had a somewhat less than fun weekend.
The back door that is attached to the sun room has leaked since day one. In an attempt to solve the problem the Mr. has replaced all of the exterior siding and trim, installed a new door as well as numerous other weatherproofing products.
All to no avail.
His latest potential solution is to install a storm door.
Easier said than done.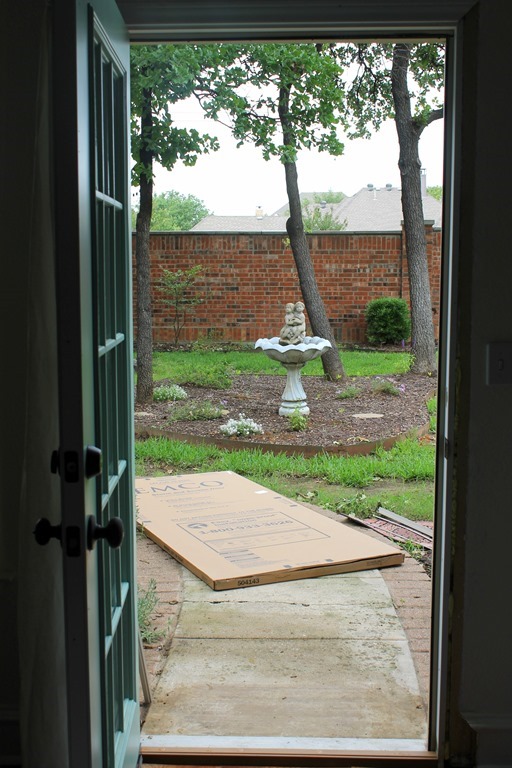 As you know Storybook Cottage is an older home full of charm. But it is also filled with quirks that make repair projects difficult. Almost all the supplies have to be custom ordered because of odd sizing or off the shelf products must be heavily altered.
While this blog would rather focus on the new birdbath fountain I purchased for a song or how well the lavender is growing I think it's always important to share the reality of life.
So I want to take a moment to thank Mr. Decor for his unending patience and clever ingenuity that is a basic requirement to keep the not so pretty, but very important tasks, going here at Decor To Adore, Inc.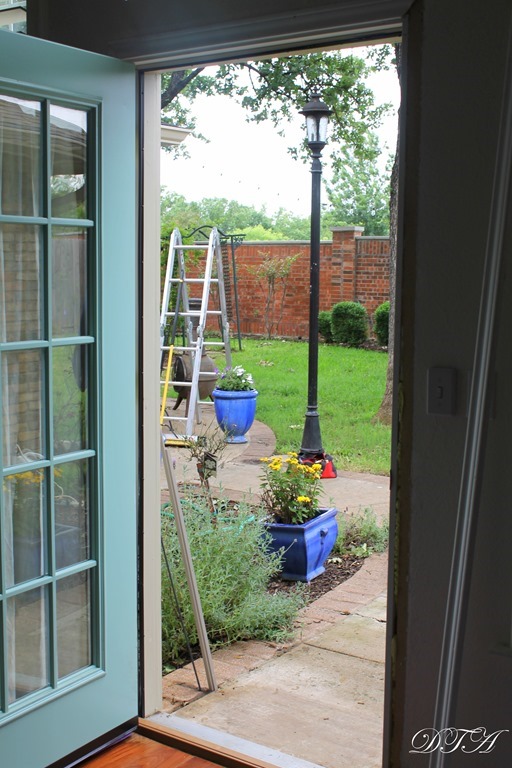 Friday the 13th ending up being a VERY lucky day for me.
I regularly attend estate sales and most often leave empty handed. This past Friday I went to a sale that stated the home belonged to a world traveling seamstress. I went in search of old linens I could transform into curtains and upcoming historical costuming projects. It did not disappoint. 
Several areas in Storybook Cottage are now draped with fabric and linens that have been hand washed.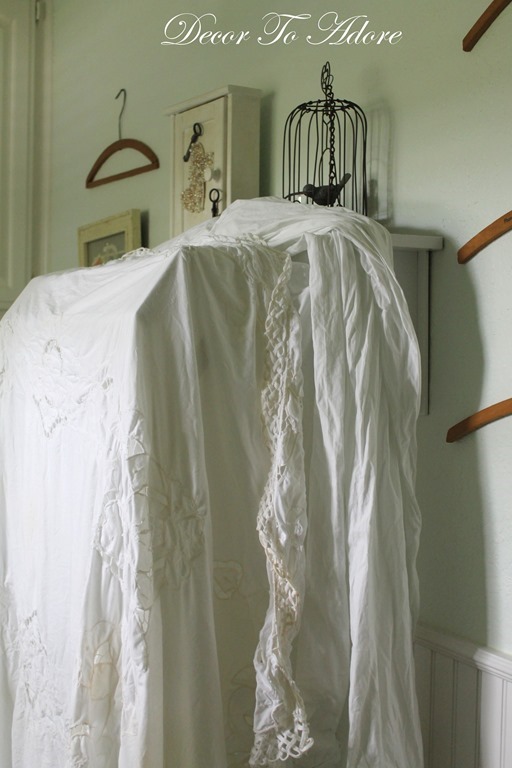 Since it is overcast and raining here the linens are line drying on every available chair and table. My haul will consist of a full day of ironing these textile treasures before it is all tucked away to wait its turn to be transformed.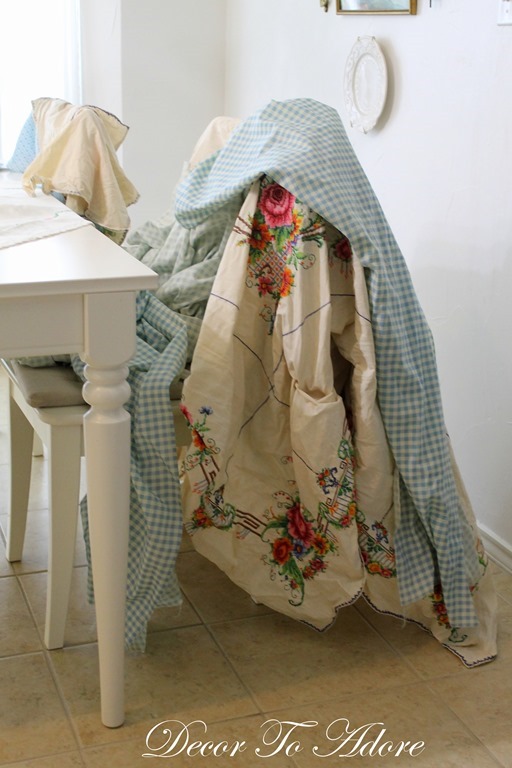 But wait, there's more!
I added to my blue and white collection. It kind of looks nice on the vintage true Florentine tray that was also found. I didn't technically "need" any of this but the tray was just $3! I couldn't just LEAVE it there unappreciated.   (A quick trip on ebay reveals these vintage gems usually start around $20-25. 🙂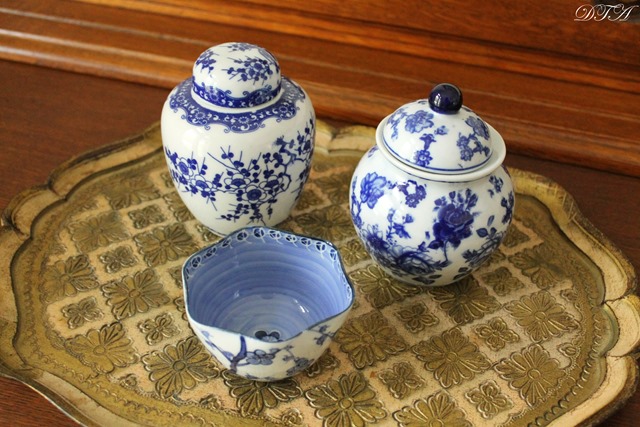 But wait, there's more.
I paid just $10 for a first edition, 11th printing of Julia Child's "Mastering the Art of French Cooking".
The signed, brand spanking new condition of "Barefoot in Paris" by Ina Garten was just $4.
Yep, shoot your eye daggers at me. I know!!!
Then ask, "Don't you already own the MTAOFC cookbook Laura?"
Yes, I do. This copy is now on its way to my dear cousin L. via the USPS as a thank you for helping with my quilt project. She will GREATLY appreciate this fabulous find.
I had similar plans to give the Ina Garten cookbook to cousin Sweet T (who is a HUGE Barefoot Contessa fan) but then I looked at the book. Big mistake, HUGE! But I may attempt a few recipes and then still pass it on to her.
The Renoir book, however, is ALL mine! As is the sweet little $1 pitcher.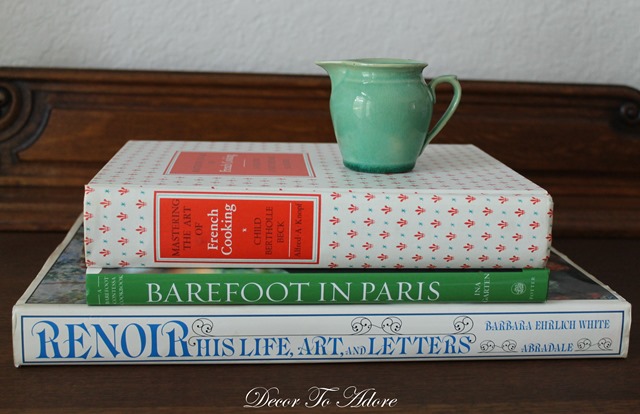 Now on to my favorite finds:
My Royal family loving Anglophile heart rejoiced at the vintage, but in pristine condition, Windsor Castle tablecloth. It was just $1. I had to dig down deep, through several boxes, to find this treasure.  Afterwards my hands were filthy. (Thank goodness I carry baby wipes.)
I was so excited about the other three books above that I missed the "Kings and Queens" book on my first go around at the sale.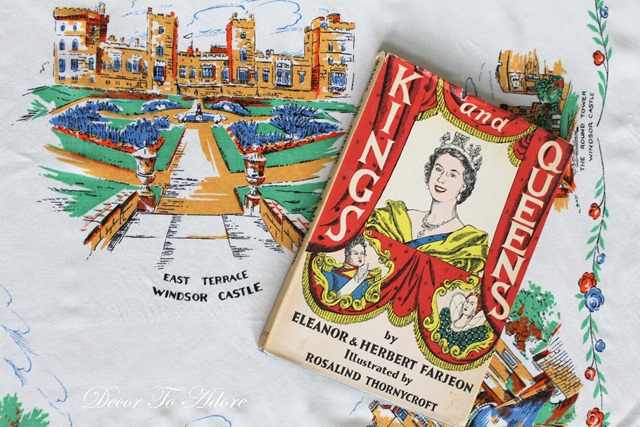 So yes, that is a big tip. At large estate sales I recommend that you go through each of the rooms twice. Often at large sales my eye will miss something on the first pass through. This is a vintage children's book that discusses each of the British monarchs in prose. So charming!
I did find this book on Amazon if you are interested. It's a bit more than the $1 I paid.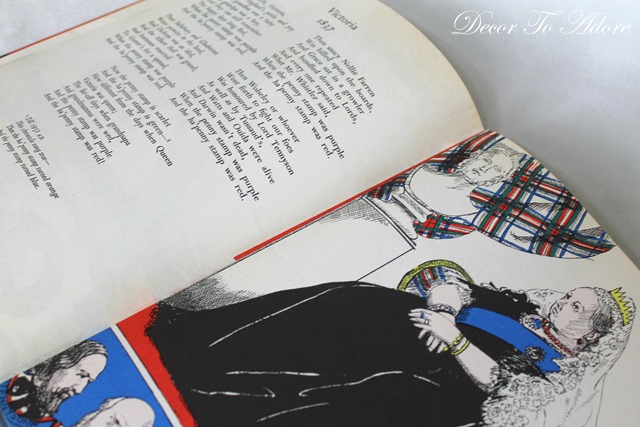 I'll be back soon with more treasures.
Laura