Happy December 1st! Are you smiling? I hope so. It seems that everyone in blogland has a beautifully decorated house while my home currently looks like a band of monkeys just got back from vacation.
But glitter makes everything better!
Every year my children each get an advent calendar. Sweet Boy always tells me that his Lego advent calendar is his best present. I have to agree. Every day he is so excited and gets to create something fun. His enthusiasm is contagious. So much so that last year Mr. Décor said he wished he had an advent calendar.
I wonder if you have a husband like mine? My mister is the type of guy that overall wants very little in the area of material goods. When he does find something he wants or needs he generally buys it for himself right then and there. Now in addition to Christmas, Mr. Décor celebrates his birthday in the month of December. So this tendency… well, it drives me INSANE!
Last summer I was cruising the aisles of Goodwill and found a homemade trinket box. You know, the kind you put thimbles or bells in for display? It was crudely made. I counted the boxes, there were 25.
Right then and there in Goodwill a Christmas miracle occurred in July: I remembered his comment about wanting an advent calendar.
Could this box be transformed? I started with a whole lotta sanding and then 6 coats of spray paint.
Then the box sat there, empty, for several months.
You know why right? The big question was "What do I fill it up with?"
Now if by chance you have read this blog for the past four years you may recall that photos of Christmas trees past feature pretty white lights and lots of white and cream decorations.
Like this tree topper:
and these ornaments:
Every year Mr. Décor says the same thing: He wishes for a Christmas like he had in his childhood~ large colorful lights, tons of Shiney~Brite ornaments, tinsel, plastic….the garish delights of Christmas past.
Two nights ago he announced "I took a poll today at work. I asked everyone if they liked white or colored lights." (Now if you know Mr. Décor personally, you are smiling because you can totally see him going up to everyone's desk and asking that question.)
"And?" I asked.
He replied, "The women ALL liked white lights. But, big surprise! The men ALL loved colored lights. Of course the sad thing is they haven't had them in their houses in years."
That conversation stayed with me.
I began to dig deep into boxes, pulling out tiny trinkets and treasures of Christmas past. Some belonged to Mr. Décor's mom, some belonged to mine. Others came from my friends Jenny and Meri.
I listened to Nat King Cole and Bing Crosby. I began to wallpaper the back of the box with vintage themed paper.
I added glitter and snow wherever I could.
I placed an elf that had belonged to my mom, Nadine, in the center of the box. He had been rescued out of the toss pile when I helped clean out her house. I was overcome. I too really missed the Christmases of my past.
Had I been too busy to enjoy the wonder of the season that it took all of the COLOR out of the holiday for me?
I looked at another elf on the shelf and I think she winked at me.
Who says "Elf On A Shelf" is just for kids? (Ok, so most of blogland and Pinterest.)
But I wondered, "Couldn't there be an Elf On The Shelf for adults?"
Now I am not talking about the inappropriate elves that are sweeping through blogland:
More like an elf sitting on a spring of mistletoe who asks "Remember our first kiss? Lets recreate it."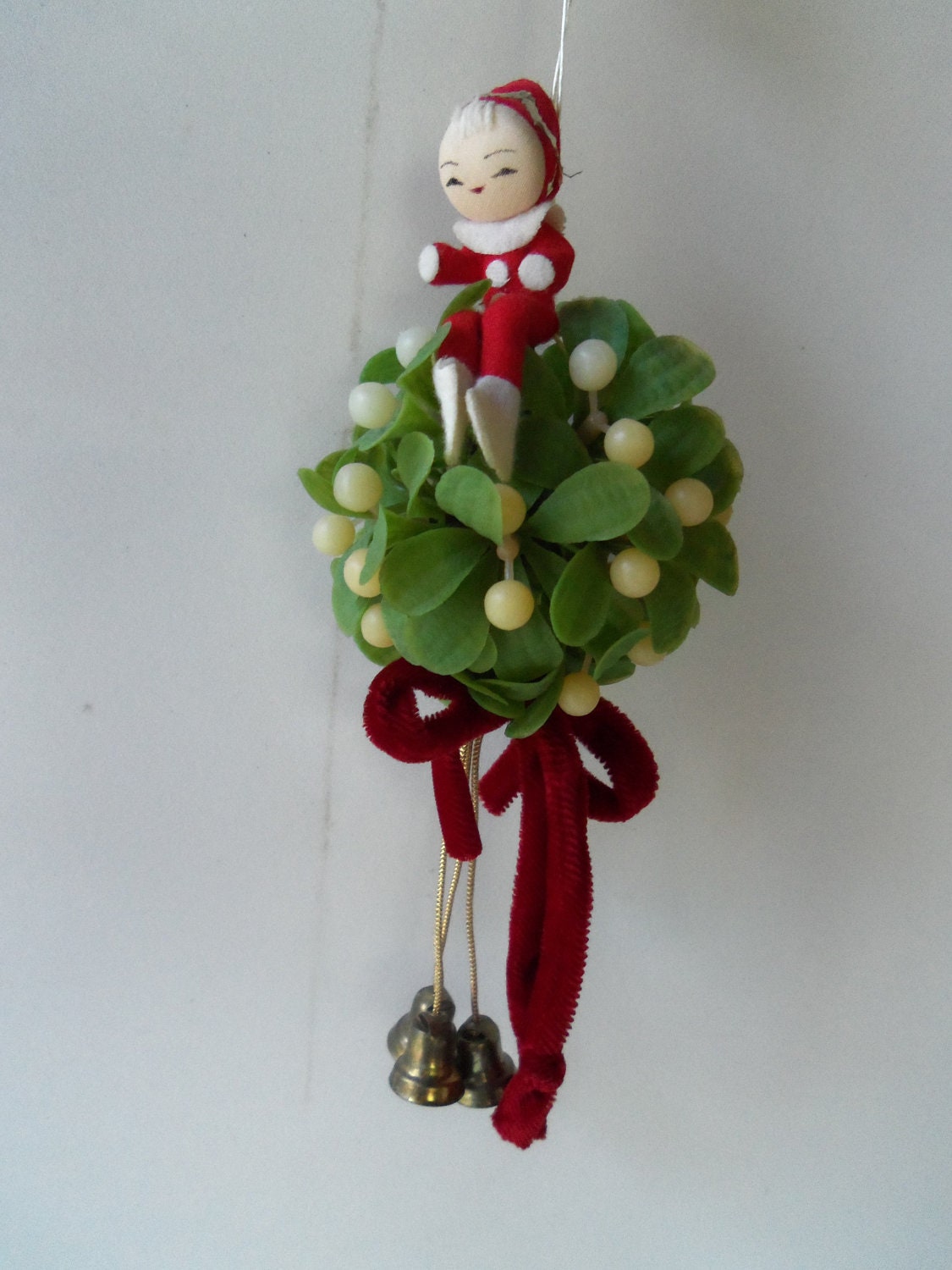 So everyday through Christmas my sweetheart and I will be enjoying the romantic version of "Elf On A Shelf". I'll do a weekly recap of the elves adventures and share the colorful vintage inspired Christmas décor that is going up in our house.
But today I want to know, "Does your family prefer colorful or white lights?"
Laura