Late last week I found myself in a certain favorite store perusing their seasonal displays. I picked up their recent catalog and found myself enamoured with the
Mythic Nest Tree Topper
. It was a crown of sorts truly fit for a magical snow queen. Alas, it had a price tag that was also reserved for royalty.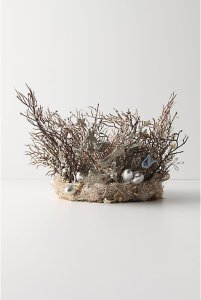 It made me think about my own tree topper, if you call one huge velvet bow a tree topper. It was tired and I had lost that loving feeling. So I grabbed a glue gun and a few supplies and created this: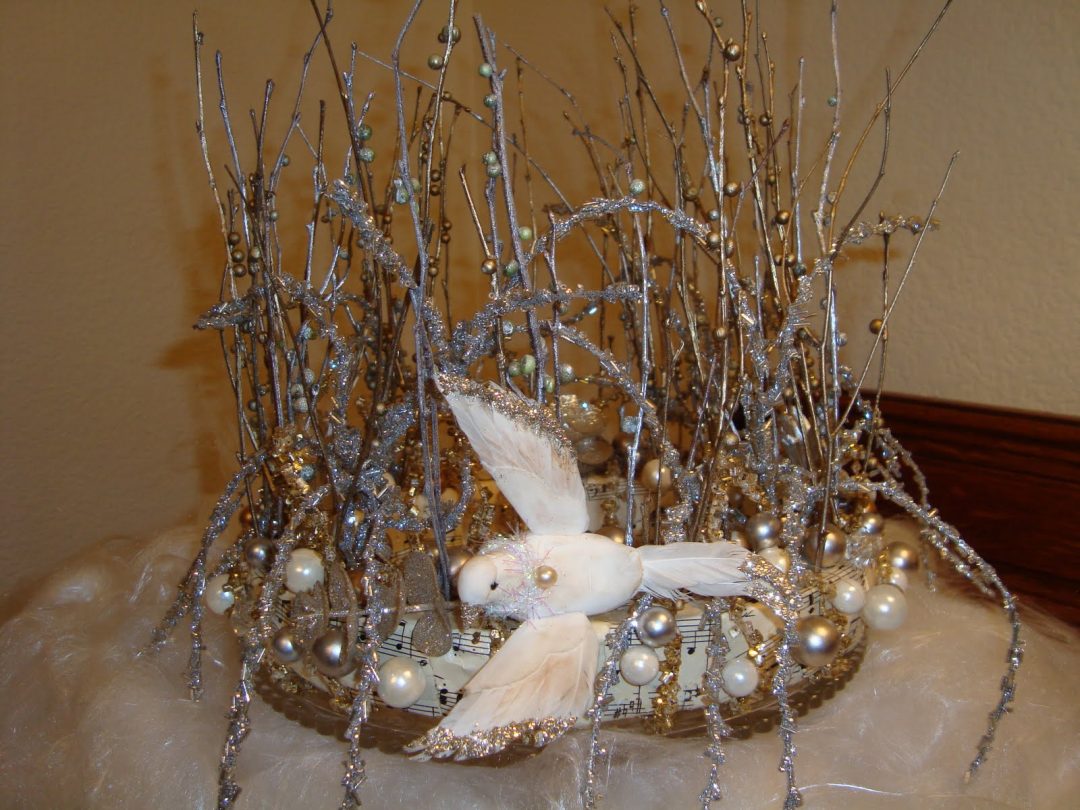 This tree topper was made to my taste and for a lot less money. Here are the supplies that I started with:
1. 10 inch

styrofoam

wreath bought for another project over a year ago.
2. One white dove found in the still overflowing craft closet.
3. Barbara

Trombley's

Art

Ultrafine

Art Glitter, color:

moondust
4. Jim

Holtz

Distress Ink, color: vintage photo
5. Assorted pearl picks purchased from

Michaels

after Christmas sale last year for like 22 cents a piece. (I checked and they carry the same picks this year.)
6. Wired tinsel in gold and white.
10. The good ole glue gun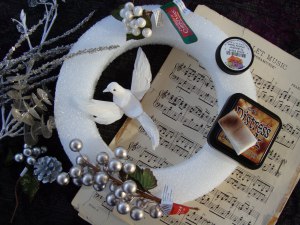 Music lovers please cover your ears while I randomly tear the sheet music into strips and apply it to the

styrofoam

base with Mod

Podge

.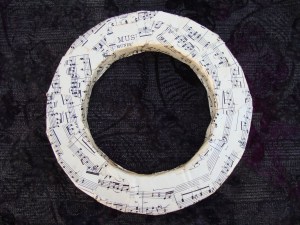 Next, it was time to stick in the picks. I made a hole first with a toothpick and then gingerly eased in the picks so I didn't damage the glitter coatings. (The first pick I just tried to jam into the

styrofoam

and it disintegrated.) I didn't have enough picks to suit my taste so I hot glued on a few mini silver pine cones I had leftover from a display last year. Then I took apart the pearl picks and randomly scattered the beads throughout what I had begun to tell my kids was a "Crown for Jesus".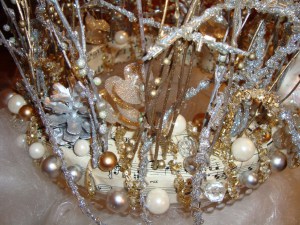 I've seen some aged birds around

blogland

. I have no idea how they are created. I imagine it may have something to do with tea dying, but I was in a hurry. So I just took a cosmetic sponge and dabbed a little distress ink onto it and then onto the bird. I put a bit of glue onto the beak, tail and wing feathers and then covered the areas with a bit of glitter. I then clipped off a wee piece of tinsel and hot glued it around the neck and covered the ends with a pearl. The bird was then applied onto the crown with the glue gun.

Tres

magnifique

!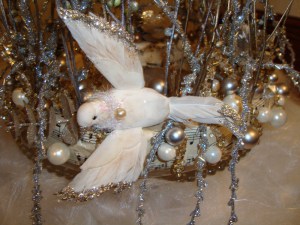 Is it

ok

to say that I like my crown even more than the Mystic Nest?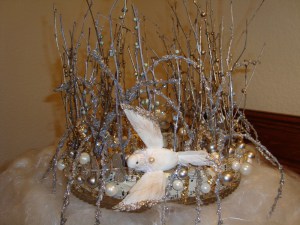 While Mr. Decor and the

decorettes

thought I had flown over the cuckoo's nest when I began this project they were eating crow by the time the last pearl was placed.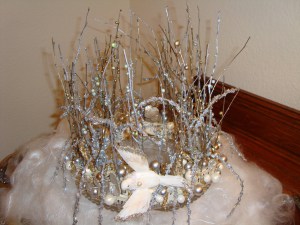 Of course a tree topper must be shown on the tree.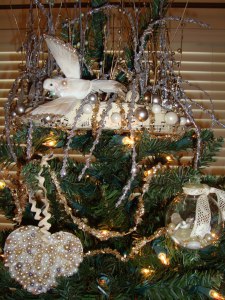 I apologize for not commenting as much lately. I am scrambling to write two term papers, work on a final project, and have begun studying for finals.
Go make a beautiful mess and be blessed.