Our apartment was located in a section of Paris often referred to as "La Jungle". It was disheartening to see the gang activity of tagging (spray painted markings) appearing on several lovely old buildings. After being awake for 40+ hours at 10 pm I climbed onto my piece of foam supported by a plywood platform and was dreaming of a restful nights sleep. The constant stream of unmuffled motorcycles right outside my window however had other ideas. I did finally fall into a fitful slumber around 1 am only to be rudely awakened on Sunday morning at 6 am by shopkeepers throwing up their metal security gates. Welcome to Paris!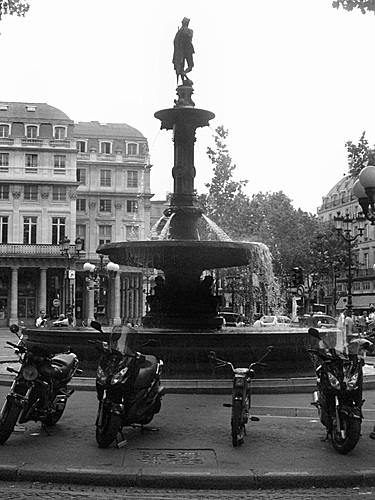 But this is Paris, who needs sleep? We quickly got ready, eager to see the Parisian farmers markets. Although I generally only drink tea, I decided a strong cup of coffee was in order accompanied by a delicious pain au chocolat (chocolate croissant). At 7 am the café we selected for our petit déjeuner (breakfast) was virtually deserted. Andrea ordered for us and I toddled over to a small table seeking a bit of weight relief for my ankle. But Non! We were informed by the barkeep that to sit we would have to pay an additional fee. (Welcome to Paris!) So we opted to remain standing at the bar on a matter of principal.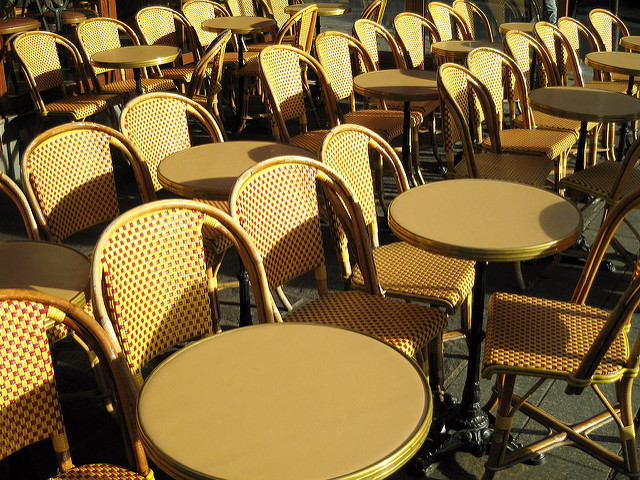 My café au lait and pain au chocolat were small pieces of Parisian heaven. A bit of the hot liquid had spilled over onto my saucer and I ended up getting a bit of coffee on my hands. As we were leaving I reached for a single napkin to clean off with as I hadn't originally been given one. The barkeep barked that it would be an additional fee for the paper napkin. I placed my 10c Euro piece down on the counter and gave him a bit of evil eye.
But my irritation was short lived. For on every street corner there was someone selling small bouquets of le muguet (lily of the valley) in honor of jour de Mai. The scent was intoxicating. For the French, May Day is their Labor Day. It is a day off in which people give friends and family members small bouquets for good luck and labor unions organize parades. (More on that later.) It seems that the custom of giving a le muguet bouquet was began on May 1st, 1561, when King Charles IX received lily of the valley as a good luck charm. He decided to offer a bouquet each year after to the ladies of the court. The government permits individuals and organizations to sell them free of taxation on May 1st hence the abundance of stands throughout Paris.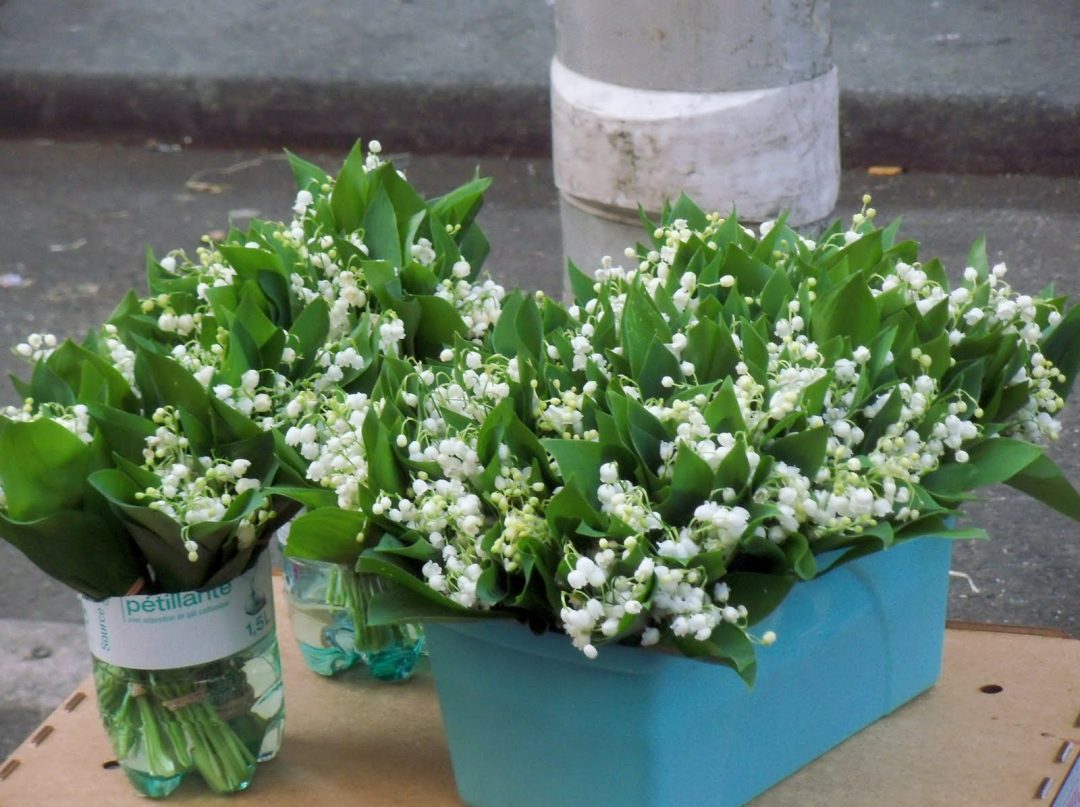 Off we went to the markets. Now let me say that until you have experienced a French farmers market you haven't lived. Who knew that flowers, fruit and vegetables could be so beautifully displayed?
The French believe that in order to achieve the highest quality all plants must be given good soil that is free of artificial additives, clean water, and most importantly, time. While Americans are on a continuous quest for something that grows bigger or faster what is lost is something better. 
French carrots (carotte), fresh from the field, taste better. I have never seen such a bold color in beets (betteraves). It is because they are given time to develop naturally.
Can you remember a time when a strawberry (fraises) you ate was red the whole way through? In our efforts to get our berries to market faster we sacrifice the 2 or 3 days needed for the centers to ripen to a ruby red. While I often have to add a bit of sugar to berries purchased at home these we eagerly ate straight from the container. There was also no worry that they hadn't been given an additional washing first. They were heavenly.
The fish (le poisson) was incredibly fresh. How could I tell? Well first, there was no fishy smell and the eyes were so clear. I ate Dover sole and salmon, among many other types of seafood, like nobody's business while I was in France.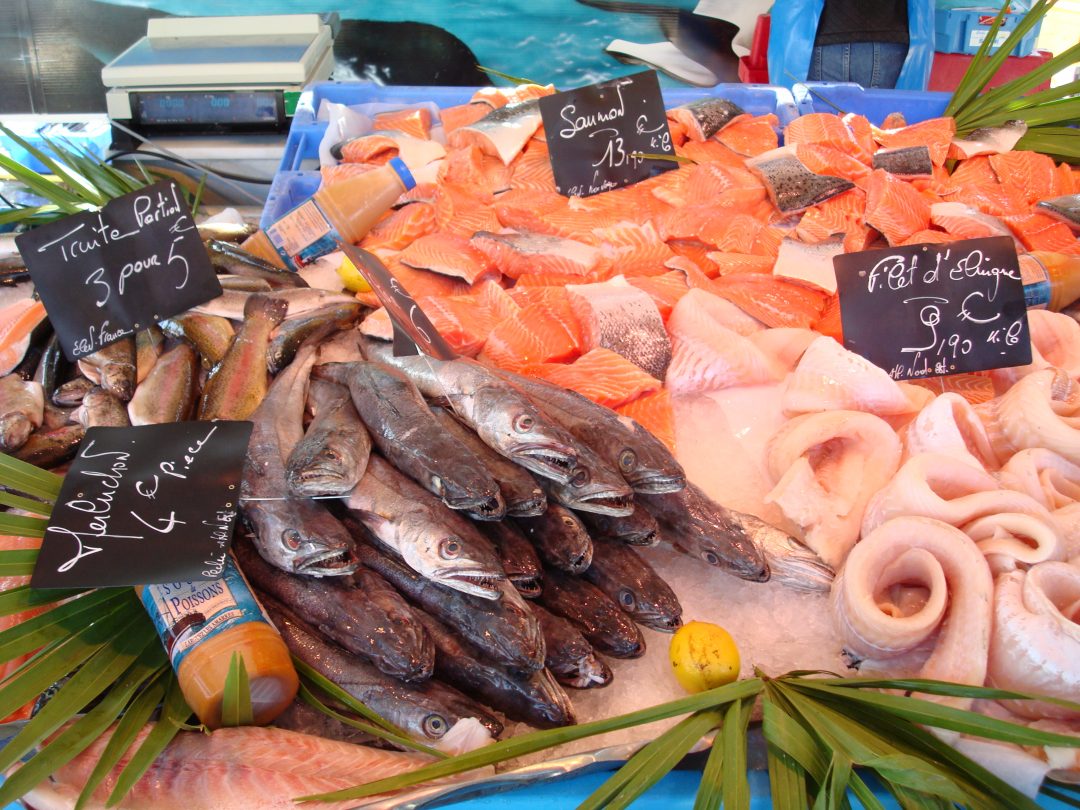 Now the peonies (pivoines) almost deserve an entire post of their own. Never before have I smelled such a smell! The lush and lovely petals held a scent that was beyond anything I can describe. Yes, a single peony cost 7 Euro. Like most everything else in France, flowers and food are very expensive. But the true beauty is that the single blossom that I purchased scented an entire room. I will take one beautiful, perfectly scented bloom over an average bouquet any day.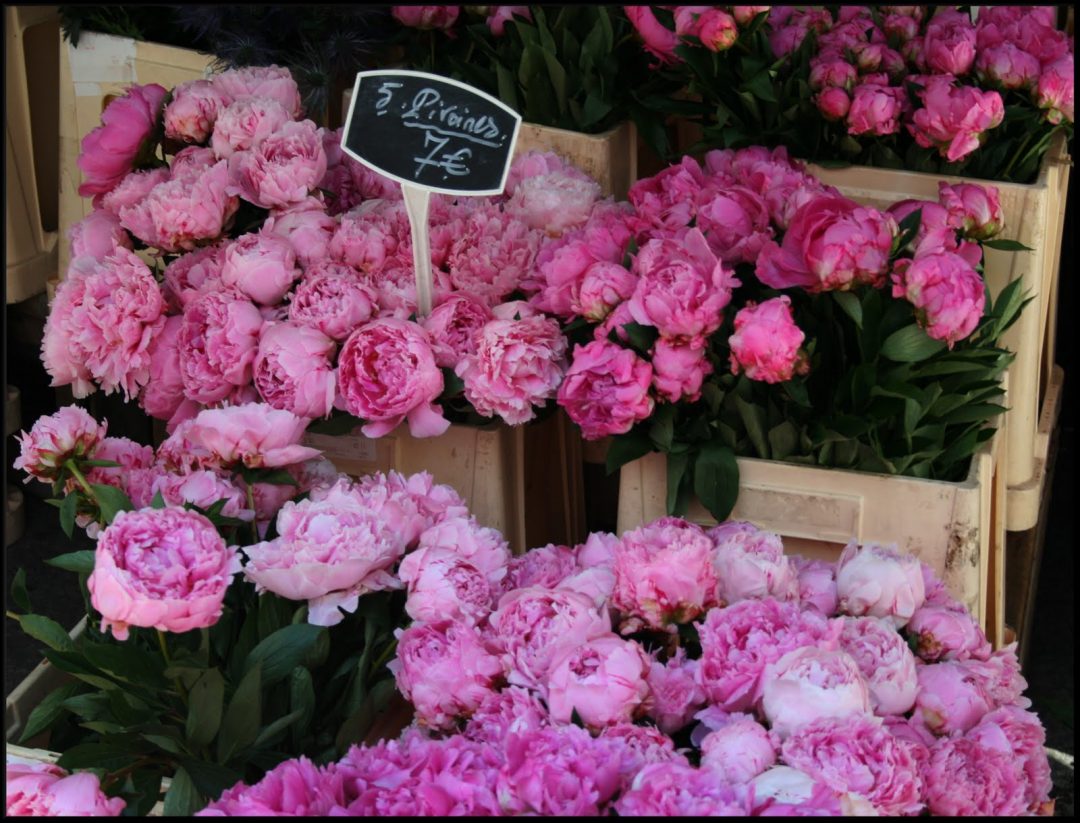 After viewing several markets it was time to select what we wanted to have for dinner. Every true Parisian wouldn't dream of a meal without bread. While the baguette is truly famous please give me a petit brioche. Yes, the one in front with a touch of sea salt.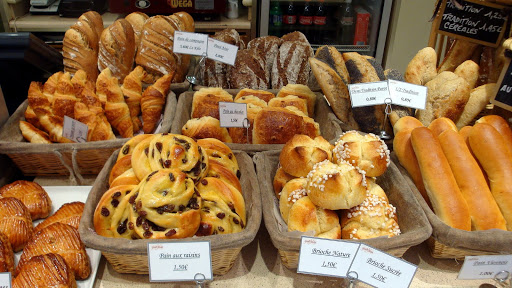 How about half of a roasted chicken (poulet rôti)?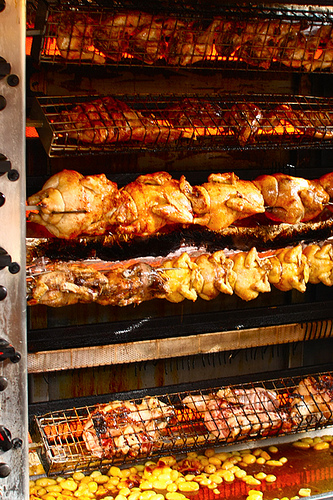 Asparagus was in season, green, white and wild. We tried it all. I wasn't entirely wild about the wild. 🙂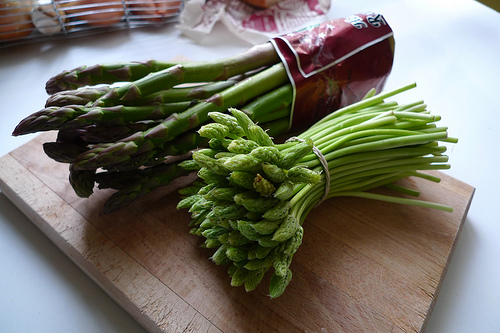 Of course one must have a bit of stinky cheese (fromage) to truly finish a fine French meal.
Upon our return to the apartment in late afternoon we found the main street had been closed due to an organized labor parade. Parking in Paris is difficult at its best and an entire street closing creates even more of a challenge. We finally found a spot for our wee Ford about 15 blocks away. (Welcome to Paris!) But the payoff was a birds eye view of French organized chaos. How they love to march!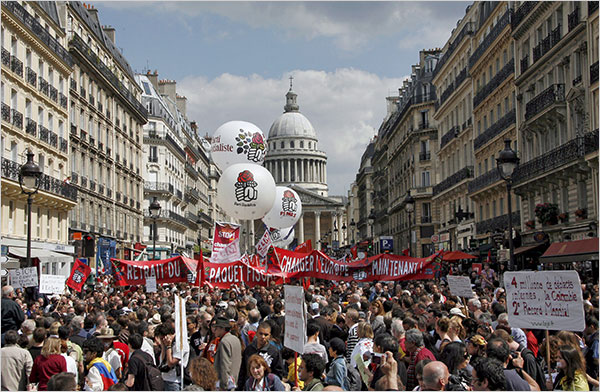 By 8 pm I was delightfully full. I took a Tylenol pm to force slumber. As I drifted off to the sweet smell of lily of the valley I was humming "I love Paris in the springtime…"
So ends day two.
Laura