Last week I wrote a post that showcased traditional Christmas tablescapes. This week is all about happy color that is not generally associated with Christmas. While red and green will always play a part in Christmas, I do love the unexpected freshness of red and turquoise paired together.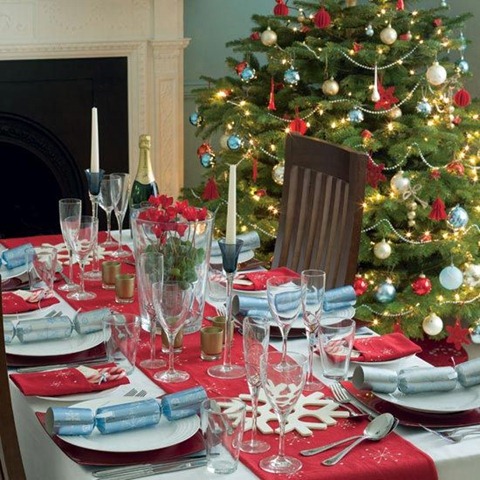 How about a punch of purple?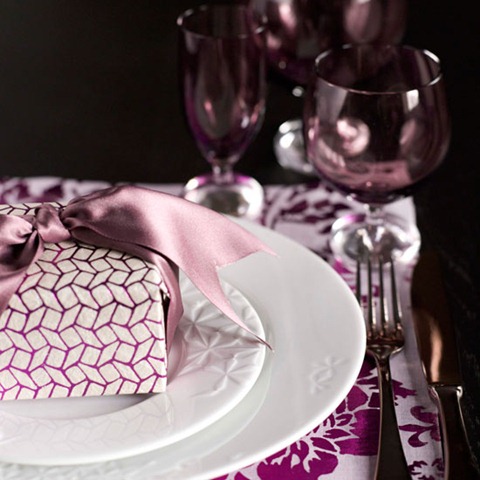 I would coin this table Rustic Elegance. The addition of a mustardy gold pairs well with the purple. The wooden table and stone walls captured my heart.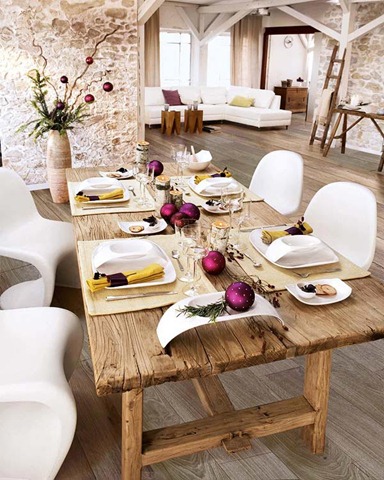 Perhaps you like purple's pretty cousin, pink? I love the addition of the gold ribbon to really tie in the collection of vintage Shiny Brites.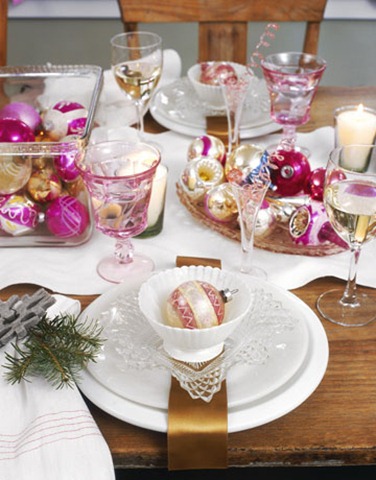 When thinking of natural elements to decorate a holiday table, Gerbera daisies and tulips are not foremost in my mind, but I do love the groupings in the mercury glass.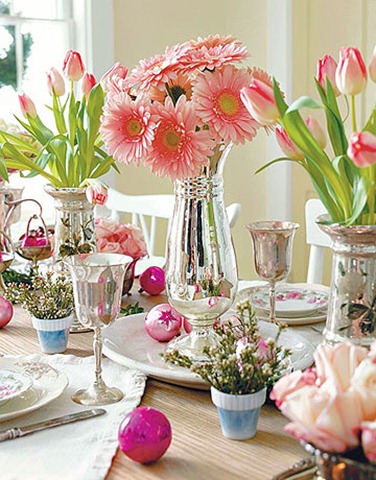 Elvis may have had it all right. Let's bring on the blue Christmas. This image reminded me that I wanted to learn how to make the jingle bell snowflake. Know of any tutorials? This would make a festively fun noisemaker for New Years Eve.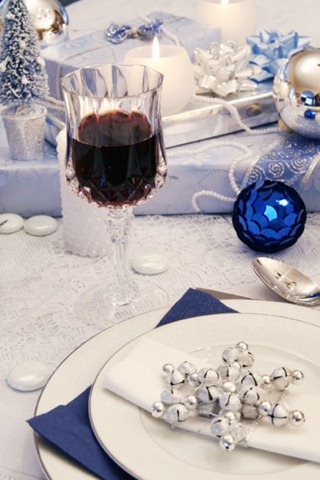 Sigh. So much to love. First, the simple beaded garland draped around the candle nesting on a plate of greenery~ easy and affective. Next, a cloche of ornaments, yes please. Finally, I always love to sit down to a plate filled with fun. Look at the sweet bird ornament, a small dish of candies and a Christmas cracker. Favors at their best.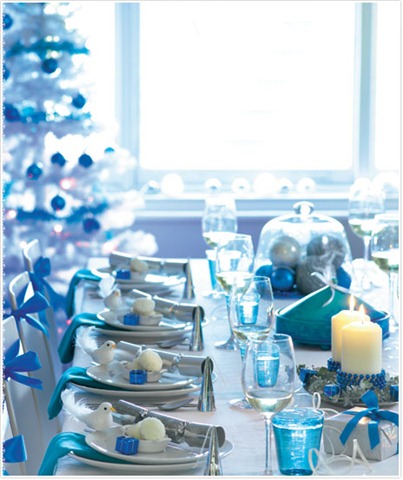 I would like to hit the "like" button on this centerpiece. Begin with a milk glass container and fill it with oasis and top with moss. Push in a wooden dowel covered in ribbon. Place a styrofoam ball covered in various sized ornaments on top of the dowel and finish with a simple ribbon bow.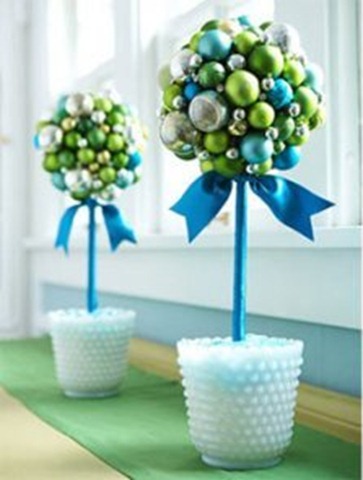 At first glance this image may not catch your eye. But on further inspection I love how the various chair are now unified through paint. The simple branch hung as a chandelier is quite fetching. I would possibly add some small jars filled with votives.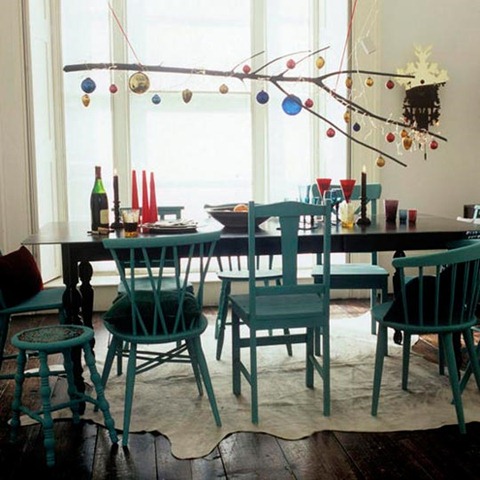 Fresh spring green. The sheerest of tablecloths and simple grasses in clear vases. I would almost file this image away under all things Easter, but it may get you thinking outside the box in terms of centerpieces.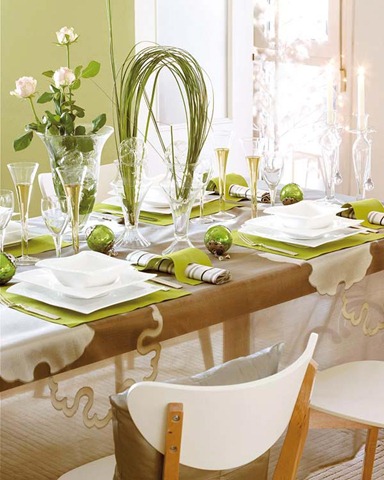 Speaking of green and centerpieces… this one really caught my eye. Breaking it down~ one clear bowl, a layer of "snow", large aqua ornaments, a layer of gold pinecones, a layer of smaller aqua ornaments topped with greenery, and more pinecones (au naturale). I haven't decided how I feel about it, but it does provide a nice springboard in my mind.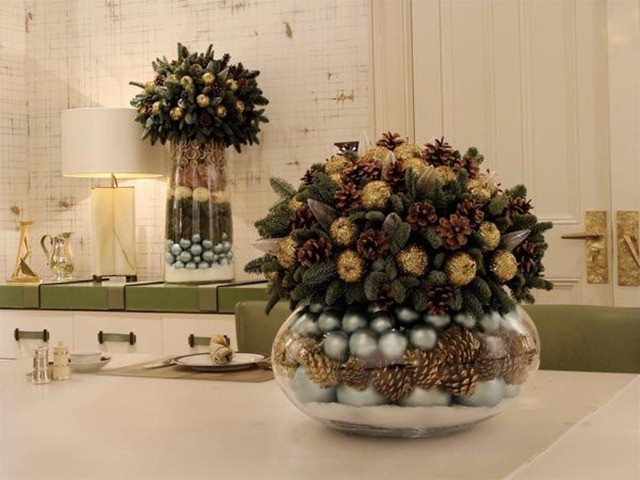 This time turquoise is pared with aged brass and brown. I love how the favor is wrapped up in the dinner napkin and topped with the occupants initials. An idea I will surely borrow. 
I really love this next image. It is perfect for those who live by the beach or perhaps Australia where it is currently summer.  Again, milk glass shows up.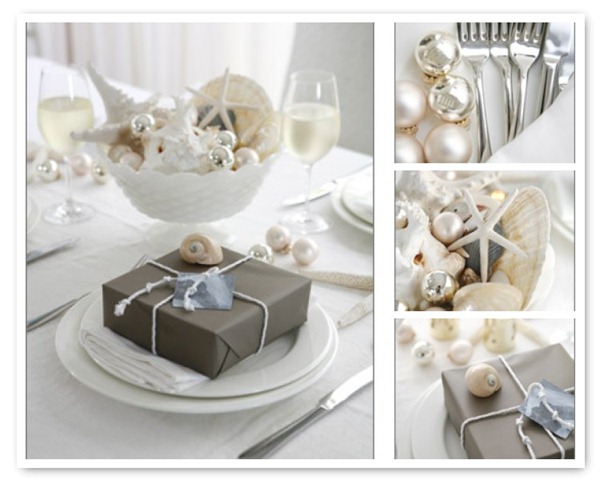 Rounding out this post are a few fun images that I really loved but never quite  found a place for. They are alternative takes on Christmas overall. Brown and gold. Non traditional colors, but pretty traditional style.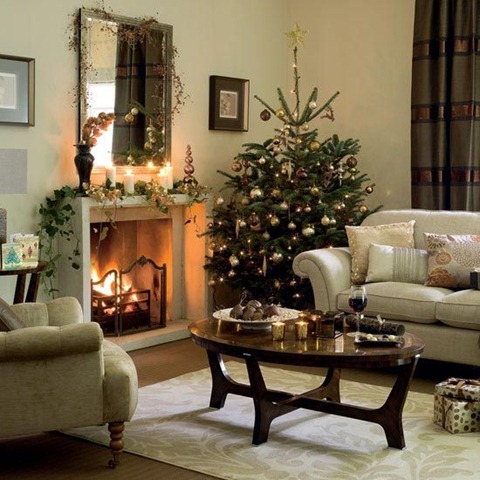 I spy with my little eye a deer used as a tree topper.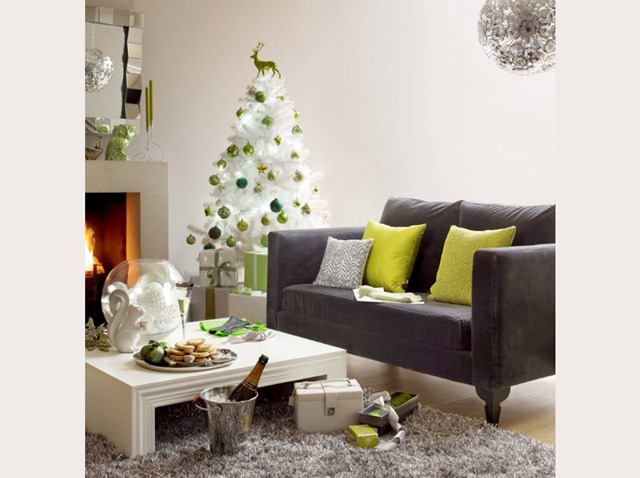 Are you smiling? What's not to love? The white tree topped by red, hot pink and aqua ornaments. Flea market finds~couch, lamp, chest, and various framed images equal second hand happiness. Over the top perfection~ sugarplum pillows. (Fashionista this makes me think of you.)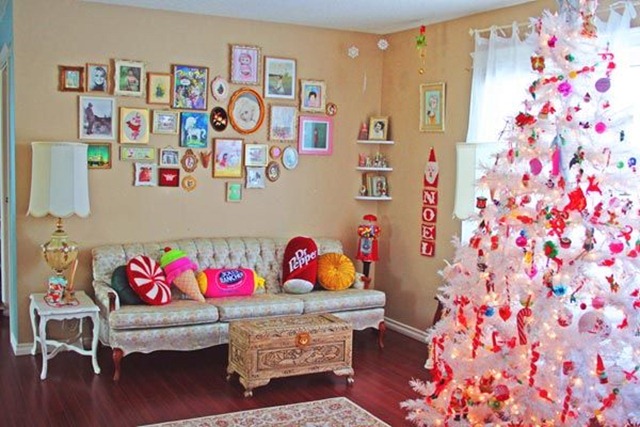 The previous rooms more dignified sister. Look at the mantel! I especially love the beaded garland strung with presents.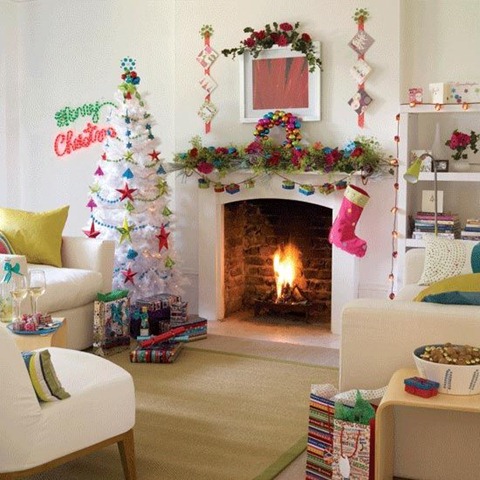 Lastly, one of my favorite images of the season. I feel peaceful every time I look at it. I have a similar tablecloth, silver tray and a feather tree. I am just missing an urn, large double faced satin bow and a wee Mary to nestle in the ornies. Next year my friends, next year.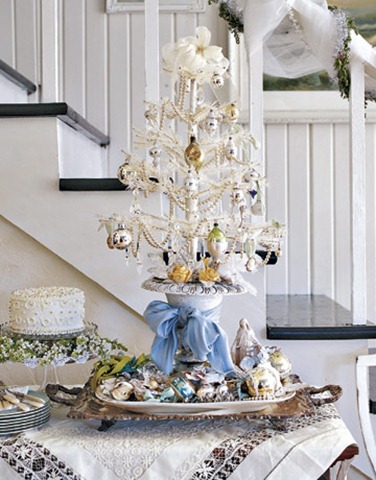 Today has me stirring a big pot of homemade chicken noodle soup and preparing "girl cheese" sandwiches with lovely sourdough bread and provolone cheese to feed our visiting wee friends, Shannon and Erin. Afterwards we will decorate gingerbread houses.
Is your table set?
Laura
Linking to the wonderful