For many people when they hear the word "Arizona" an image of a barren desert wasteland comes to mind. Yet in the fall, winter and spring there is almost no other place I would like to be. I thought I would share a few pictures of homes from a neighborhood I recently visited in Paradise Valley, which is a suburb of Phoenix.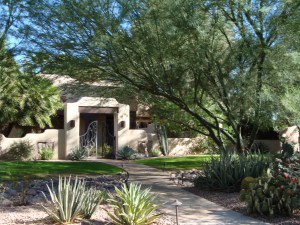 This home has its architectural roots in Spanish Colonial design. Look at how high the palm trees are!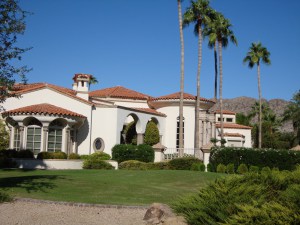 The home below has an adobe feel. I love the xeriscape~ which is landscaping that is planned based on climate and gardening zones and reduces or eliminates the need for supplemental irrigation.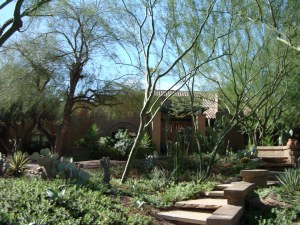 I adore the look of the bougainvillea plant with its beautiful pink flowering branches. But like the rose, it does have thorns.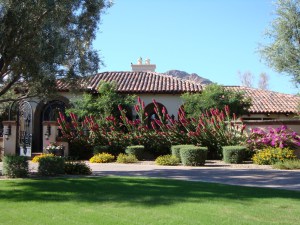 I adore the wrought iron gate.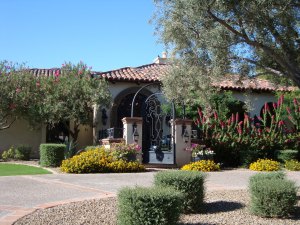 This home is a combination of an Italian villa crossed with Spanish Colonial that has a bit of fieldstone thrown in for good measure.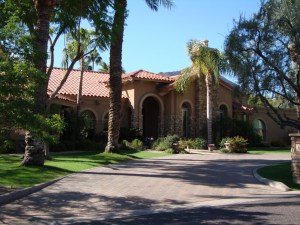 What a front entrance.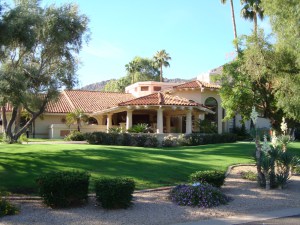 I am currently working on a post that will feature a tour inside one of these glorious homes.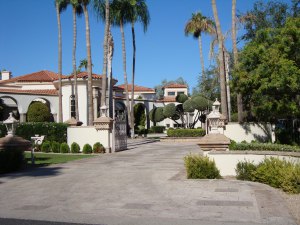 I hope you enjoyed the tour of fall in my neck of the woods.
Don't forget to enter the Spooktacular Giveaway one post down!