I have been getting into the Halloween spirit and feeling crafty with my vintage charms and cabochons from the 1950's and 60's. Perhaps you have a favorite ghoul that would like a Spooktacular Adornment? This bootiful vintage comb was christened "Autumn Delight".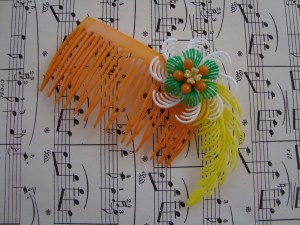 If you need to rattle a few chains how about a gem entitled "Purple People Eater"?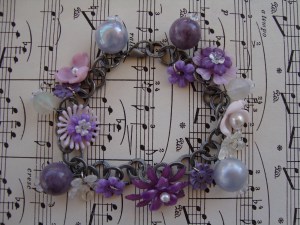 Perhaps you are more in a "Green Goblin" mood.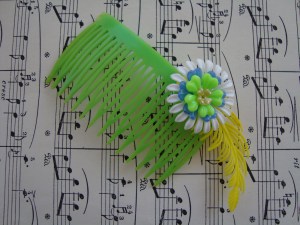 A sweet bit of bliss you can FALL in love with is "Harvest Time".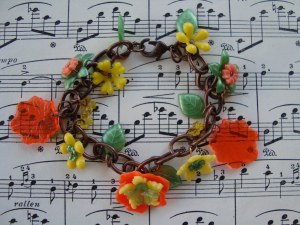 Sweep your elegant tresses to the side with "Autumn Sky".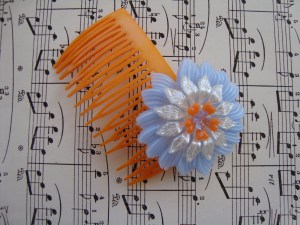 This is one occasion you'll be happy to have a "Cobweb's Delight".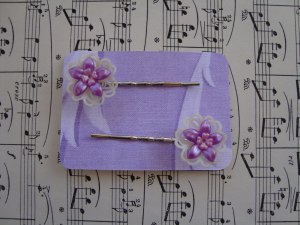 This vintage bit of bliss is entitled "Indian Summer".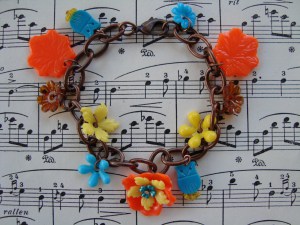 Now onto the GIVEAWAY!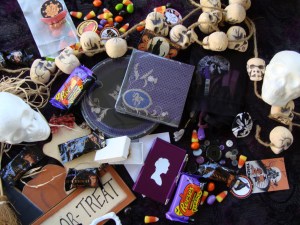 I've never thought much of the orange and black combo. I thought this Halloween giveaway could have a nice purple theme. I adore the party plates and napkins. There is also a nice note pad, a black and white vintage cameo ring made by yours truly and vintage trims and buttons in the inspired colored palette.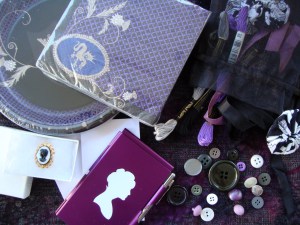 But if you are more of a traditionalist, I have included a cute wooden sign and a few skulls. (Don't worry my children are still alive.)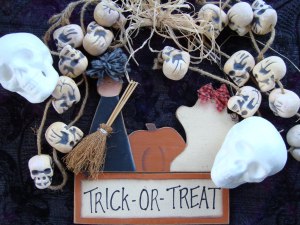 For those of you who love the taste of blood um I mean chocolate, how about the New Moon variety? I've included a set of fangs to help you suck out the filling. (Carmel is my personal favorite. It has nothing to do with the fact that Edward is on the package. Really.)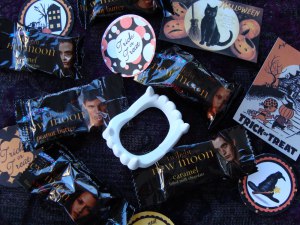 Edward. Sigh. Anyone else counting the days until New Moon?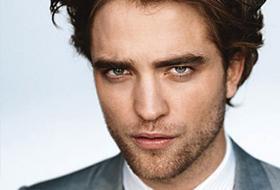 eye candy
Oh right, forgive me, the GIVEAWAY. I had to include my other favorites: candy corn and peanut M & M's. If you promise to not remind me of the time I ate 6 Reese's peanut butter eggs in one sitting I will include a few of their pumpkins. You might need a set of rotten teeth to eat them all with.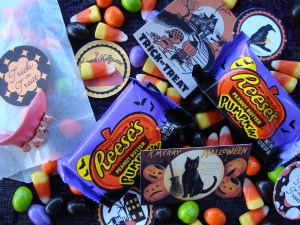 Now for the fine print. The Spooktacular Giveaway is for "Adorable People" only. (Also known as Decor to Adore followers.) If you would like 2 additional entries you can link the giveaway on your blog.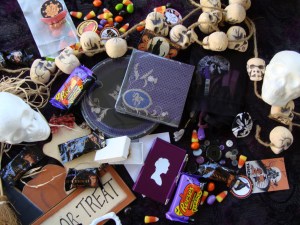 The Random Number Generator will select a winner on Monday morning in the hopes that the winner will receive the package in time to enjoy all the goodness before All Hallows Eve arrives.
UPDATE: The random number generator has selected Liz of Rose Vignettes. Congratulations Liz!
As we are entering the holiday season there will be many more giveaways to come.