A few weeks ago I wrote a post on a few projects I created with vintage rick rack and seam binding. The madness continues. Rick Rack Attack.
I have continued working on the Fashionista's apartment. We had an extremely low budget (think: none) to decorate the space. It has two sets of windows in the living and dining areas. When I found this stack of linen Pottery Barn drapes at Goodwill it was like discovering gold.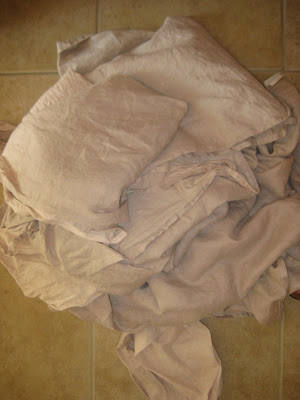 Rick Rack Attack
I transformed the beige color with a few bottles of dark brown Rit dye and spent hours sewing on vintage rick rack. The cute drapes were just what she wanted for under $15.00.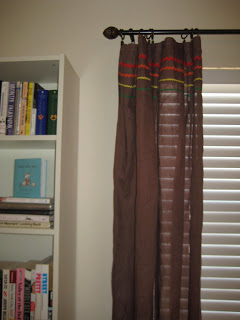 I also made a curtain to hide the ugly lopsided shelf above the laundry area. (Notice I didn't say "room".) Cabinets would have been nice, but this is a cute alternative if you don't have the budget.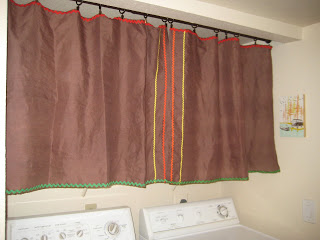 The fun didn't stop there. I decided to get a jump on sewing up a few more cute dishtowels to have on hand for gifts. A few of the towels I found on clearance at Marshalls.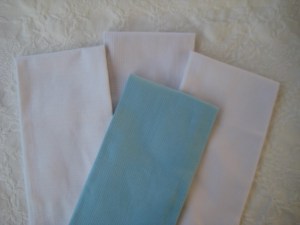 I have also been working on a yo~yo quilt and have eliminated a few of the yo's that didn't really work with the color palette of the guest room. Not wanting to toss these vintage gems I had an "ah ha" moment.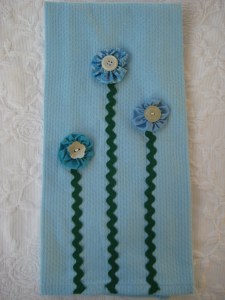 This towel would make me happy to do dishes, sort of.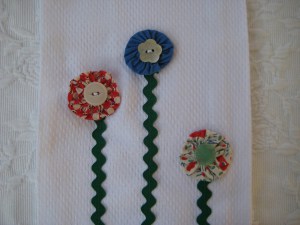 I still have some vintage trim in my Etsy shop.