In my last post, I showed you a picture of some of the vintage trim I found in a huge old box at the Long Beach flea market. Most of the ribbon that was in its original packaging was hidden under huge tangled piles of vintage ricrac (rick rack), seam binding and ribbon. It is amazing what you can find if you are willing to dig and work a bit. Vintage ribbon and notion giveaway.

Vintage ribbon and notion giveaway
It took several days to sort out and wind up all the vintage trim, and separate out the buttons, bells, wooden spools and poker chips. Yep, I have BAGS of them. The Fashionista and Sweet boy helped, as did the dog.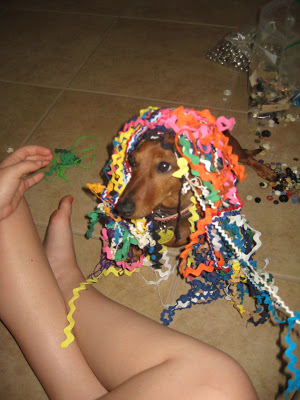 Then the fun began. I had purchased some dishtowels in the clearance bin at Pottery Barn. They were a little plain.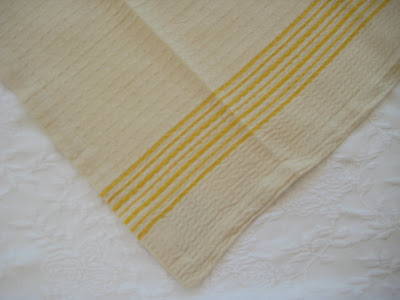 I added a bit of vintage cotton seam binding and ricrac in the colors of the Fashionista's new woodland kitchen. Cute?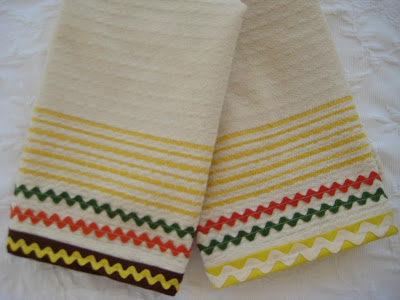 When I attend college or hang out at home I am a jeans and t-shirt girl. But I thought it might be nice to jazz up some of the plain "t's" with a bit o' rick rack. (The necklace is my own creation.)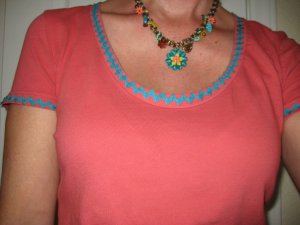 This shirt I made to match a cute sweater, but for some reason, it just leaves me wanting Baskin Robbins. 🙂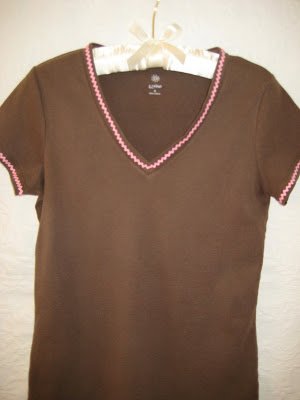 I also have been making a shower curtain for the Fashionista's apartment using some vintage fabric she loves. It is now also covered in yummy vintage trim. (I will reveal the entire bathroom soon, but I imagine you can figure out the theme.)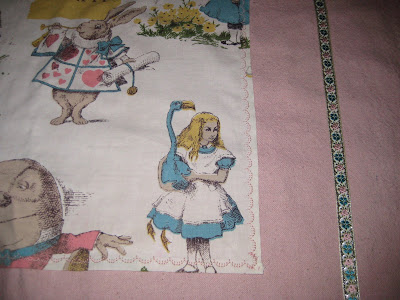 Of course, there is nothing like jazzing up a ho-hum gift with a bit of vintage seam binding. I have been using it in my scrapbooking endeavors too.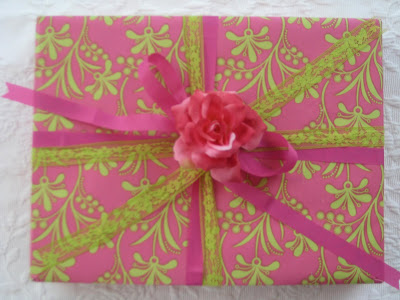 Etsy and The Giveaway
Yet even after all these projects I still have enough vintage trim to last three lifetimes. So, I have decided to share. I am listing close to two hundred packages of trim in its original packaging in my Etsy shop. It is priced to sell at 2 for $1.00! The first 20 buyers will also get some bonus trim added to their orders.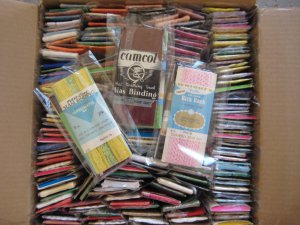 For those of you who don't need the original packaging, you can get an even better deal, 4 cards of trim for $1.00! The average amount of yardage on each card is 2 yards. Each has a minimum of 1 yard, some have 3-4 yards.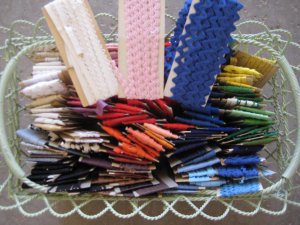 As a thank you for listening to my spiel I am hosting a giveaway of vintage trim, lace, ricrac, and seam binding. Please leave me ONE comment. A winner will be selected next week.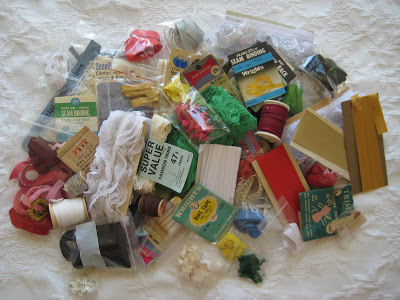 And pretty please, the dog is begging you, could you kindly visit my

shop

and take some of this trim off of our paws?
Update: The random number generator has selected Jill Elaine of
Sew A Fine Seam
. Congratulations Jill! I "sew" hope you enjoy your vintage trims.