Decorating with Children, it can be done, I promise! For our New Year's Eve table , enlisted Sweet Boy's help. He's seven and all boy, but oddly enough likes to help decorate. Trying to not include him could be disastrous on many levels. For the table I channeled my inner Frosty.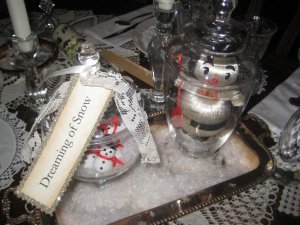 Decorating with Children
We began by creating a table runner made out of various doilies that I had on hand. They reminded me of snowflakes.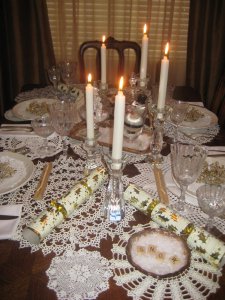 I then added some tarnished sparkle in the form of unpolished silver (the best kind) and some crystal candlesticks. Sweet boy's job was to select scrabble tiles and create words for the trays. I then upped the concentration factor and asked if he could think up words representing cold and ice that began with the letter of each person's name and create place cards. He became Igloo. Mr. Decor is Eskimo.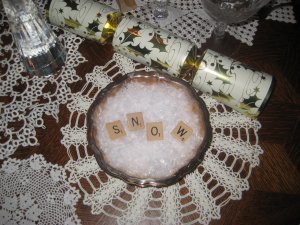 I liked how the table worked so well with my Snow Village that is shown in the background on the sideboard.