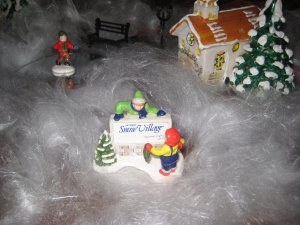 The Christmas of 1977 I was nine years old. A dear family friend, Inge, gave me a very special gift. It was a sweet yellow ceramic house that lit up and seemed magical to me. Every Christmas ever after, the house was displayed in a very special place.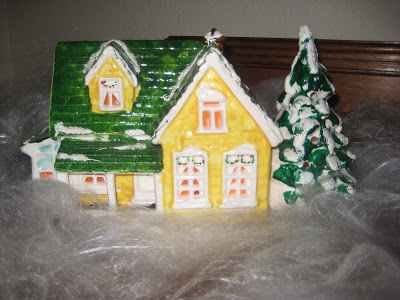 Once I was settled in my own home as an adult the house came with me.
A few years later I was at the Warner Robins AFB (in Georgia) thrift store and noticed a small church that seemed to look very similar to my yellow house. It was only $1.25, so I bought it and only had to find a new extension cord with a light attached.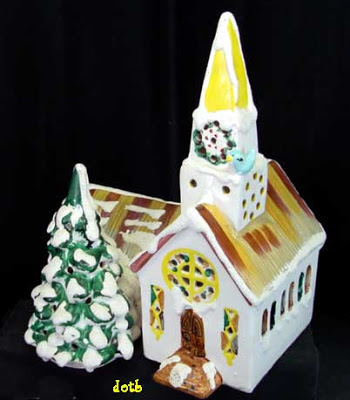 All the following images are from Ebay.

A year later I was working as a writer for the Houston Home Journal. Searching for a new Christmas story, I accepted the invitation to visit the home of one of Mr. Decor's co workers. Each year she would set up an extensive Christmas village in several rooms of her home. She thought our son, age 2 at the time, would enjoy it.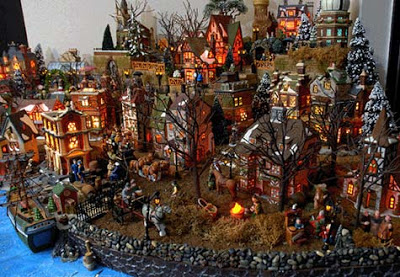 Although my son was enraptured, I too squealed with delight. It was an overwhelmingly beautiful display. The attention to detail was spectacular. I then pointed out an area to Connie that contained the same church I had bought the year earlier. I mentioned this and she said, "Oh, those are from the 1976 original Snow Village collection done by
Dept. 56
. They are very collectible." She also said that she had a collectors book. I thumbed through the book and found MY house. I said, "Oh, I also have this house." Connie's eye lit up like a Christmas tree. She asked if I would be interested in selling the house. I politely told her "No." The house held to many wonderful memories for me within its midst."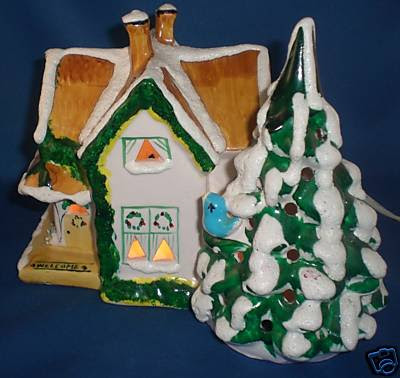 Once home, I began to research the original snow village. I learned that it consisted of six hand painted pieces. I then made a foray onto Ebay where my house was undergoing a bidding war….the winning buyer paid $300.00. I also found my church selling for $49. I was surprised, but it did not change in any way how I felt about my magical, wonderful house.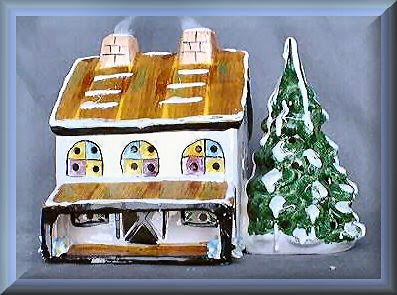 Each year I try to track down one vintage piece to add to my 1976-1979 Snow Village collection. I am now just missing a few pieces. I always give myself a $20 limit, so it has become quite a bit of a treasure hunt.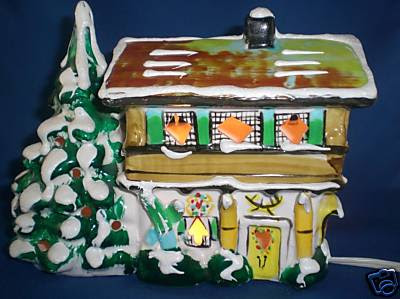 Last year, I bought the 1980 train set for my son who adores trains. Coincidentally, a friend found the train set in an antique store and also bought it for me. (Such a wonderful friend! )So, I now have two train sets. I don't really need two trains sets…..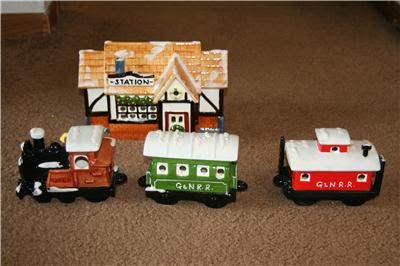 This brings us to Friday Freebie. If you would like the Dept. 56 Vintage Train Set please leave me ONE comment as to what Christmas treasure speaks to your heart.
Come back on Monday to learn "Why I Give".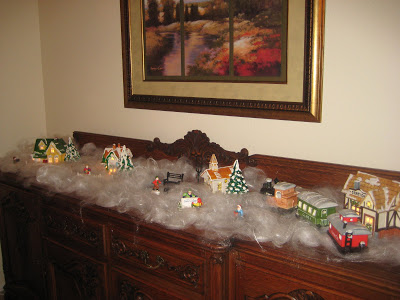 UPDATE: Congratulations to one of my favorite bloggers, Elizabeth from Thoughts From An Evil Overlord. May your train bring you many years of happy, healthy holidays!
Be blessed!