My Beautiful Notre Dame. Over the years I have written about this glorious cathedral many, many times. I first had the joy of seeing its medieval glory firsthand in 2000. Every time I return to Paris I always at least walk past its magnificent facade in the Ile de la Cite.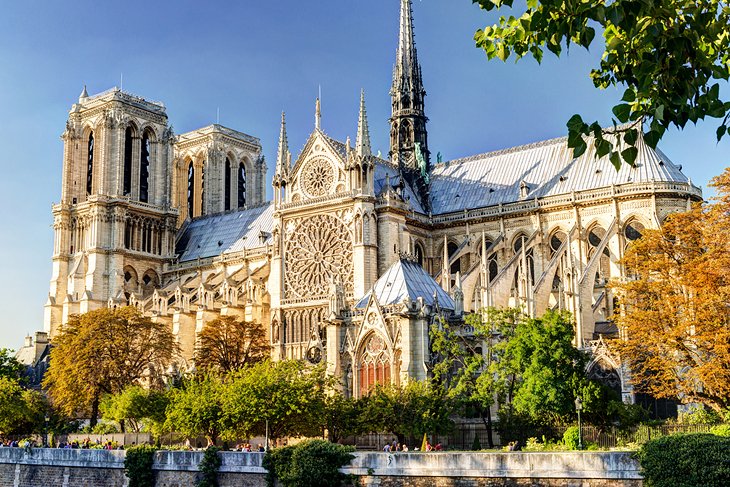 My Beautiful Notre Dame
By now you have probably heard that the entire roof was totally engulfed in flames and completely collapsed. The beautiful 12th-century spire of the cathedral had fallen. The fire had also spread to one of its iconic rectangular towers but they were saved.
The cathedral had been undergoing renovations to prevent the collapse of its northern tower.
Firefighters who were at the scene bravely gave tremendous efforts towards saving the artwork stored at the back of the cathedral.
Miracles Are Already Happening
Beyond the heartbreak, there is much to be thankful for.
The 12th-century cathedral is famous for featuring in Victor Hugo's classic novel The Hunchback of Notre-Dame. It attracts millions of tourists every year. Holy Week generally sees tremendous crowds. It is believed no lives have been lost. Out of 400 rescue workers, only one received serious injury.
I am praying that since the cathedral had been undergoing renovations perhaps many of the priceless relics and artwork had been moved elsewhere for safekeeping. Others will be moved to the Louvre for repair shortly.
The altar cross still stands!
The Crown of Thorns, worn by Jesus Christ before the crucifixion, was SAVED!
Notre Dame's organ, among the worlds most famous and biggest which still contains pipes from the Middle Ages,  remains intact.
The three Rose windows, immense round stained-glass windows, that date back to the 13th century, over the cathedral's three main portals were spared.
Then there are the thousands gathering together and demonstrating their faith.
Comfort has been found in looking through my old posts and immersing myself in the beauty.
Fundraising efforts are already underway by the French Heritage Society.
 https://frenchheritagesociety.org/event/notre-dame-fire-restoration-fund/
Donations via mail send to:
French Heritage Society, Inc., Notre-Dame Fire Restoration Fund,14 East 60th Street, Suite 605, New York, NY 10022
Keep the faith that beautiful Notre Dame will be restored to all its glory.
Laura
You May Also Enjoy
Waiting on Notre Dame de Paris