Next week my eldest child, the beloved Fashionista, will celebrate a milestone birthday. As many longtime readers know I am all about heartfelt, handcrafted gifts to mark special occasions. My sweet daughter has recently started a new job in Nashville and was searching for a few dresses to wear to her fashionable workplace. She discovered that most dresses today are either poorly made or cost well beyond what her millennial pocketbook could afford. So I decided that the perfect gift for her would be a few Happy Spring Dresses.
Happy Spring Dresses
Last week I mentioned that I had struck gold at a recent estate sale and brought home yards of vintage fabric and several vintage patterns. It was as if the universe was agreeing that a few new frocks would indeed be the perfect gift!
It also fits with my goal made last August to create several circa 1968 dresses.
The first gem was a Simplicity pattern 8780. View 3.
A Groovy Little Black Dress
It was love at first sight when my girl spied this vintage fabric.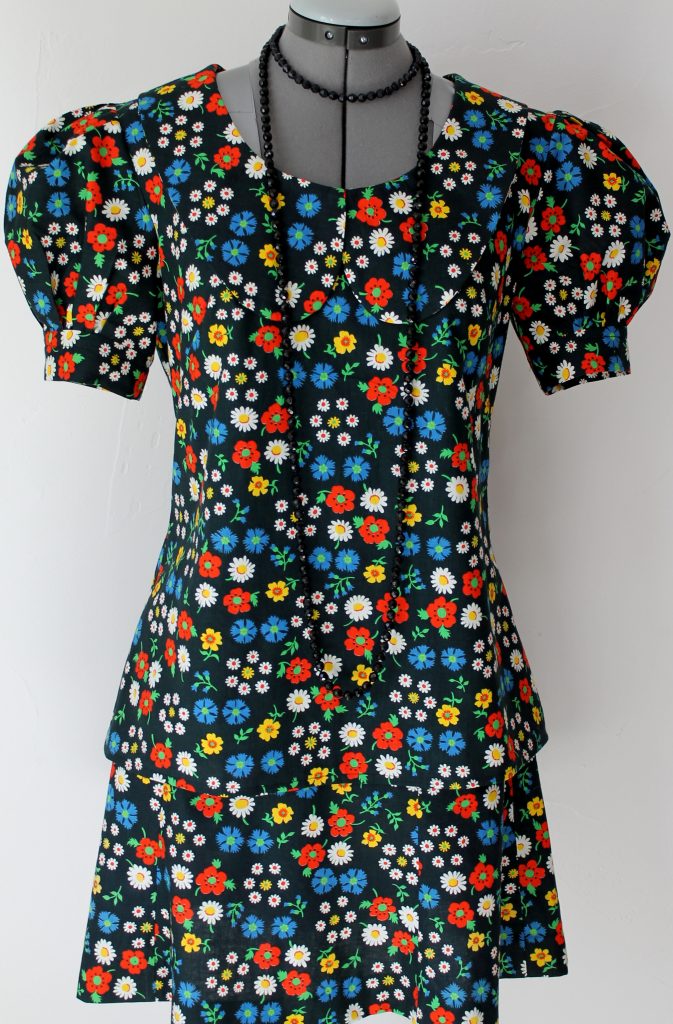 We agreed that it would pair well with the pattern design. I just had to overcome my fear and loathing of installing zippers aka slide fasteners. Both the blouse and skirt each had one.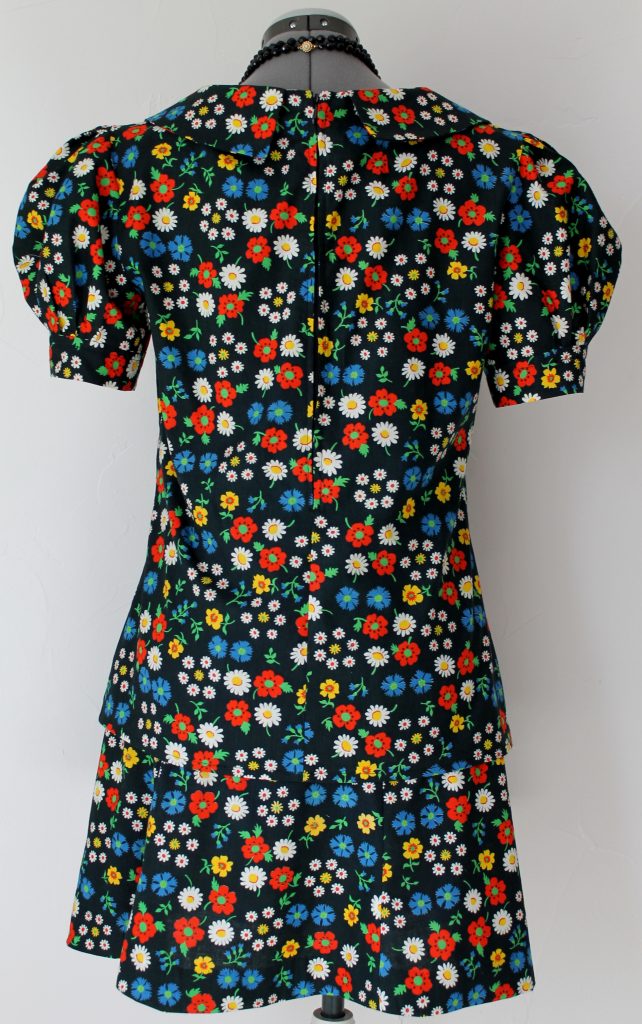 I shared the construction process on my Instagram stories and everyone chuckled at the "world's largest Peter Pan collar".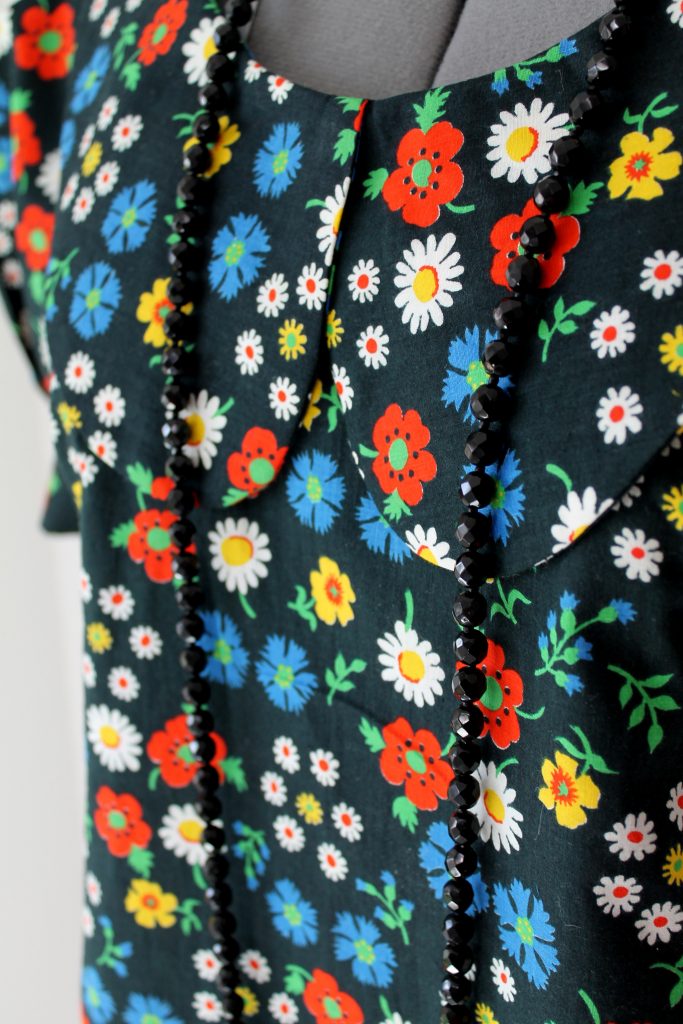 You'll soon see that just like Anne Shirley (Anne of Green Gables) I have a thing for "puffed sleeves".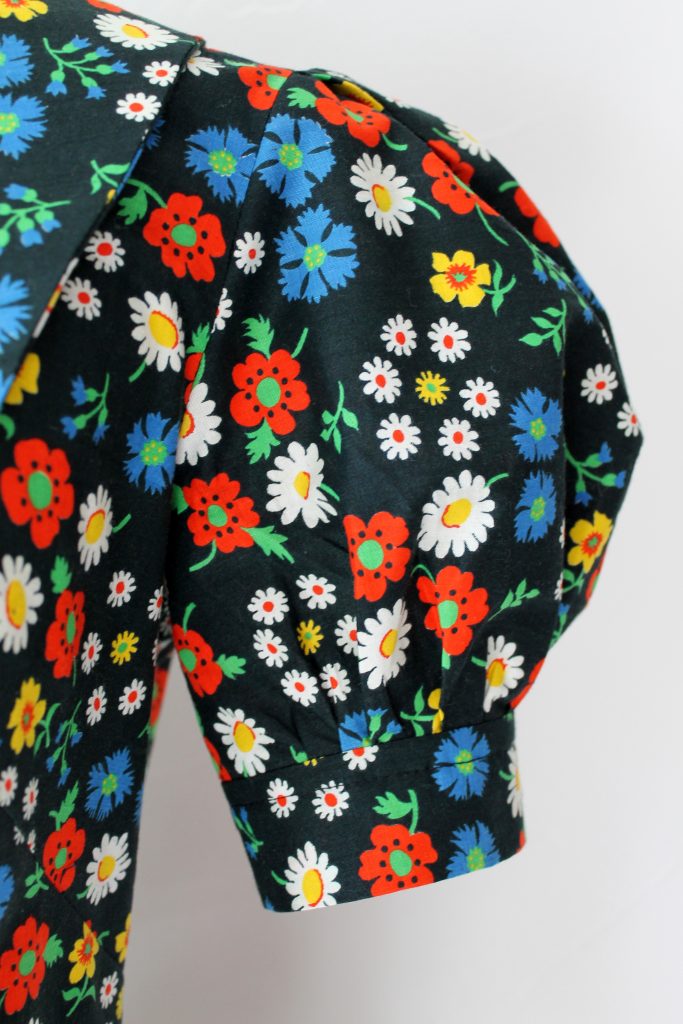 I really didn't encounter any difficulties in sewing this pattern.
All of the dresses shown in this post have either French seams or are bound in vintage cotton bias tape. I also used vintage metal zippers as I find they hold up better.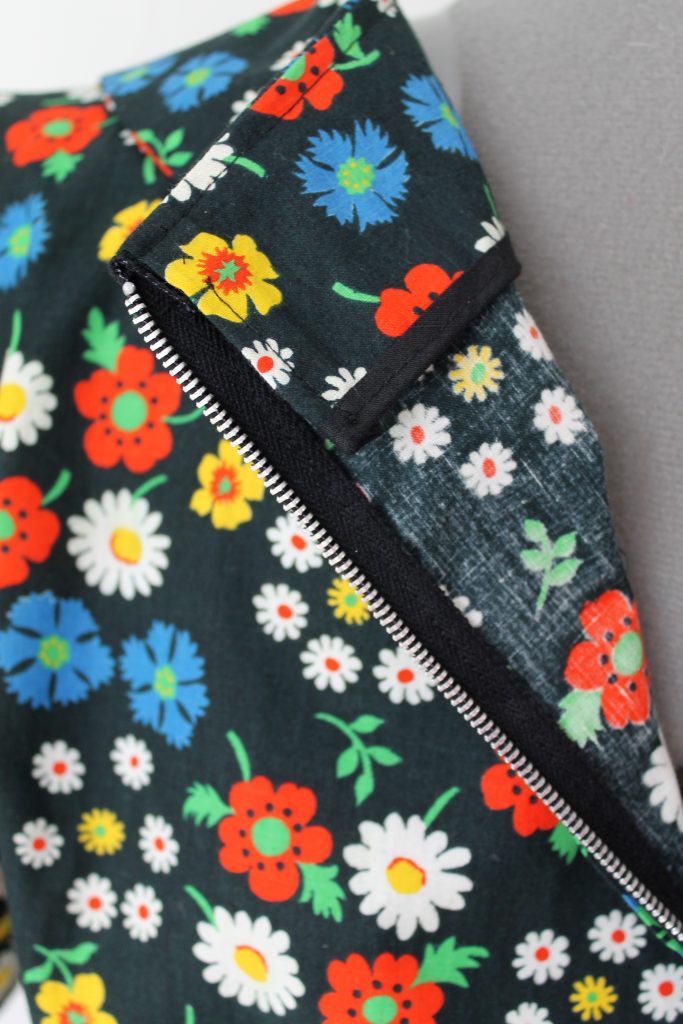 Golden Gingham
The next dress was made from McCall's pattern 9556, view "E".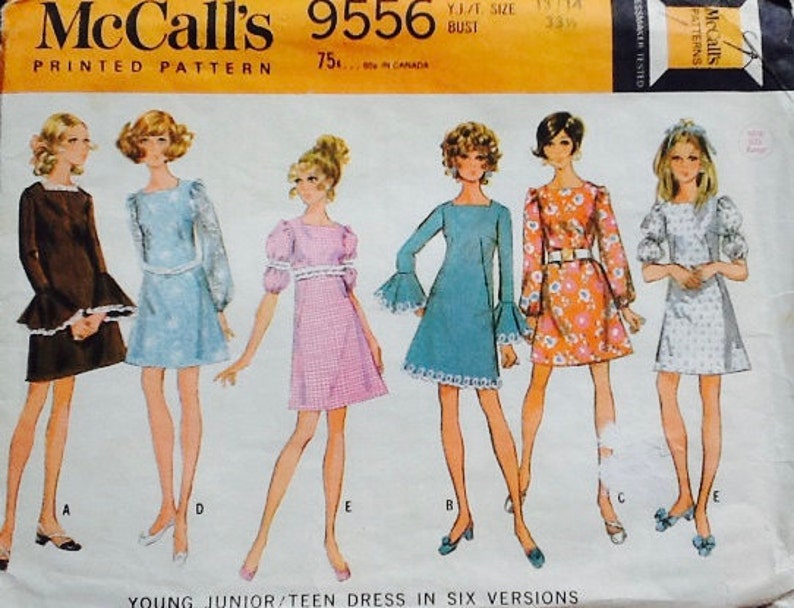 The cheery golden gingham fabric was purchased at Golden D'or in the Dallas Fabric District for $3.00 a yard.
Rapunzel, Rapunzel, let down your fabulous sleeves.
The eyelet trim and ribbon came from Hobby Lobby during a 50% off ribbon sale.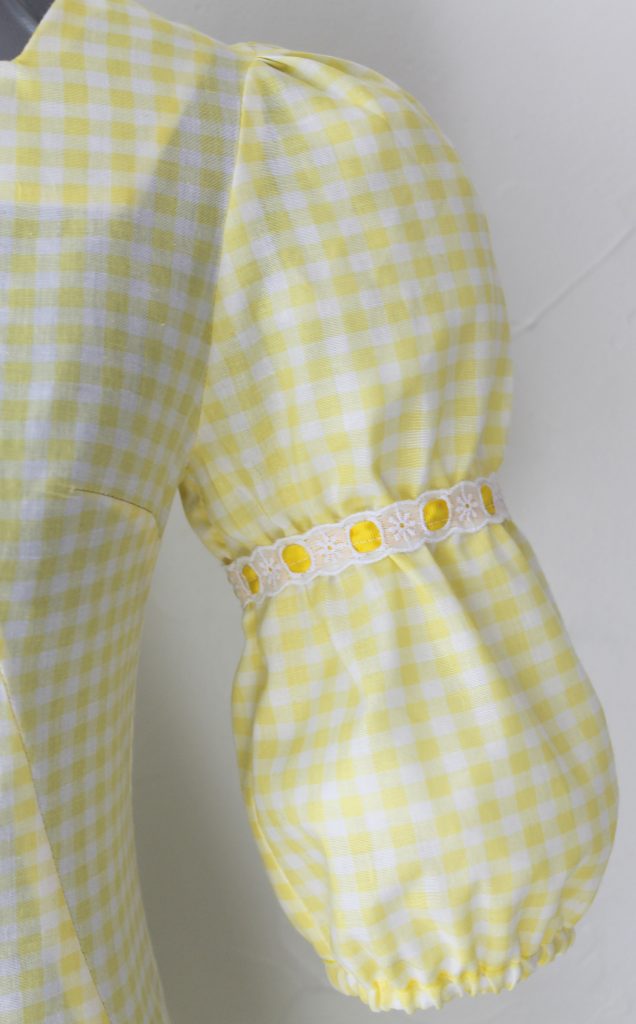 My zipper game is getting stronger. It lies a bit wonky right at the top but luckily the Fashionista has long hair.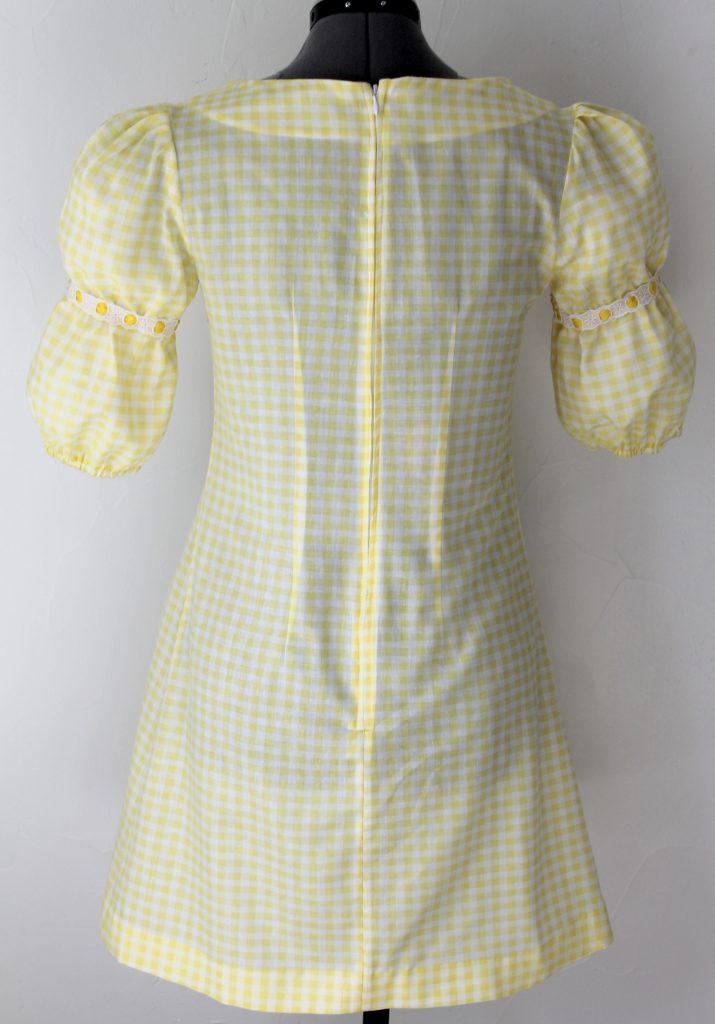 Darts on point! Smile.
This pattern is great even for a beginner.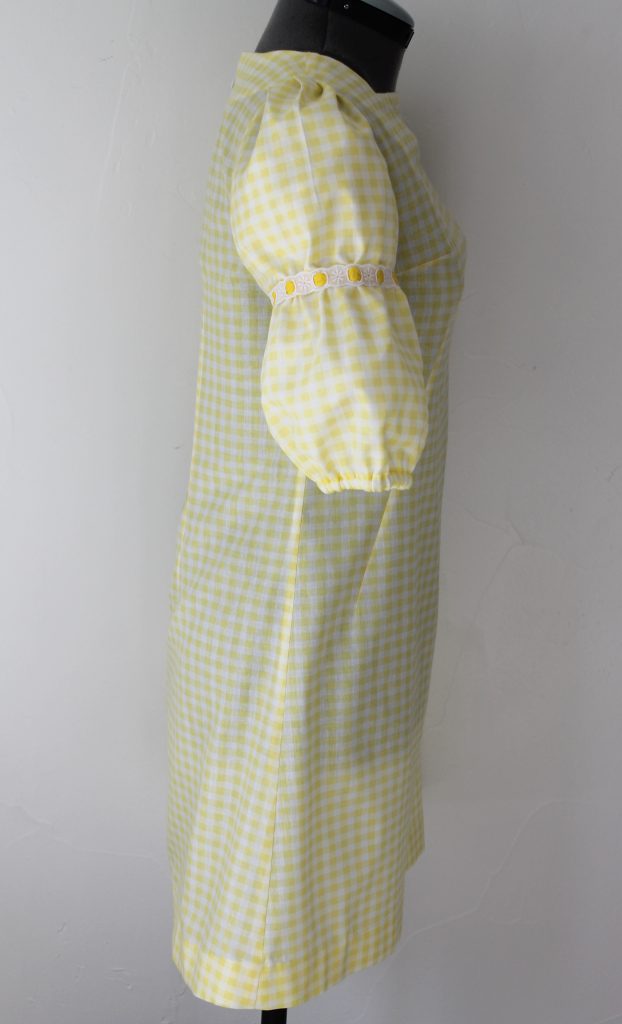 Strawberry Fields Forever
Did you know pinafore styled sundresses are making a comeback? I didn't either until I showed the Fashionista this Simplicity pattern 8010 and she squealed in delight and said she "Wanted EVERYTHING!"
I started with Dress 1. This is where I have to admit that I LOVED the vintage aqua strawberry fabric and selfishly wanted to make something for myself out of it. But it is probably better suited for a younger woman.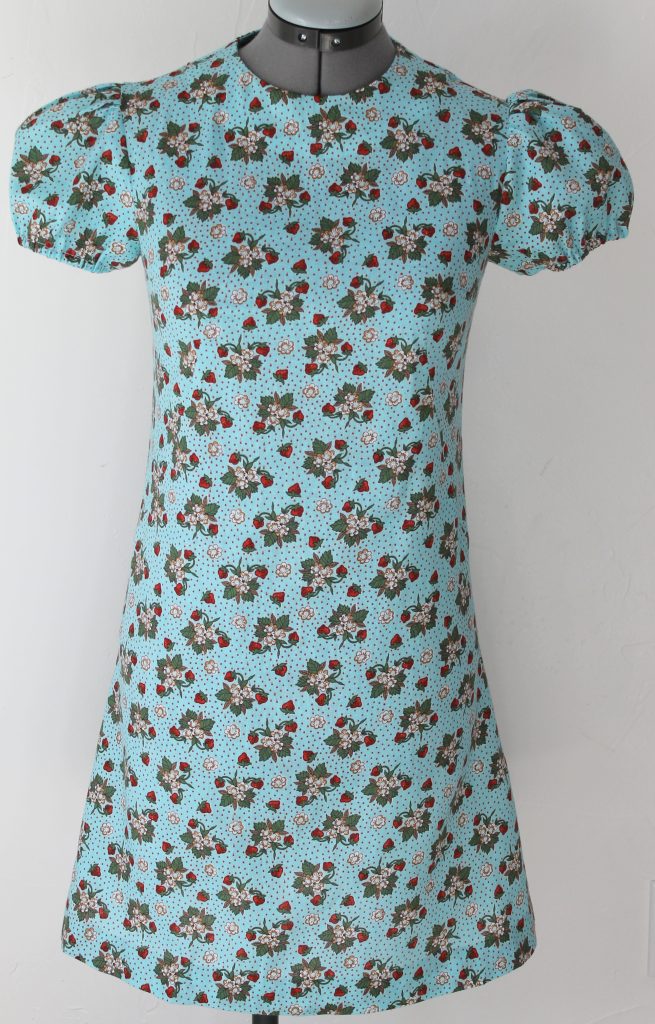 This dress was a dream to sew. Again, a perfect pattern for a beginner. Such simple, but sweet sleeves.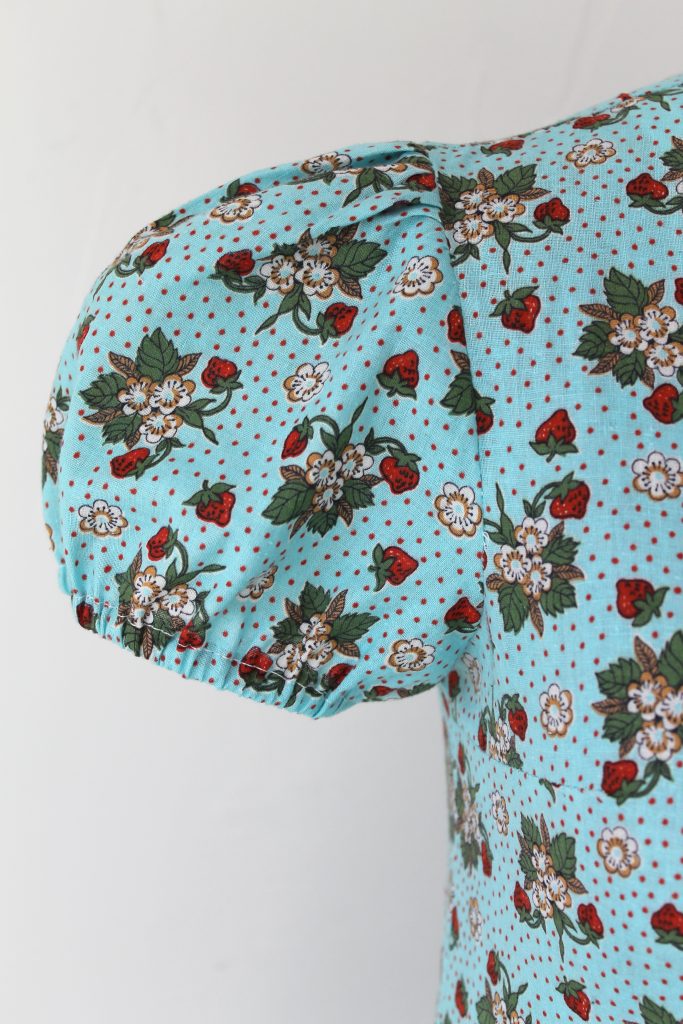 I was actually pretty pleased with this zipper installation. Mom was right. Practice does make perfect.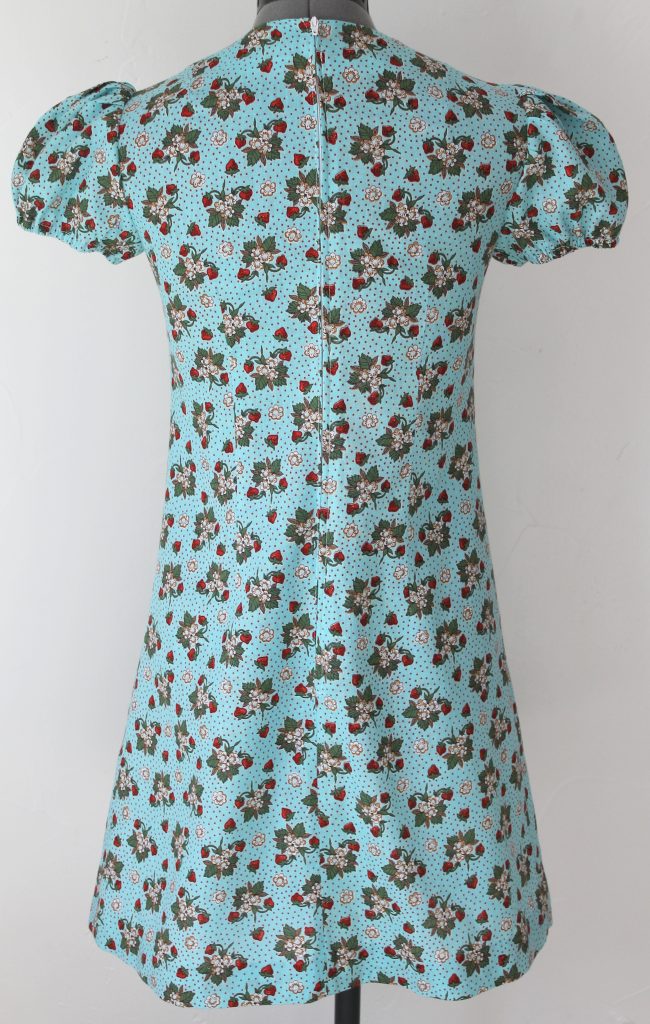 I think sheath dresses are so classic and chic for the spring/summer.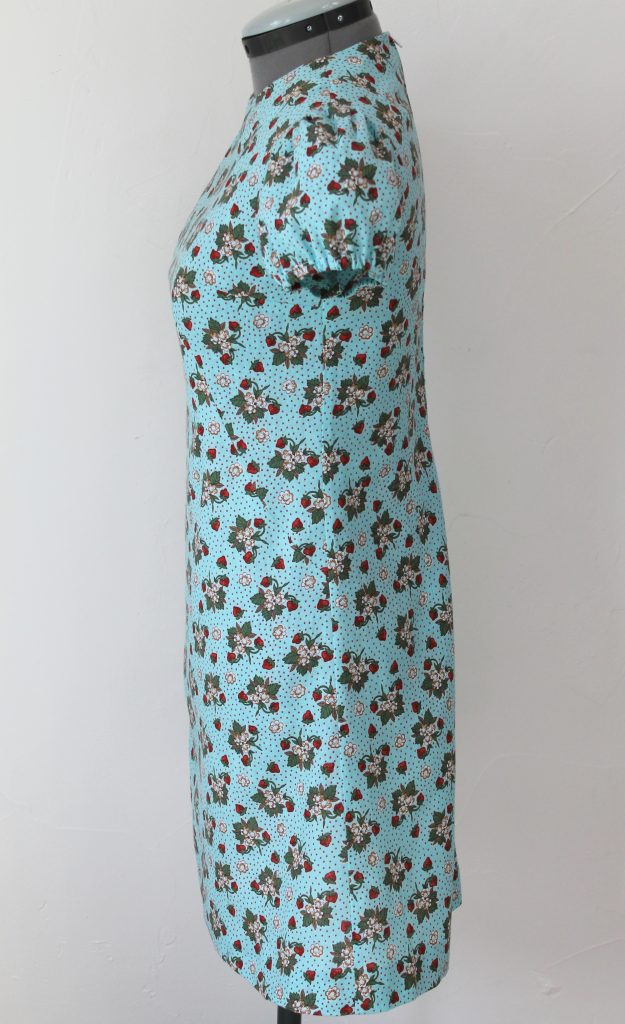 Wicked Pinafore
Out of all the dresses, this appears to look the simplest. Looks are deceiving. I fought with this piece of fabric to the bitter end.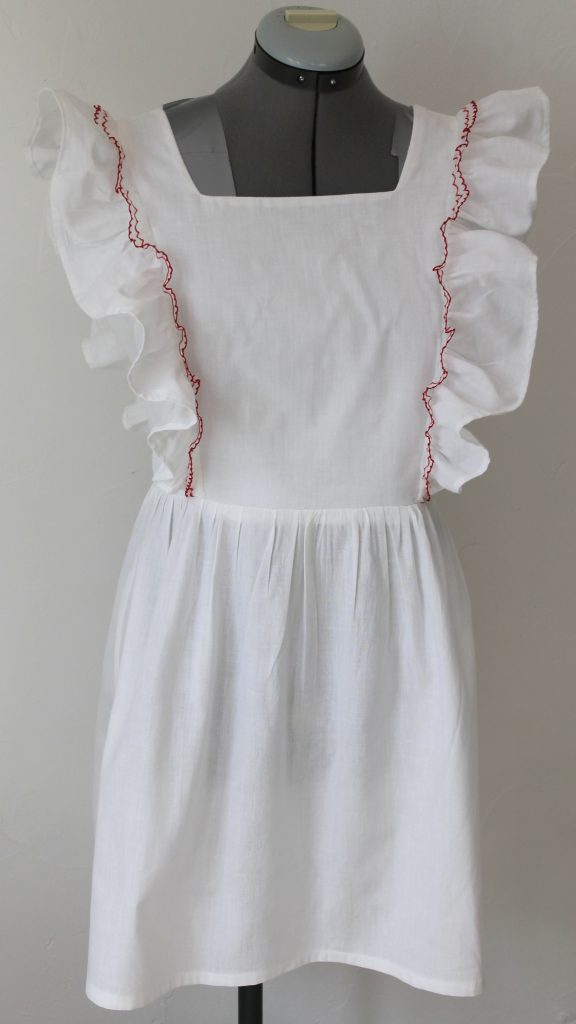 The back view is my favorite. There is just something so happy about red buttons on a white dress.

The red organdy trim came from my mom Nadine's sewing stash years ago.

How Much
So let's talk about the price of these dresses for a moment.
The most expensive dress out of the four shown here is the yellow gingham. It required 1 1/2 yards of fabric ($4.50), 3/4 of a yard of elastic, eyelet ribbon ($3) and the pattern ($1). I used half a spool of thread so let's make it an even NINE DOLLARS.
The black dress, strawberry dress, and white pinafore were all basically FREEEEEE!!! 
Fabric-FREE.
Pattern-FREE.
Thread-FREE.
Zipper-FREE.
Elastic-FREE.
How did I manage that?
I brought home more fabric from the estate sale than I could ever possibly sew up in the next 10 years. Once I was home I discovered that a few of the fabrics I had selected were almost duplicates of each other. So I sold them on a vintage fabric group that I belong to on FB. This, in turn, covered my initial outlay of estate sale purchases.
It Only Cost Me My Time
Washing and ironing the fabric, cutting out the pattern and sewing the four dresses took me about 5 days (40 hours). I am a bit of a slow sewer given that I am quite particular about straight seams, etc.
Thankfully Mr. Decor likes frozen lasagne.
At the end of the week I did feel like this:
Now I'm not sure how much you make an hour but the average seamstress charges $20 an hour. #not enough
So yeah, if you factor in my time, then each dress would cost $200.
But sewing for my best girl is truly PRICELESS.
Laura