The first day of spring is just two days away. I am so ready for it! I already started transitioning from winter decor. This post covers A Spring Tablescape for the Breakfast Nook inspired by A Pinterest Challenge hosted by my sweet friend Cindy of County Road 407.
If you are coming over fromOur Southern Home may I say "Welcome!". Christy always creates lovely tablescapes.
The creator, Lisa, has a truly fabulous Instagram feed. So be sure to click on the link above.
A Spring Tablescape for the Breakfast Nook
This time it's an Easter-themed centerpiece project inspired by a truly charming tablescape which features:
A cute bunny centerpiece.
Bunny plates.
Natural jute placemats.
Glass La Rochere bee goblets.
Black ticking napkins
 The creator, Lisa, has a truly fabulous Instagram feed. So be sure to click on the link above.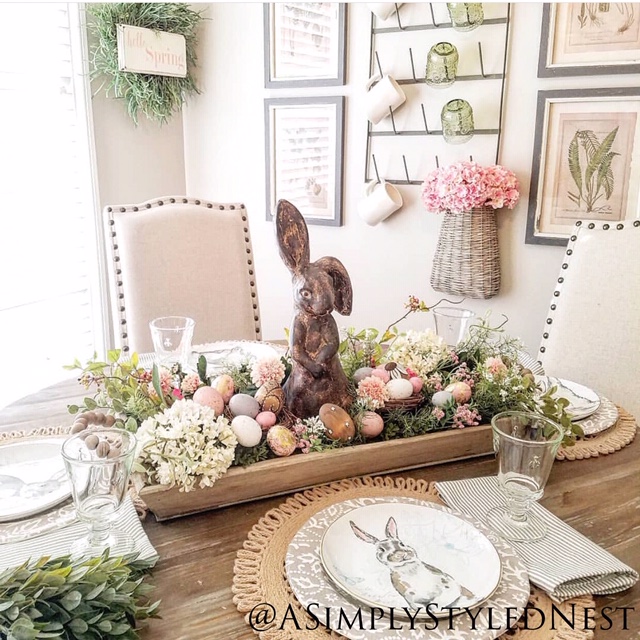 In the inspiration photo above, I believe that the star of the show is the centerpiece.
I have a similar rabbit that I purchased years ago in Germany. He was the centerpiece of my Easter tablescape last year. Not wanting a repeat, there needed to be a different waskely wabbit.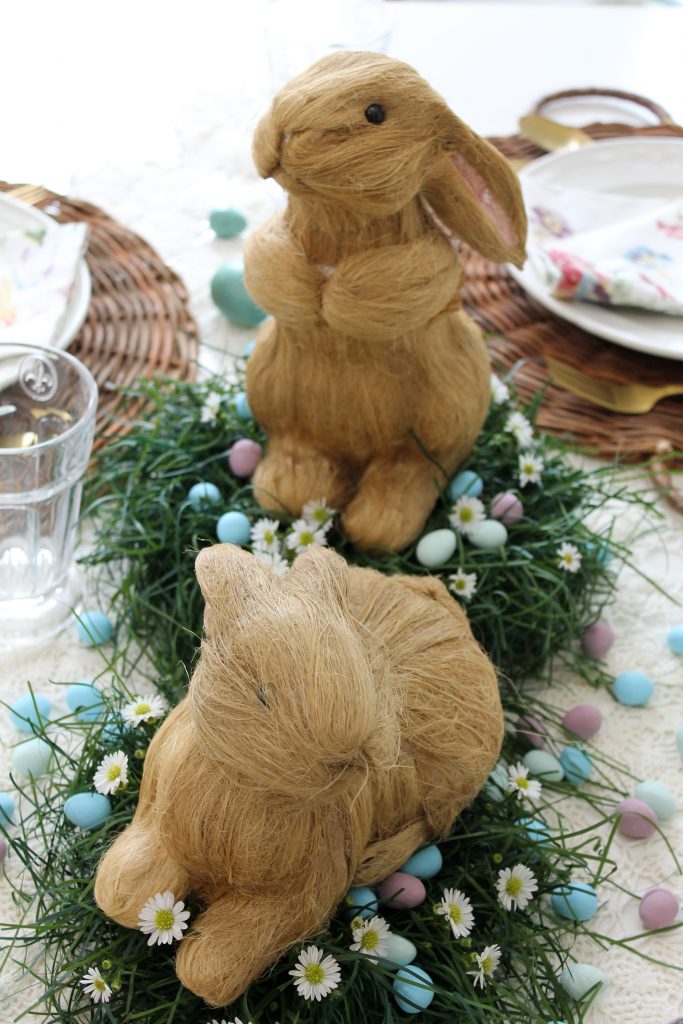 No Dough
I have long longed for a dough bowl. A reproduction has never found me and the antique specimens have been out of my price range. So, how about a wooden box? You can see how I made the arrangement HERE.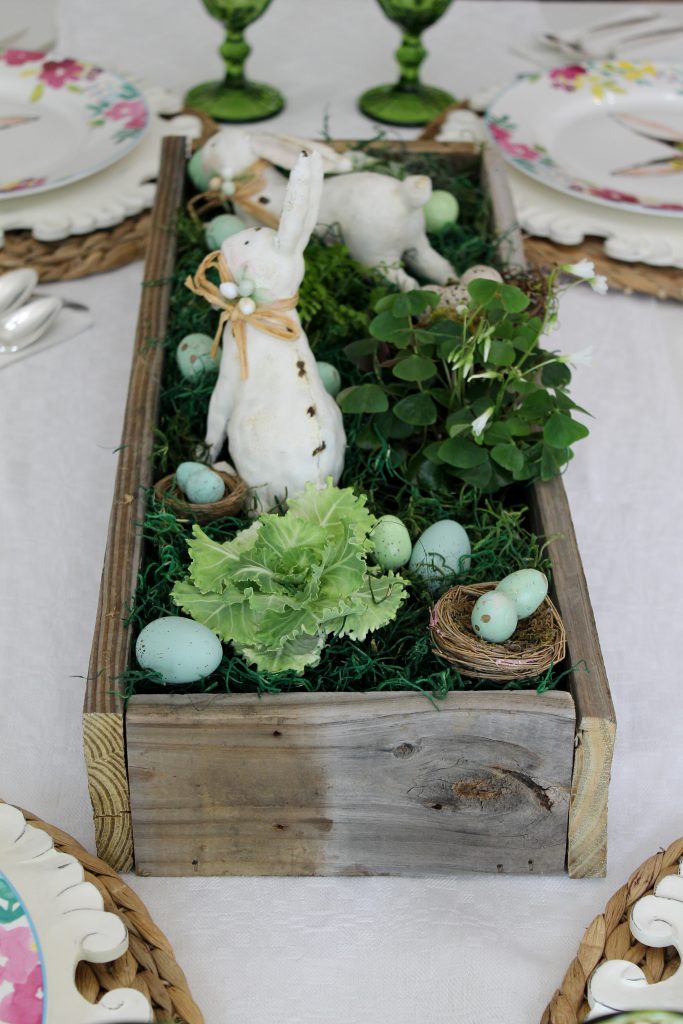 The smaller scale suits our table size.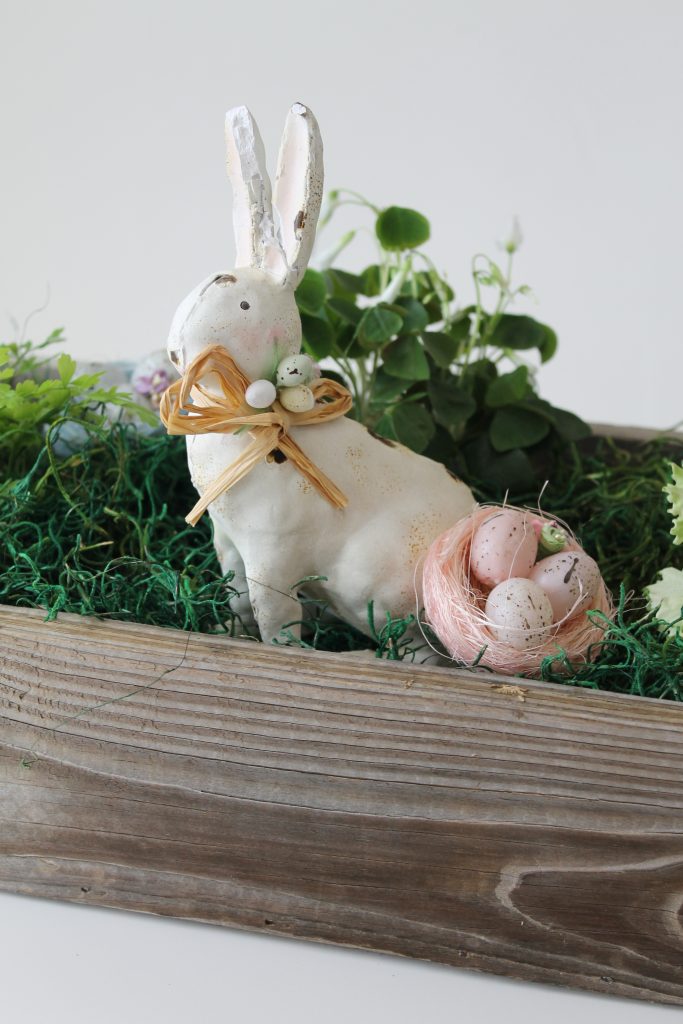 I know that neutrals are SO big in creating a farmhouse look, but this gal loves color. Particularly in the spring.
So no all grey hares for me.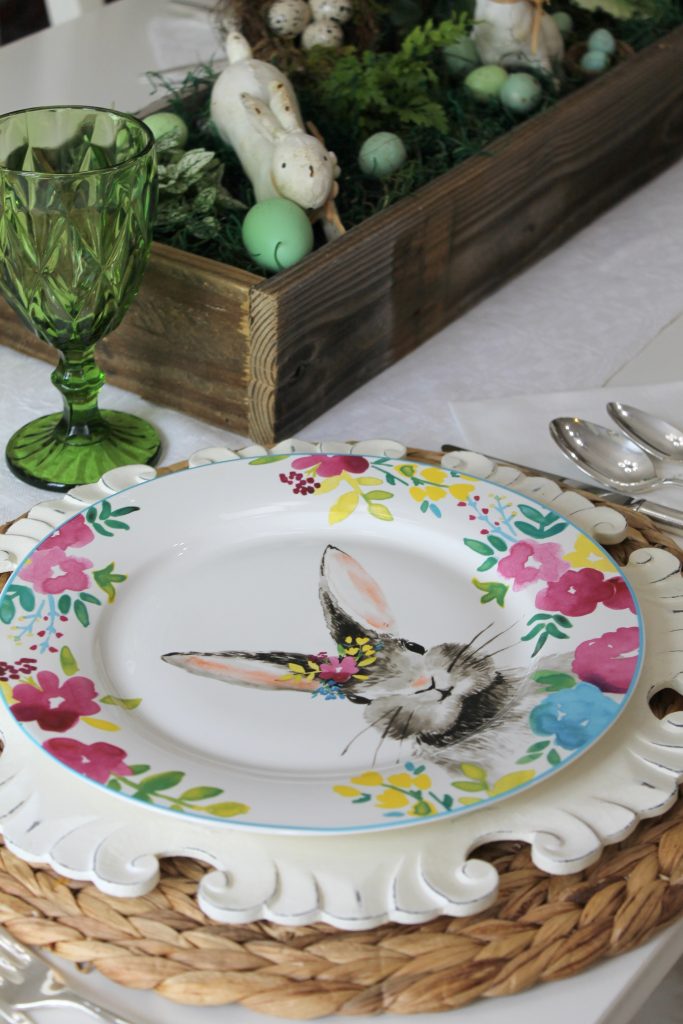 The colorfully cute plate is nestled on a cream colored charger topped over a seagrass placemat.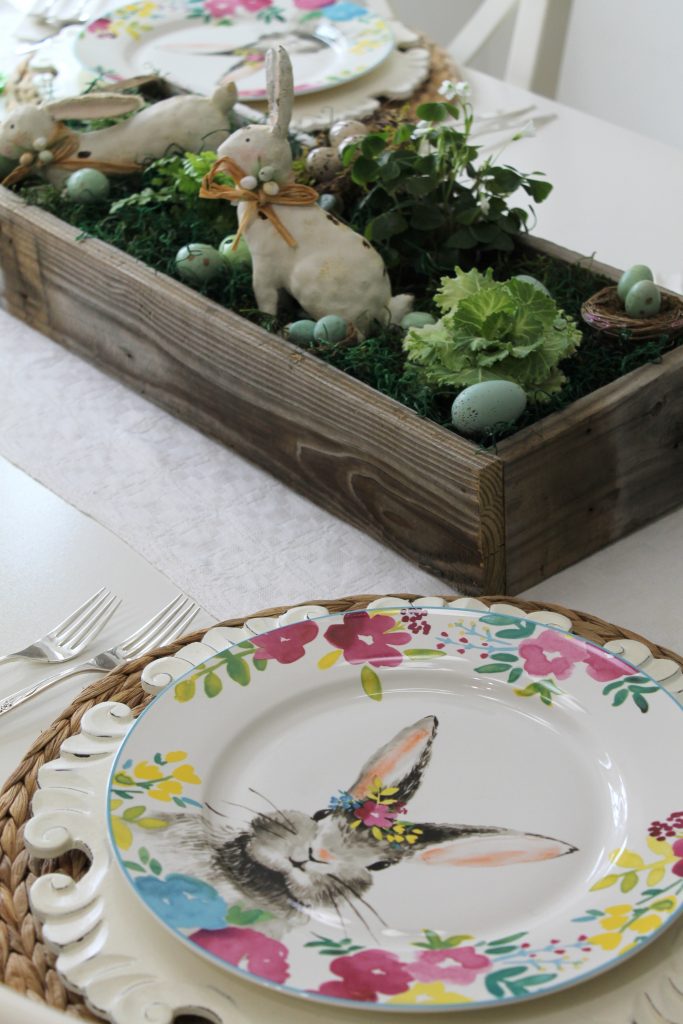 I love surrounding myself with objects that tell a story. These napkins were a gift from my dear friend Kelly. They belonged to her stylish Grandma Sword. I moved my great grandmother's spoons over so you can see the sweet basket detail.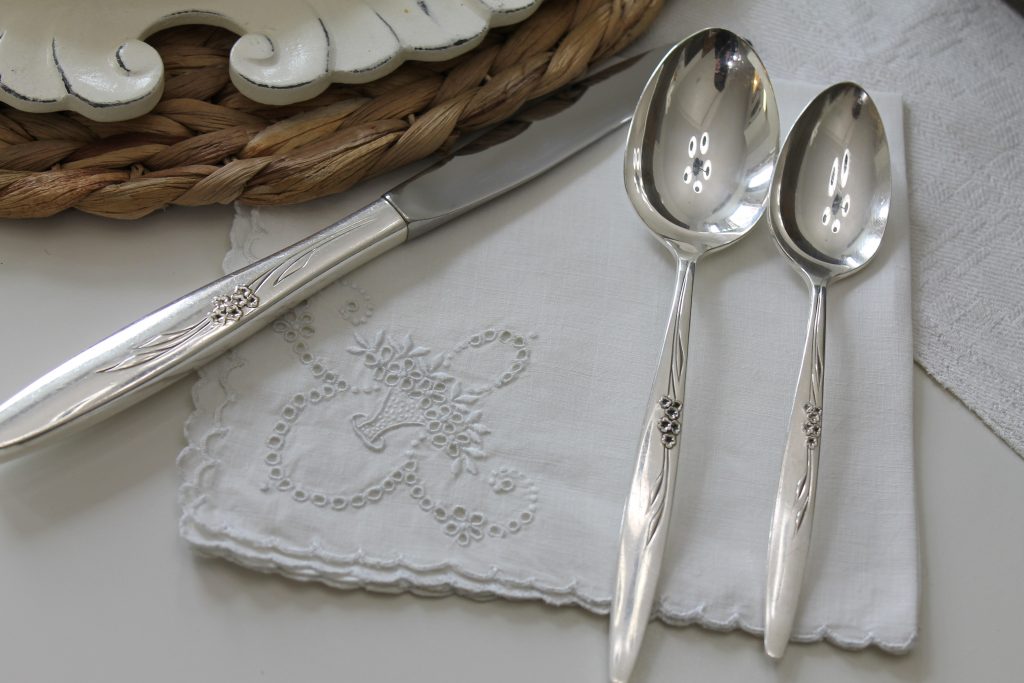 So while the napkins aren't black ticking my chair cushions are.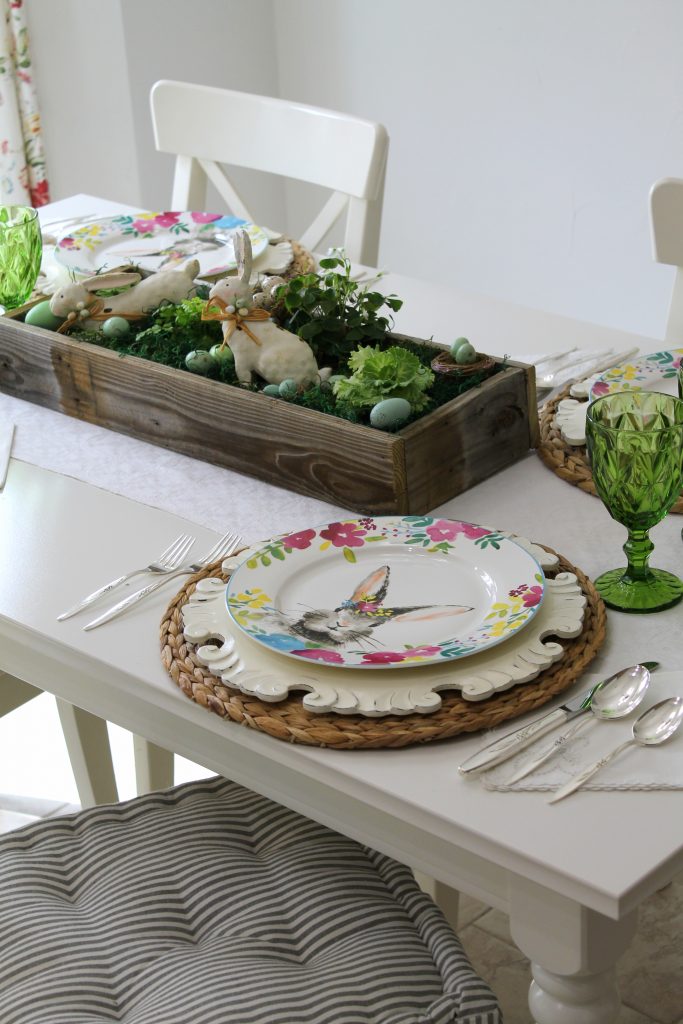 I actually also have some La Rochere glasses. Mine feature the Fleur de Lys instead of the bee emblem. I've shared them here a million times. But since the centerpiece is green, the plants in the background are green, I decided to use my vintage spring green goblets. #groupsofthree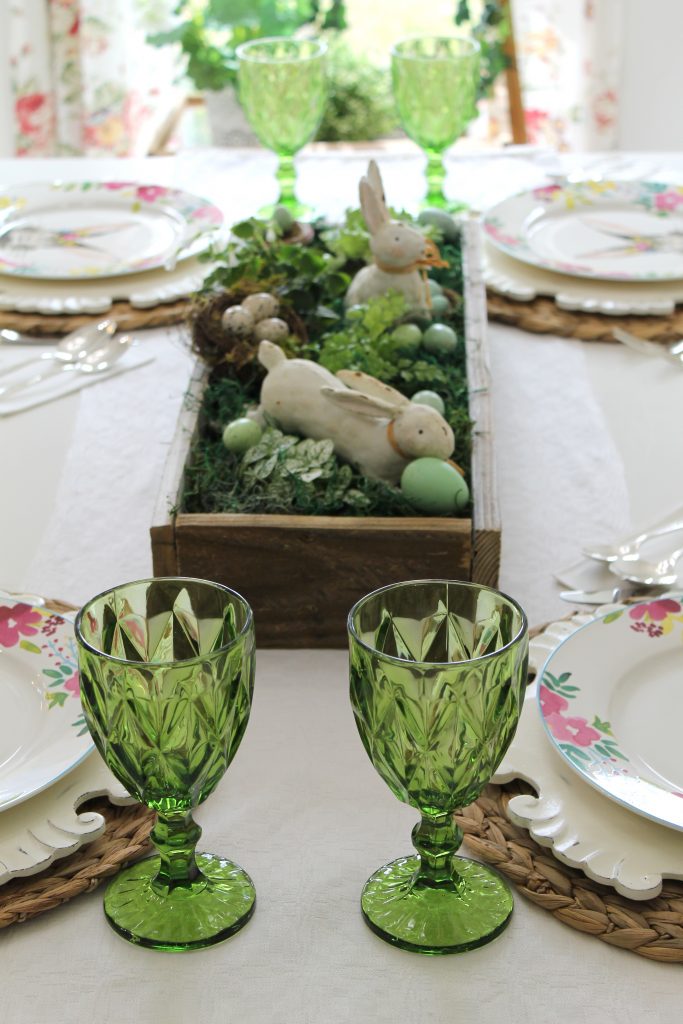 That is the beauty of this type of challenge. You create what inspires you. Use what you love!
Would you like to join me?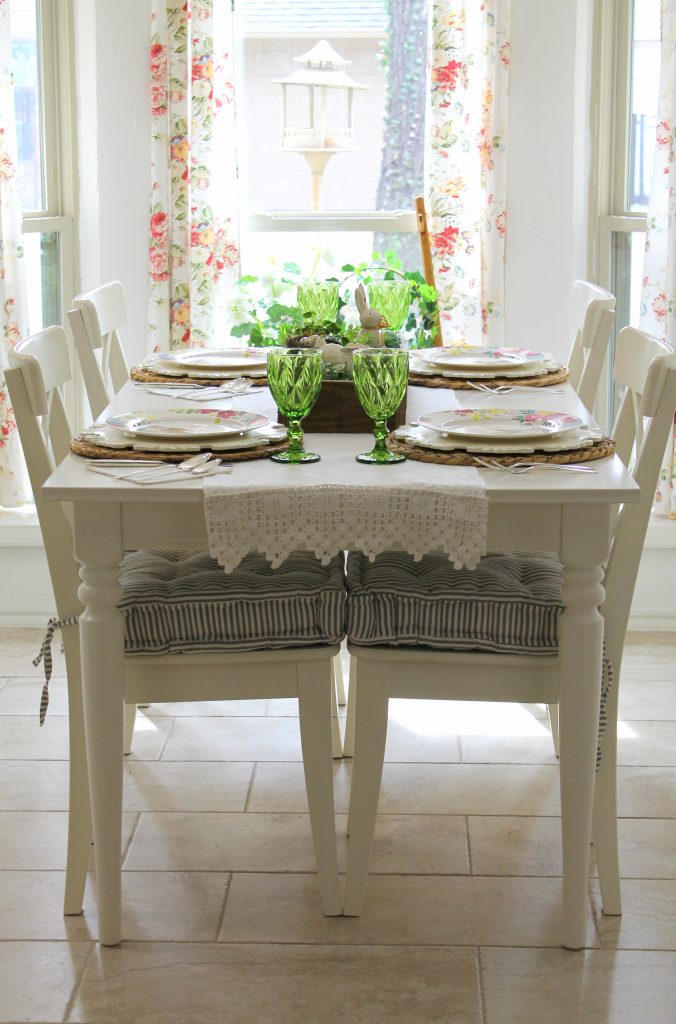 Up next is the wonderful blog Decorate and More with Tip! Terrie has created a darling planter out of clothespins!
You can see other lovely spring inspiration by clicking on the links below.
County Road 407 – Follow The Yellow Brick Home – Our Southern Home – Decor To Adore
Decorate and More with Tip – Let's Add Sprinkles – Lora Bloomquist – My Wee Abode
Le Cultivateur –  Chasing Quaintness – Art and Sand – Stilettos and Shiplap
Sweet Pea – A Heart Filled Home – Bluesky at Home – French Ethereal – The Latina Next Door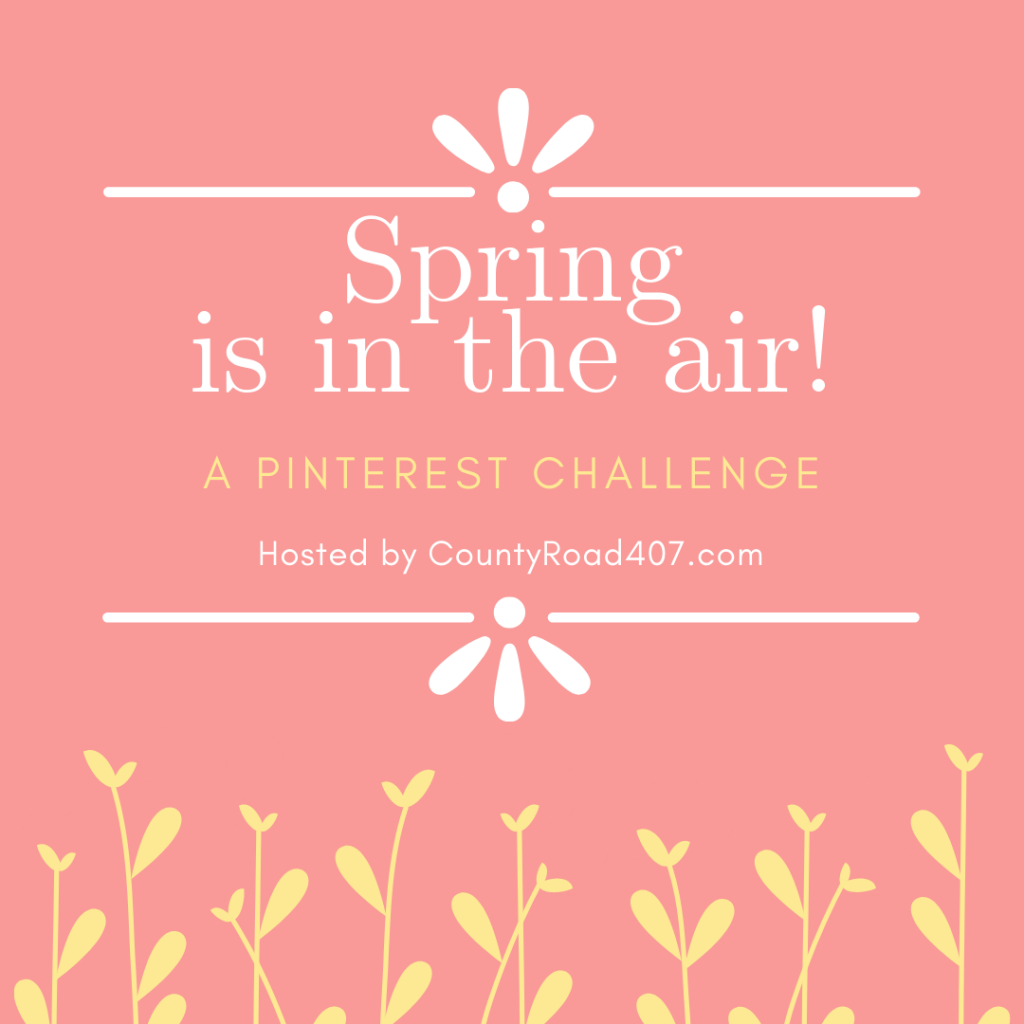 I'll see you tomorrow with more spring goodness.
Laura