Welcome to Christmas at Storybook Cottage 2018. Today I am joining my dear friend Marty from A Stroll Thru Life on her annual Christmas Tour of Homes.  The decorations this year are clean and classic. They feature natural touches with accents of gold.
Christmas at Storybook Cottage 2018
If you are coming over from Duke Manor Farm I am so glad that you are here! Laura always has the most fabulous holiday decor.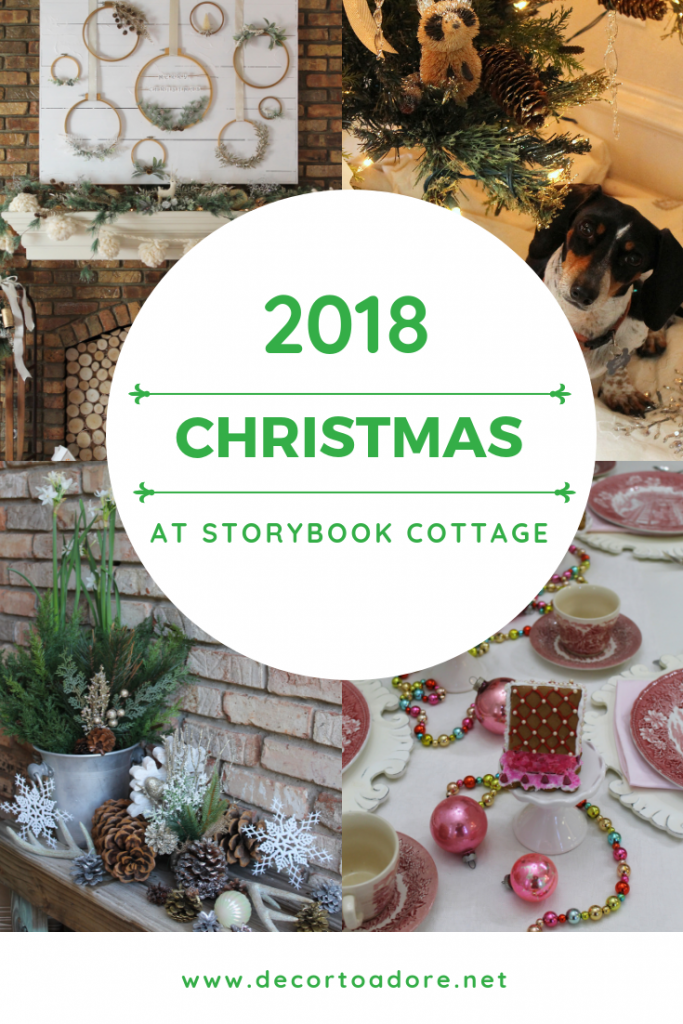 The Exterior Entry
Earlier this week I shared how we decorated our small porch.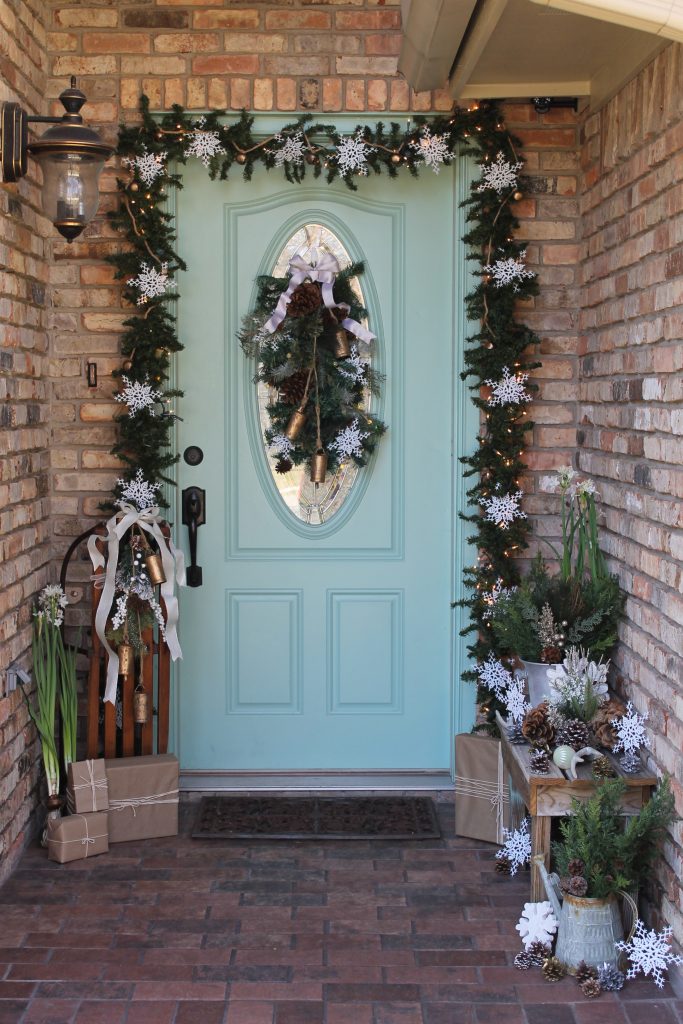 Lots of greenery was gathered and displayed in vintage elements.
The outside is always a good indicator of what you will find inside. So come on in!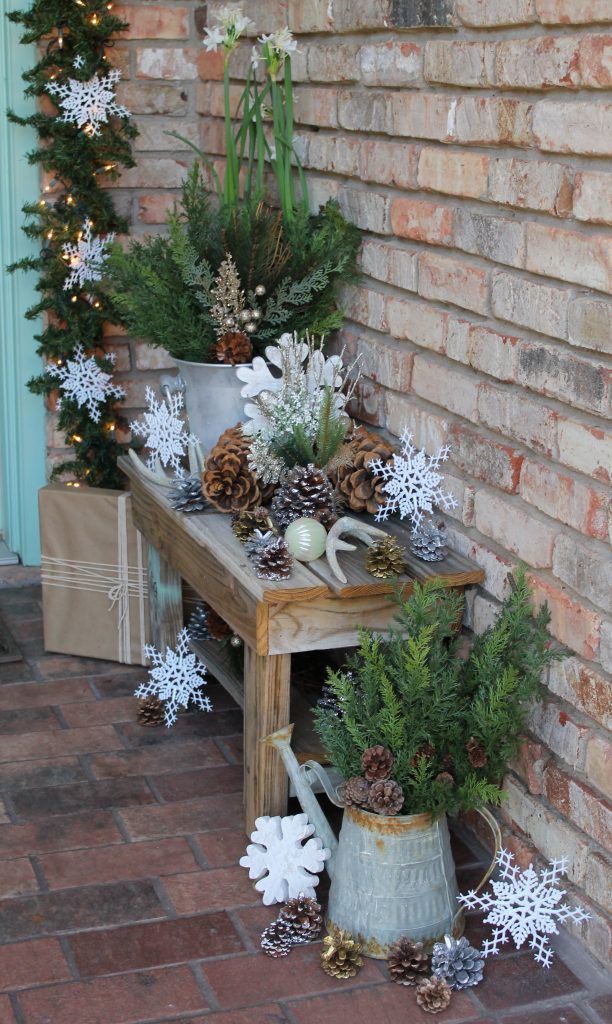 The Interior Entry
Continuing the theme of natural touches with accents of gold. I brought out the German Christmas pyramid which hasn't been displayed for several years.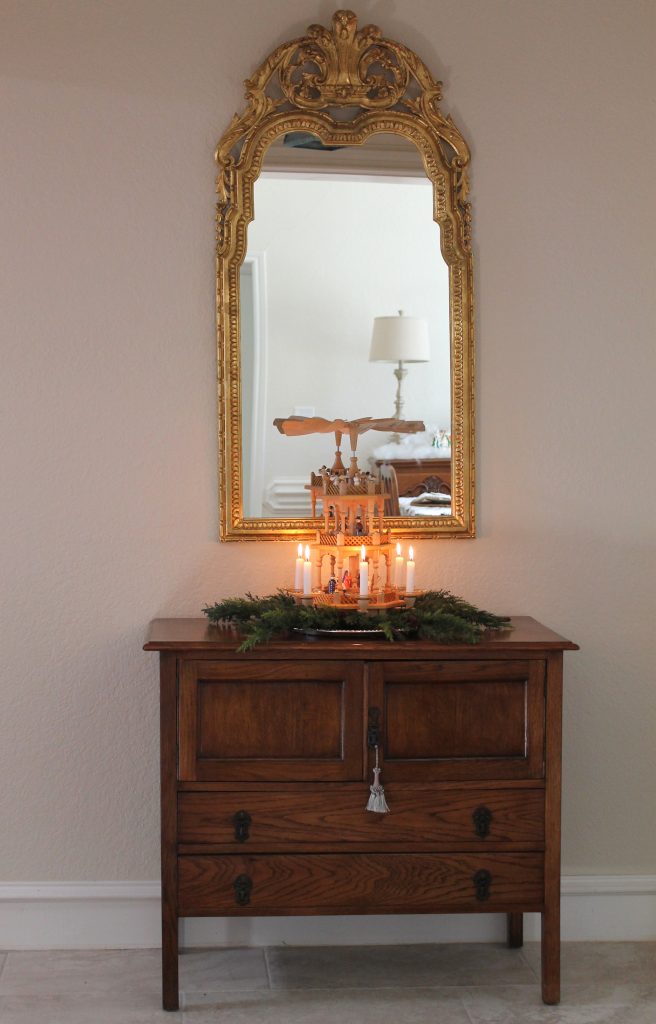 We purchased this lovely Nativity while stationed in Germany.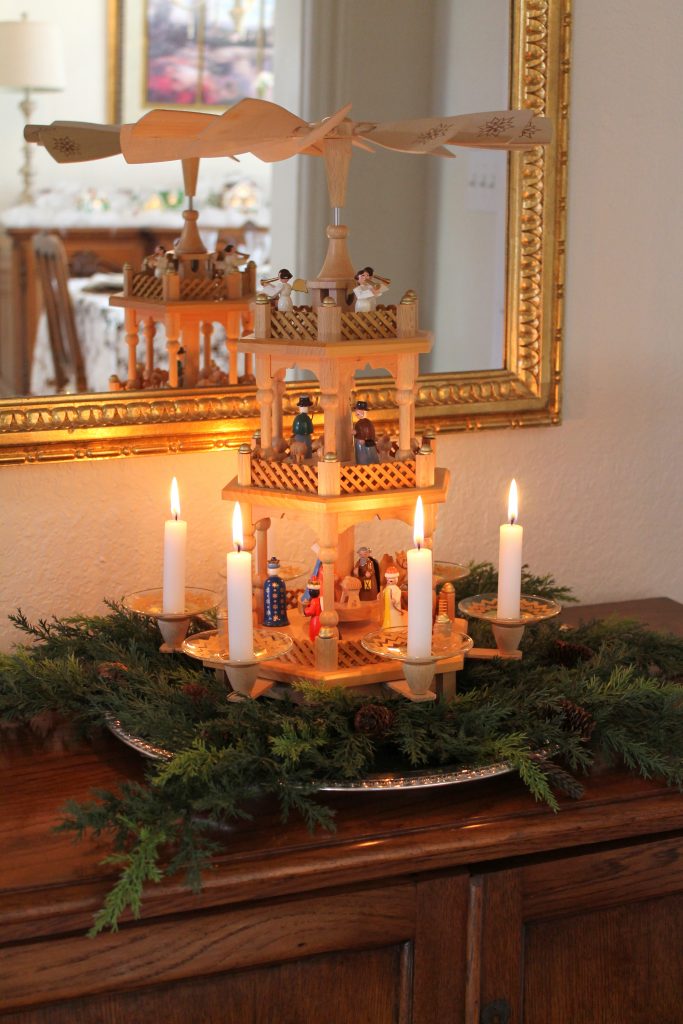 The Dining Area
You caught a glimpse of the dining area in the photo above.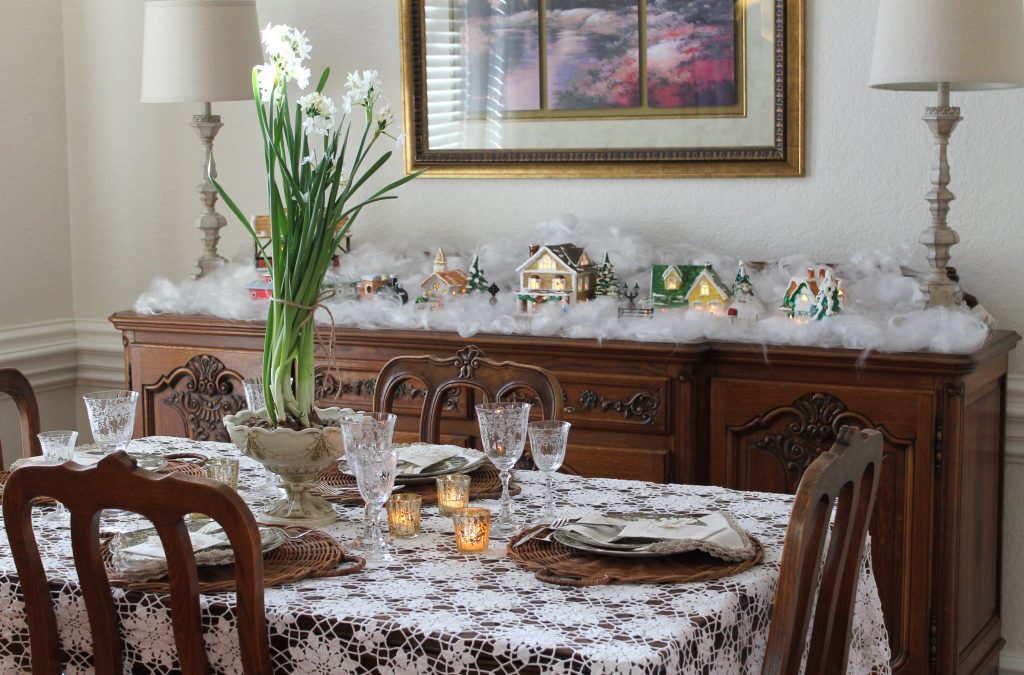 The vintage crocheted tablecloth reminds me of snowflakes.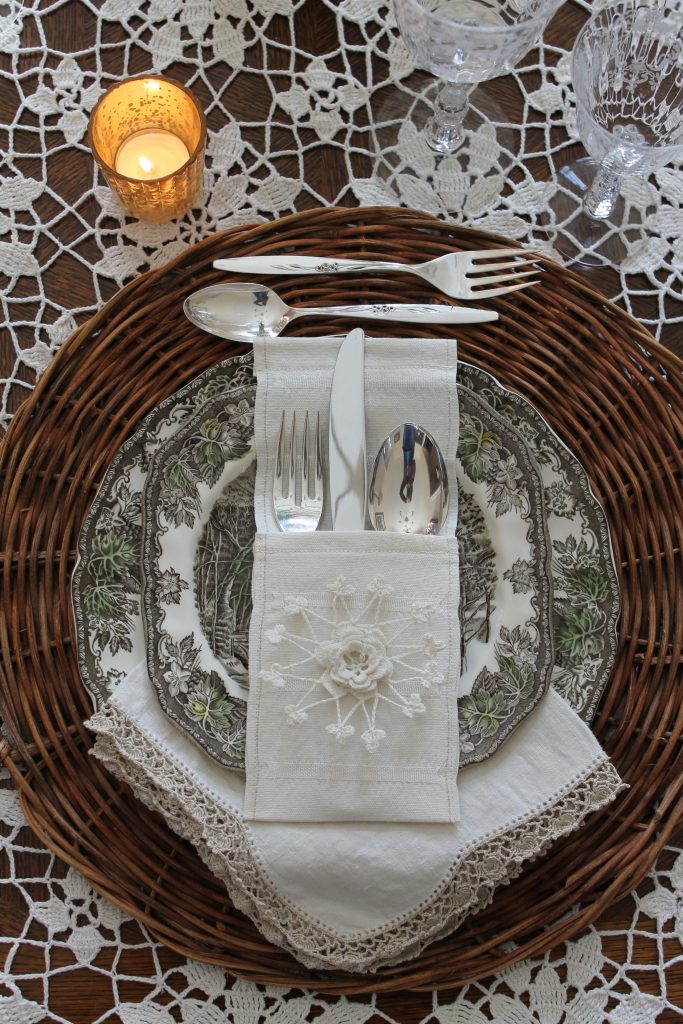 I topped the silverware pockets with crocheted snowflakes that Grandma Jingles made years ago.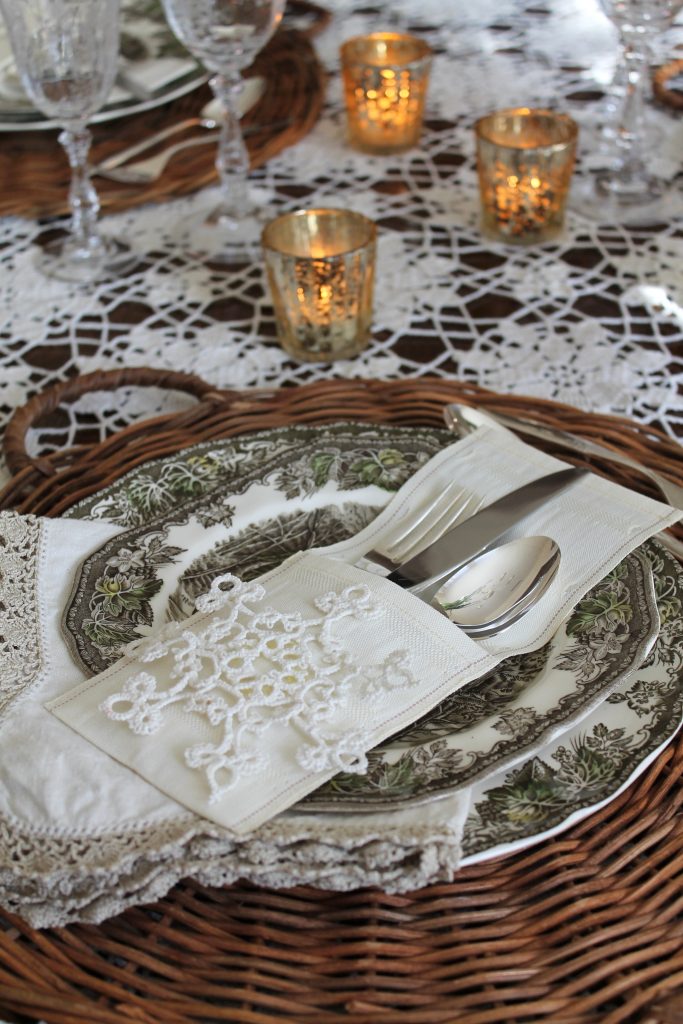 This is my second year growing paperwhites. I love their scent.

Over on the sideboard the vintage Dept. 56 Snow Village was set up.

I received the first house, "Nantucket", as a gift when I was eight years old.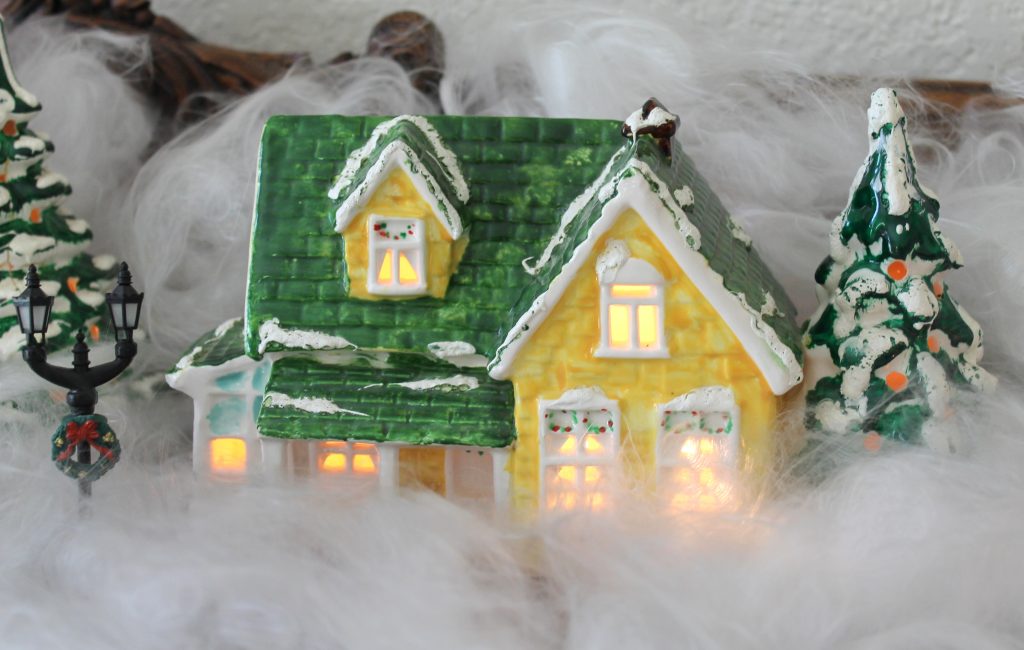 Subsequent pieces have found their way into the collection over the years via thrift stores and eBay.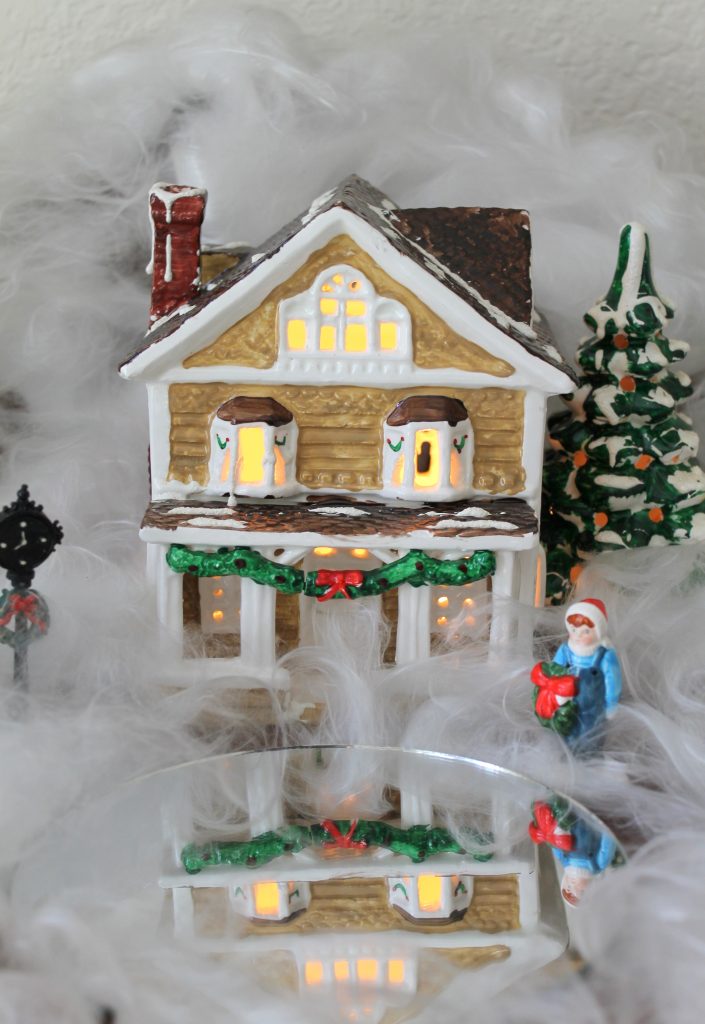 The Mantel
This year the mantel features a more modern design.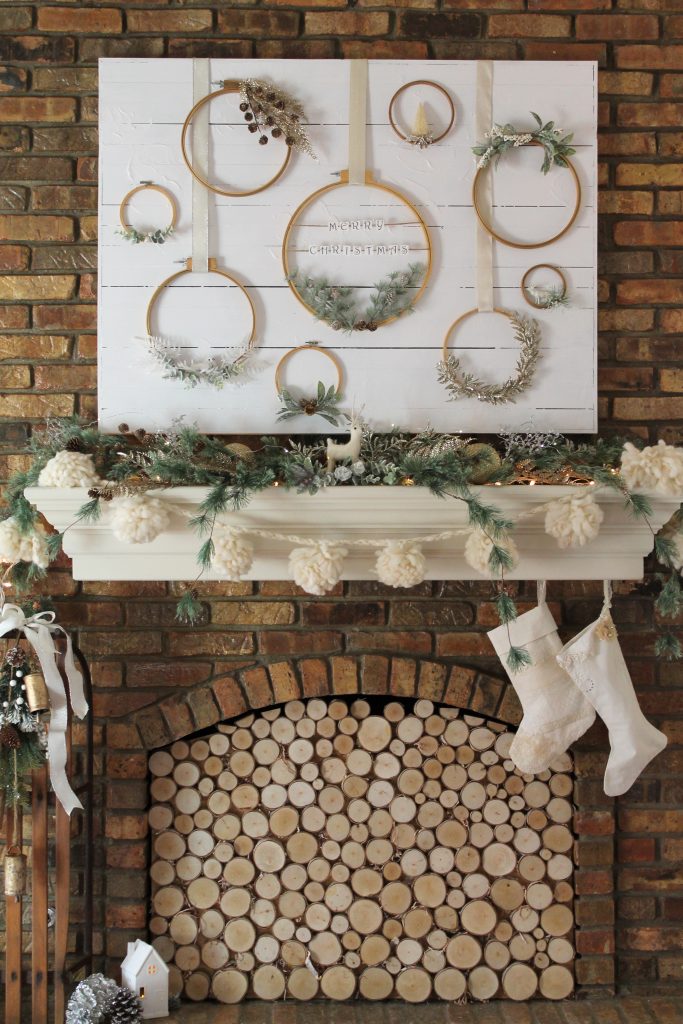 I shared how I made all the hoops in this post.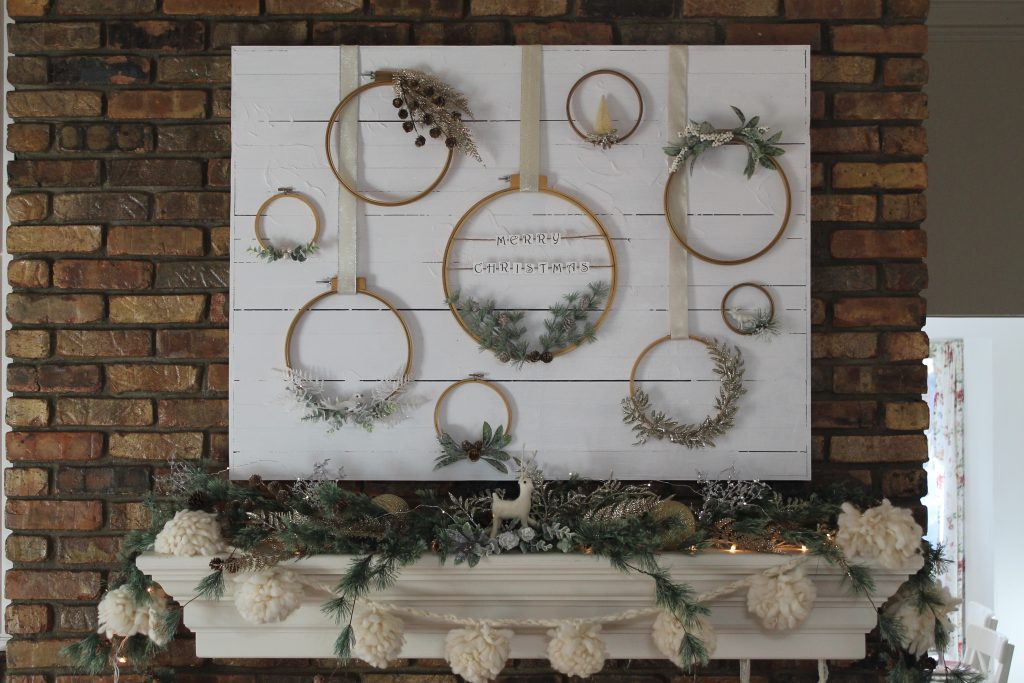 Our stockings are hung and accent the birch log insert beautifully.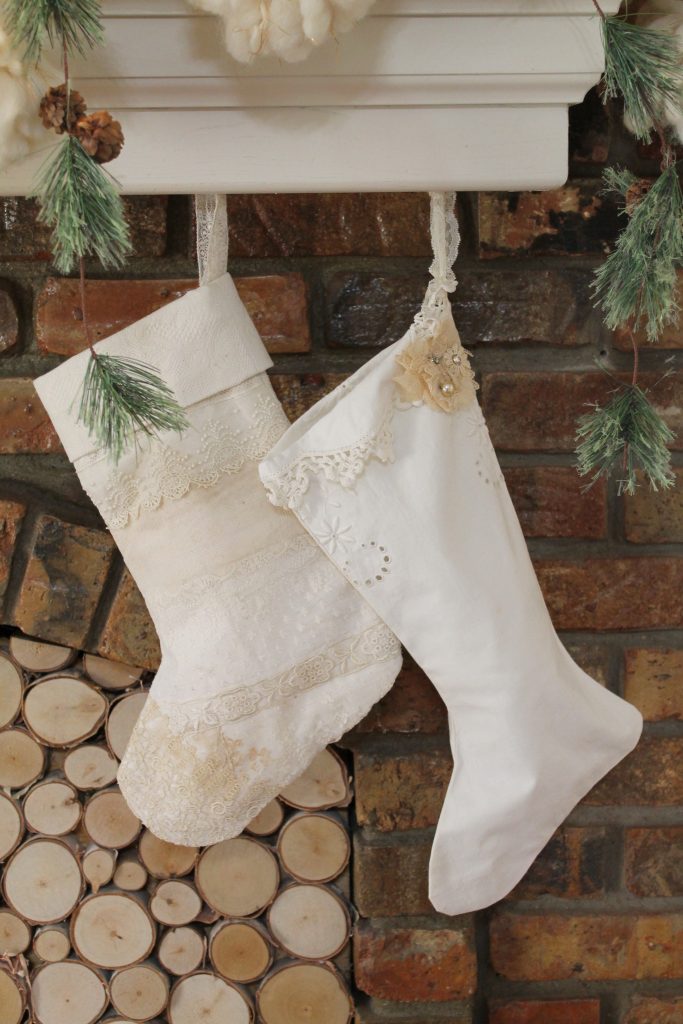 Snowflakes, pinecones and greenery accent our antique German sled.

The Bar Cart
I only bought two new Christmas decor items this year.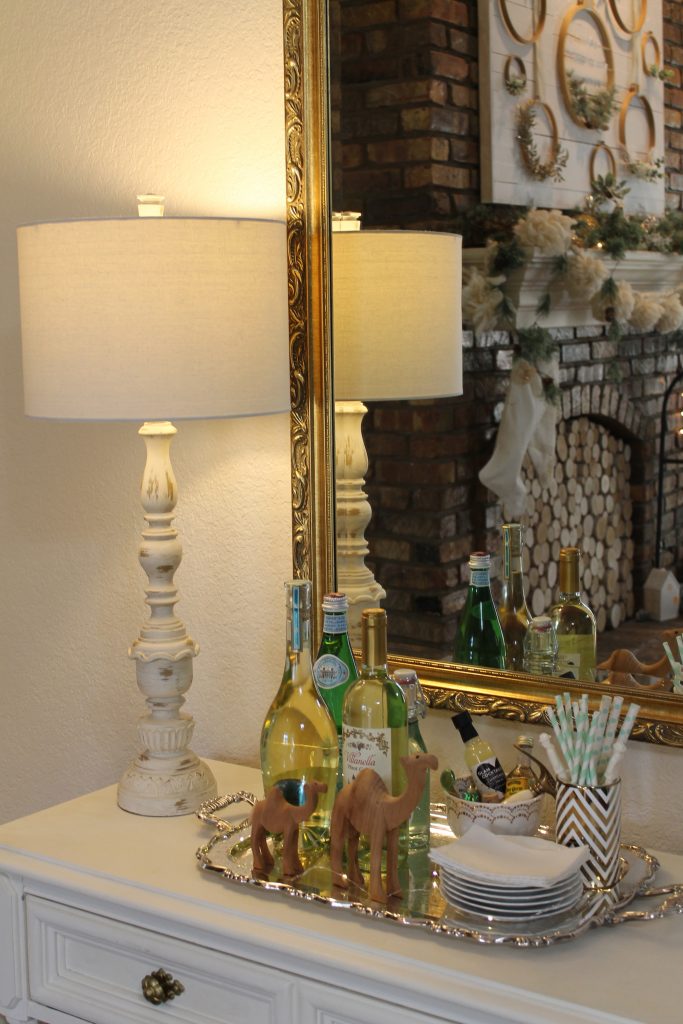 I just couldn't resist this handcrafted wooden camel and baby.

Create A Meaningful Tree
There are a total of four Christmas trees inside at Storybook Cottage. This tree is decorated specifically for me.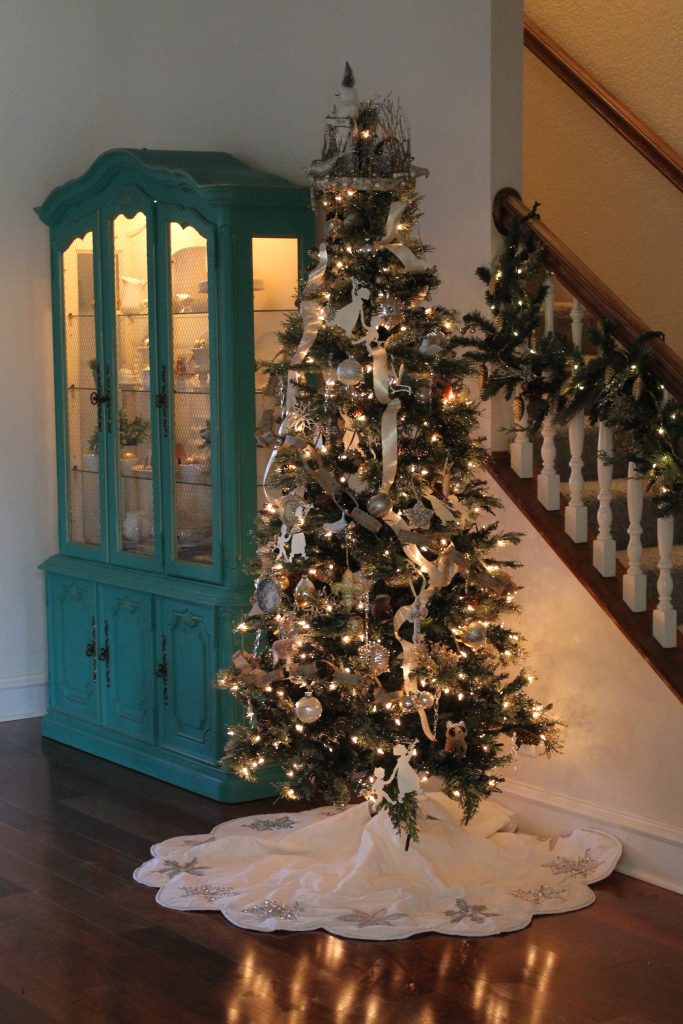 Earlier this year I turned 50. To celebrate this golden milestone I wanted to create a truly meaningful tree.
The ornaments include those of yesteryear as well as this year's limited edition fundraising ornaments I create every year. I'm so THANKFUL they sold out in two days. I always make two extra to save for my children.  You can see the tutorial on how to make them HERE.

I've incorporated paper silhouettes that remind me of my family, pearl ornaments I made years ago representing my faith, as well as other touches to remind me of my celebratory trip to France earlier this year.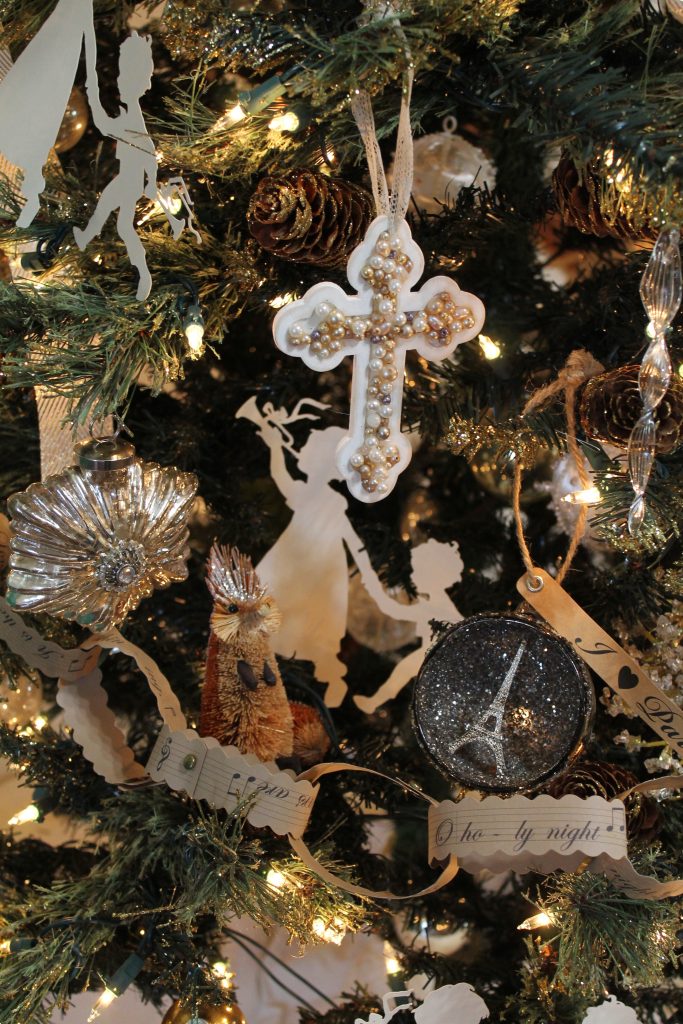 I haven't yet written about my French adventures. I've been saving the stories for the upcoming cold days of January.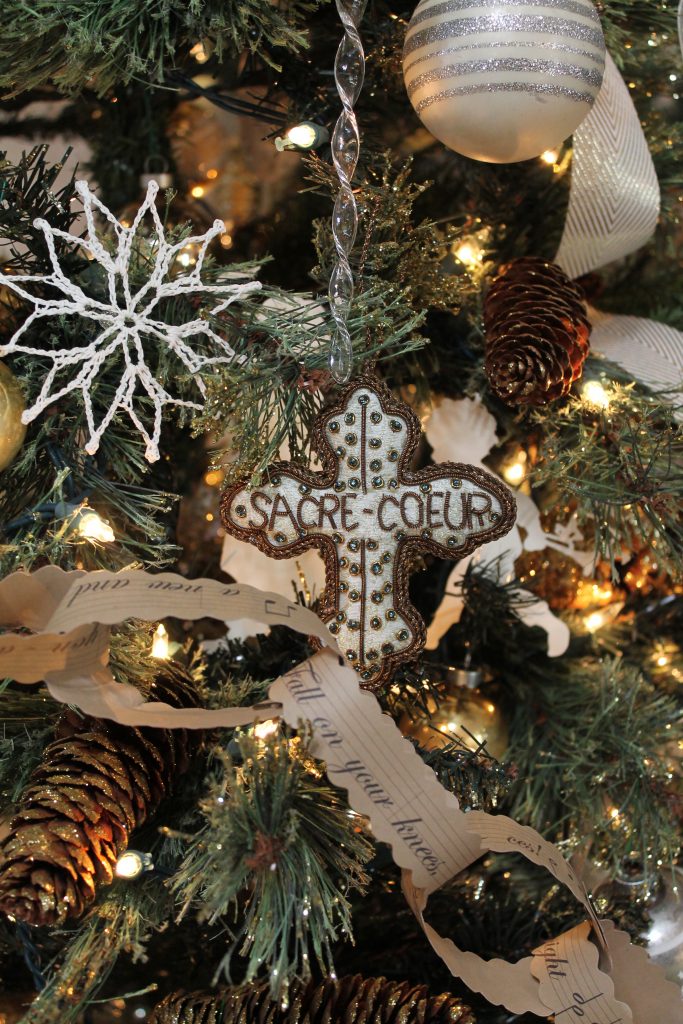 No gifts have been wrapped yet but it appears we don't really need any.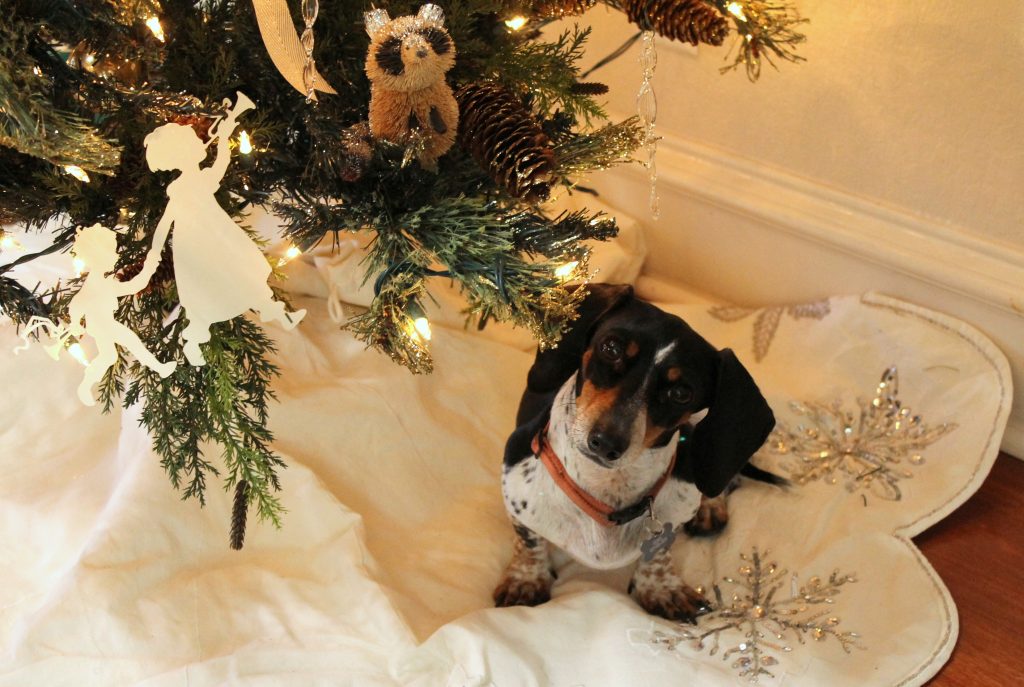 The Kitchen
Our daughter helped decorate the kitchen while she was home visiting at Thanksgiving.
We went with a pink theme as that is her favorite color. So many special things were included and help create a truly lovely nod to Christmas past.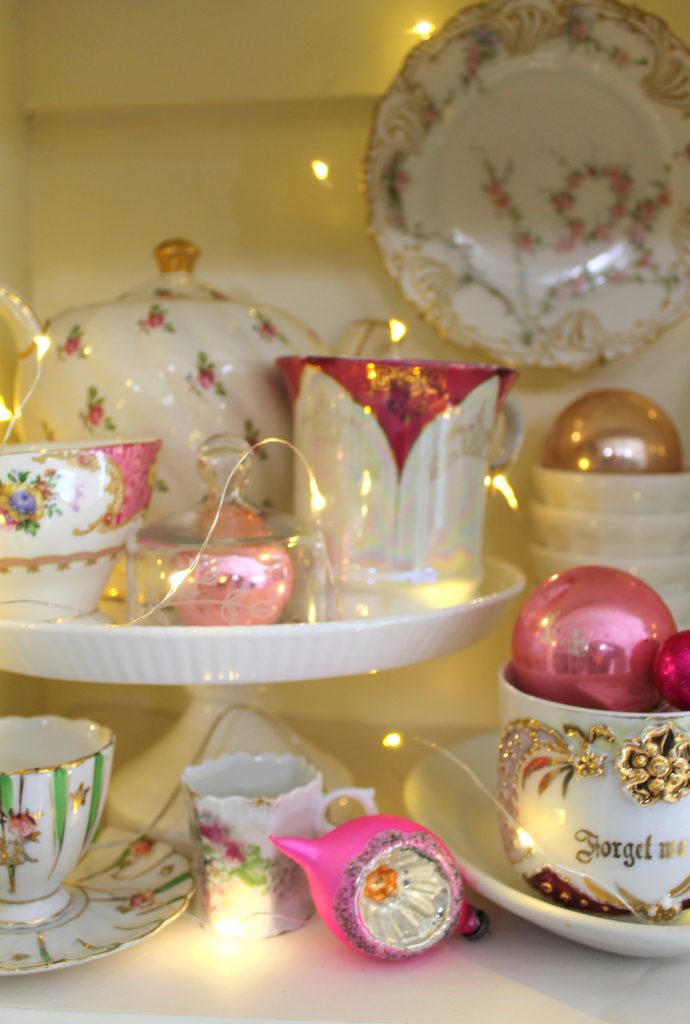 I'm hoping Santa will bring me an antique copper kettle this year.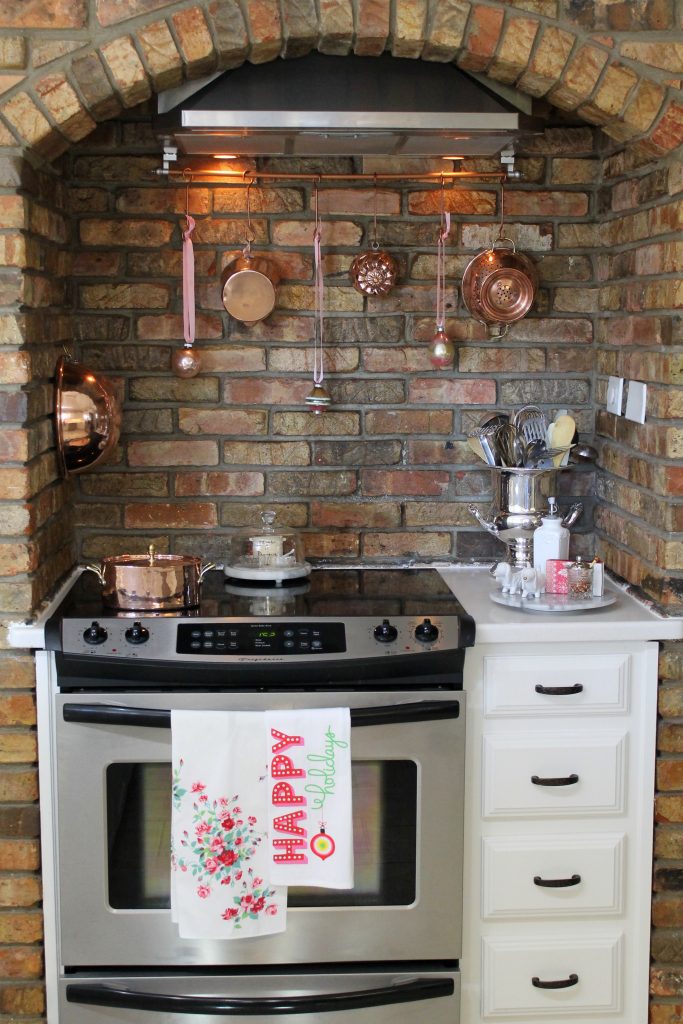 You can view the entire Pink Christmas Kitchen post HERE.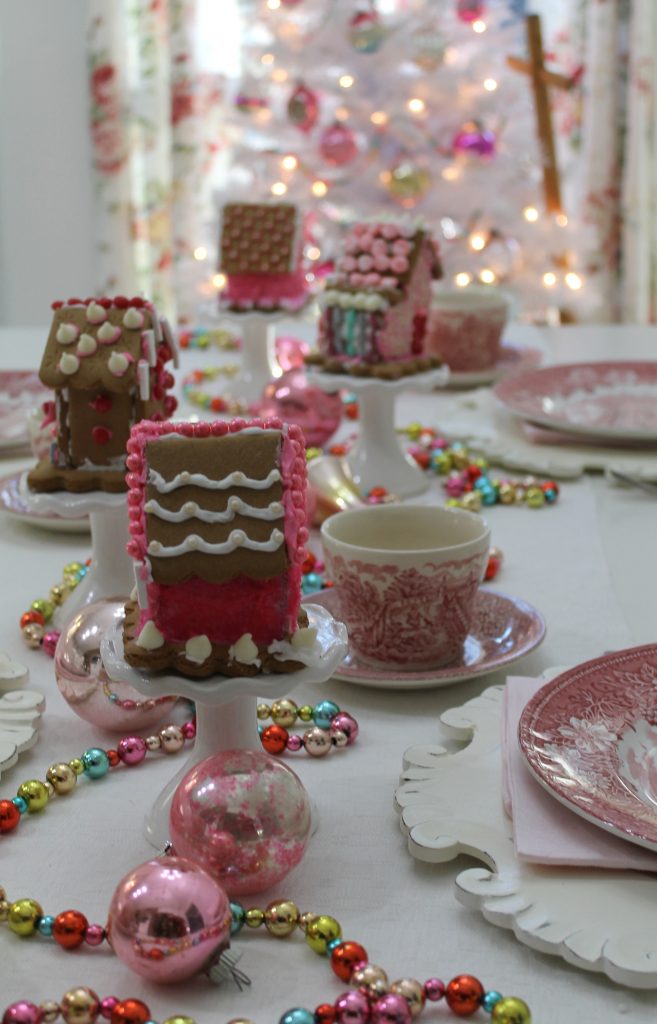 We hope you have enjoyed the 2018 Christmas tour of Storybook Cottage. Gracie and the rest of the Gunn family wish you a very "Merry Christmas!"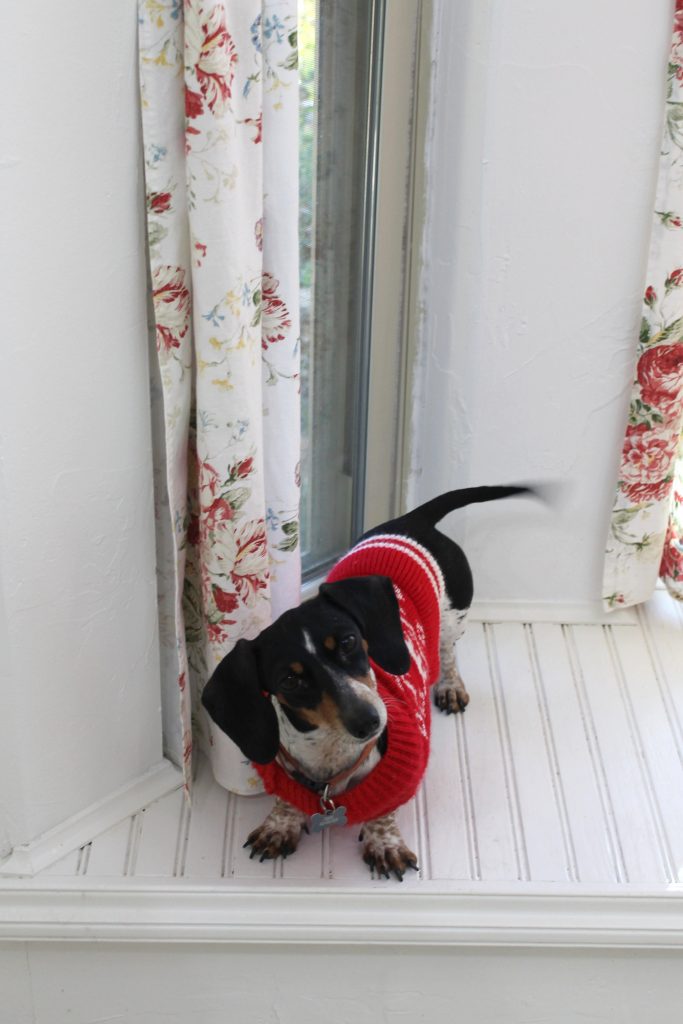 Next on the tour is Far Above Rubies. Anita's home is always full of rich colors and full of cheer!
Laura 
Christmas Home Tours
Please be sure to visit all of the lovely homes on the tour.
Monday, Dec. 3  
A Stroll Thru Life,  Cuckoo4Design,  Nesting With Grace, Southern Hospitality,
Life On Virginia Street,  Pink Peppermint Design 
 Tuesday, Dec. 4
 Setting For Four, ZDesign At Home, Inspiration For Moms,
Wednesday, Dec. 5
Hymns & Verses,  Our Southern Home,  Seeking Lavender Lane
Thrifty &Chic,  Remodelando La Casa,  Simple Stylings
 Thursday, Dec. 6
Clean & Scentsible, Haneens Haven, LifeLoveLarson,
Friday, Dec. 7
Decor To Adore – Far Above Rubies – Decorating Delirium
Dimples & Tangles – Our FifthHouse – Follow The Yellow Brick Home – Duke Manor Farm