Don't you just love the Target Dollar Spot? It's easy to create happy home decor for less. I recently spied some basic wooden houses that were easily transformed into Hansel and Gretel Halloween Houses.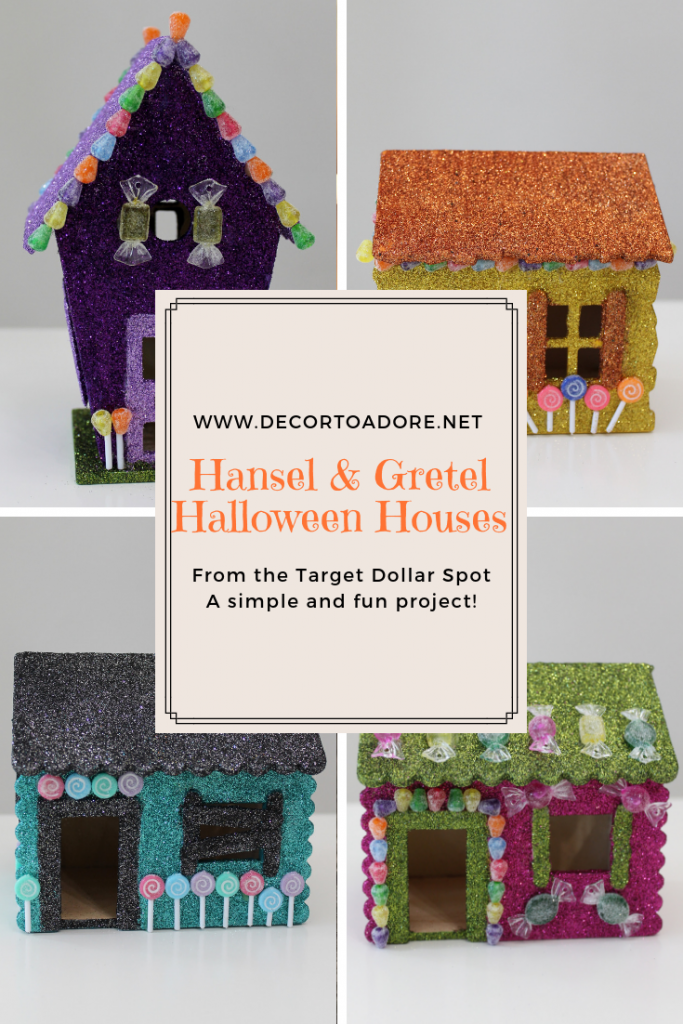 Hansel and Gretel Halloween Houses
Every year I love to come up with an outside of the box Halloween theme. Years past have included Dicken's Miss Havisham, Cinderella's Ugly Stepsister Soiree and Poe's Nevermore.
This year's theme is really Grimm… Hansel and Gretel! It's got a witch and candy. That sounds perfect for the holiday! Spying the wooden kits I decided to create some cotton candy houses in traditional Halloween colors.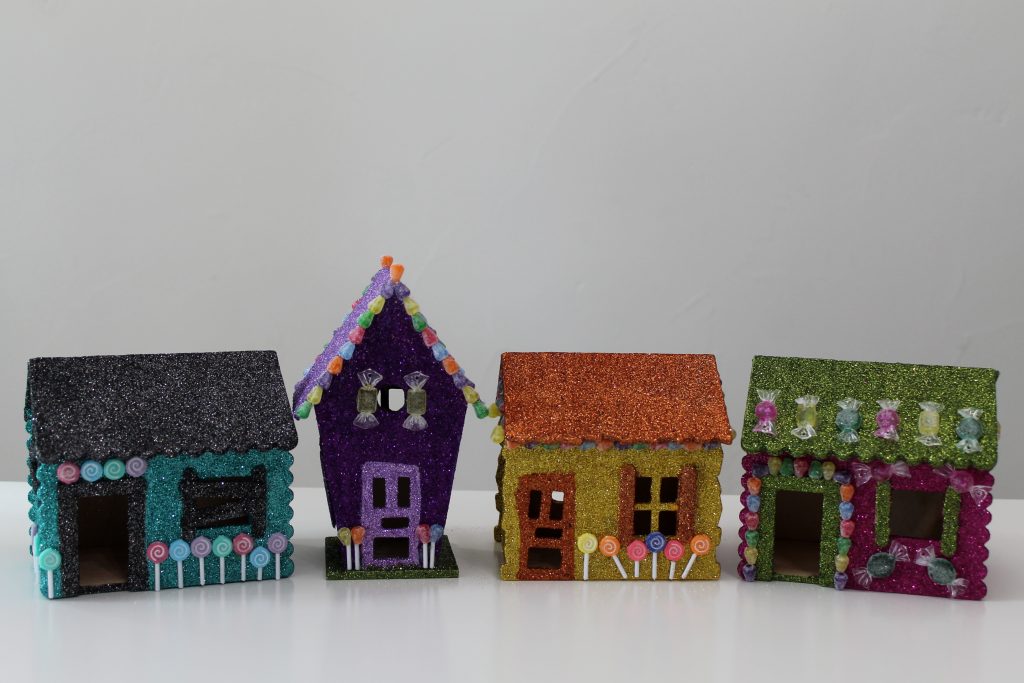 Supplies
Wooden Halloween Houses
Paint in various shades
Glitter in various shades
Craft Glue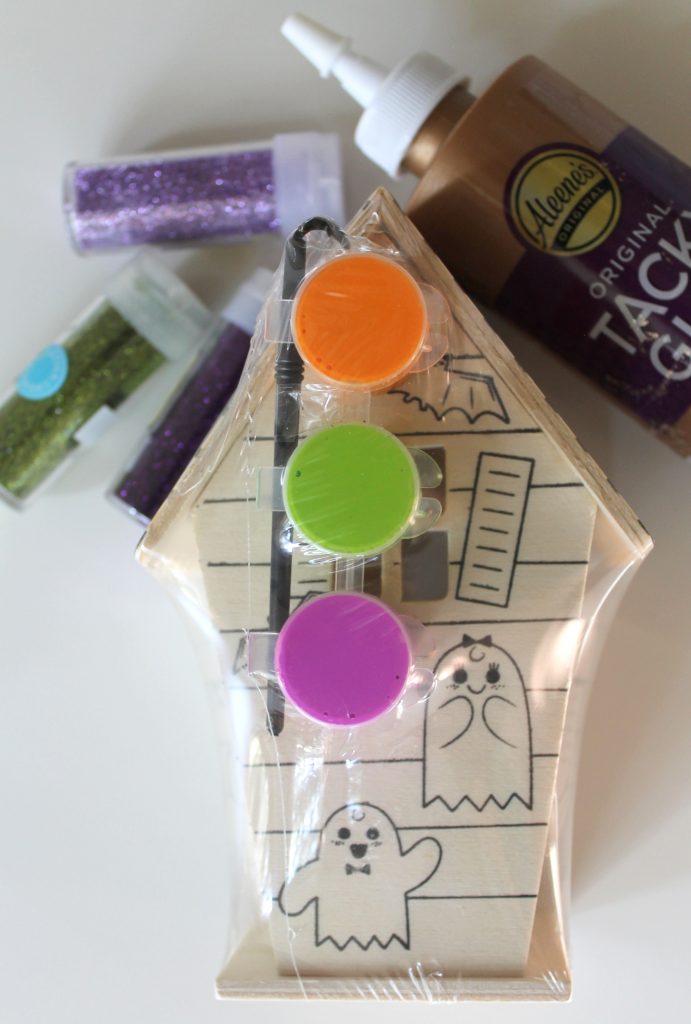 How To
First paint the houses any color that you like. The houses came with three traditional paint colors. I supplemented the shades with teal blue, black and yellow craft paint. This portion of the craft is perfect for even small supervised children. The paint can be applied haphazardly since it's going to later be covered with glitter.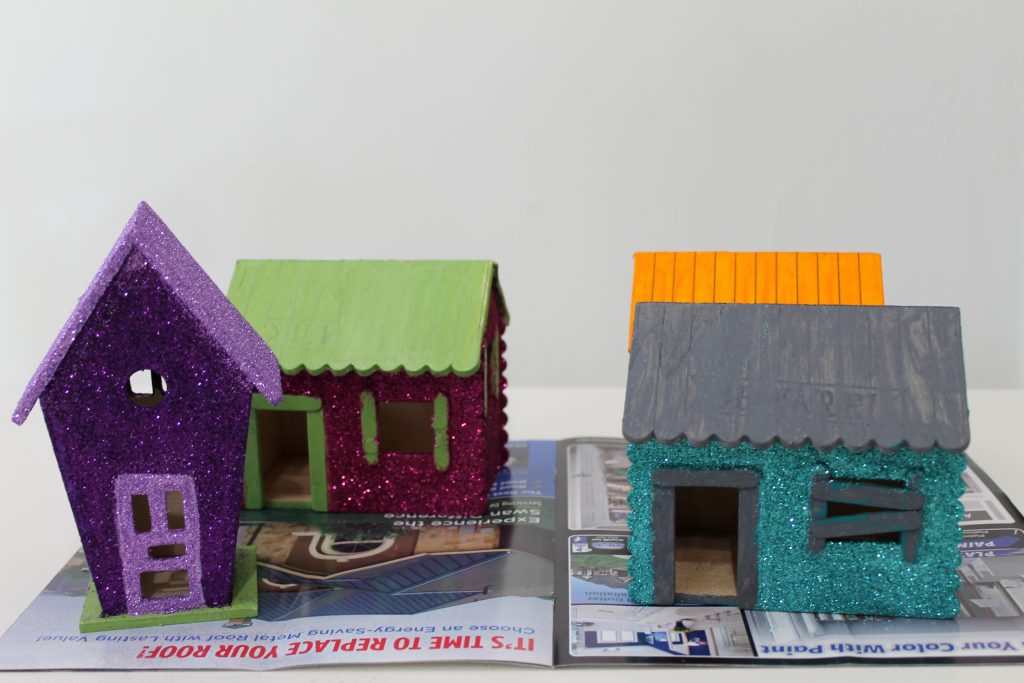 Next up is glitter. I brush on the craft glue, then liberally apply glitter (I love Martha Stewart!) and shake the excess off. (The excess can be reused.) It's a bit of a messy, but fun, process.
TIP: Pour a small amount of glue into an old plastic cup. Use old paint brushes to apply the glue to the house. Make sure to wipe off the paintbrush with an old, clean cloth when you change glitter colors. Allow each color to dry completely before adding the second color.
Eat some candy while you wait. If you watch my Instagram stories you saw that last Saturday  Sweet Guy and I also took the time to groove out to Thriller.  It was a temporary moment of hysterical madness!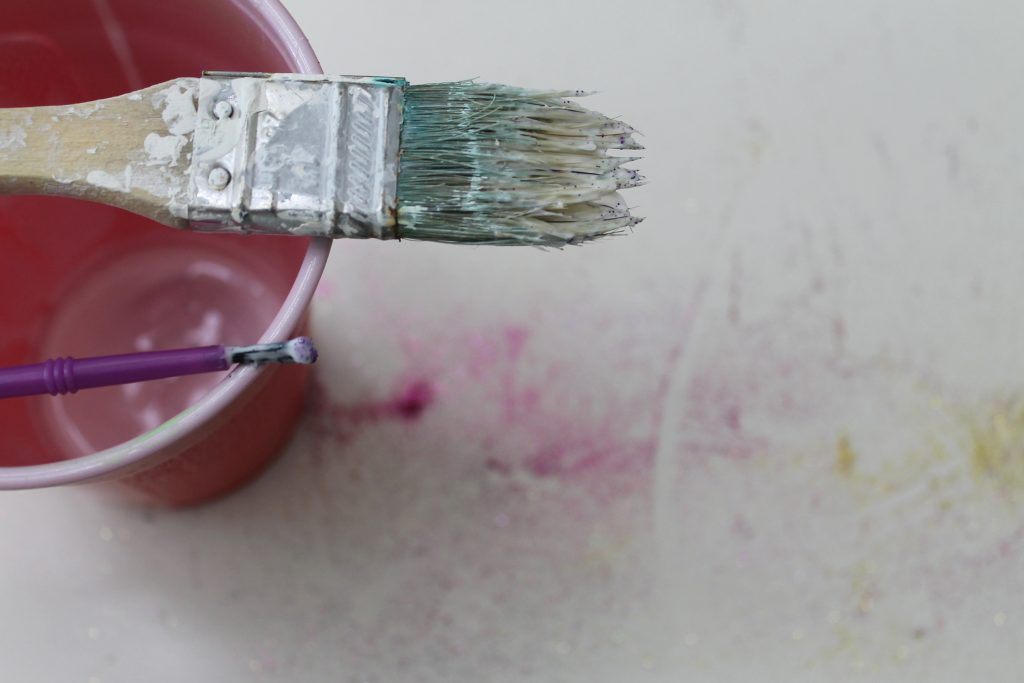 Once the houses have glittered you can call the project complete, if you want more of an understated look.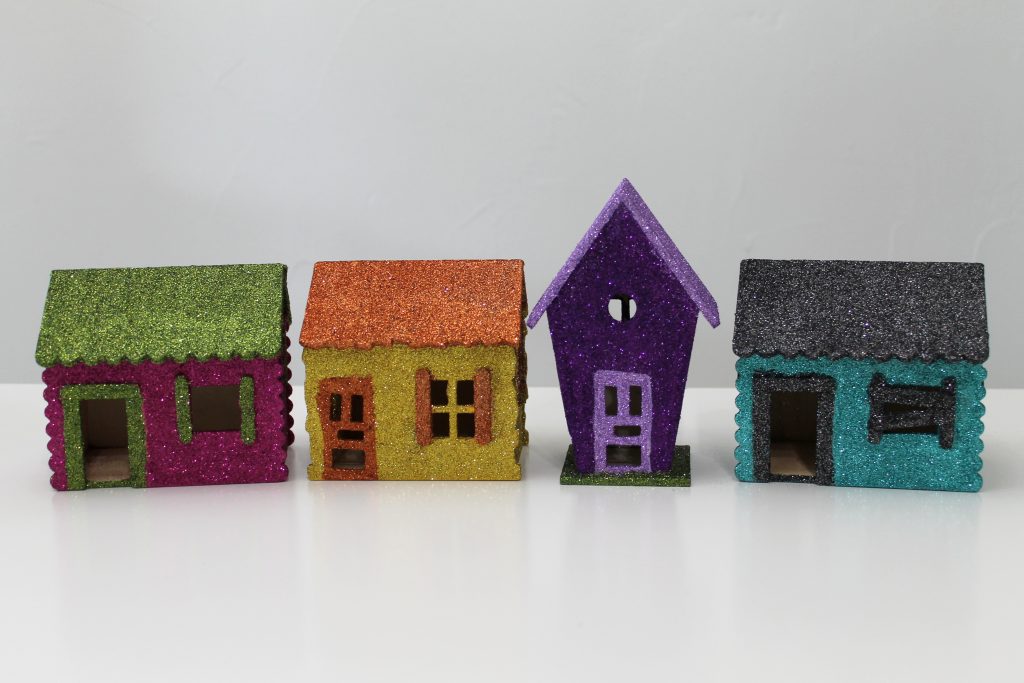 But This Is Halloween
Since this year's DTA Halloween theme is Hansel and Gretel I opted to hot glue on some miniature candy. It can be found in the Christmas craft section and dollhouse supplies.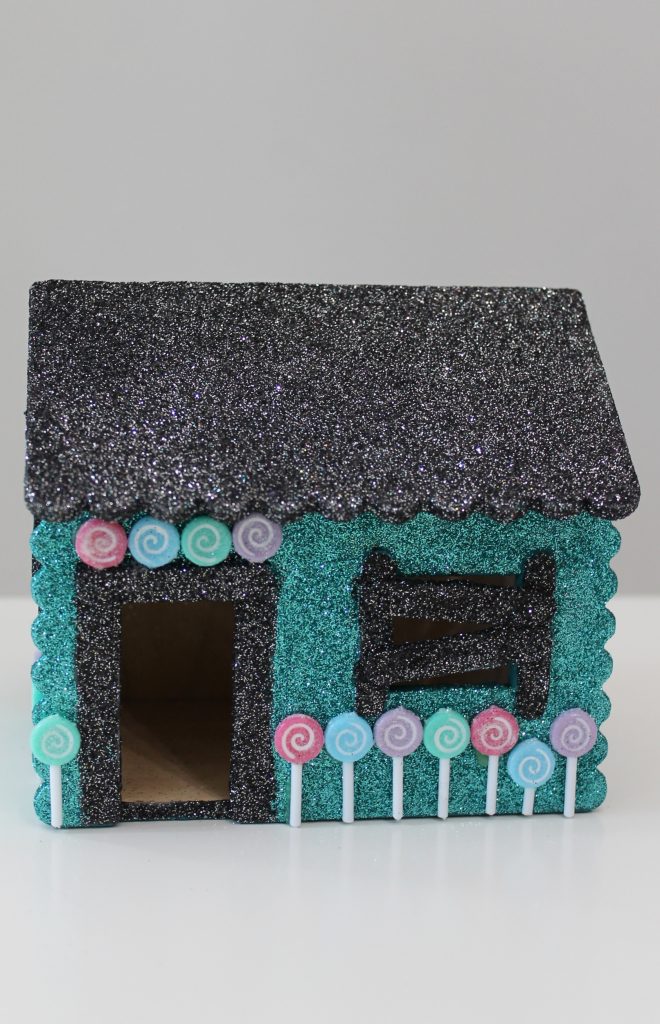 The gumdrop garland was created piece by piece. Don't you love the candy shutters?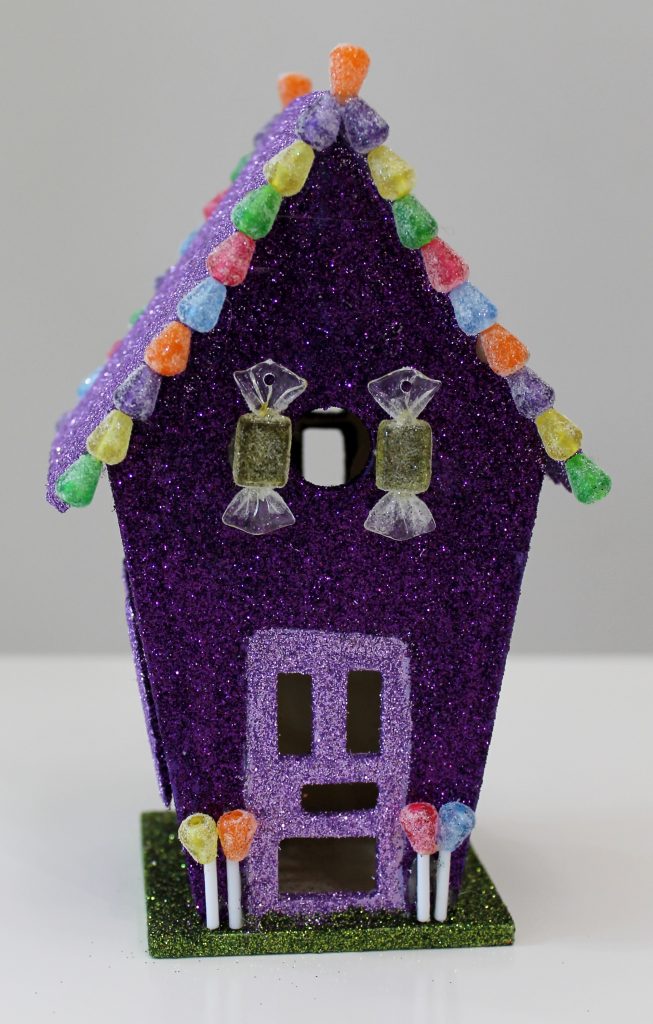 Please feel free to sing "We Represent The Lollipop Guild" munchkin style while you work.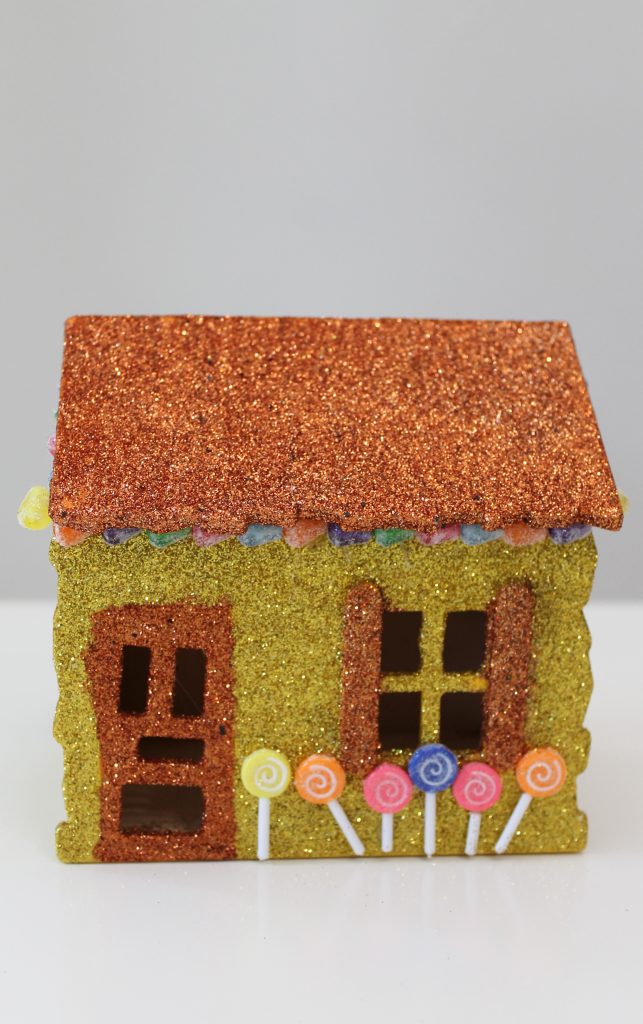 Time Invested: it took one rainy Saturday, working off and on, to allow drying time, to create the four homes. But the efforts were well appreciated by my kids.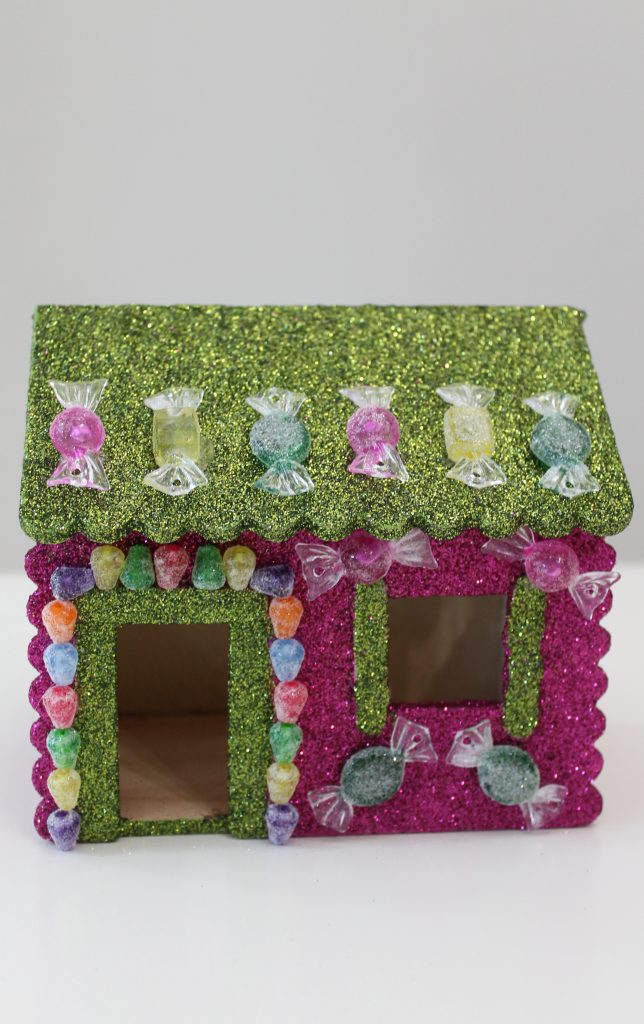 Come back on Monday to see the magic of adding lights to the houses when I share my Halloween home decor. It's sure to be SPOOKTACULAR!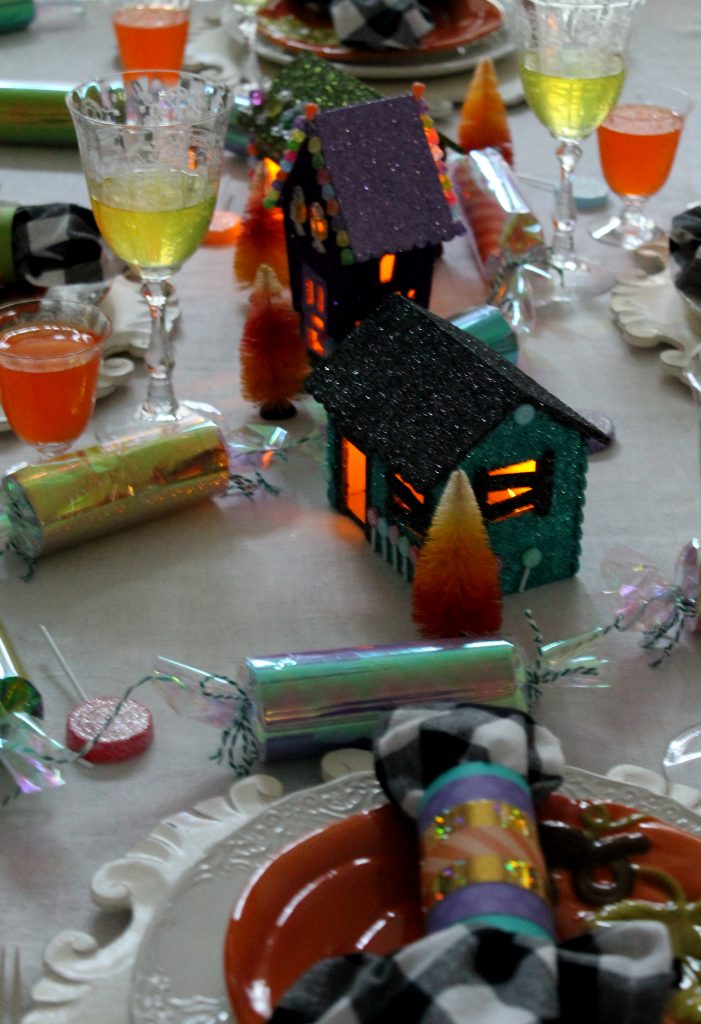 I'll see you on Saturday with a Smile!
Laura
Also Next Week
Hansel and Gretel 3D Pumpkin Diorama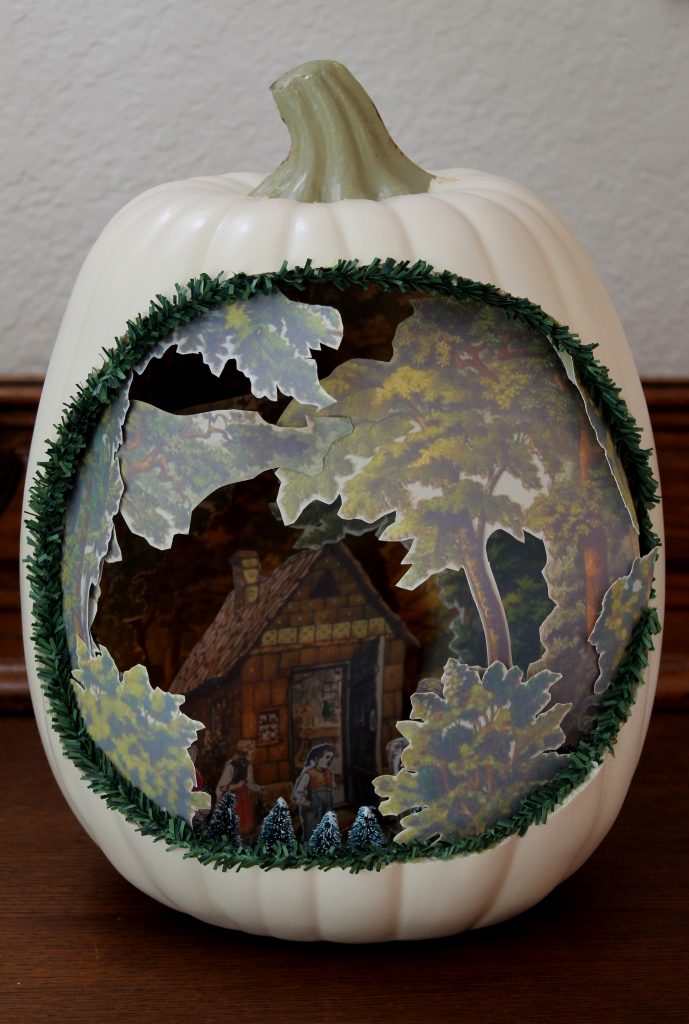 Hansel and Gretel Light Up Candy Garlands