As my son's Eagle Scout ceremony loomed ever closer on the horizon I struggled with what type of a gift to give him that was worthy of the long and challenging ten years worth of work he had invested to achieve this goal. I mulled over the choices of cash, gift cards, and pre-made Eagle Scout mementos. None seemed to convey the feelings of pride and admiration that I wanted to express to him.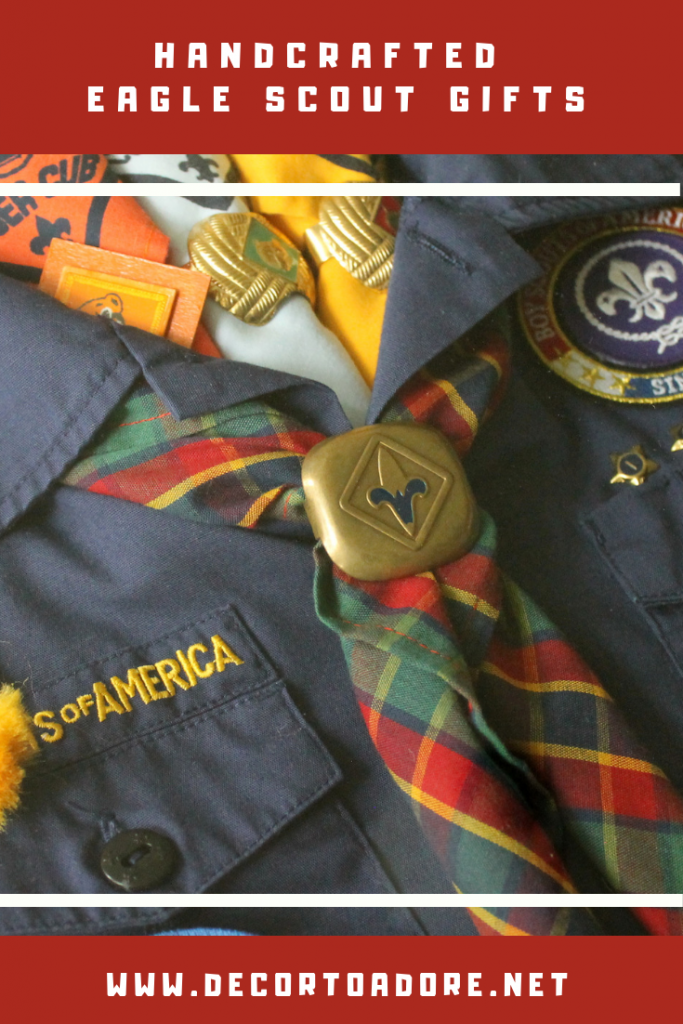 Handcrafted Eagle Scout Gifts
It was then that I decided I would create gifts of the heart for my Scout. I settled upon making a scrapbook and two shadowboxes encompassing just some of his wonderful achievements in Scouting.
Now, this was no small undertaking. I knew many hours would probably be invested in creating such gifts. As many of my regular readers know this past summer I made the decision to go from writing this blog four times a week down to two. I used the time gained to invest in these gifts for my son. Two hours here, three hours there stretched over an entire summer of creativity.
The Scrapbook
I am going to divide the scrapbook into two sections: Photos and Letters.
We'll start with PHOTOS because that is a traditional activity.
Ten years of his Scouting career that had been sitting inside of the computer were sent off for the images to be printed out.
Next, the photos were laid out to determine how many scrapbook pages would be needed. This required a few hours. This step was used in the hopes of avoiding running to the store a bazillion times.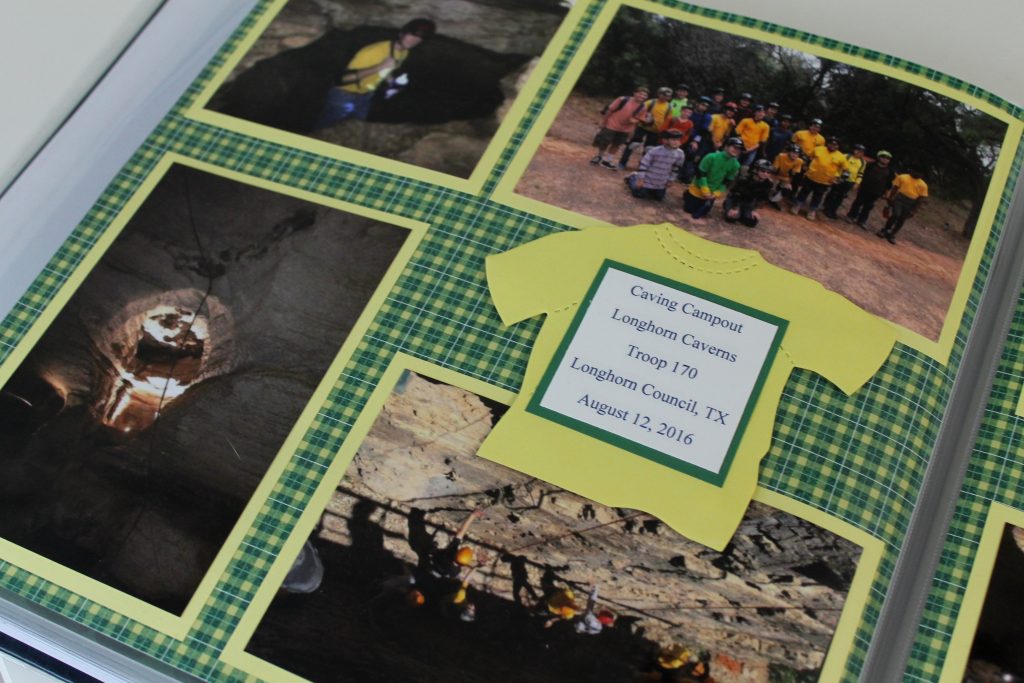 I then hit up Hobby Lobby, Michaels, JoAnn's and a specialty scrapbook store for paper, stickers, and other supplies. I LOVED this activity!
Next, I typed out labels for each activity that corresponded with the color of paper used. I stuck to a color palette of green, red, yellow and blue.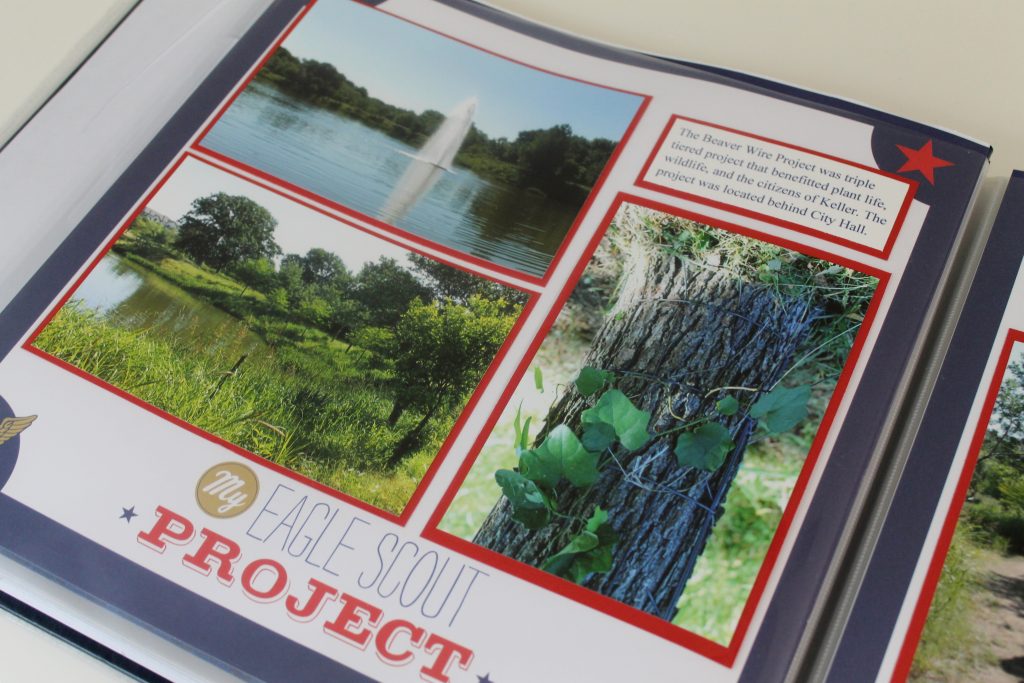 Then it was a whole lotta cutting and pasting. But it truly was a labor of love I enjoyed.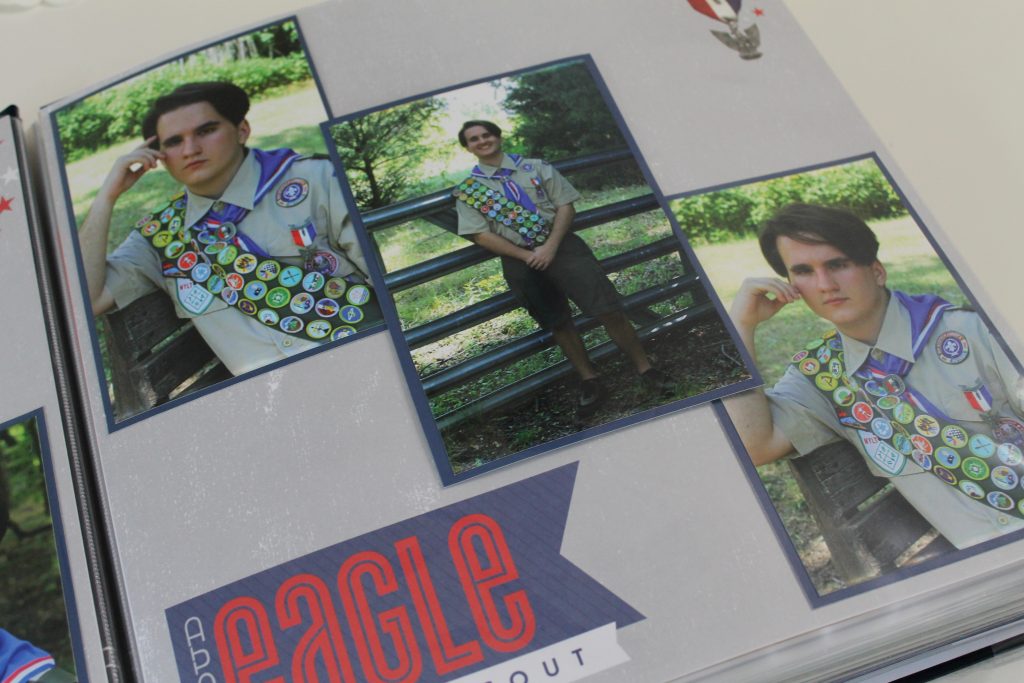 The Letters
As I prepared to mail out the invitations to the Eagle Scout ceremony I also included a small note. It invited our friends and family members to send a letter of wishes to our Scout in lieu of a gift. It could be words of advice, favorite motto's, must see books and films. Anything they felt that they wanted to share.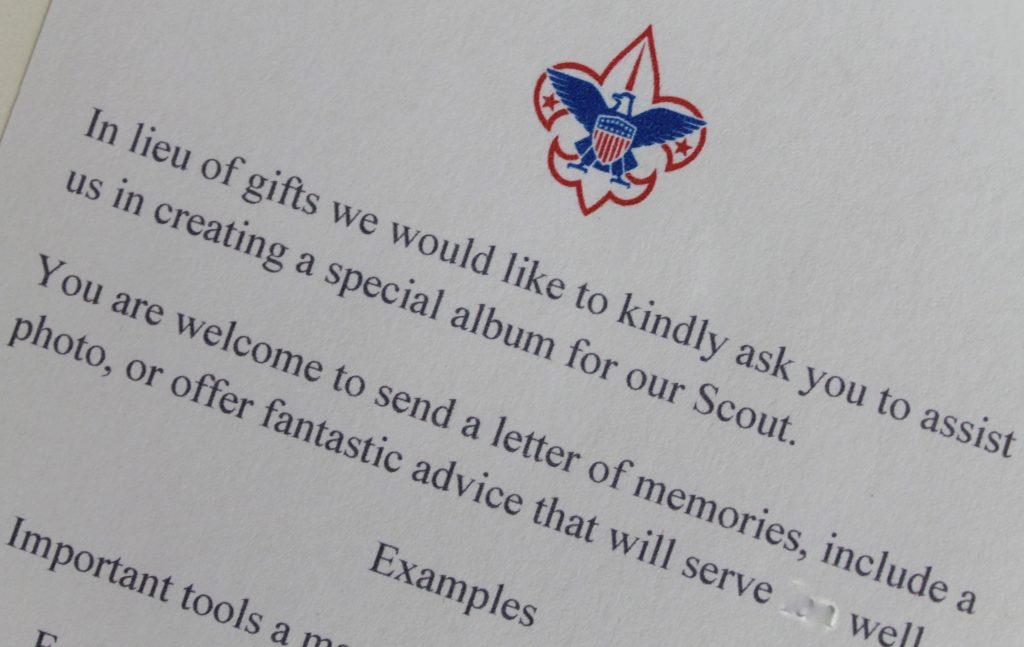 I created small pockets on scrapbook paper to hold the letters.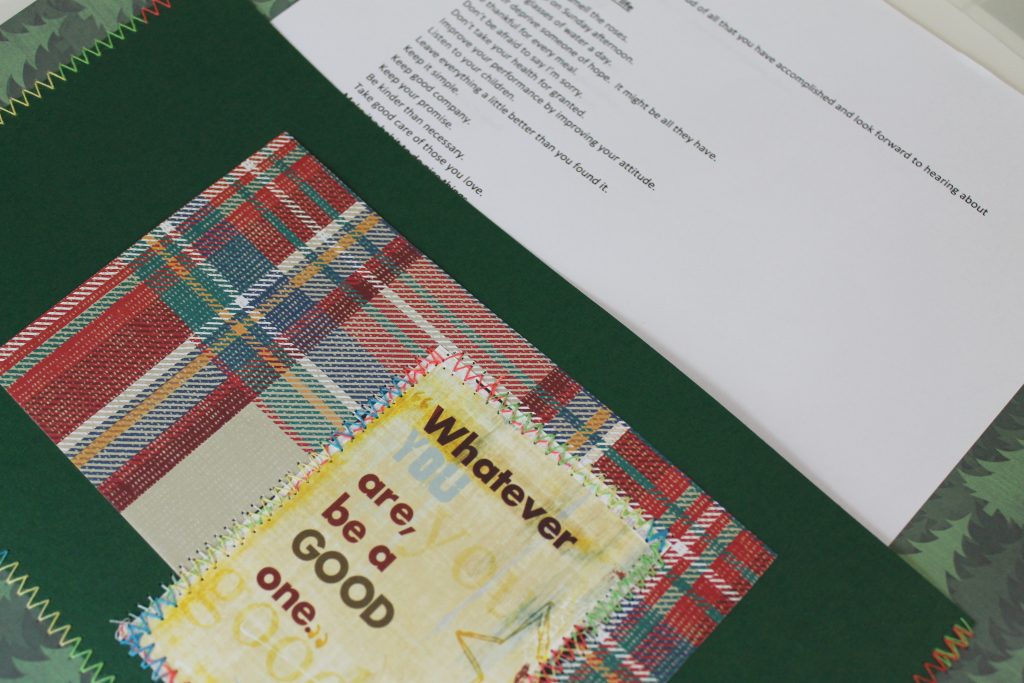 While the Scout knew I was working on a scrapbook he did not know about this portion of the project. I saved every single letter received for him to open on the day of his ceremony.
He was absolutely overjoyed by the contents of the letters.
Tears came when he read a letter from his great-grandmother, Joyce. She sent a photo and flag that belonged to his great-grandfather, Landen, who was a Scout Leader in Panama.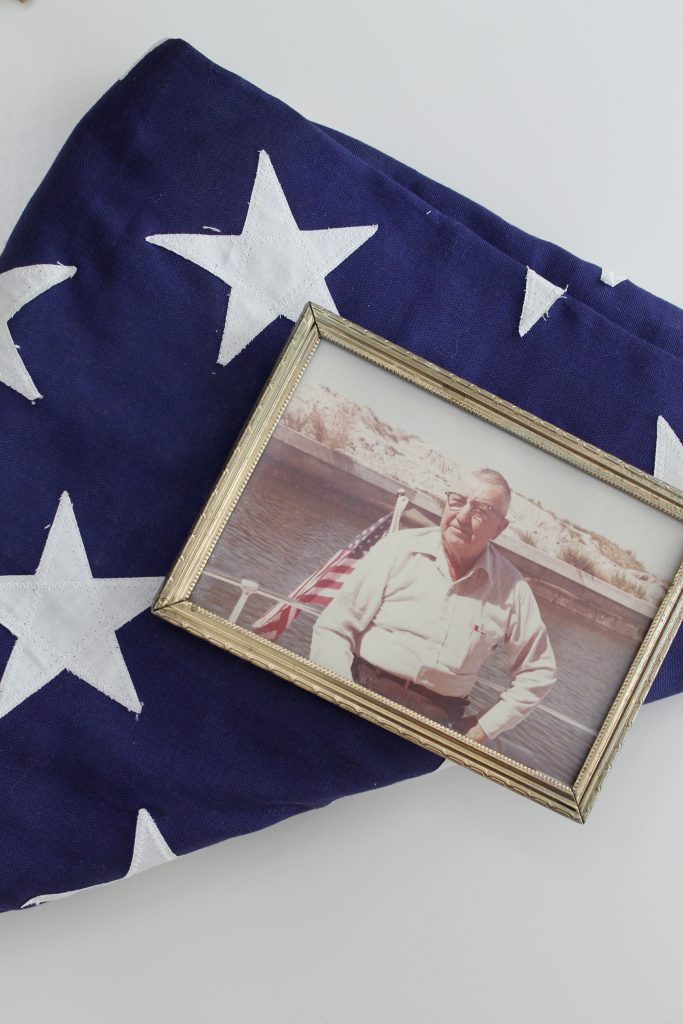 I was completely overwhelmed by the creativity shown. One example was our former next-door neighbor Phyllis who even went so far as to use vintage stamps to mail her envelope.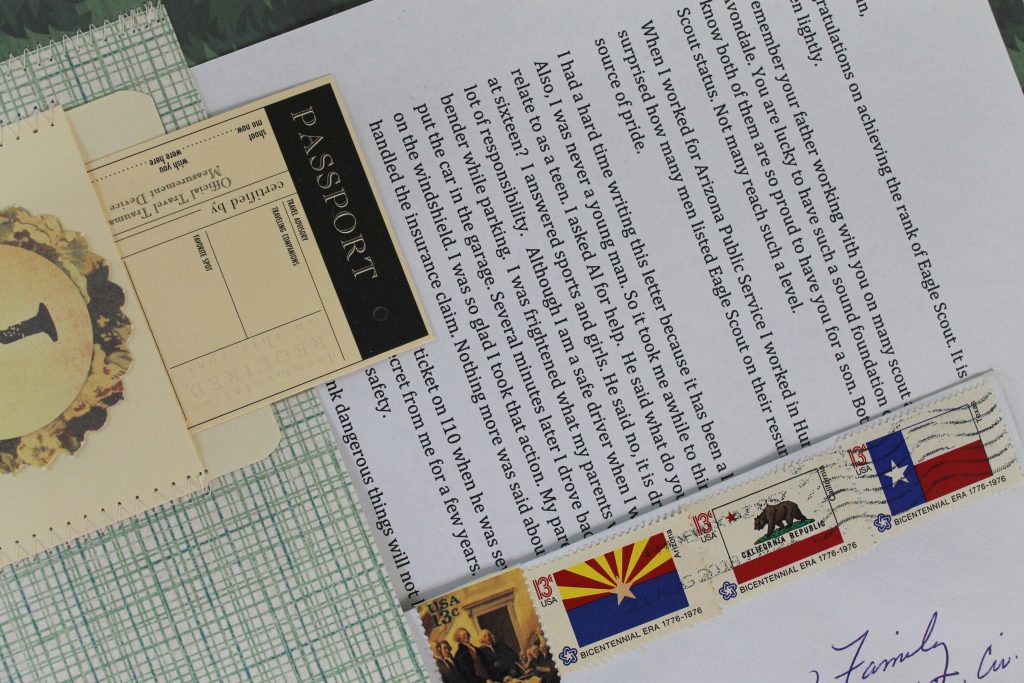 Sometimes You Get What You Ask For
Then I took the letters one step further.
I wrote to several inspiring men who had once been Boy Scouts. I invited them to our Scout's ceremony. Now before you get all excited… none of them came. But many sent letters of congratulations.
We heard from four presidents. (As well as the director of the FBI and our Governor.)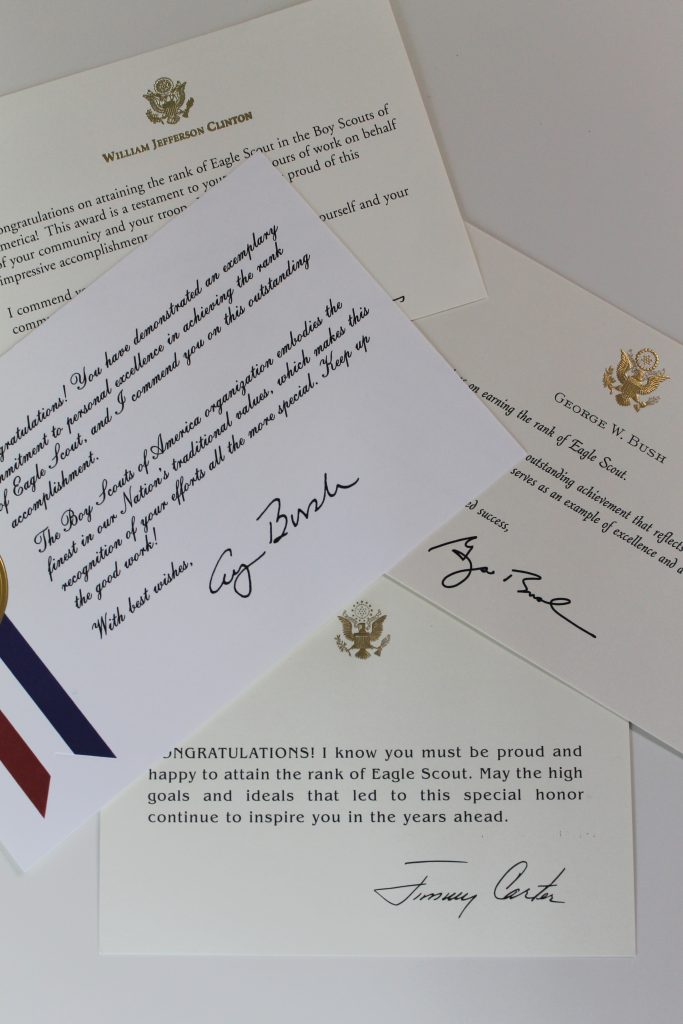 Focusing on our Scouts interest in financial planning I wrote to some leaders in the industry.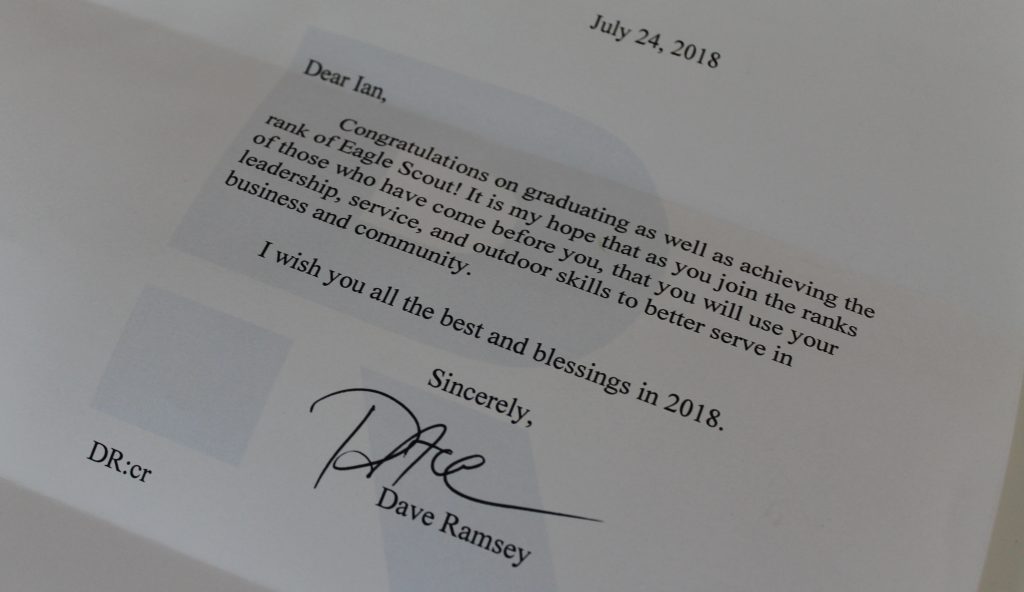 My son is also a hardcore basketball fan. Did you know that Michael Jordan was a Scout?
This was THE letter that really sent the Scout over the moon.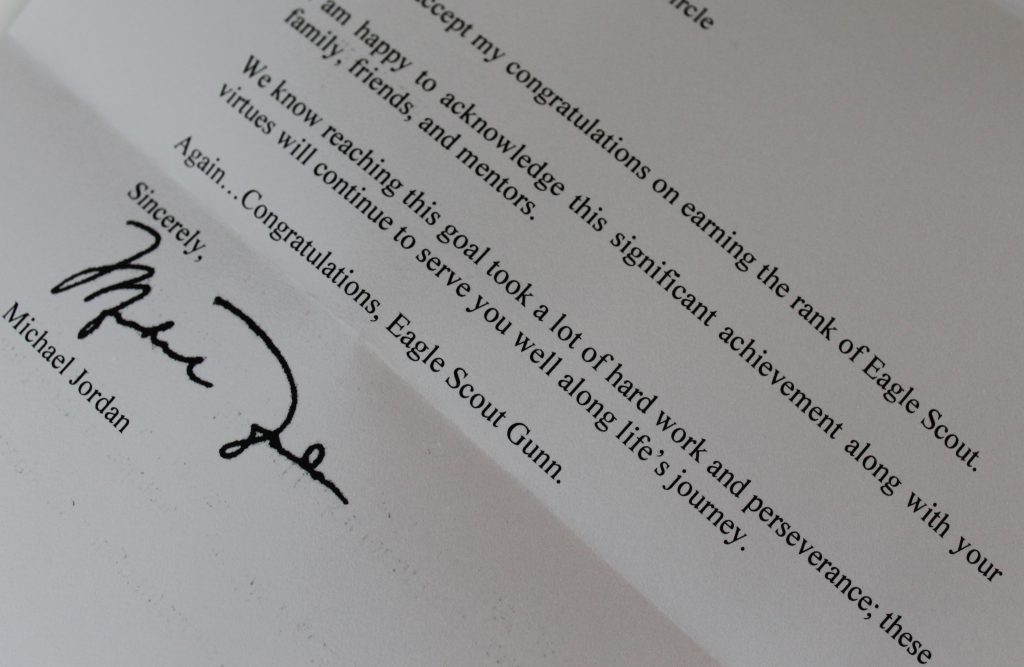 Shadowboxing
I also created two shadowboxes that featured some of our Scouts accomplishments over the past ten years. One was dedicated to his years in the Cub Scouts.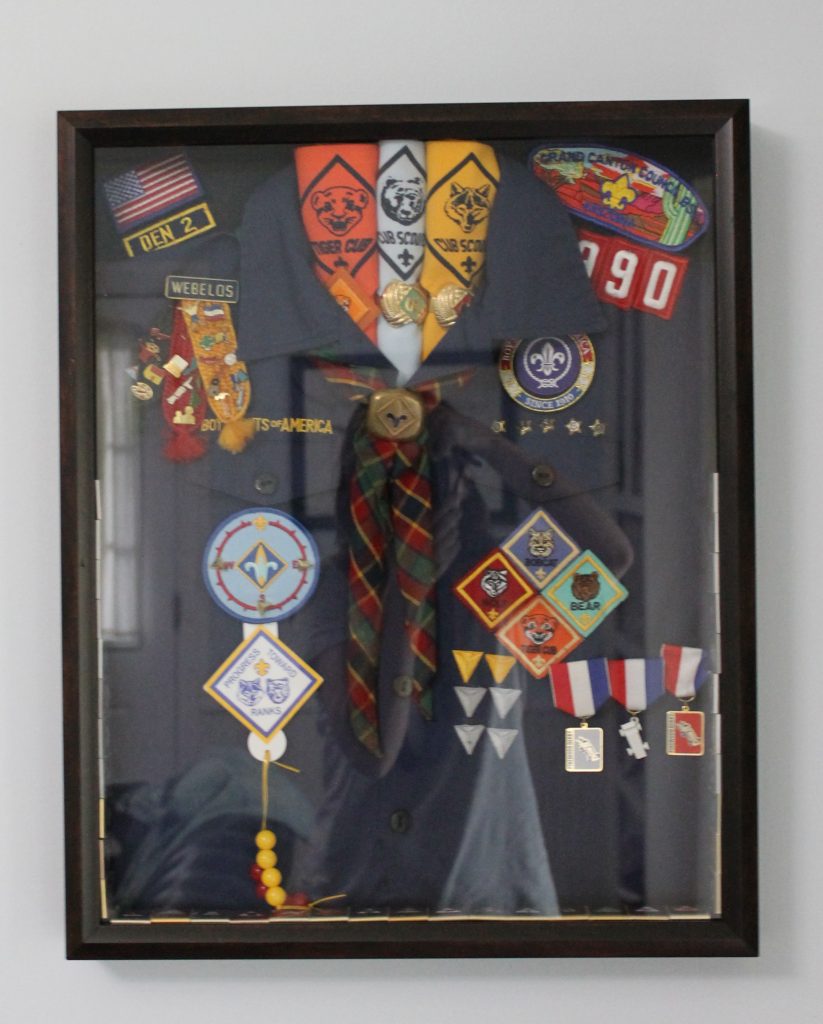 I wish I knew how to better shoot glass frames.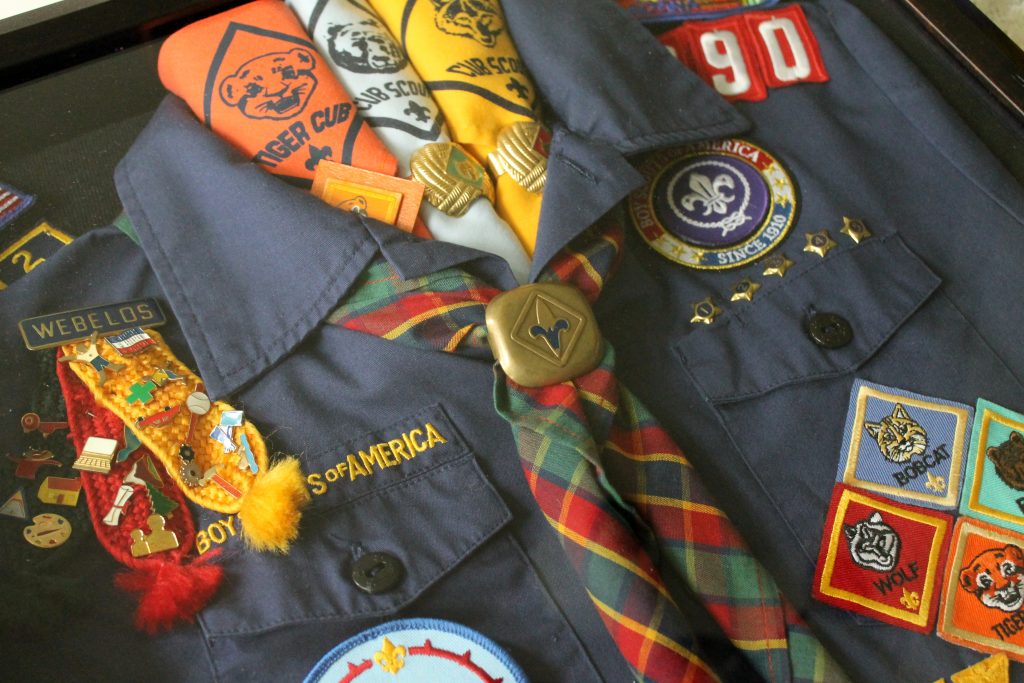 The other Scouting shadowbox focused on various patches, not to be confused with badges, that were earned.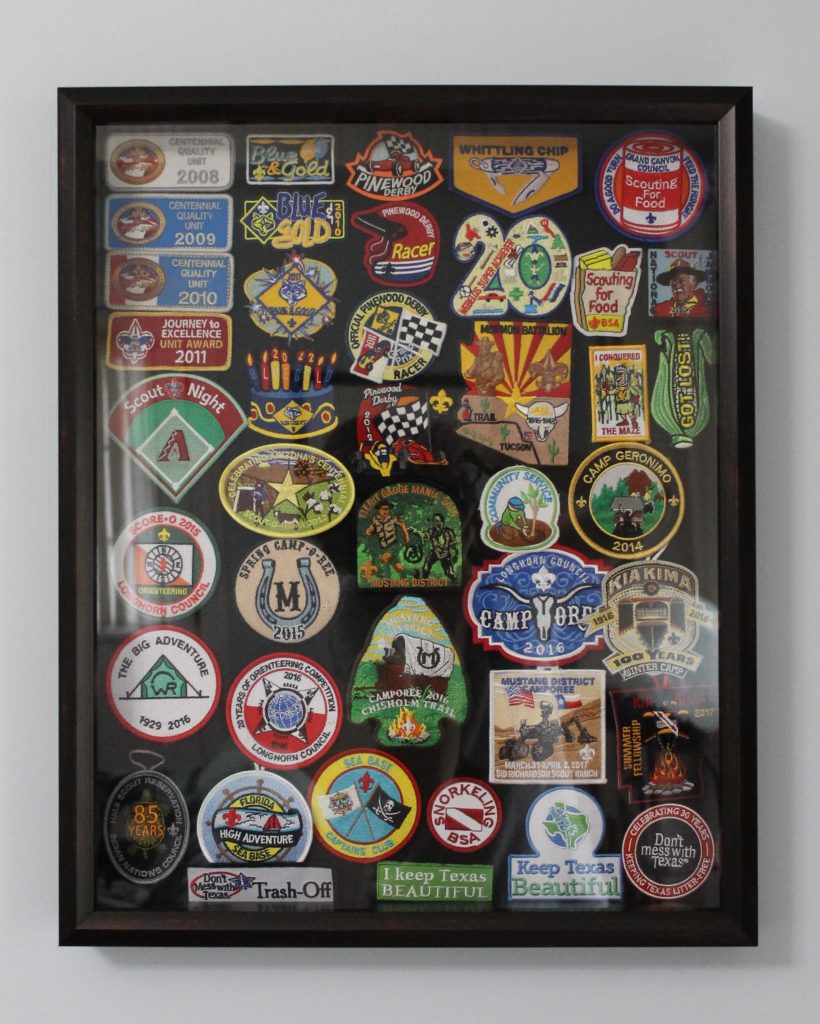 Eagle Scout Party Favors
It took me a while to settle on what we would present as a thank you gift to those attending the ceremony. It had to be cost-effective as the Scout's entire troop was invited, many of his high school friends, as well as our family members.
I settled upon handcrafted chocolates. I found the chocolate molds on Etsy.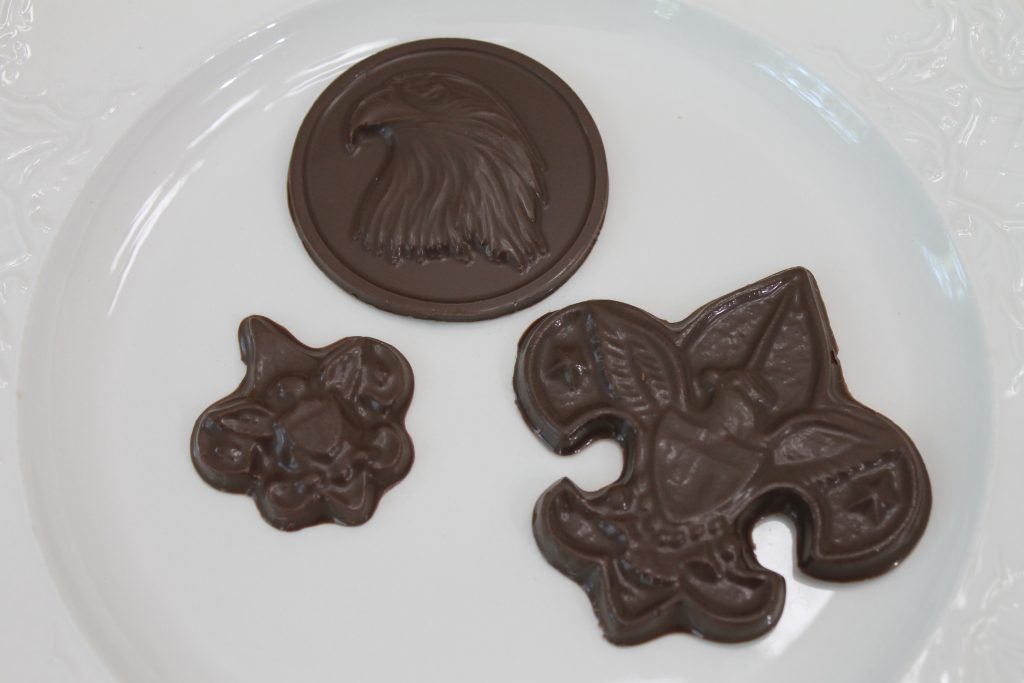 Once the chocolates had hardened they were packed in clear cellophane bags.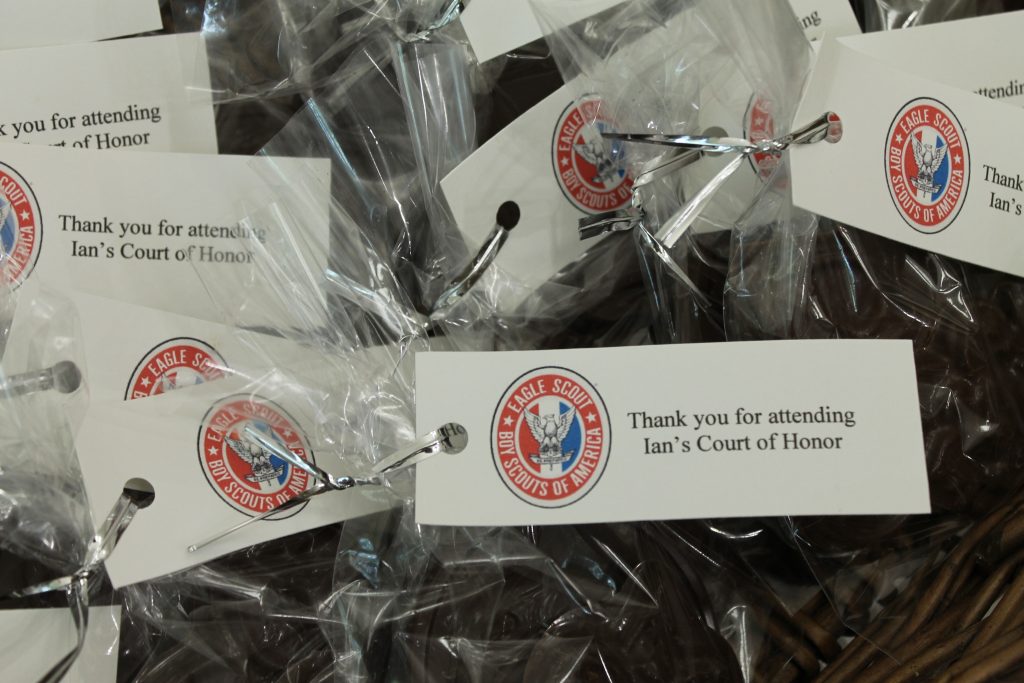 I'll be back tomorrow with images from the ceremony itself.
Laura
You May Also Enjoy
How To Create Rustic Eagle Scout Centerpieces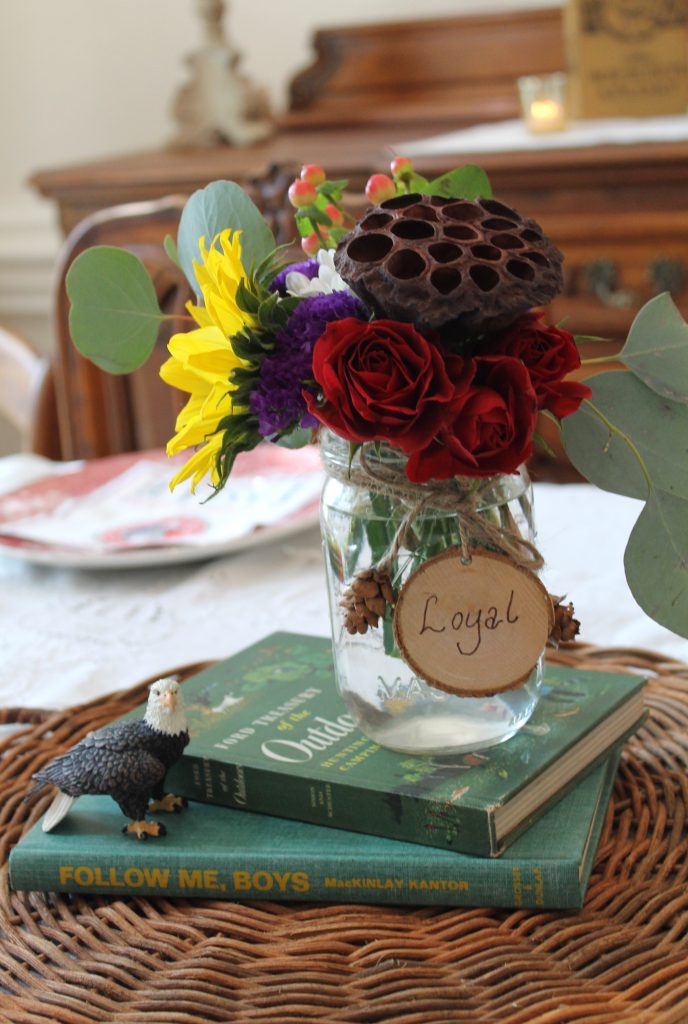 A Memorable Eagle Scout Ceremony