Today is Sweet Guy's 17th birthday. I know many dear readers have followed Decor To Adore since it's beginning, almost eleven years ago, when he was just six years old. For this reason, I wanted to share a happy life event that recently occurred for our Scout. It was truly A Memorable Eagle Scout Court of Honor. We also had a fabulous after party for his friends later that evening.
A Memorable Eagle Scout Court of Honor
Reaching the rank of Eagle Scout is a momentous occasion for any young man. I recently wrote about the years of hard work that it takes to achieve this goal. For this reason, it is understandable that the ceremony itself is often very special.
There are many ways you can do this. Each ceremony should be personal to the Scout who is being honored. I involved our Scout in every decision. He had input on what flavor cake to serve, how he wanted the tables set up and even how the centerpieces were created.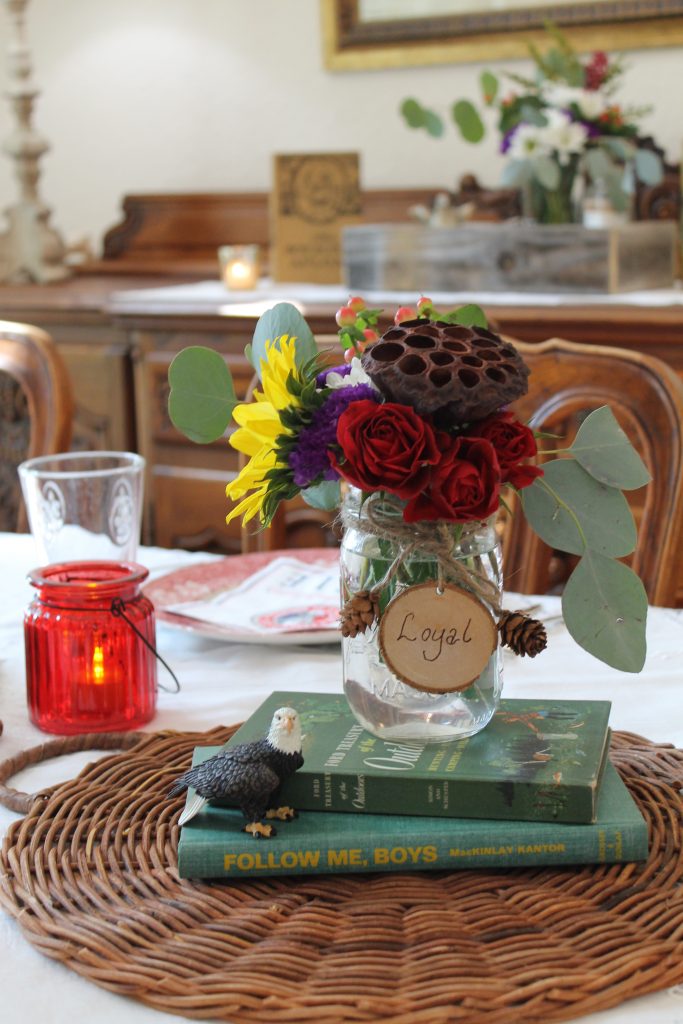 The ceremony was held in a church auditorium that is affiliated with our troop. We are so very thankful for the use of the space as well as the tables and chairs.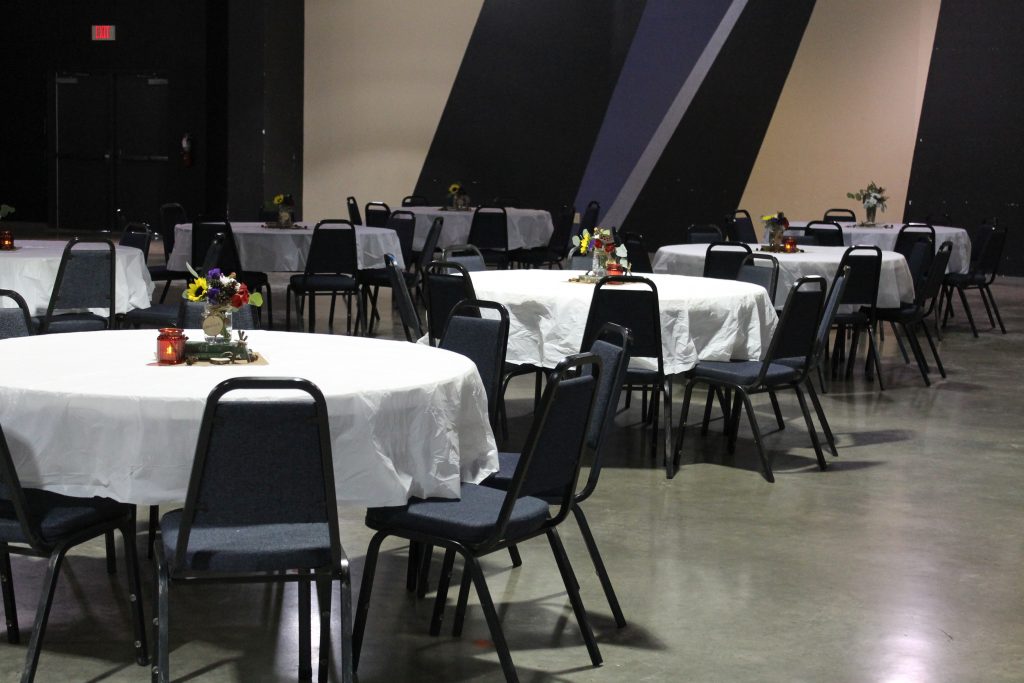 A display table was set up to feature many of the projects and awards our Scout has created and earned over the years.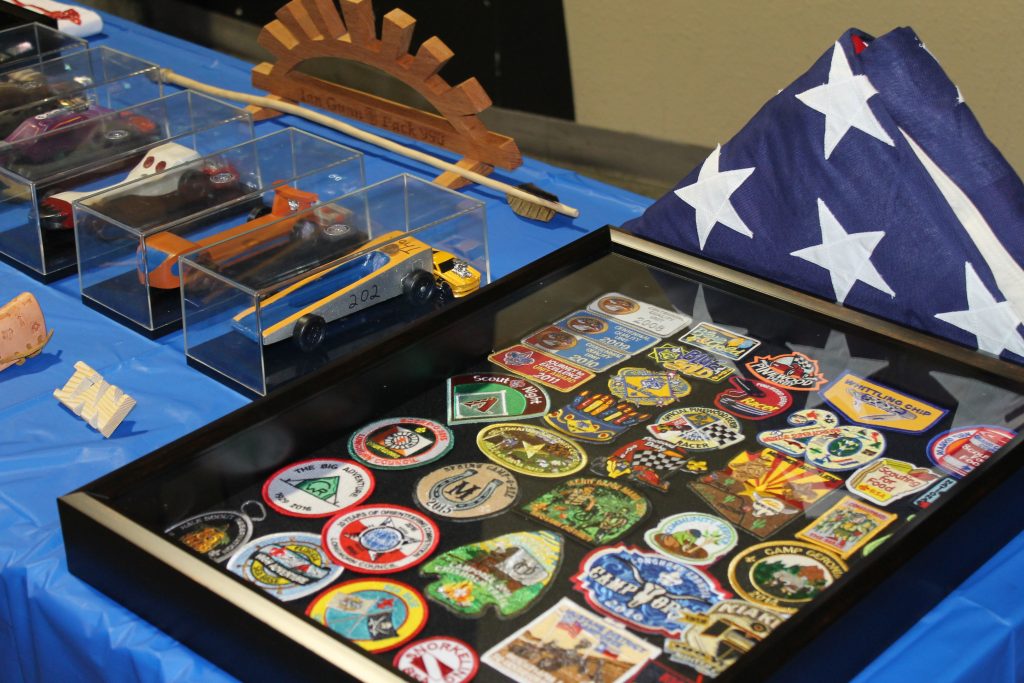 We also had a refreshment station set up. Cups and plates were gathered into rustic crates for easy access. We served cake and punch and also set out some edible party favors.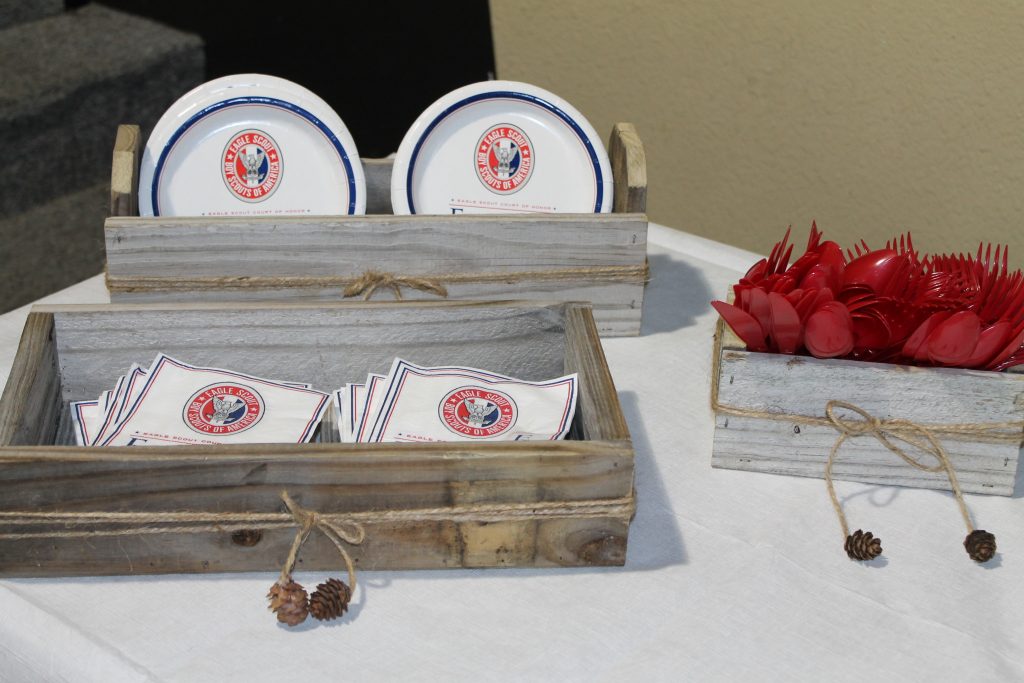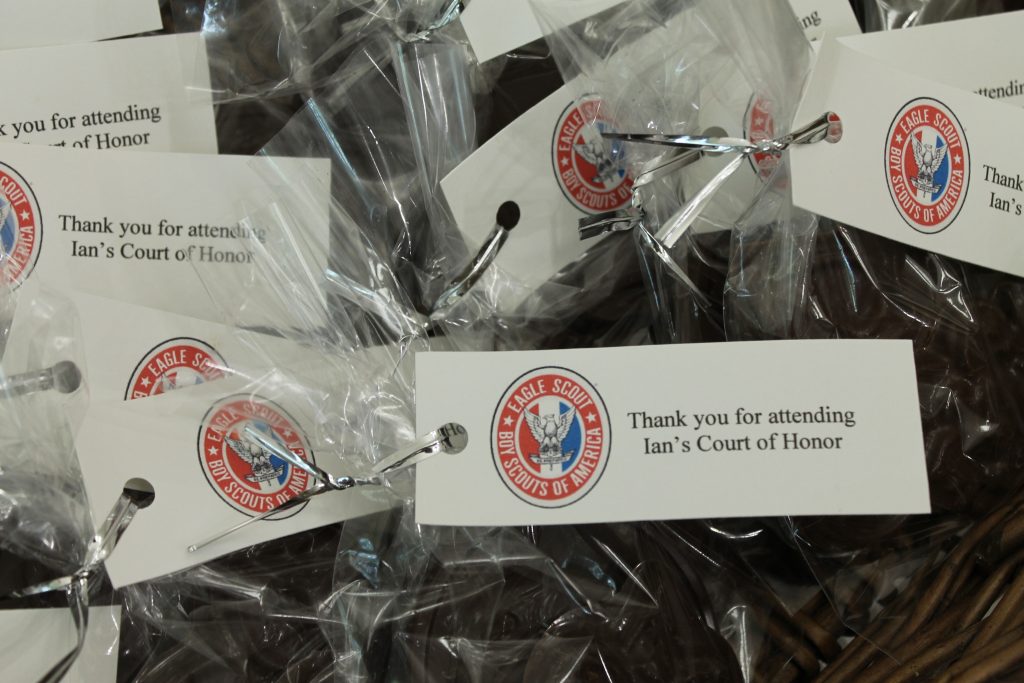 A wall was designated to take photo booth type images.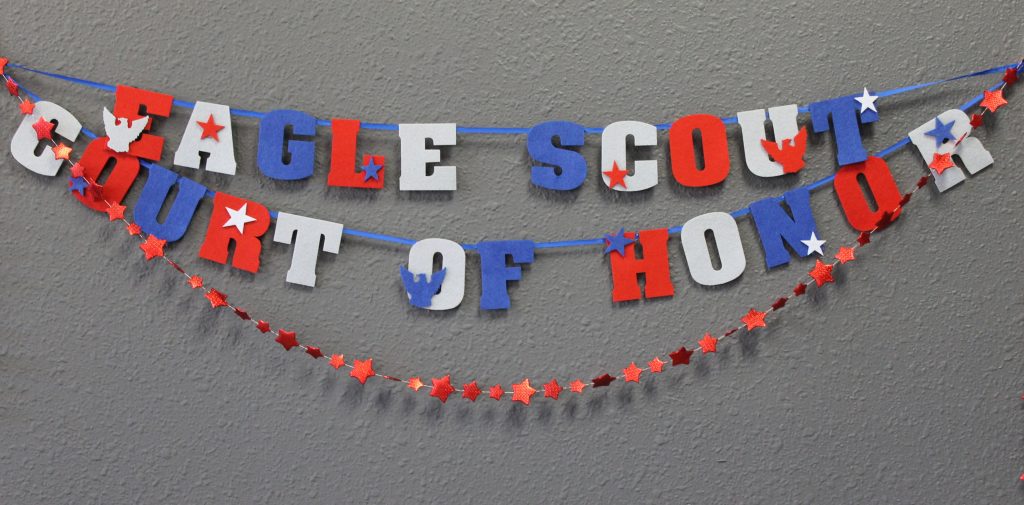 Near the entrance, we set out the scrapbook I had made along with some blank pages for guests to sign in.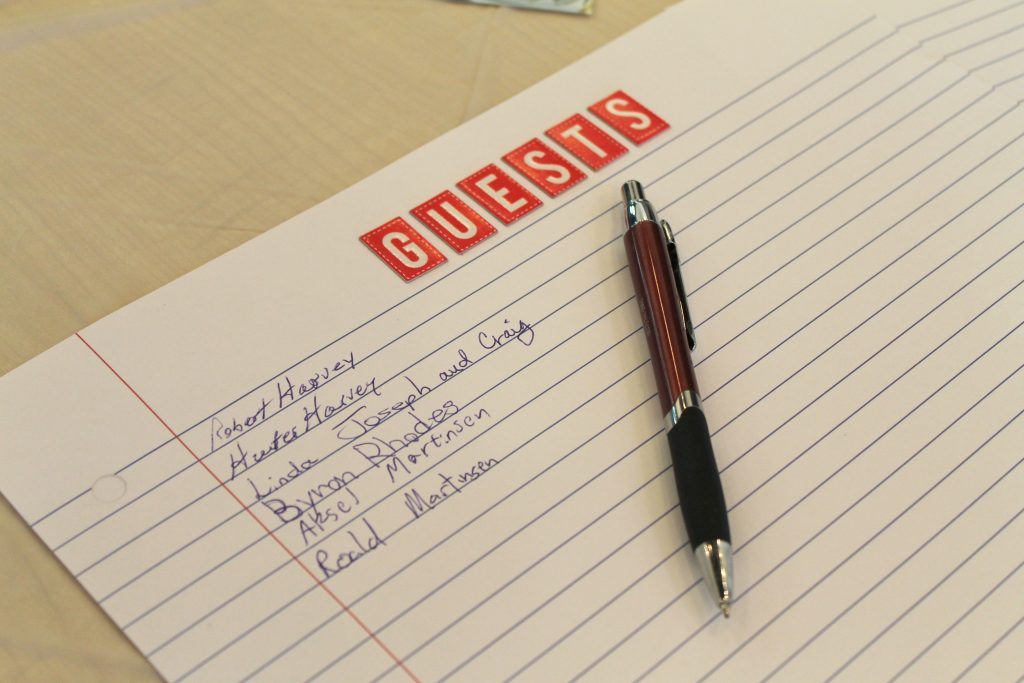 The Ceremony
The Eagle Scout Court of Honor was an absolutely beautiful ceremony. So many young men were willing to not only help set up but also wanted to speak on the achievements of our son.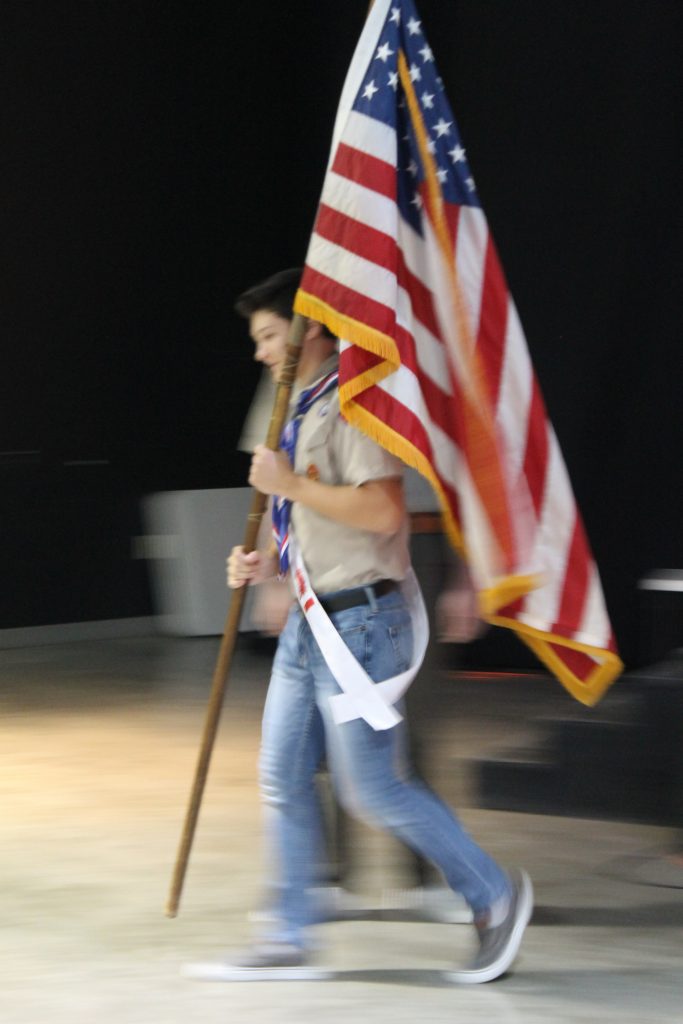 It was truly was so very moving.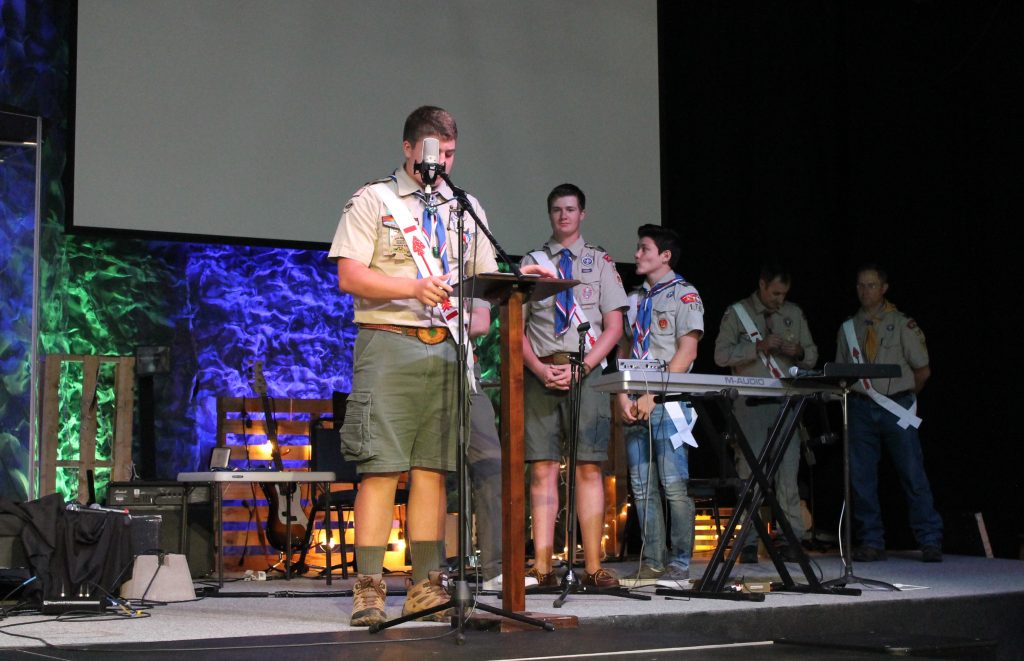 Several adult leaders spoke as well and administered the oath.
Our Scout selected his mother to pin on his medal.
Thank you to my dear cousin Linda for taking these photos.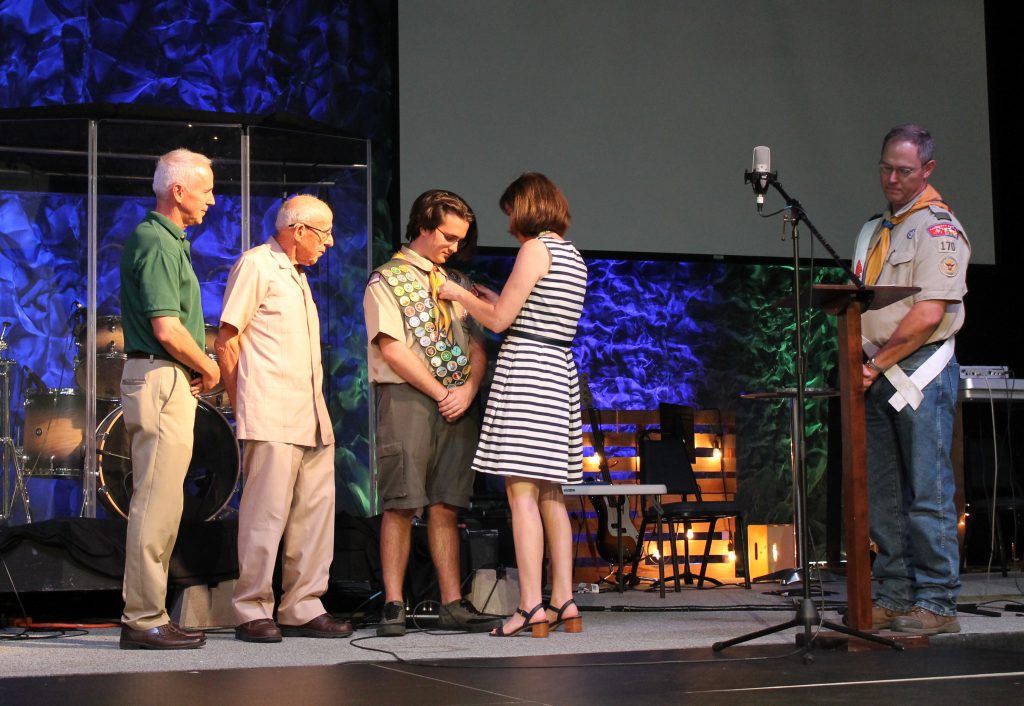 While his father presented his Eagle neckerchief.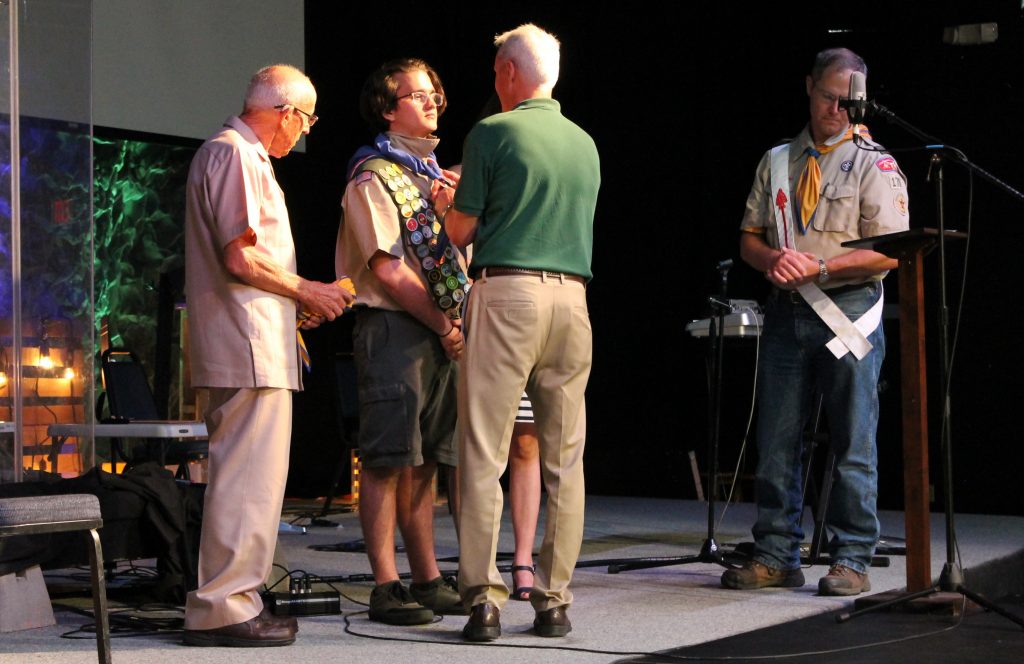 Many of you often comment on the amazing variety of skills Mr. Decor has. He was instructed by his father. Our Scout acknowledged his grandfather's contributions to both him and his dad. Pop Gunn was truly surprised. The past 6 weeks have been incredibly difficult with the loss of both his wife, our Grammy Jane, and his sister, our Aunt Barbara. We were so thankful to see him smile once more.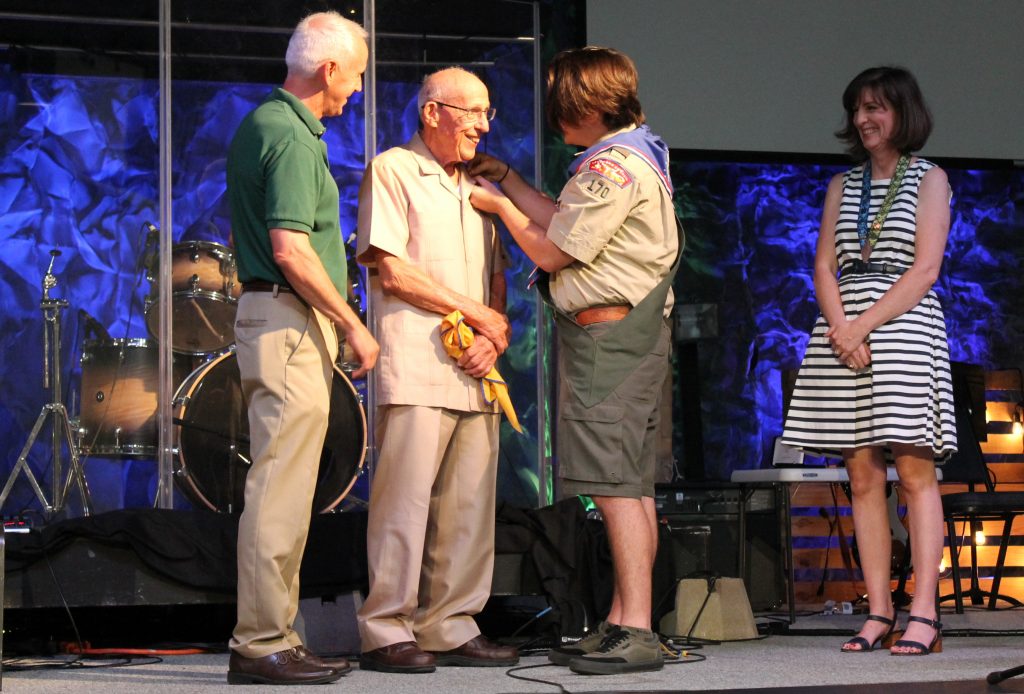 Another pin was presented to the amazing Mr. Baldwin. He has been such a wonderful mentor to our son and we could never begin to thank him enough for all that he has done.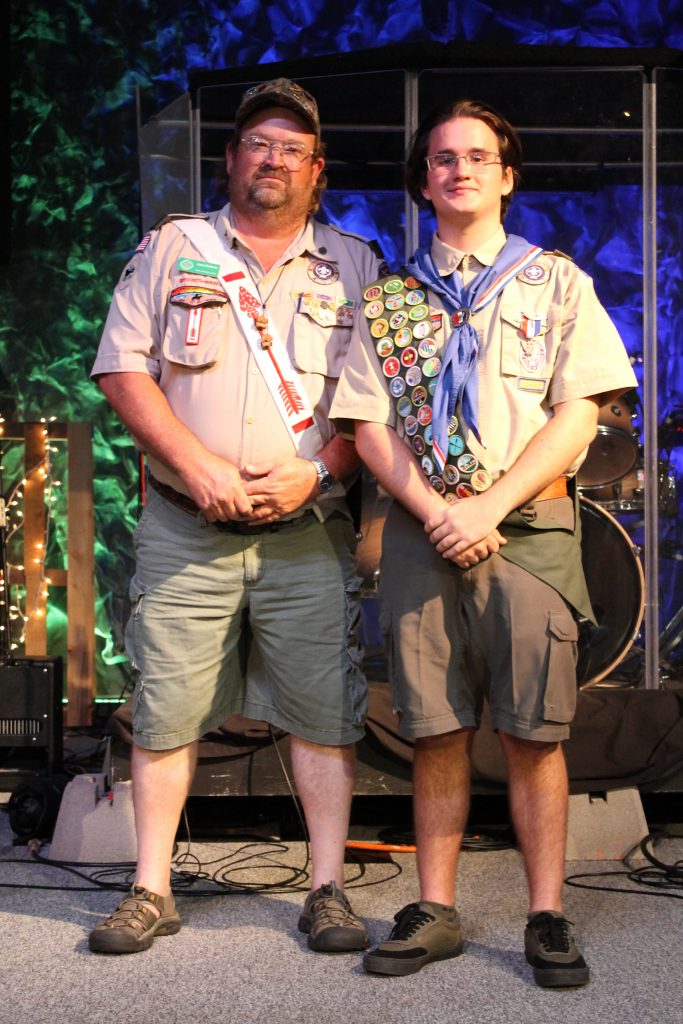 The After Party
It was then time to celebrate our Eagle.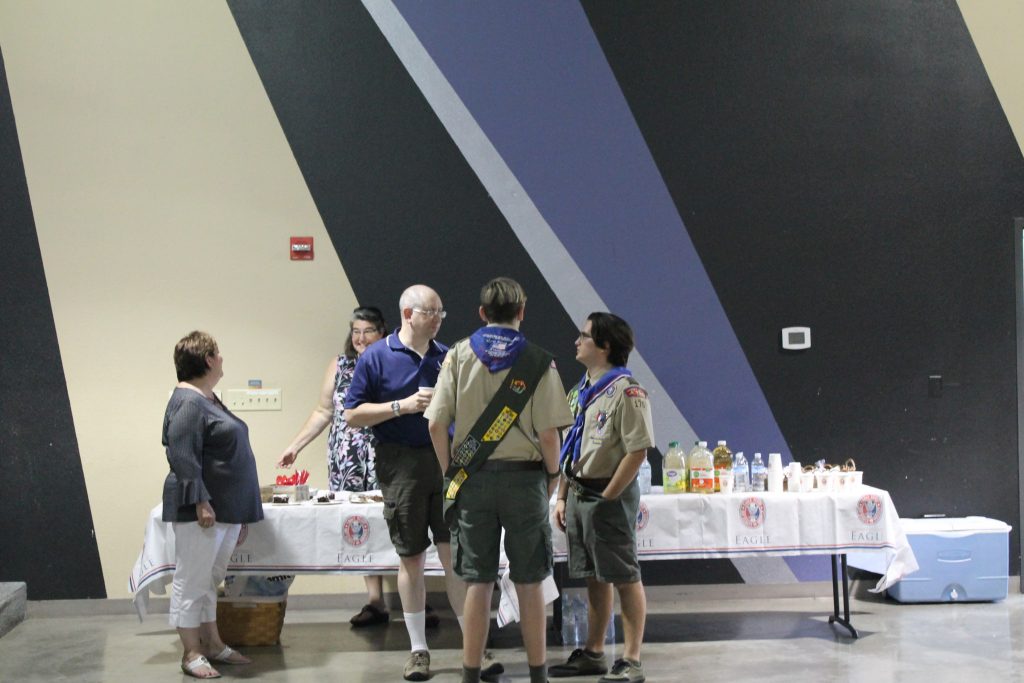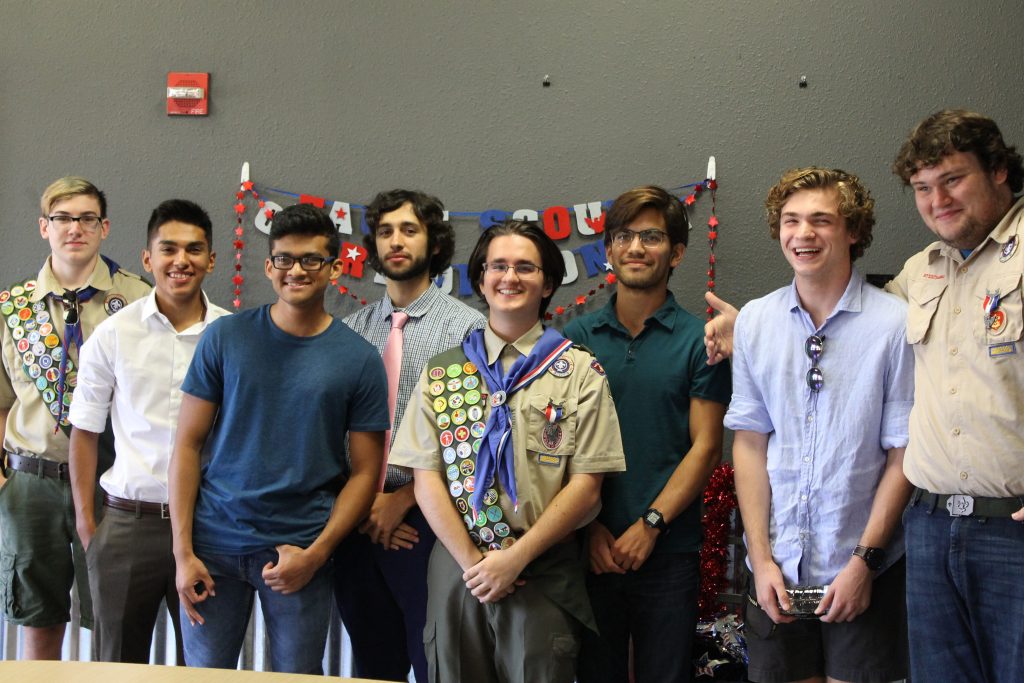 I found the hilarious mask at Wal Mart.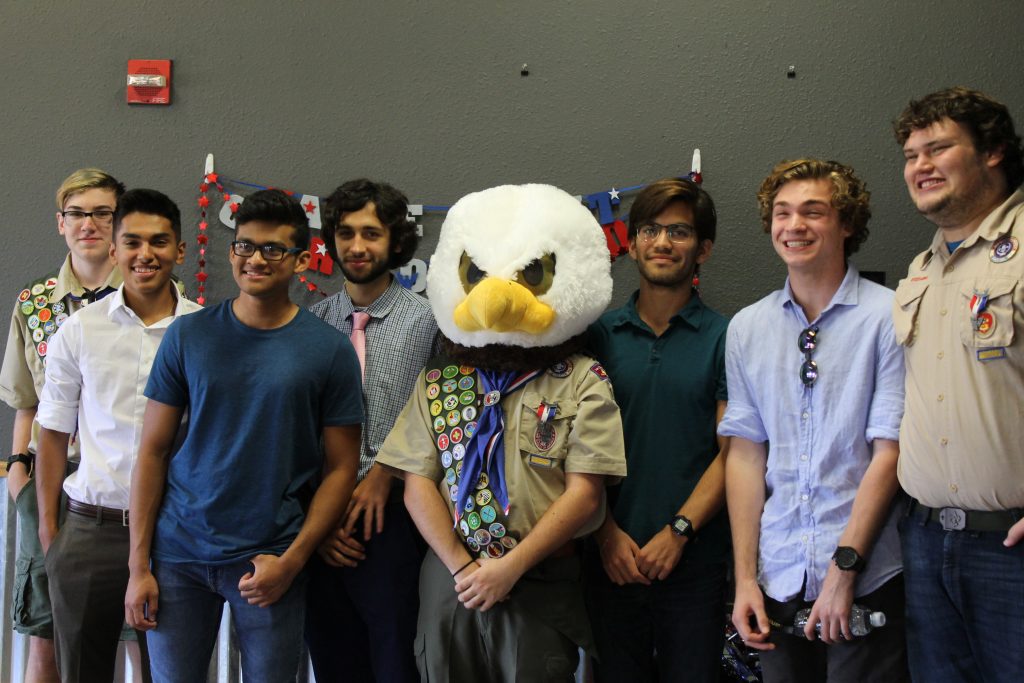 Even the adults loved it!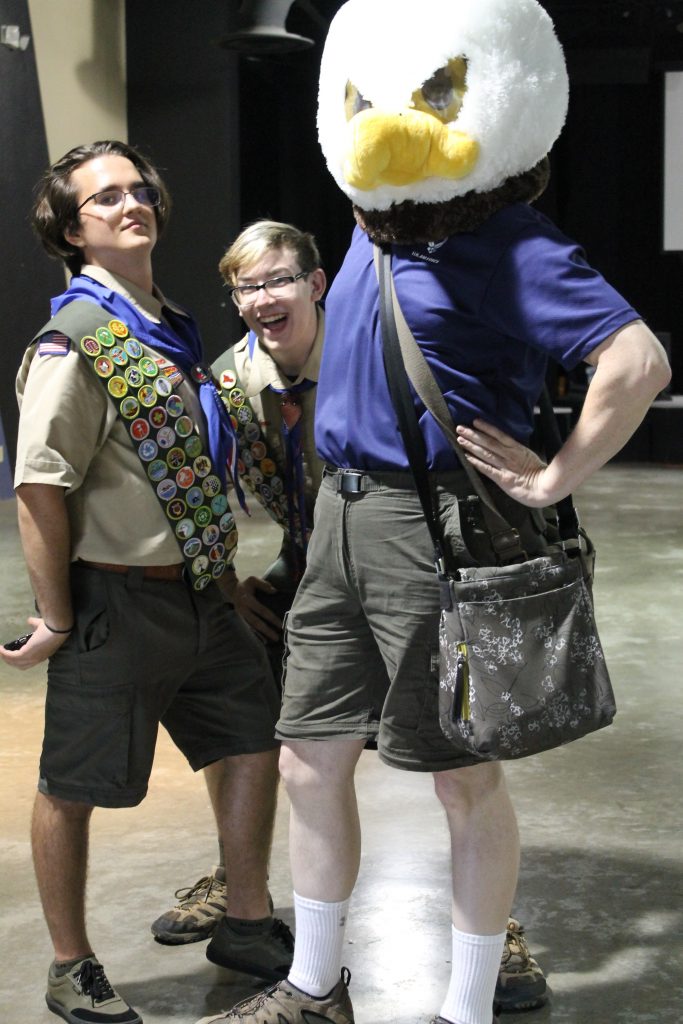 I think all the Scouts enjoyed themselves.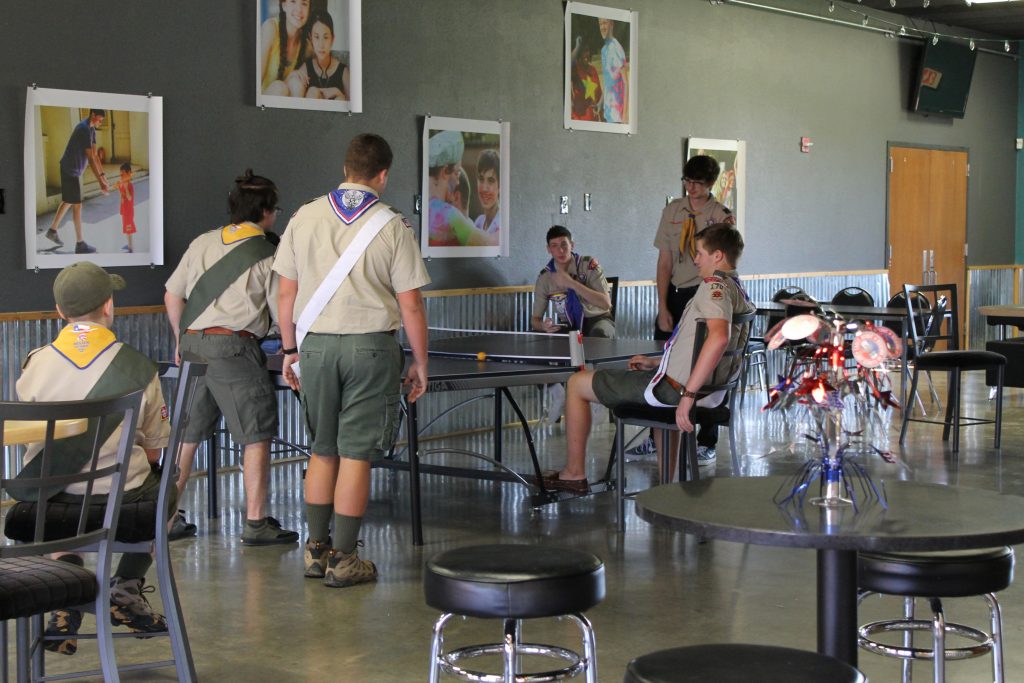 Evening Celebration
Because we had so many out of town/state visitors I planned a dinner that evening so we could all visit with one another in a more relaxed setting.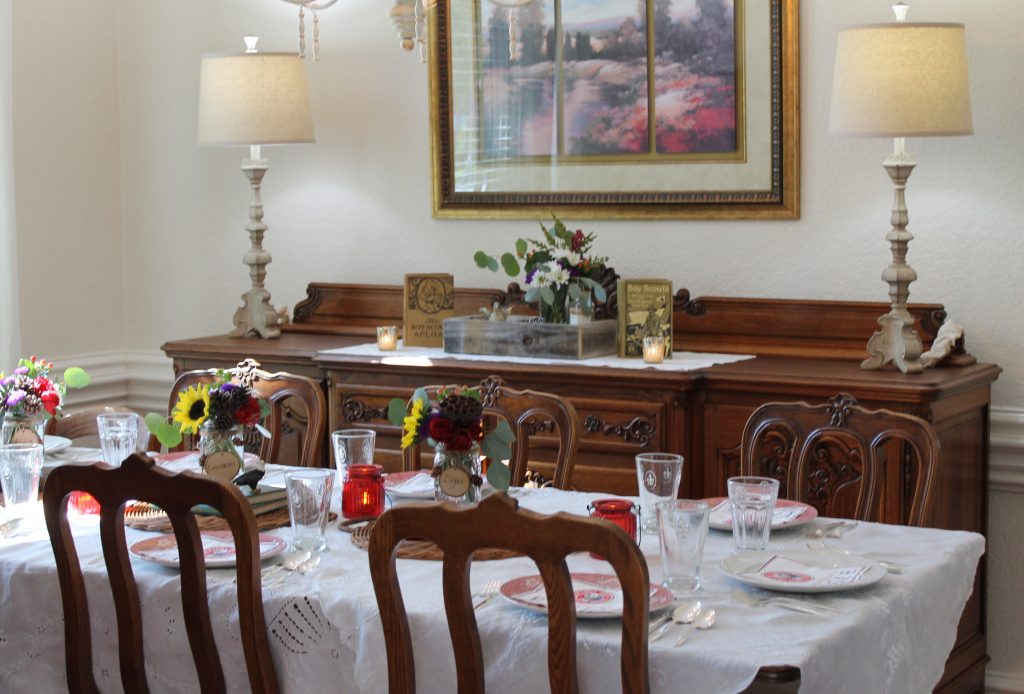 The adult table decor consisted of vintage Boy Scout books, Eagle figurines, candles, and floral arrangments.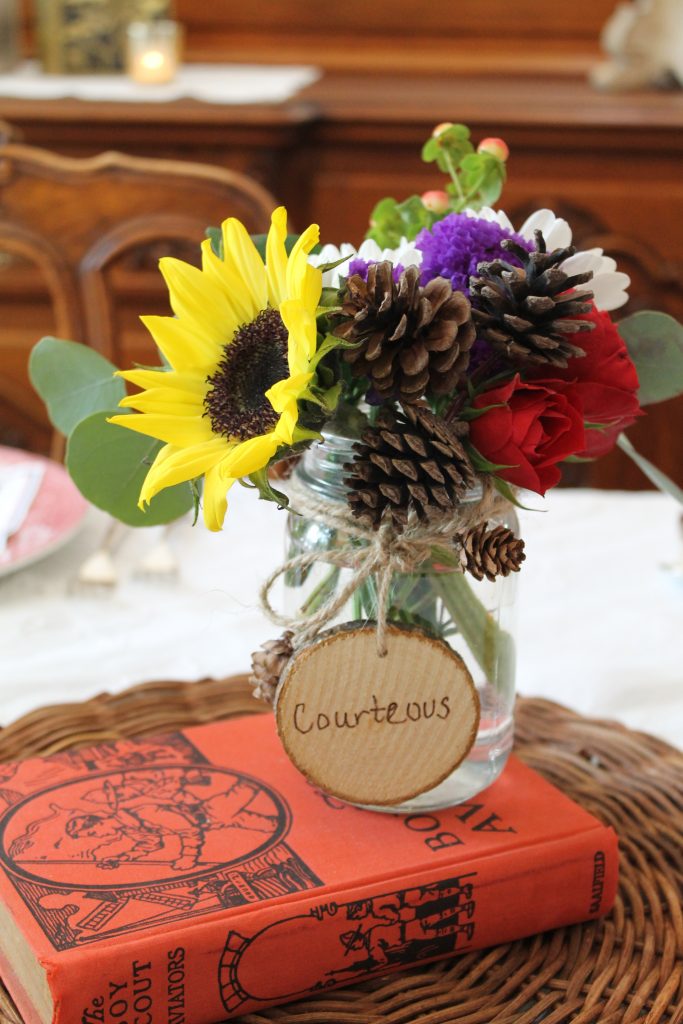 Sometimes disposable paper goods are just the ticket.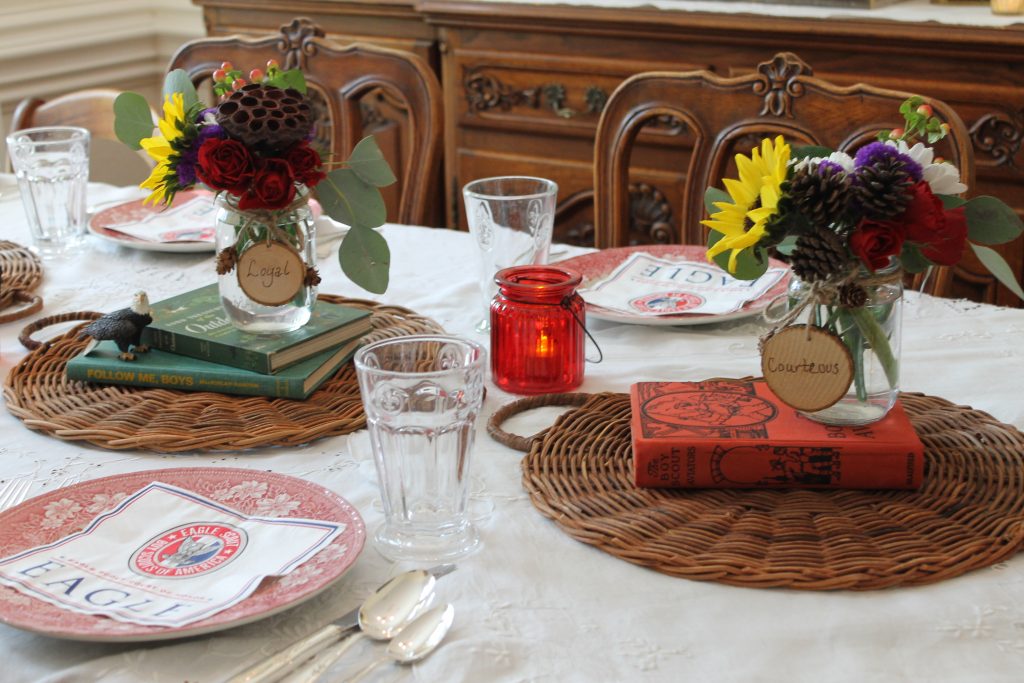 People really seemed to love the plastic Eagle figurines. I found them in the strangest places in the days after the party. LOL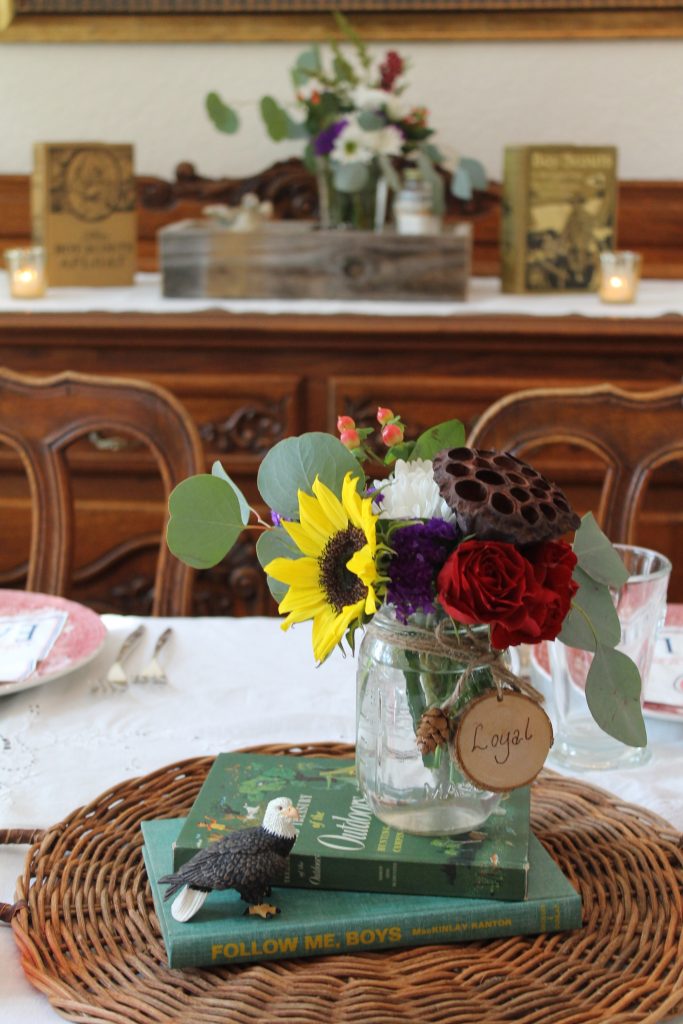 The sideboard featured similar decor.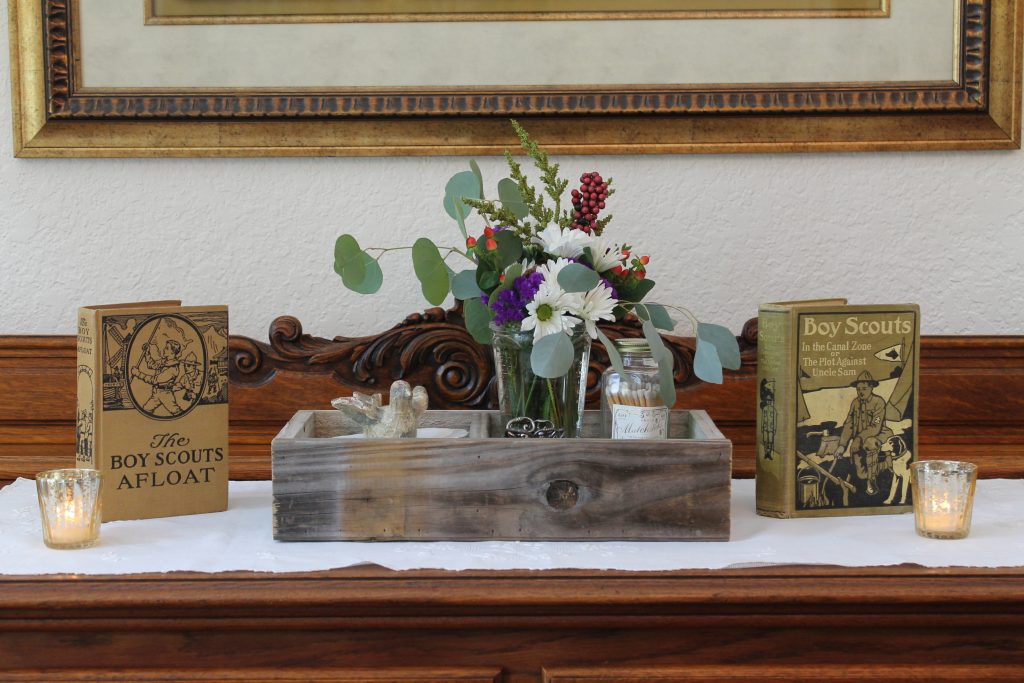 This was the one vintage Boy Scout book I truly wanted. It honors the Panama birthplace of both my husband and father in law. Thank you, eBay!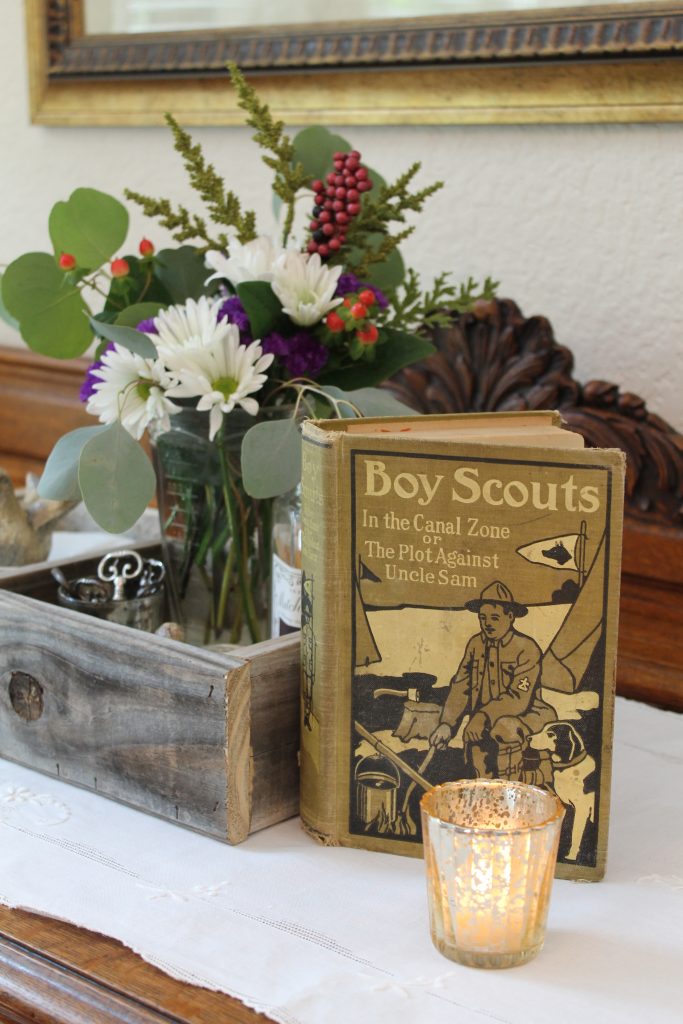 In another room, we set up the German fest table for the teens.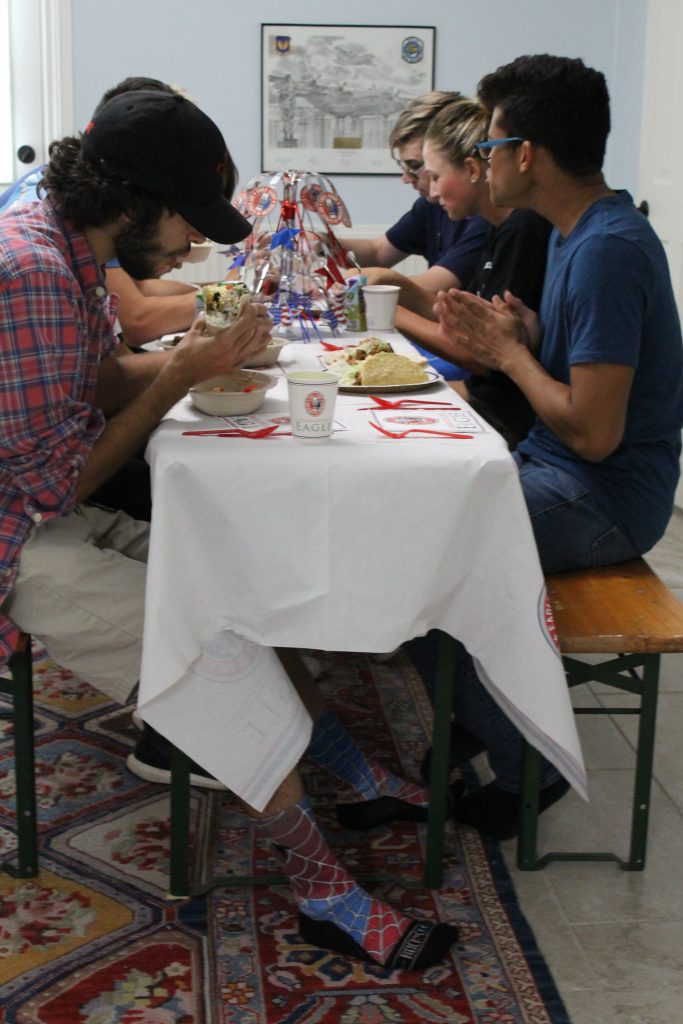 Serving up a side of ham.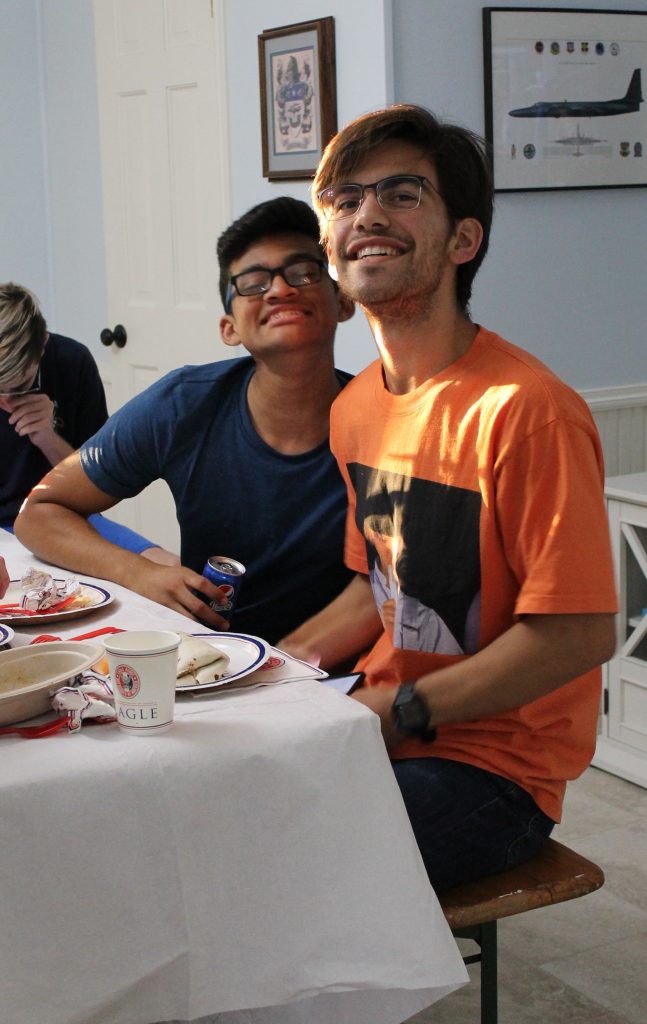 We actually went with a Mexican food theme. Everyone loved it!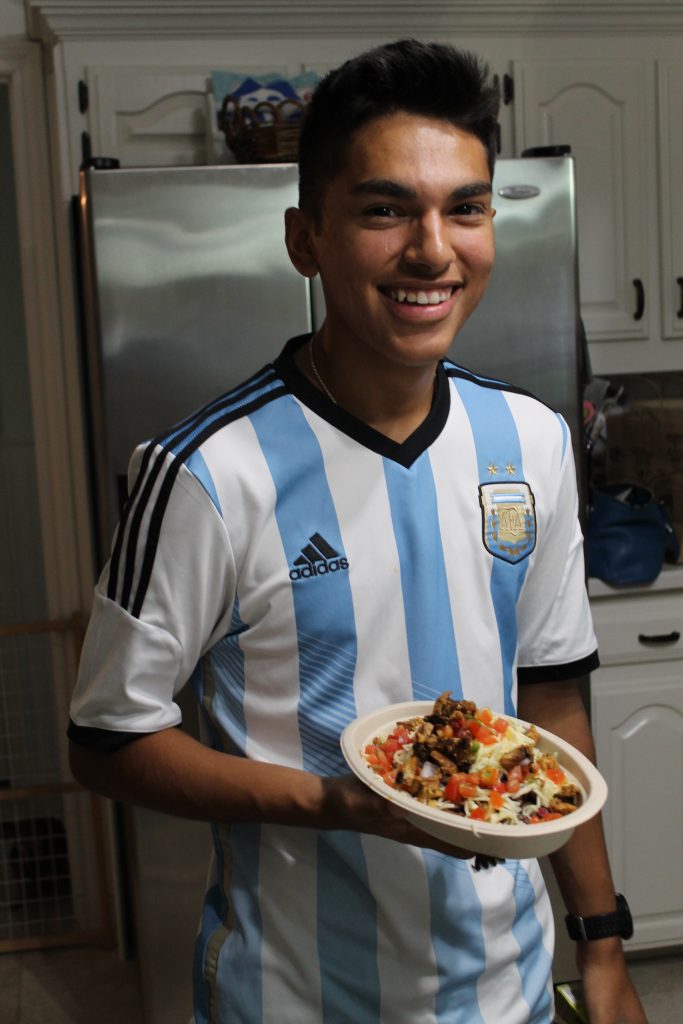 Birthdays of special guests were also celebrated.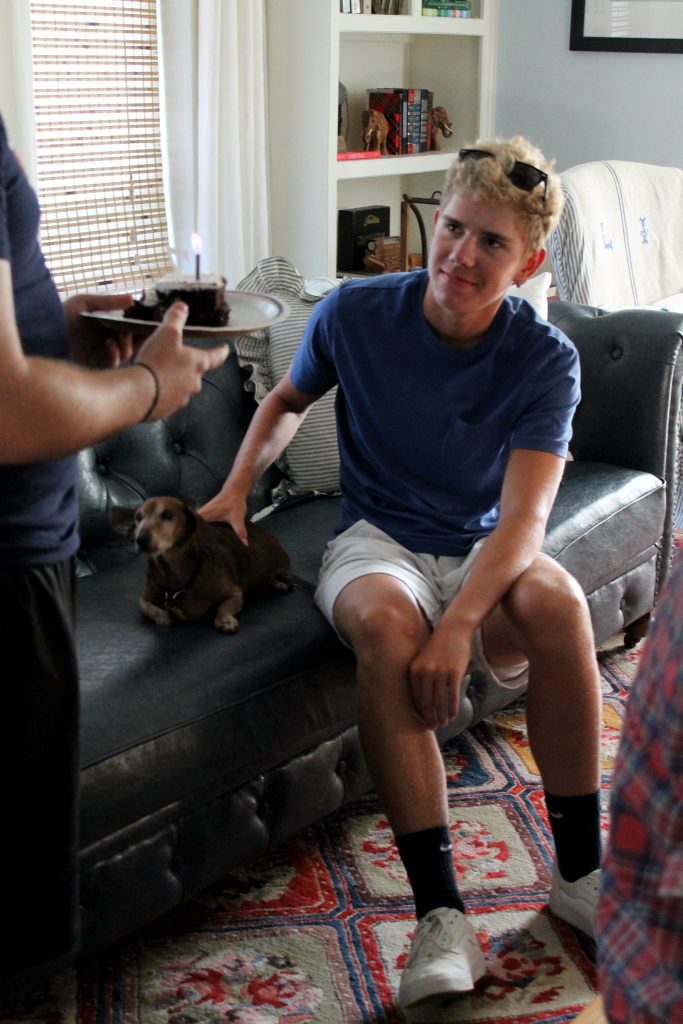 We then moved the fest table out and piled on the blankets and pillows for movie night. The dogs joined in the fun.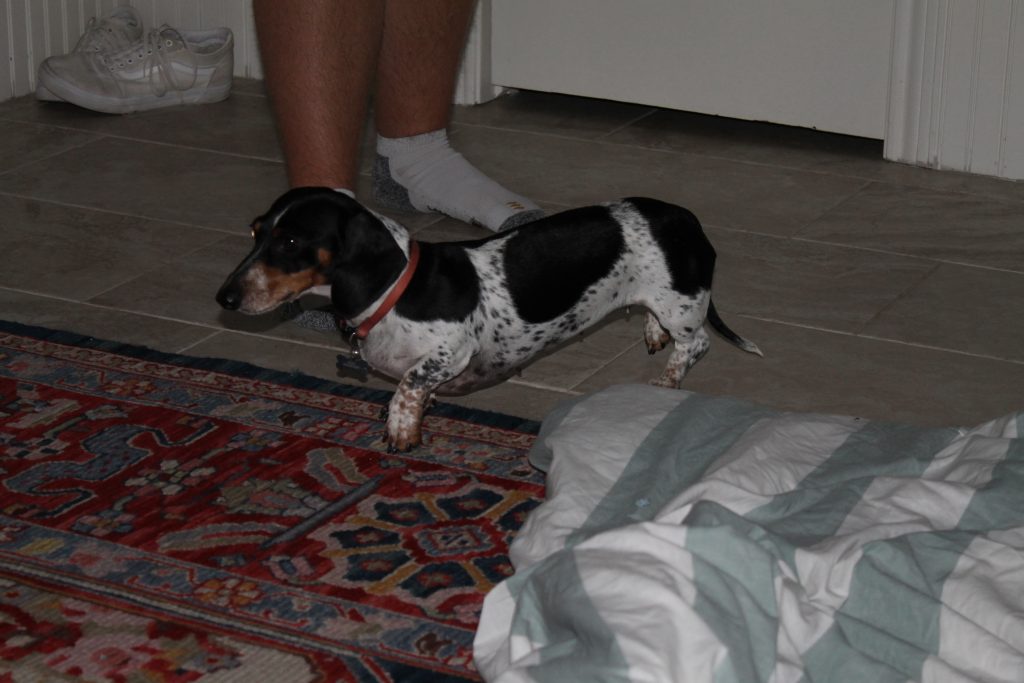 The featured films were The Last Boy Scout and UP.
It truly was a memorable day. We are celebrating his 17th birthday today with an Oktoberfest event.
Then, I'm taking the next few days off to recover.
Laura
You May Also Enjoy