A little over a week ago I attended a Laura Ingalls Wilder event. Prairie Days in Independence, Kansas. I've been wanting to make something new to wear. Here is Inspiration For An 1880's Calico Bustle Dress and Bonnet.
Inspiration For An 1880's Calico Bustle Dress and Bonnet
We often think of the look below when visualizing a bustle backed gown. Layers upon layers of frothy silk taffeta, velvet, and lace. The dress/gown generally consisted of three separate pieces: a bodice, underskirt, and bustled overskirt.
But the look above was for the very wealthy. Silk was not often an affordable or practical choice for those living out west. Cotton was a much better choice for hot prairie days.
But even this look was a little much for a pioneer woman. Can you imagine wearing white with all that dirt!
Pioneer women that had money often would create three separate pieces and embellish them with beautiful lace, brocade ribbon…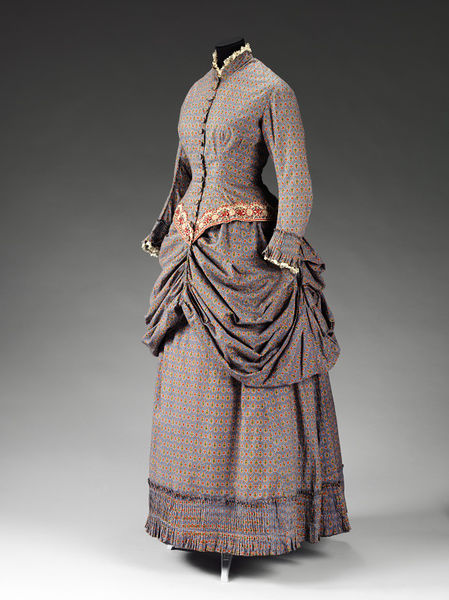 …and ruffles.
More than one fabric could be used to create a mix and match type of look.
But many pioneer women needed a simpler, lightweight, and much more cost-effective look.
A bodice with one single skirt was worn. It perhaps would have the addition of some asymmetrical draping as opposed to a true overskirt.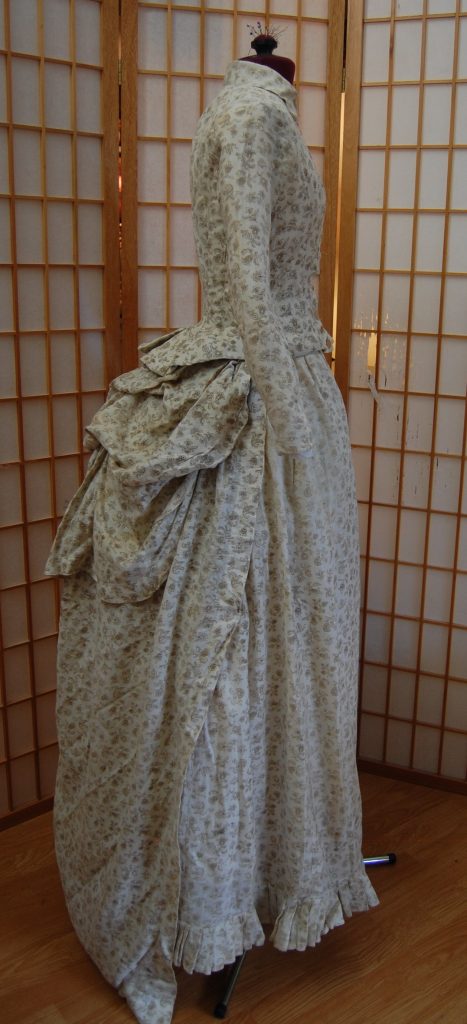 The bustle look could still be somewhat achieved through pleating, poufs and /or padding and bustle cages that were worn underneath.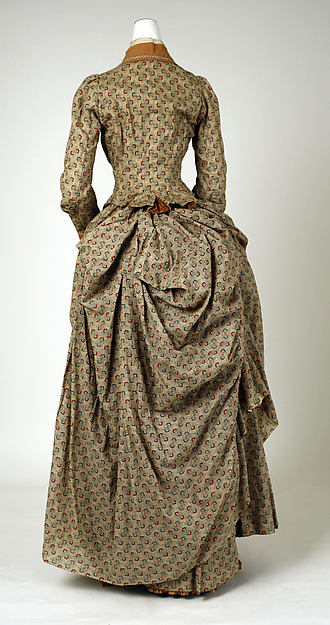 Given the limited financial means of the Ingalls family, I imagine that while Mary and Laura loved looking at the fine fashion plates in Godey's Lady Book the reality would be that Ma would sew a simpler version of the fashion to wear to church and other public events.
This was the look I wanted to achieve. But perhaps with a bodice that featured  3/4 length sleeves and a square neckline like the style shown in the first photo.
I thought a shorter sleeve and an open neck would be cooler on a summer day.
So dreamy.

 I could always add a bit of lace at the neckline for modesty.

A Purple Bonnet
The calico fabric I had purchased for the ensemble had a gold vine print accented with purple flowers and soft green leaves. I wanted to bring out the purple and thought a matching bonnet would be fetching.
But was there such a thing as a purple bonnet?
Oh indeed. I loved this velvet example accented with ostrich feathers.
This was the perfect shade of purple that I was thinking of.
But thinking again cost wise and longterm wearability I imagine that Caroline Ingalls would probably wear a straw bonnet during the warm prairie summers. Thankfully I found a faded purple straw bonnet. My vision existed.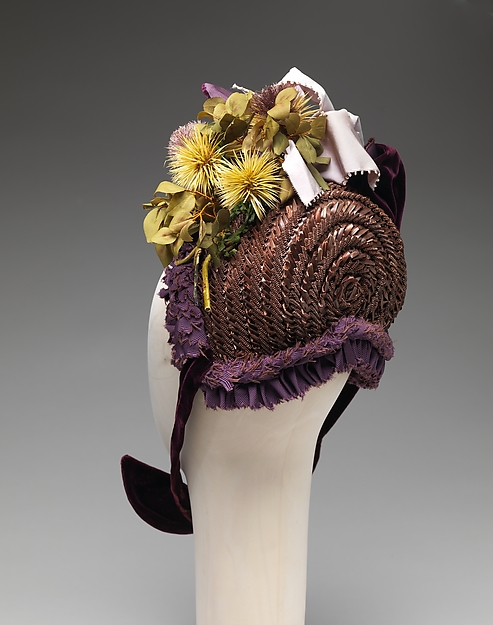 Now I would just need to create everything. On an Ingalls budget.
Come back tomorrow for the reveal.
Laura