I recently gave a presentation on historical clothing at the Farmer's Branch Historical Park Celebrating Spring with Laura Ingalls Wilder event. I decided to create A Caroline Ingalls Costume to wear to the event.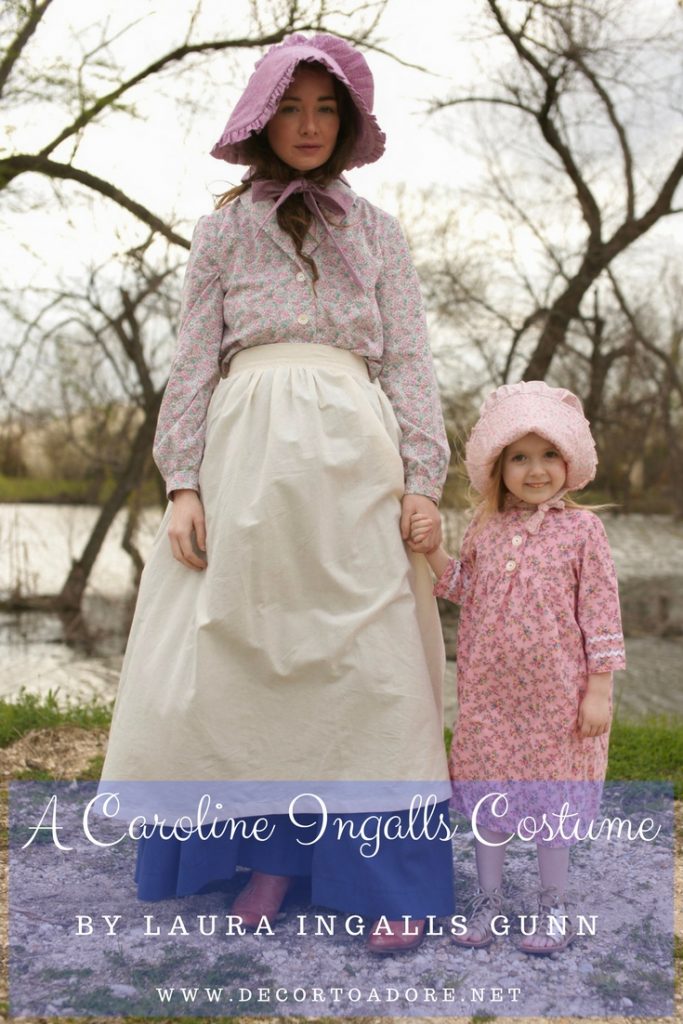 A Caroline Ingalls Costume
I would like to clarify that the costume I made was not for this Caroline Ingalls.
Caroline Lake Quiner Ingalls (1839-1924) was an amazing woman in her own right as well as being the mother of Laura Ingalls Wilder, author of the Little House books. There is a strong chance that by June I will have a historically accurate dress that is more befitting of her. I just need to find a good decorative hair comb first.
The costume I made was for this Caroline Ingalls.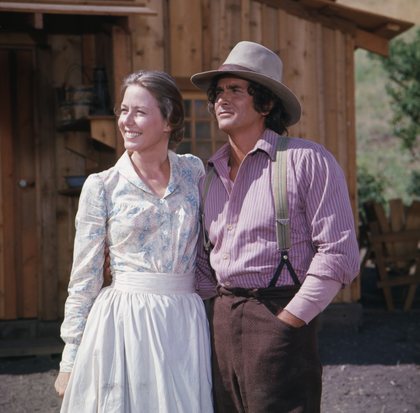 The Caroline Ingalls from the Little House on the Prairie television show. The role was played by the lovely Karen Grassle. This was the Caroline Ingalls I grew up with as I imagine many other fans did as well.
It is this Caroline Ingalls that many of the lovely people who attend various Little House events are familiar with. She is a fantastic bridge to introduce them to the wonderful books I love so much.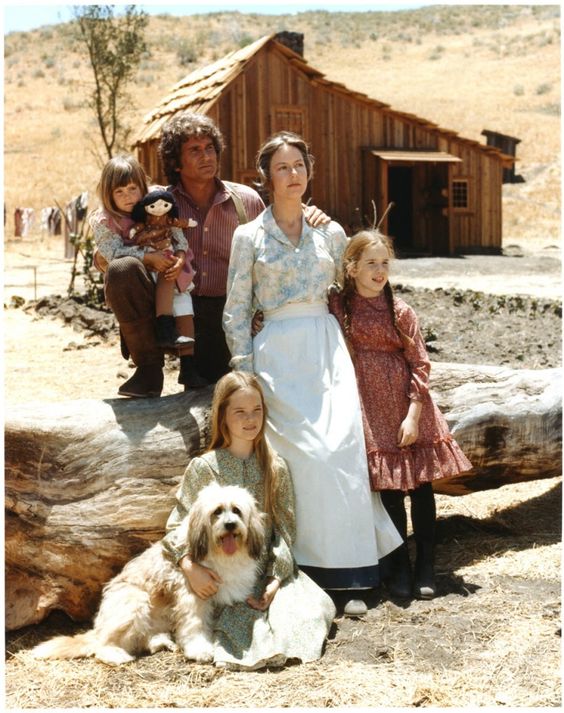 The Blouse
The costume began with a search for a blouse pattern. In seasons 1 and 2 of the series Caroline often wore a shawl collared blouse with a softly gathered yoke. It was made from a pastel calico that featured shell buttons.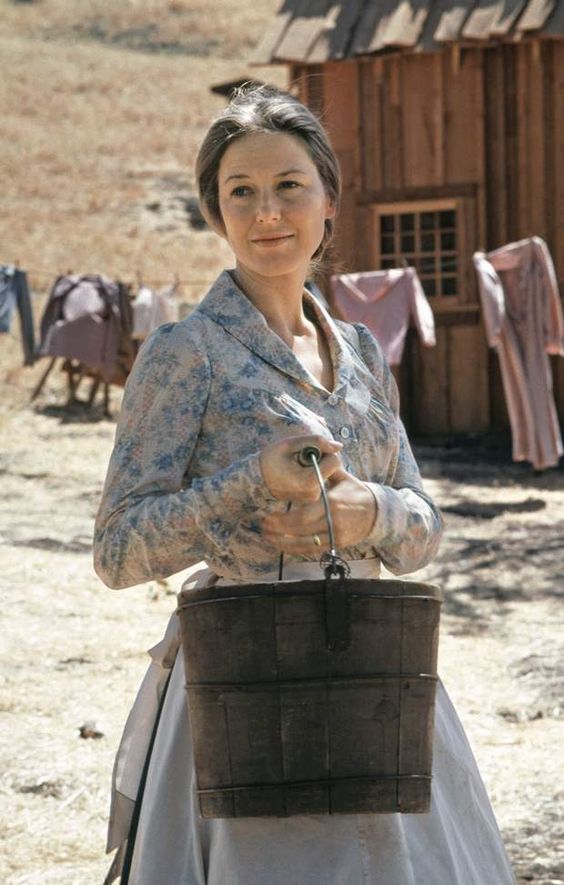 The series premiered in 1974. I had a hunch that the production of the show, including costume design, probably began in 1973. After hours upon hours of research, I found an early 70's pattern that was almost exact.
The #9310 pattern was made by Marian Martin, a mail order pattern company.
I used a vintage 100% cotton calico from my fabric stash, 100% cotton thread and six antique shell buttons.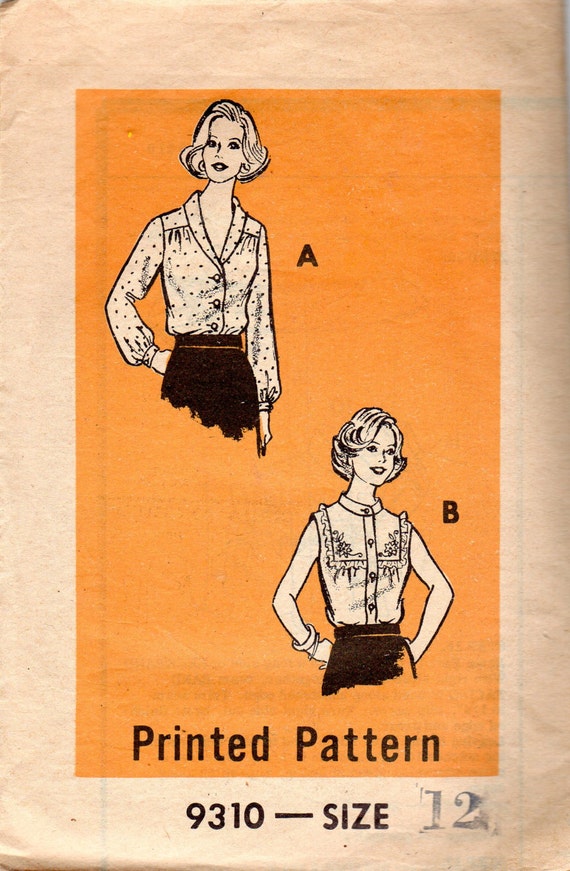 I had read some reviews that Marian Martin patterns are notoriously difficult. View A blouse was indeed a challenge for me.  Thankfully my Time Travelers Sewing Guild was able to offer guidance. We all agreed though that the pattern is best suited for advanced sewists.
Photo by Bradley Kent.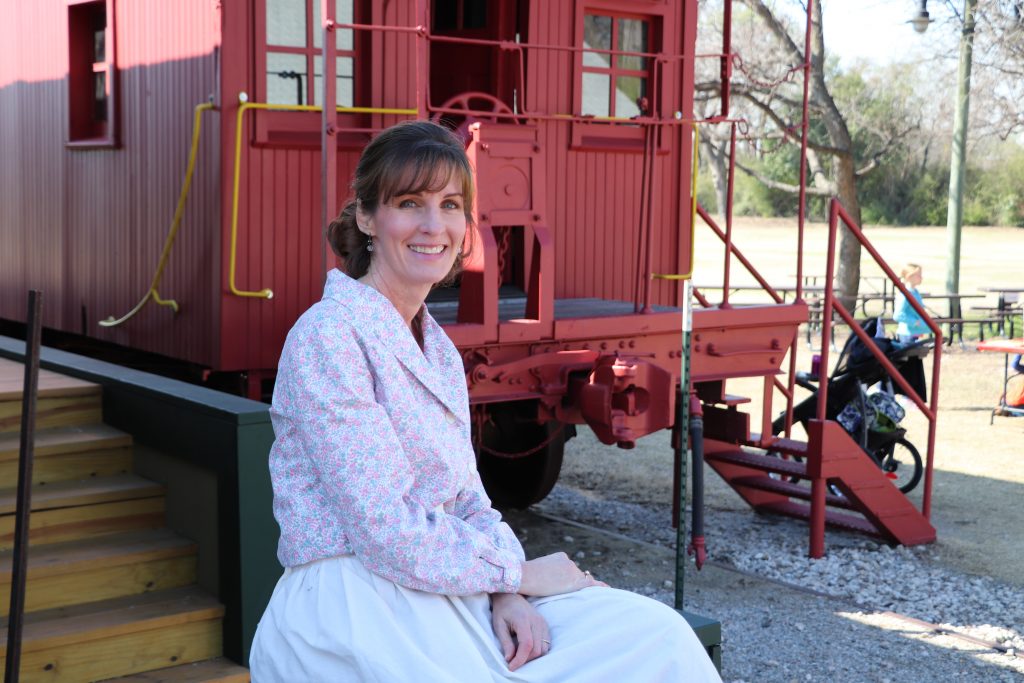 Skirt and Apron
Looking at pictures, the skirt that "Ma" Ingalls wore most often was navy blue. It was flat in the front and had pleats at the side and back of the skirt.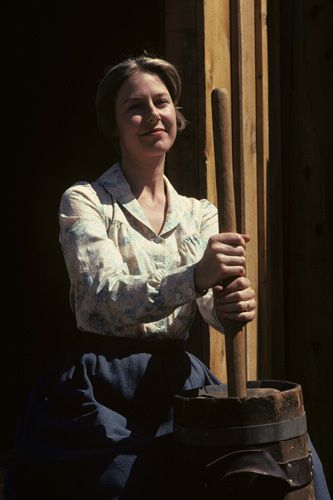 I could not find a pattern like this so I did what any pioneer gal would do. I drafted my own. Skirts are fairly easy to make. They are basically rectangles of fabric you cut out, sew the sides together, gather or pleat the top edge to fit the waistband, then hem. Hundreds of skirt tutorials are available on Pinterest and Youtube.
The vintage fabric used was 100% cotton as was the thread. The waistband features a metal button closure.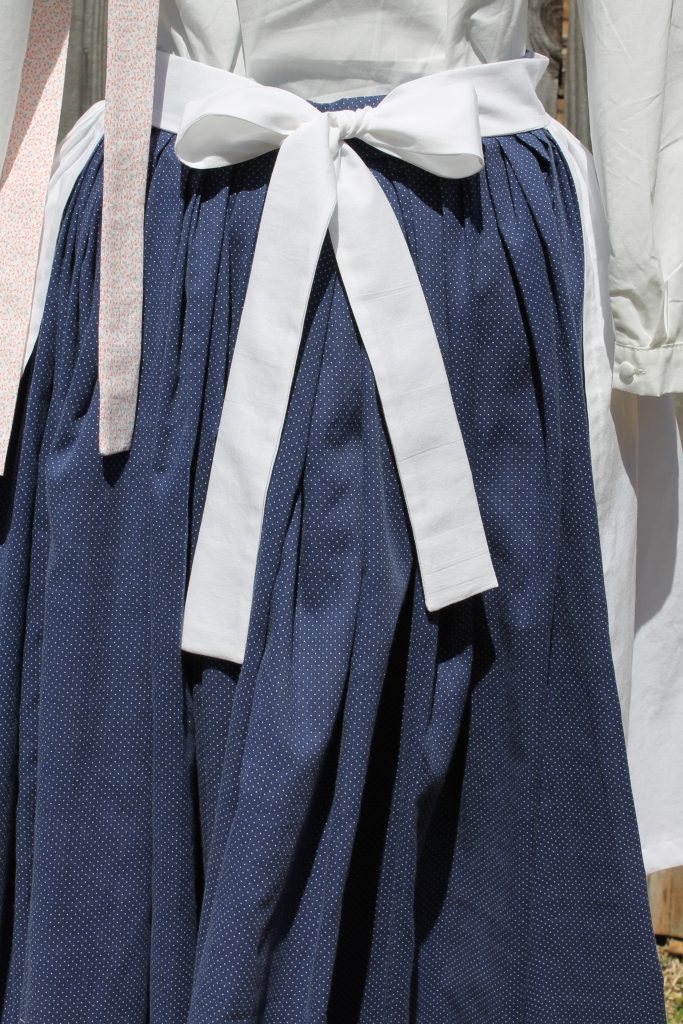 In the series, Ma wore a simple muslin apron whenever she was working outside. I imagine the real Caroline Ingalls did as well. Again, I did not use a pattern for this.
It was made from 100% cotton muslin and thread.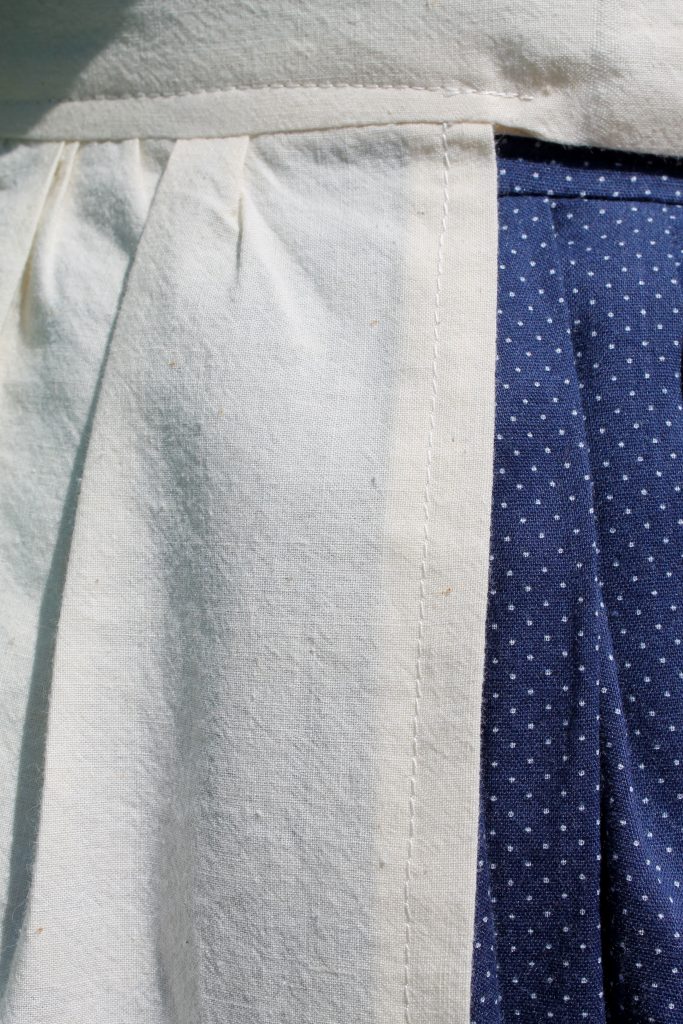 Historically Accurate?
Based on extensive research I had done for previous costumes I knew the shawl collared blouse was not historically accurate for the Civil War Era. But my intention was to look like the Caroline Ingalls of the series so that I could connect with those who relate to the Caroline from tv.
Indeed my ensemble did delight many happy souls who exclaimed: "You look just like Ma!"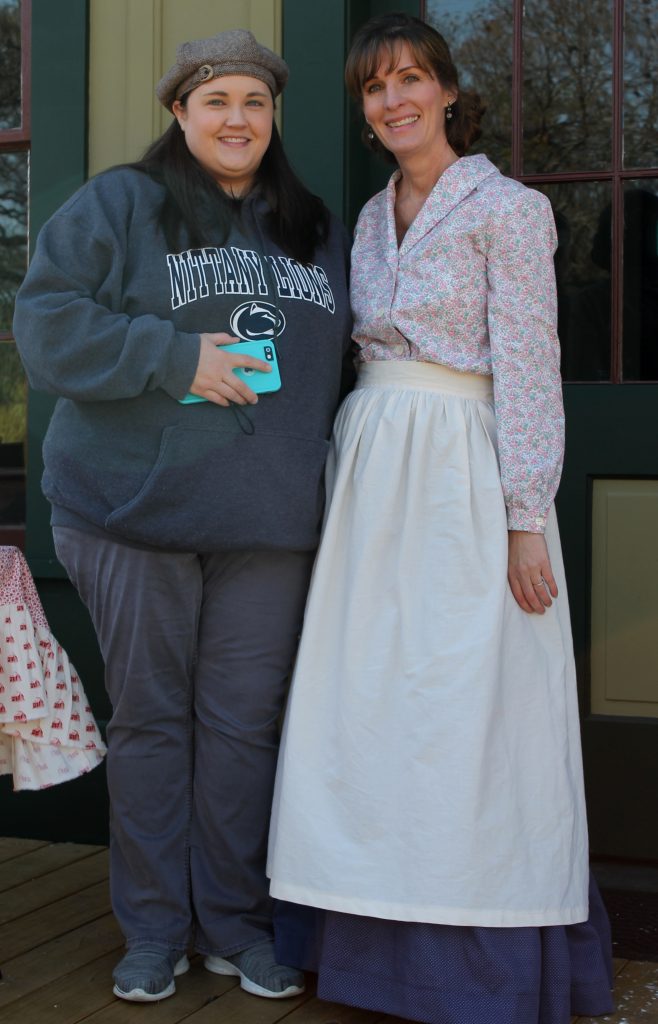 I had the pleasure of sharing my family photo album containing images of the real Caroline Ingalls among others.
Many people are surprised to learn the Ingalls' are indeed a real family.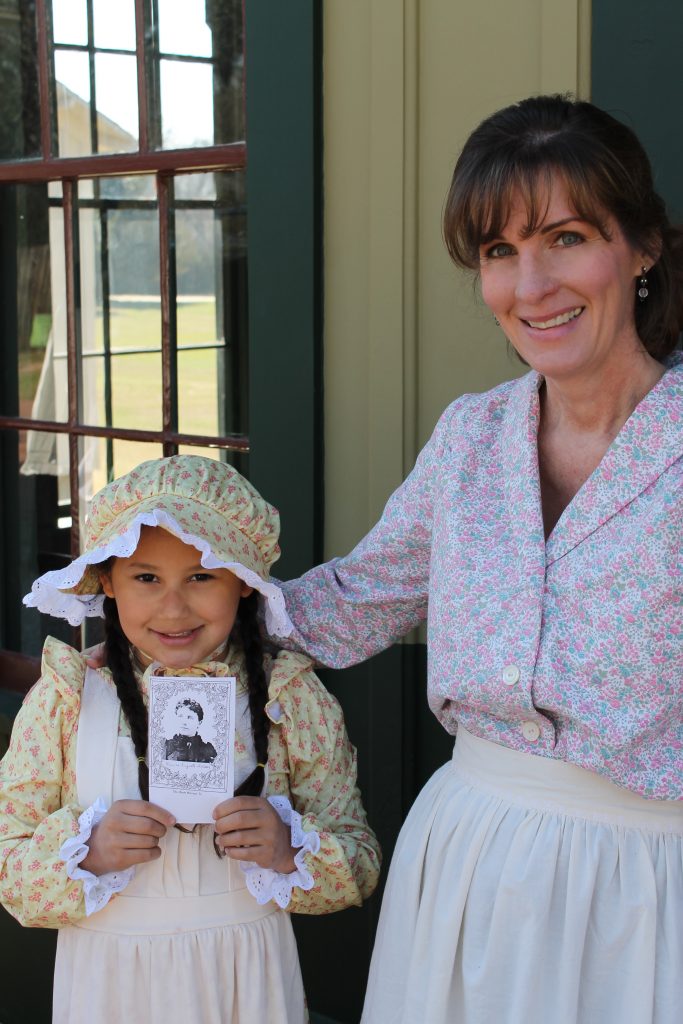 I was also able to share my knowledge of historical fashion in the Victorian Era which was the time period that Laura grew up.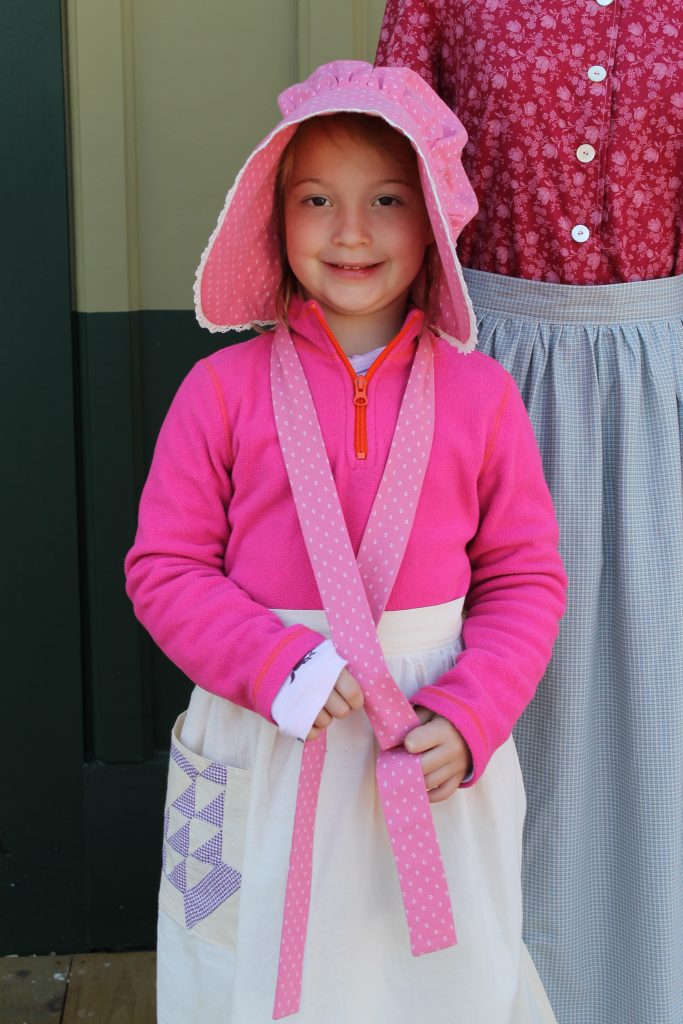 The girls, in particular, enjoyed dressing up in the clothing that I had brought to the event.

The Bonnet
The bonnet was made from 100% vintage cotton calico and thread. It was fairly historically accurate. I used the McCalls 9423 pattern as a starting point.
During the sewing process, I added a hand gathered ruffled edge to the bonnet to make it look more like Ma's from the series.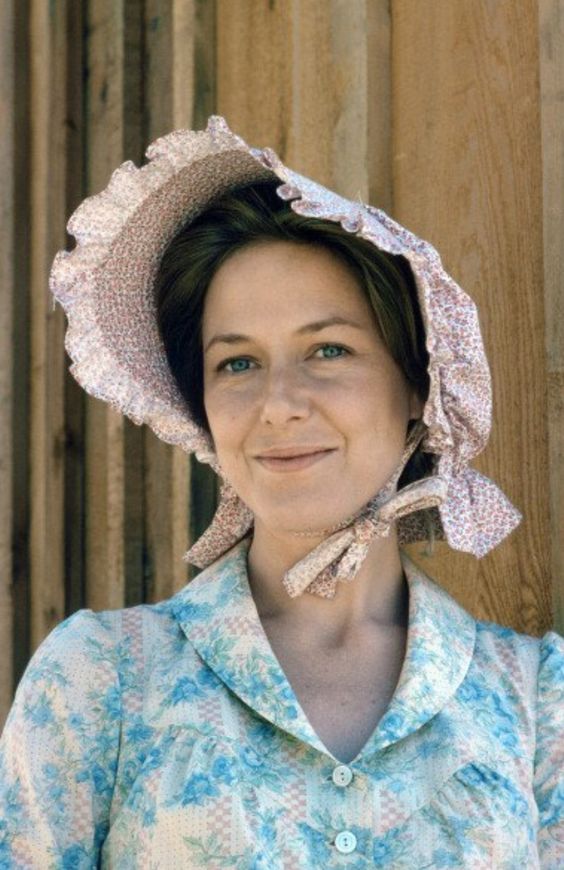 This is my lovely daughter and her charmingly sweet sidekick Chanel modeling pioneer fashions available in my Etsy shoppe.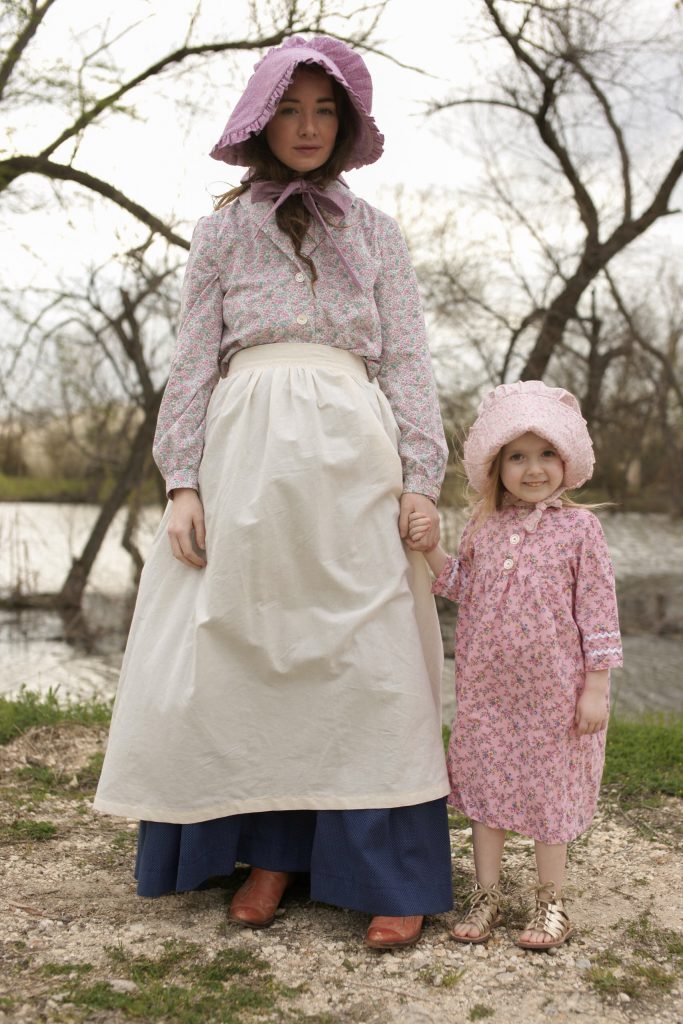 These images were taken by the uber-talented Hannah Mitchell.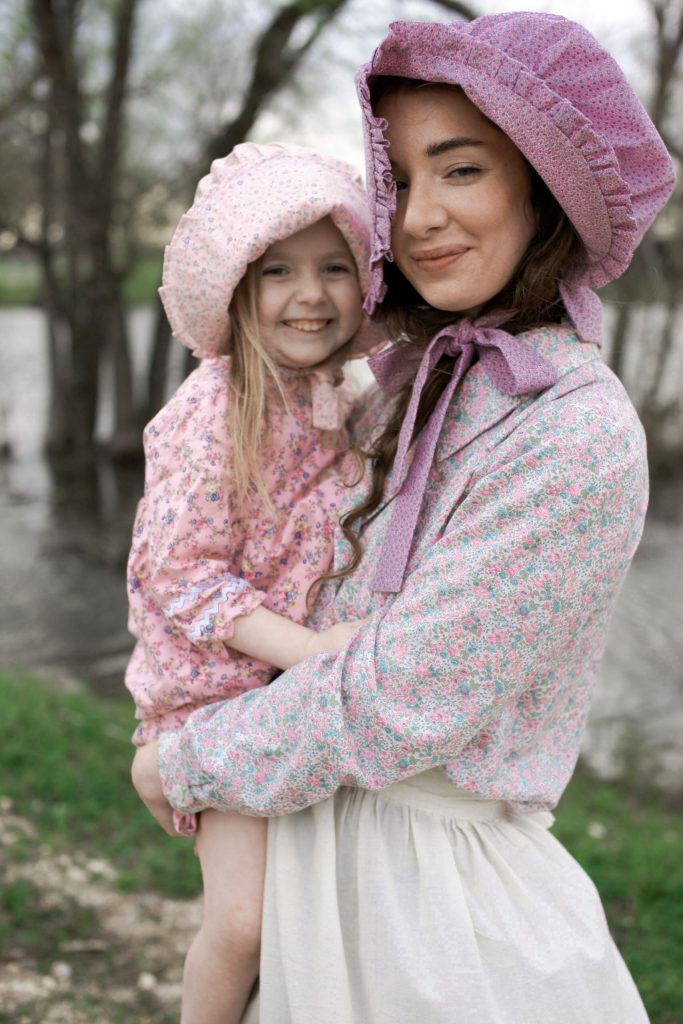 Upcoming Events
In June I will attend the Prairie Days Festival in Kansas. I'll be sewing some calico curtains for the newly built reproduction cabin windows. 
I'll also be back at Farmers Branch Historical Park for another event in November.
"Every seam must be exactly right before Ma would let her make another, and often Laura worked several days on one short seam." ~ On The Banks of Plum Creek
Happy Sewing!
Laura