Welcome to Royal Wedding Week High Tea Fit For A Queen. As a rule the Queen takes her tea in her private quarters between 4 ~ 5 every afternoon.  It is believed that the tradition of taking tea was begun in the 17th century by the French. Prior to the introduction of tea into Britain, the English only had two meals~ breakfast and dinner. Sometime during the middle of the eighteenth century, dinner for the upper and middle classes was changed from noontime to an evening meal that was served at a fashionably late hour.
The Royal Family taking tea at the Royal Lodge by artist Sir James GUNN, 1950
Royal Wedding Week High Tea Fit For A Queen
According to legend, it was one of Queen Victoria's ladies-in-waiting, Anna Maria Stanhope, also known as the Duchess of Bedford, who is credited as the creator of afternoon tea. As the noon meal had become skimpier, the Duchess suffered from "a sinking feeling" at about four o'clock in the afternoon. The Duchess had her servants sneak her a pot of tea and a few breadstuffs. Soon she adopted the European tea service format and invited friends to join her for an additional afternoon meal at five o'clock in her rooms at Belvoir Castle. The menu featured small cakes, bread and butter sandwiches, assorted sweets, and tea. This summer practice proved so popular, the Duchess continued it when she returned to London, sending cards to her friends asking them to join her for "tea and a walking the fields."
The Duchess of Bedford
Queen Victoria
The practice of inviting friends to come for tea in the afternoon was quickly picked up by other social hostesses. Including Queen Victoria and her family. 
Queen Victoria with two family members attended by her Indian servants enjoying the outdoors at Nice in the south of France, 1895. A silver teapot and china cups sit on the linen covered table.
Queen Victoria's favorite tea was recorded as Earl Grey tea. It is a China black tea that is infused with Oil of Bergamot.
Queen Victoria with Prince Henry of Battenburg, her daughter, Princess Beatrice and their children in the Oak Room at Windsor Castle, 1896.
Similar scenes were recently recreated in the movie Victoria and Abdul.
Her majesty's Earl Grey tea was taken without milk and accompanied by a slice of lemon.
She requested that it be served with her favorite shortbread biscuits. 
Queen Victoria Taking High Tea with her granddaughter, (daughter of Princess Alice) Tsarina Alexandra of Russia.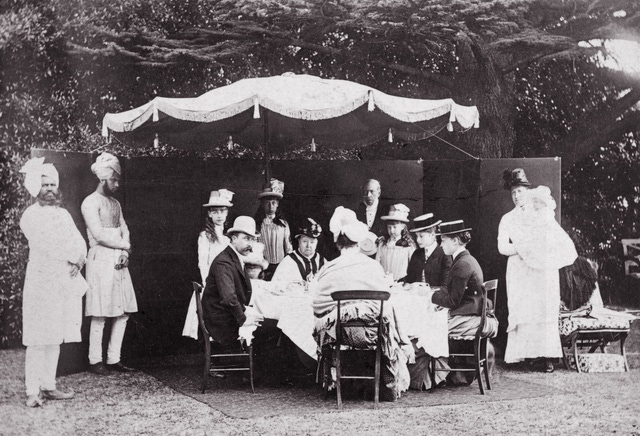 Queen Victoria's granddaughters (their father was King Edward), Princess Victoria of the United Kingdom and Princess Maud of Wales, drinking tea.
King George VI
Queen Victoria's great-grandson, King George VI, also enjoyed his tea.
The Queen Mum enjoyed a wee tea party in 1938.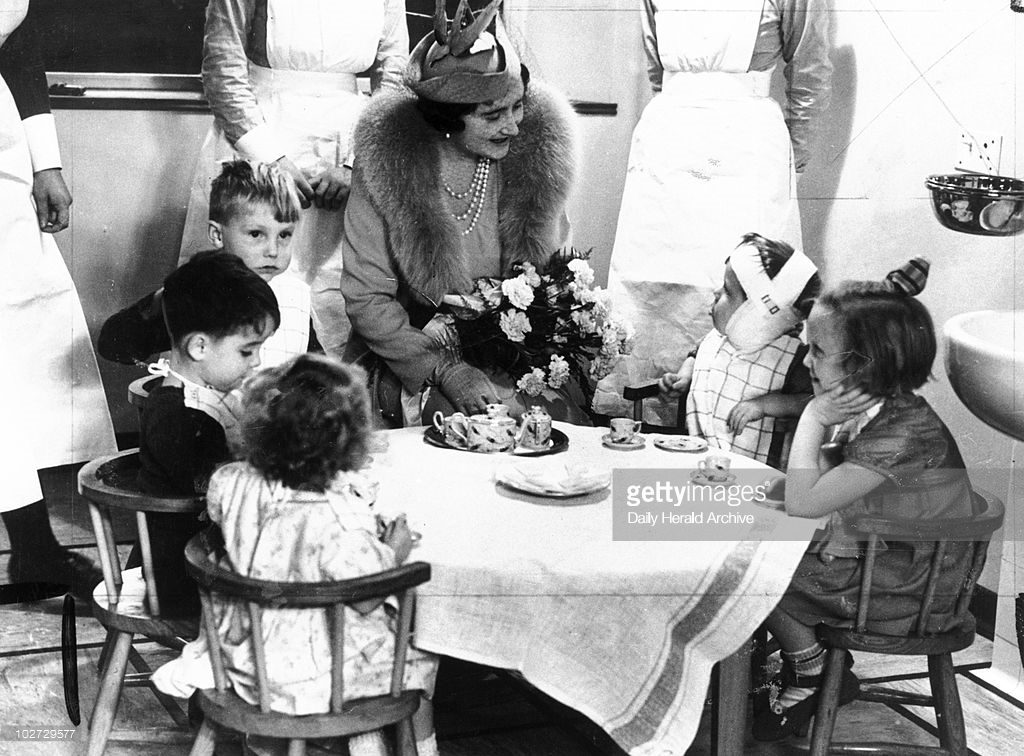 These doting parents passed on the love of tea to their daughter.
Queen Elizabeth, Princess Elizabeth, and King George enjoy a doll's tea party in 1929.
 Queen Elizabeth
The Queen starts her day with a cuppa, no milk or sugar. Darjeeling and Earl Grey are her teas of choice. A few plain biscuits (cookies) are also served.
Several cups are enjoyed throughout the day, no matter where she is. Indeed it has been reported numerous times that afternoon tea is her Majesty's favorite meal.
The age-old question is finally answered, PINKIES DOWN!
Princess Diana
Diana, Princess of Wales, was also a lover of tea.
She was often seen enjoying the beverage.
One can assume that she passed this love on to her two sons, Princes William and Harry.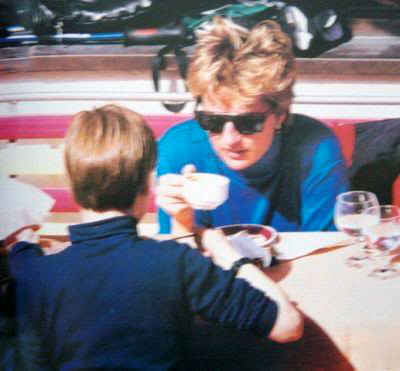 Both the Duke and Duchess of Cambridge seem to have a fondness for tea.
It is often served to visiting dignitaries at Kensington Palace.
Cream Tea, Light Tea and Full (or High) Tea
There are various levels of tea. They include Cream Tea~ which is tea, scones, jam, and cream. Light Tea – tea, scones and other sweets. Full Tea, also known as High Tea, which is more of a meal and features tea, savories (tiny sandwiches and appetizers), scones, sweets, and desserts.
Taking tea outside goes back to the days when tea was quite rare and costly. It was a display of wealth to show others you could afford it.
But as trade became easier it was enjoyed by everyone. Note the classic "Brown Betty" teapot in the photo below.
This teapot is round with a manganese brown glaze known as Rockingham glaze. The original teapots came from a red clay that was discovered in the Stoke-on-Trent area of Britain, in 1695.
What The Queen Serves At Tea
Her Majesty's tea is served at 5 pm. It is not elaborate but it is indulgent. There is usually a large cake which she cuts slices off. Chocolate is her favorite and there is no waste. Fruitcakes are often repeatedly served for up to two weeks as they improve with age. There are also smaller pastries as well as scones. The Queen likes to alternate scone flavors. One day plain, the next day fruit.
Sandwiches are generally smoked salmon or cucumber. Queen Elizabeth likes them cut lengthways without the crust.
The Queen pours the tea herself. She has her own special blend of Darjeeling and Assam, which is known as Queen Mary's blend. Indeed Royal ladies have always enjoyed tea. The Queen Mum even had a cookbook, A Taste of Mey, published of her favorite recipes that were often served at tea.
Here is Princess Elizabeth enjoying tea as a child.
I'll be back tomorrow with my Royal Wedding tea and Wedding Breakfast tables.
Laura
You May Also Enjoy
Monday Day 1: Royal Wedding Week Posts and Where To Watch
Tuesday Day 2: Royal Wedding Party Ideas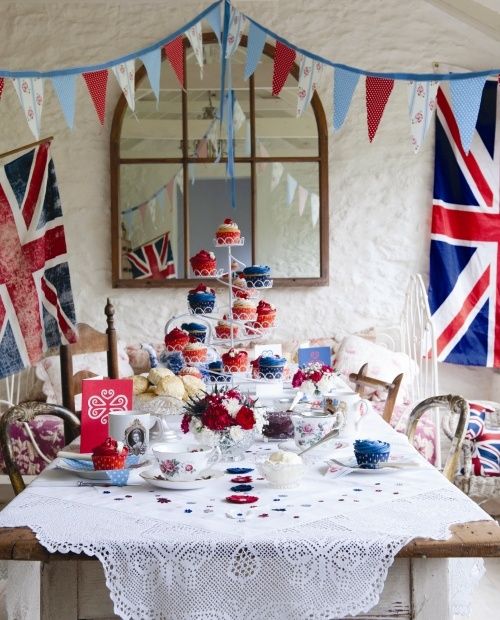 Wednesday Day 3: R.W.W. What To Wear
Friday Day 5: Royal Wedding Breakfast and Tablescape