I am so happy to be participating in the Tea and Roses blog hop hosted by the ever-inspiring Amber of Follow The Yellow Brick Home. If you are coming over from A Daily Cup of Mrs. Olson may I say, "Welcome!" and weren't her lilacs amazing? I also decided to host A Garden Tea Party, Edwardian style.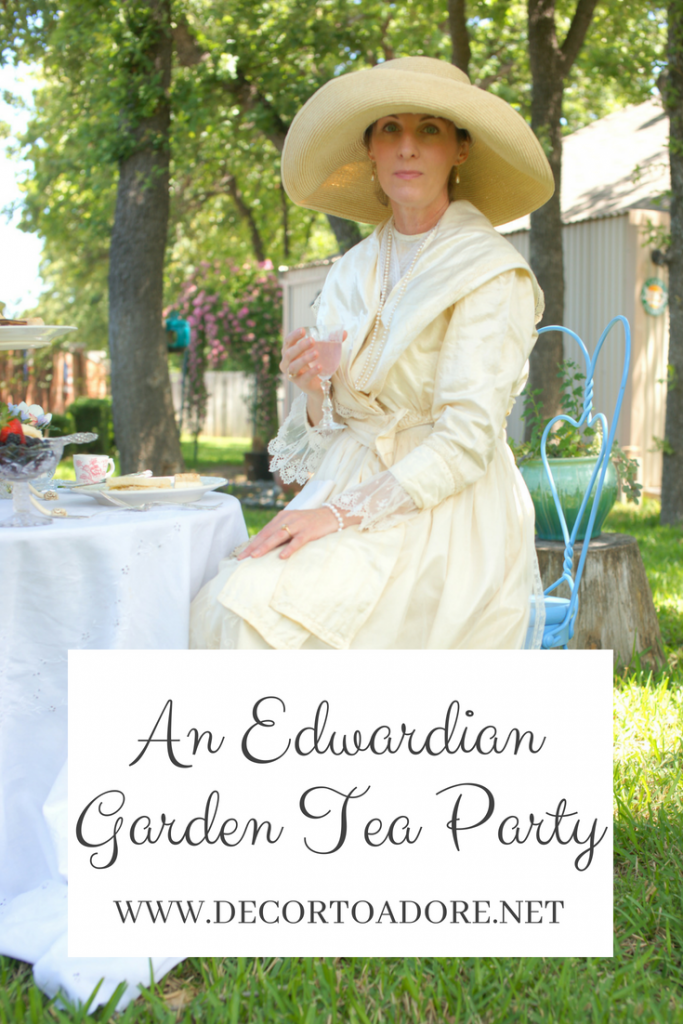 A Garden Tea Party
The endless rain has finally subsided and my garden is starting to come to life. It seemed like the perfect time to enjoy tea outdoors.
I recently found these vintage metal chairs in a neighbor's curbside trash heap. They required a tremendous sanding down on Mr. Decor's part to remove decades of rust. The addition of two new wooden seats and several coats of bright periwinkle spray paint have given the chairs new life.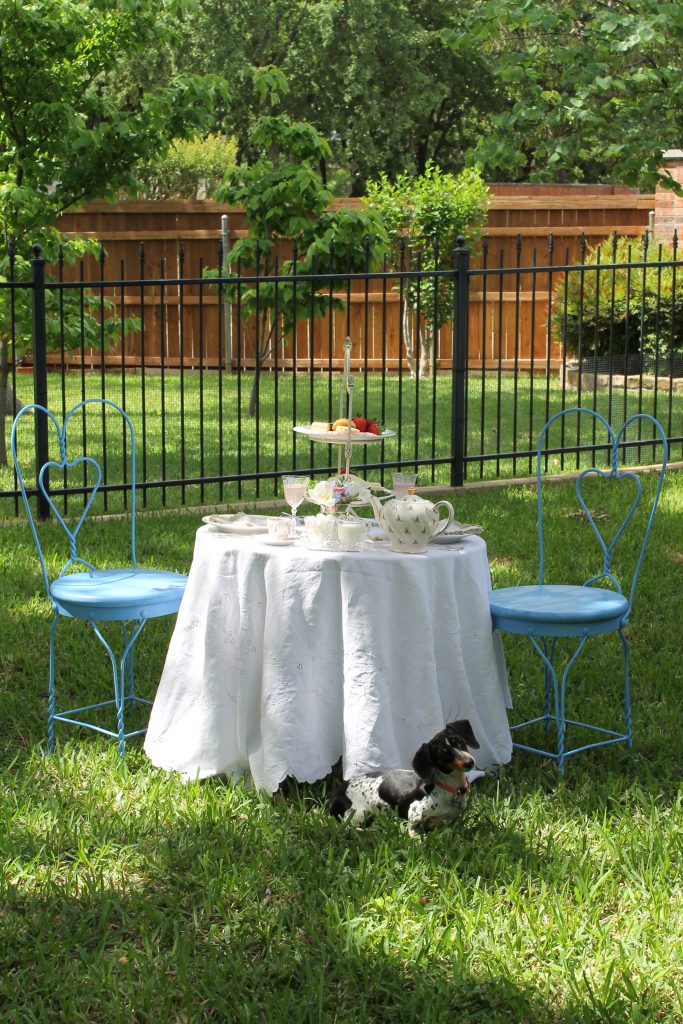 The vintage tablecloth was topped with antique silverware and my grandmother Mary's rose-covered teapot and crystal. The Edwardian's were quite fond of flowers so a small posy was a must.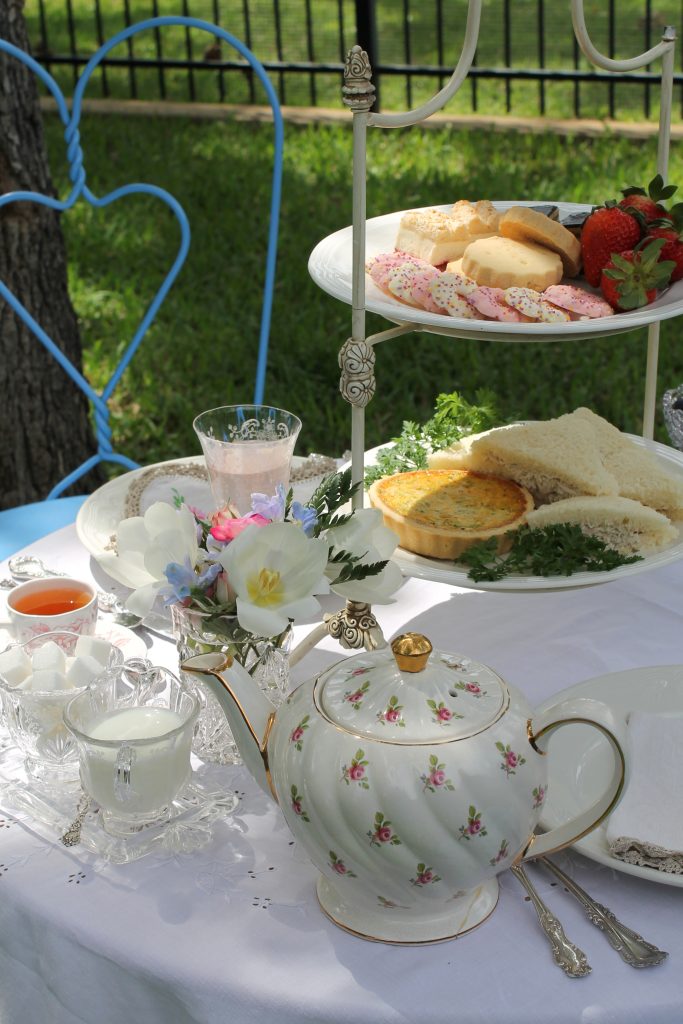 Festive Fare
The menu was kept very simple.
Chicken Salad Sandwiches
Quiche
Fresh Berries
Tomato Salad
Various Teacakes
Hot Tea
Pink Lemonade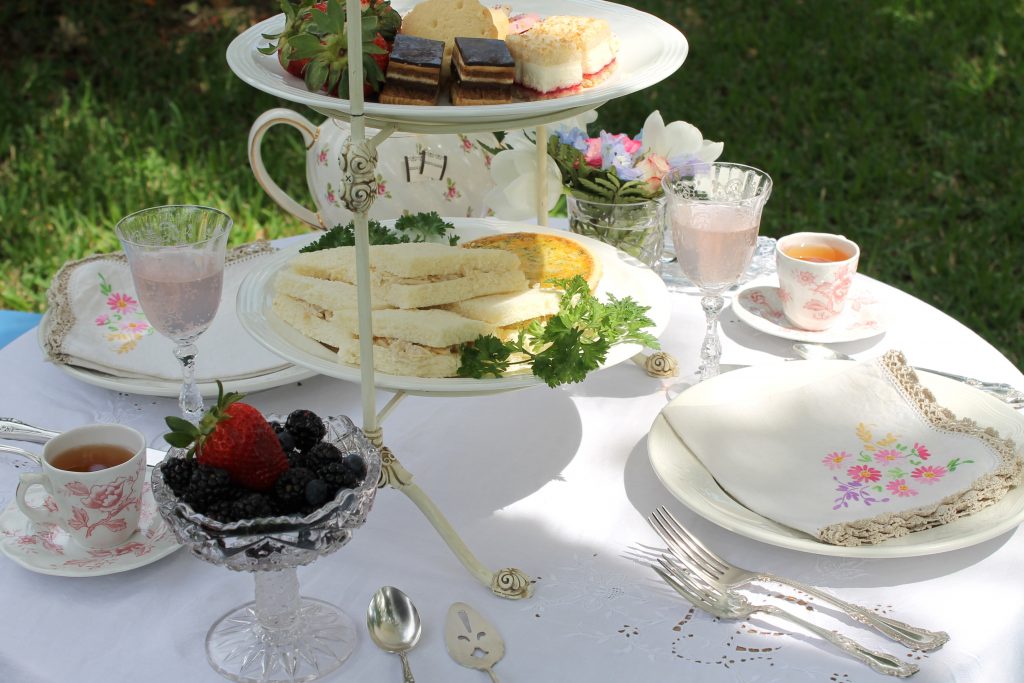 I served rose tea in the lovely teacups that were most recently seen in my Royal Wedding High Tea Tablescape.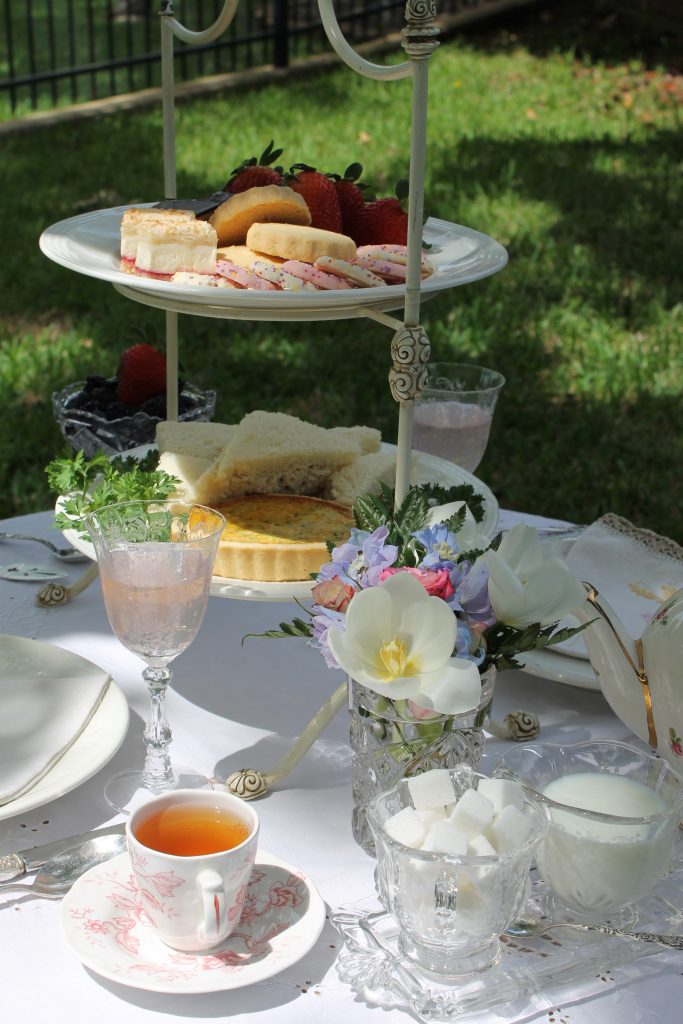 The tomato salad was simply dressed with oil and vinegar.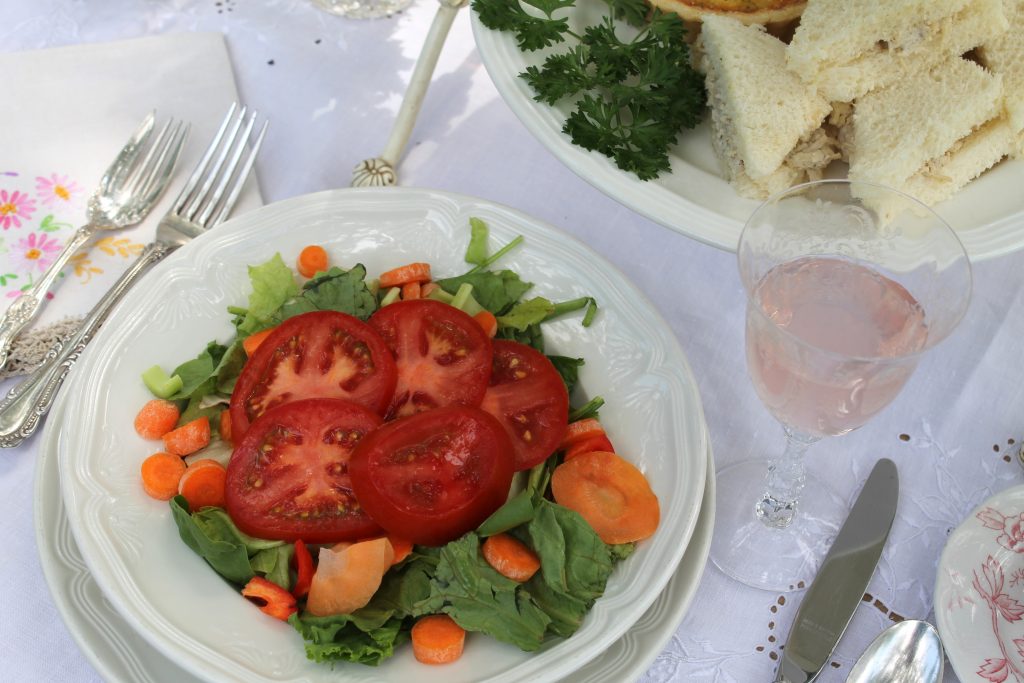 Two of my guests enjoying the tea.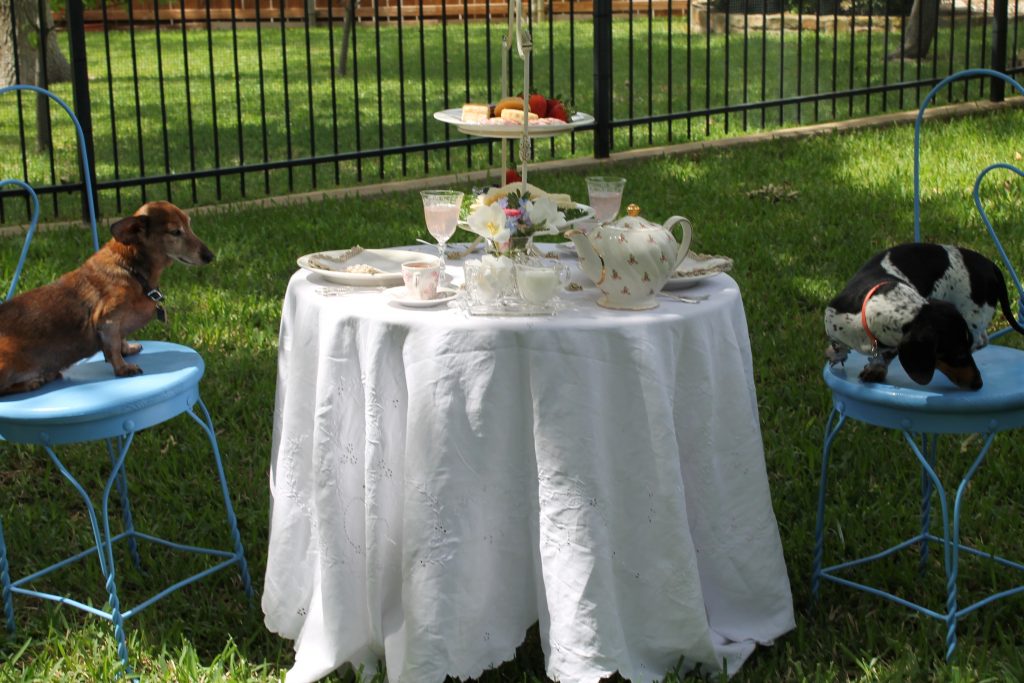 Now for those who are cringing…
My thought is if it is good enough for a Queen, it's good enough for me.
Queen Victoria (Victorian Era) and her son, King Edward (Edwardian Era), were both enamored by dachshunds brought over from Germany by Prince Albert. Here she is pictured with her standard red, "Boy".
Just last week I wrote about the origins of afternoon tea which was beloved by both the Victorians and Edwardians. There you can find out the reason why they often had tea outdoors. As well as view an image of the current Queen enjoying tea in bed with her corgi's. (smile)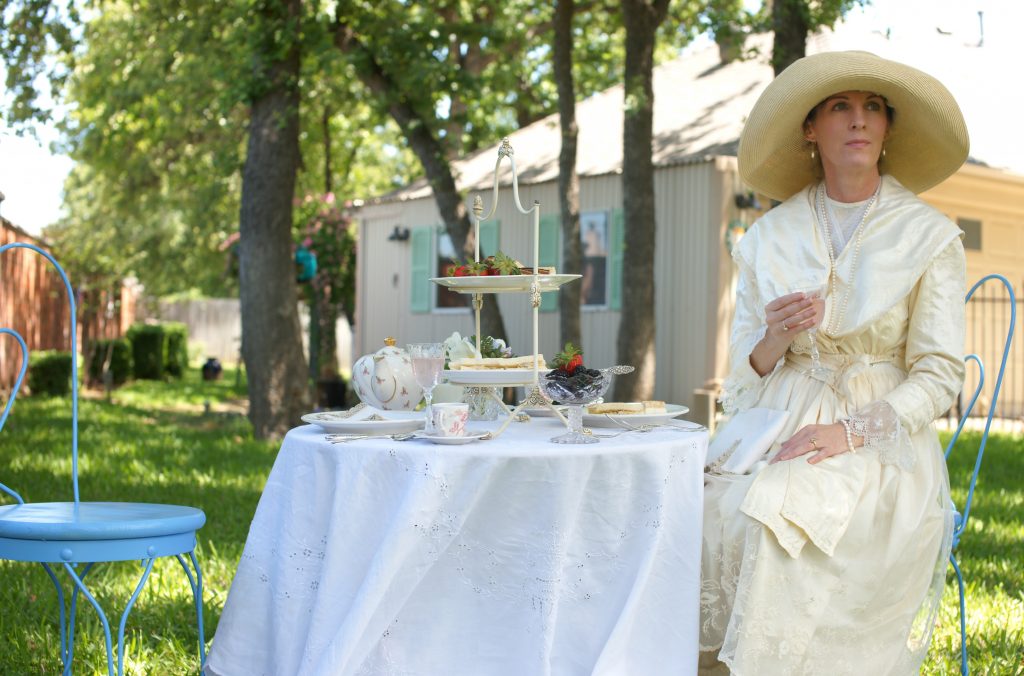 To celebrate this garden tea party I wore an authentic Edwardian teagown graciously given to me by my sweet friend Rita. This was truly an amazing gift bestowed upon me and I am deeply grateful.
All images of the gown were taken by my tea party partner, the immensely talented Hannah Julia Photography.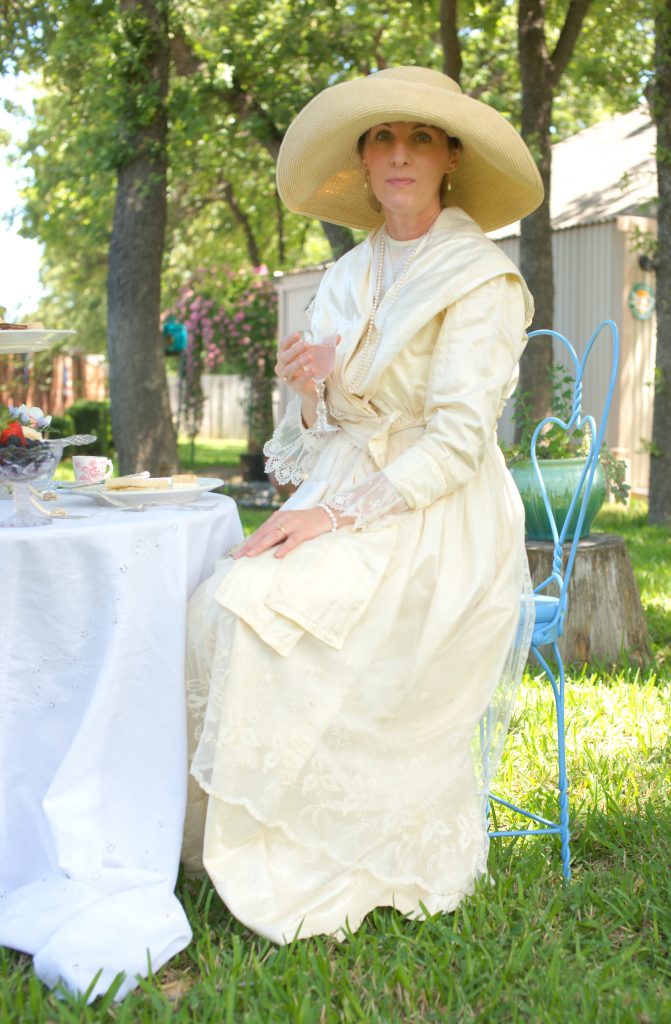 For a garment that is almost 100 years old, the dress was in beautiful shape. It took only minimal restoration efforts on my part, in the way of cleaning and repairs, to bring the dress back to its former glory.
The dress is made from a flannel backed cotton sateen. Sadly, this type of gorgeous fabric is no longer made. The lace on the skirt and cuff of the sleeves is breathtakingly beautiful. After viewing the construction methods I do not believe that the dress was made by a professional dressmaker but an everyday seamstress. Women in the Edwardian Era were known for their amazing needlework and sewing skills. I can only hope to someday achieve a portion of this level of skill.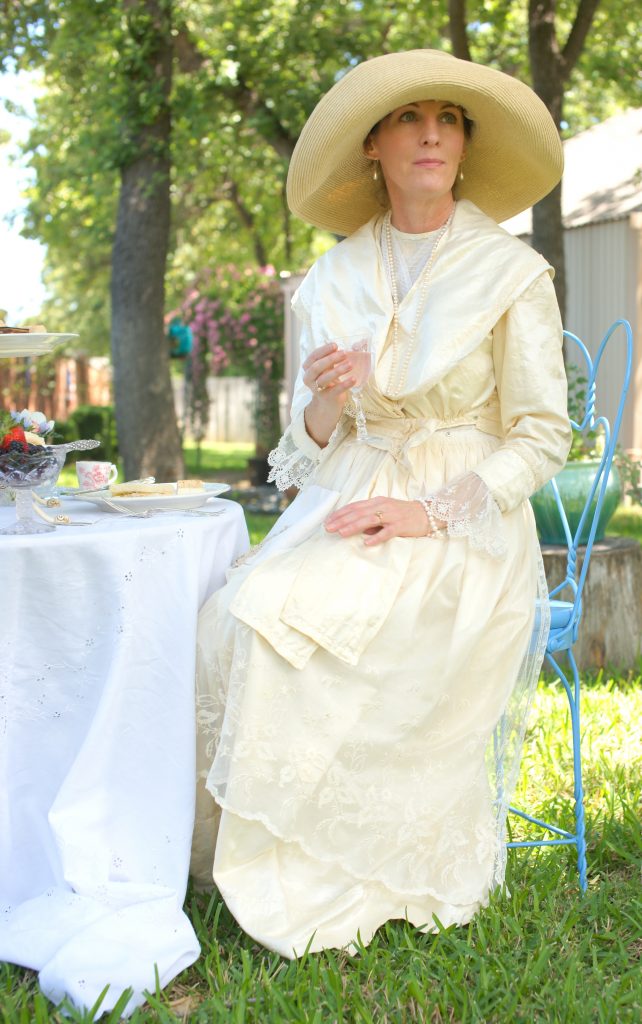 I hope you have enjoyed my Edwardian Garden Tea Party. Up next, you are in for a true teatime treat at Petite Haus.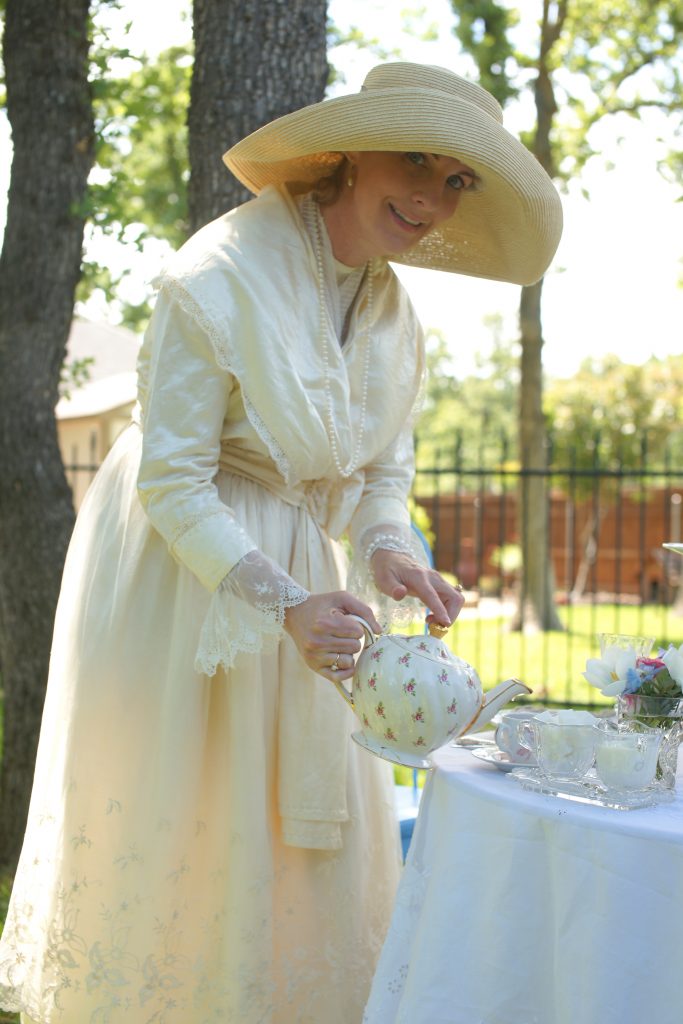 The Tea and Roses Blog Hop Schedule
Tuesday
The Painted Hinge | My Thrift Store Addiction | Everyday Living | Follow The Yellow Brick Home                                             Poofing The Pillows | Have A Daily Cup Of Mrs. Olson                                              
Wednesday
Decor To Adore | Petite Haus | Art and Sand | Katherine's Corner
Lora Bloomquist | White Arrows Home
Linky Party
Do you love a good tea party? I'd love for you to join in the fun of our Spring Tea Link Party this weekend.
Here's to tea and roses!
Laura