Last Friday I met two of my third cousins for the first time. They came all the way from North Carolina and Washington so I wanted to host a small get together in their honor. Easy Inexpensive Easter Brunch Ideas.
The week leading up to the brunch was crazy busy and on Thursday I had to make a decision if I wanted to create a feast from scratch or have a clean house.
The house was still spring break bad so I chose to have a clean house.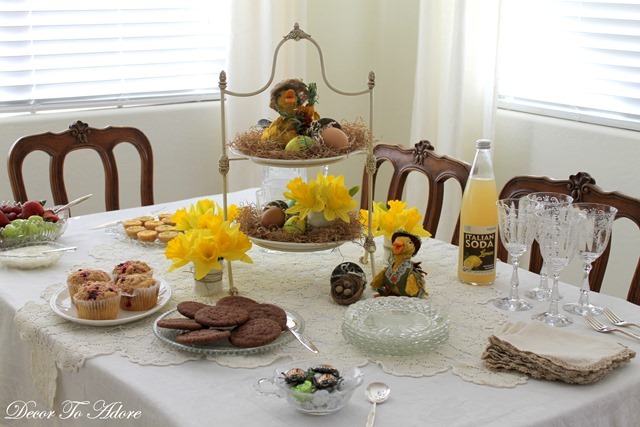 Easy Inexpensive Easter Brunch Ideas
I am almost embarrassed to admit that this is the same linen tablecloth and crochet topper that I used for my St. Patrick's Day tablescape. But if the cloth is clean and you're pressed for time, you really don't need to press another cloth. 
I also reused the same votive holders. I just removed the candles and green velvet ribbon added a bit of twine and used the glass as a daffodil vase instead.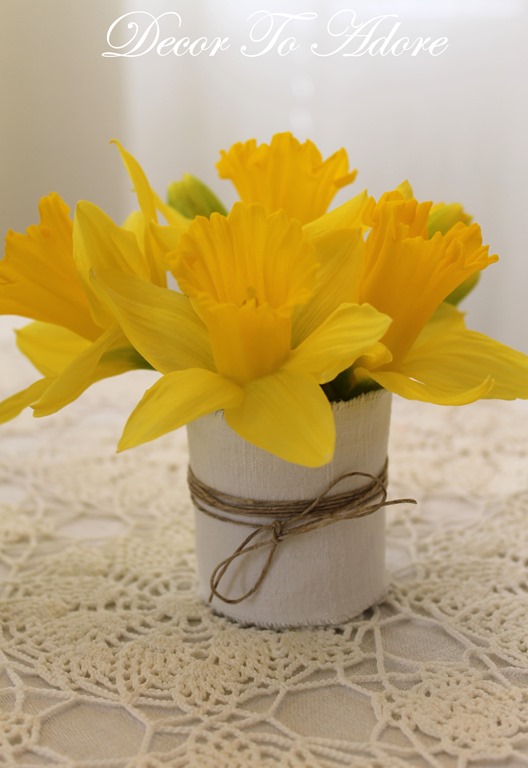 The centerpiece was a plate holder that I topped with natural Easter grass, blown out eggs nestled in vintage jello molds, daffodils and a favorite duck I bought years ago in Germany.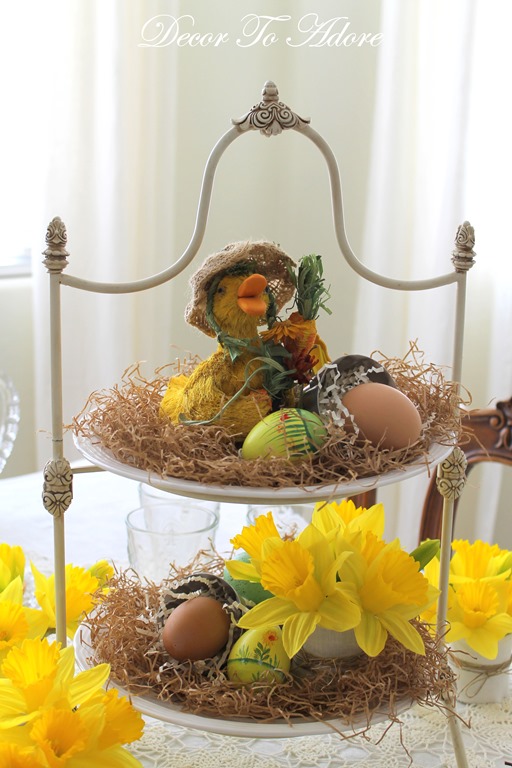 The scale of all the items was whimsically mixed but somehow it all works.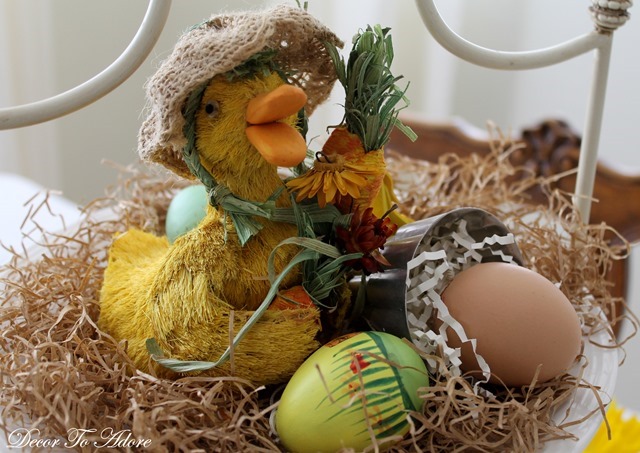 The back of the centerpiece was also decorated with various finds. "Frohe Ostern" means "Happy Easter" in German.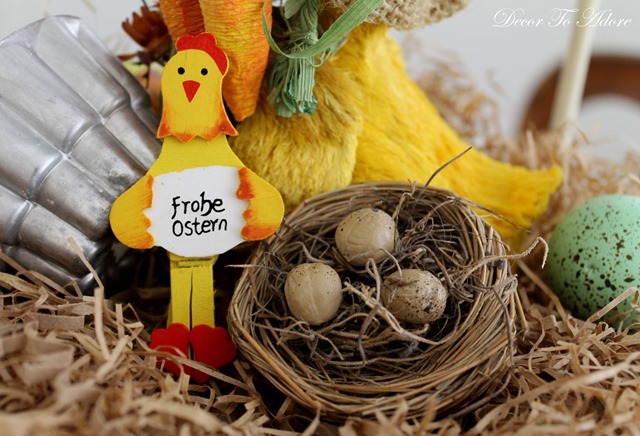 Now with all those eggs, I am sure you were hoping that there was a Mr. Duck. With his smart vest and pack of twigs, I think I love him even more than Mrs. Duck.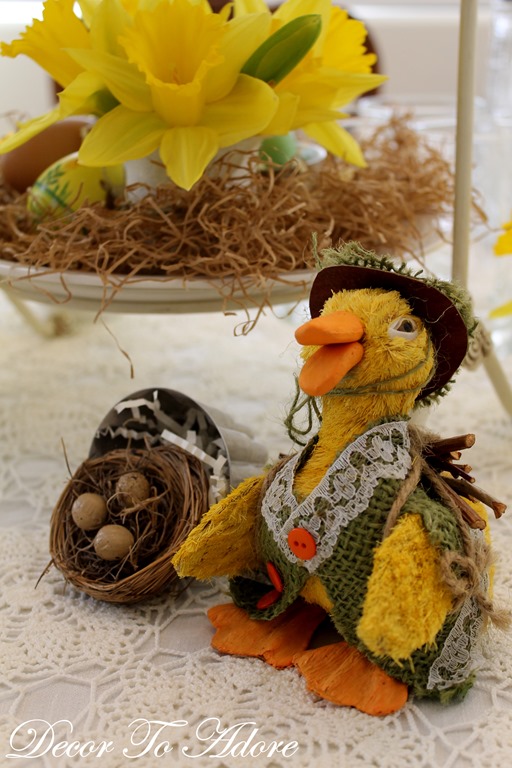 As the visiting cousins were from the Varner side of the family I used my Grandma Mary and Papa Jack's silver and pressed glass plates. I found the napkins a few years ago at an Estate sale.
Tip: If you are short on dishes there are really cute paperware selections at several stores. I purchased some sweet tweet plates and cups at Target for Easter morning which is always hectic. They were in the $1 bins.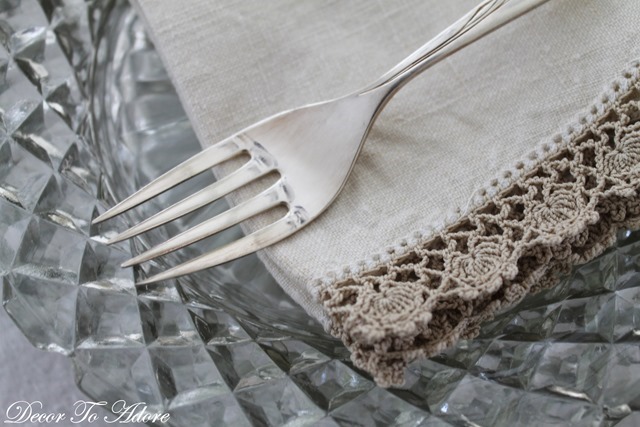 Easter Brunch Offerings
The food was really easy, yet so tasty. I popped some frozen mini quiche in the oven. While they warmed I put ice water in a pretty pitcher, set out some lemonade and put the kettle on to boil for tea.
Tip: Fancy up your fruit by offering a dip ~ my favorite is vanilla yogurt.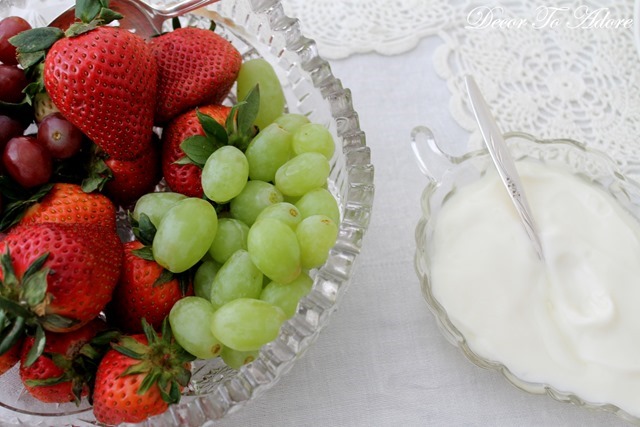 I set a goal of keeping the cost of the meal to under $20 (including flowers). The way I accomplished this was the day old bakery section. Generally, everything is half off and still really fresh if purchased and eaten the next day.
Here's a tip: If your bread or muffins are not quite as fresh as you would like, lay out a sheet of tinfoil and sprinkle it lightly with water. Place your baked goods in the center, fold the foil closed, place on a cookie sheet in a 350-degree oven for a few minutes. The water creates steam and "freshens" the bread/muffins. This also works for unfrosted cookies as well.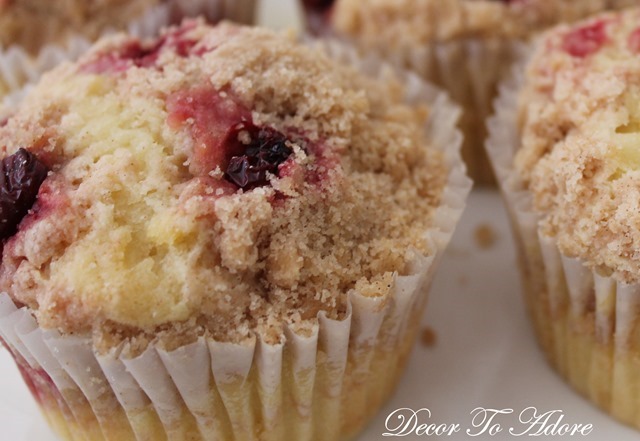 The glorious daffodils were $1.50 a bunch. I couldn't resist their cheerfulness and purchased two bunches.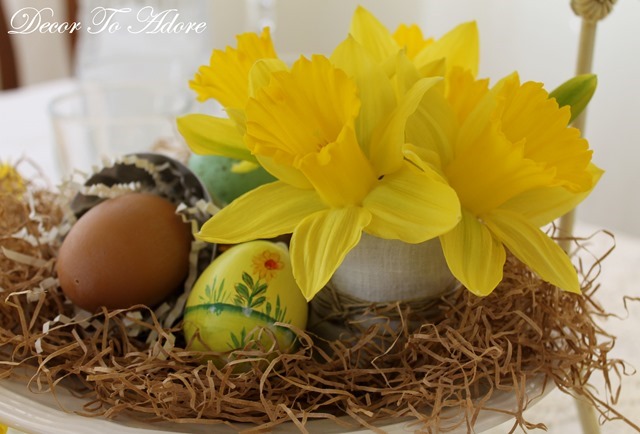 Other great and inexpensive edible brunch ideas are salads, nuts, mints, a selection of cold cuts, bread, and cheese.
Are you hosting anyone for Easter this year?
Laura