Do you fear entertaining because you think it is too much work? Here is A Victorian Tea In 10 Minutes.
A Victorian Tea In 10 Minutes
I recently received a phone call from a dear friend who wanted to stop by. We hadn't seen each other in ages and I welcomed the opportunity to visit. I quickly put together a pretty Victorian inspired table using thrift store and estate sales finds. Here is how you can do it too.
Disclaimer: I keep ironed tablecloths hanging in a coat closet and pressed napkins ready to go in my decorating closet.
The bouquet of flowers was already sitting on the dining table. I regularly buy arrangements from the grocery store. It brings such happiness to the home for under $10.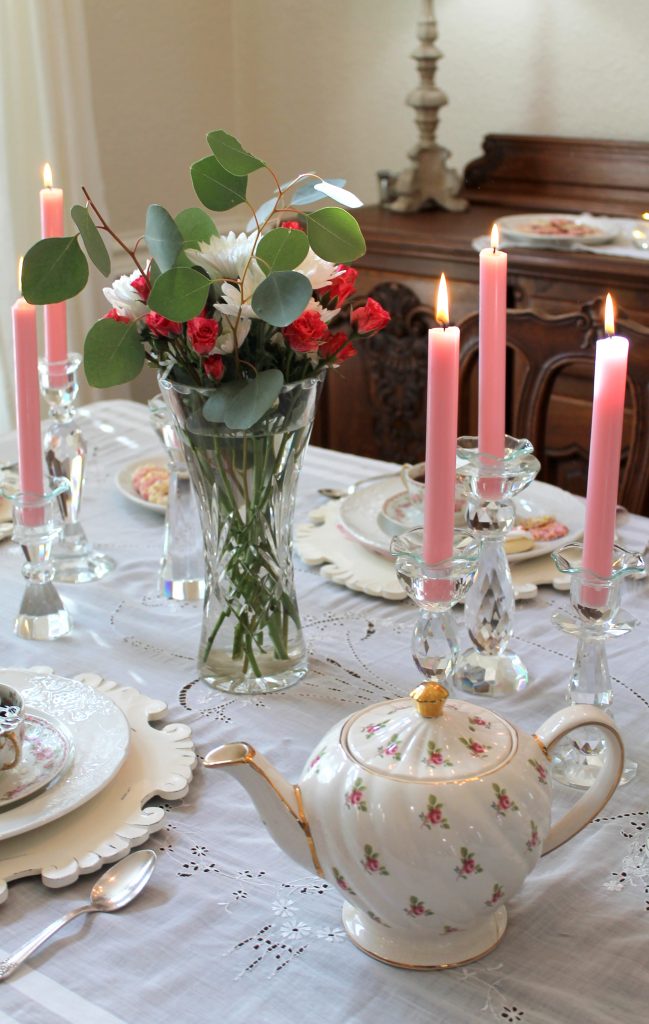 Minute 1 and 2
Boil water for tea.
Set out a tablecloth and candlesticks.
Candlesticks in the daytime. Oh yes, we're breaking ALL the rules here. I like the bit of sparkle they add to the table.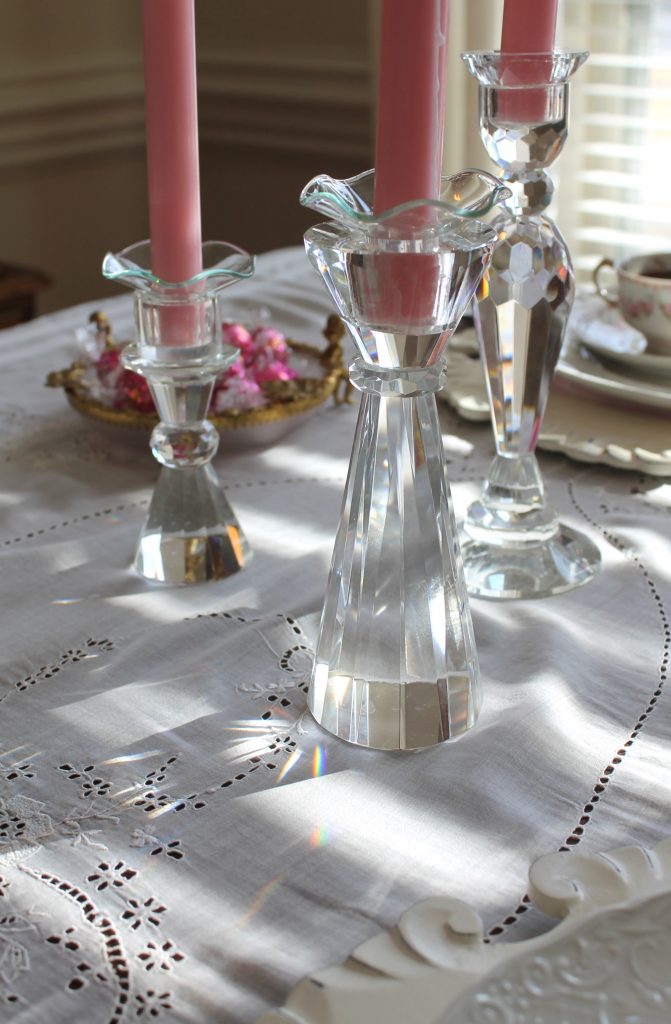 Let's add in some fairy lights to make it truly magical.
Minute 3 and 4
Lay down your place settings.
I found the white chargers at Pier 1. The silver plate and pink damask napkins belonged to my grandmother, Mary. The white plates are the "Richmond" pattern by Johnson Brothers. The pink floral loving cups are Haviland Limoges. I purchased both at a recent garage sale for… are you sitting down? $5. There were only four of each but I couldn't pass these gems up.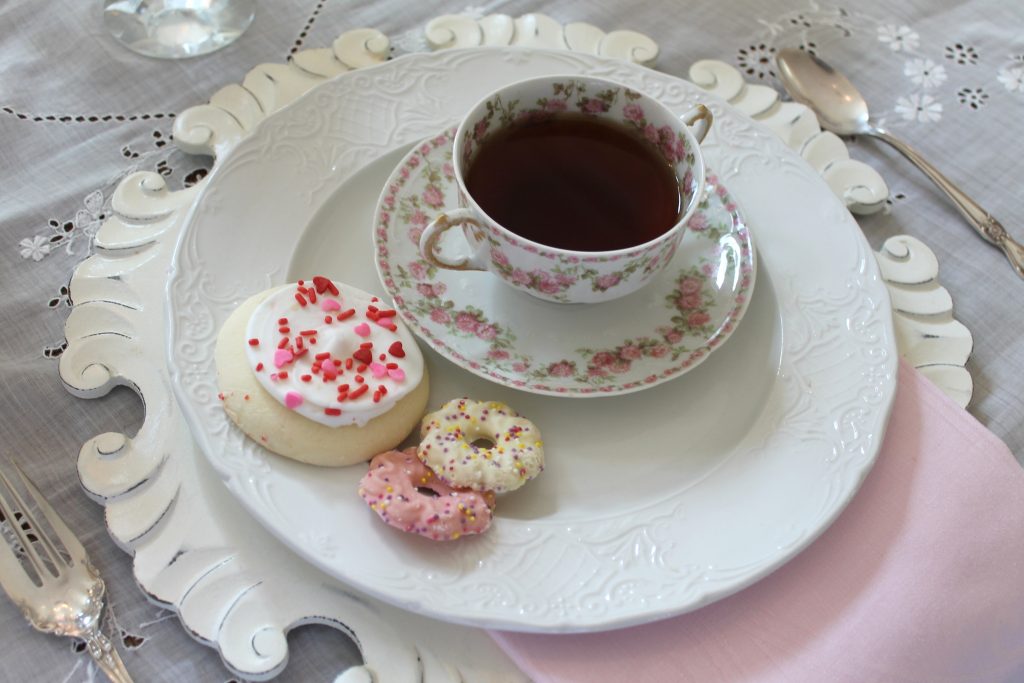 Minute 5 and 6
Center your floral arrangement.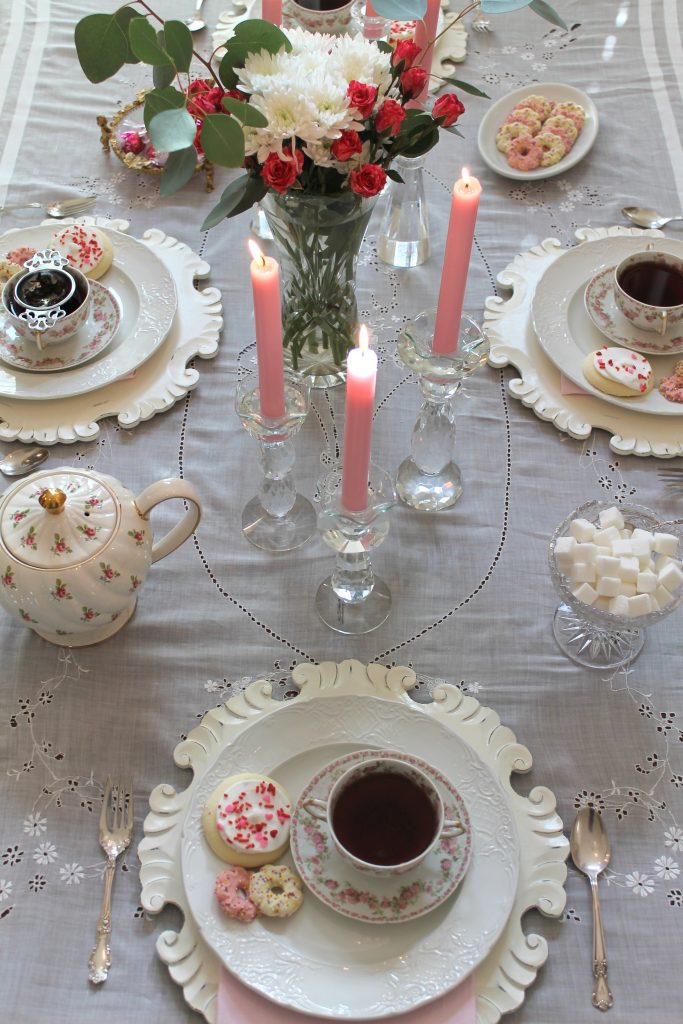 Add a teapot and a few serving dishes.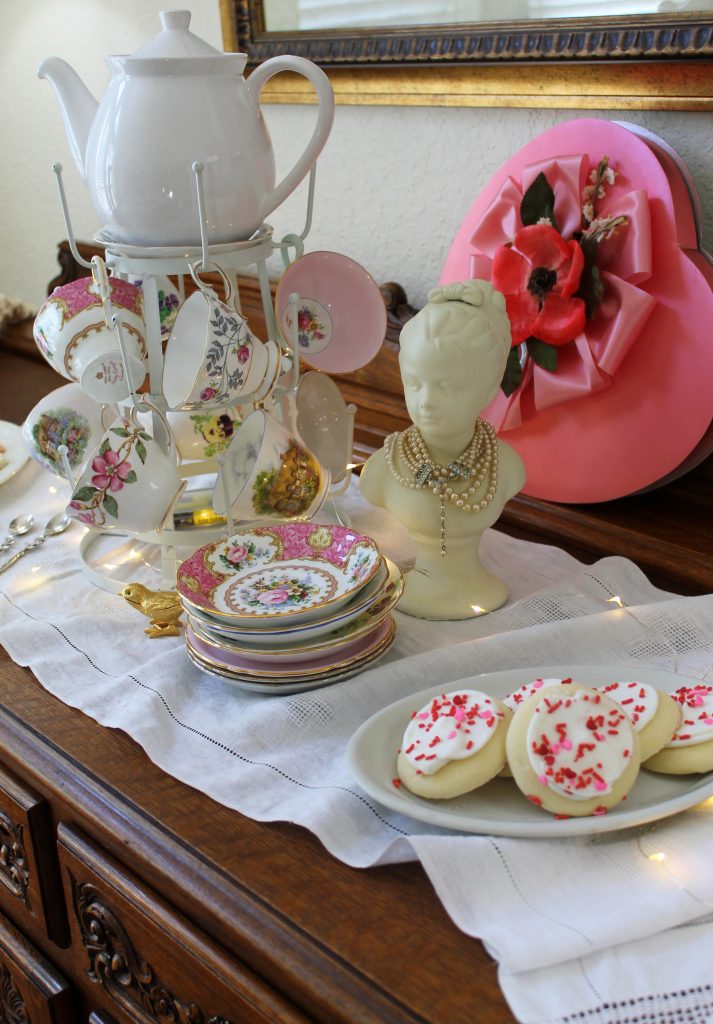 Minute 7 and 8
Brew the tea
Fill the serving dishes with store-bought bonbons and cookies.
This sweet cherub dish is perfect for a Valentine-themed table. It came from an estate sale for $2. Pink (raspberry) Lindor chocolates are so yummy and can be found at most grocery stores.
Minute 9 and 10
Set out the cream and sugar.
Answer the door.
Pour the tea.
Has anyone noticed that NONE of the serving dishes match? It doesn't matter. Miss Manners isn't attending the tea.
Everything on the table is either crystal, pressed glass or within the same color palette of white and pink. Sticking to the same hue helps create the illusion of a lovely, well-arranged table. Why you could even use PAPER plates and cups. There are so many pretty patterns available today. I give you permission to go ahead. Remember, it's the friends, family, and memories made that are truly important.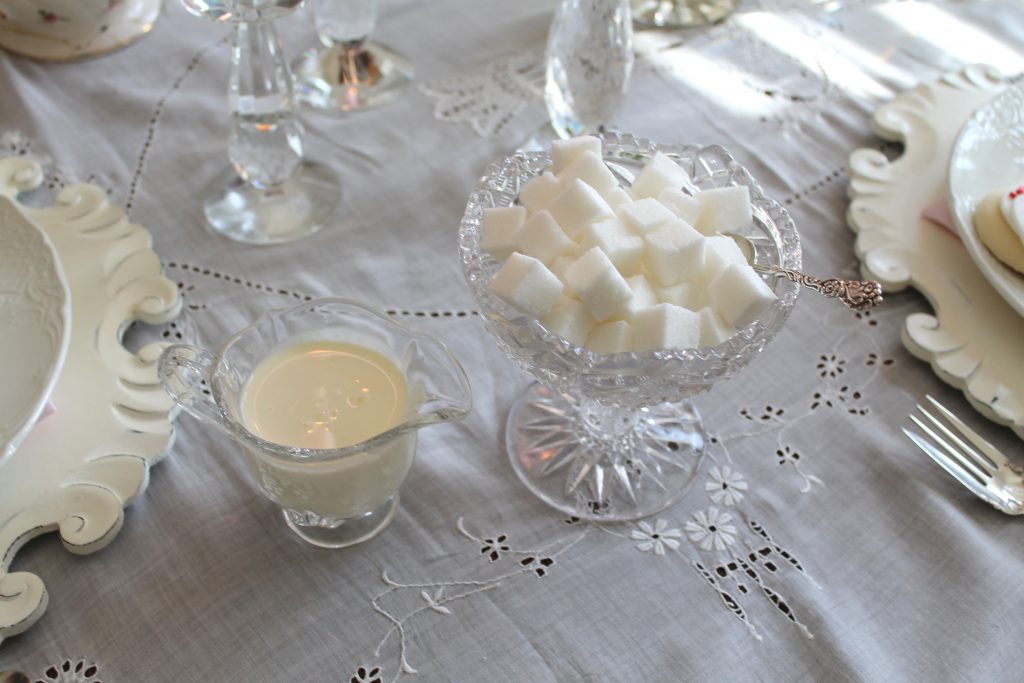 Let's Do It Again
A few days later another friend was coming by. I simply removed the spent flowers from the floral arrangement and made a smaller bouquet in an antique biscuit jar.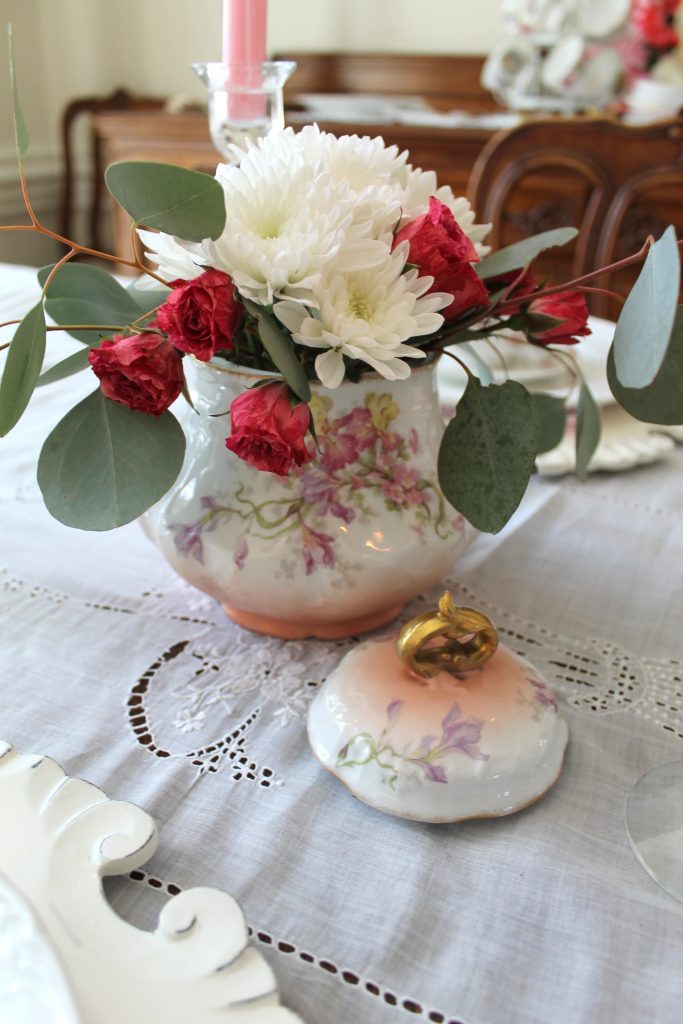 Everything else on the table remained the same.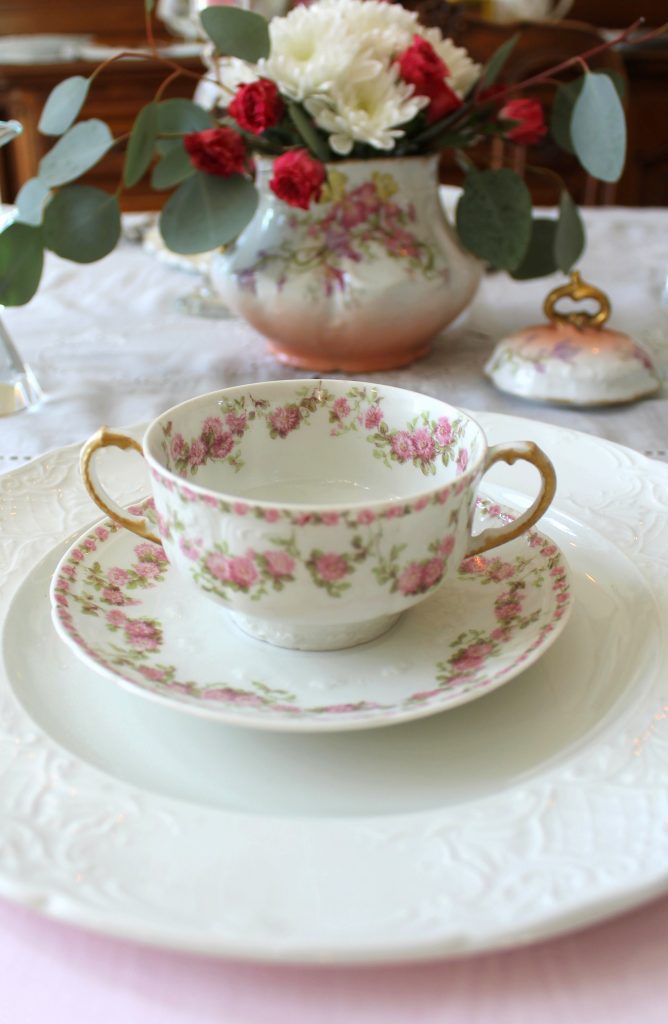 I hope this will encourage you to enjoy sweet little things in life.
Laura