Welcome to Storybook Cottage. Today I am joining several vintage Valentine loving friends for a blog hop. If you are coming over from Common Ground you have already enjoyed truly delightful decor from Debra. Today I am sharing a Simple and Sweet Valentine Breakfast.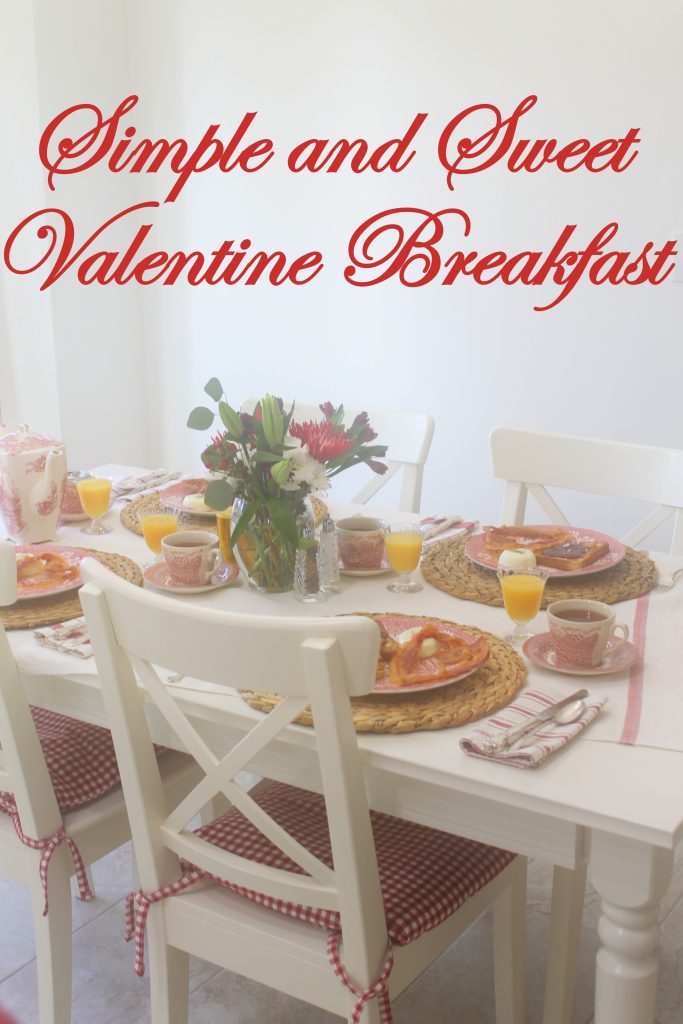 Simple and Sweet Valentine Breakfast
The table is set with simple antique French linens and English red and white transferware.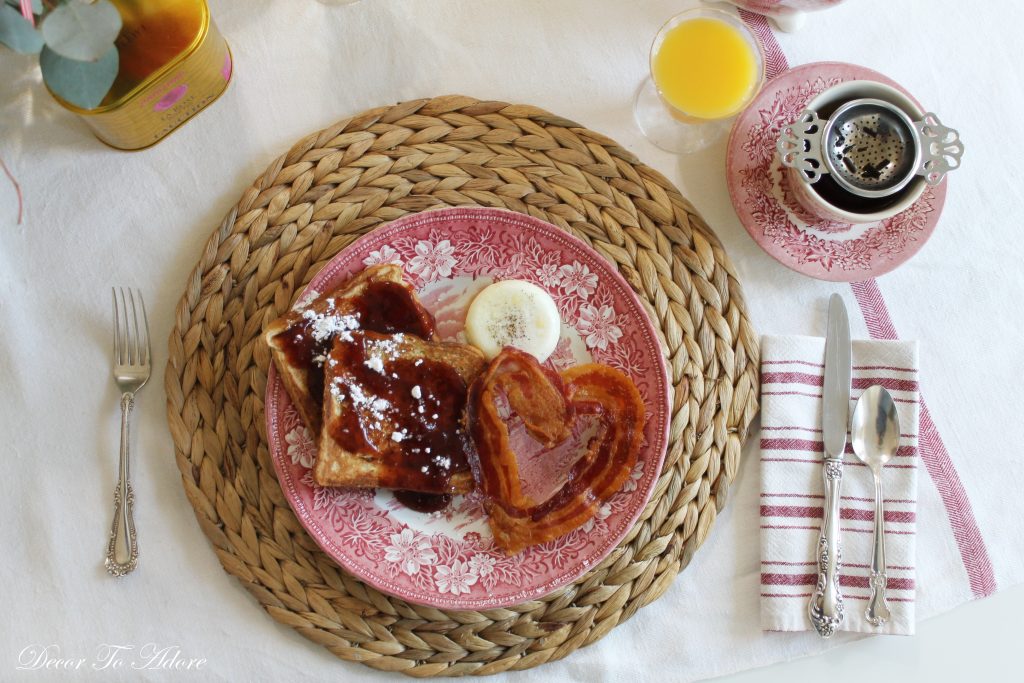 The centerpiece of the menu is easy to make heart shaped bacon.
Simply line a cookie sheet with aluminum foil.
Arrange two strips of bacon into a heart shape.
Bake in a 350-degree oven until bacon is crisp.
Gently remove bacon from foil and pat the excess oil off with a paper towel.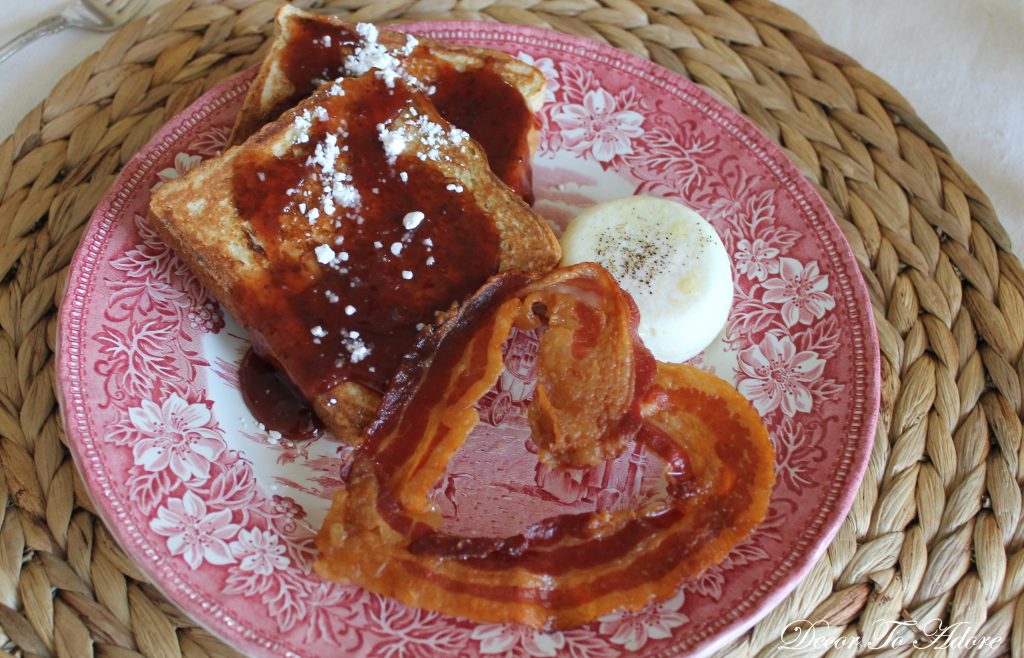 The French toast is topped with Traders Joe's organic reduced sugar strawberry preserves. This is a great alternative to syrup since much of it is made with high fructose corn syrup.
Tip: place preserves in a small pitcher and warm in the microwave or small pot of boiling water to transform it to a syrup consistency.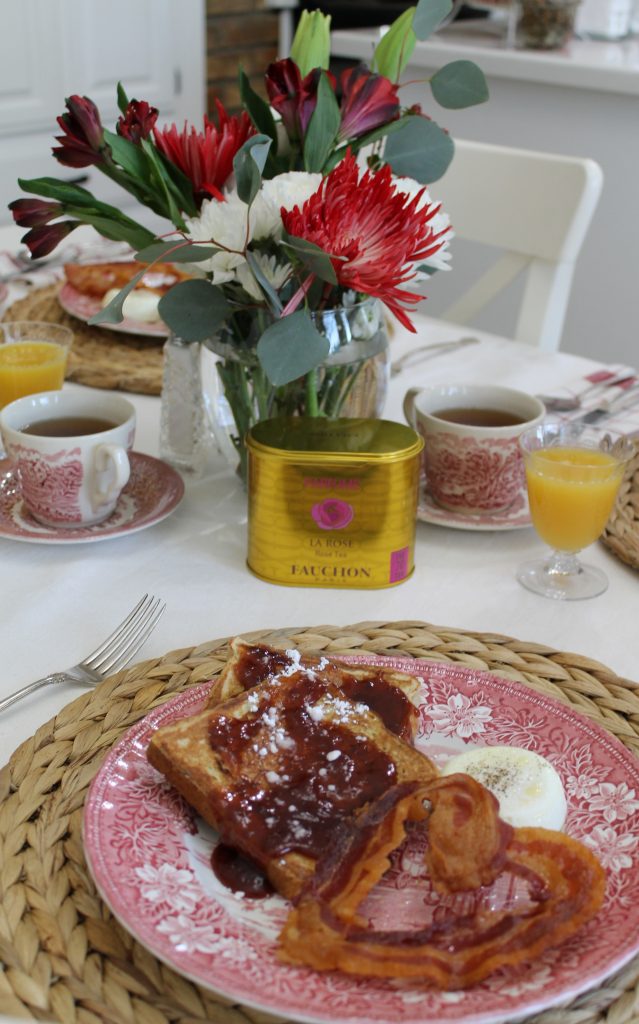 There are heart-shaped egg poachers available but a circular poached egg can represent unending love.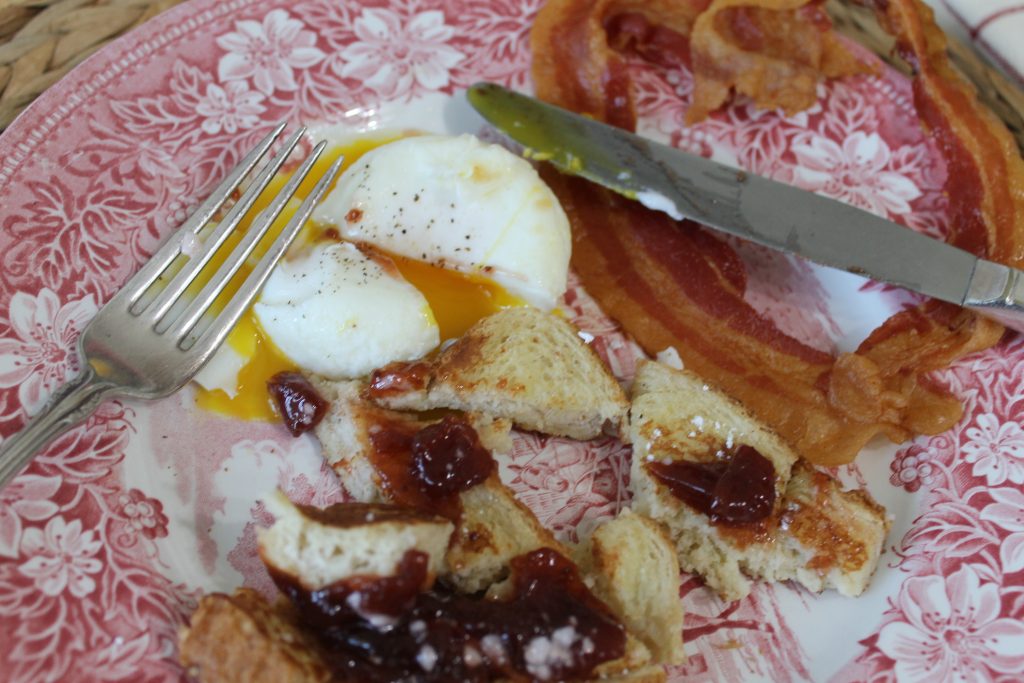 A valentine breakfast is also the perfect occasion to serve rose tea. You can find rose tea at most tea shops and natural markets. My favorite is thé à la rose from Ladurée.
I found this tin of la rose from Fauchon at HomeGoods. What a prize!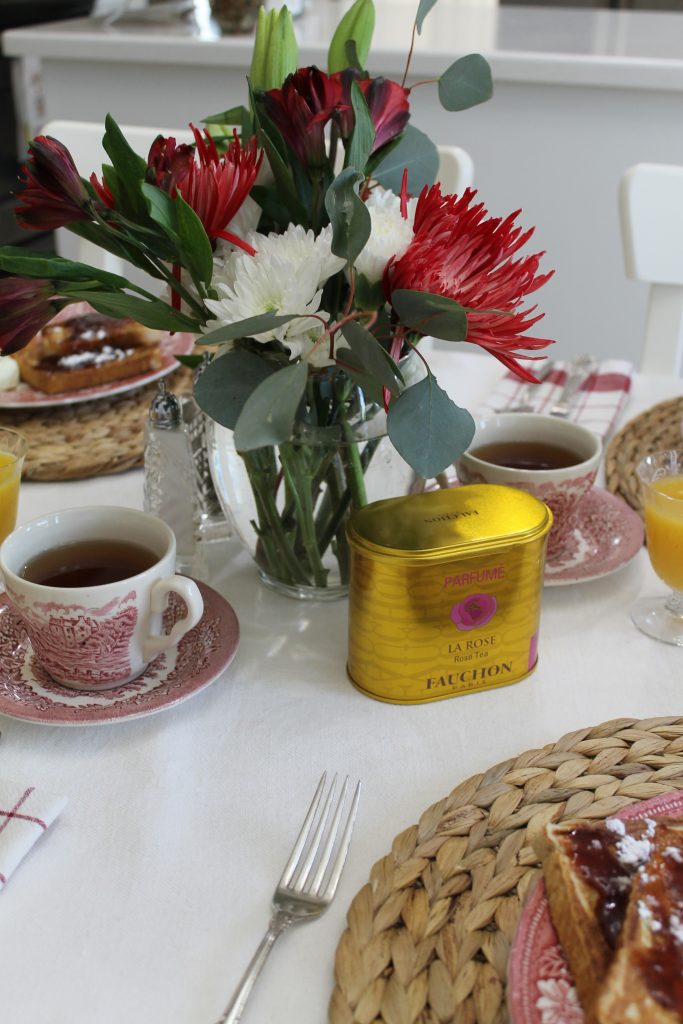 Why loose leaf tea? Quite simply it's more flavorful and the act of pouring is elevated into something special. Some people prefer not to use a strainer and read the patterns of the tea leaves after the cup is finished.
Tip: I toss the used petals into my flowerbeds for a delightfully scented compost.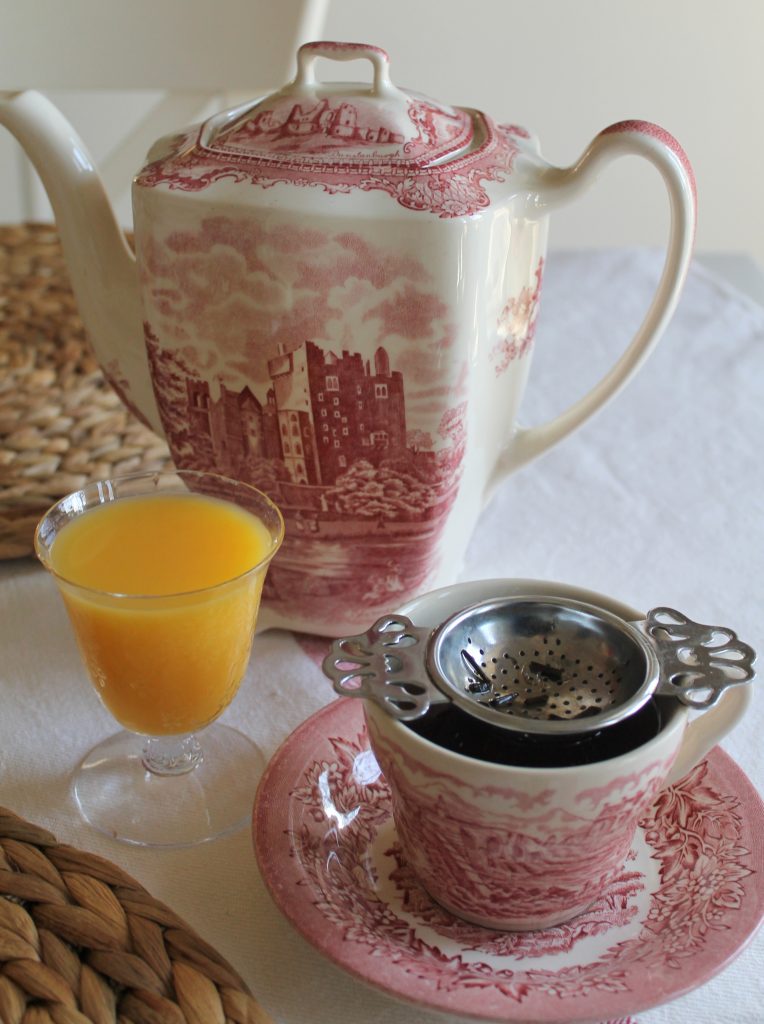 A truly happy table brimming with love.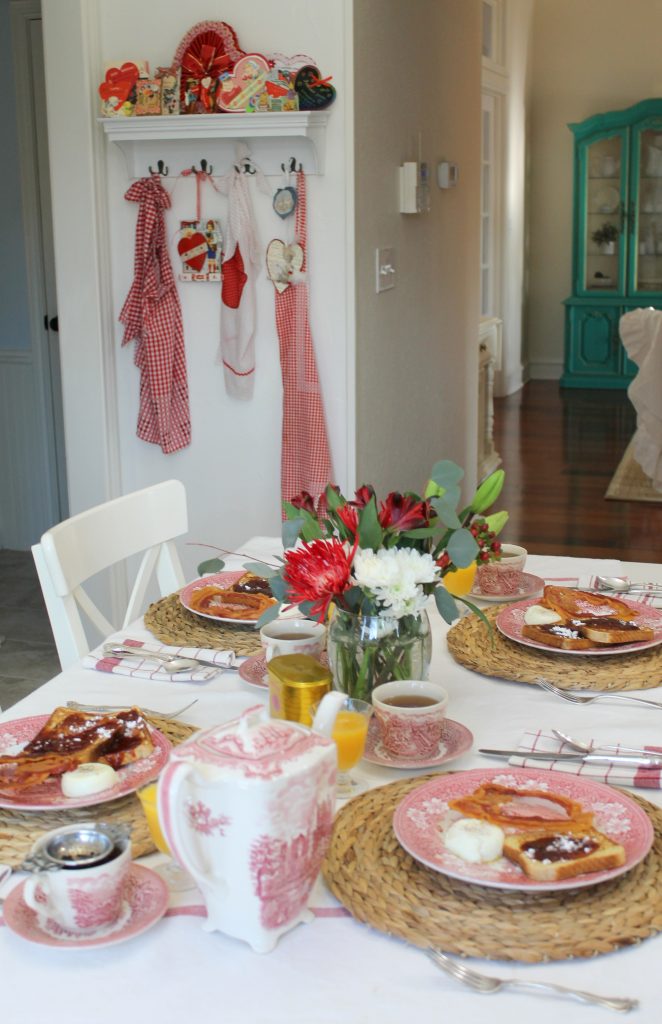 Some vintage Valentine decor has been added to the kitchen shelf.
Some of the Valentine's are antiques that my Grandma Mary received as a schoolgirl. Others are gifts from friends. I am partial to the two dachshund-themed cards from the 50's as they remind me of my two canine Valentines, Gracie and Rudi.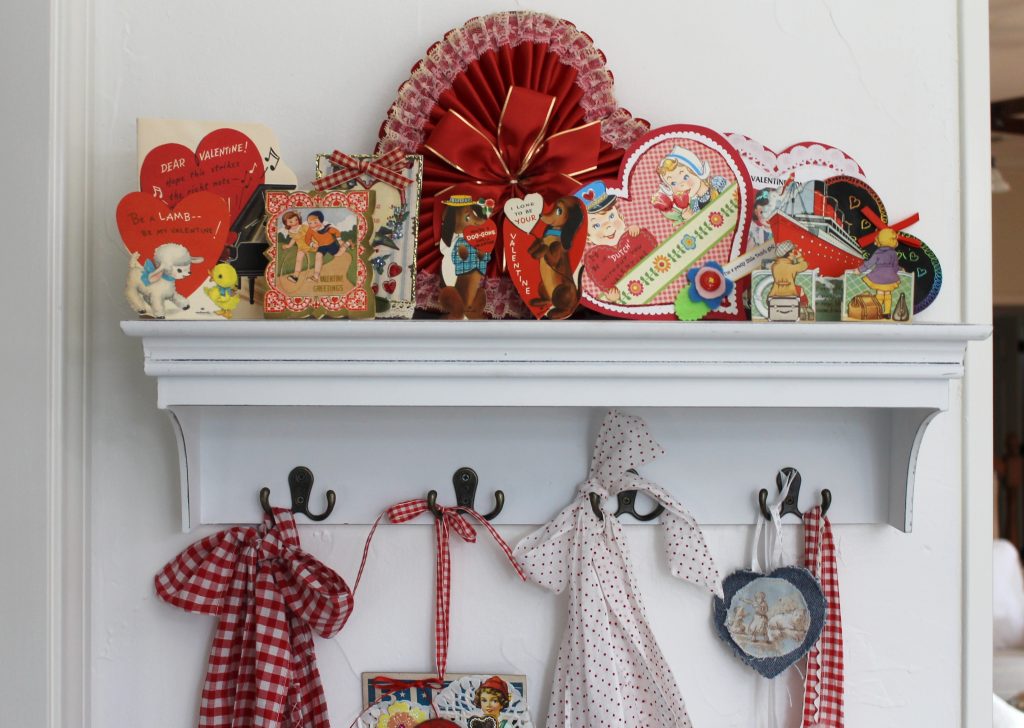 Thank you so much for visiting. Next up is Follow The Yellow Brick Home. You will adore Amber's vintage Valentine ideas.
You can visit all of the blogs on the hop today by clicking on the links in the list below.
Enjoy the rest of the hop!
Laura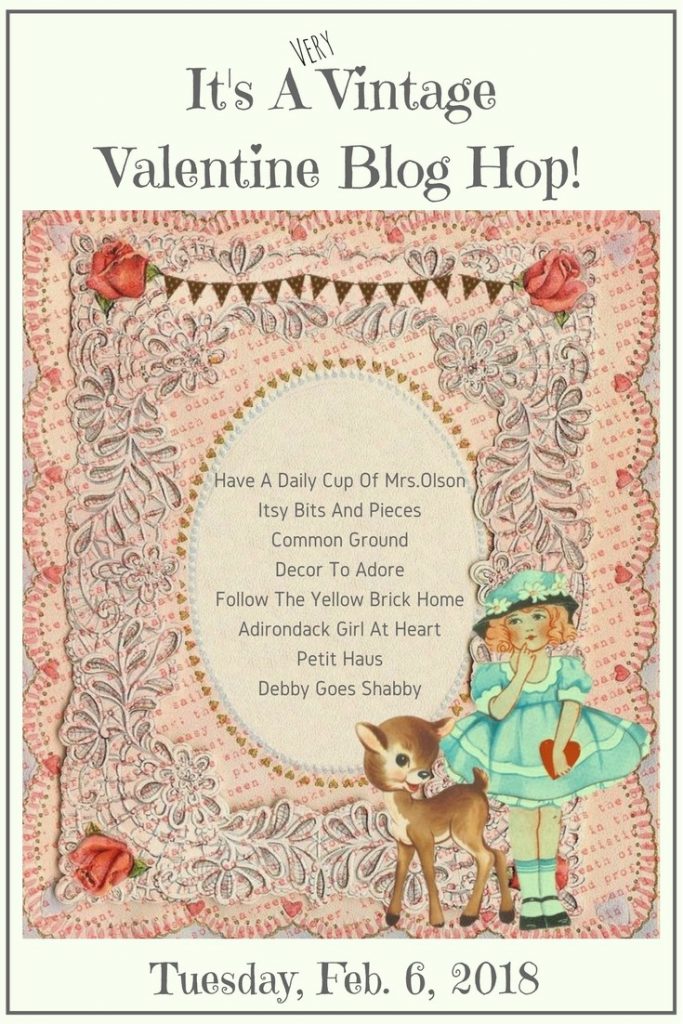 Do you a have any Valentine's Day themed blog posts to share? We would love for you to come back this evening and join us for the "Share The Love Valentine Link Party!" The party goes live at 5:00 p.m. EST. and will run through Valentine's Day. See you there!