I recently typed in a search engine question "How many A Christmas Carol movies are there?" The earliest surviving screen adaptation, Scrooge, or, Marley's Ghost, was made in 1901. There are 19 big screen adaptions and many more productions have been done for tv and the theater. This leads me to believe that many of us can somewhat relate to the selfish miser who hates Christmas but in the end, is beautifully redeemed. This I believe has led to numerous events being held all over the world celebrating this beloved story. But what should one wear to such an event? With that question, I bring you Dickens Fashions for Christmas Faires, the dress edition.
Dickens Fashions for Christmas Faires
Writing a post about Dickens era female fashion is somewhat daunting in that the time period spans from approximately 1837 when Charles Dickens published his first novel, The Posthumous Papers of the Pickwick Club (also known as The Pickwick Papers), until his death in 1870. That is 33 years of fashion trends to cover.
Given that this was a time before high priced catwalk models and film stars shared their latest fashion finds on Instagram and red carpets one may ask, "Who set the fashion for this period"?
The answer predominately lies with one woman, Queen Victoria.
She became Queen the same year Dickens was first published and reigned until her passing in 1901. Thus she covered the entire Dickensian time period and went beyond with what is of course known as the Victorian Era. Many Faire attendees select their attire from fashion beyond 1870 and that is perfectly acceptable.
Portrait by Winterhalter, 1859
But you may say, "How can Queen Victoria have set the fashion? She wore mourning clothes for over 40 years following the passing of her beloved Prince Albert". This is true, but her daughters, Princesses Victoria, Alice, Helena, Louise, and Beatrice,  and their families carried the torch of setting the trends.
I have tried to seek out fashion plates and dresses that exemplify a seasonal holiday look. Meaning winter fabrics, styles, and colors. In addition, every attempt was made to link to the original source. You may click on many of the images for further research. We will begin this fashionable journey with romantic fashions.
Romantic Fashions
Many attendees choose the romantic fashion era which occurred between the 1830's thru the 1860's. This look consists of big full skirts worn over hoops.
In the early period, sleeves were a bit narrow and layers of ruffles were popular.
A cotton dress circa 1840.
Day dress, 1860's. I talked about the popularity of tartan HERE.
Sleeves could be full, as seen in this 1865 silk walking dress.  This particular style was called "The Pagoda Sleeve".
Early Bustle Period
The early bustle period began in the late 1860's thru the mid-1870's.  The previous fullness in skirts moved to the back of the dress. This fullness of the fabric was drawn up in ties to create a fashionable puff.
Fashion plate 1876.
Grand Duchess Elizabeth Feodorovna of Russia, 1884, granddaughter of Queen Victoria.
Silk taffeta dress from 1875-76
Natural Form
Natural form fashions lasted a little over five years from 1877 thru 1882.
Fashion plate 1881.
The style transitioned and the skirts began to cling closely to the thighs in the front while the bustle at the back was reduced to a natural flow, thus influencing the term Natural Form, from the waist to the train of the dress.
Late Bustle
Late bustle had a six-year reign in the 80's. The 1880's that is. This time around the bustle would reach maximum proportions. Some skirts appeared to have a full shelf at the back of the dress.
Silk dinner dress by Mme. Grapanche circa 1884–86.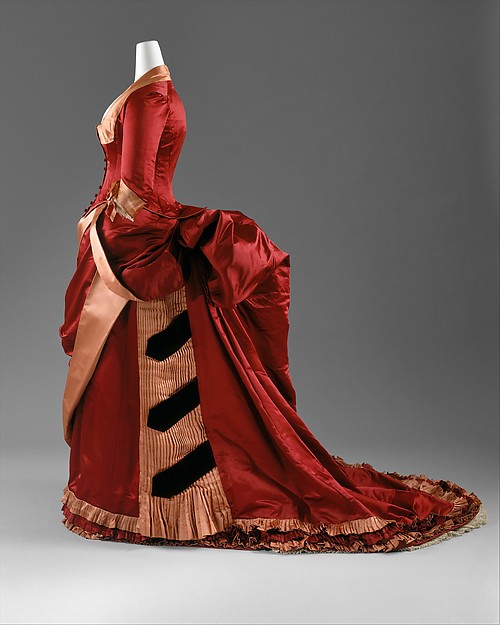 Here is a silk dinner gown from the mid 80's with an understated bustle and skirt.
The Belle Epoch
The Belle Epoch look spanned the 1890's until Queen Victoria's passing and then the reign of King Edward, her son, ushered in the Edwardian Era. It featured a feminine silhouette that continued through 1889 when skirts began to scale down and the S-curve silhouette became the rage.
Fashion plate circa 1894.
Silk velvet and taffeta skirt and jacket, mid 80's.
Worth tea gown circa 1895
I will close this post with this circa 1894-96 silk day dress featuring fabulous gigot or leg o' mutton sleeves and lovely accessories.
It should be noted that a ladies complete ensemble would also feature hats/bonnets, gloves, shoes, and jewelry. Not to mention, the unmentionables underneath. These items also changed with each fashion era and rightly deserve their own post which I may do if there is enough interest. This also applies to men's fashions. If you would enjoy such a post, please leave a comment.
Of course, many of you may be wondering if I have created a Dickens costume. With that, I will leave you with a knowing smile and the promise of another fashion post next Friday.
May you be merry and bright,
Laura