In the past few weeks, the British royal family has enjoyed a few notable moments. To celebrate Sweet Guy and I decided to do a bit of decorating in their honor. So we bring you A Christmas Tree For Queen Elizabeth.
More goodness to come further down in the post.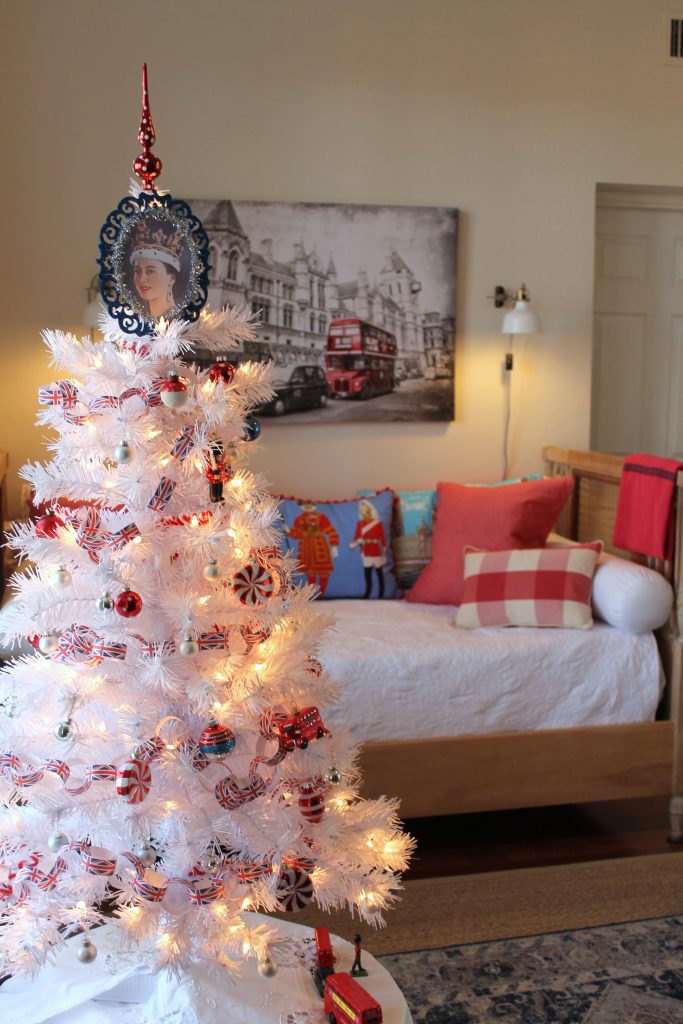 The Queen and Prince Philip recently celebrated their 70th wedding anniversary on November the 20th. The couple is noted as having the longest royal marriage in history.
Princess Elizabeth and Prince Philip in 1947.
Queen Elizabeth and the Duke of Edinburgh were captured by British photographer Matt Holyoak to commemorate their platinum anniversary.
Mr. Holyoak also photographed the couple in the White Drawing Room at their home, Windsor Castle, in early November. The Queen wore a cream day dress by Angela Kelly that she had previously worn to a thanksgiving service marking the couple's 60th wedding anniversary. She also wore the yellow gold, ruby and diamond "Scarab" brooch" given to her by Philip in 1966. It is probably no accident that the Queen and Duke stood in front of Thomas Gainsborough's 1781 portraits of George III and Queen Charlotte, who were married for 57 years.
Then, just seven days later a statement from Clarence House (Prince Charles' residence) announced the engagement of Prince Harry, 33, to Ms. Meghan Markle, 36. They are set to marry in May.
 A Christmas Tree For Queen Elizabeth
Our Christmas decor this year began with a Victorian Dickens-themed Christmas in the formal dining and living room areas.
My children also generally decorate in their bedrooms. This year Sweet Guy asked if he could enjoy his tree in the sunroom which is next to the living area behind French doors.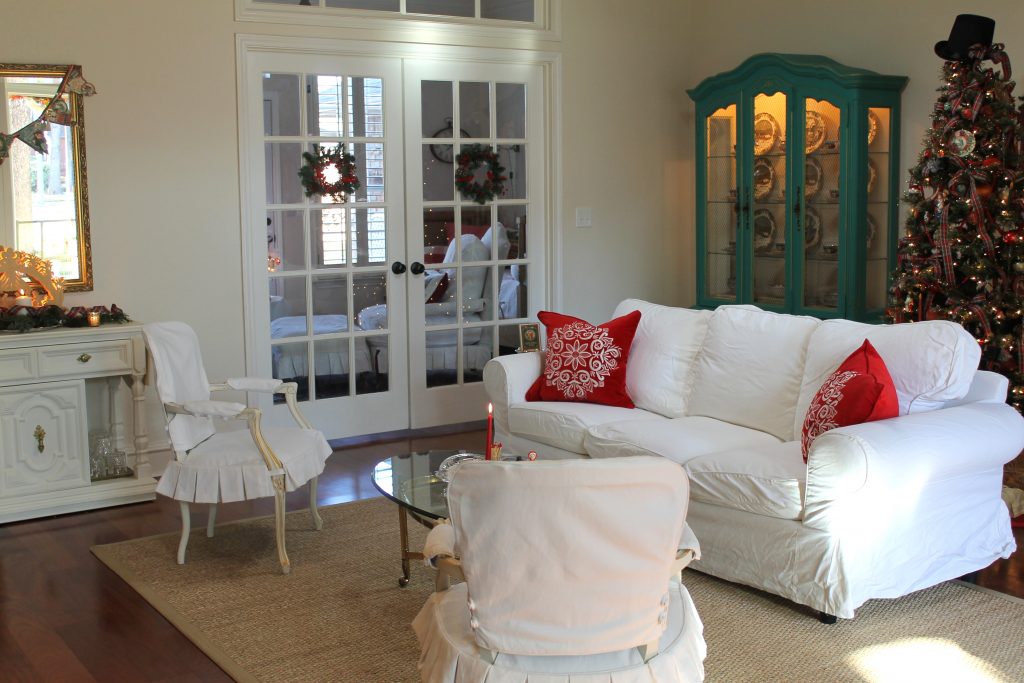 So decorate we did.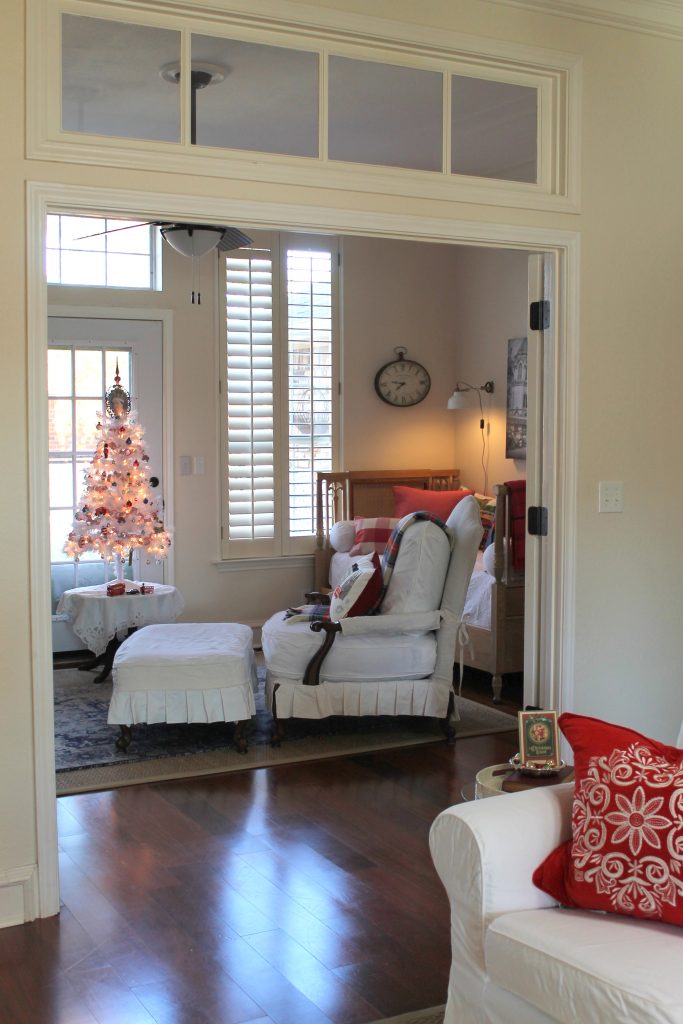 Rule Britannia
The room is normally decorated with a Rule Britannia theme. You can see how the daybed pillows were made from vintage British tea towels HERE.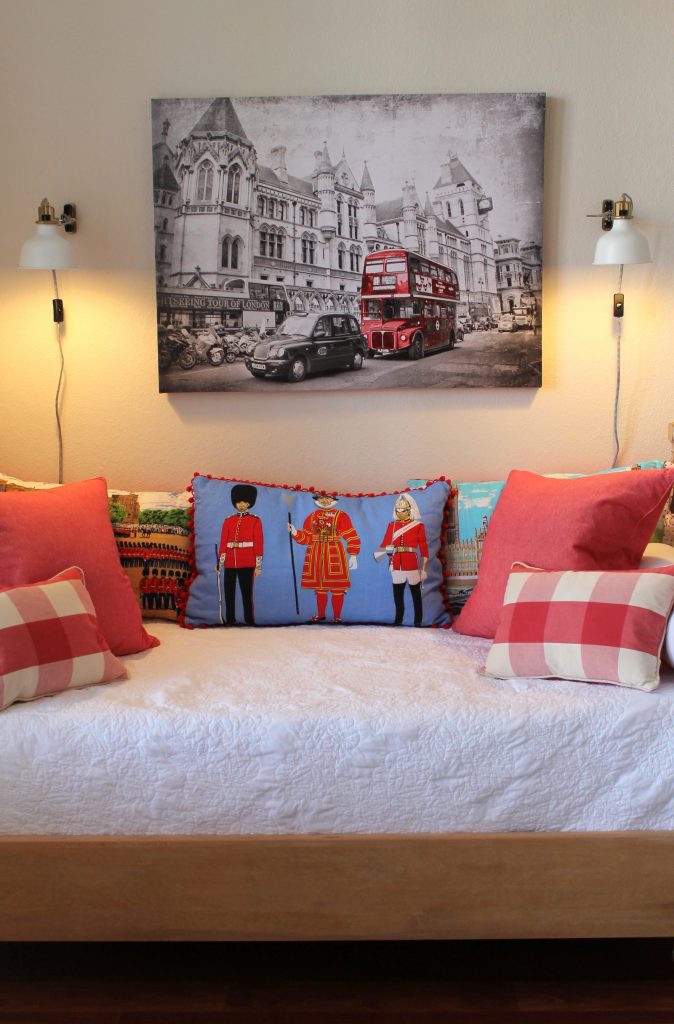 Just a few touches were needed to add a festive flair.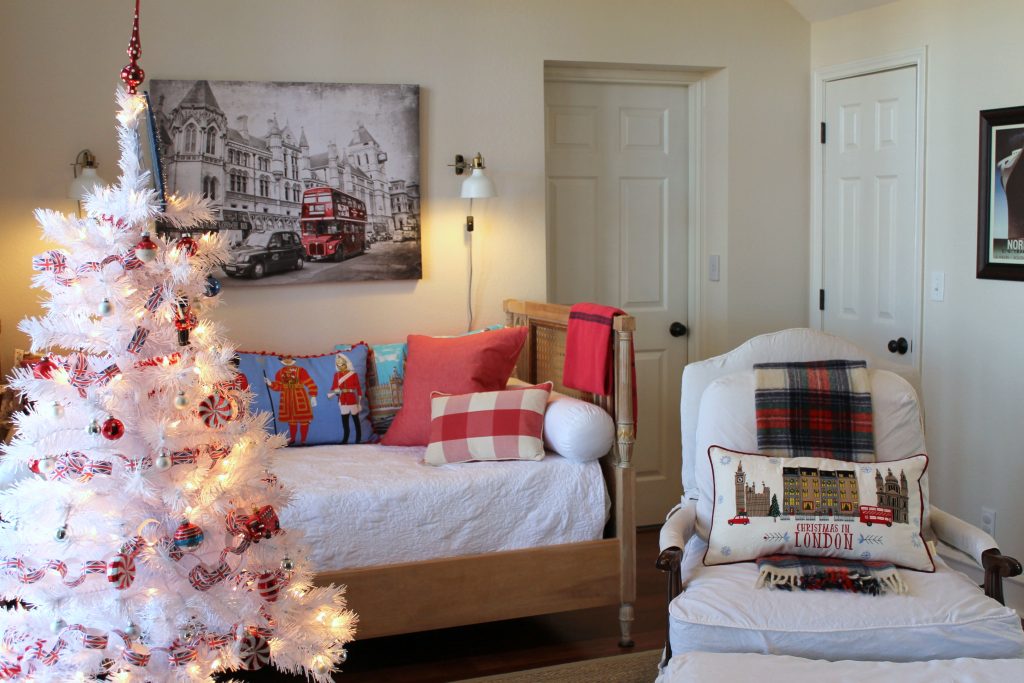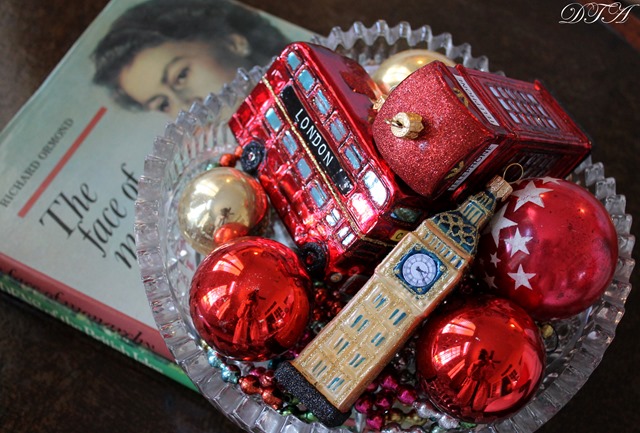 The Christmas in London pillow was found at TJ Maxx.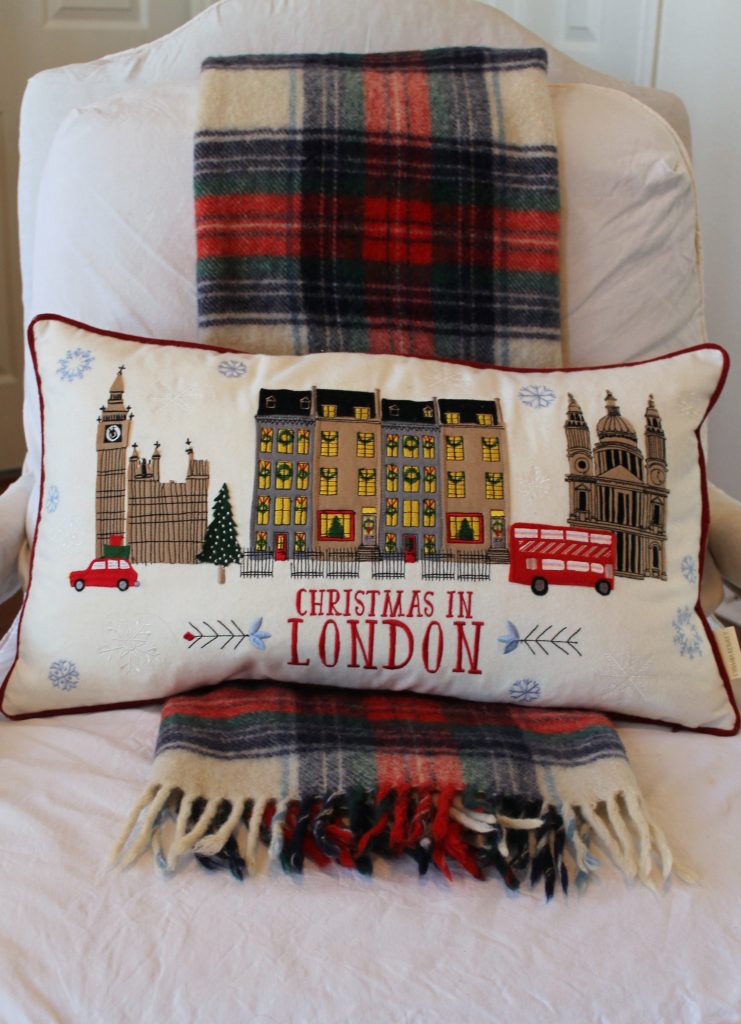 The showstopper is, of course, the tree. It was set upon an antique tea table.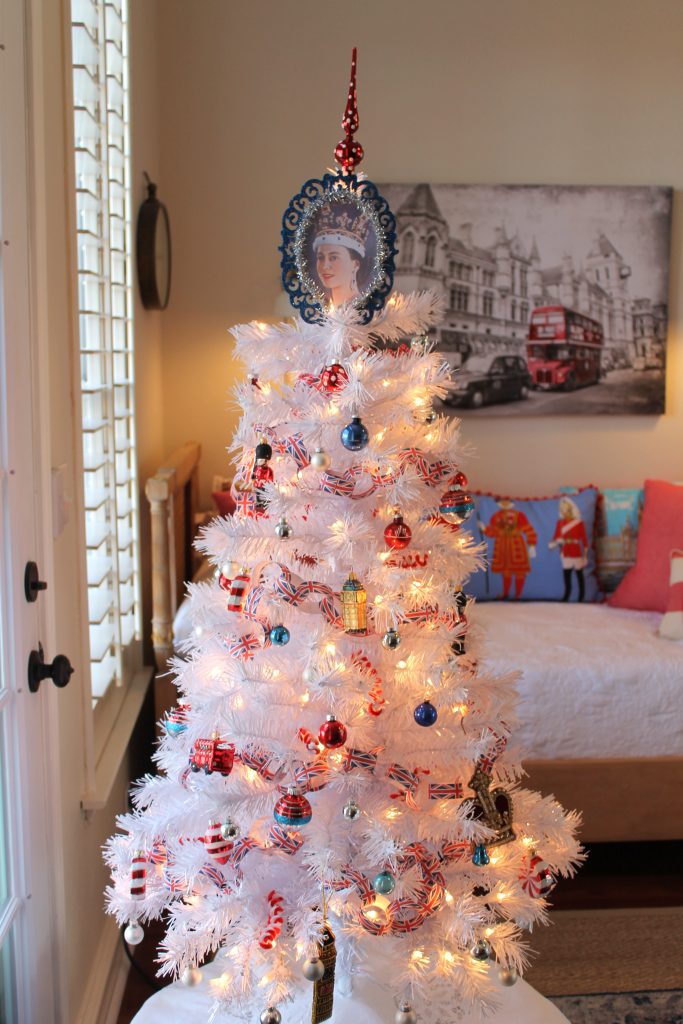 I created the paper chain by printing out small images of the Union Jack, then cutting them out and gluing them together.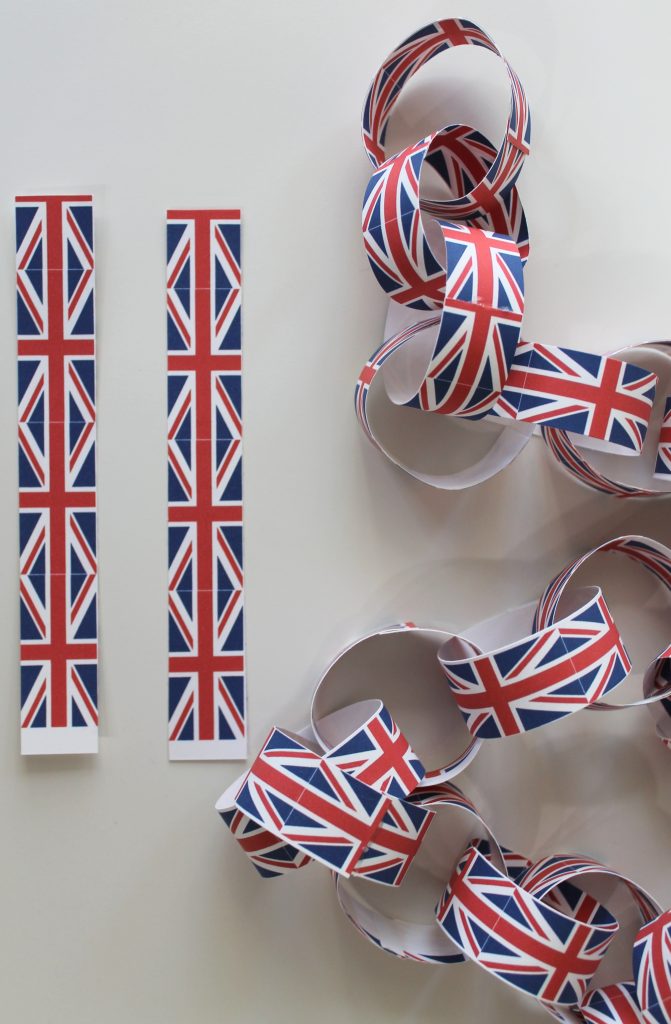 The crown ornament came from the gift shop at Hampton Court Palace, a favorite of King Henry VIII, on our last visit.
There are also Royal Guards…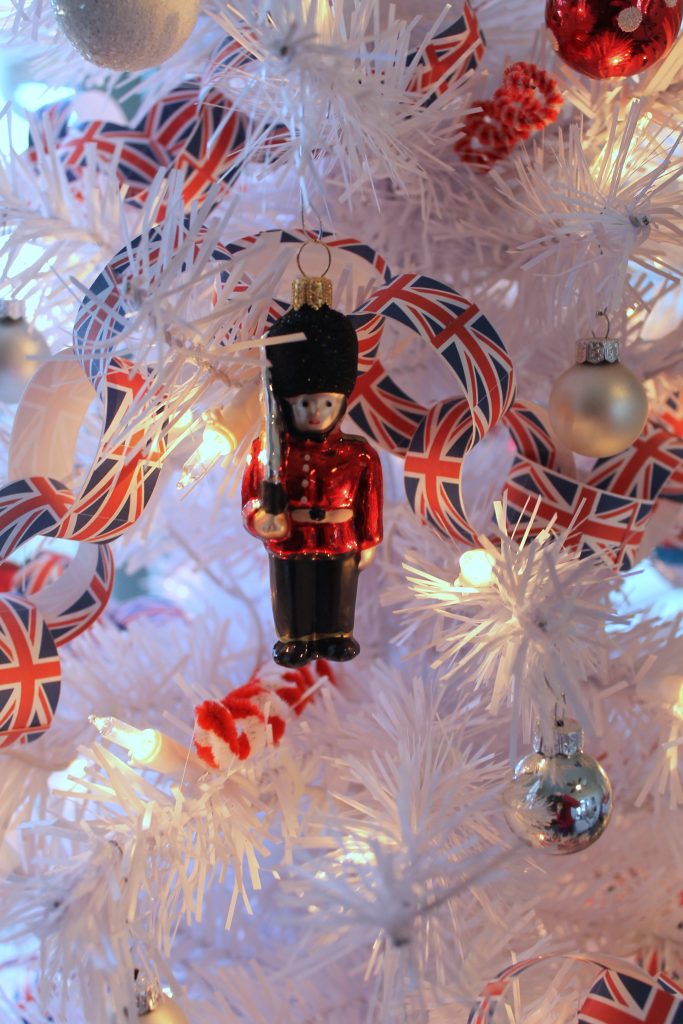 …Big Ben in various forms…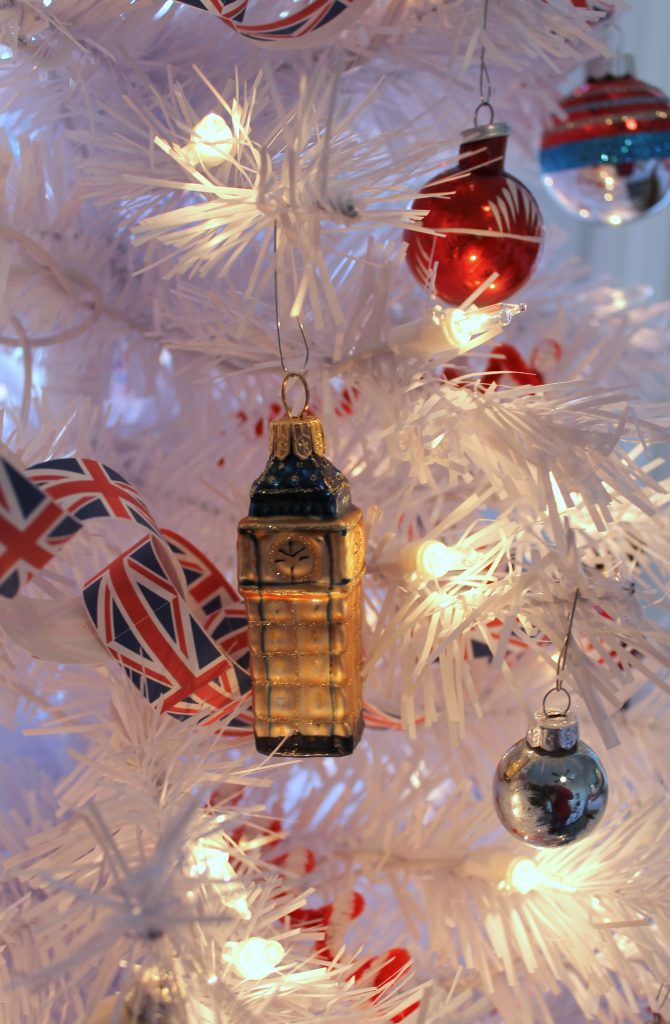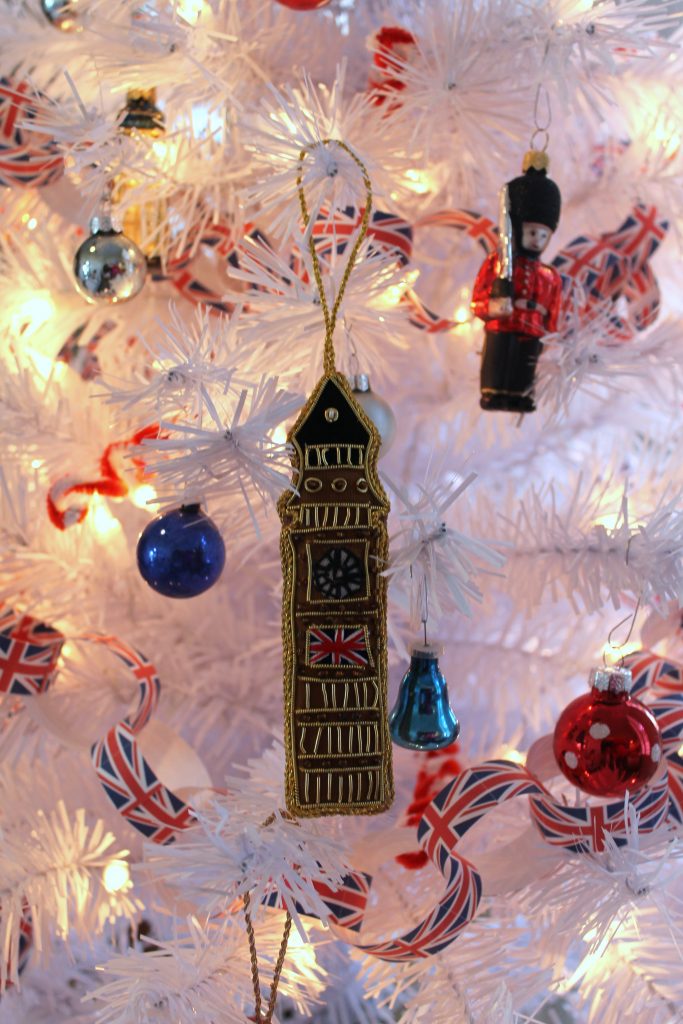 …as well as the iconic red telephone booth and double-decker buses.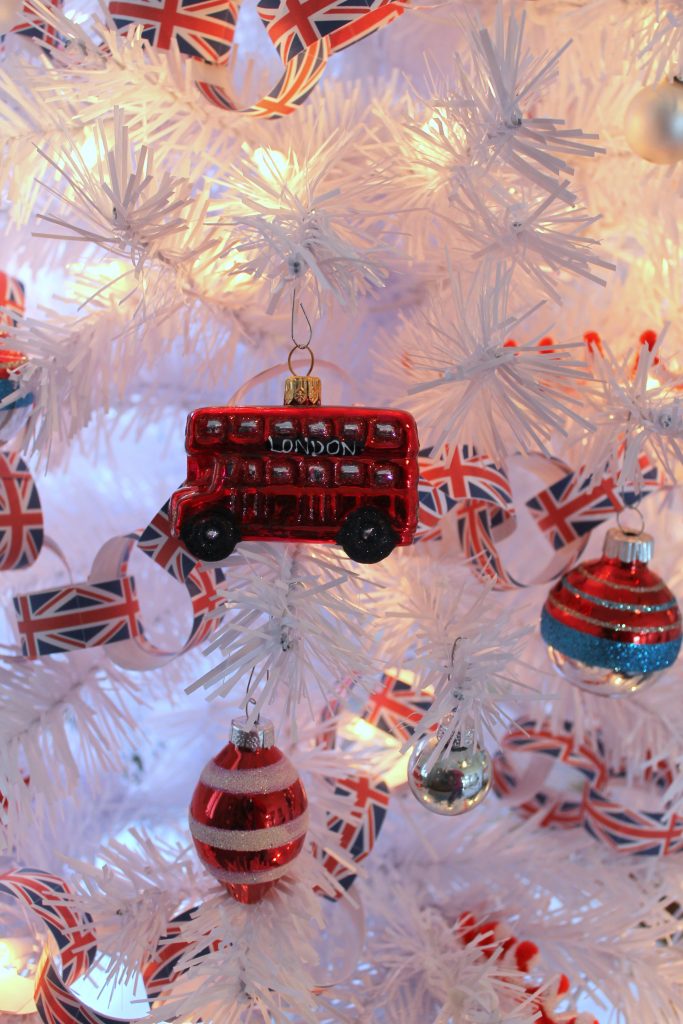 Queen Elizabeth Christmas Tree Topper
The tree topper is truly majestic!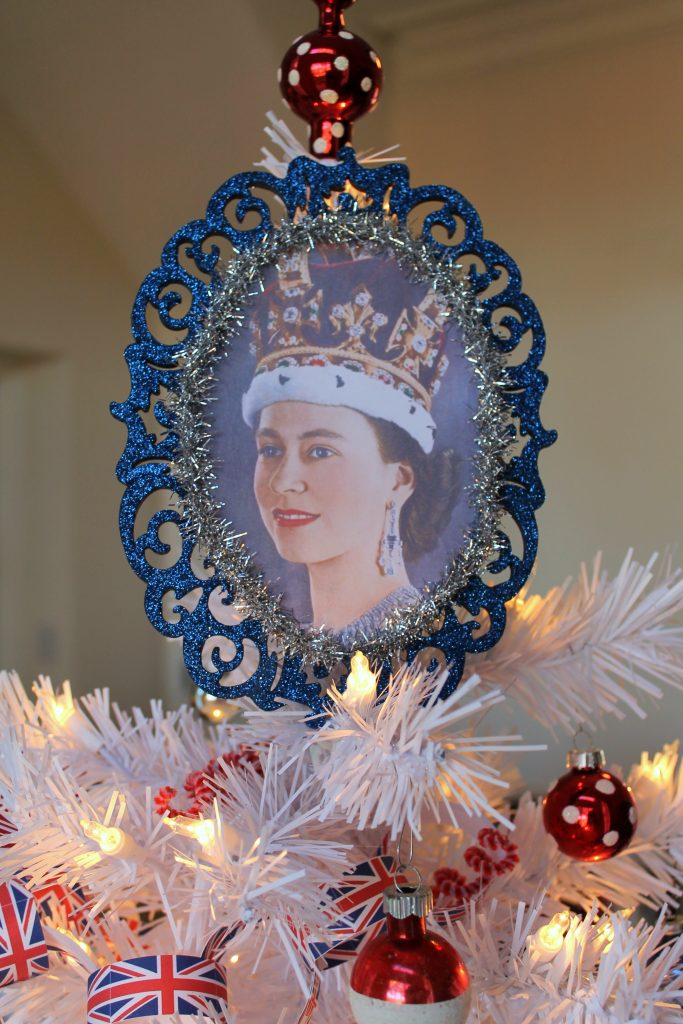 A plain picture frame was purchased at Hobby Lobby and painted blue. Next, a favorite image of the Queen, which can be found HERE, was printed, cut out and glued on. Her Majesty was then accented with a bit of wire tinsel and glitter.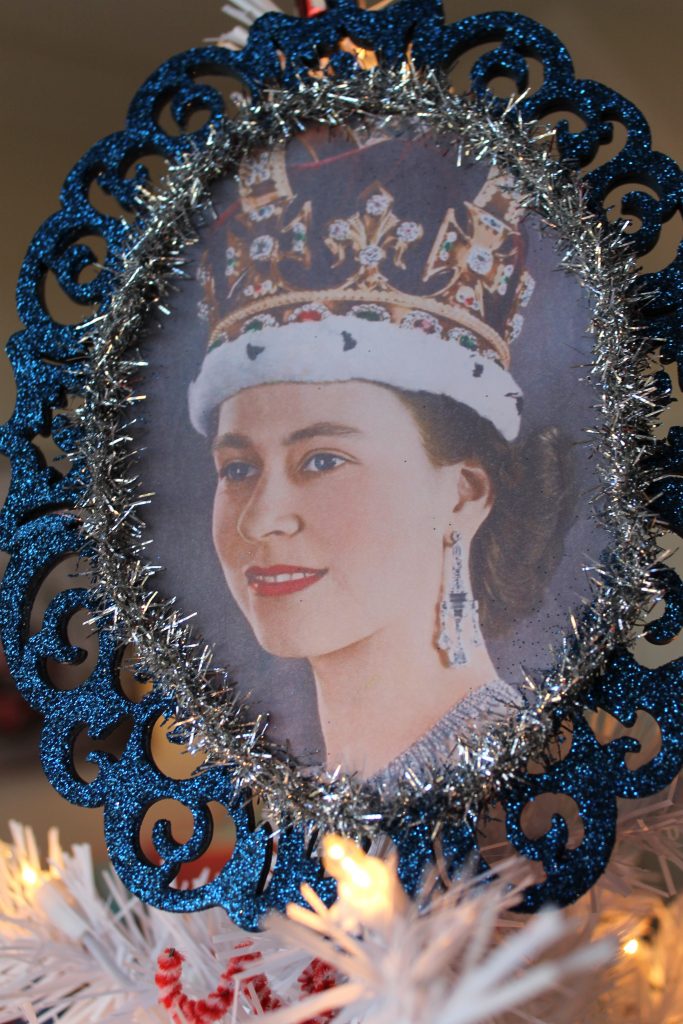 The antique tea table top turns so that the tree can be enjoyed from every angle. Plus one never turns their back on the Queen. (smile)
She now faces the daybed and you can catch a small glimpse of the entertainment center on the opposite wall.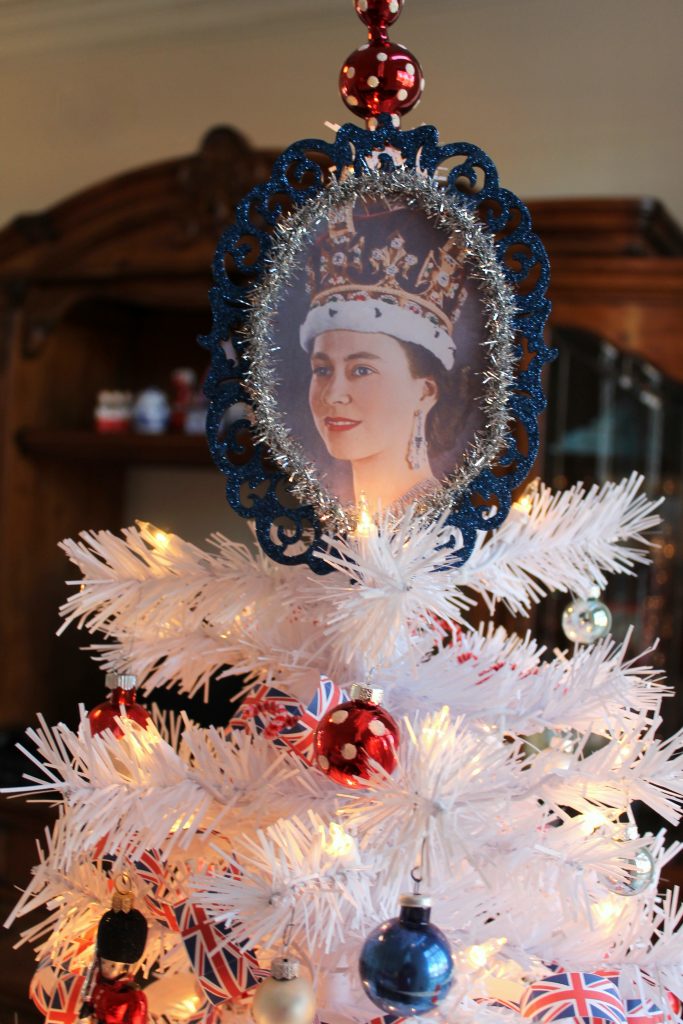 It is filled with vintage figurines in their red and white finery accented with classic blue and white china.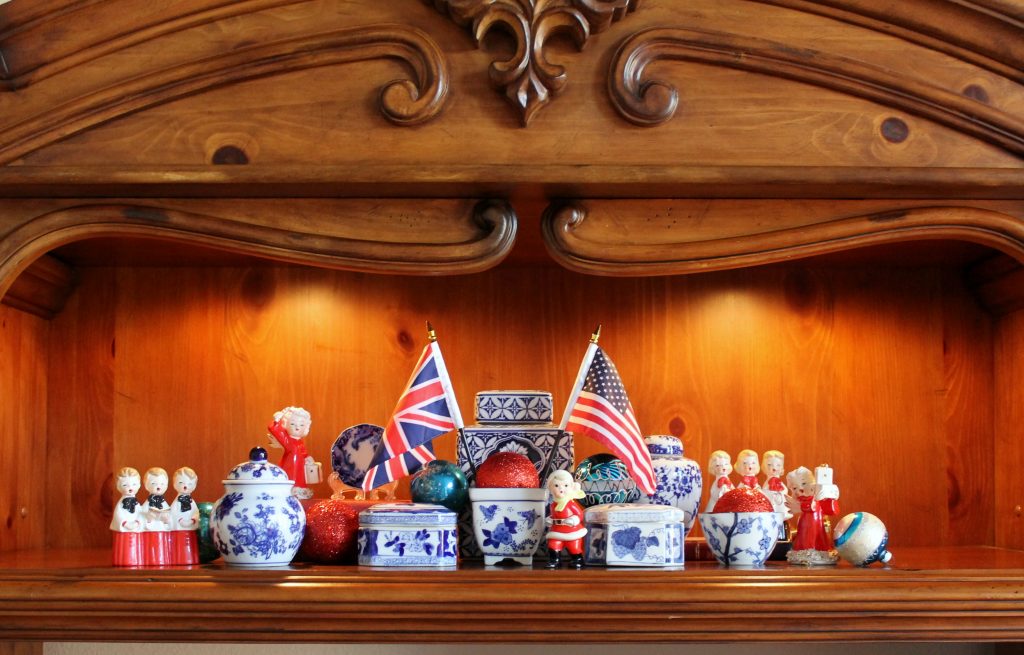 The happy room is frequently admired by doxie Anglophile Gracie.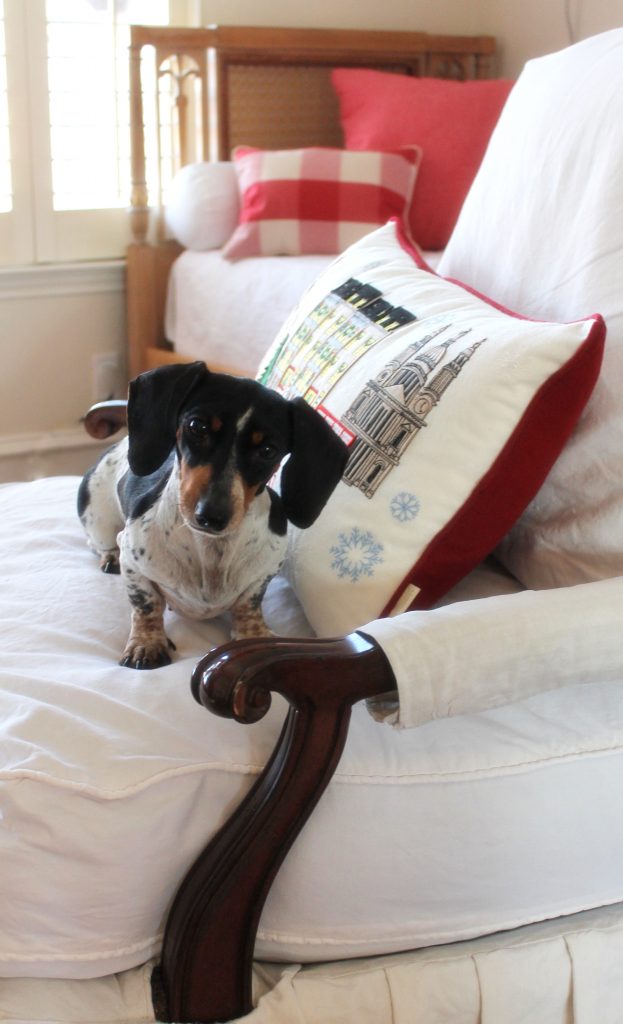 We hope you enjoy it too!
Laura