Hello dear friends, I am so excited you stopped by. Today is the ORC Reveal Grimy Shed To Pop Up Shoppe.
So welcome to Laura + Lou's Pop Up Shoppe at Storybook Cottage. Come on in!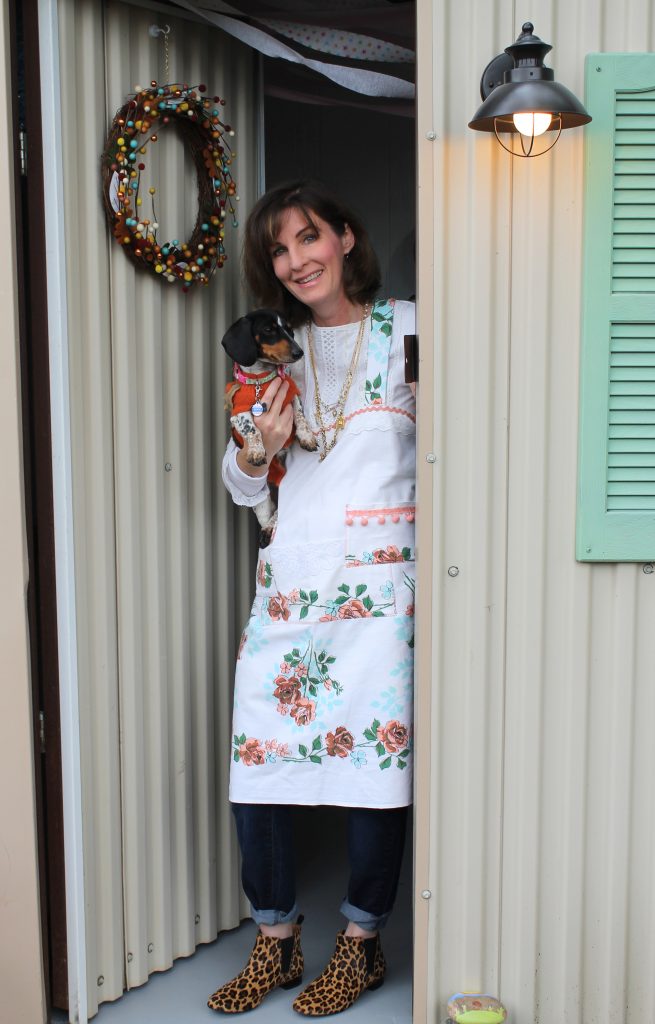 So many of you have been following the sheds progress each week and I am so very grateful for the encouragement your warm words provided.
For those of you sweetly stopping by for the first time here are the links to each weeks' progress. I just love "BEFORE" and "AFTER" pictures, don't you?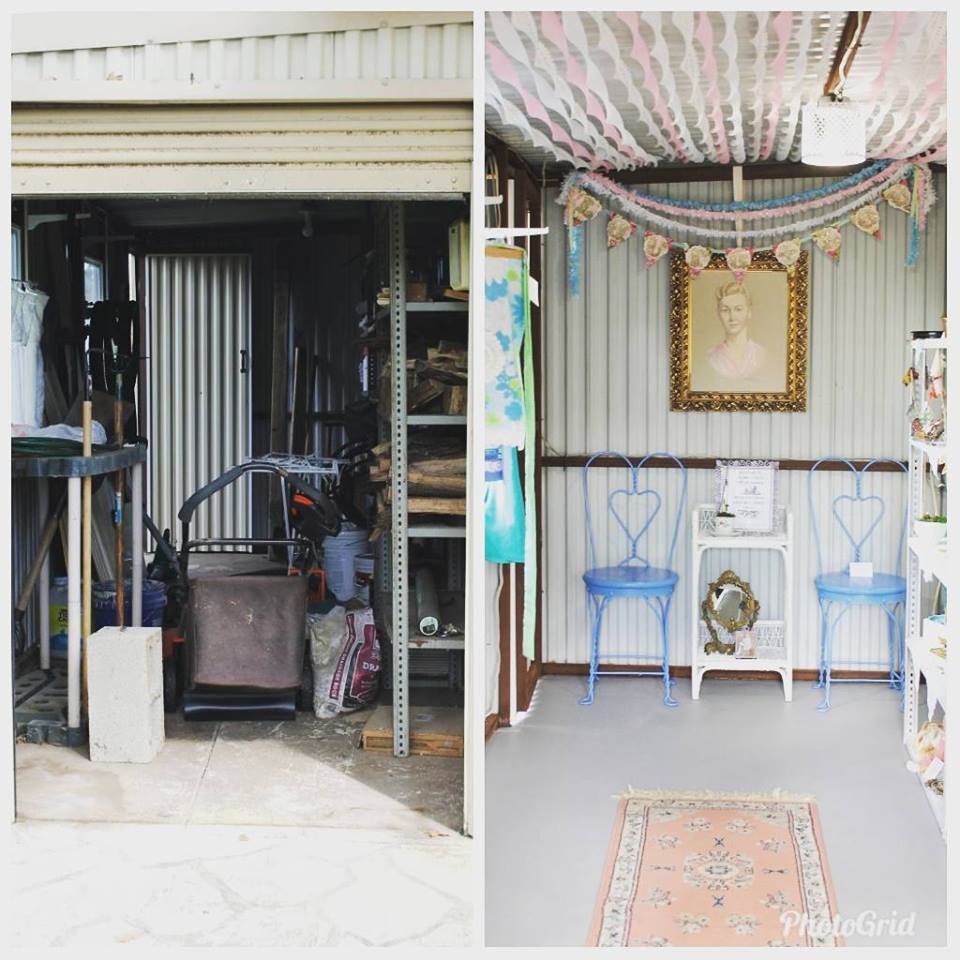 ORC POP UP SHOPPE WEEK SIX TIMELINE
First Week: Introduction to the shed.
Second Week: Removing the contents and deep cleaning the shed.
Third Week: Painting the shed walls, ceiling, and shelves.
Fourth Week: Painting the floor and installing lighting.
Fifth Week: Outdoor landscaping
Sixth Week: Sneak peek at the Pop Up Shop vignettes
Exterior
The Before.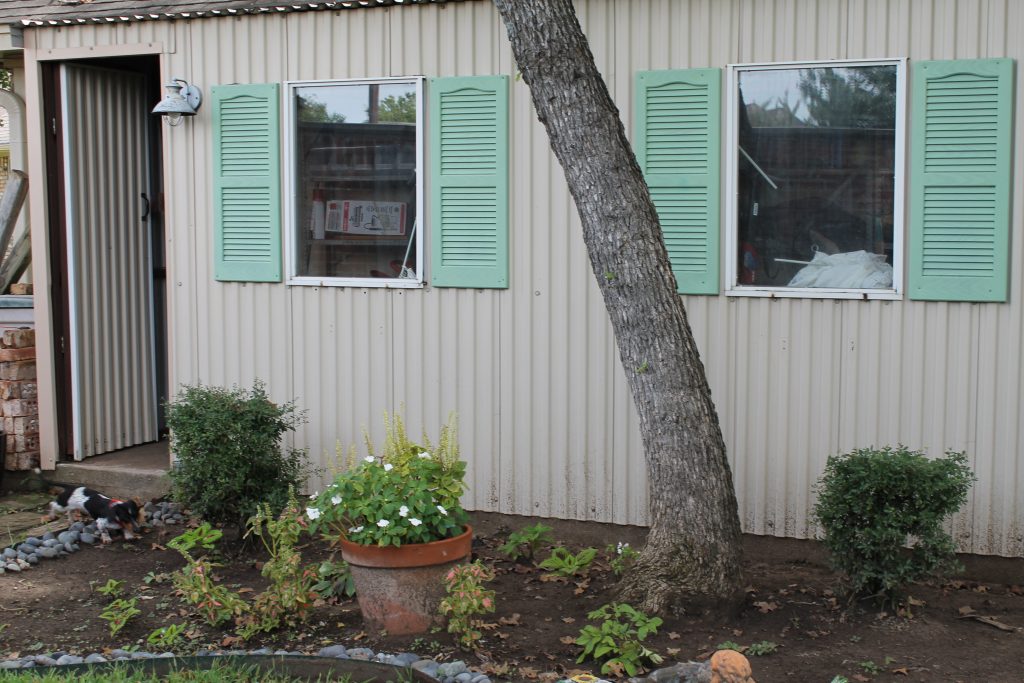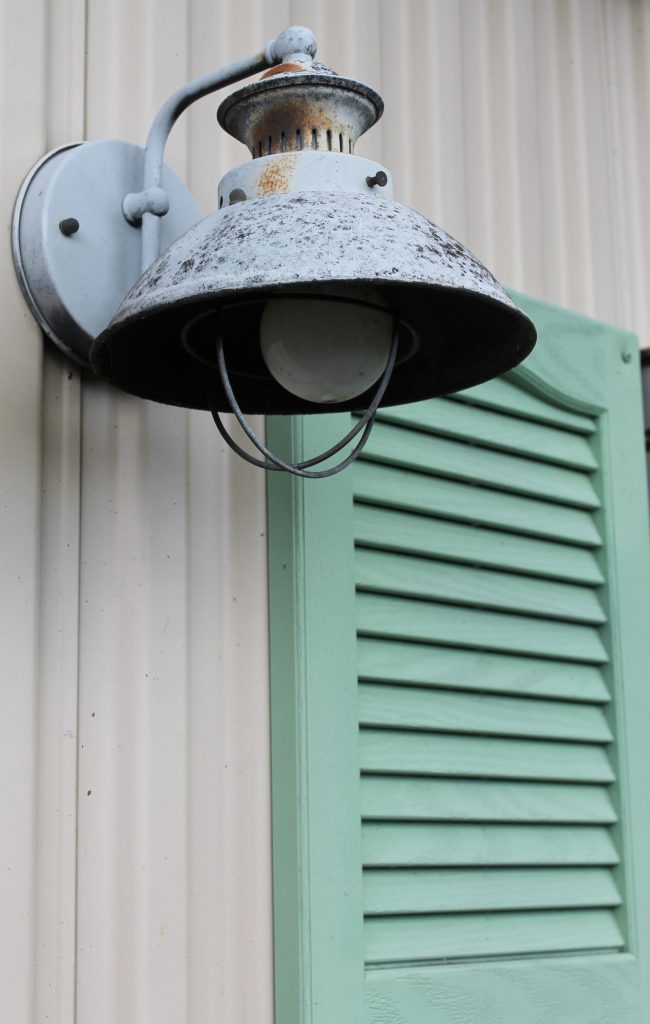 The After.
We scrubbed, painted and landscaped.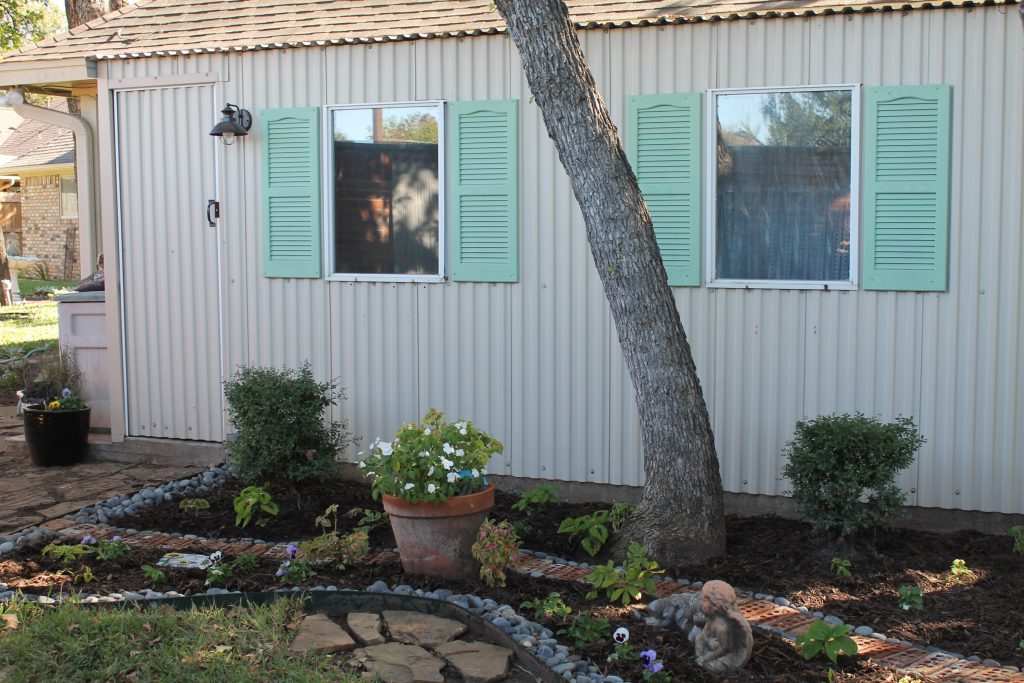 Interior
The biggest changes occurred inside.
The before.
It took a full two weeks just to empty the shed out and scrub away 30 years of grime.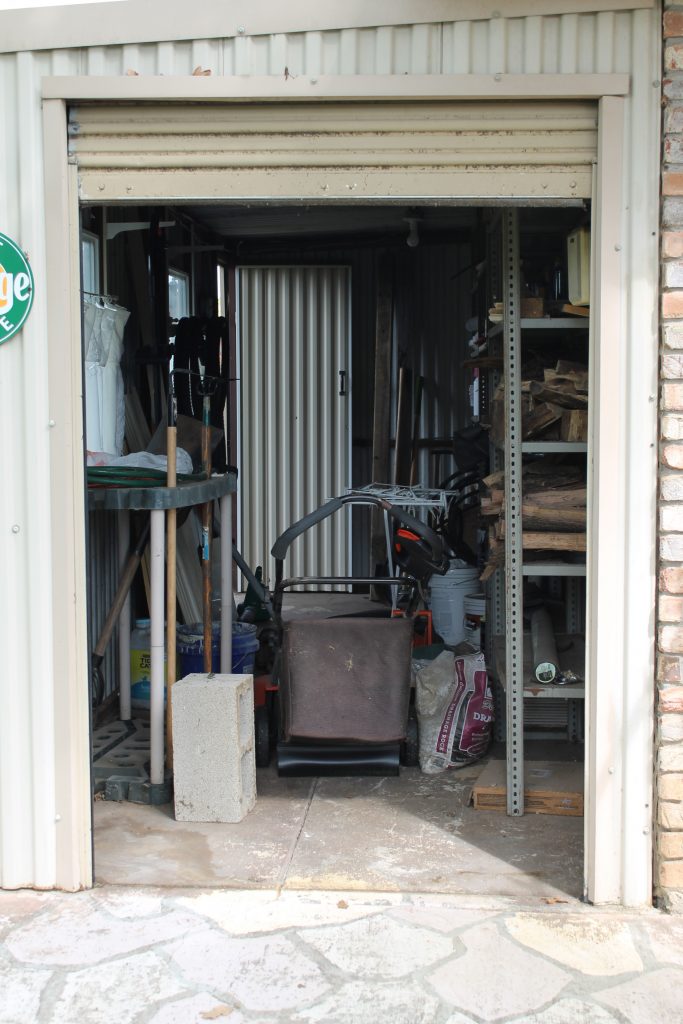 Que the 2 Unlimited song "Get Ready For This".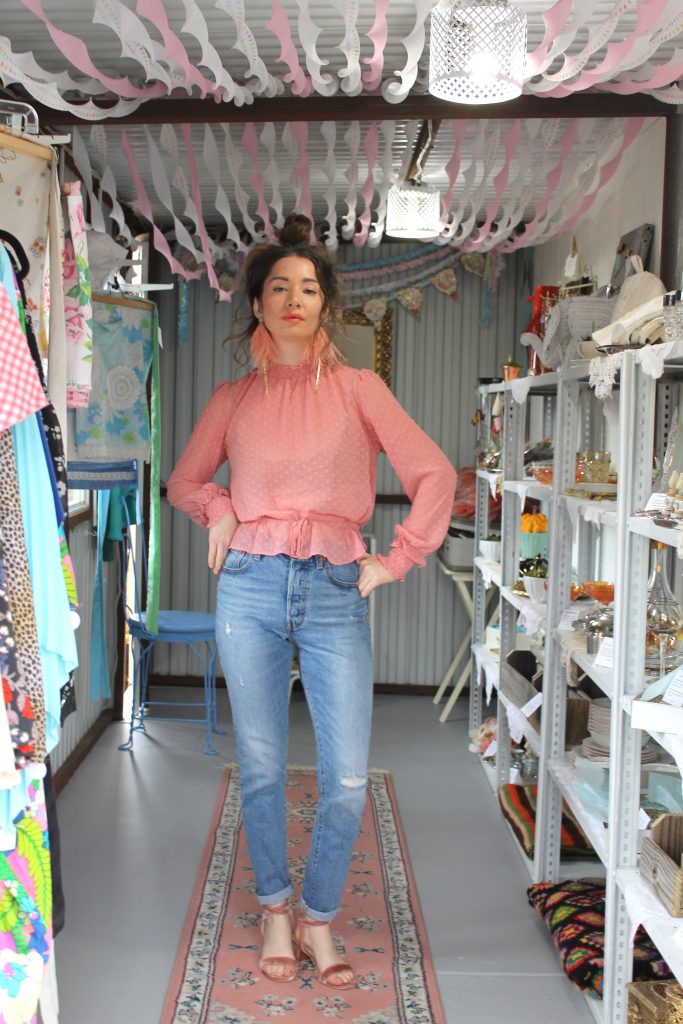 The sheds walls, ceiling, and floor were painted.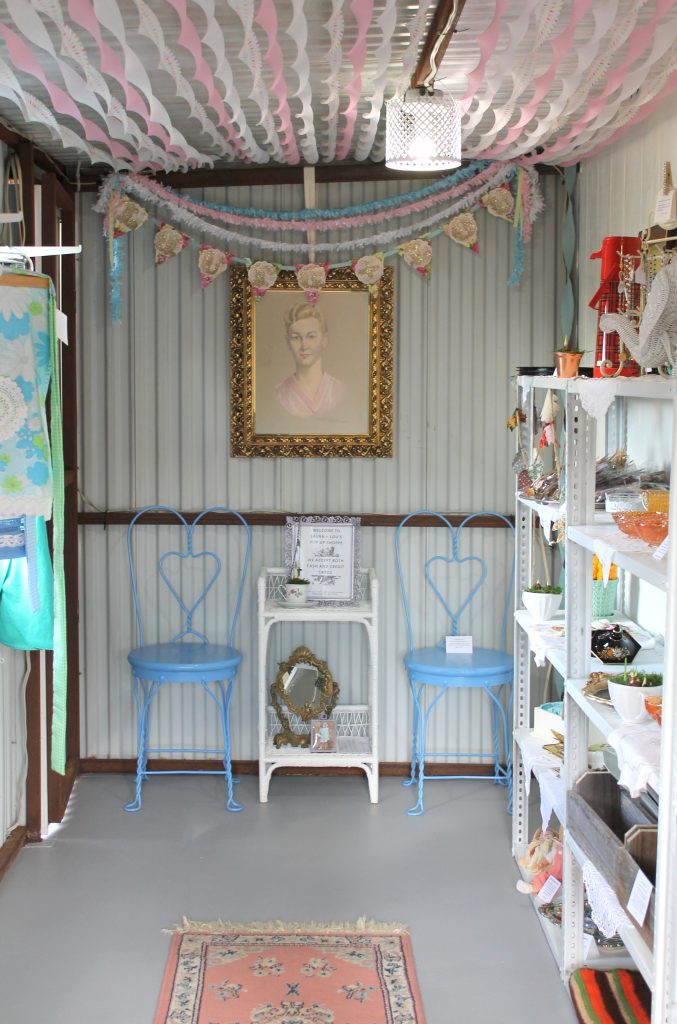 Like many people, my daughter Lou dreams of having her own shoppe filled with vintage and handcrafted treasures. This wee space gave her a way to experience what owning and running a store entails but on a smaller and financially safer scale.
Our hope is that this post will inspire others to find a way to live their dreams.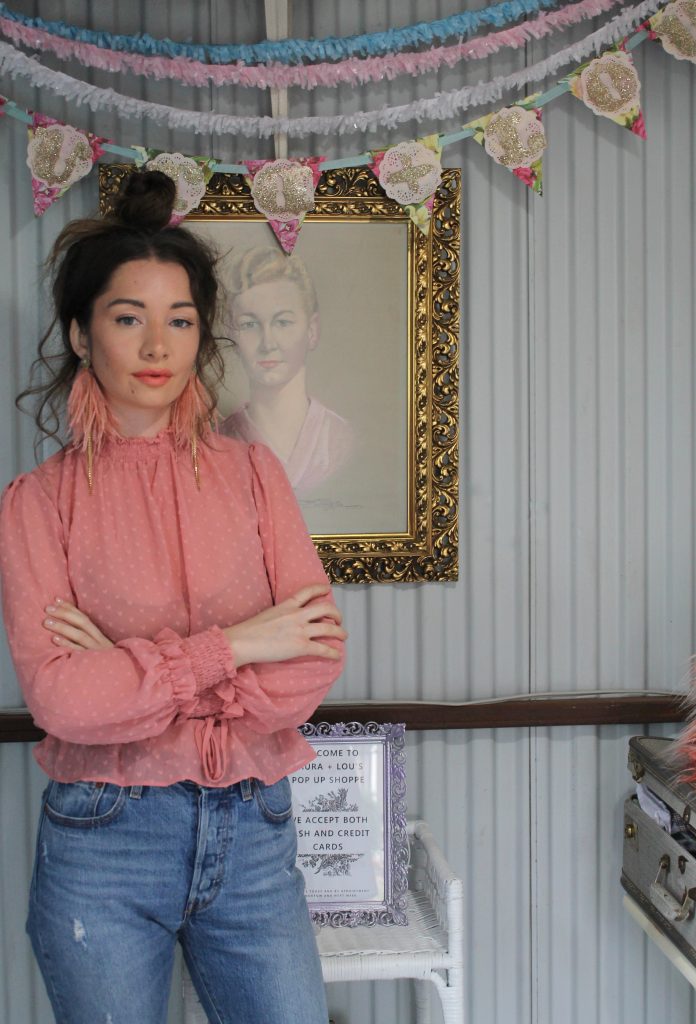 Wanda is our patron saint of well, patrons. She was rescued from a curbside leftover pile at a garage sale.  The vintage metal garden chairs were a dumpster dive find. They now look fabulous after their makeover. A fresh coat of paint also worked wonders on the wicker side table.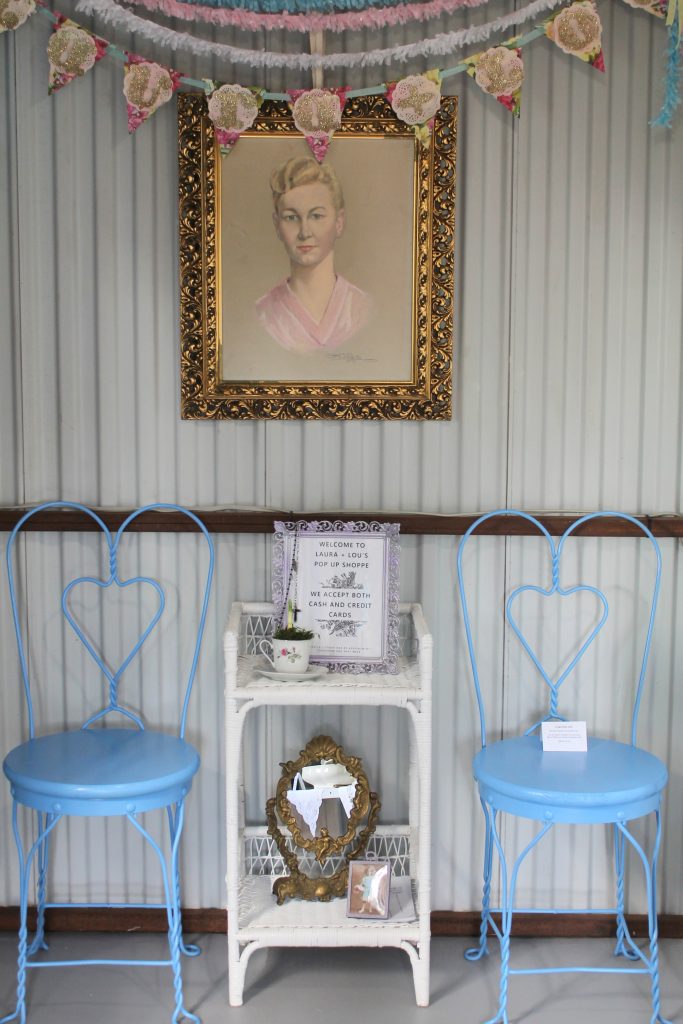 Before the generic overhead lighting did not work and the shelves were ginormous!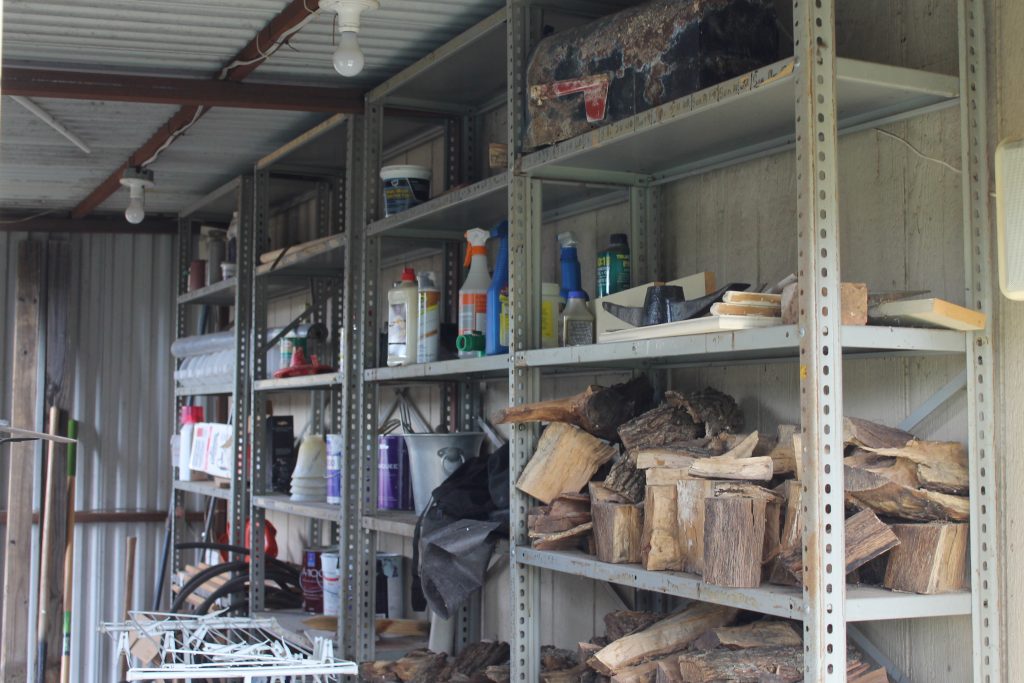 The shelves were cut down, sanded and painted.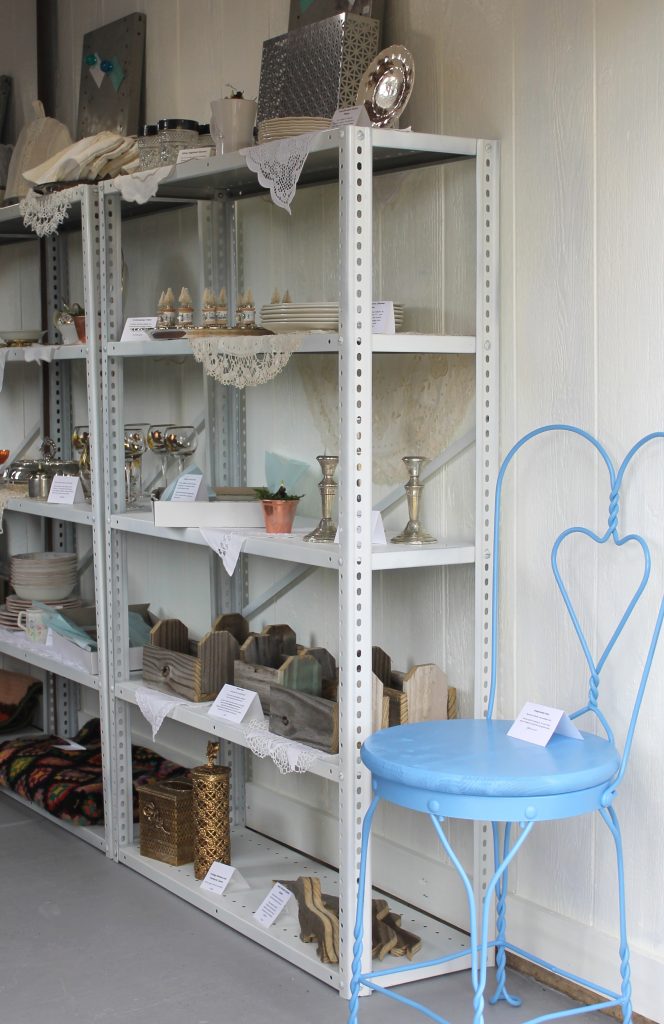 The shelves were then stocked with vintage and handcrafted treasures.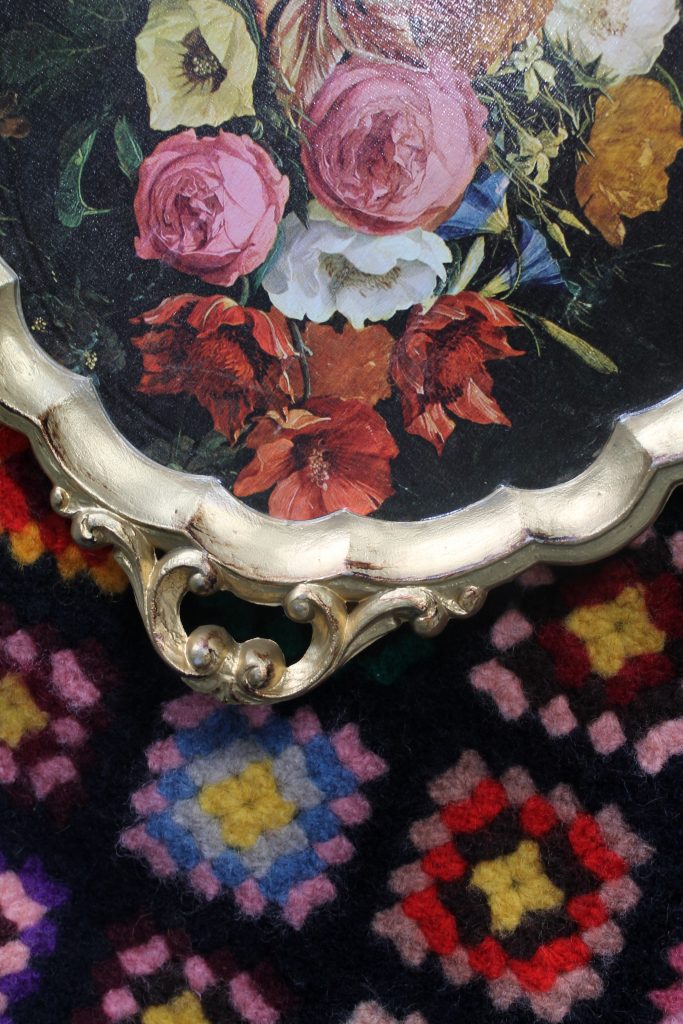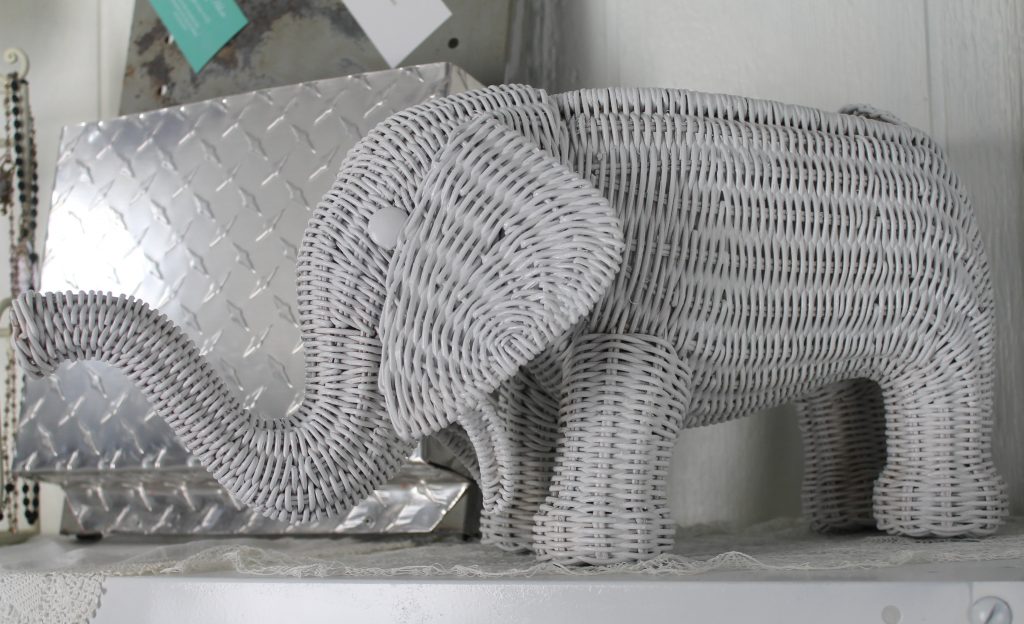 The old shelves not used were full of wonderful patina and did not end up in the landfill. They were cleaned up and transformed into fun industrial command centers. A few are shown here on the top shelf.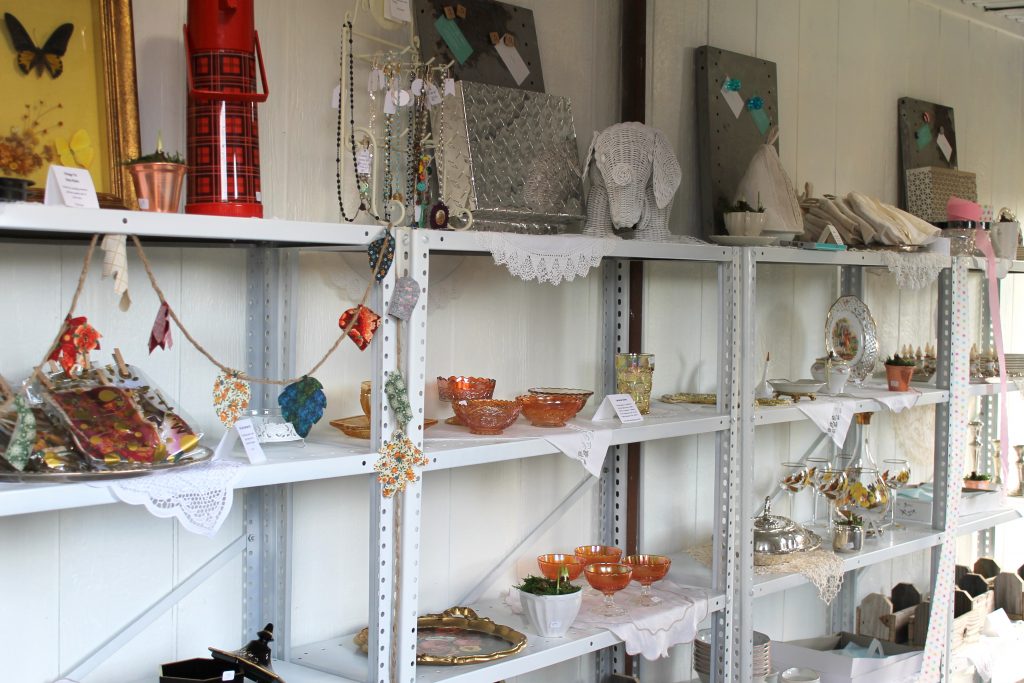 Here is a close up of one of the centers. Mr. Decor did a fabulous job!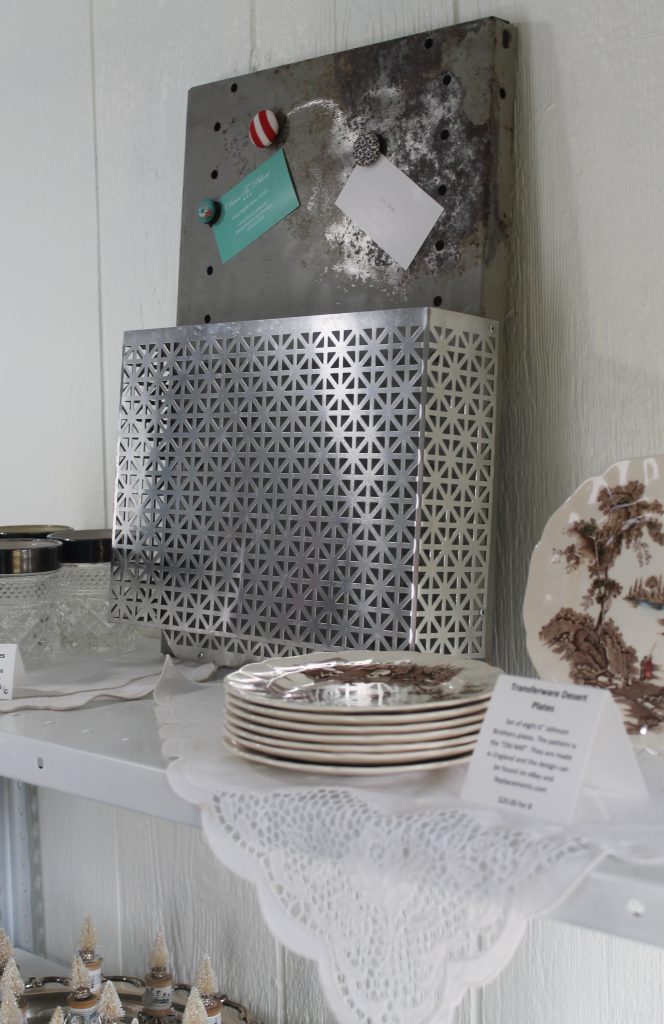 The overhead lighting was repaired and transformed with M-D aluminum sheets in a cloverleaf pattern. The metal was riveted together and spray painted.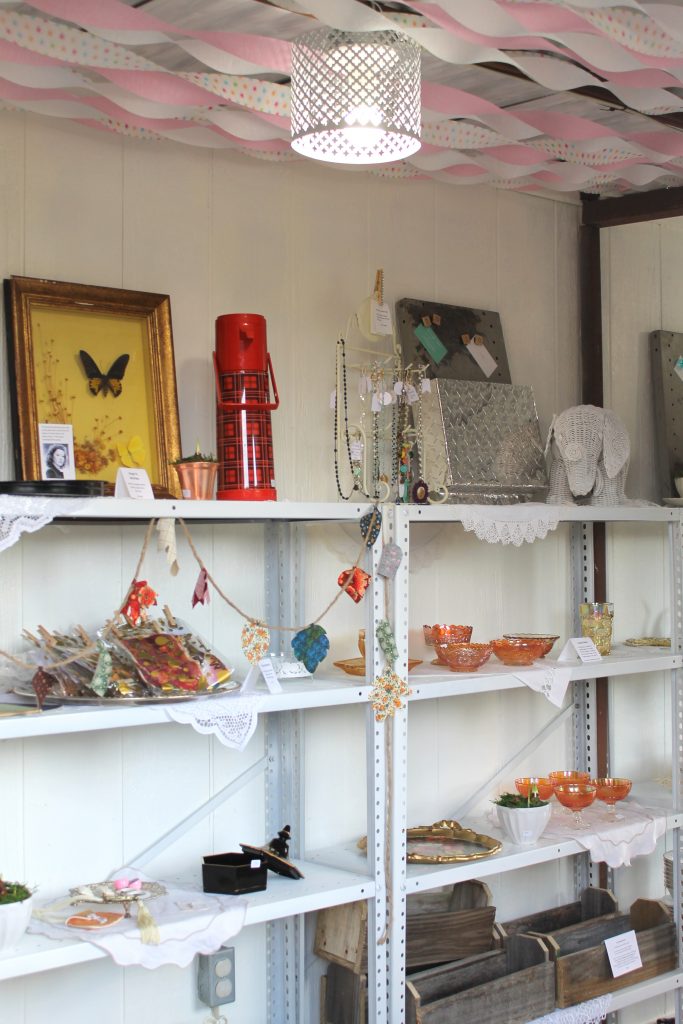 The other wall featured vintage clothing and linens.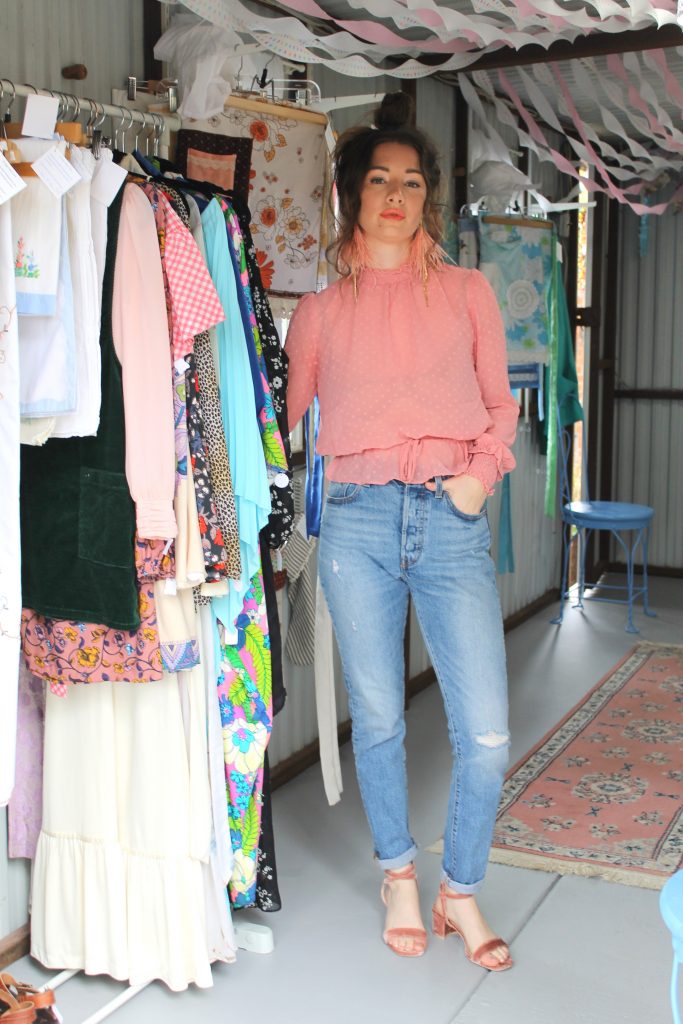 The one-day event was a lovely success. The first hour was very busy as was the late afternoon. In between was a lovely gathering of guests.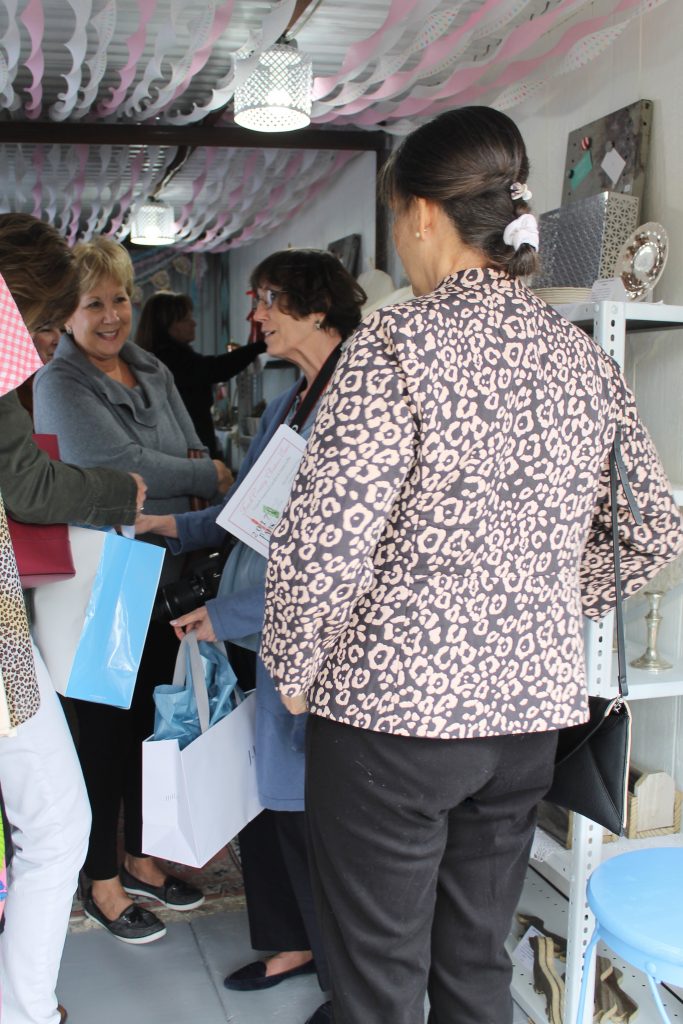 Total Cost of the Makeover
M-D Hobby and Craft graciously donated the aluminum sheets.
We are so thankful to HomeRight for providing their Super Finish Max paint sprayer.
The walls, ceiling, and shelves were painted with paint found during the shed cleanout.
Glidden Floor and Porch Paint $23.97
Plants and ground covering $42.00
2 cans of spray paint for exterior and interior lighting $7.32
Grand Total: $73.29
What The Future Holds
The pop-up shoppe is now over and the shed will now undergo yet another transformation and become a home gym/work out room.
Many sweet surprises are still to come in Lou's future.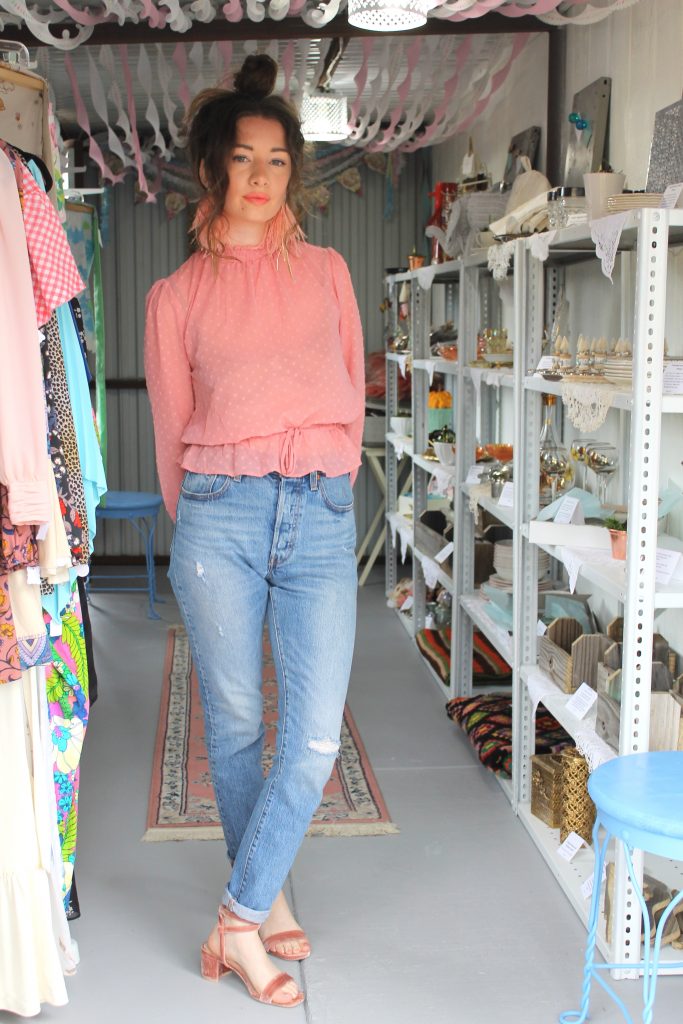 A huge "Thank you!" to our gracious One Room Challenge hostess, Linda, of Calling It Home for organizing this wonderful event! Please visit her site to see all of the amazing room transformations.
Have a well designed day!
Laura