Welcome to the ORC Pop Up Shoppe Week Five!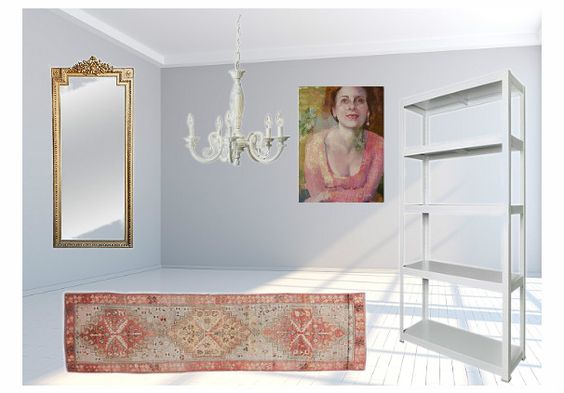 ORC Pop Up Shoppe Week Five
I mentioned last week that our gracious hostess, Linda of Calling It Home, has extended the challenge of this edition of the One Room Challenge by another week. This is due to the several natural disasters that have recently occurred. It has caused delayed shipping of products for several of the participants. The new reveal date is Thursday, November 16th. 
However, Decor To Adore is still on track as we are hosting a real life reveal and celebration of the Pop Up Shoppe with a Harvest Tea on November 11th. Everyone is invited to attend. 
I am thrilled to say that the grueling work is now behind us!
THE TRANSFORMATION TIMELINE
First Week: Introduction to the shed.
Second Week: Removing the contents and deep cleaning the shed.
Third Week: Painting the shed walls, ceiling, and shelves.
Fourth Week: Painting the floor and installing lighting.
Fifth Week: Outdoor landscaping
Sixth Week: Sneak peek at the Pop Up Shop vignettes
Seventh Week: Sharing the Grand Reveal of the Pop Up Shoppe and Party Pictures
This past week we FINALLY finished all of the interior painting.
Let's take a look back to see how far we have come…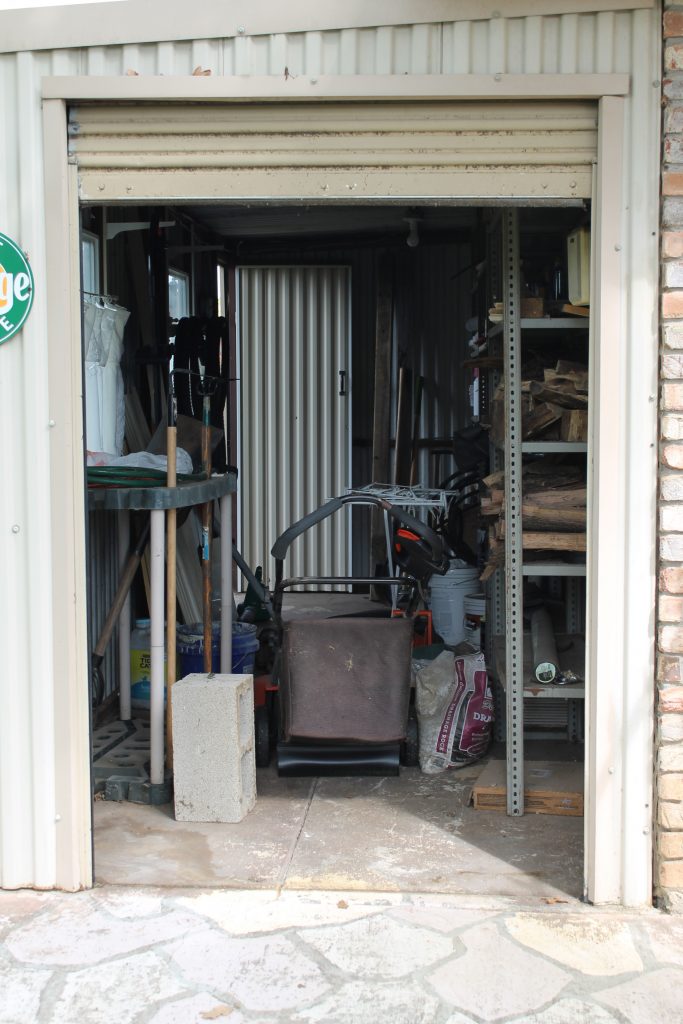 We have emptied out, deep cleaned and painted the shed.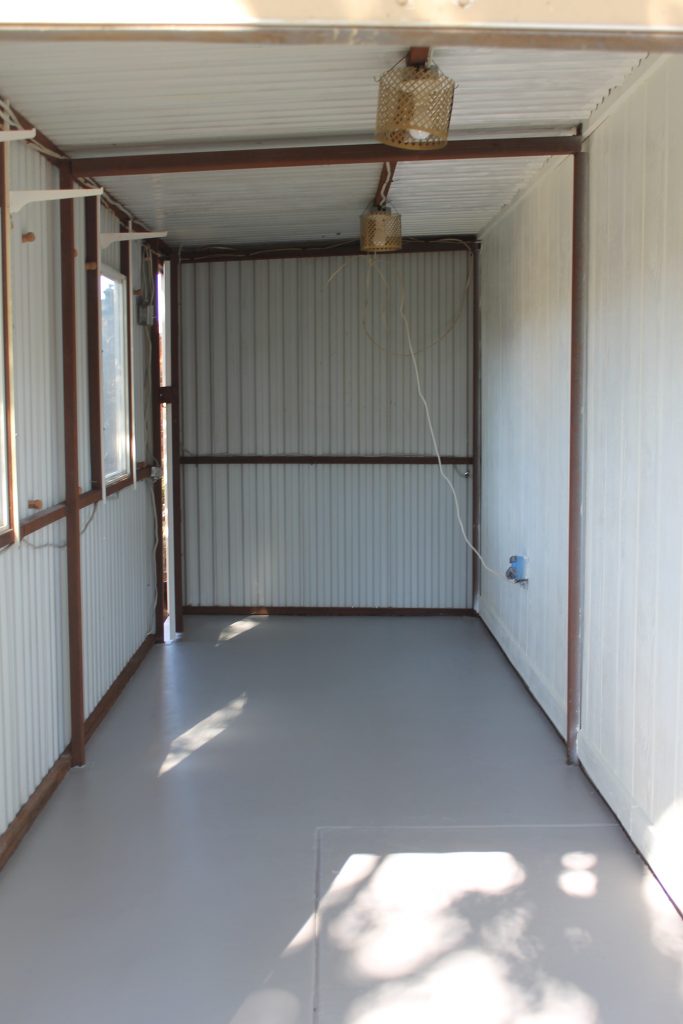 The Walls
We spent the weekend painting. I did the time-consuming cut in painting of all the edges and around the metal beams. We opted to not paint the metal beams as the rusty finish is really cool looking in person.
Mr. Decor then used the HomeRight Super Finish Max paint sprayer and made quick work of the rest of the painting.
The paint was actually leftover paint we had found when cleaning out the shed. Time had thickened the paint quite a bit. Since it needed to be mixed with water to work in the sprayer it worked perfectly and was FREE!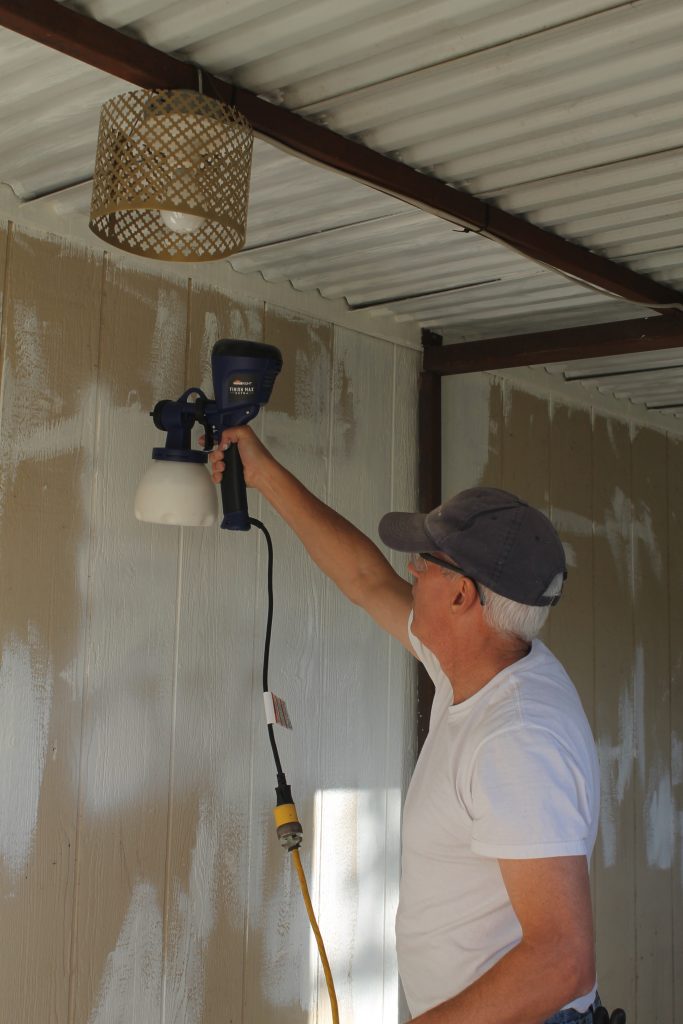 Flooring
The floor of the shed is a cement slab.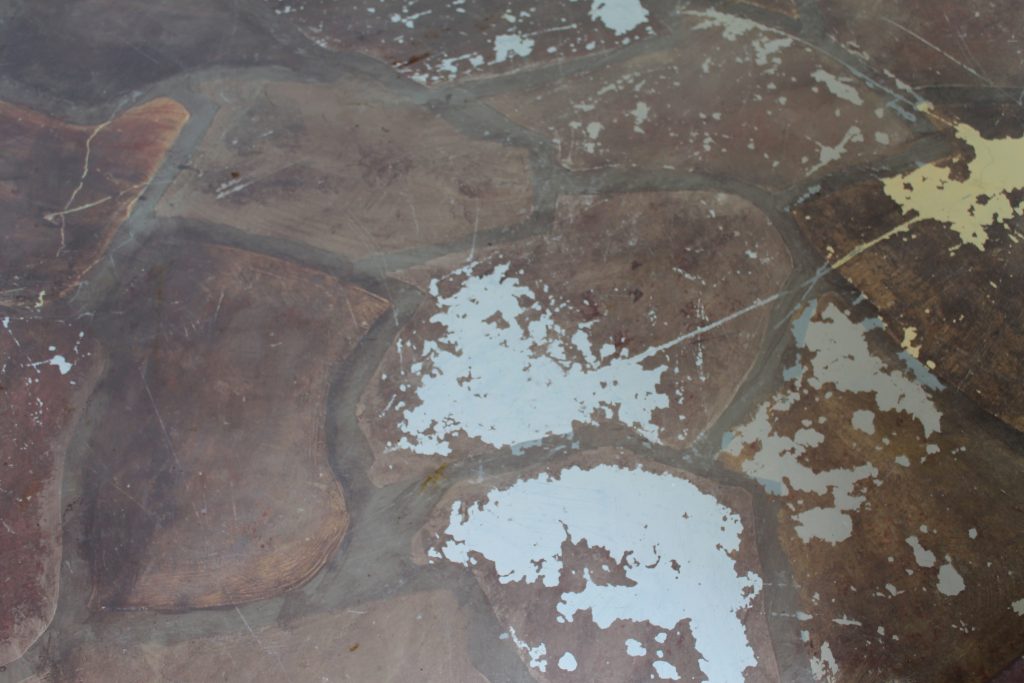 At some point, the floor had been painted with a faux rock design. But paint had chipped off in several areas and it desperately needed refreshing.
It took several hours and several buckets of Simple Green, warm water, a scrub brush and my very sore knees to prep it for painting.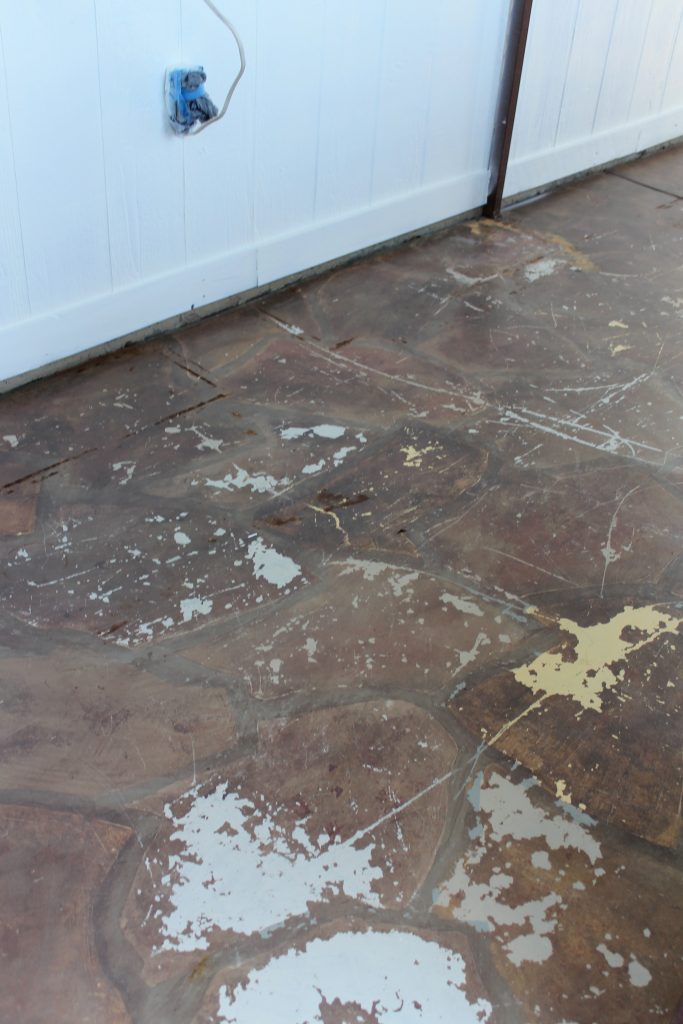 We used Glidden Porch and Floor paint in Light Gray to transform the floor.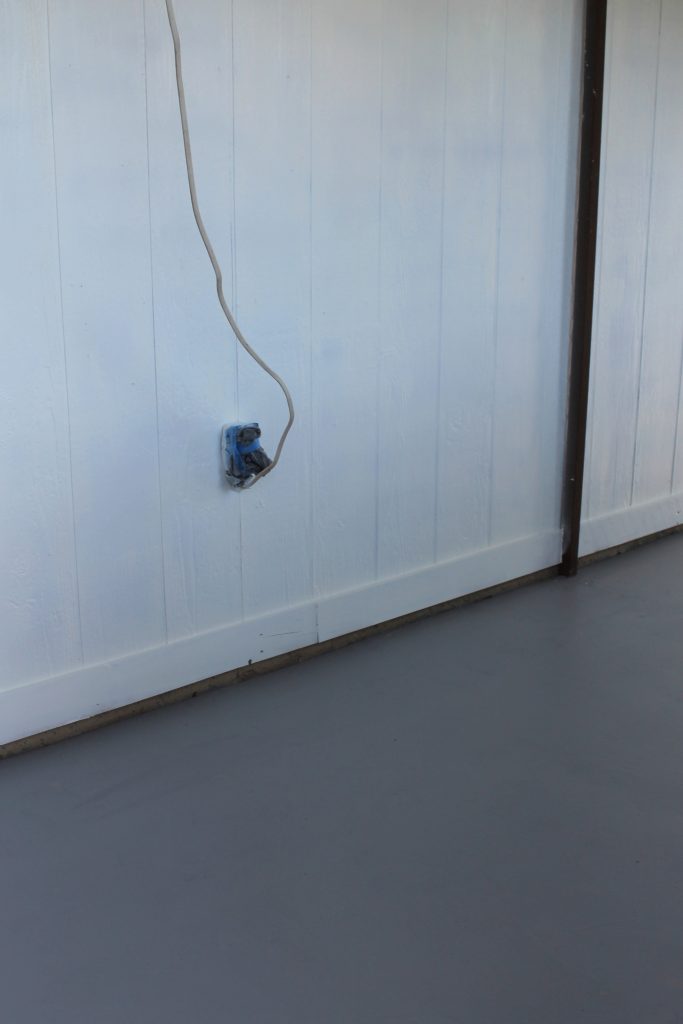 Lighting
There are two very basic, very industrial forms of overhead lighting in the space.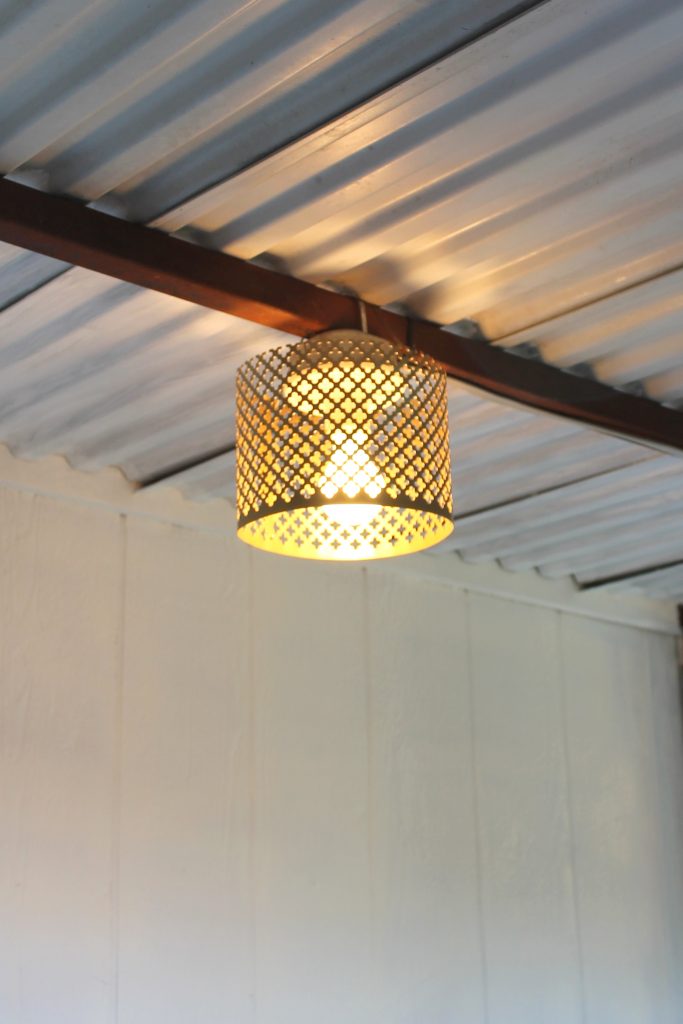 M-D Building Products had graciously sent me some decorative metal sheets and metal cutting tools. Mr. Decor used the Cloverleaf aluminum sheet and two metal rivets to create two industrial "lampshades".
I painted the shades with Rust-Oleum Painters Touch Ultra Cover in Semi-Gloss white.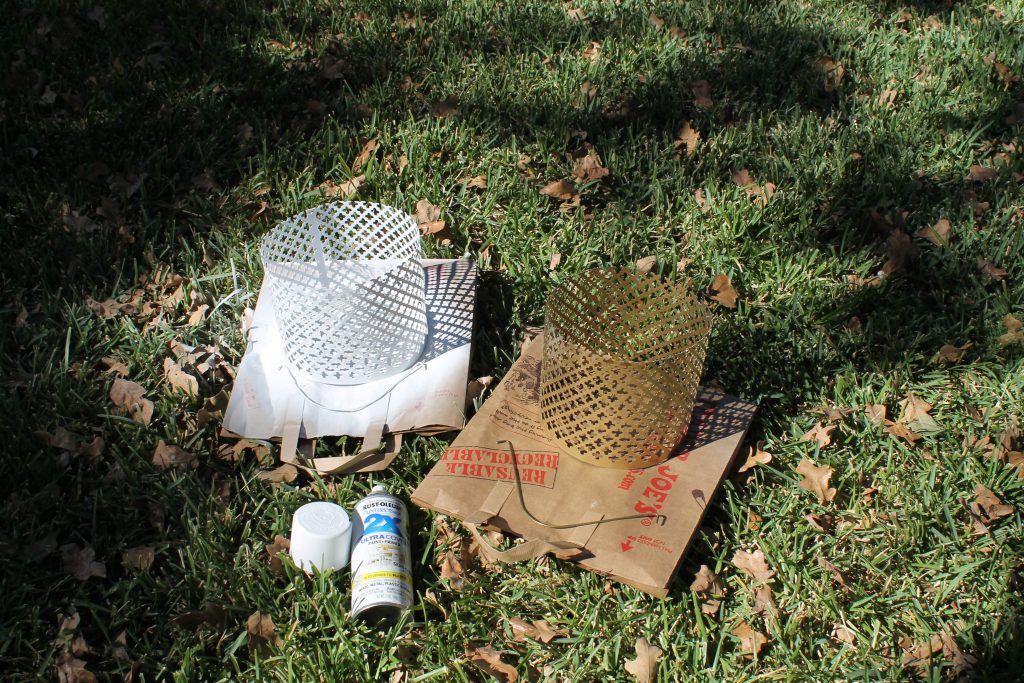 Now I have just one week to bring in the shelves and add in all the merchandise. It is a combination of vintage treasures and handcrafted goods. Next week I'll be sharing sneak peeks.
Laura