Every year I create a new Christmas theme. This year I decided to try and Create A Dickens Christmas. For the past year, I have been researching the Christmas customs and traditions of the Dickens Christmas Era.

Create A Dickens Christmas
Charles Dickens published his first novel, The Posthumous Papers of the Pickwick Club (also known as The Pickwick Papers) in 1837.  Many consider this the first year of the Dickens Era which lasted until his death in 1870. His novella "A Christmas Carol" was published in 1843.
The Christmas Tree
Dickens A Christmas Tree, published in 1850, was so descriptive of many of the holiday traditions of the day that many consider Dickens as the man who invented Christmas as we know it today.
Indeed there is a movie that was released on Thanksgiving Day, The Man Who Invented Christmas, that touches on this very topic.
I have not seen it yet, but it is at the top of my watch list.
Here is how Dickens described the Christmas tree in this excerpt of A Christmas Tree.
"I have been looking at a merry company of children assembled round that pretty German toy, a Christmas Tree. The tree was planted in the middle of a great round table, and towered high above their heads. It was brilliantly lighted by a multitude of little tapers; and everywhere sparkled and glittered with bright objects. There were rosy-cheeked dolls, hiding behind the green leaves; and…sugar-plums; there were trinkets for the elder girls, far brighter than any grown-up gold and jewels…there were teetotums, humming tops, needle-cases, pen-wipers…real fruit, made artificially dazzling with gold leaf; imitation apples, pears, and walnuts, crammed with surprises; in short, as a pretty child, before me, delightedly whisped to another pretty child, her bosom friend, "There was everything and more."

Antique Images

For the Victorians the tree became the shining star in their holiday decorating. I adore how this family created a small Nativity village and surrounded it with fencing.
The trees were often simply decorated and a few gifts were displayed at the base of the tree.
The gift wrap we know today did not begin until the beginning of the 20th century. Packages were wrapped in fabric or simple brown craft paper. (Brown paper packages tied up with strings. 🙂
Sneak Peeks
Here is a sneak peek of the base of my tree this year. It features simple gift wrapping and a few of the antique toys that once belonged to my Grandma Jingles. They include an early teddy bear, two French bisque dolls and a jolly drummer bear who amazingly still plays.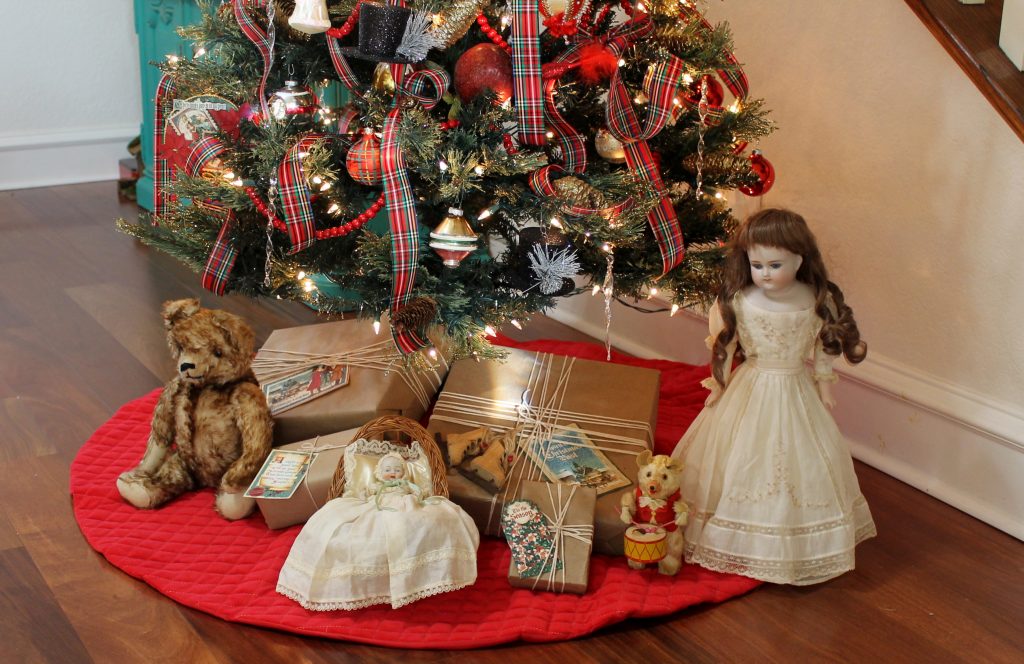 Artificial Christmas Trees
While many people did use live trees for their decorating there were also artificial trees. They are known as feather trees. This is because each "needle" on the branch was a single goose feather or quill.
The trees were made in original white and also dyed green.

The artistry to create these antique trees is simply amazing. They can still be found in antique shops and on eBay. There are also modern day reproductions.

Ornaments
There were certainly ornaments on both styles of trees. The wealthy could afford to embellish their trees with ornaments carved from wood or made of fabric, and paper. The trees were often lit by candles attached with metal clips.
Formed and blown glass ornaments were common. Most were made in Germany.
Many of the designs were quite elaborate and delicate.
Spun cotton was also a favorite material used.
Ribbons and beaded glass garland could also be draped on the branches.
Natural Decorations
For the less well to do, they often used natural decorations. This included pinecones and cranberries which were strung into garlands. Gingerbread men and strings of popcorn were also used. A good wood carver could also create a few lovely trinkets.
Citrus slices were baked in the oven and then threaded with string or ribbon.
Garlands were often strung with cinnamon sticks and bay leaves. While very pretty, the decorations also served an important purpose. Along with the evergreens, they added a bit of color to an often dreary winter. In addition, people did not bathe quite as often as we do today. Closed up cabins could get a bit…stifling. The citrus, bay leaves, and evergreens helped to scent the stagnant and dare I say it, smelly air.
Here is a sneak peek of my Dickens inspired tree. It features a faux wood cranberry garland, miniature Scrooge hats, and tartan ribbon bows.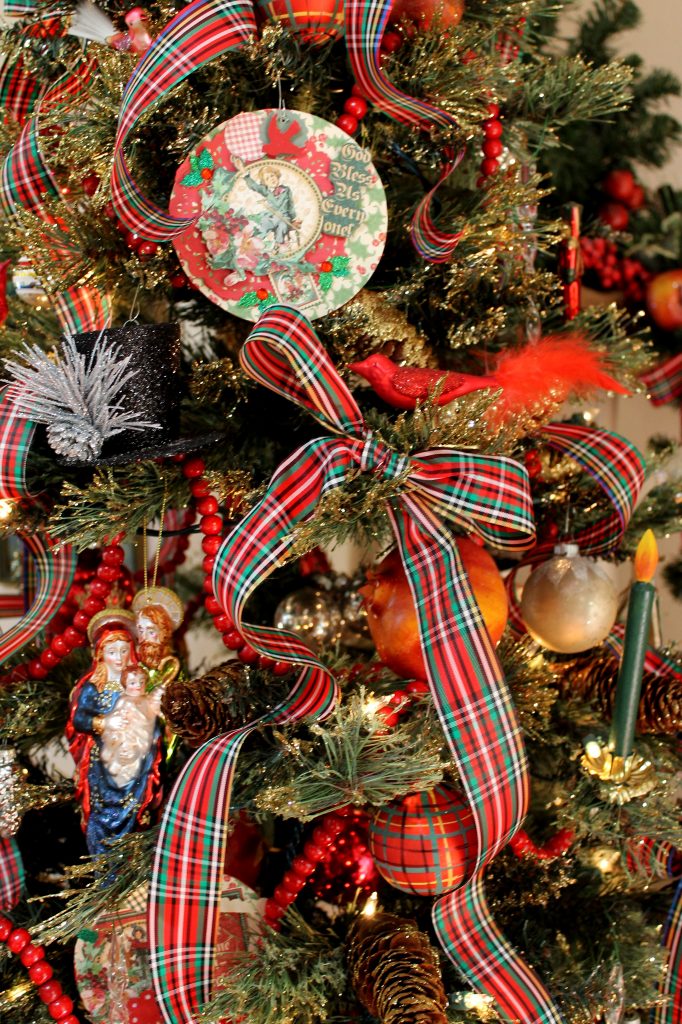 Tartan
Queen Victoria and her beloved Prince Albert were enchanted by the Scottish highlands and created a tartan craze of the various plaids some of which date back to medieval times. They built a castle there, Balmoral, in 1853. While decorating the interiors of the castle, Prince Albert designed several different tartan patterns. Tartan was used lavishly as you can see in this 1857 illustration.
On the tree there are also hand blown ornaments from Germany, natural pinecones and hand carved/painted "candles" attached with metal clips. (For safety reasons I did not want real candles.) You can also find battery operated flameless candles.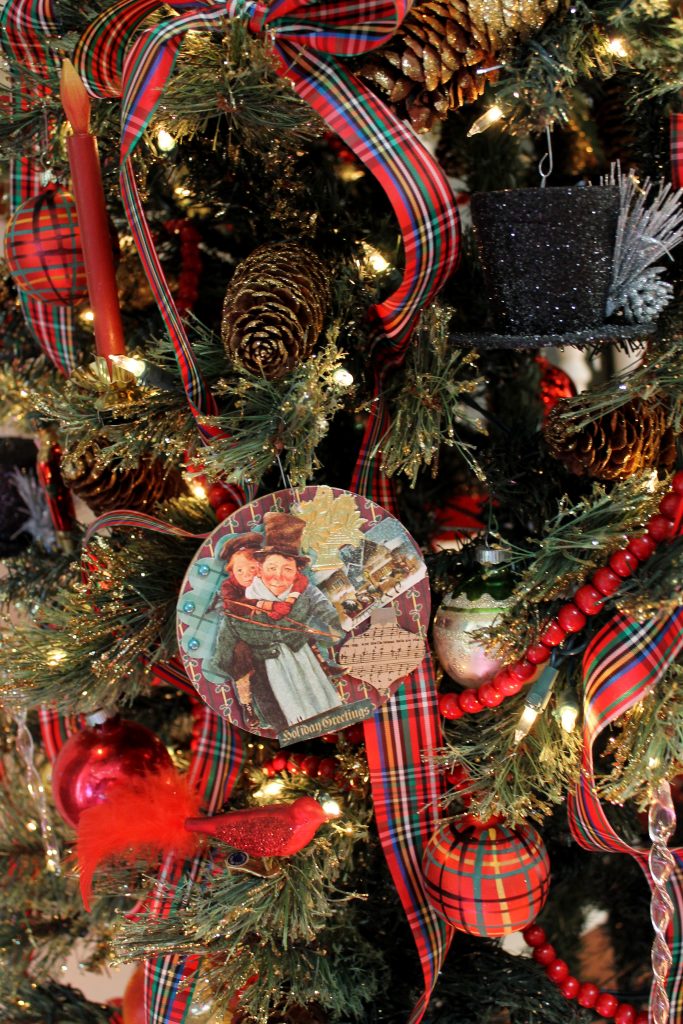 I also made a series of 12 Dickens inspired ornaments. The base was a thin wooden disc that was painted. The Graphic 45 "A Christmas Carol" scrapbooking paper was found at an estate sale. The paper collection was released in 2015 but you can still find it on Etsy and Amazon.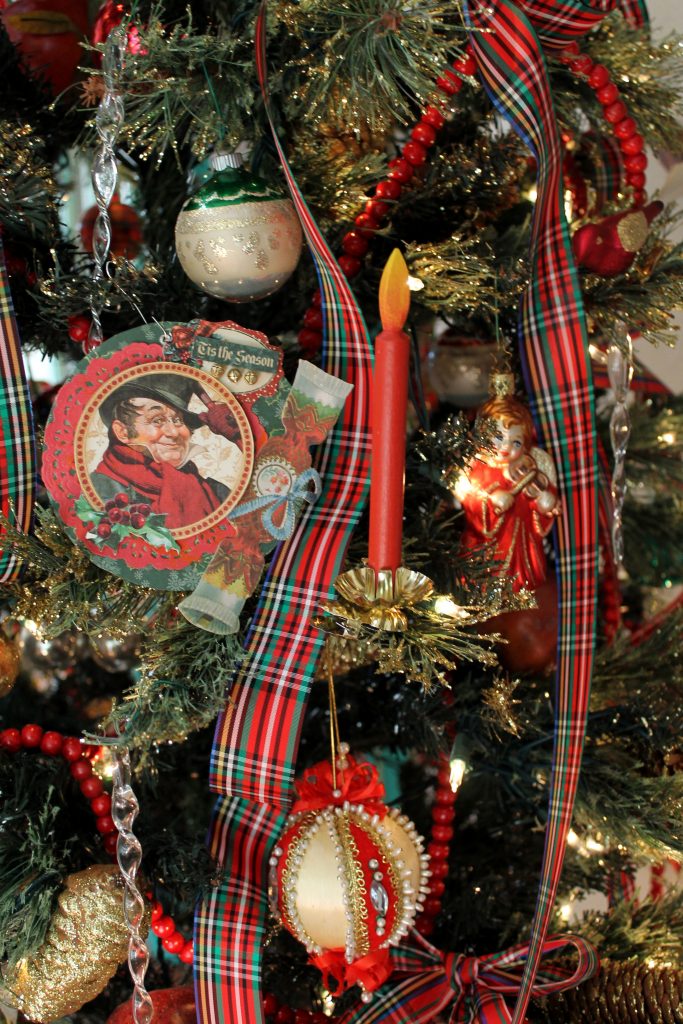 Then it was days of happy work designing, cutting, pasting and embellishing. It made me think of the Victorians and their love of découpage.

The Mantle
Most homes of this era had working fireplaces as that was often the main source of heat.
Like the tree, the fireplace mantel would be decorated with evergreens, ribbon, ornaments and other fripperies.
Natural elements such as fruit and nuts were also favored.
Aren't the tassles charming in this display? I have a Victorian mantel scarf very similar to the one shown in this image. You can see it in use in HERE.
There was a sneak peek of my holiday mantel in Monday's post.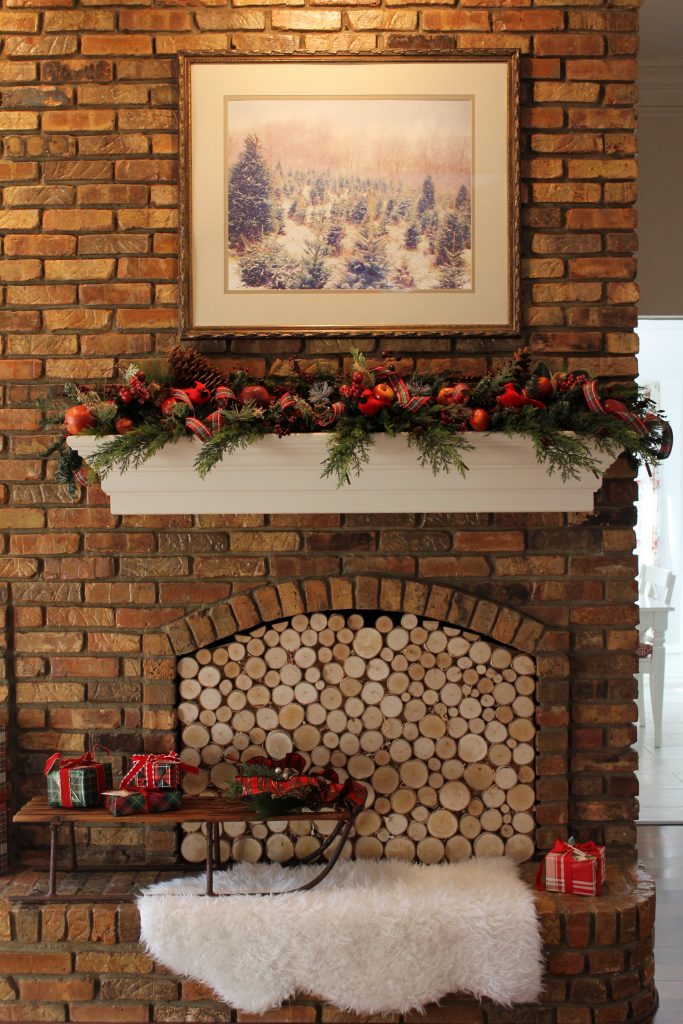 Here is a close up showing the evergreens, pinecones, fruit and faux birds. Faux birds were quite popular in Victorian times. In the January 18, 1868, issue of Harper's Bazaar, it was noted that a certain type of bonnet had been quite popular in Europe and recently begun arriving in America. It was known as "the bird hat".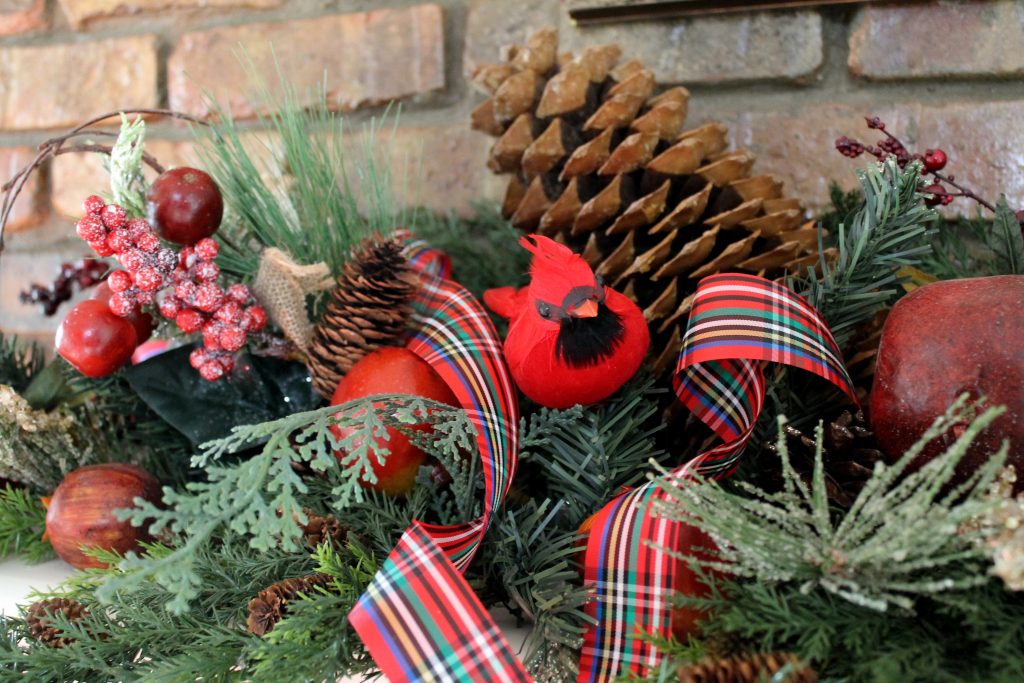 The Table
A Dickenson inspired Christmas table would be draped with a tablecloth of cotton, linen, velvet, or taffeta. Or a combination of cloth. Polished silver and gleaming crystal would hold various delicacies or greenery and flowers.
For the food, we can take note of a dinner held in honor of Charles Dickens in 1842. The menu is nothing short of spectacular.
There are several good sources on how to create your own Dickens inspired dinner. One of my favorites is A Dickens of a Dinner from The Food Channel.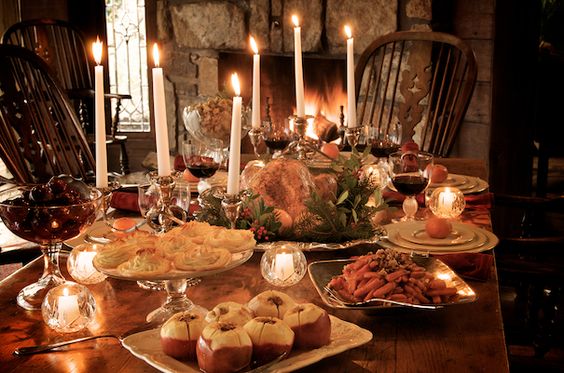 As well as the charming BBC series called Victorian Farm. They offered three seasonal episodes.
A Victorian Farm Christmas Episode I
Victorian Farm Christmas Episode II
Episode III Victorian Farm Christmas Episode
For my table I took inspiration from this lovely image.
Here is a sneak peek. The full reveal will occur next Wednesday.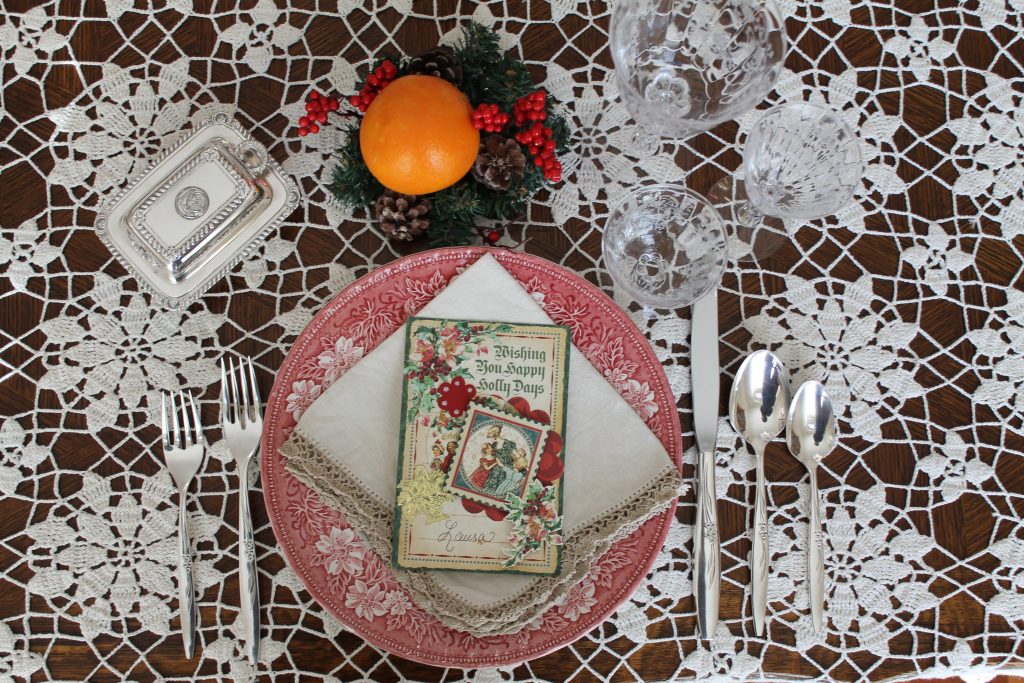 For table inspiration for those less well to do I will direct you to the series of Little House Christmas posts that I wrote last year.
Little House in the Big Woods Christmas Kitchen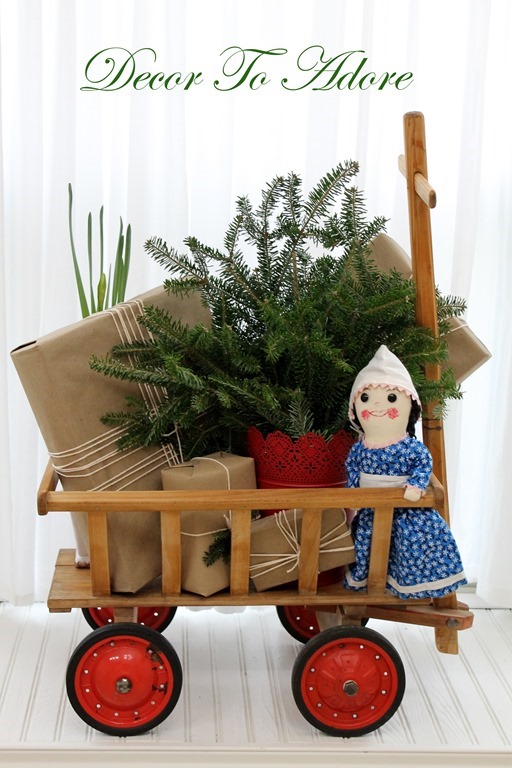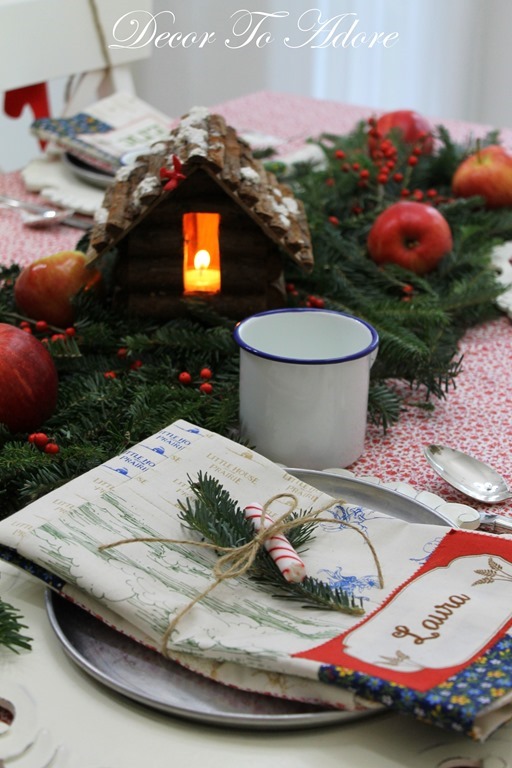 Little House Holiday Breakfast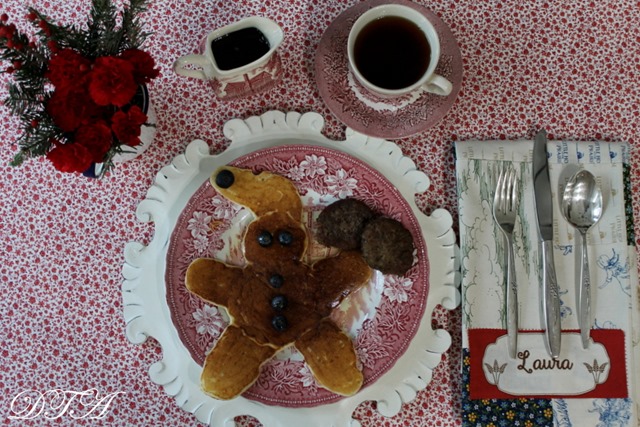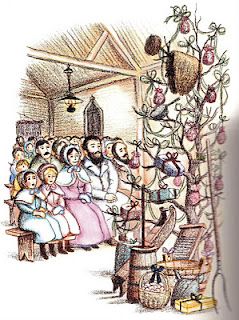 You can find more Dickens Christmas inspiration on my Pinterest board.
I'll be back with more Dickens inspired crafts on Friday.
Laura