Welcome to the Decor To Adore 2017 Costume Reveal The 1920's.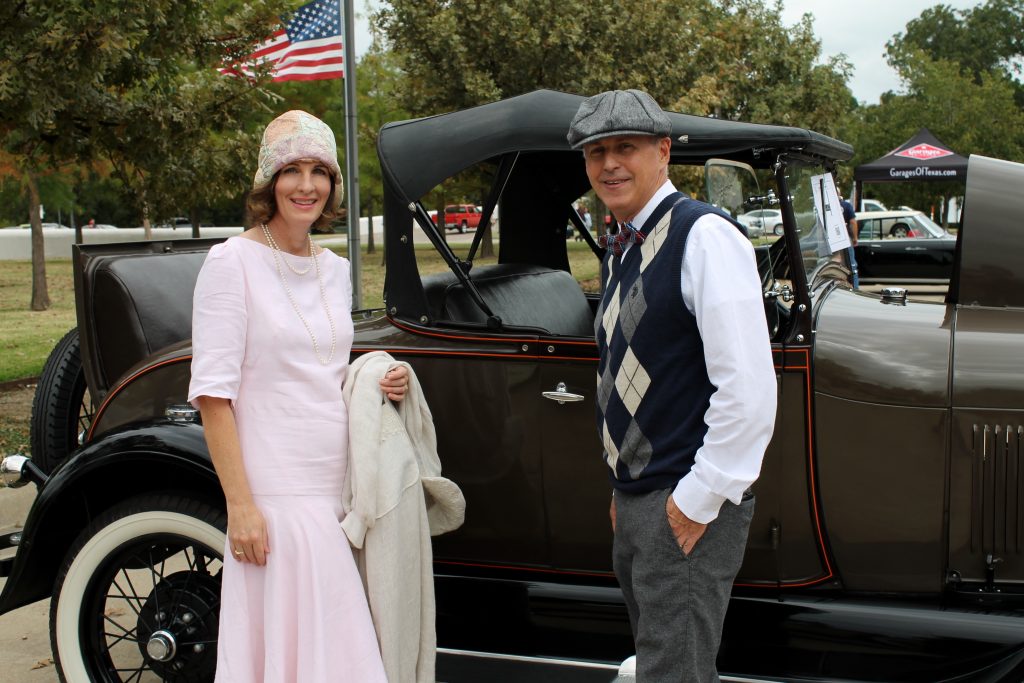 2017 Costume Reveal The 1920's
This year I made a total of two 1920's inspired dresses and a duster coat. I was able to make two dresses because I did not have to sew a costume for Mr. Decor.
Because men's fashion has not changed too dramatically in the past 90 years I was able to find his tweed pants and argyle vest at Goodwill. The bowtie is Sweet Guy's and the newsboy cap was purchased HERE. For more 1920's men's fashion inspiration you can visit my Pinterest board.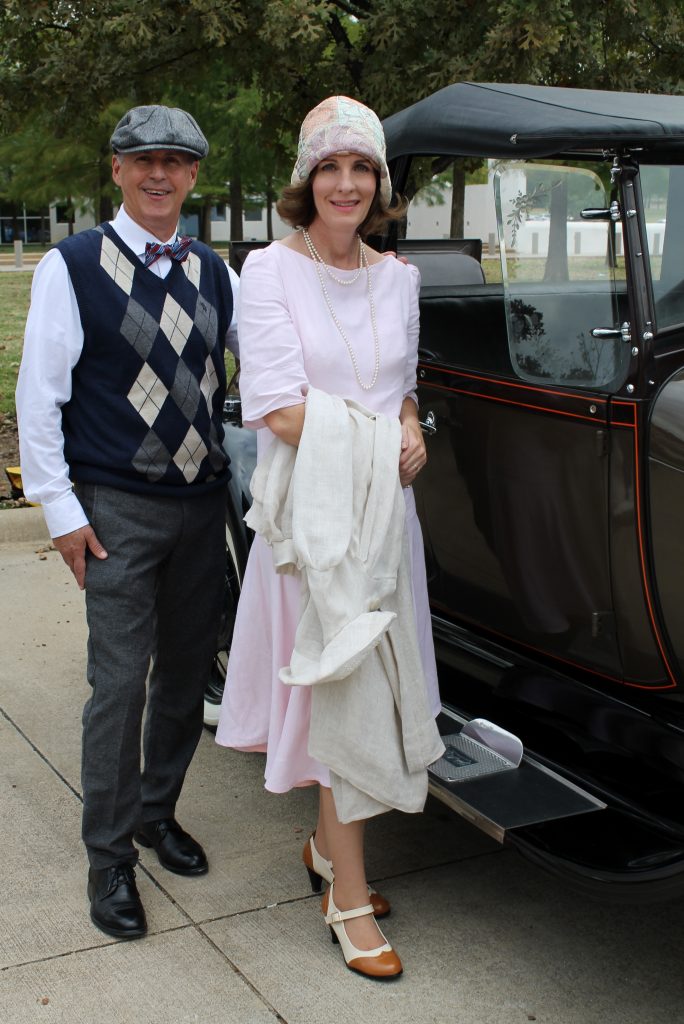 The Day Dress
In last Friday's post, I shared vintage images and ads from the 1920's that inspired me. I settled on making a very simple three quarter length sleeve, dropped waist dress.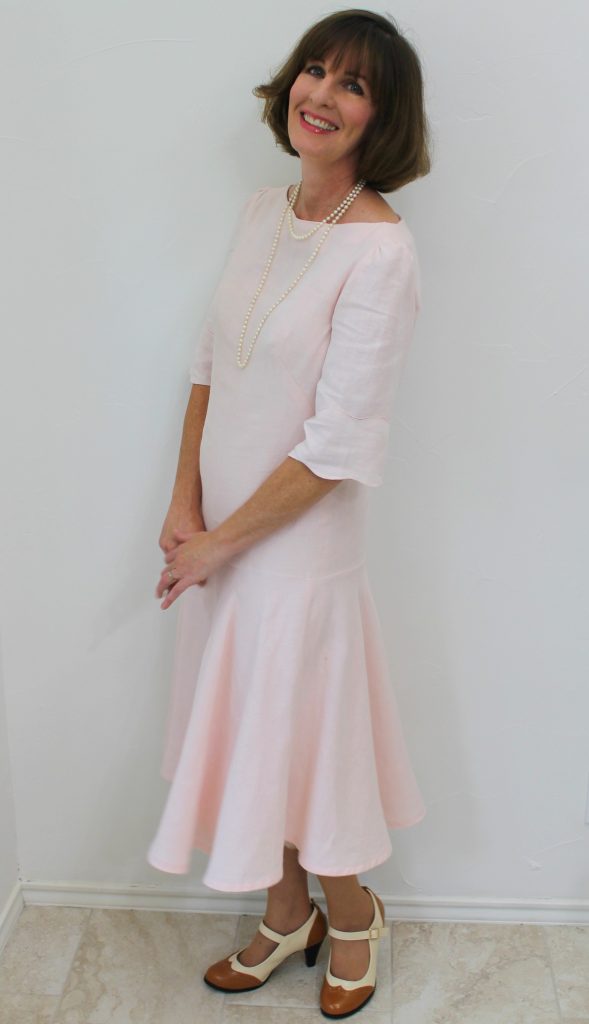 The dress fabric was originally a large pink linen tablecloth that I found at an estate sale for $6.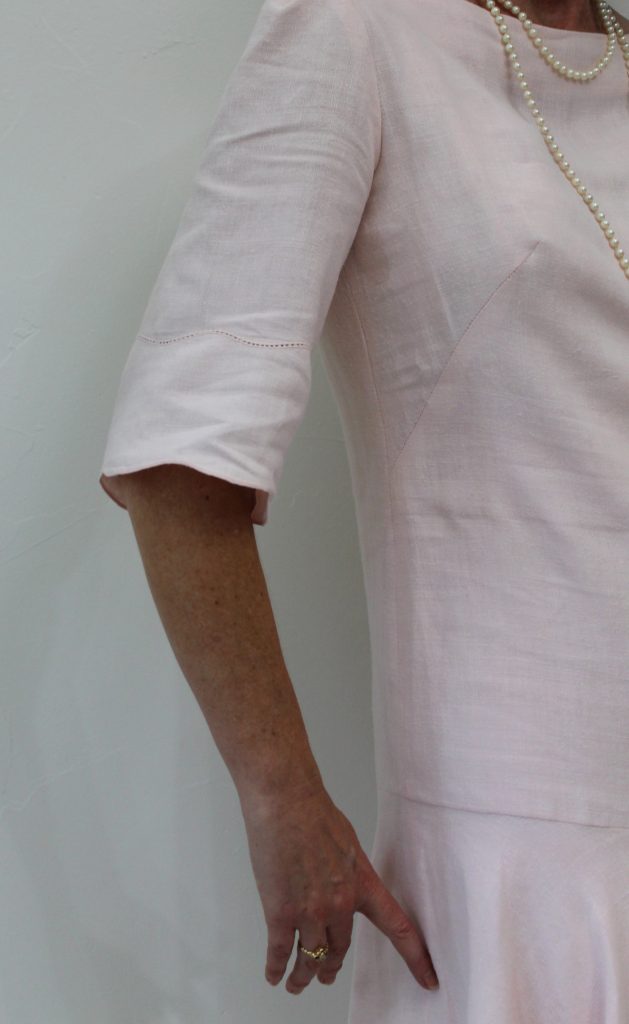 I used the scalloped edge of the tablecloth to create a fun detail for the sleeve.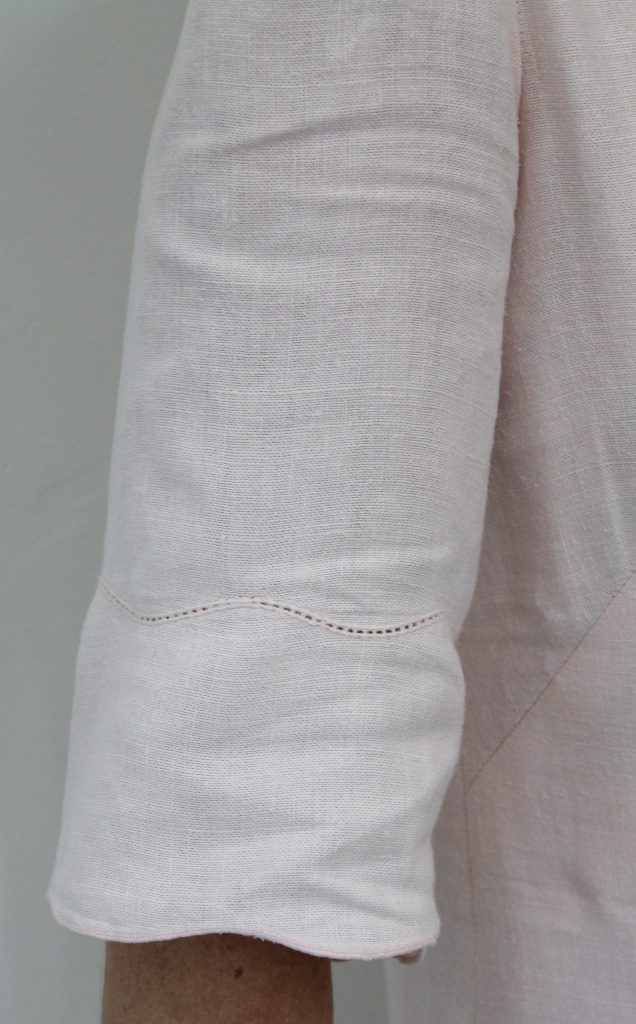 I bid on and won the new reproduction spectator shoes on eBay for $3.00.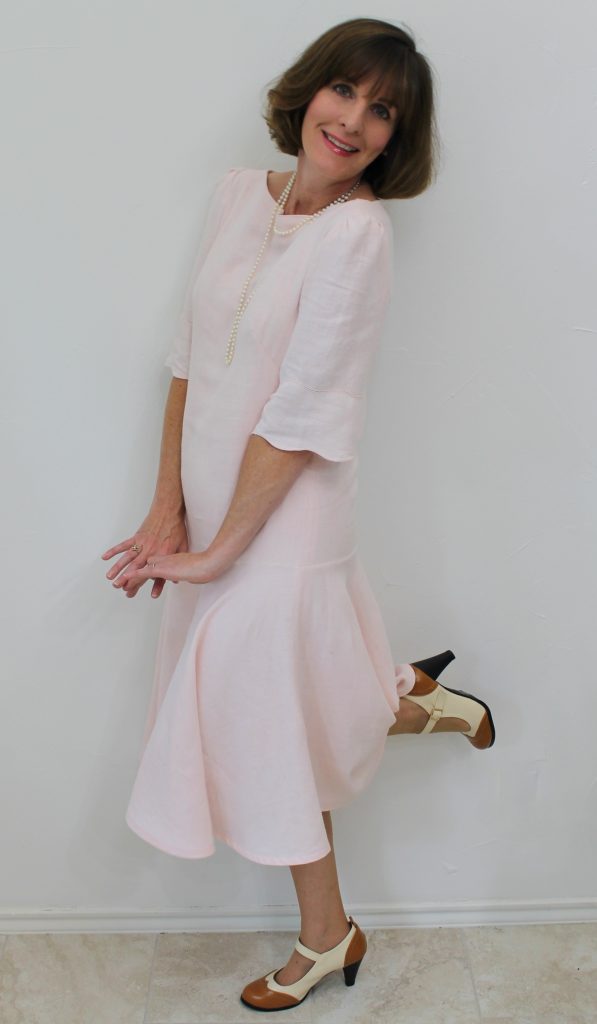 The Evening Dress
Knowing that my readers love sparkly things I wanted to create a fancy 1920's evening dress too.
If you missed the post on 1920's evening dresses you may be surprised that this dress has long sleeves. But a woman of my age would rarely wear a sleeveless dress. This is a more historically accurate choice.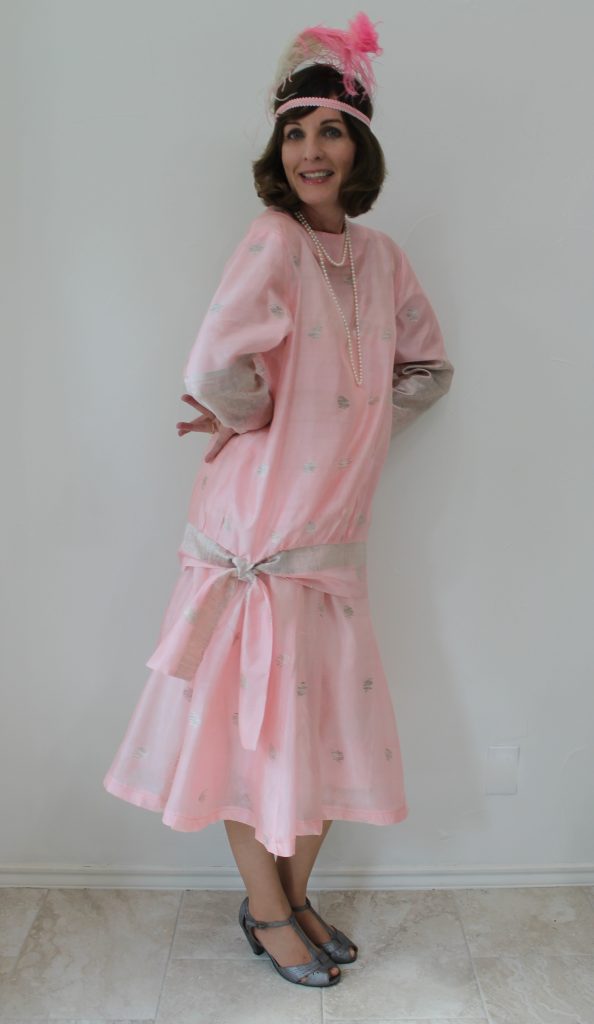 Embellished silk was often used to create lovely gowns in this era. I was not having ANY luck finding such fabric until I spied this $2 East Indian sari at an estate sale. It was perfect. The intricate silver edge of the sari made a perfect design detail for the sleeve and dropped waist.

Our new rescue doxie, Gracie, politely asked if she could be in the photos.

Sidenote: dachshunds had been introduced to England by Queen Victoria's German-born husband, Prince Albert. They quickly became the favorite breed of the Royal family.
Queen Elizabeth still keeps doxie descendants from the line. Current favorites are Candy, Willow, and Vulcan.
By the 1920's many of England and America's Bright Young Things owned these dogs so I told Gracie she could pose since she was historically accurate.
This dog LOVES the camera!

She also dances the Charleston beautifully.

1920's Ladies Duster Coat and Cloche Hat
In an earlier post on duster coats and cloches, I mentioned that ladies riding in open air cars wanted to protect their clothing from road dust and would cover themselves in "duster" coats. Cloche hats would not fly off while traveling in a fast moving vehicle.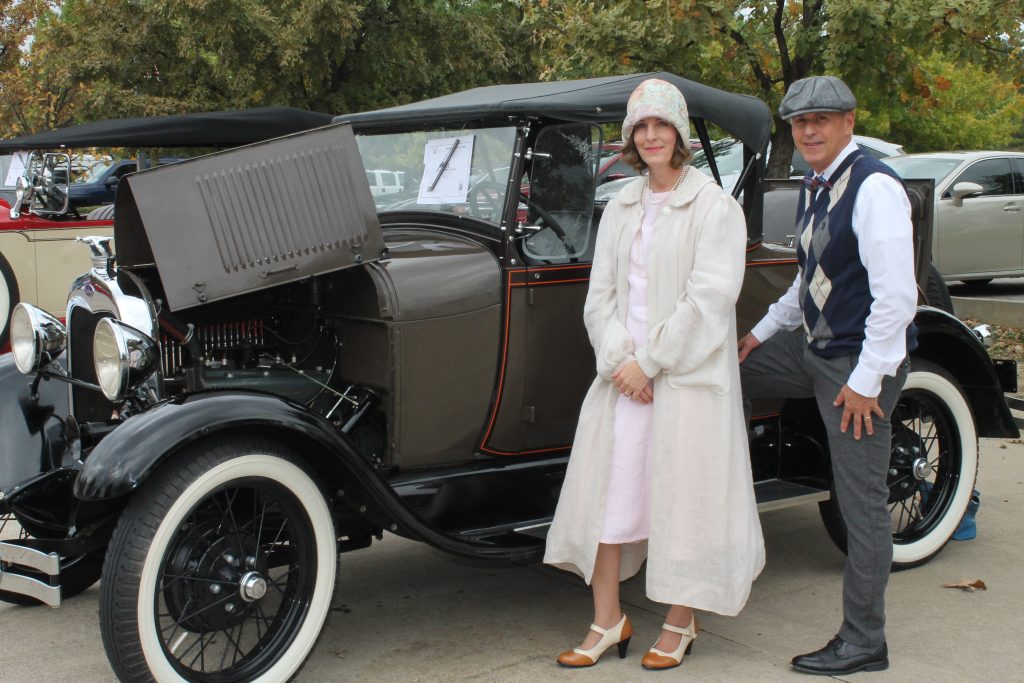 My dear friend Jill Garber makes the cloche hats from antique hand embroidered silk from Canton shawls.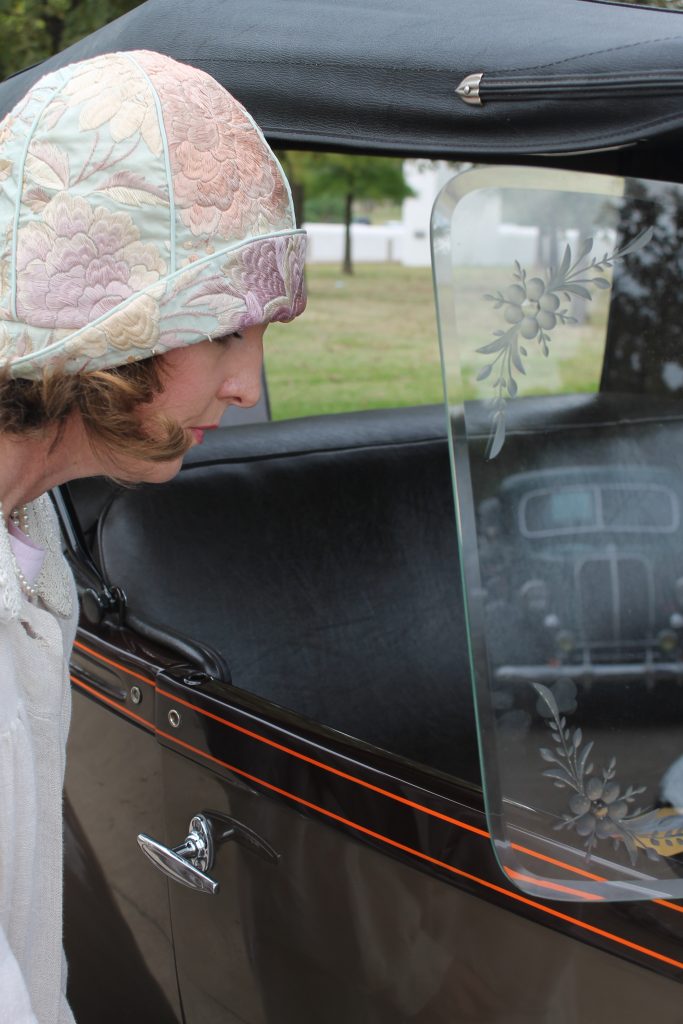 I created the duster coat from linen curtains that I was no longer using.

Approximately 90% of the coat was hand stitched. This was necessary due to the loose weave of the linen fabric and the delicacy of the antique lace that I used for embellishment. The button is an Art Deco mother of pearl gem I had in my collection.

Shall we talk about this glorious car?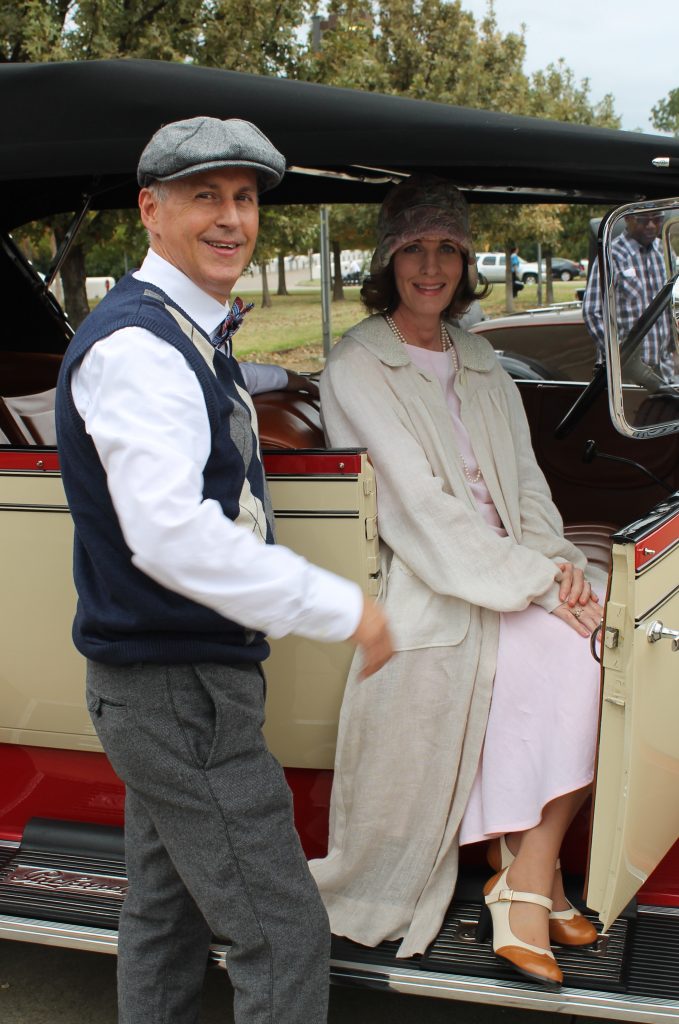 The Car
This lovely motor vehicle is a 1929 Packard 640 seven-passenger touring car. It is owned by the extremely talented Dr. Angelo Mendez who restored the car to its former glory.
The car show was hosted as a fundraiser for the Westlake Historical Preservation Society.

I loved how the side mirror was attached to the spare tire.

Dr. Mendez graciously allowed us to take several images sitting in this amazing vehicle.

 How I Get Mr. Decor To Dress Up
Each year I am asked how I get Mr. Decor to dress up. The truth is, he is quite the hambone and enjoys it.
He also enjoys the extra snuggles…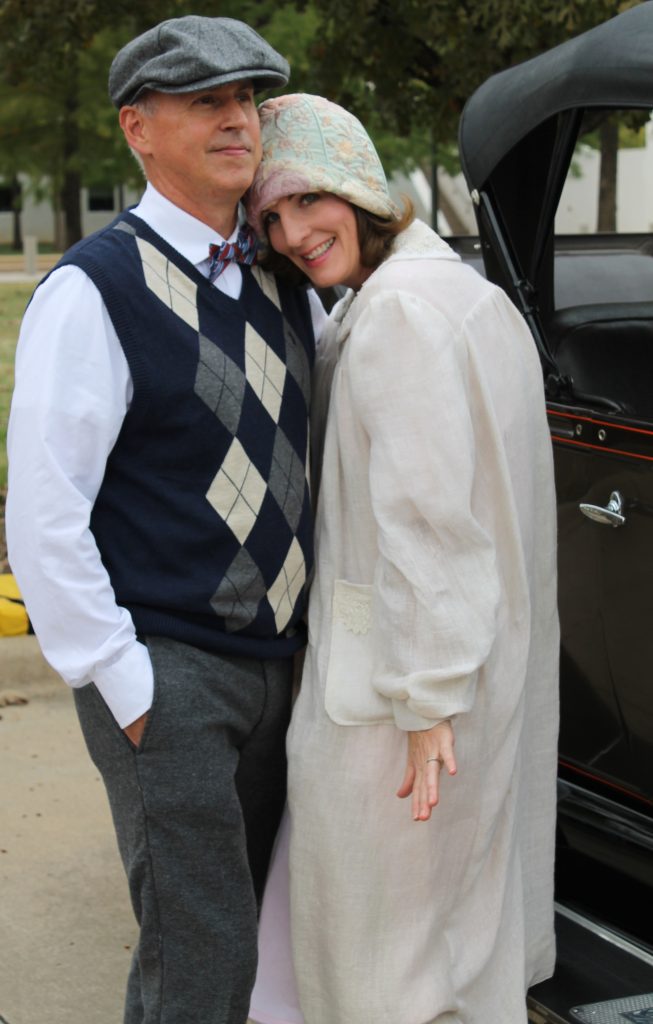 …kisses…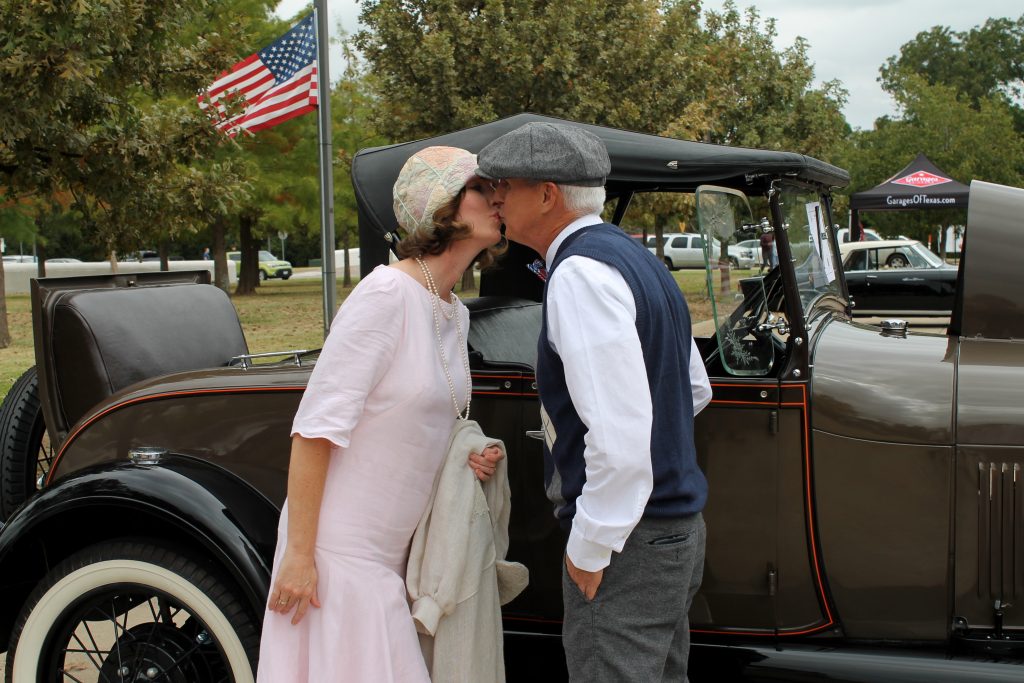 …and how I look at him all moony-eyed when I tell him how handsome he is.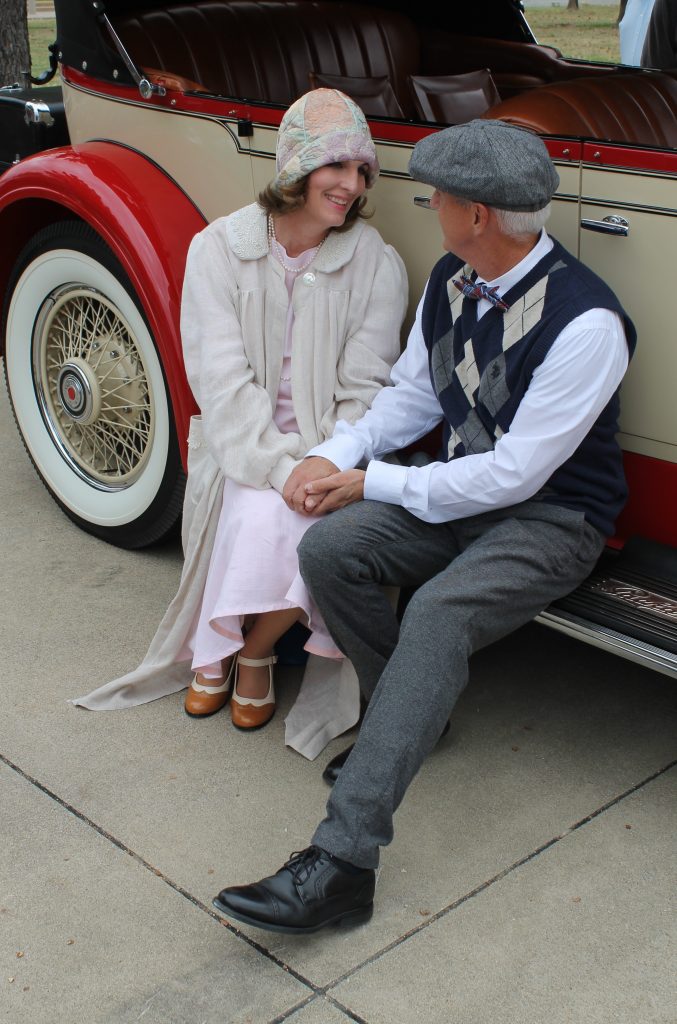 We also both enjoy making people smile.
Mr. Tom Morey restored this gorgeous 1952 Bentley R Saloon car. Mr. Morey was such a delight to speak with. He got a kick out of our deep appreciation for classic cars.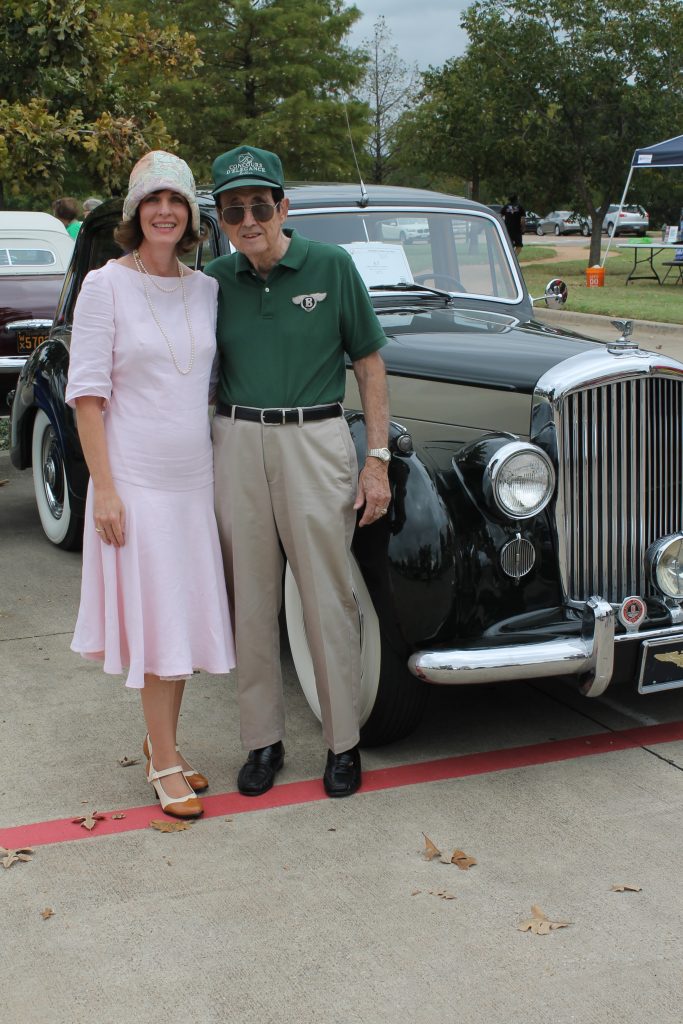 Not to mention, we also have ALOT of fun!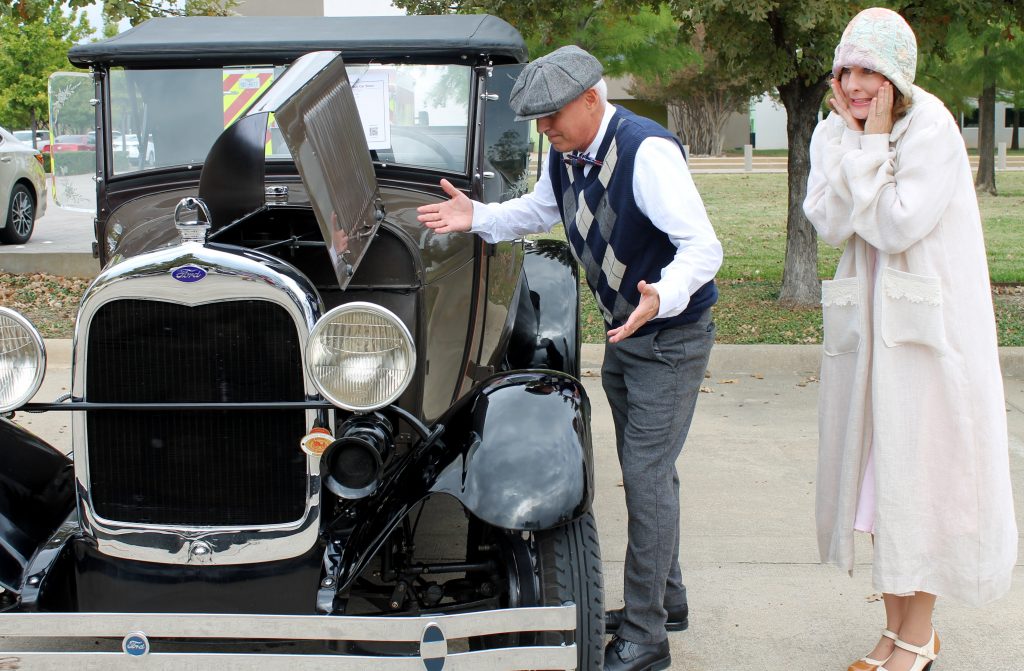 We hope you have enjoyed this year's costume challenge The Roaring 20's!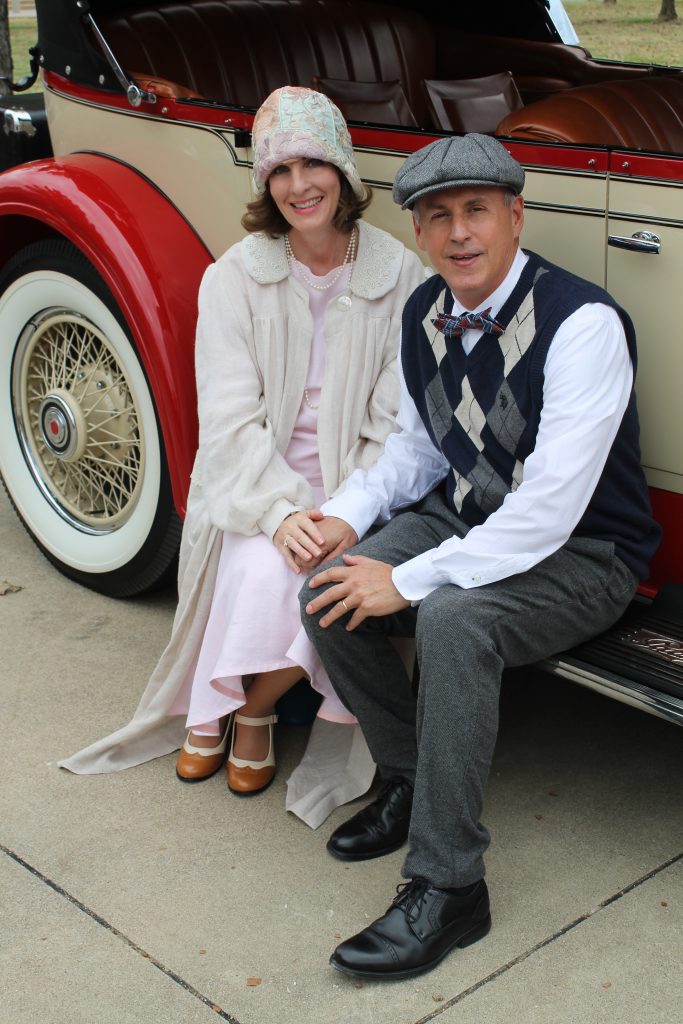 Please leave a comment if there is an era you would like recreated next year.
Laura
You may also enjoy our previous costume challenges.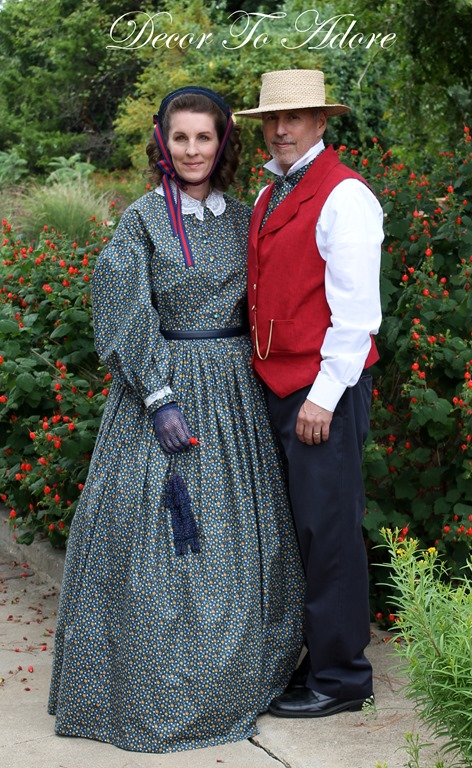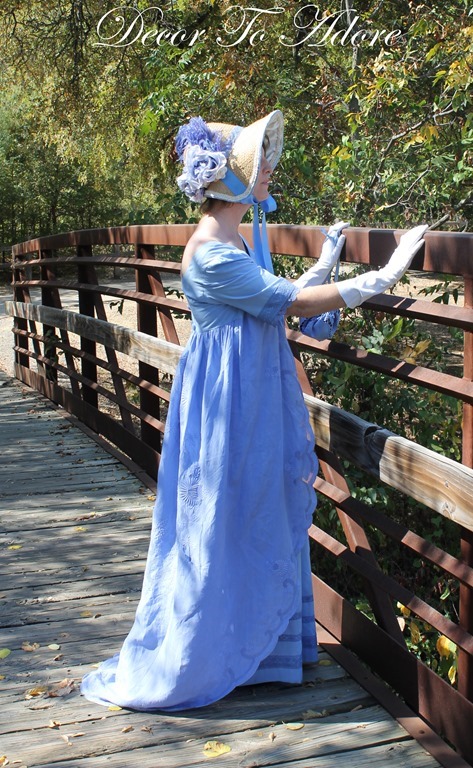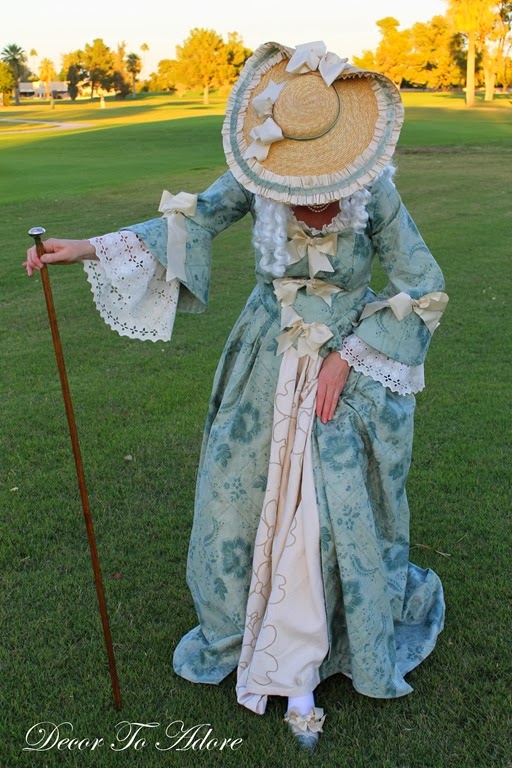 Special thanks to Sweet Guy for not being an embarrassed teenager and taking these photographs of his parents.