The childhood home of Jacqueline Kennedy Onassis was recently listed for sale by Sotherby's.
This brick and limestone Georgian gem was originally built in 1919. The estate is located just northwest of Washington D.C. and just a few miles away from George Washington's "Mount Vernon".
The home is 23,000 square feet and includes 9 bedrooms, 11 full bathrooms and both an indoor and outdoor pool.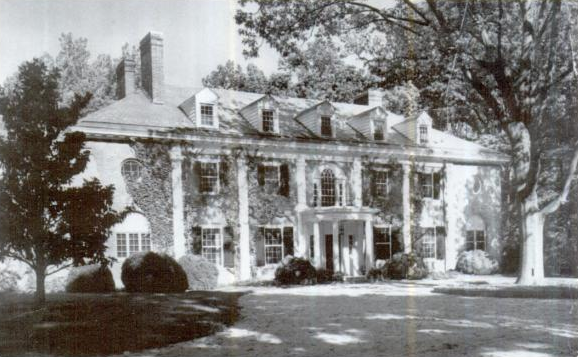 The original estate, with it's 46 acres, was purchased in the mid 1930's by Hugh D. Auchincloss II, heir of Standard Oil, and the step-father of Jacqueline Kennedy Onassis.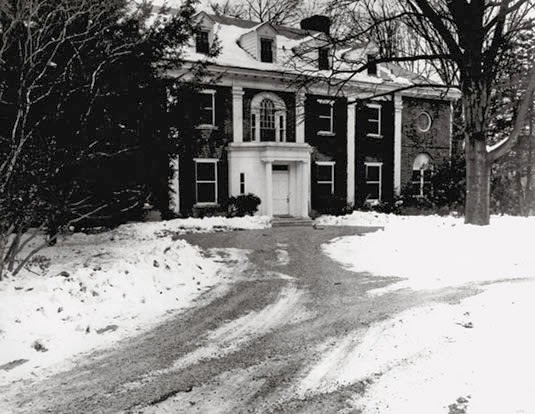 Janet Norton Lee Bouvier divorced Jackie's father, John Vernou Bouvier III (shown below), in 1940 and married Auchincloss in 1942 when Jackie was thirteen.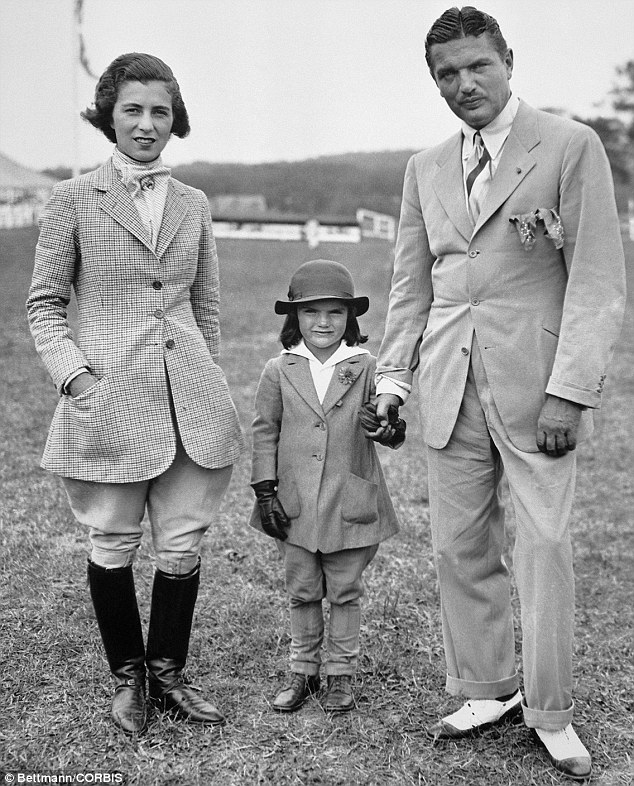 Jackie spent many of her teen years swimming, horseback riding and playing tennis on the Merrywood estate grounds.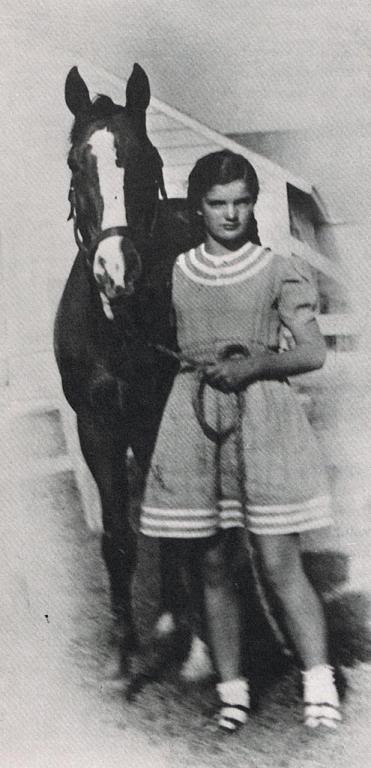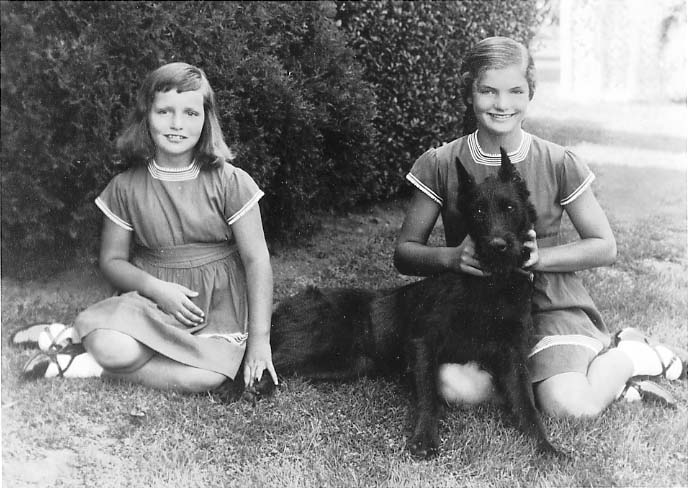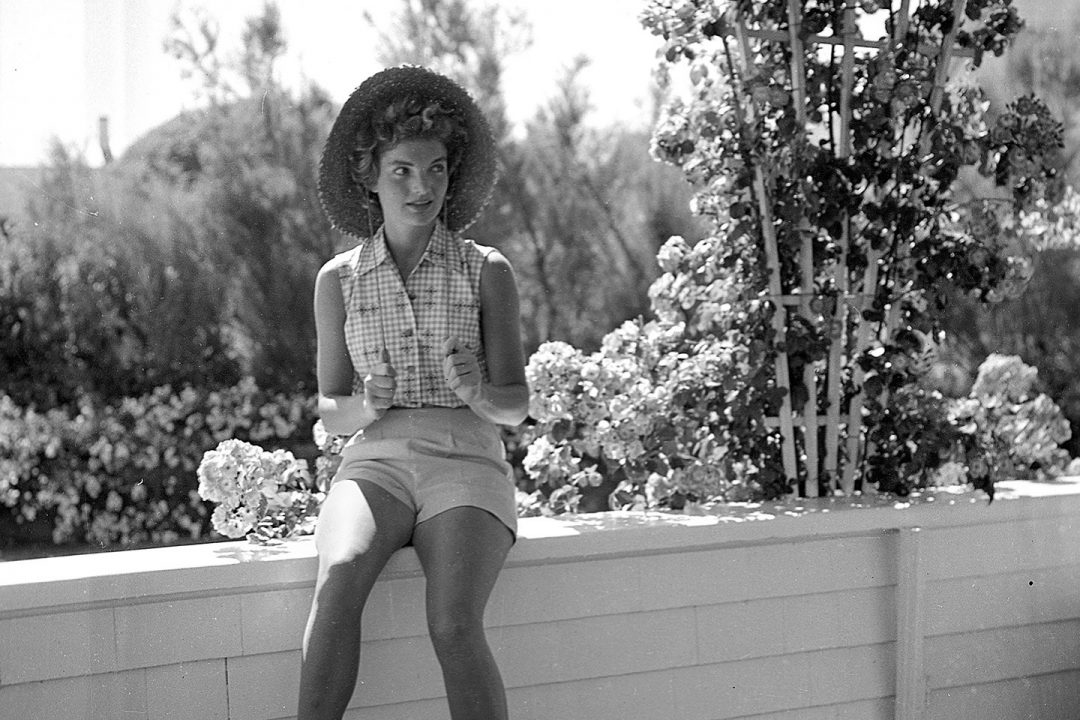 The blended family was shown at Merrywood in 1945. On the top row are Jackie and her step brother Hugh "Yusha" D Auchincloss III, whom Jackie would remain close to all of her life.  Step sister Nina Auchincloss and Caroline "Lee" Bouvier, on the right, are in the second row. In the front row Jackie's mother, Janet, is shown holding baby half- sister, Janet Auchincloss, who is next to step-brother Tommy Auchincloss and Jackie's stepfather Hugh D Auchincloss Jr.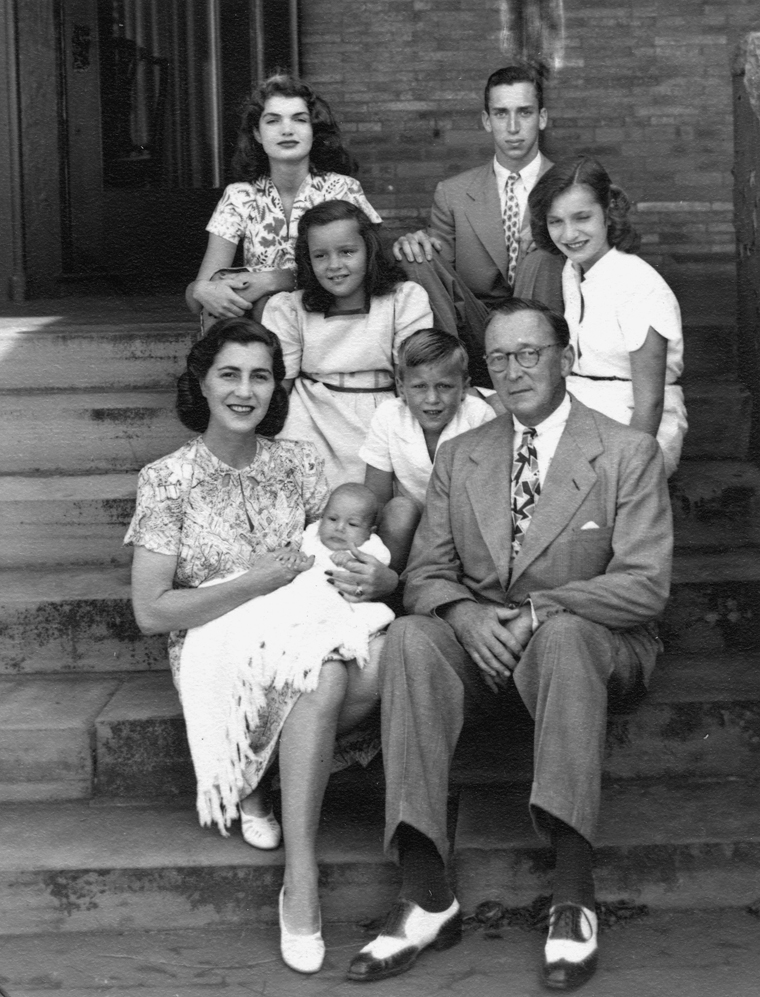 A half brother, James "Jamie" Lee Auchincloss  would join the family in 1947. The children posed for a picture on Christmas Day at Merrywood a few years later. Shown left to right, Lee, Jackie, Janet, Nina, Yusha, Jamie and Tommy.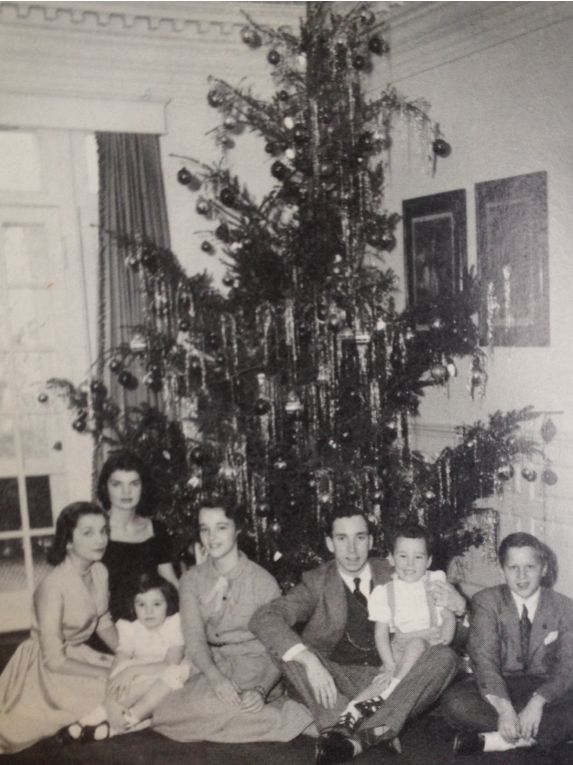 It would be Jackie's stepfather who would help her secure a job at the Washington Times-Herald. Her position of "Inquiring Camera Girl"and similar social circles found her attending a dinner party in May of 1952 hosted by journalist Charles Leffingwell Bartlett. It was here that she would meet John Fitzgerald "Jack" Kennedy.
Bouvier and Kennedy were married on September 12, 1953 in Rhode Island. Her step father walked her down the aisle.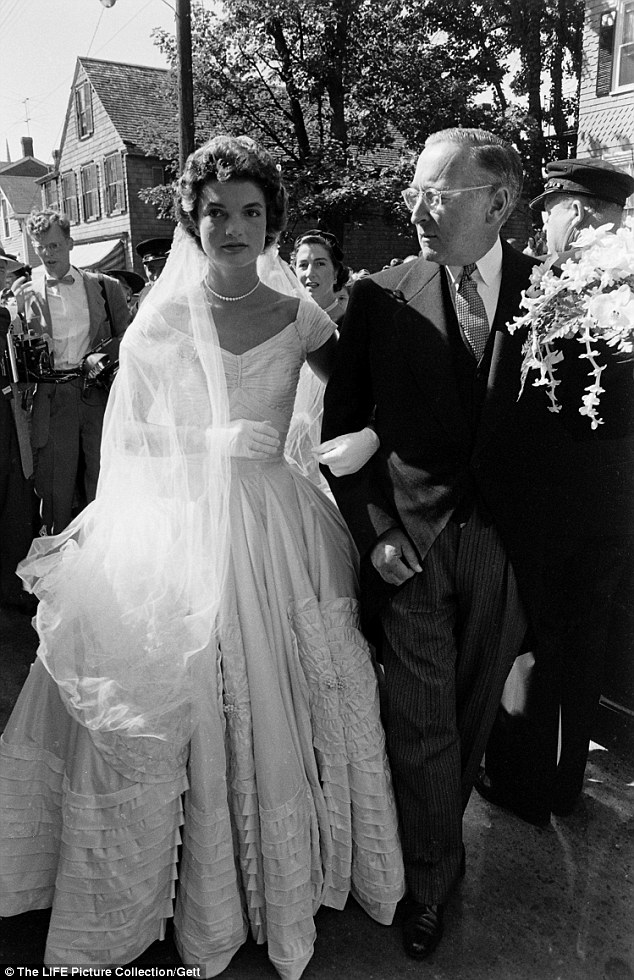 The lavish reception for 1,200 people was held at her stepfather's estate at Hammersmith Farm in Newport.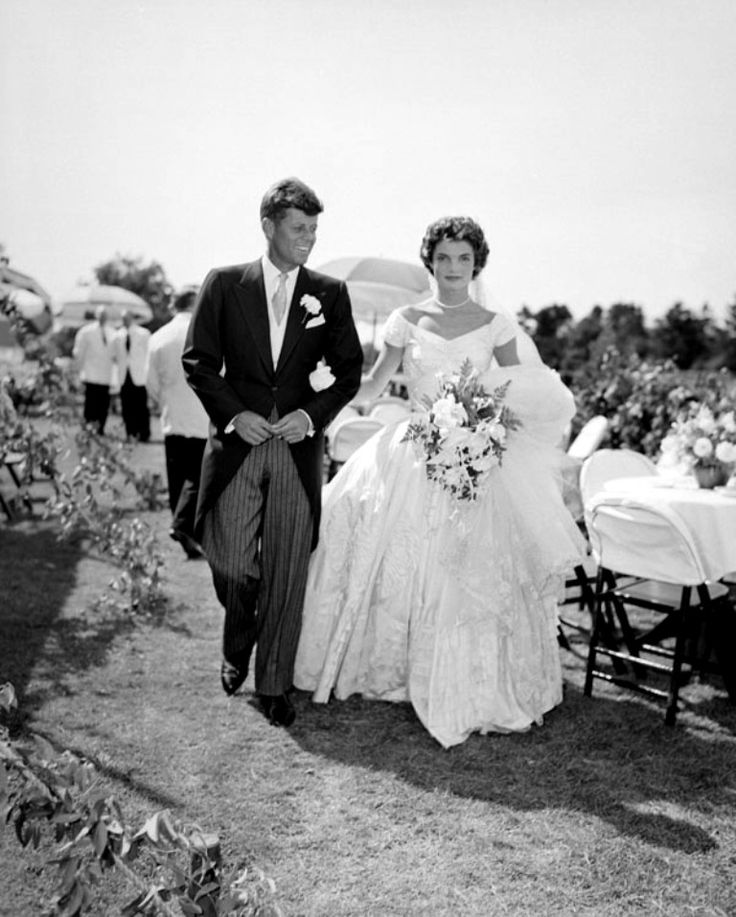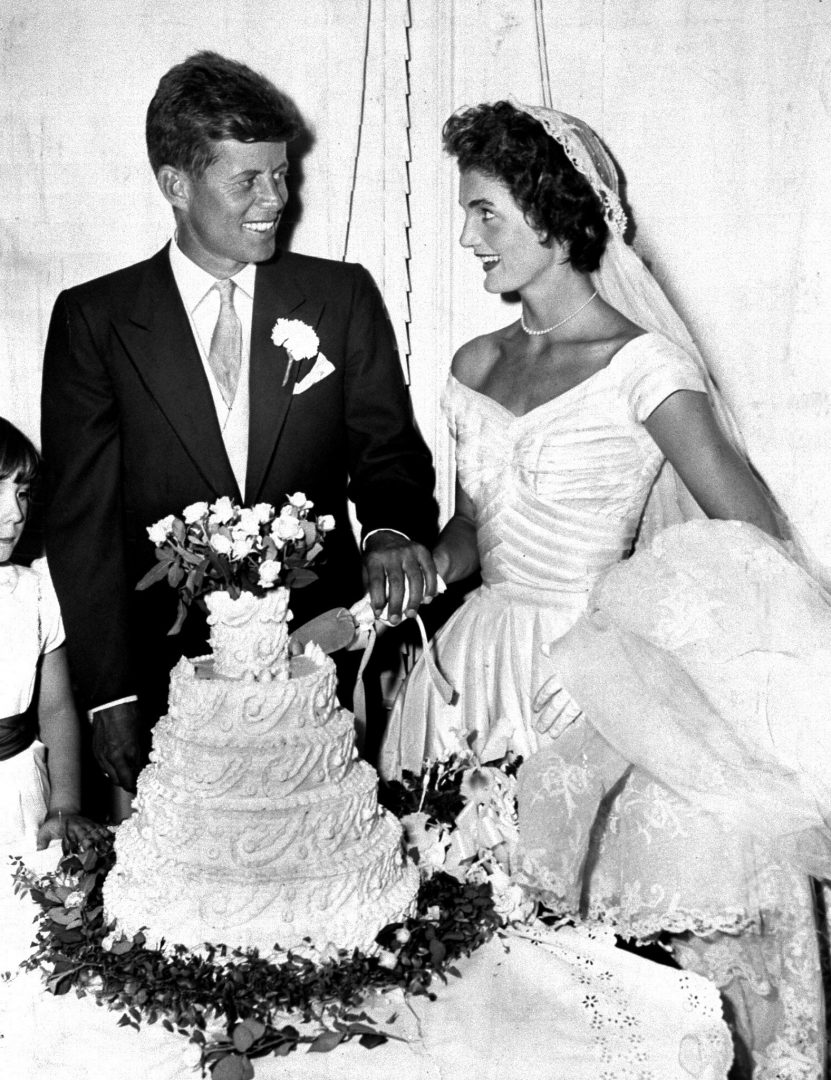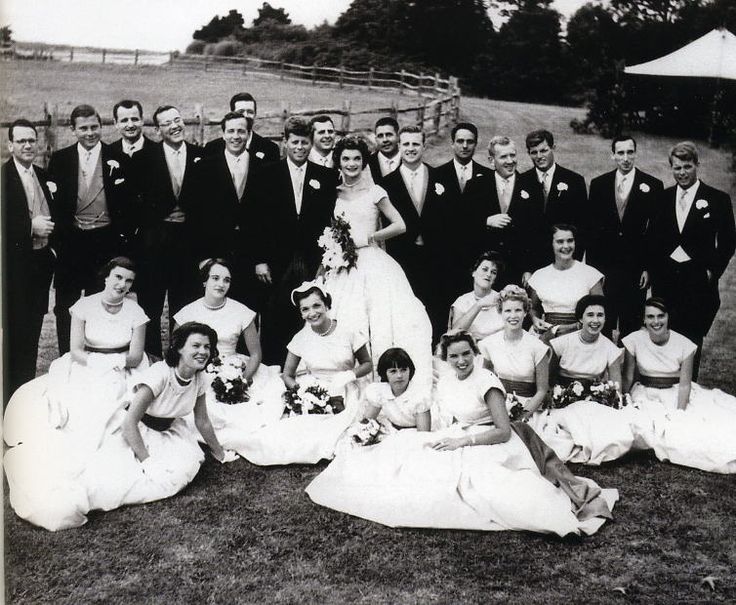 Both Merrywood and Hammersmith Farm estates would serve as fundraising headquarters for Kennedy's campaign for President.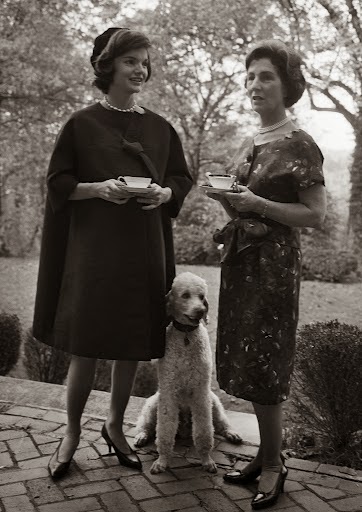 Society teas and political fundraising luncheons were held at Merrywood.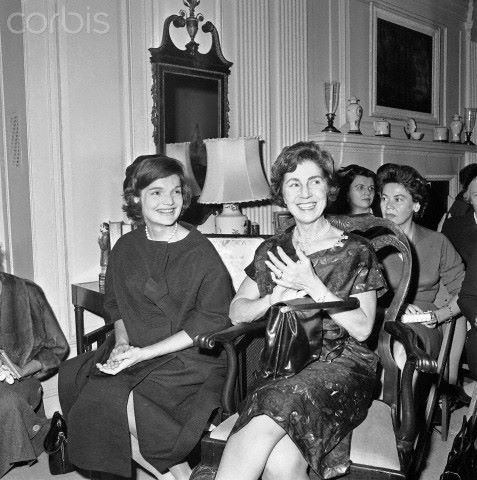 In addition, John Kennedy, joined by his young family, would recover from two back operations and write portions of his Pulitzer prize winning book "Profile of Courage" at Merrywood.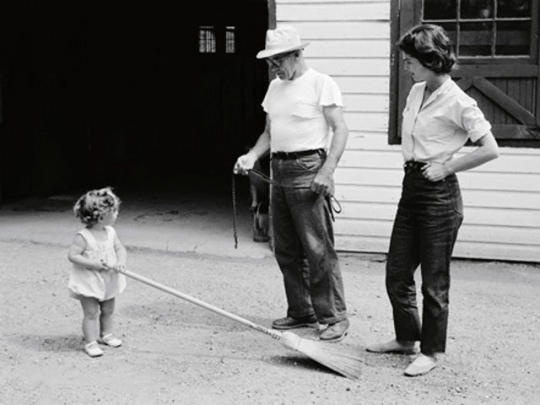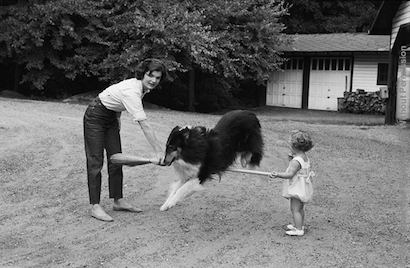 Author Gore Vidal also spent time at Merrywood.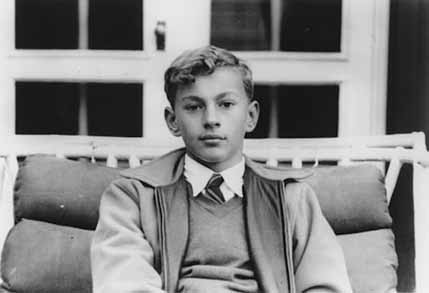 Hugh Auchincloss's second wife, Nina Gore, was Gore Vidal's mother. I know it gets a bit confusing so here is a chart to assist with the family tree.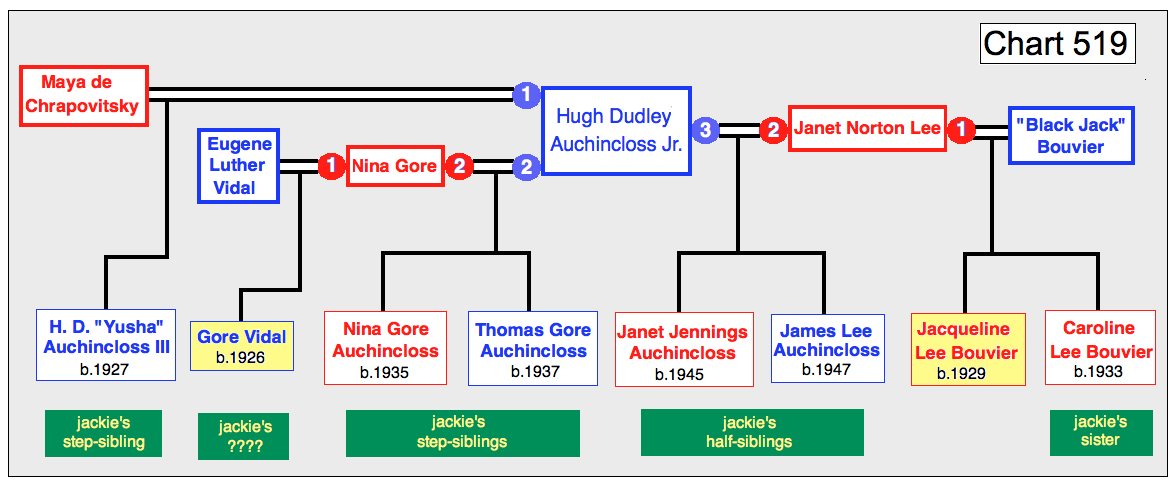 Merrywood inspired parts of Gore's novel "Washington, D.C.".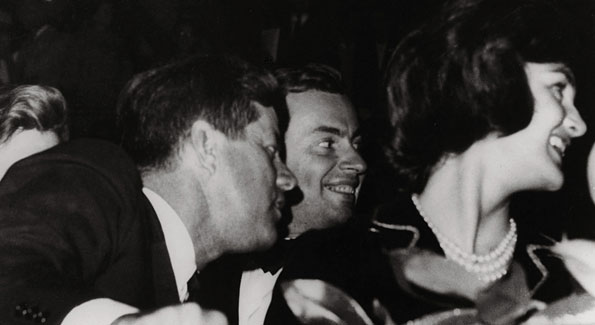 Vidal also joined the inner Kennedy circle thru his once removed link to Jackie.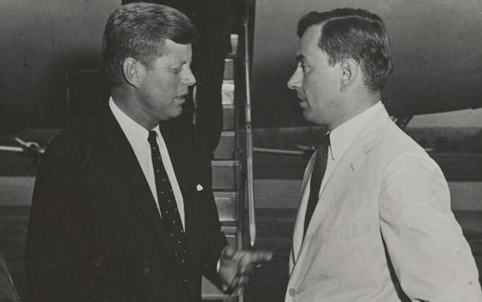 Then of course came the sad end of Camelot and its various courts. Due to ever increasing financial costs Merrywood was sold to Wyatt and Nan Dickerson in 1964. Mrs. Dickerson was the first female member of the Washington TV news corps.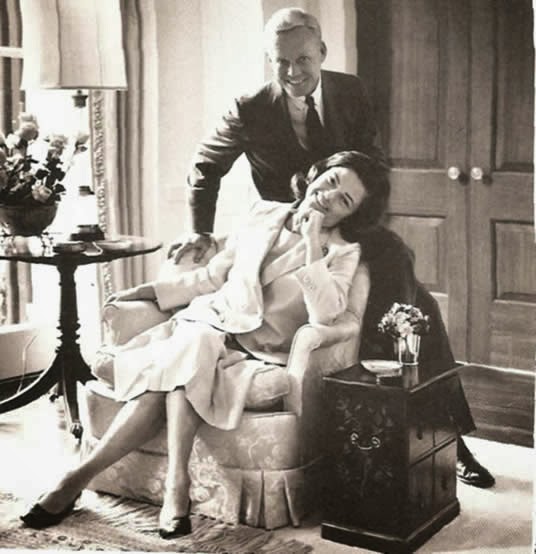 Their son, John, is shown in front of the home.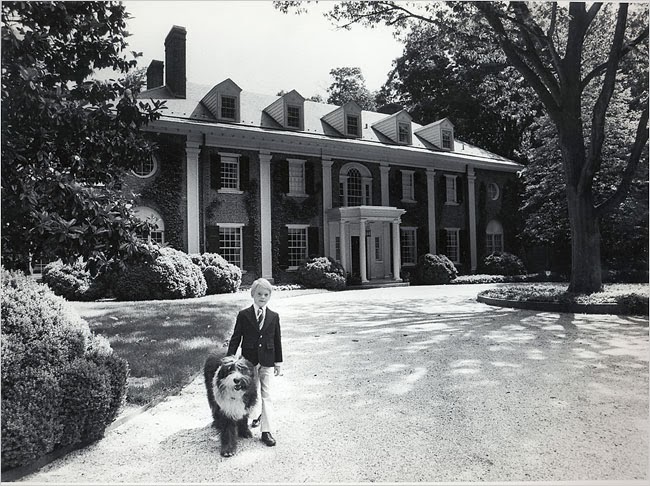 The estate was most recently purchased by AOL founder Steve Case.
Case is asking a staggering $49.5 million for the home and 7 acre grounds.
The home has all of its original moldings still intact.
The most recent interior designs were completed by famed master Barry Dixon.
The lovely gardens are influenced by the 19th- and 20th-century landscape architect Beatrix Ferrand.
The backyard overlooks the banks of the Potomac River.
There is also a video of the property featuring several rooms, not shown above, to include the wonderful kitchen.
https://www.wellcomemat.com/embed/gc4dd4d15392pv/
Happy historical house dreaming,
Laura