This summer it is all about the statement earring. Pom pom earrings are particularly popular.
This post will show how to create both clip and pierced styles.
But first, I'll let you in on a little secret. In regards to trends I have reached an age where I now always ask myself "Am I too old?" This is based on a fear of looking like mutton dressed as lamb (a way of describing an older woman who is dressed in a style that is much more suitable for a younger woman).
I always strive to be kind so therefore I am not going to present a real life example of mutton crimes but instead bring you the "Absolutely Fabulous" characters of Edina Monsoon and Patsy Stone.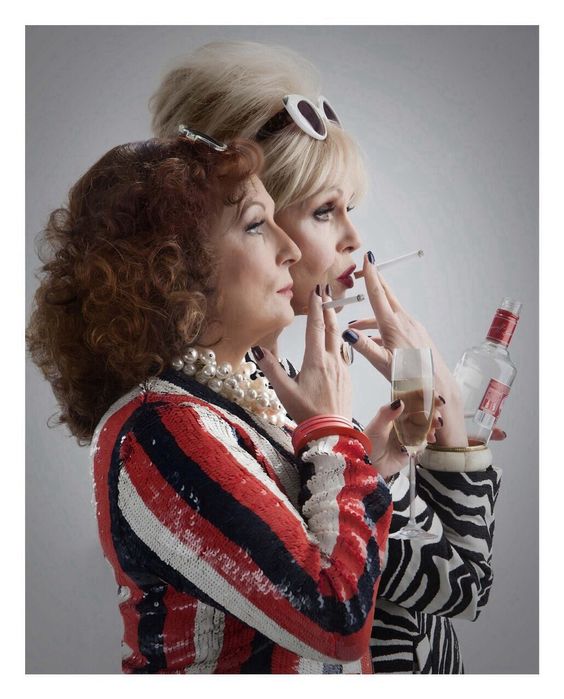 These "ladies" are well known for falling into the undesirable mutton/lamb category.
   However, I think in terms of statement earrings you can wear them at any age.  
You just need to feel comfortable to be confident.
  There are numerous tutorials on how to create pom~pom earrings on Pinterest.  
I read thru a few and got a general idea of the tools and supplies needed. They included jewelry pliers and clamps, jump rings, ear wires/clips and other jewelry findings. Most of these things I already had on hand.
You'll also need some pom poms. I actually found ours attached to a scarf from a thrift store. But you can also make your own pom poms from yarn, or purchase them at sites such as HERE and HERE.
For the shorter style:
I simply pushed a long jewelry pin through the poms, added a few separators and decorative beads. The end of the pin was crimped into a circle that an "O" ring was attached to.
The "O" ring was then joined to the pre made ear wire and clamped closed.
For the longer style:
The same steps were used to create each individual pom.
The only difference is that each "O" ring was attached to the jewelry finding at the bottom of each pom to join it to the next.
The row of poms was then attached to a clip earring base.
The longer, shoulder grazing, style was preferred by Lou who does not have pierced ears.
I preferred the shorter style as I am not as eager to draw attention to my neck but would rather have the focus be on my jawline.
Each set of earrings took about 40 minutes to create and cost under $10. Lou, the fashion genius, styled both looks for the photo shoot.
We hope you have enjoyed this edition of Fashion For The Ages.
Laura +Lou
Linking to:
Inspire Me Monday, Merry Monday,The Scoop, A Stroll Thru Life, Savvy Southern Style, Share Your Style, Vintage Charm Party, Thursday Favorite Things, The Inspiration Gallery, French Country Cottage, Imparting Grace, The Charm of Home, Foodie Friday, Best Friday Feature,The SITS Girls, Funky Junk Interiors, Saturday Share, Sundays At Home, Happiness Is Homemade