Storybook Cottage Versus A Tornado. This past Tuesday night/early Wednesday morning a tornado touched down where we live.
The after effects were a bit messy but I am SO thankful to say that our beloved Storybook Cottage came through, although she's a bit battered and bruised. Our guardian angels were truly working overtime.
Storybook Cottage Versus A Tornado
As I left work early Tuesday evening I had remarked to a Kristine, my internship mentor, that "It feels like tornado weather." Once home, the evening challenges of getting dinner on the table, homework, packing lunches, etc. erased such thoughts from my brain. I didn't even prepare our safety closet and fell into bed exhausted knowing that the next day would be even busier. #famouslastwords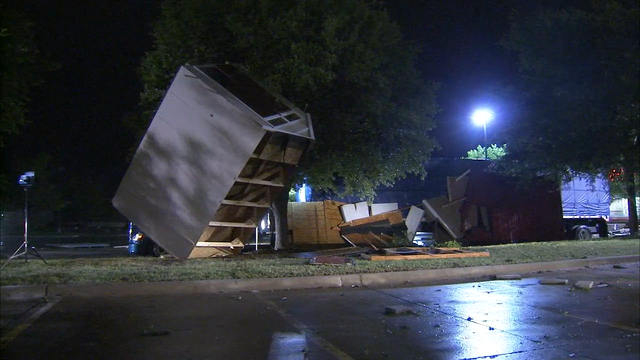 Sheds at our local Home Depot
The tornado came on so swift and sudden that the emergency activation devices on our phones failed to go off. It was my daughter, who lives in the second story of our cottage, who came into my room announcing "Mom, there has to be a tornado going on.'' At that same moment, the first siren went off. I was out of bed like a shot, running to the closet, taking out the hamper and making sure there was nothing else that could injure us if things got really crazy. I pushed her in, shut the door and ran to Sweet Guy's room.
A local church steeple.
To say Sweet Guy is a bit of a heavy sleeper is an understatement. I didn't want to alarm him so I began by calmly saying "You need to wake up. We need to move to the safety closet. There is a tornado." All while gently rubbing his back. No response. By now the wind outside was so forceful I was beginning to understand the oft-used phrase "A tornado sounds like a freight train running straight through your house." Gentle rubbing turned into frantic tugging. I had pulled the covers off and was preparing to drag that boy, who now outweighs me by many pounds if I had to. He woke up angry but quickly shifted gears hearing the pure fear in my voice.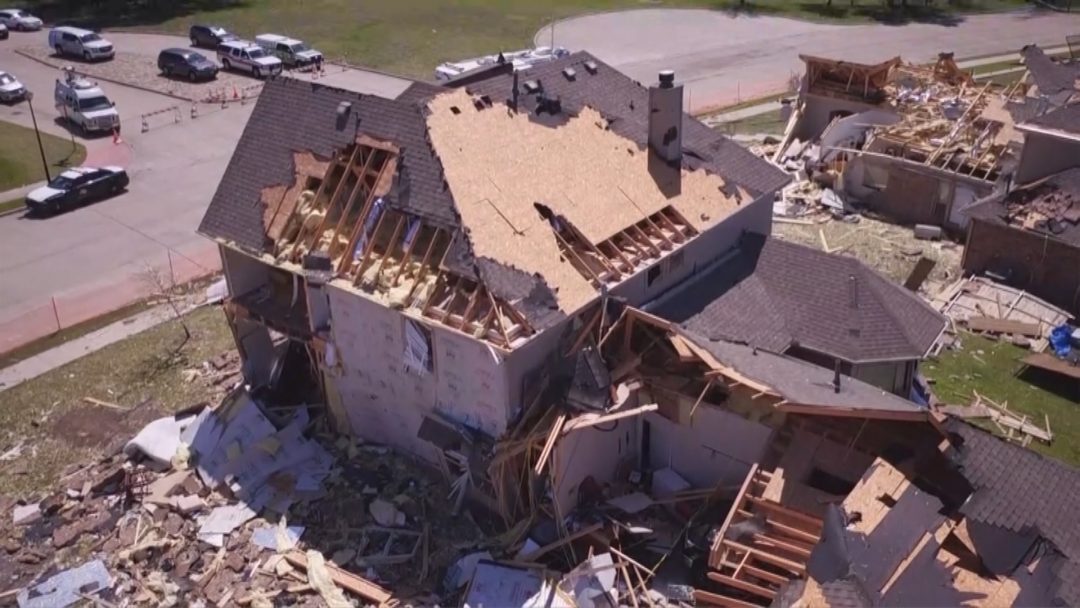 Other local homes.
A Frantic Call To Prayer
Once inside the closet, the emergency activation alarm went off on my phone. Gee thanks. By now the storm was upon us full force. Our sturdy brick house, in the pitch blackness, began to shake. I would recount later to my neighbors, Jim and Darlene, that at that moment "I was praying so hard I could have rivaled a large cloister of nuns."
The storm finally passed but I did not go back to sleep that night and just grabbed a quick 50-minute power nap at 6 am so I could function for what I knew was going to be a VERY busy work day.
To see the aftermath of the storm in the early morning hours was sobering and left me shaky once more.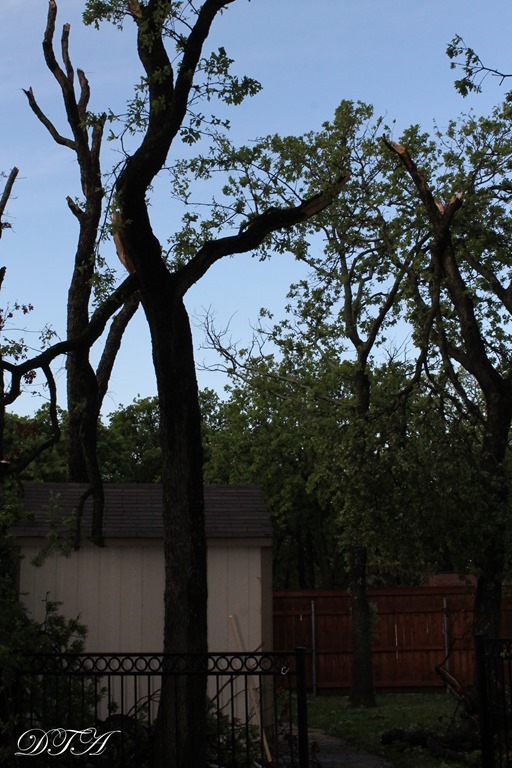 Damage and Debris
Trees had been stripped of their branches and leaves and snapped in two like toothpicks.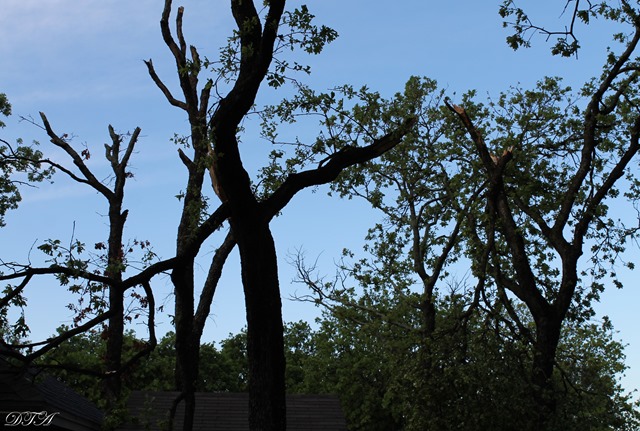 We believe that the storm approached our home diagonally.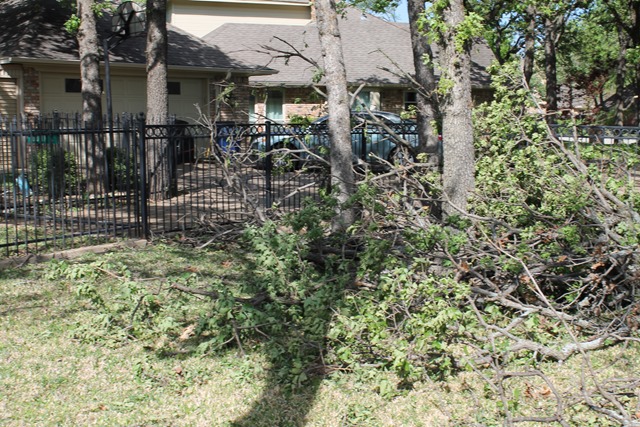 First encountering the solid brick wall fence.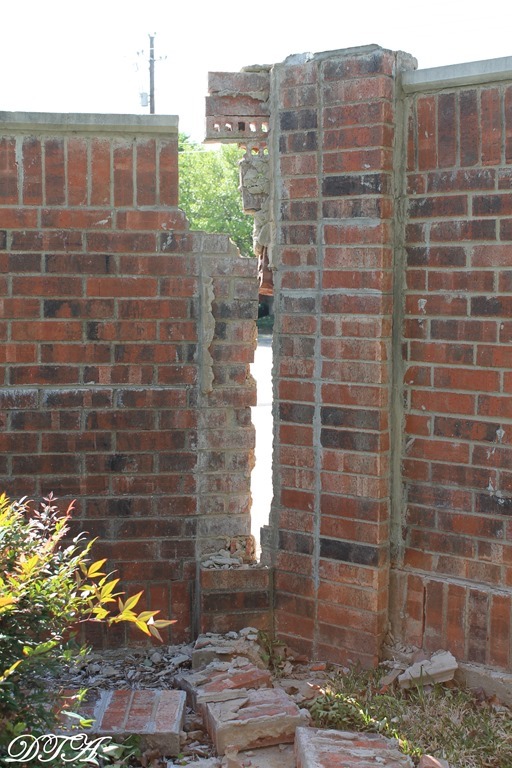 Storm debris is now embedded into the right side corner of our garage and both levels on the side of our house.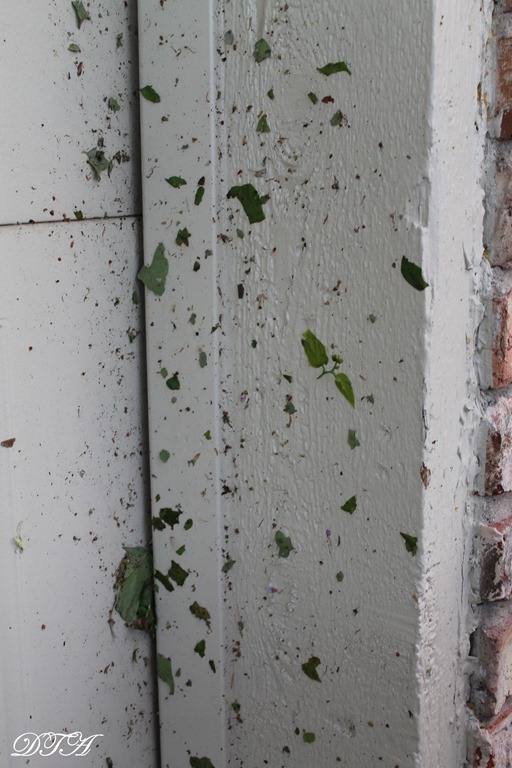 We have a shared driveway with our neighbors and huge tree branches came crashing down. They could not even open their garage.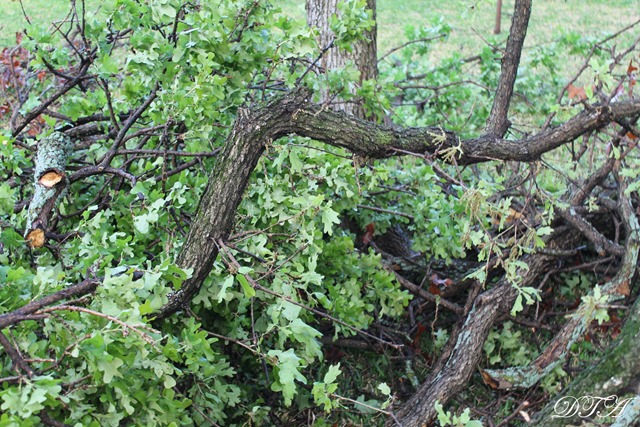 Mother Nature is indeed powerful.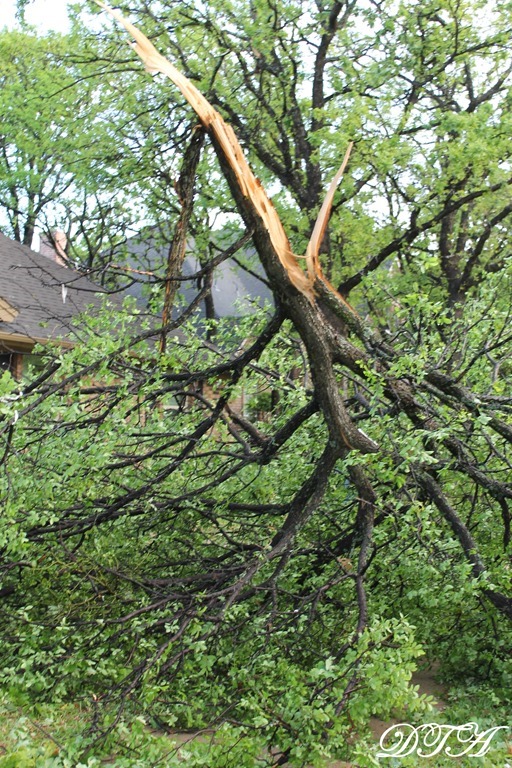 Our section in the neighborhood seems to have had primarily roof shingle and tree loss.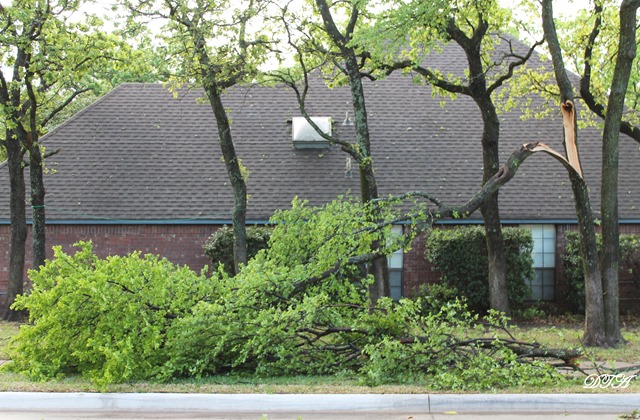 We also had portions of our wooden fence come crashing down.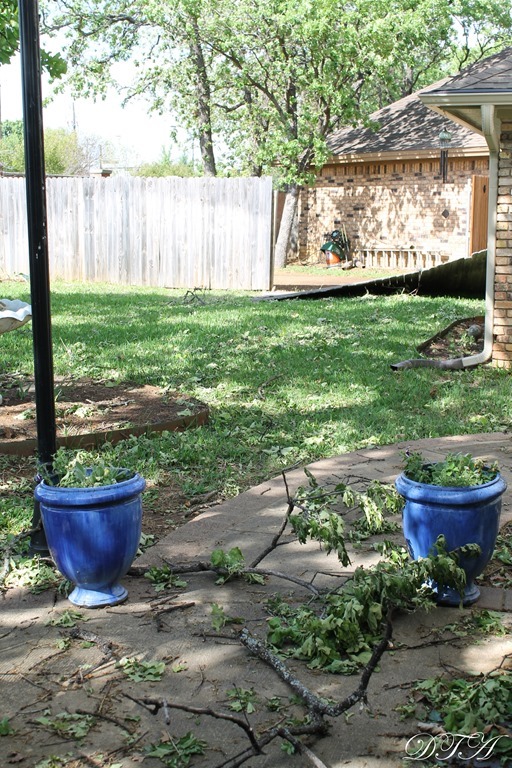 Now the real work begins.
We have another storm coming in this weekend so Mr. Decor has been up on the roof making temporary repairs. The damage is considerable.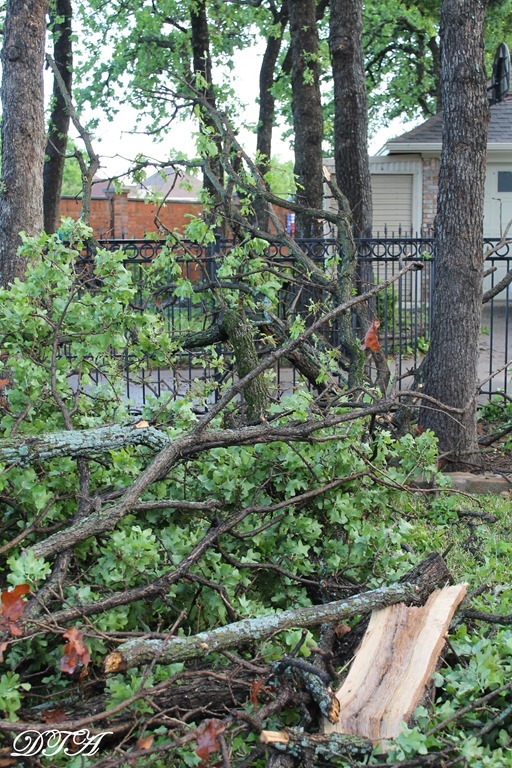 We feel incredibly blessed and thank all of those who contacted us with their caring thoughts and warm wishes. Please pray for those who lost their homes.
We praise Jesus for keeping us safe.
Laura aka Dorothy
"We live in the shadow of the Almighty, sheltered by the God who is above all gods. This I declare, that He alone is my refuge, my place of safety; he is my God, and I am trusting Him. For He rescues you from every trap and protects you from the fatal plague. He will shield you with his wings! They will shelter you. His faithful promises are your armor. Now you don't need to be afraid of the dark anymore, nor fear the dangers of the day;" ~ Psalm 91: 1~5