Welcome to the Storybook Cottage A Little House Christmas Kitchen. It has been transformed this holiday season with rustic touches inspired by "Little House in the Big Woods" by Laura Ingalls Wilder.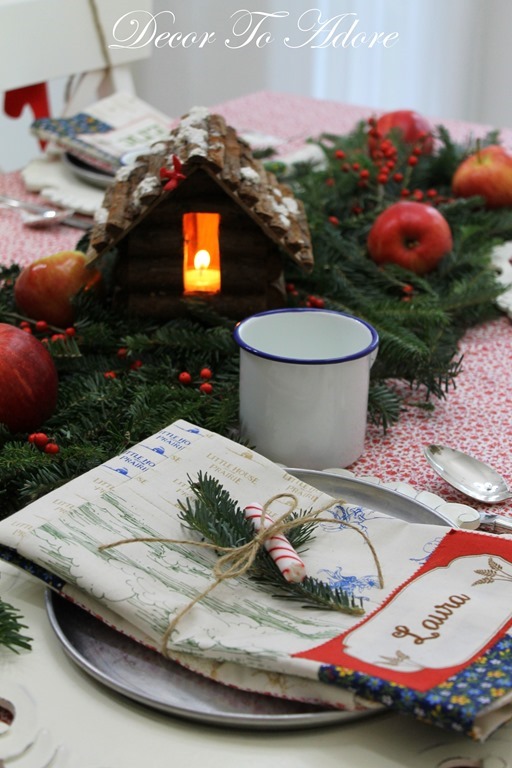 A Little House Christmas Kitchen
Our kitchen is a simple farmhouse style featuring white cabinets and an eat-in area.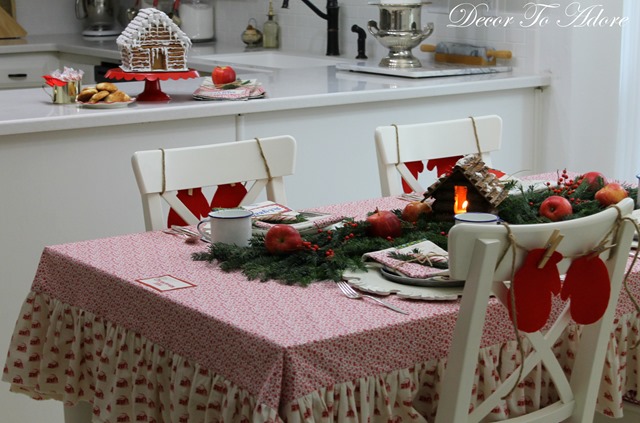 One wall contains a small shelf that holds the daily aprons. For this season I've selected simple styles in red and white. All these vintage beauties were once worn by the fabulous female cooks in my family.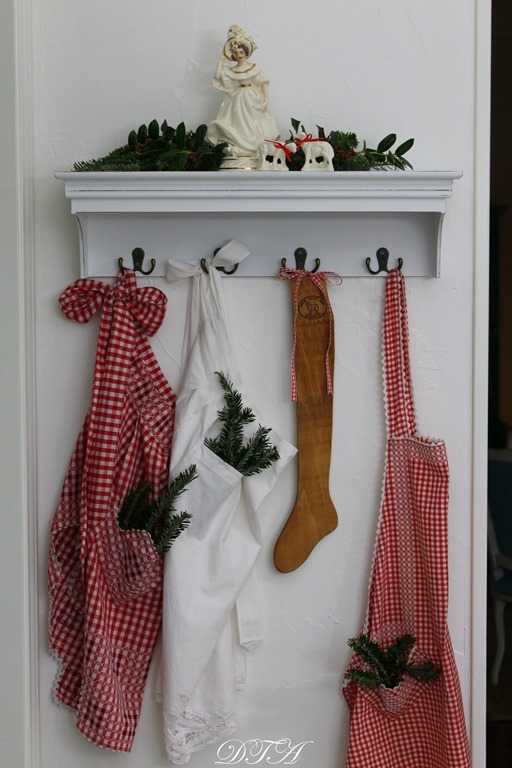 Ma's China Shepherdess
Did you spy the arrangement on top of the shelf? It's my rendition of Ma's china shepherdess figurine attending to her flock.
"The little china woman had a china bonnet on her head, and china curls hung against her china neck. Her china dress was laced across in front, and she wore a pale pink china apron and little-gilt china shoes. She was beautiful, standing on the shelf with flowers and leaves and birds and moons carved all around her, and the large star at the very top." ~Laura Ingalls Wilder, Little House in the Big Woods, page 62.
Historical note: the china shepherdess figurine was inherited by Laura's sister Carrie but at the time of her death the figurine was sadly unaccounted for.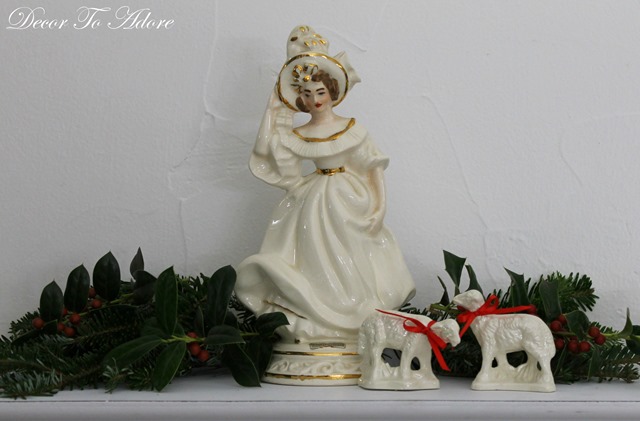 In the bay window, an old antique wagon contains seasonal greens and simply wrapped brown paper packages.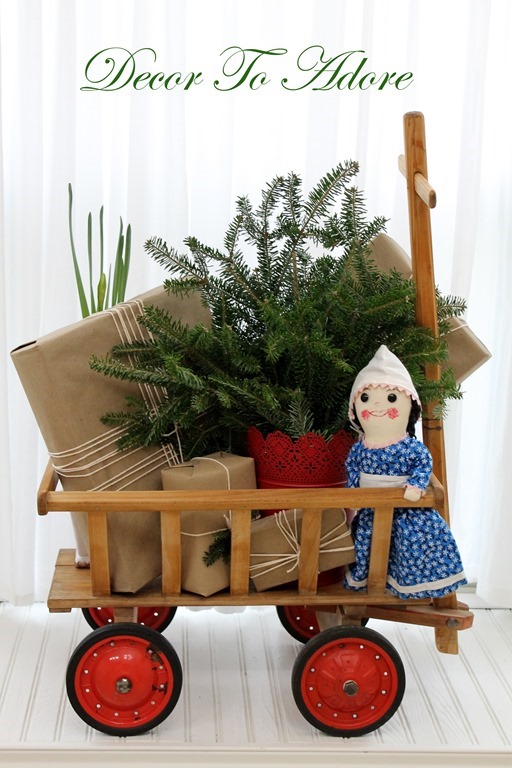 Charlotte
Charlotte has been happily tucked in amongst the packages.
"She had a face of white cloth with black button eyes. A black pencil had made her eyebrows, and her cheeks and her mouth were red with the ink made from pokeberries. Her hair was black yarn that had been knit and raveled so that it was curly. She had little red flannel stockings and little black cloth gaiters for shoes, and her dress was pretty pink and blue calico." ~ "Little House in the Big Woods", pages 74~76.
But does she have red flannel stockings and little black cloth gaiters for shoes? Indeed she does.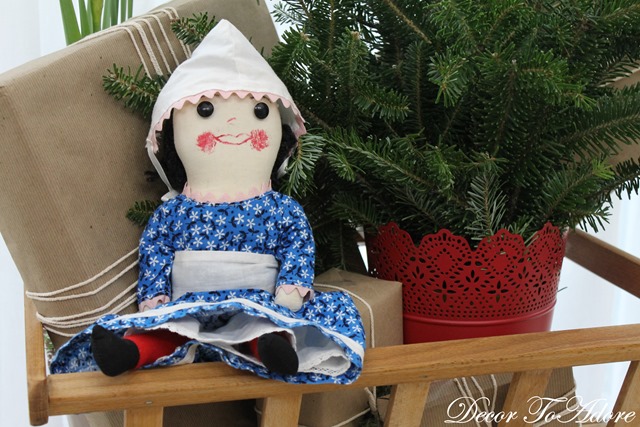 The Little House Table Setting
The tablecloth itself is made from Little House on the Prairie fabric. I created it in a prairie petticoat style and will feature a tutorial in an upcoming post.
A wax paper runner was laid on top of the cloth and then topped with freshly clipped evergreens. (The wax paper protects the fabric from the sap.)
Some red berries were clipped from the yard and sprinkled on top of the greenery.  They join a few crisp red apples for color.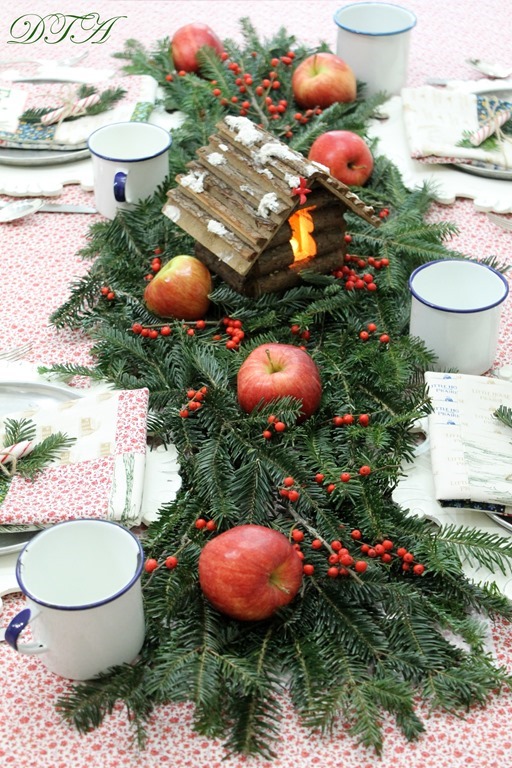 The sweet log cabin centerpiece was part of a pair of birdhouses I found a few months ago at an estate sale. My ever dashing personal pioneer man, Mr. Decor, cut a door into the house so that I could add a votive.
"Once upon a time, sixty years ago, a little girl lived in the Big Woods of Wisconsin, in a little gray house made of logs." ~ Little House in the Big Woods, page 1.
(Caution: never leave a burning candle unattended. LED votives are a great choice as a safe alternative.)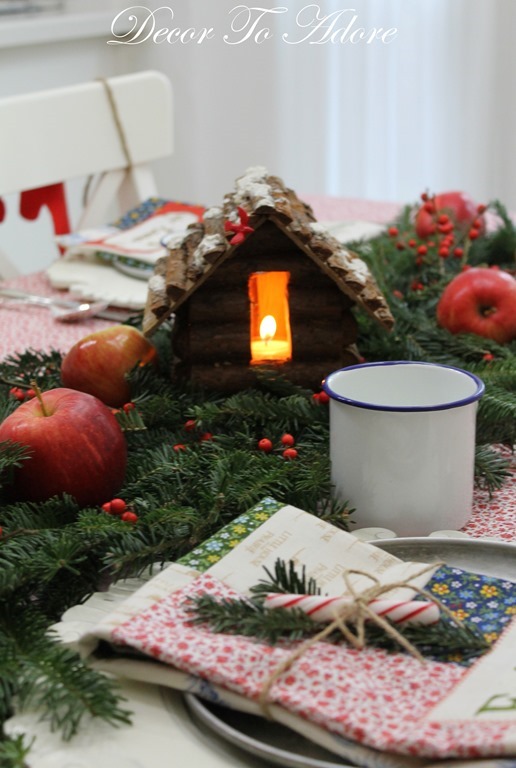 The Pioneer Place Settings
Each place setting features a vintage tin plate and enamel cup. The plate is topped with a personalized patchwork napkin.
The napkins are topped with a simple piece of greenery tied with twine accented with a red and white peppermint stick.
"In each stocking, there was a pair of bright red mittens and there was a long, flat stick of red-and-white-striped peppermint candy, all beautifully notched along each side."  ~Little House in the Big Woods, page 74.
But what of the red mittens?
Don't you worry!
Also feast your eyes on the log cabin styled gingerbread house in the background.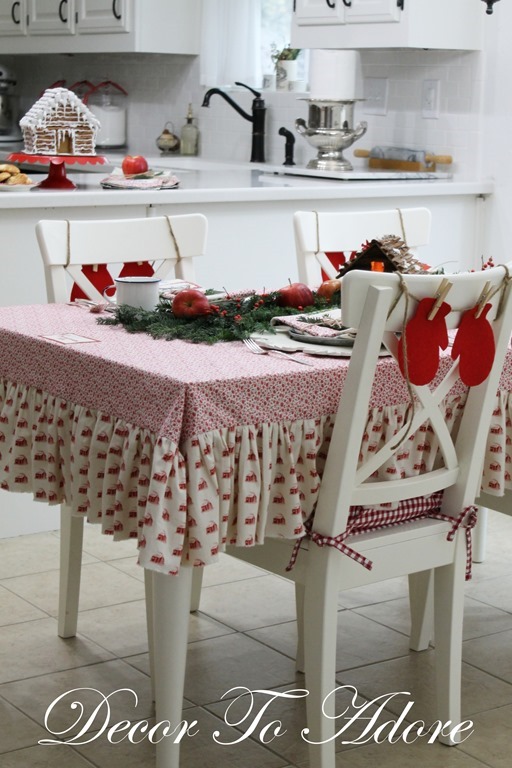 Do you love peppermint sticks?
Laura
Please enjoy all of the other posts in the "Little House" series.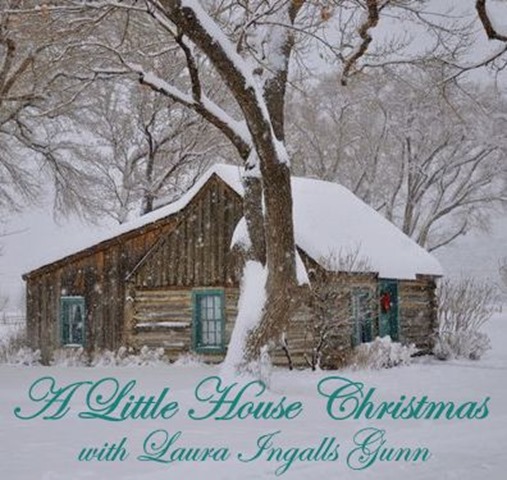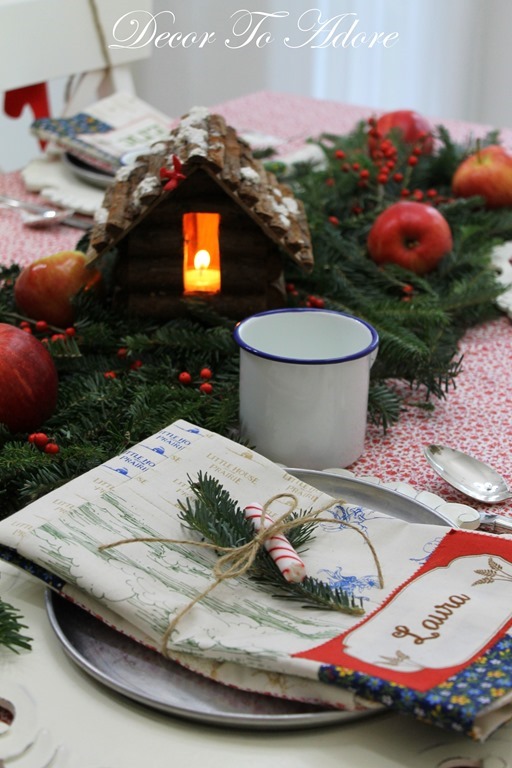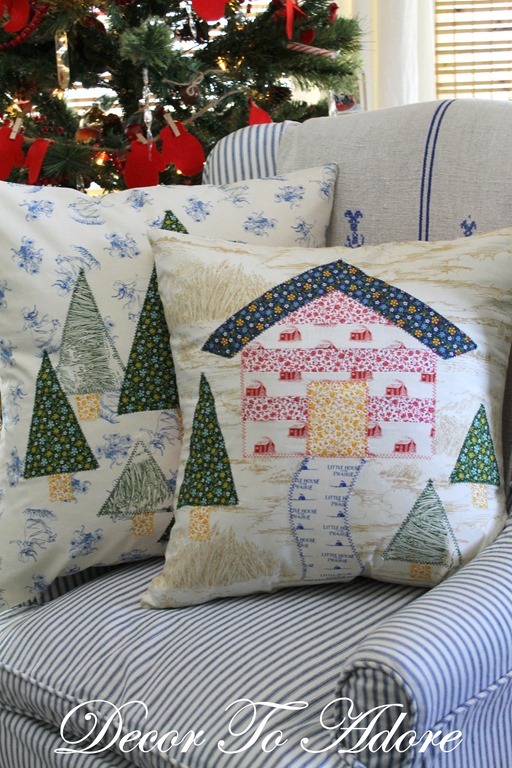 Little House Christmas Tree and Decor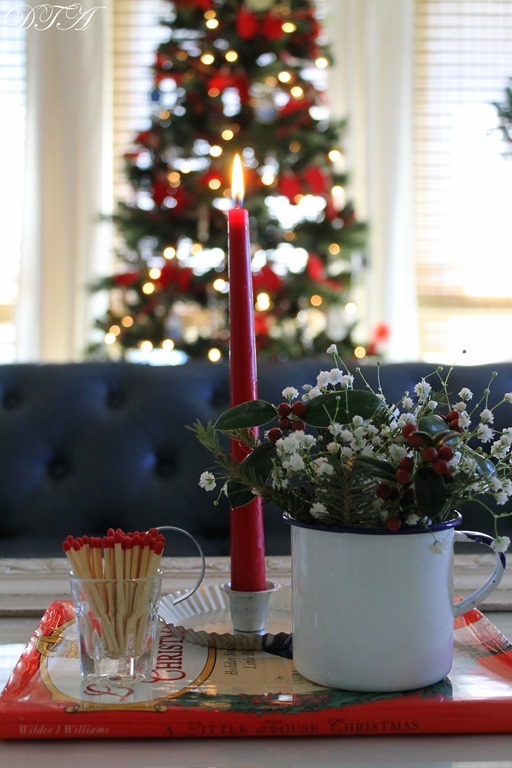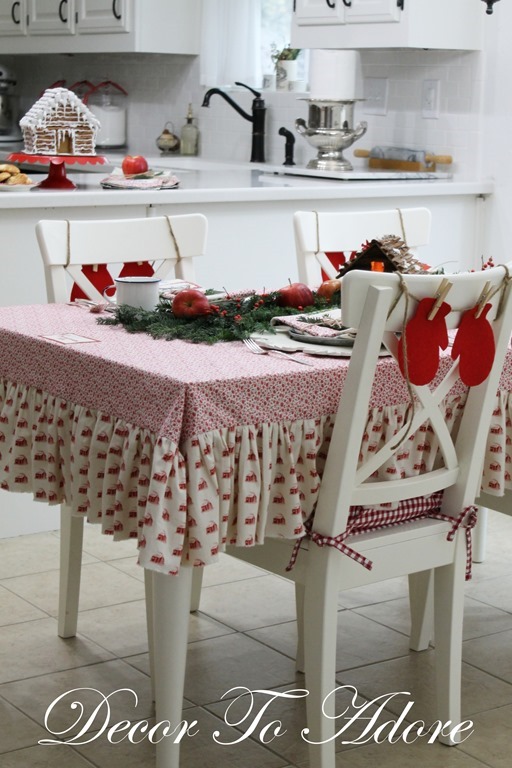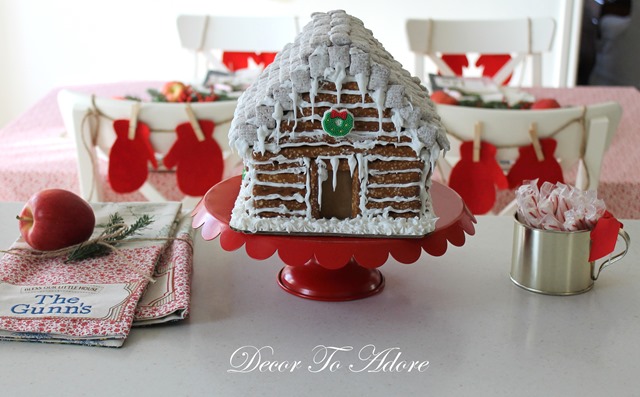 Laura's Red Mitten Garland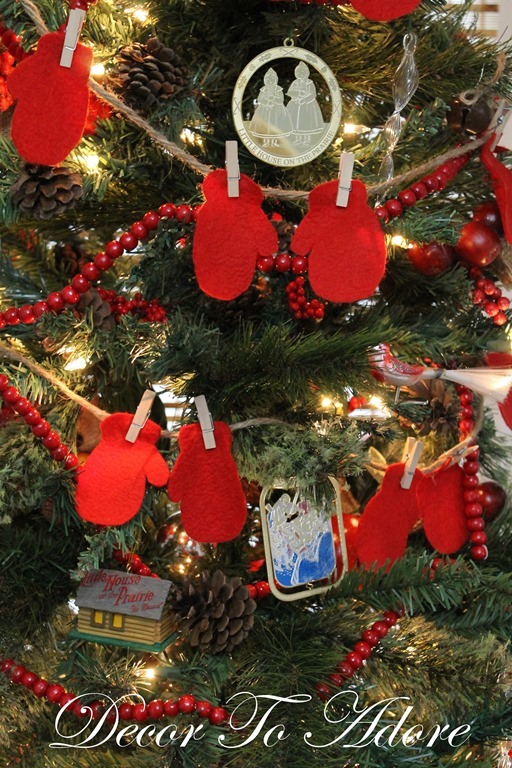 Little House Holiday Breakfast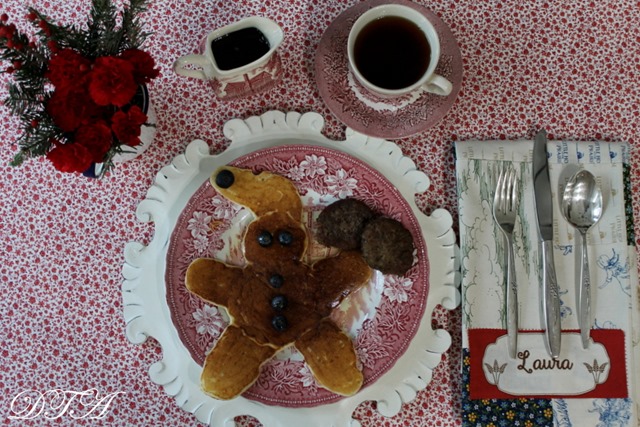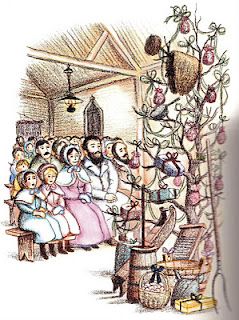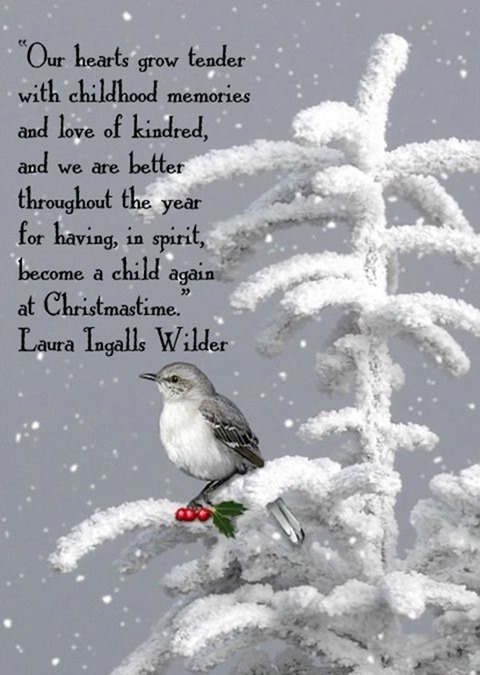 Becoming Laura Costume Challenge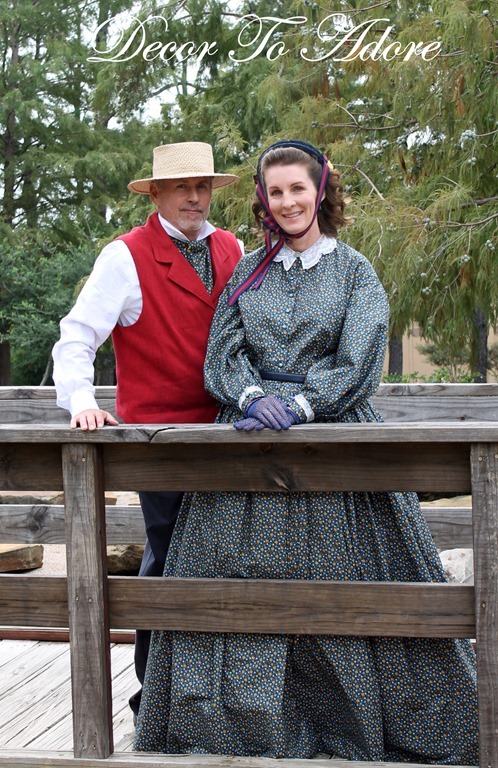 The Homes of Laura Ingalls Wilder