Have you planned your Christmas dinner menu? We will be enjoying a Little House Christmas Dinner feast inspired by the "Little House" books by Laura Ingalls Wilder.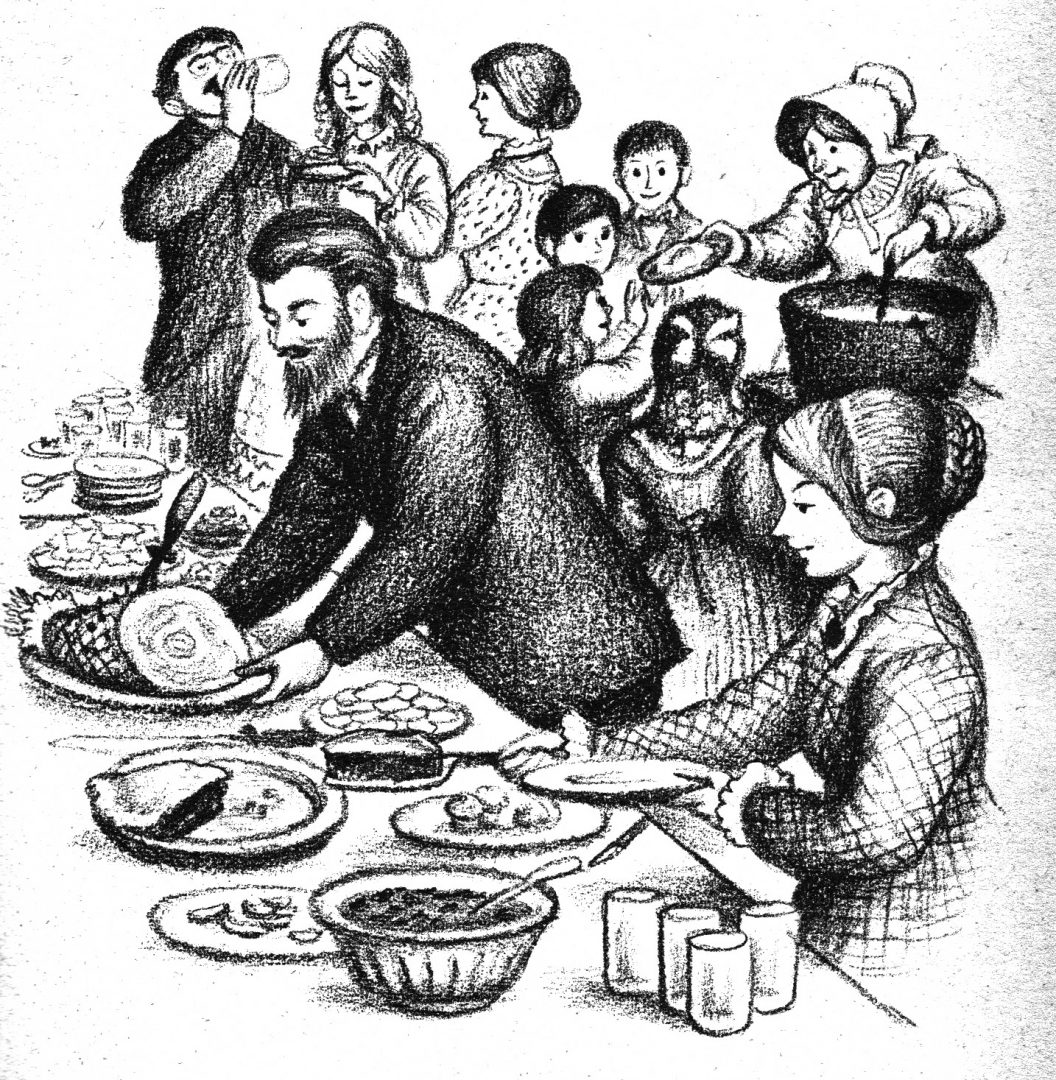 A Little House Christmas Dinner
For our "Little House" inspired Christmas dinner we will be eating roasted hen, cornbread stuffing, mashed potatoes, cranberry jelly, light biscuits, apple pie and a very special birthday cake. Our beverage will be eggnog.
All recipes used can be found in The Little House Cookbook written by Barbara M. Walker.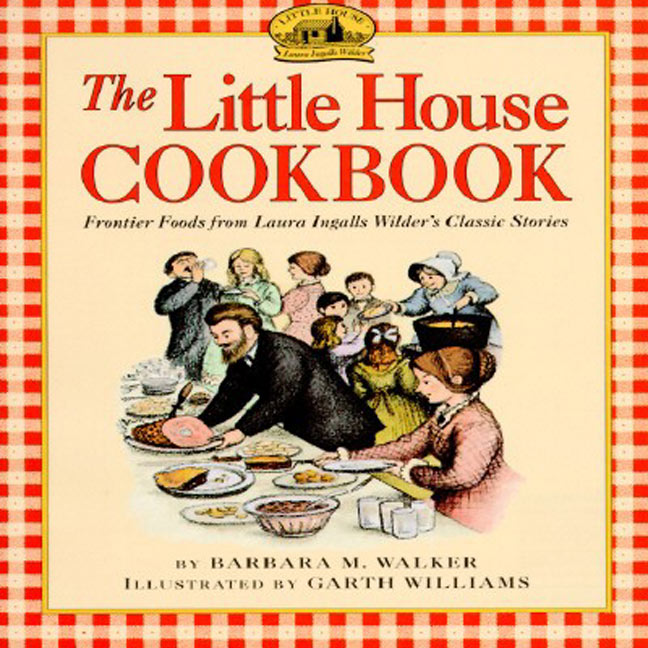 As you may know, Laura's full maiden name was Laura Elizabeth Ingalls. I am thankful that I have my own daughter, Alyssabeth, to assist with the dinner preparations.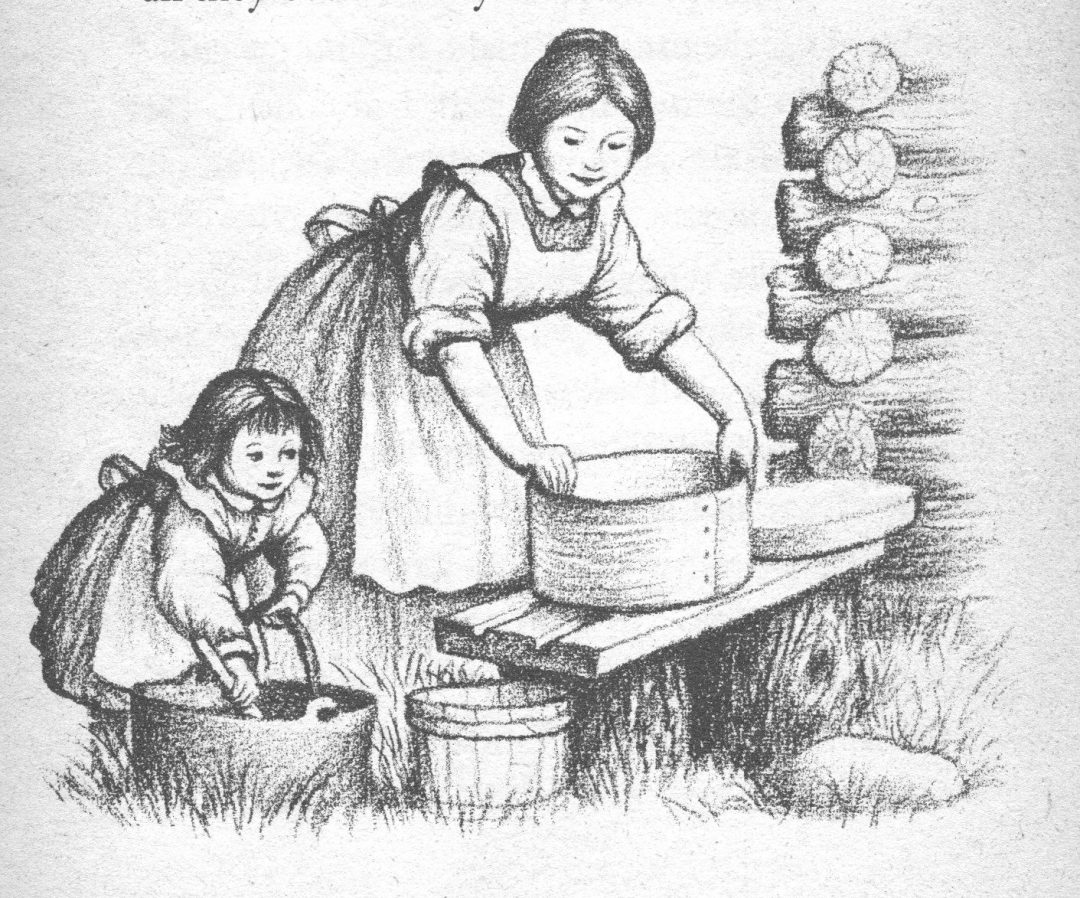 Roasted Hen and Cornbread Dressing
For the main course, we will be enjoying a roasted hen. While there is a recipe for wild turkey with the cornbread dressing we will be making on pages 46~47 in the "Little House" cookbook our family voted for stuffed roasted hen found on pages 162 ~163.
 "…at noon there would be the special Christmas feast, with a big fat hen stuffed and roasted brown and juicy,…" These Happy Golden Years ~ Laura Ingalls Wilder
I'm thankful that today one can merely pick up a hen in the supermarket meat department versus having to raid the chicken coop and prepare the bird.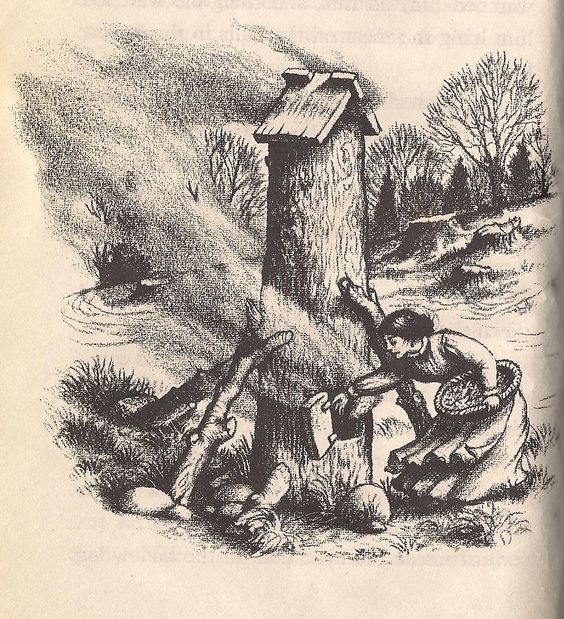 Mashed Potatoes
Mashed potatoes were mentioned several times throughout the "Little House" book series. The recipe is found on pages 102 ~ 103 of the cookbook.
6 medium "old" potatoes
salt and pepper
1 cup of whole milk
Butter, the size of an egg
Tools: a large pot and potato masher
Scrub and peel the potatoes and cut them into small pieces.

Put the potatoes in a pot and fill the pot with water, just covering the potato pieces, add the salt.

Cook the potatoes in the water until they are tender when stuck with a fork.

Take the pot off the stove and drain the water. Careful—the water is very hot!

Mash the soft potatoes with a potato masher.

Add slices of butter one at a time, or splashes of milk one tablespoon at a time, as you mash until the potatoes are lump free. They should have a stiff, but smooth consistency.

Eat and enjoy!
Laura's family stored their root vegetables in the attic so that they would have food through the long winters.
Sour-Dough Biscuits
"When you haven't milk enough to have sour milk, however do you make such delicious biscuits, Laura?" she asked. Why, you just use sour dough, Laura said. Mrs. Boast had never made sour dough biscuits! It was fun to show her." ~ The Shores of Silver Lake by Laura Ingalls Wilder

1 cup sour dough starter (found on page 77 of the "Little House" cookbook)

4 1/2 cups unbleached white flour

1 tsp salt

1 tsp of baking soda

Drippings, 2 teaspoons (we are opting to use butter)

1. You will need to refer to the cookbook to prepare the mixture for bubbling and adding in 2 1/2 cups of flour and 2 cups of warm water.

2. A few hours later the dough has risen and you will gently fold in the remaining flour, salt and baking soda.

3. Turn the dough out on to a lightly floured surface. Need a few times, you don't want the dough to be too stiff. Roll it lightly to a ½ inch thick. Cut out the biscuits with a biscuit cutter or a glass.

4. Place the biscuit on an ungreased baking sheet and let rise for 30 minutes. This makes for lighter biscuits.

*While the cookbook prepares the biscuits in a greased skillet I opted to bake mine on a cookie sheet.

Bake at 400 degrees F for 10-12 minutes. When they are lightly golden brown they are done.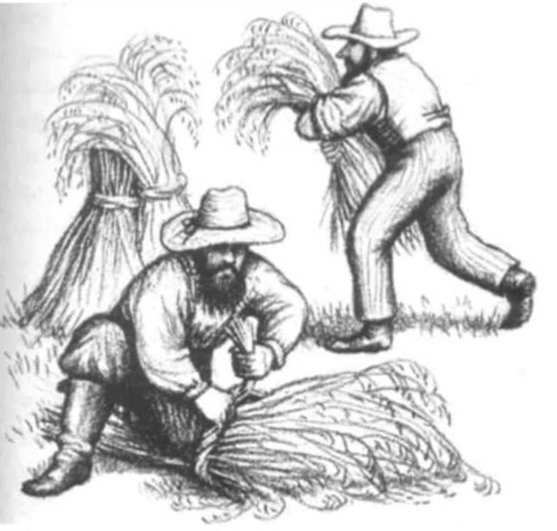 Cranberry Jelly
Jelly recipe found on pages 48~49 of The Little House Cookbook.
"Laura and Carrie picked over the cranberries and washed them. Ma stewed them with sugar until they were a mass of crimson jelly." ~ The Long Winter by Laura Ingalls Wilder
1 pound of cranberries
2 1/2 cups of granulated sugar
You may also add in the zest of one orange for extra flavor
1. Wash the cranberries discarding any soft ones.
2. Place sugar and 1 cup of water in a pot and bring to a boil.
3. Add the cranberries, orange zest and cook for approximately 15 minutes. Make sure you stir frequently.
4.  Transfer the jelly into a bowl and chill.
Makes 6 servings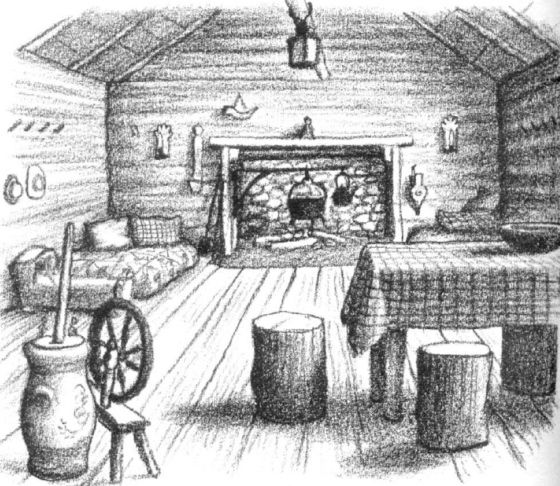 Laura's Wedding Cake with Sugar Frosting
Each Christmas Eve our family makes a birthday cake for Jesus. It is generally a white cake. I am going to attempt a variation of Laura's wedding cake and the sugar frosting found on pages 206 ~ 208 of the cookbook.
Apple Pie
"But best of all Almanzo liked the spicy apple pie, with its thick rich juice and its crumbly crust." ~ Farmer Boy by Laura Ingalls Wilder
The recipe for apple pie can be found on pages 124 ~ 125 of the The Little House Cookbook.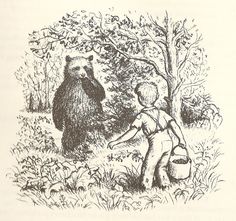 Egg Nog
"The egg nog was made of milk and cream, with plenty of eggs and sugar. Its foamy top was freckled with spices, and pieces of ice floated in it." ~ Farmer Boy by Laura Ingalls Wilder
The recipe is found on pages 184 ~ 185 of  The Little House Cookbook.
6 eggs, separated
1/2 c. granulated sugar
1 quart of whole milk
2 cups of heavy cream
If desired you may add a sprinkle of fresh nutmeg
1. Separate eggs into two bowls; a small one for the whites and a large one for the yolks.
2. Whisk the sugar well into the egg yolks, then add milk and cream while whisking. Place in the refrigerator.
3. Meanwhile, beat egg whites until they form soft peaks, then fold into the milk mixture.  Mix entirely or allow foam to sit on top.
4. Ladle into mugs and sprinkle with nutmeg.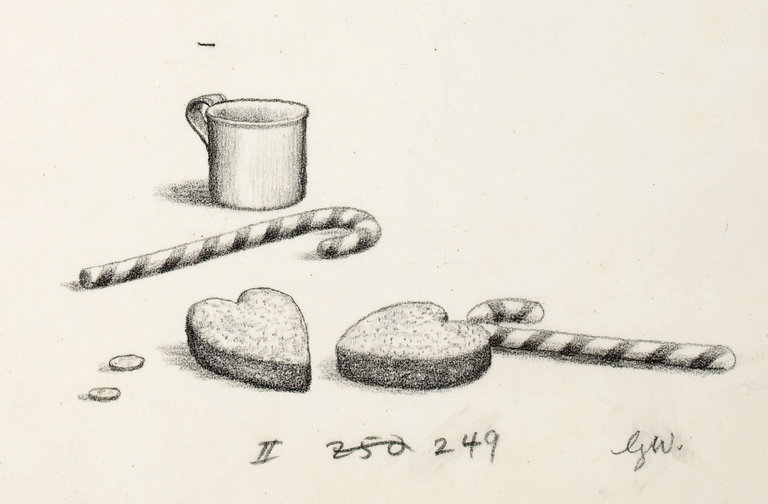 About the artwork featured in this post.
All of the drawings shown in this post were done by the fabulous Garth Williams and are copyrighted. You may use copyrighted images, quotes, recipes and such for your own enjoyment but they must not be sold. In instances such as featuring them in a post all work must be attributed to the creator, which I have carefully done.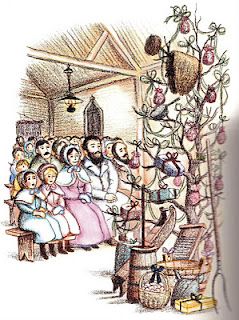 Our Very Own Little House Feast
Here are the Christmas Eve "Little House" feast images pulled from the Decor To Adore Instagram account.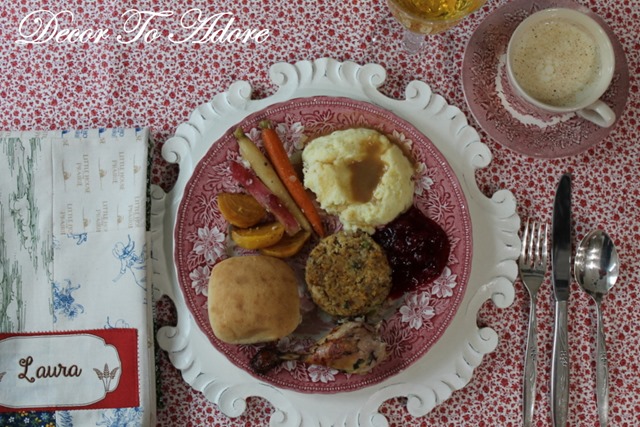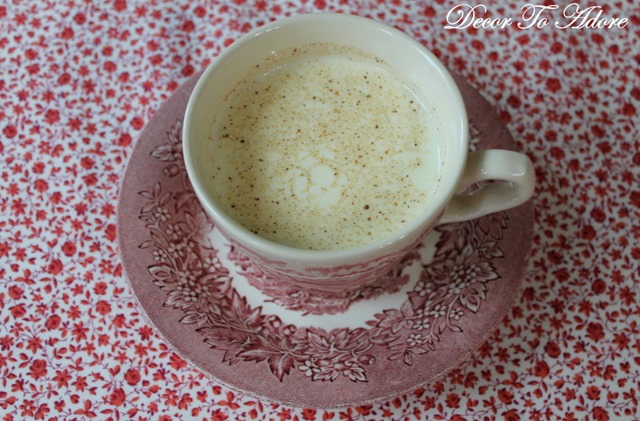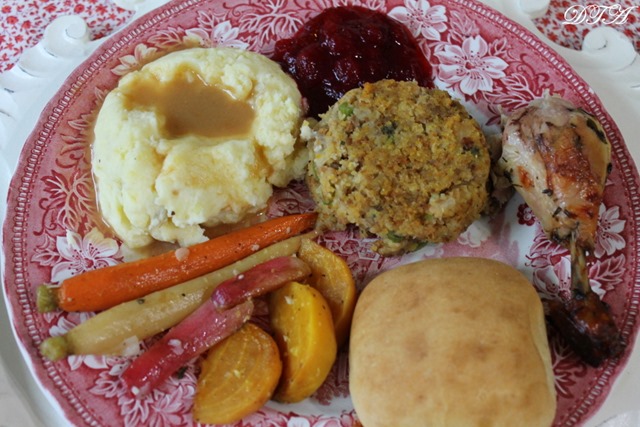 "That was such a happy supper that Laura never wanted it to end." ~ The Long Winter
Laura
Please enjoy all of the other posts in the "Little House" series.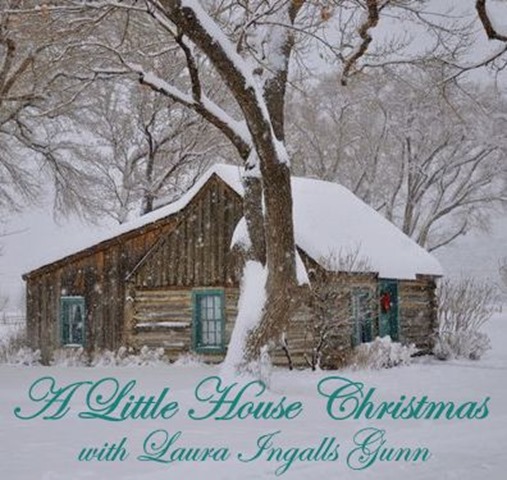 Laura's Patchwork Napkins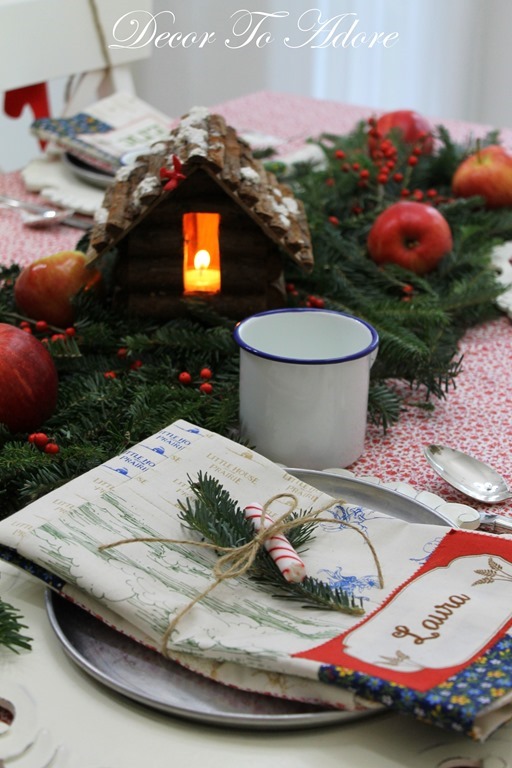 Little House DIY Throw Pillows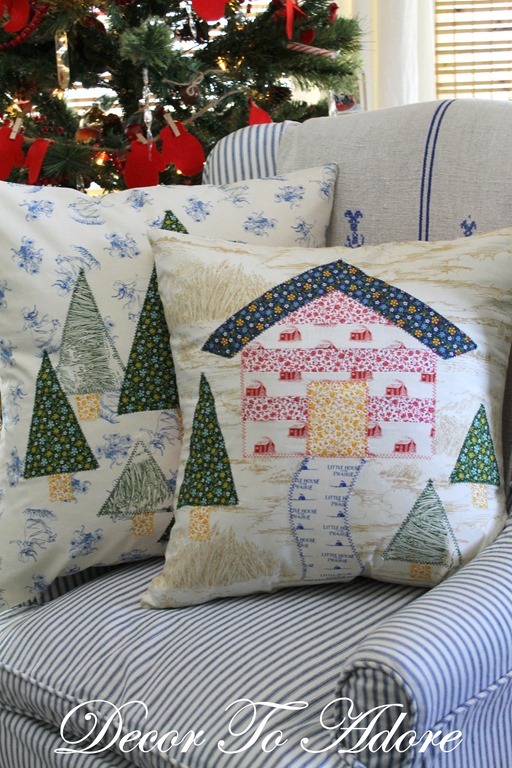 Little House Christmas Tree and Decor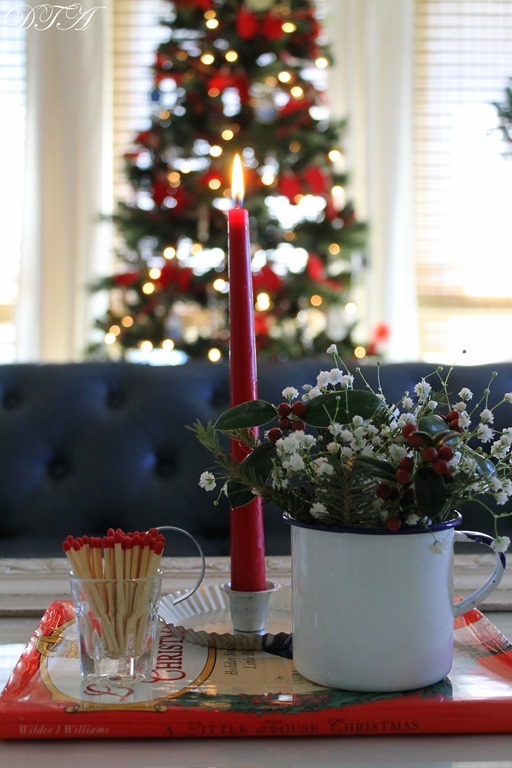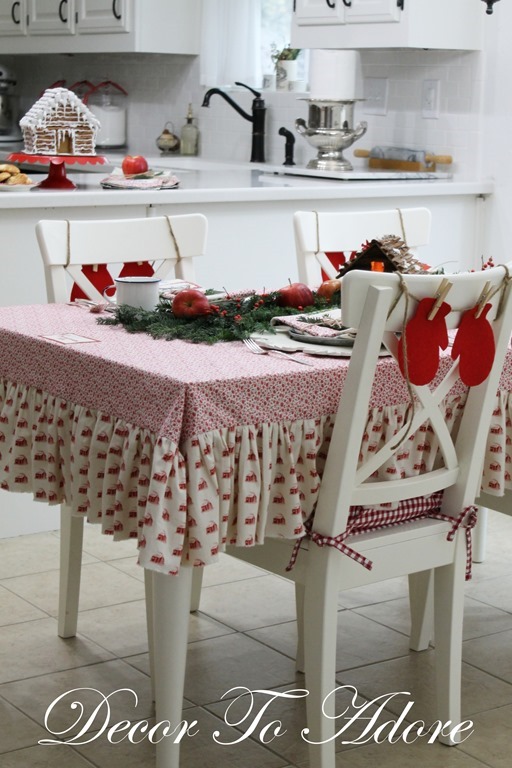 Laura's Gingerbread Log Cabin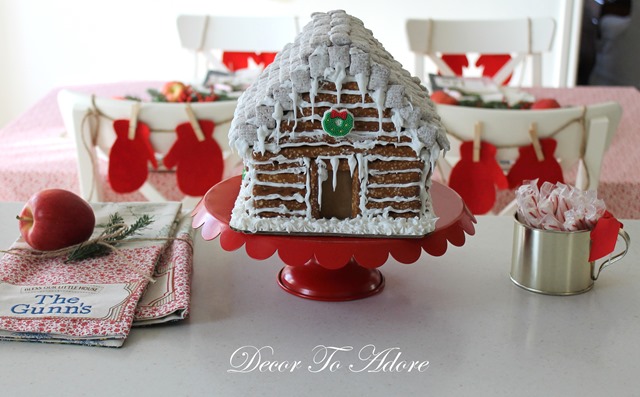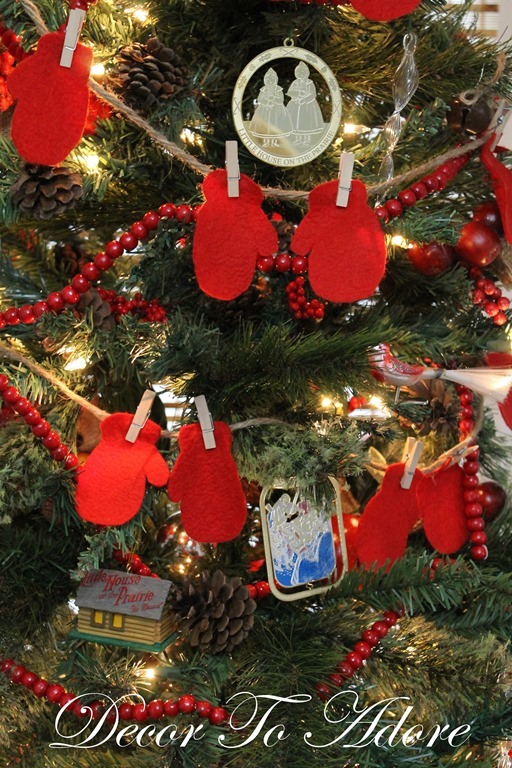 Little House in the Big Woods Christmas Kitchen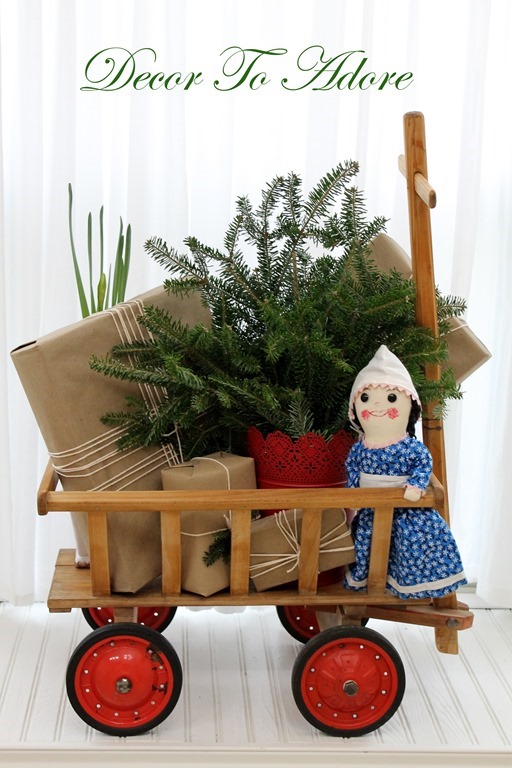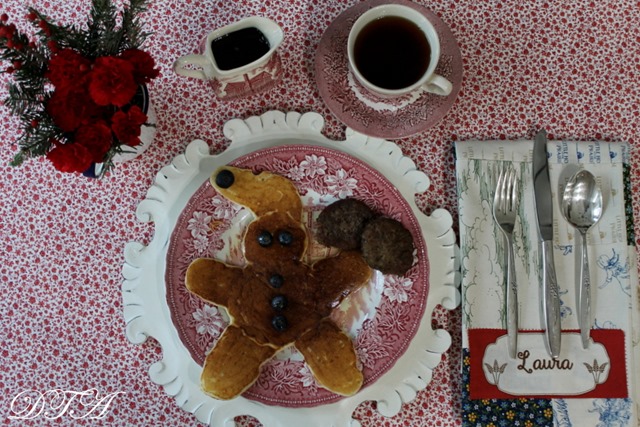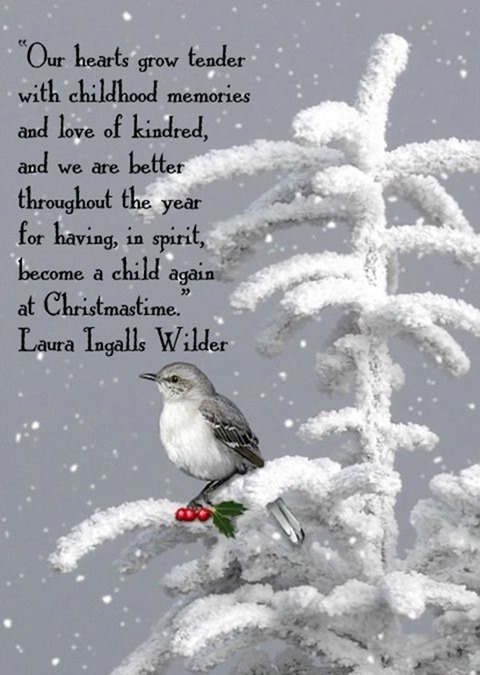 Becoming Laura Costume Challenge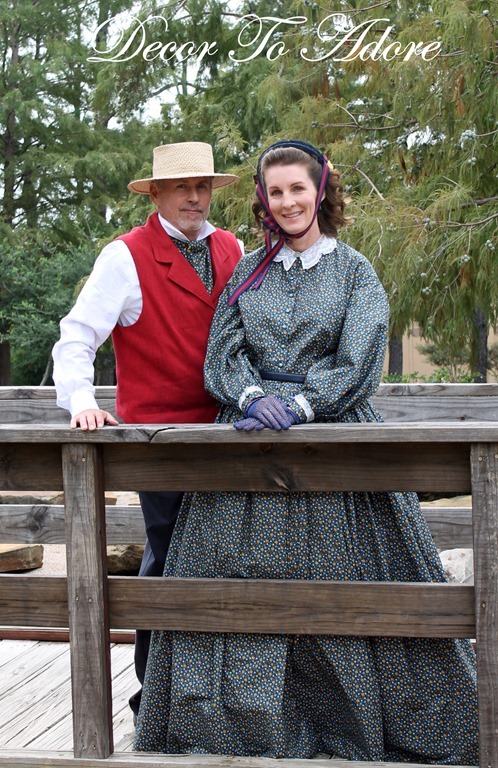 The Homes of Laura Ingalls Wilder