I just love a cozy bedroom at Christmas time, don't you? It is the perfect time to create a cozy Christmas bedroom.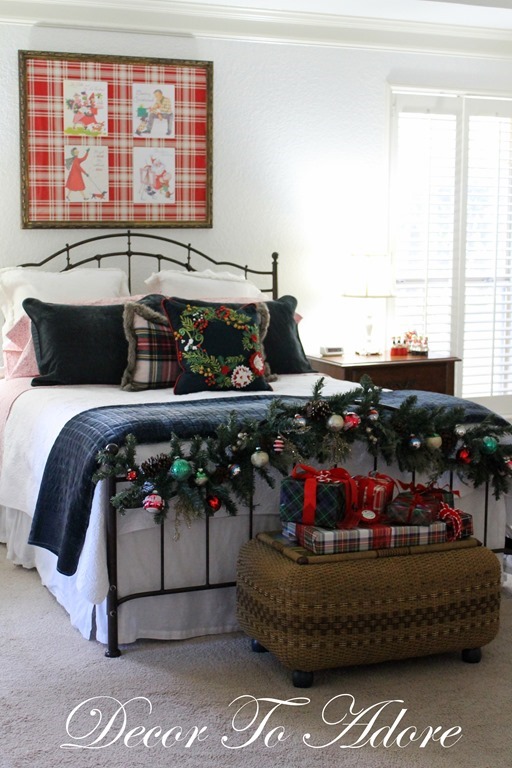 Today I am so happy to join the Cozy At Christmas Holiday Blog Tour hosted by Katie at Let's Add Sprinkles.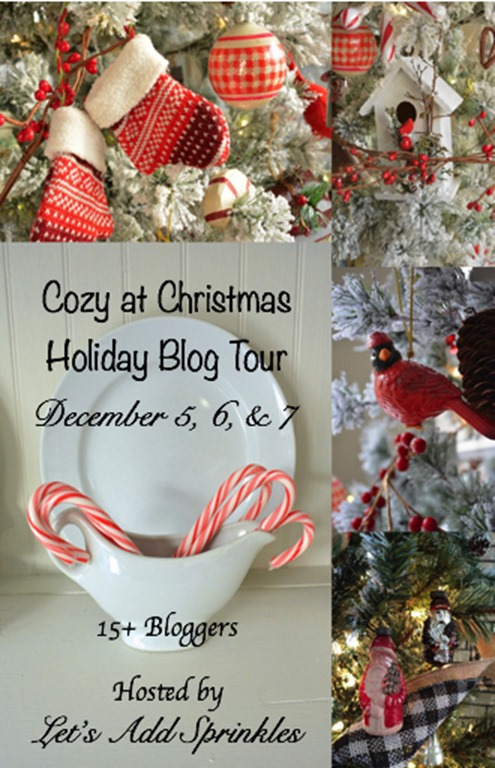 Part I of the Decor To Adore Christmas Home Tour was shared on Monday.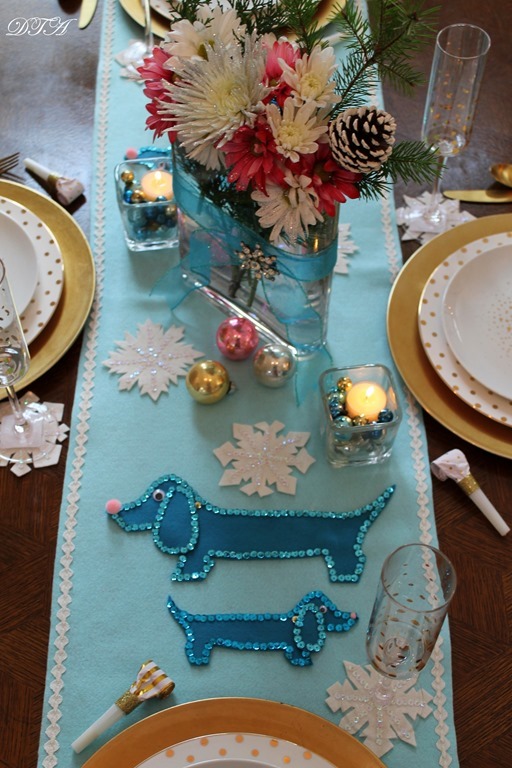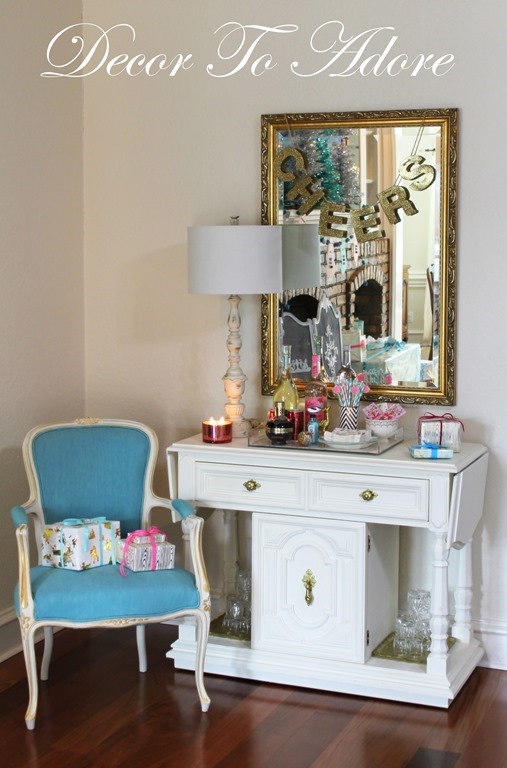 A Cozy Christmas Bedroom
Today I am continuing the Vintage Christmas Wonderland theme in the master bedroom at Storybook Cottage.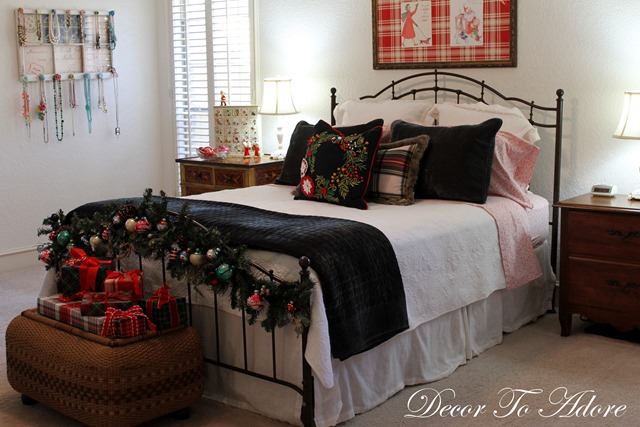 The color palette is traditional green and red accented with a bit of classic black.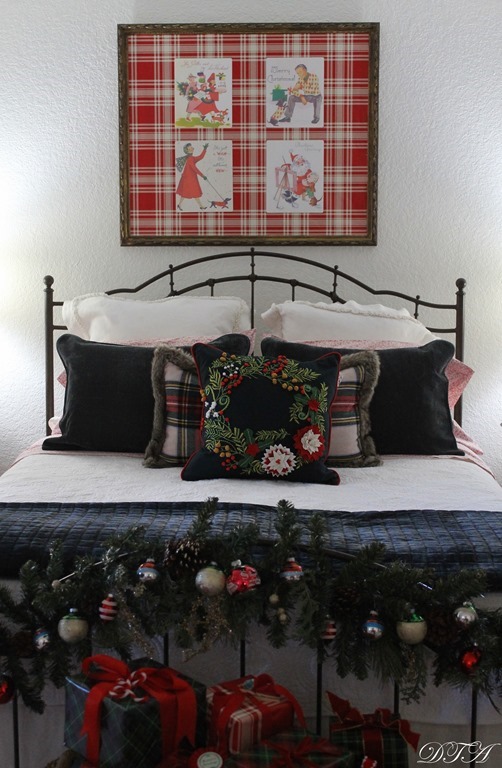 I shared how I made all of the holiday artwork in the room for mere pennies HERE.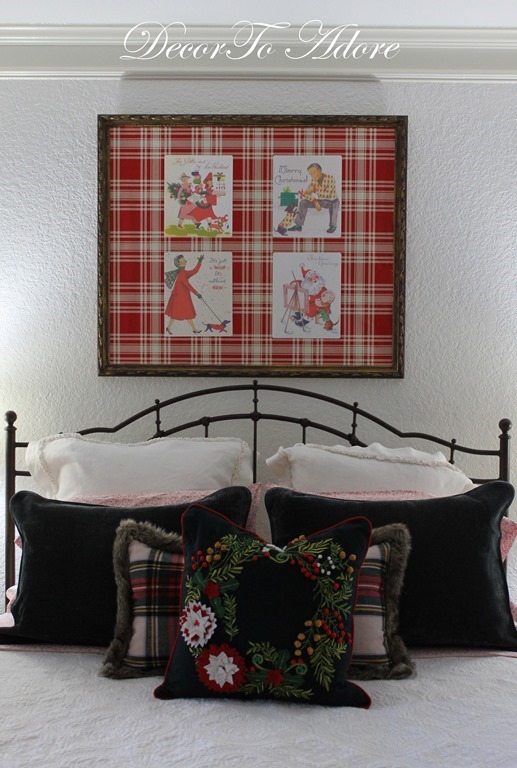 Several tartan patterns are showcased in a nod to Mr. Decor's Scottish heritage.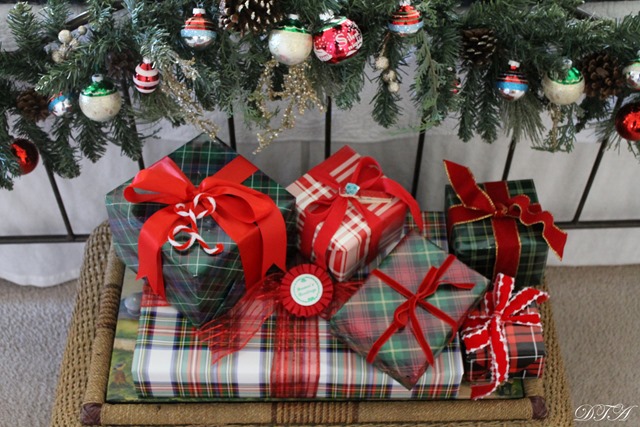 On his nightstand, some vintage caroler figurines and a few Shiny Brites under glass add a bit of holiday cheer but still allow plenty of room for his wallet, phone, and other essentials.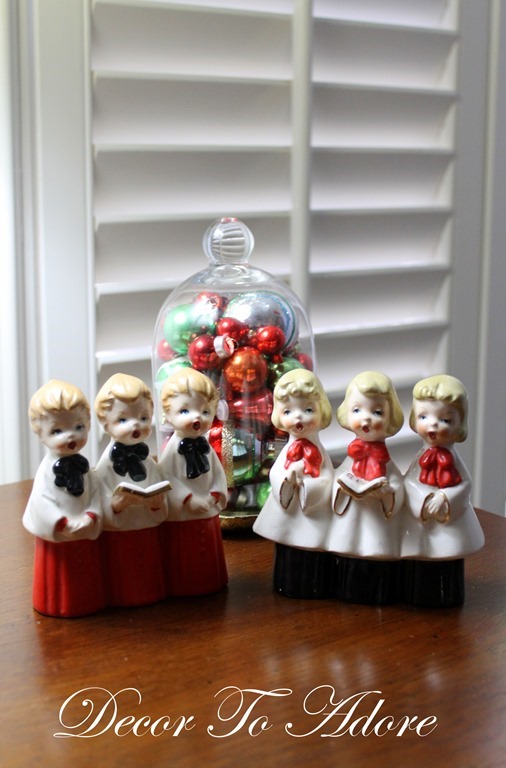 A collection of nutcrackers and smokers, found while we lived in Germany, happily sit on top of his dresser.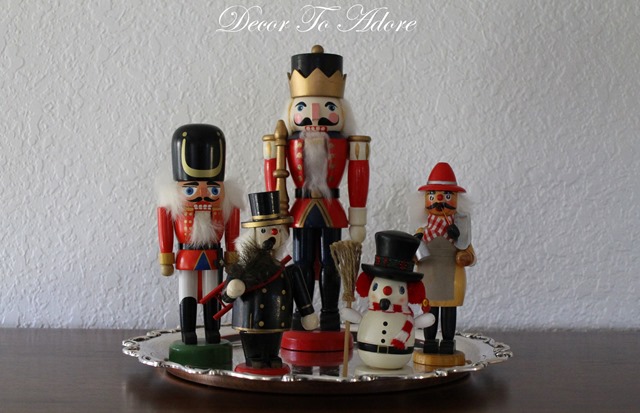 Let's take a closer peek at my nightstand.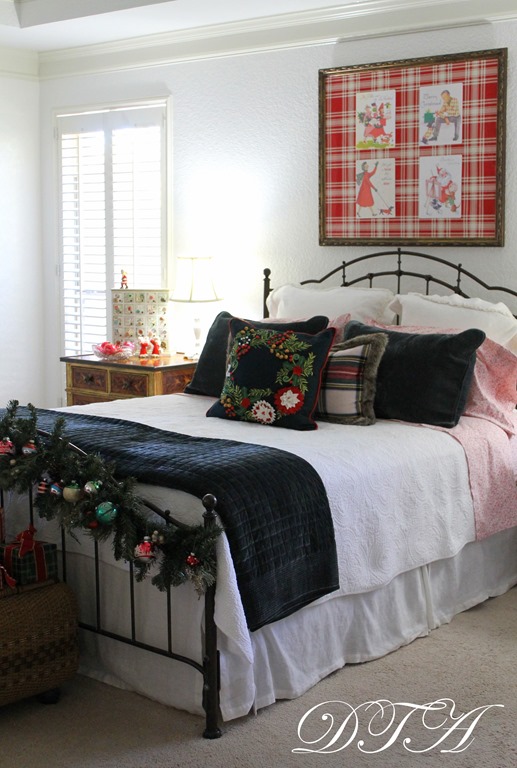 More vintage figurines and Shiny Brites create a happy vignette alongside the advent calendar I created a few years ago. (This year I filled it with peppermint kisses~ yum! 🙂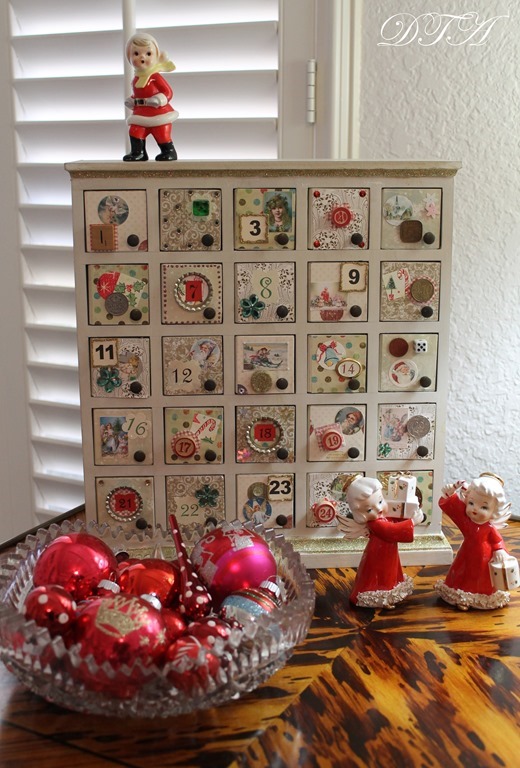 Most of my vintage Christmas collection has come from estate sales and thrift shops.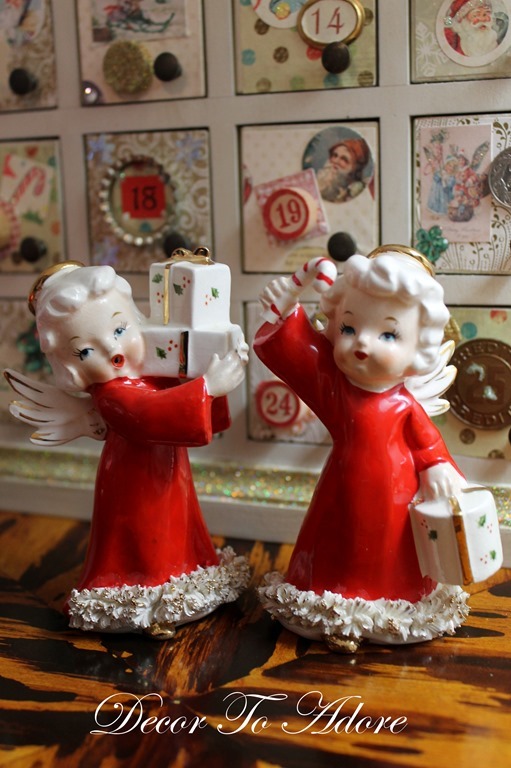 My most recent acquisition, Tinker the Elf,  came a few weeks ago. This jolly elf makes a happy tinkling chime when you turn him over. You can read how he brought the magical spirit of Christmas joy to me HERE.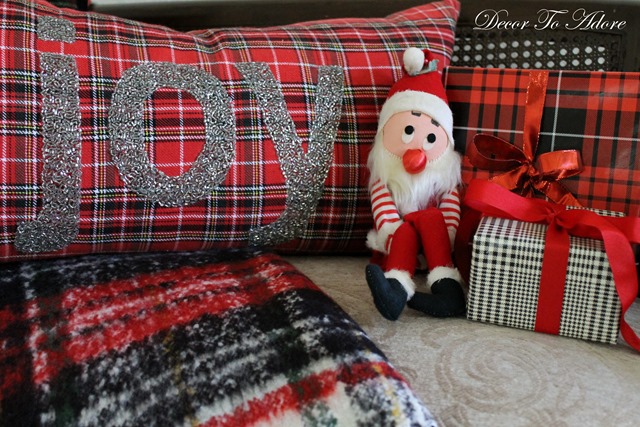 He sits on the settee which also received a bit of holiday cheer.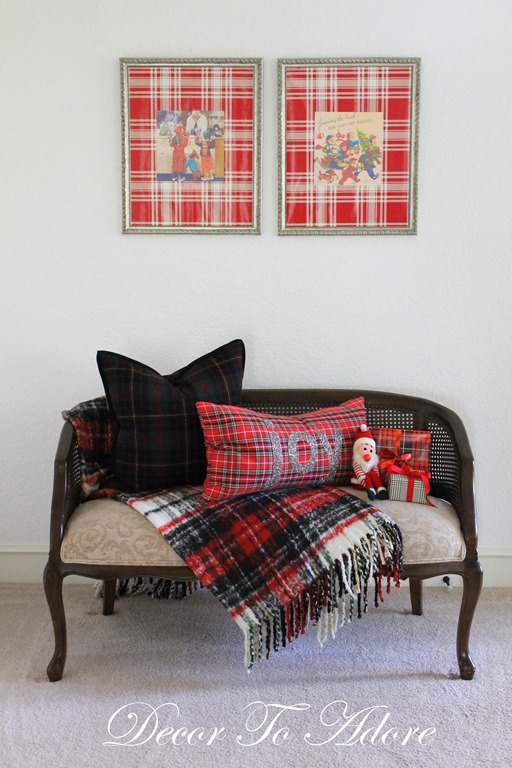 The sweetheart advent calendar was hung on a small side wall.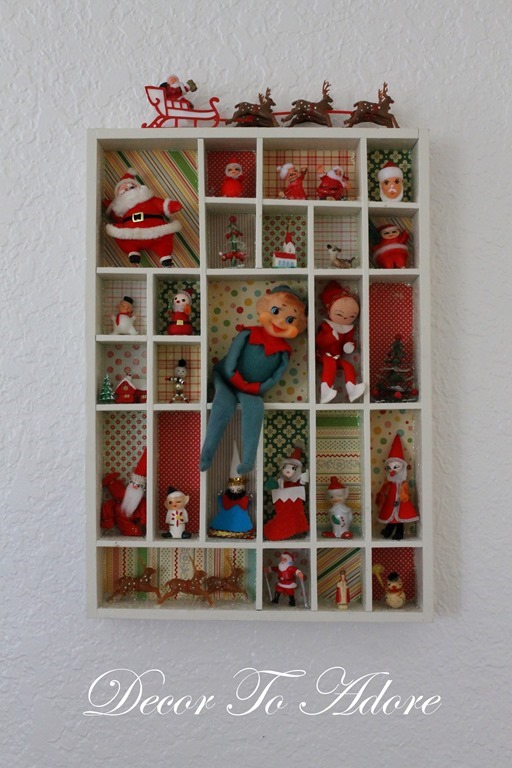 Dept. 56 Snow Village
On the top of my dresser, I set up my original Dept. 56 Snow Village.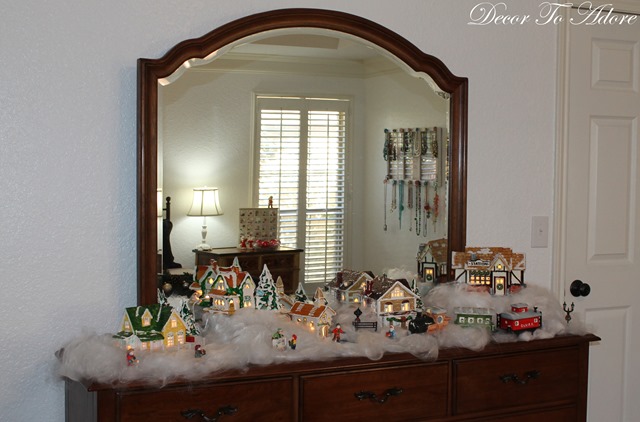 The first piece was given to me as a child in 1977. You can read that story HERE.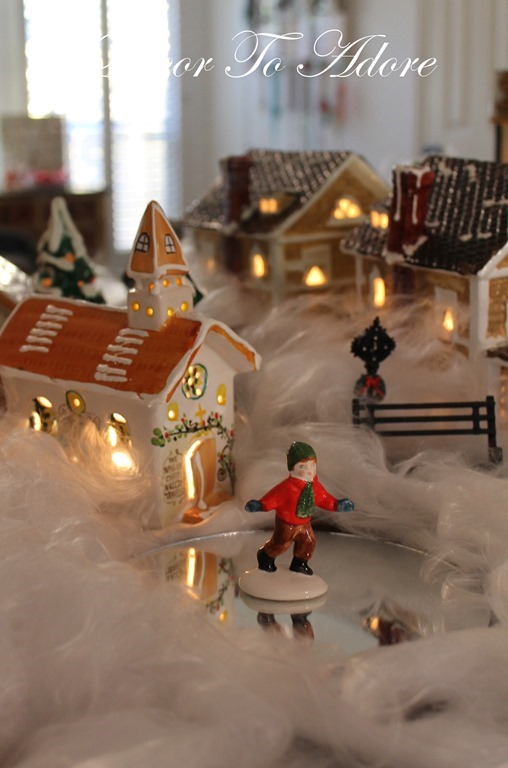 It truly is so cozy to sit in bed at night, snuggled under the covers, and see the sweetly lit scene.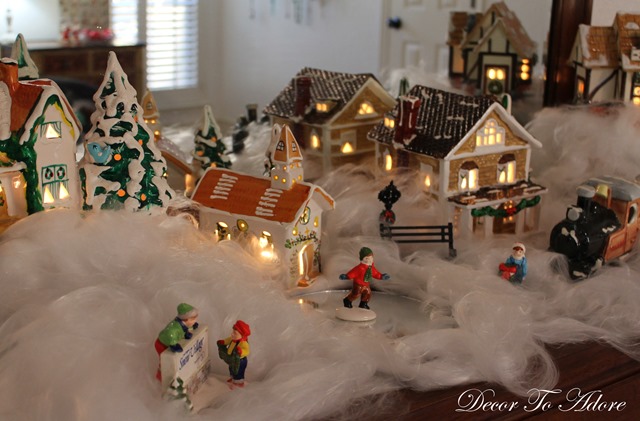 Of course my favorite cozy canine companions, Rudi and Franz, also wanted to get into the spirit and wish you a very Merry Christmas!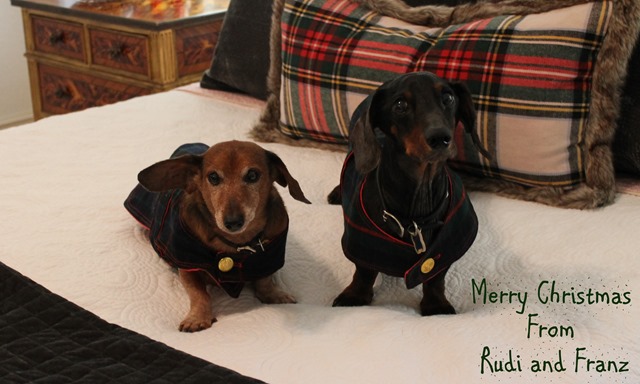 The boys are ready to walk in a Weiner Wonderland and Dachshund Through The Snow in coats I made from the Gunn tartan last year. Lined in red linen they are super soft and cozy.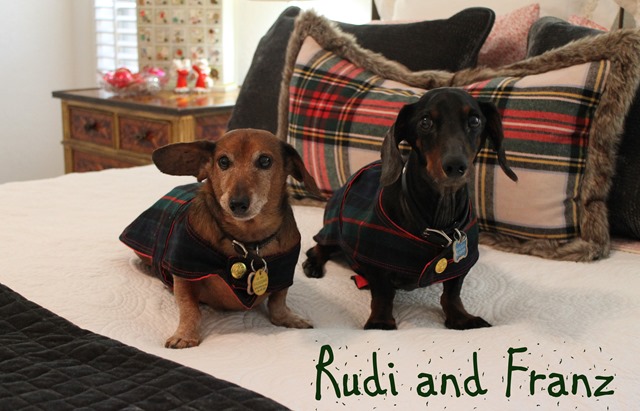 Please join me next week, December 12th through the 24th, for " A Little House Christmas".
Little House Christmas Kitchen
A Little House Red Mitten Garland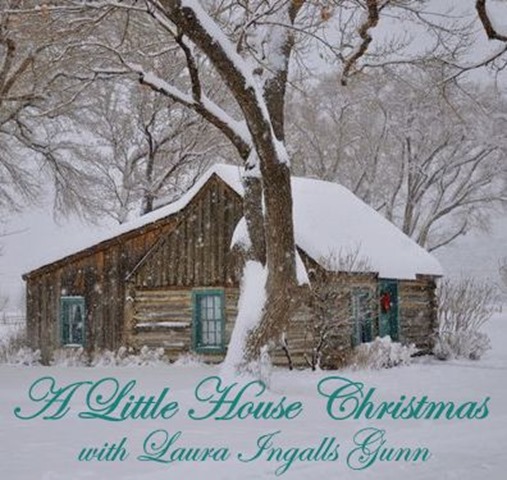 May you have a wonderfully cozy Christmas.
Laura
Be sure to visit all of the lovely blogs on the Cozy At Christmas Blog Tour.

Let's Add Sprinkles, Hyacinths for the Soul,  Southern DayDreams, White Spray Paint, Garden Up Green, Have a Daily Cup of Mrs. Olson, Ellie and Elizabeth, Brookhollow Lane, At Home With Jemma, My Heart Lives Here, The B Farm, Botanic Bleu, Kitty's Kozy Kitchen, Art and Sand, Ash Tree Cottage Sweet Nothings, At Rivercrest Cottage, Opulent Cottage, Decor to Adore, Fern Creek Cottage, The Dedicated House, Bluesky Kitchen