Becoming Laura Prairie Patchwork Petticoat
Sometimes it's ok to talk about underwear. Particularly when we're talking petticoats. Here is the Becoming Laura Prairie Patchwork Petticoat.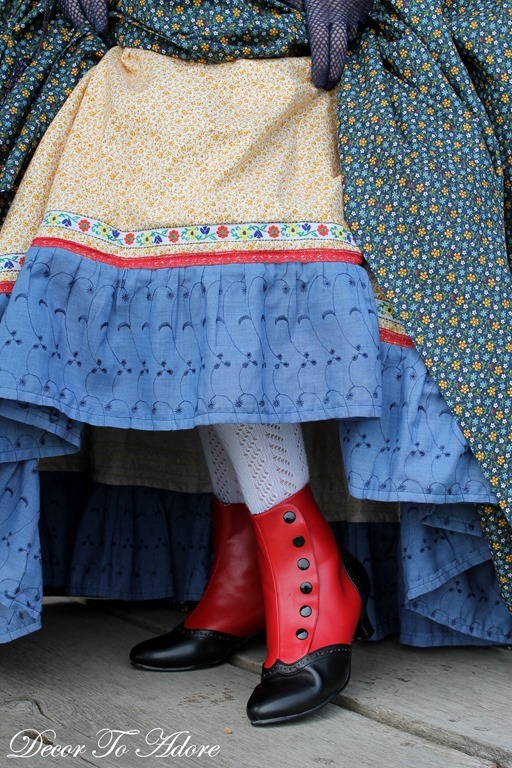 Does the colorful petticoat that I made for the "Becoming Laura Costume Challenge" surprise you?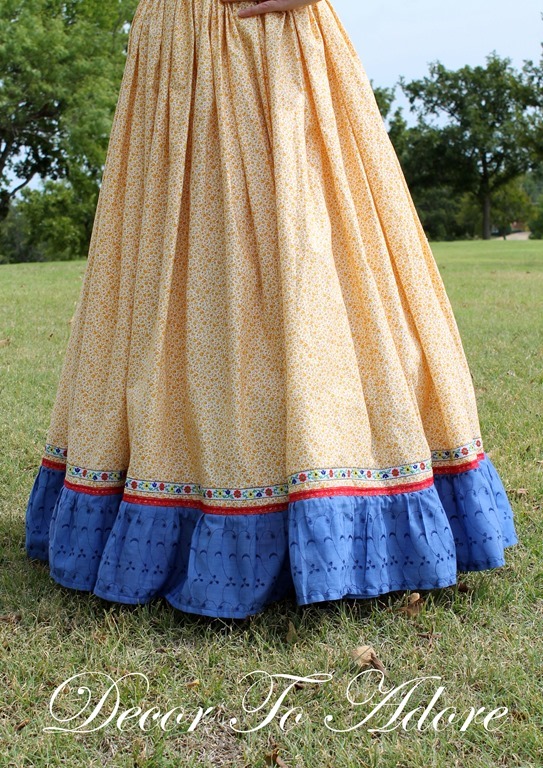 Historical Influences
We most often think of ladies undergarments made in the 1860's/70's as primarily being all white.  The fact of the matter is a large portion of the petticoats were made from colored fabrics so they wouldn't show the dirt as much. Undergarments, just like today, came in all colors of the rainbow.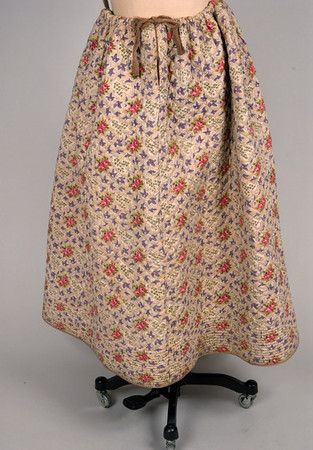 There were lightweight petticoats for warmer weather…
…and heavier quilted petticoats for cooler seasons.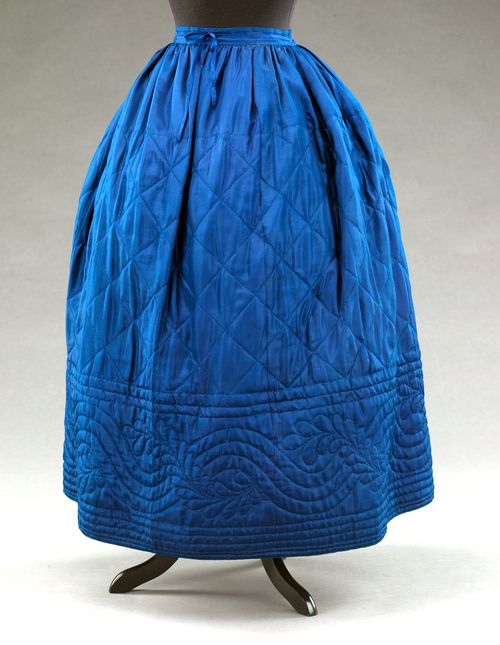 Undergarments could be made from cotton, linen, wool or silk. Many women simply repurposed fabric that they already had.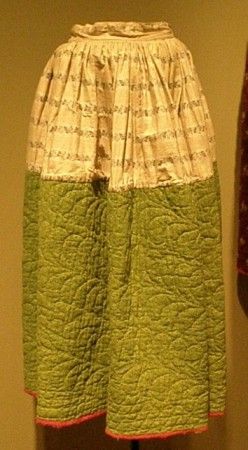 Of course, the fashions of the day may have required that you wear a cage under your petticoat.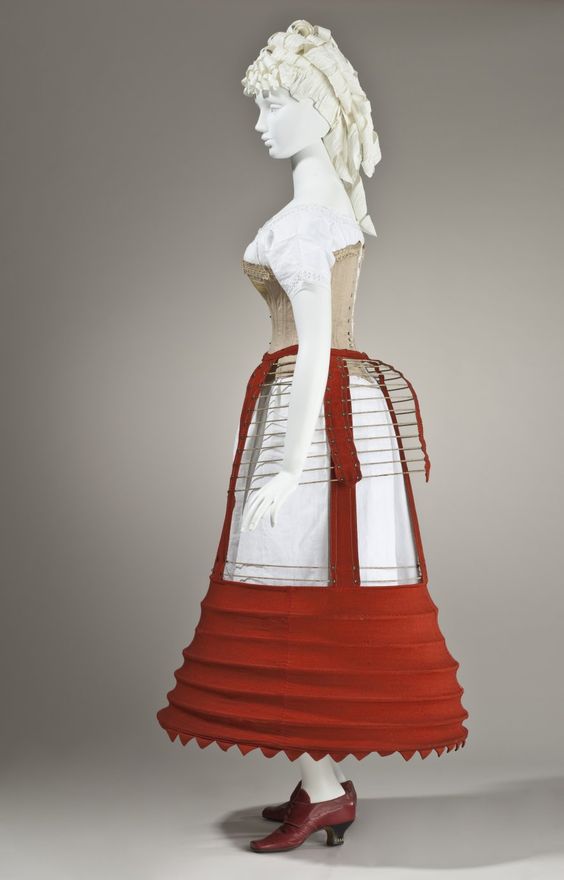 Let us not forget the glorious hoop skirt.

Corsets and Bloomers
Women also took the fabric of their undergarments as an opportunity to perfect their needlework skills.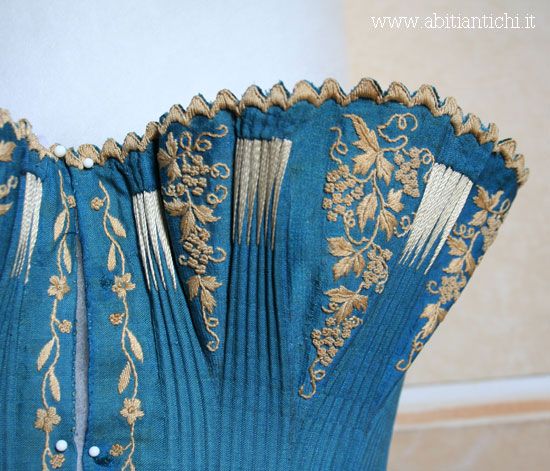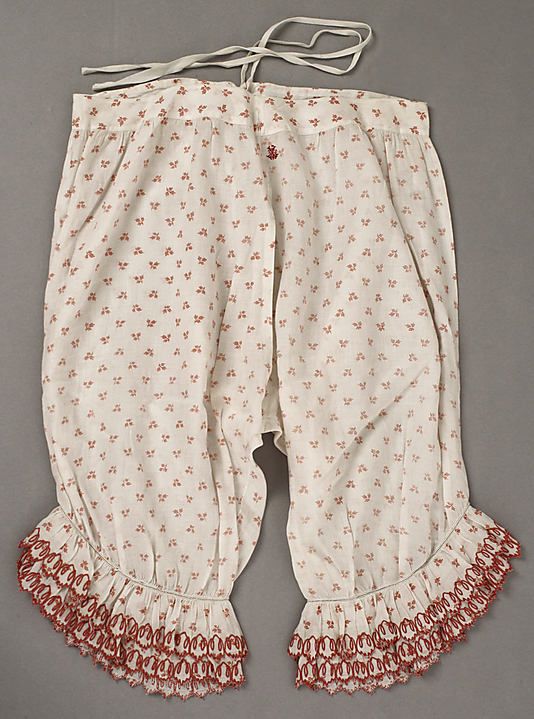 Treasured bits of lace might also enhance their unmentionables.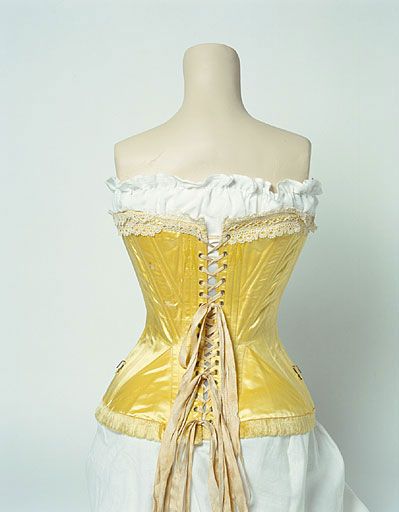 So yes, I am all about color!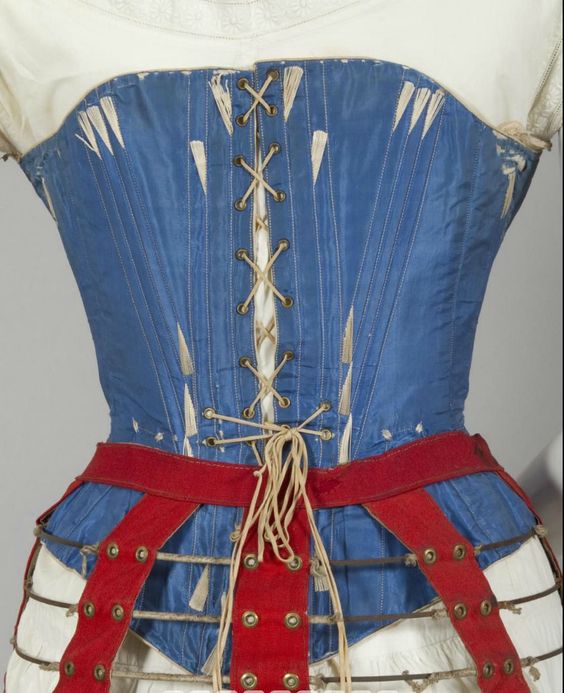 Pattern and Materials For the Petticoat
For the petticoat, Andover Fabrics graciously sent me 5 1/8 yards of their Little House on the Prairie "Prairie Flowers" A-7948-Y fabric.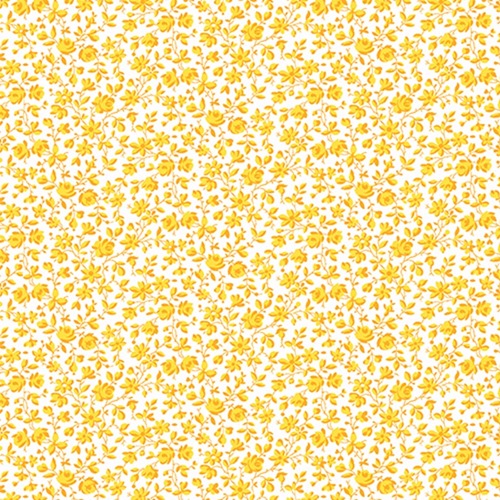 I used the Butterick B5831 pattern to create the petticoat.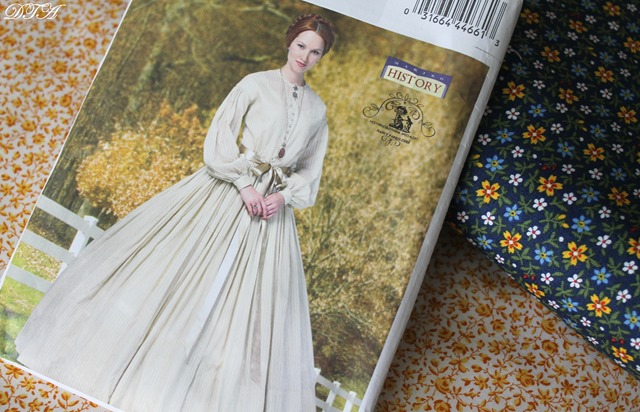 Vintage Embellishments
The pattern called for 12 1/2 yards of 5/8" ribbon, 6 1/4 yards of 8" pre-gathered eyelet, and 6 1/4 yards of 1 inch trim. Whew. For a budget costumer, who also wants to be era-appropriate, the trim alone could break the bank.
For the 12 1/2 yards of ribbon, I thankfully had some antique all cotton crocheted trim given to me a few years ago by Grandma Ingalls (Jingles) who would have absolutely approved its use in this project.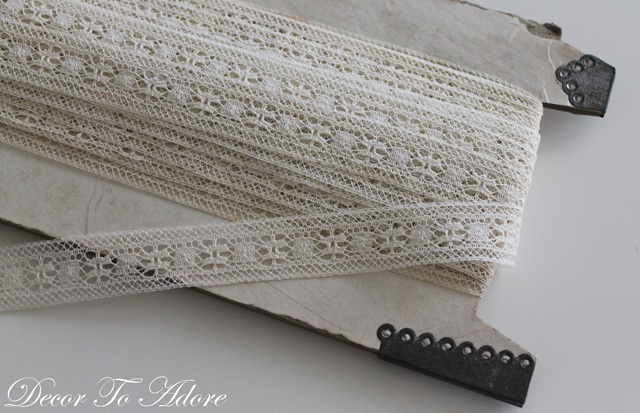 The 8" wide pre-gathered eyelet was a bit more difficult. Modern-day options are primarily a cotton polyester blend. This will not do for creating a petticoat worn in the 1860's/70's. Polyester wasn't invented until 1941 for use in WWII.
So I went old school. I had some vintage cotton eyelet fabric that I had gotten from my mother Nadine. I think she too would have loved this project so I ripped it into 10" wide strips and sewed them together until I had enough yardage. It was an extra time-consuming step to be sure but worth it in the end.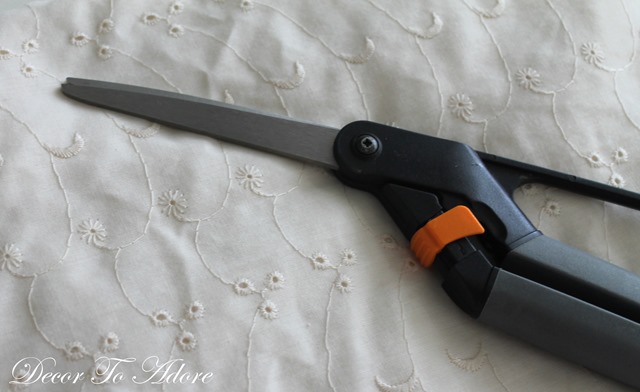 The 6 1/4 yards of 1 inch trim was even more difficult. I had nothing in my stash. I already knew that the two lace elements mentioned above were going to be hand dyed.
My inspiration for this petticoat was Caroline "Ma" Quiner Ingalls. The Quiners originally came from a region in Bavaria (Austria/Germany) then later immigrated to England and finally the U.S. I wanted the petticoat to have a Tyrolean feel to it.
Thankfully Leslie Pruett of Ribbonworks Design had exactly what I had in mind for the price I needed ~ $1.00 a yard.
The eyelet was hand dyed in a light solution of Rit liquid dye in navy. The crocheted ribbon was hand dyed using Rit liquid dye in cheery red. The finished look was exactly what I had in mind.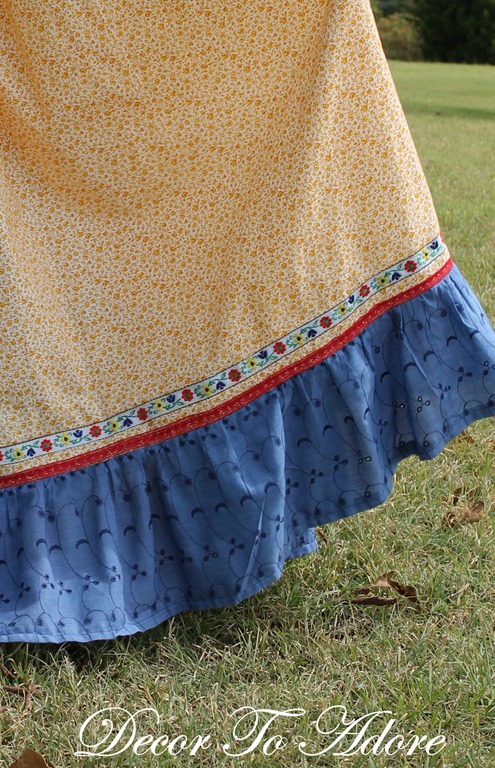 French Seaming and Cartridge Pleating
The pattern went together fairly smoothly. I did opt to do French seaming (enclosed seams) as this garment will probably get a lot of wearing and washing and therefore hold up better.
This pattern was also my first attempt at cartridge pleating which can draw a tremendous amount of fabric together. I got an "F" for failure. My cartridge pleating ended up looking like gathers. Perhaps I should have spaced the two rows of pleating further apart. ??? If this had been an exterior garment I would have persevered until I got it right. But in the end, I was pressed for time and accepted the gathered look which doesn't lay as nice but isn't altogether horrible.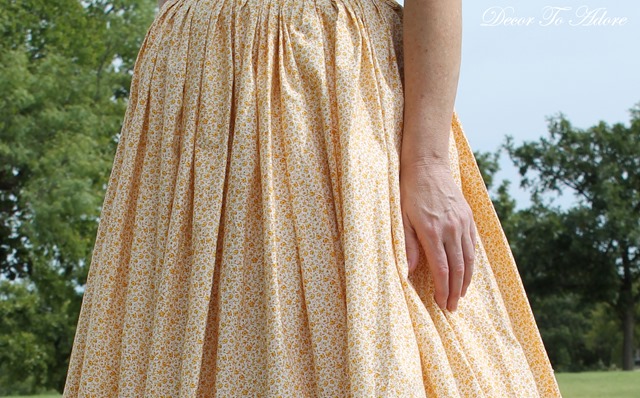 For the most part, women would never show her petticoats in public.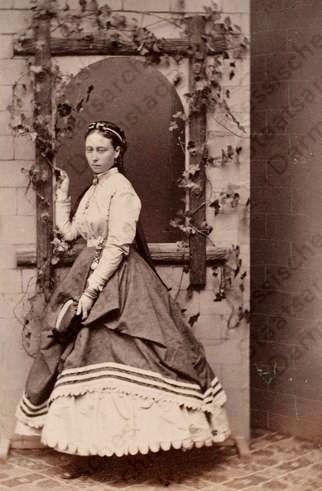 The Finished Petticoat
But today we will make an exception.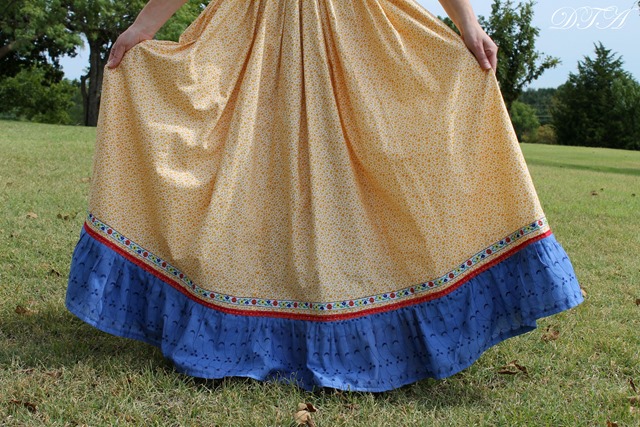 I hope you have enjoyed the process to produce the Prairie Patchwork Petticoat.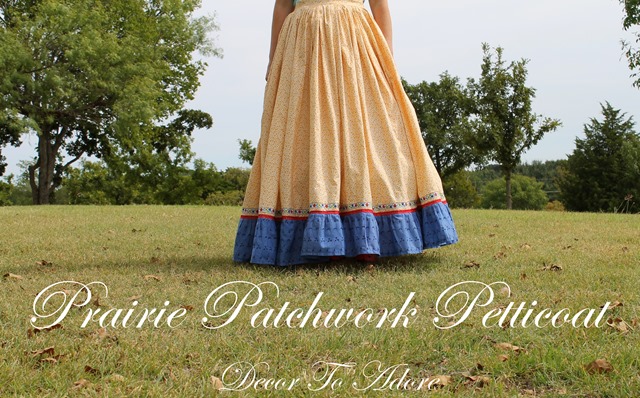 Total cost for this project:
Pattern ~ 99 cents, 1" ribbon $6. 25 + $2.60 shipping = $9.85
All other supplies I had on hand or were graciously donated.
Here's to a petticoat junction paradise,
Laura