It's always such fun to plan a ladies tea party. I find that it's so much easier if you select a theme. Since I had decorated my house for Valentine's Day with touches of Jane Austen a Regency Era Valentine Tea party seemed perfect.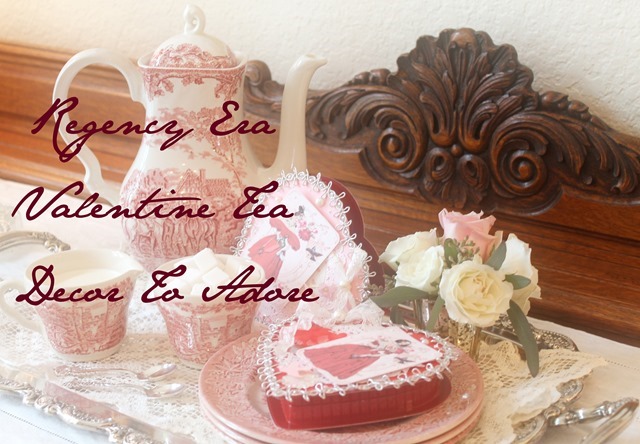 Regency Era Valentine Tea
I knew that taking tea in the Regency Era could be both a simple affair …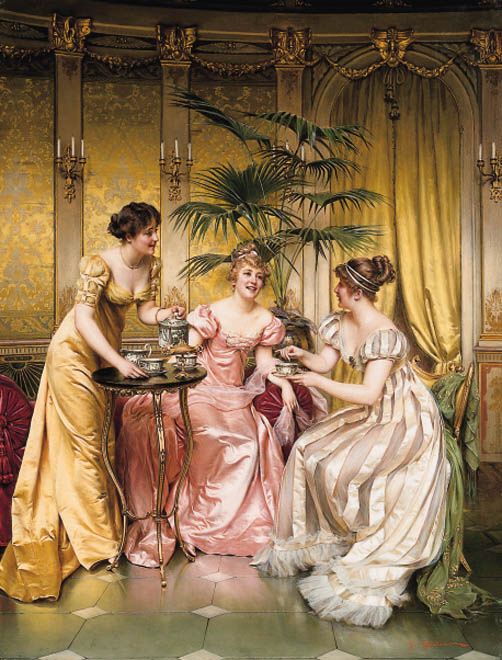 …or one that was completely elaborate.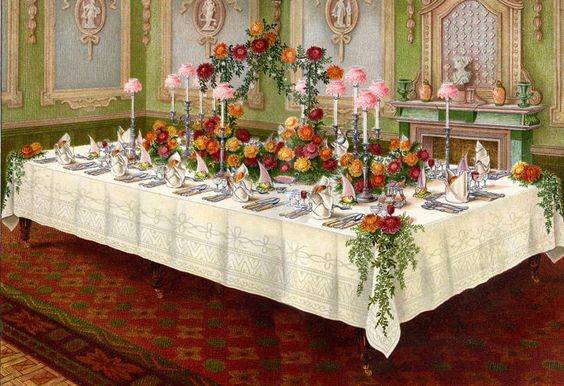 I aimed for something in between.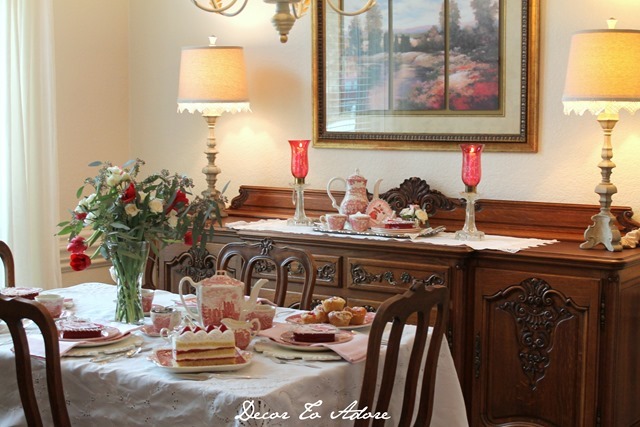 Generally, flowers or plants were present in both settings. I wanted a bouquet that appeared to have just been collected from the garden. It featured tulips, roses and eucalyptus leaves for greenery.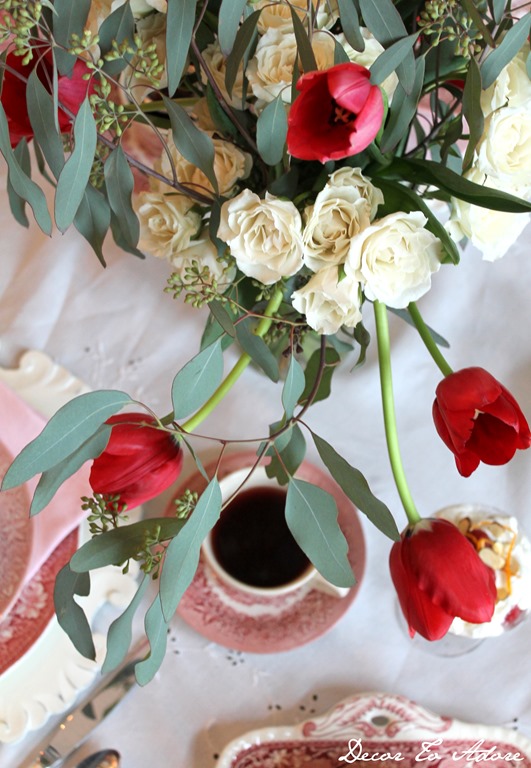 The first tea cups were actually tea bowls. There were many china patterns available. Did you notice the transferware pattern in the lower left-hand column?
For that reason, I chose to use my antique red transferware for the tea party.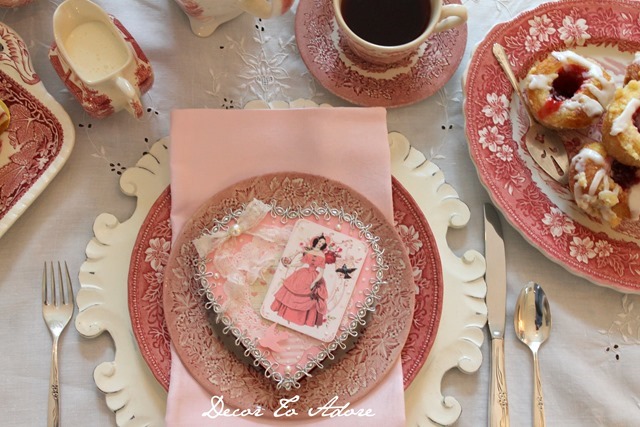 Tea Caddies
Tea at the time came in the form of a loose leaf as tea bags were not invented until the early 1900's. The tea was stored in tea caddies. They came in a wide variety of styles and materials, ranging from carved wood to enamel and even gold.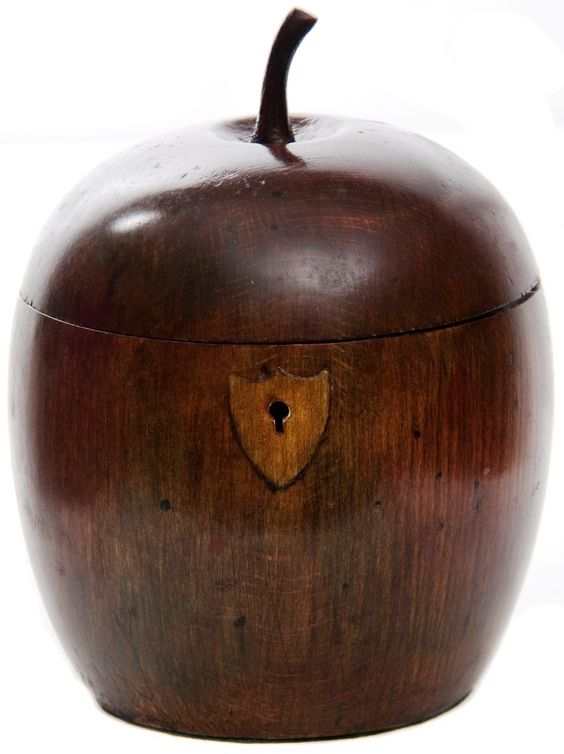 Almost all the caddies featured a locking mechanism. Tea was very expensive during this era as it had to be imported from the Indies and China at great cost.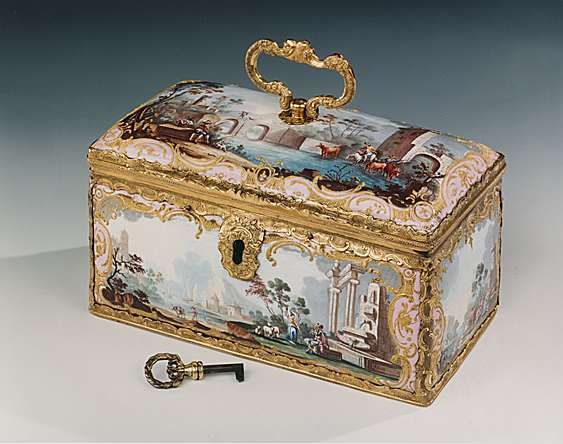 I too served a loose leaf tea making a silver strainer necessary when pouring.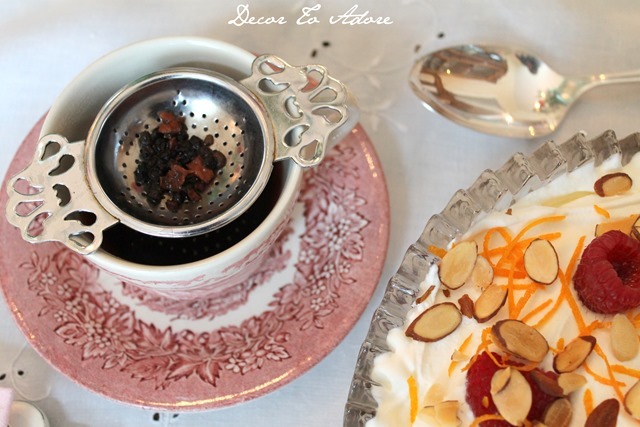 High or Low Tea
There is also the decision to have a high or low tea.
High tea (aka meat tea) is generally served between the hours of 5 and 7 pm and is more of a full meal. It may include meats, fish, eggs, and cheese, as well as bread and butter.
I selected a low tea (afternoon tea) in which sweets were the predominant food. Desserts in the Regency Era could be quite elaborate and spectacular.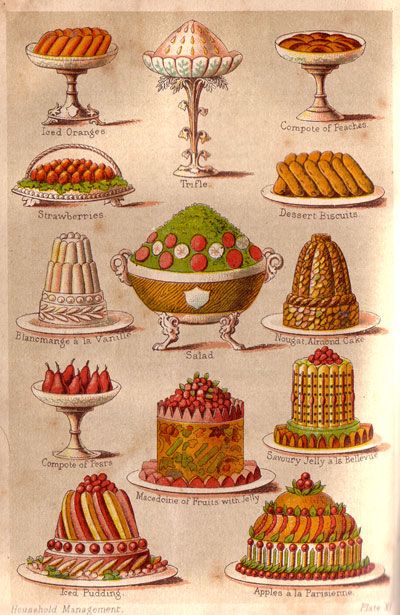 Layered cakes were quite the fashion.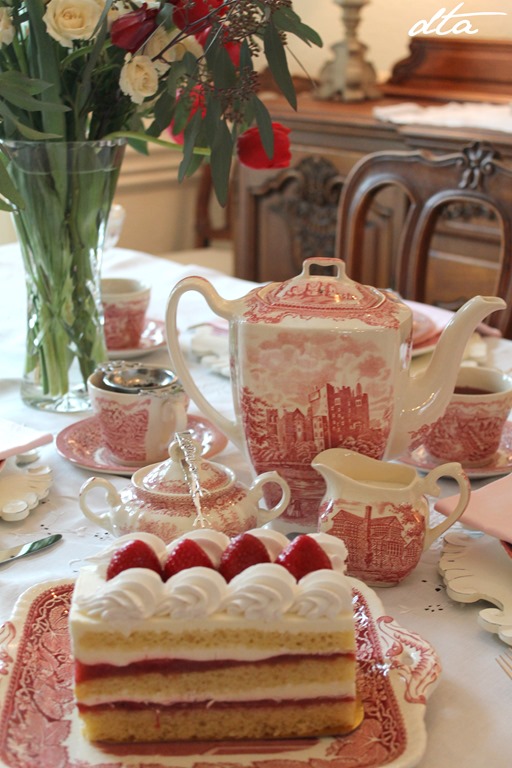 As were biscuits (cookies) and tartlets.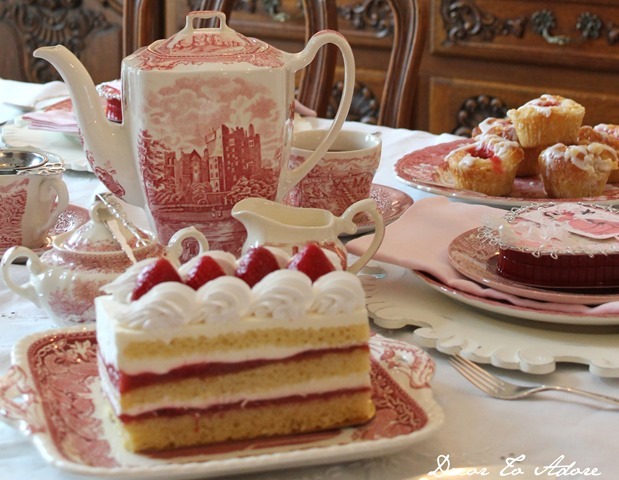 An overwhelmingly popular dessert was trifle.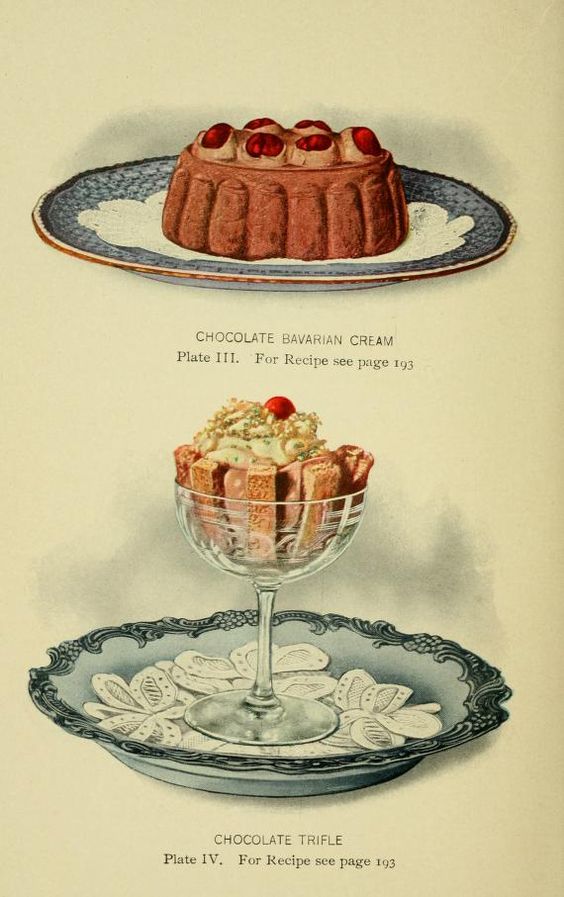 I'll share this easy recipe on Friday.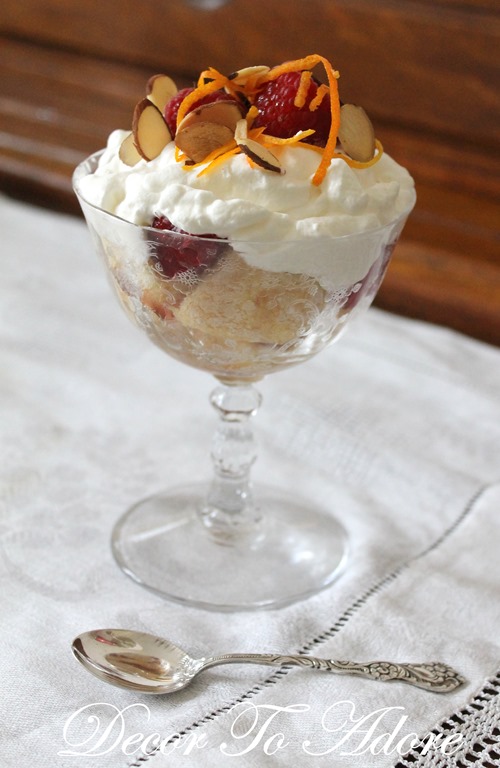 Over on the sideboard a gentle nod to a simpler, electricty free, time was created by displaying Mr. Decor's  antique cranberry glass candle holders once used by his Aunt Mildred.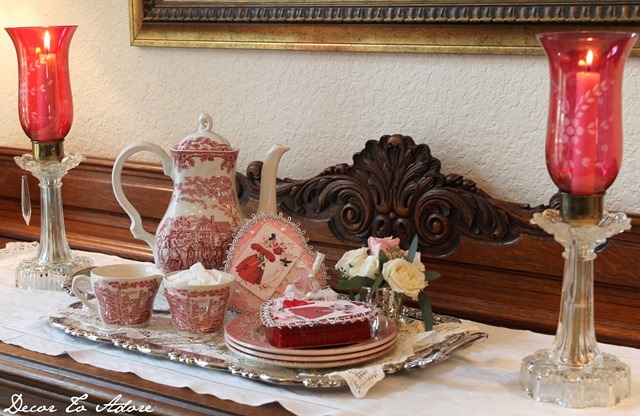 You may have also noticed a second teapot. It was filled with hot water. A good Regency hostess would always ask a guest if they preferred a strong or weak tea. If a weak tea was desired the cup was filled halfway with tea and the remainder topped off with a bit of water.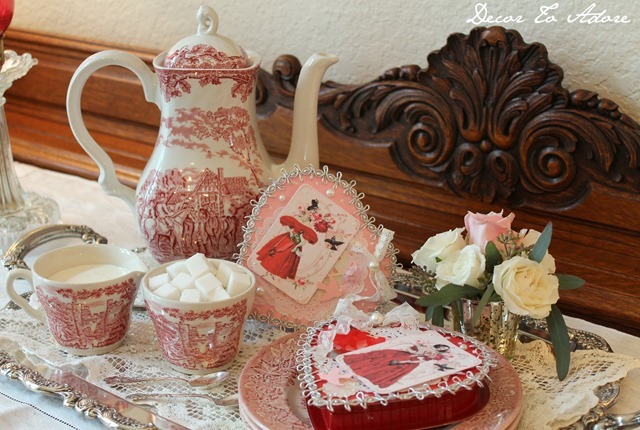 Tea Party Favors
It was also not uncommon for a hostess to send her guests home with a small favor such as a handkerchief, book of poetry, a few flowers or chocolates.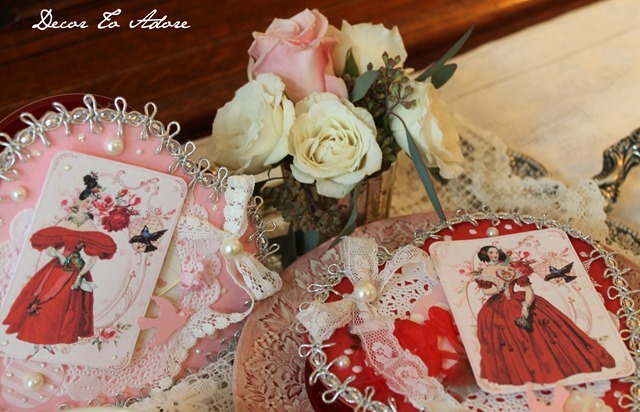 This token would ensure that a hostess, and her generosity, would long be remembered. Particularly if refined sugar had been served. Alas sugar cubes were not invented until 1843 but since I was unable to find their predecessor, a cone of sugar, they had to suffice.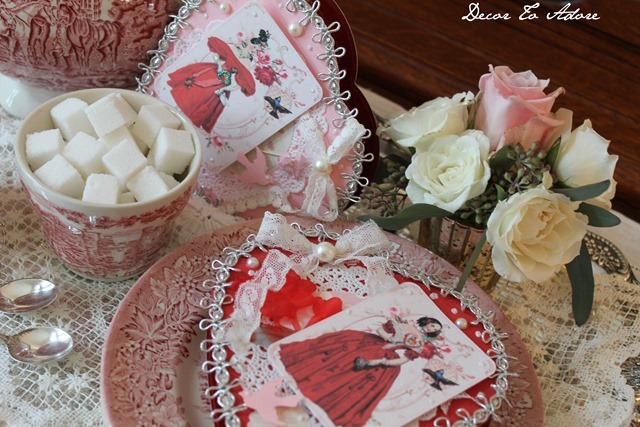 I shared the favors I created HERE.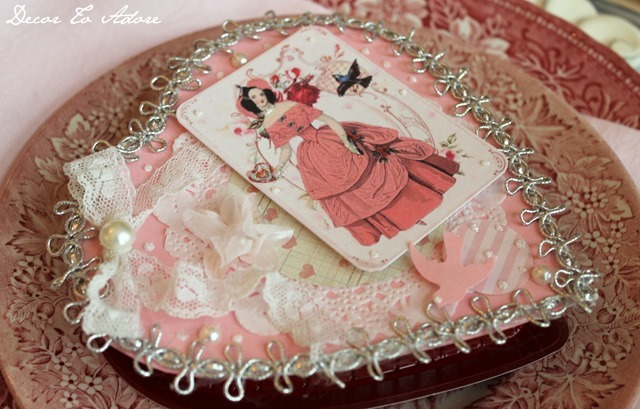 If this post leaves you with a desire to host your own Regency Era tea I found some sweet images that could be transformed into invitations and such.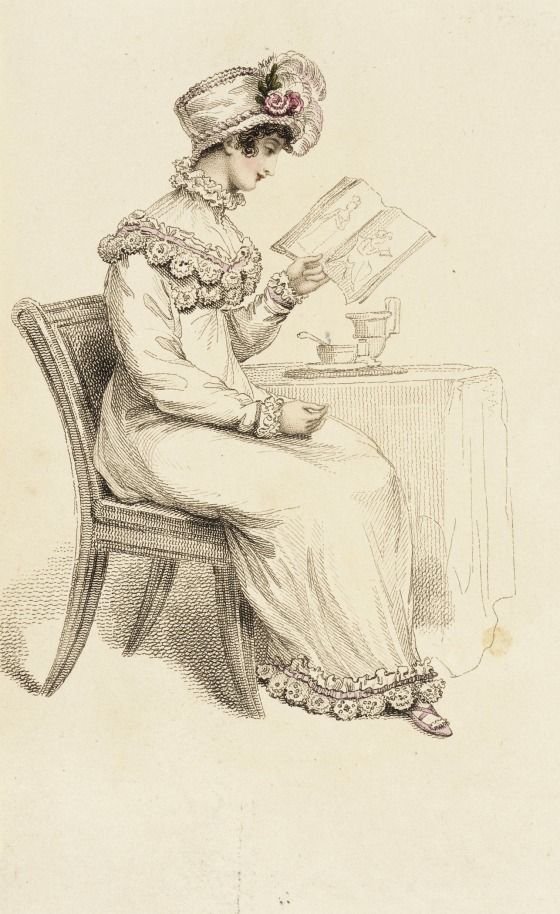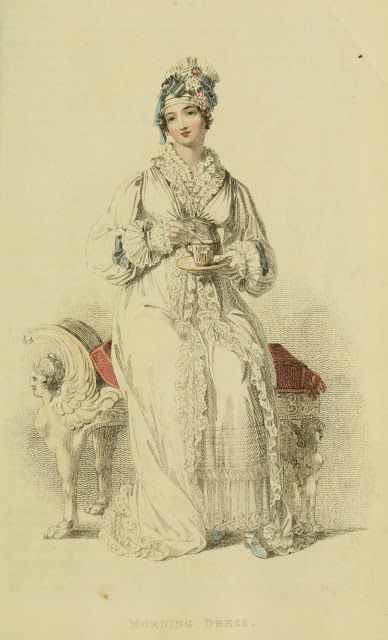 I love the idea of creating a non traditional centerpiece perhaps containing a collection of Jane Austen books.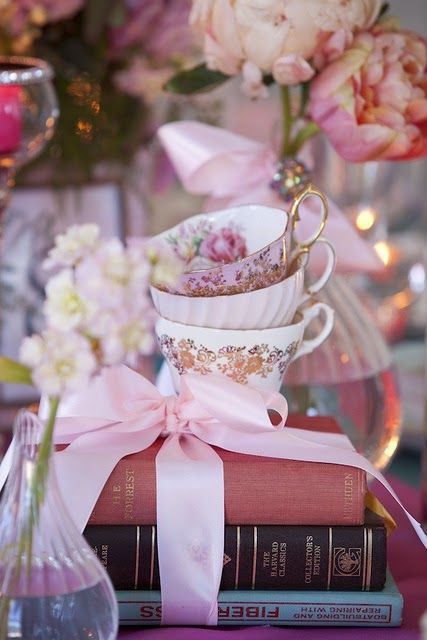 Wouldn't these repurposed pieces of china also look lovely on a Regency themed table?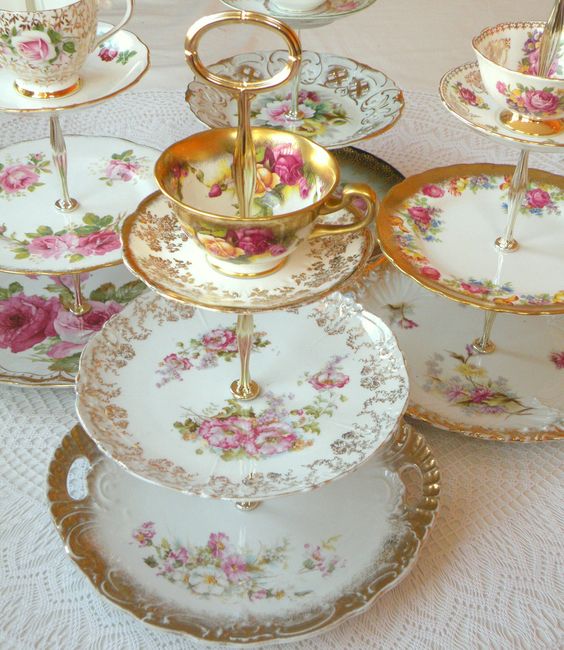 You may also enjoy "Tea With Jane Austen" which gives detailed information on recipes, customs and more.
"You must drink tea with us tonight." ~ Sense & Sensibility
"But indeed I would rather have nothing but tea." ~ Mansfield Park
Laura