Back in July, I shared that I had begun working in our sunroom. It is a space that Sweet Guy and his friends spend the most time in and together we decided on a British theme. Once we moved an antique daybed into the room I began to think about what type of daybed pillows would appeal to both my teen son as well as the rest of the family. This post covers how you can Create Pillows from Vintage Souvenir Tea Towels.
Where To Find The Towels
Over the years I have found some pretty fantastic British souvenir tea towels. (Also known as dishtowels.) Most are made of linen which is quite durable and machine washable ~ a must when considering fabrics for use by kids. I shared my plan with Sweet Guy and it really became a great teaching moment. He couldn't believe I would create pillows just for him from a collection of towels I really adored. I told him that we weren't fully enjoying the towels packed away in a closet, that they should be used. In addition, making something with my hands for him to enjoy was my way of showing him that he means more to me than things. 🙂
You can find souvenir tea towels in gift shops, thrift stores, Etsy and eBay.
How To Begin
Together we picked our three favorite towels that were similar in size.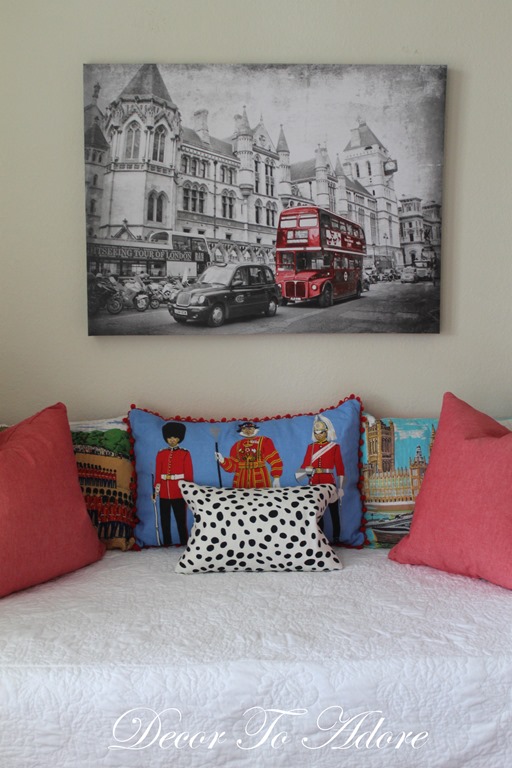 Create Pillows from Vintage Souvenir Tea Towels
I then rooted around in my fabric and trim stash and found a similar weight linen to create the back of the pillows and some vintage cotton pom-pom trim. Since my son had asked for "lots of red" I dyed everything in the washing machine.  I also washed the linen tea towels separately to make sure they wouldn't shrink in the future and that any fabric sizing they might have on the surface was removed.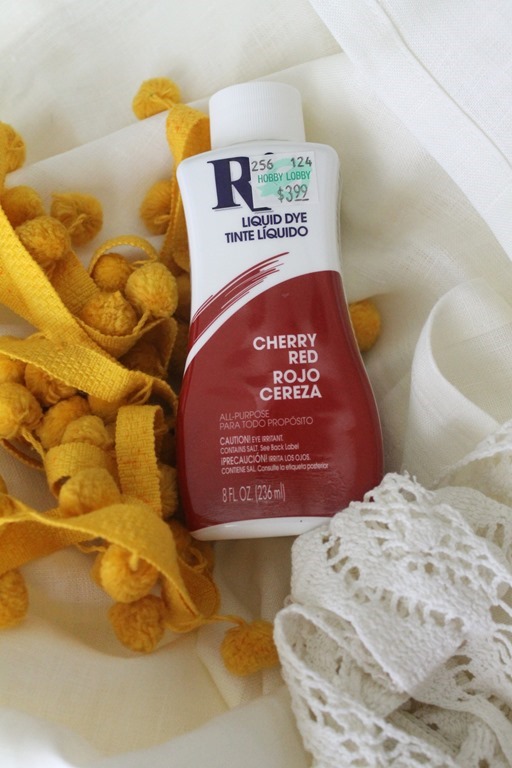 Next, I cut a rectangle of the now red linen fabric. It was slightly longer and wider than the tea towel itself. The edges were hemmed to prevent future fraying. I then sewed a French seam on three of the sides. This is generally done on pillowcases to give the visible inside seam a finished look.
You ABSOLUTELY could stop right here and have a pretty darn cute pillowcase. But I wanted a little extra pizzazz.
Tip: Because everyone has a different learning style, if you need further instruction on sewing French seams, there are some fantastic tutorials on Pinterest and Youtube.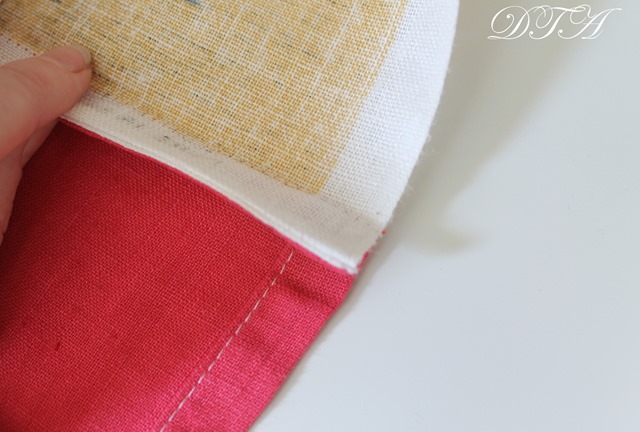 Extra Pizazz
I wanted the edge of the pillowcase to have a fabric strip of red and white polka dot trim. I used the same principle to apply the trim as you would when using seam binding.
Cut a strip of fabric that is a bit longer than the total edge of the pillowcase, sew the two ends together to create a finished seam. The fabric strip is now the same measurement as the pillowcase.
Pin on the trim fabric to the pillowcase fabric, right sides together.
Sew the two fabrics together near the edge.
You will then flip the trim fabric out. At this point it will feel like you made a mistake as the "wrong" side of the trim fabric will be showing.
On the opposite end of the trim fabric that was sewn on you want to create a small hem by measuring 1/2" and iron the folded fabric down.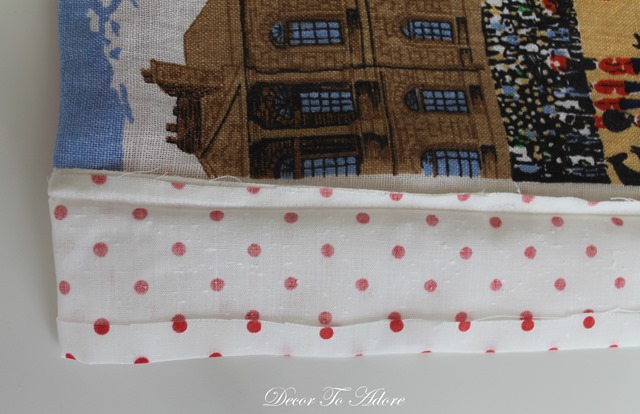 This time just flip the fabric over onto the tea towel and sew your freshly pressed hem down.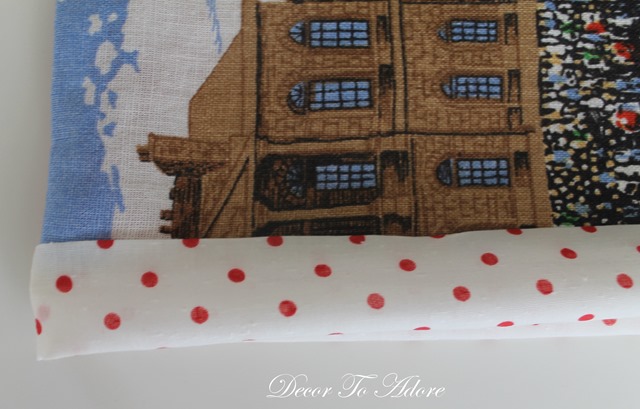 I opted to use red thread in a decorative stitch.
You can leave the pillow as is or add a closure. Buttons and buttonholes would work. I opted for floppy fun fabric ties.
I created two pillows like this for each end of the daybed.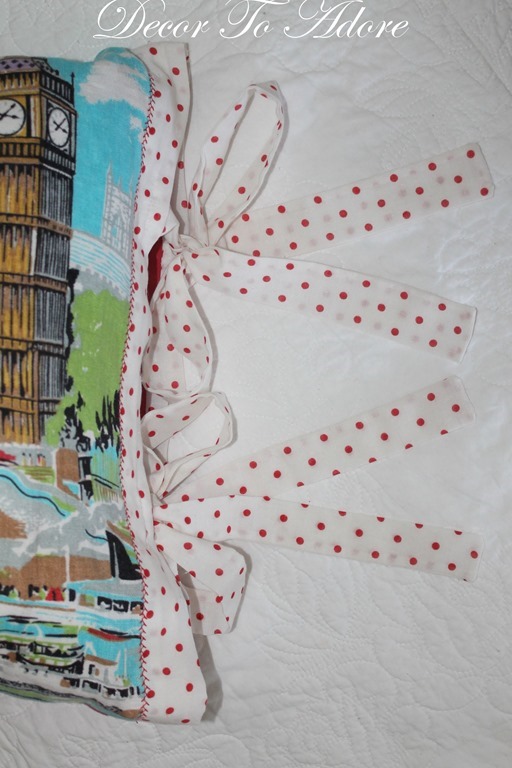 It's In The Details
The center pillow was super quick to make. It has an envelope back closure. The pom-pom trim was sandwiched in between the two layers of fabric and sewn together.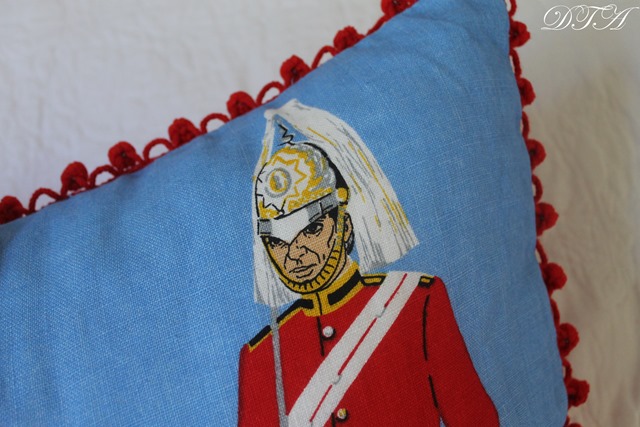 I just love a good Beef Eater AKA Yeomen Warders of Her Majesty's Royal Palace and Fortress the Tower of London, and Members of the Sovereign's Body Guard of the Yeoman Guard Extraordinary.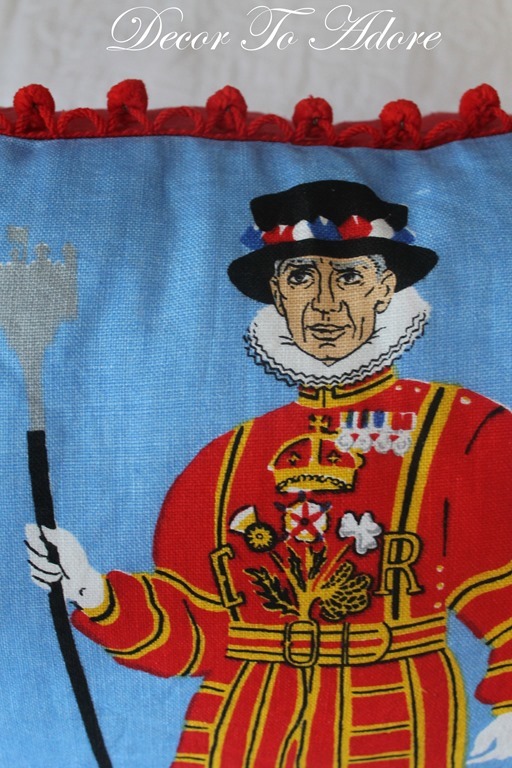 The finished pillowcases fit a queen sized bed pillow perfectly. The three pillowcases make a comfortable backrest for the daybed.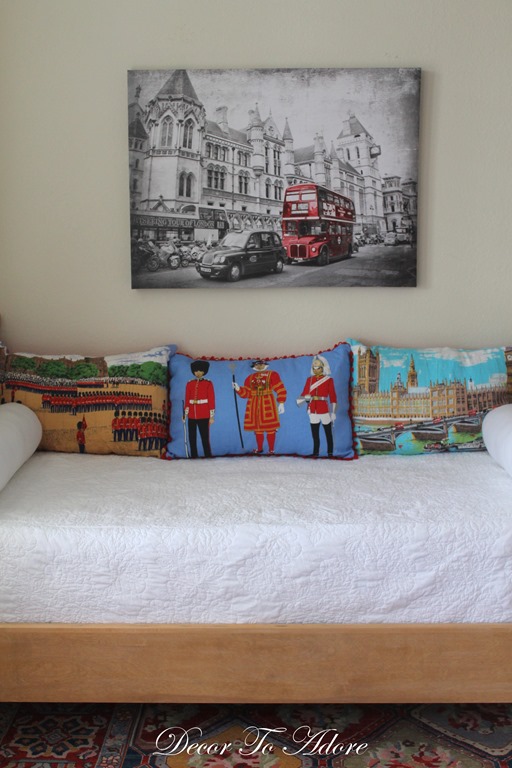 I'll share images of the daybed, constructed from two antique French headboards, in the next post.
Laura