The elephant in the living room, AKA the fireplace, has gotten its Christmas on. Here is how I began Decorating A Ginormous Fireplace and Mantel for Christmas.
I still don't know how it will be decorated for the rest of the year but at least the living room has a bit of cheer because it is basically still empty. (It's next on my list to decorate.)
My dear friend Missy made me the lovely "Peace" angel-winged ornament.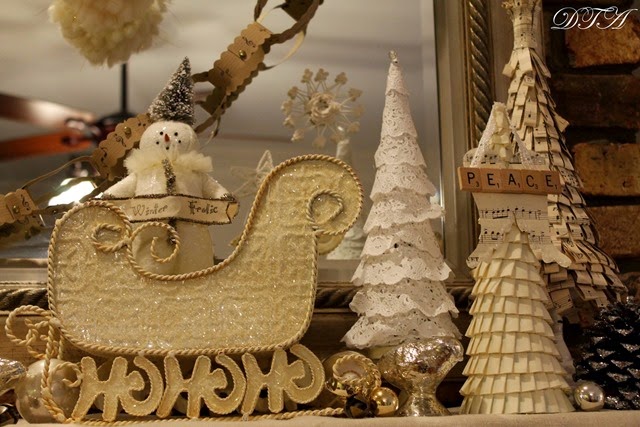 How Big Is It?
This fireplace and mantel is a beast I tell you! To give you an idea of its enormity here is an image of me standing right in front of it. I am 5'4" tall and the top of my head reaches midway.
Everyone helped decorate. It's a bit over the top, but isn't Christmas décor supposed to be?
Mr. Décor says the mirror looks like a big Santa smile with braces. 🙂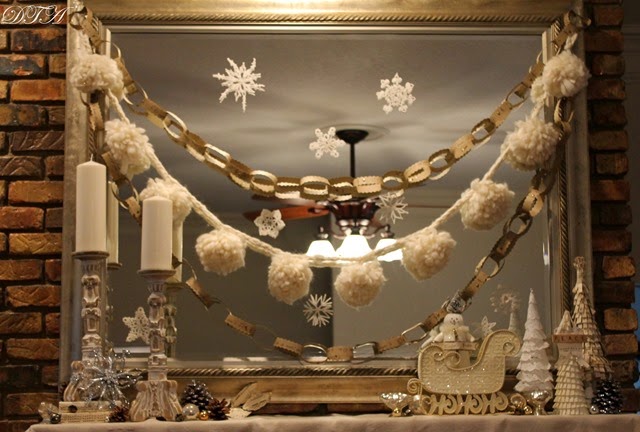 Paper chains, an Anthro garland, and wood candlesticks from T J Maxx all provide various shades of neutral texture.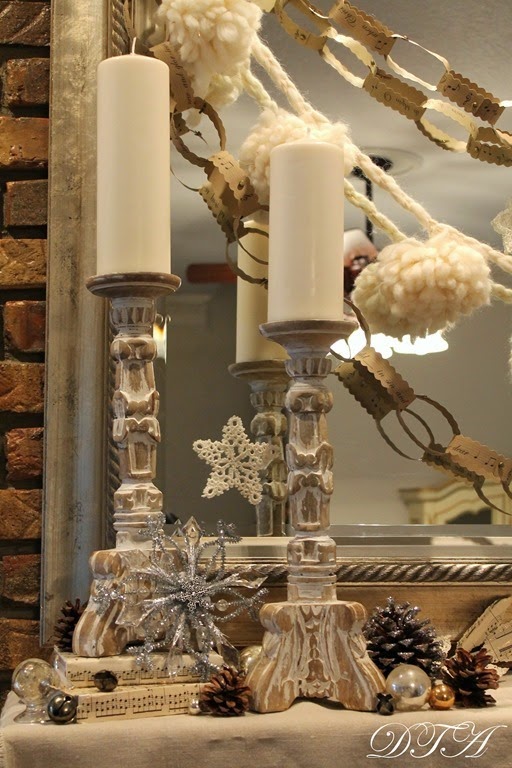 A silver star ornament from Miss Sandy, pinecones, and antique jingle bells act as filler.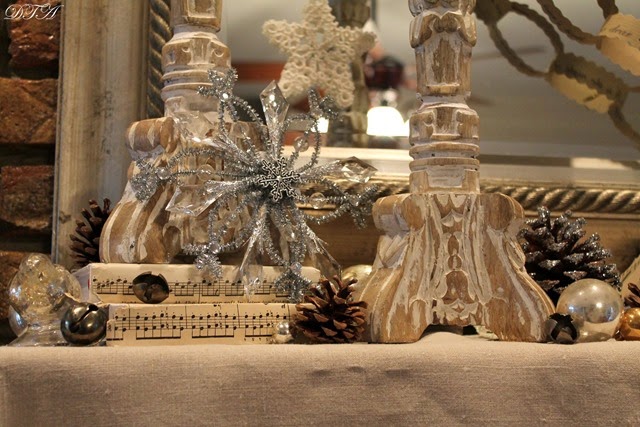 Antique Mantel Cover
The antique mantel cover I purchased from my good friend Jenny. Once the orange oak mantle underneath is replaced it might get used for kitchen curtains.
I did do one Before & After DIY for this area.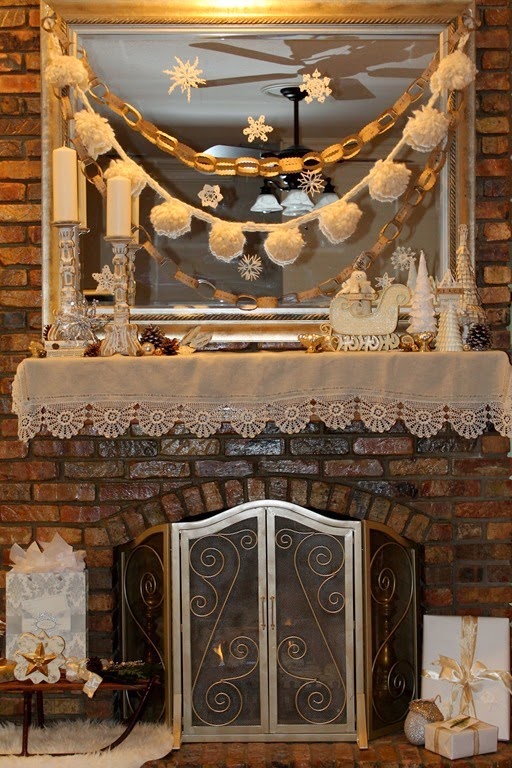 The fireplace screen was basic black. Since this room struggles for a natural light, I thought a brighter color might work better. Most hardware stores sell high heat spray paint.
I think it's an improvement. What say you?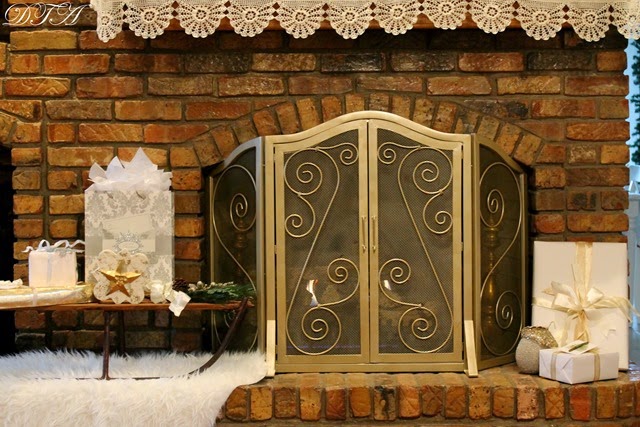 Antique Sled
To the left of the fireplace I placed an antique sled we purchased many years ago while living in Germany. The faux sheepskin rug is from Ikea.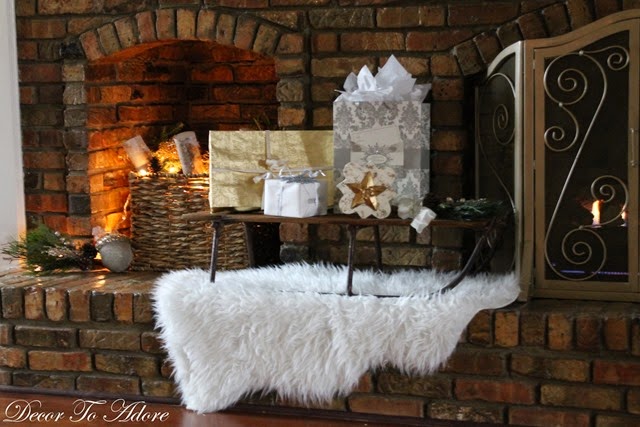 Since the fireplace is gas there really is no need to fill up the large opening on the bottom with wood. I found a basket at Ross, added a few birch logs and greenery leftover from our Christmas tree, tossed in a string of lights and a few scented pinecones.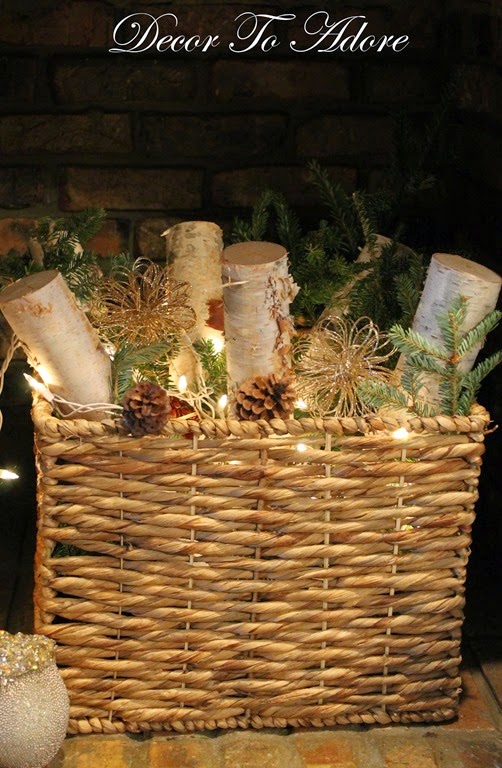 It gives a bit of happy, sparkly shine to the room.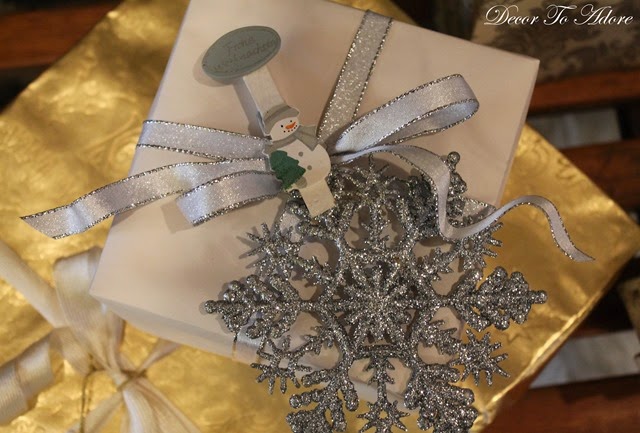 Hopefully, I will find the time to get some stockings sewn and hung.
Laura