I had planned to write posts to run this week with titles such as "The Perfect Holiday Pantry" and "Favorite Dutch Apple Pie". Then I got that phone call.
When you receive such a call things that once seemed important, like Thanksgiving pies, don't really matter in the grand scheme of things.
What matters is making an impossible flight and being with family.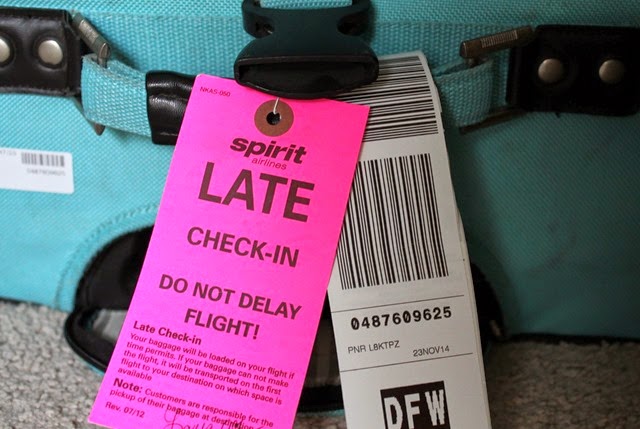 Last September I stood in a sweltering Arizona garage and had the following conversation with Mr. Décor.
Mr. "Let's get rid of that ginormous suitcase of yours. It's in such bad shape that it really doesn't need to be moved."
So I'm thinking, "Yeah, it looks really bad. But it's my France suitcase. It has always returned from French adventures filled with wonderful things." and "I need to say something practical to Mr. about why we need to keep it." 
Me: "Well, let's hang on to it until I find a replacement in case something happens."
I know Mr. Décor is thinking "Well, I save things for the same reason…" so he agrees to move this filthy beast one more time.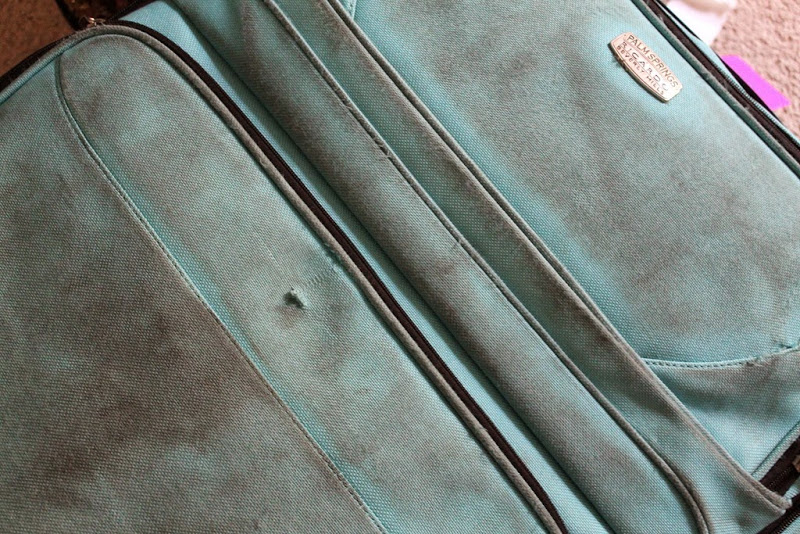 My first thought after the phone call was "Thank God I didn't get rid of that suitcase!"
As we are STILL unpacking I set Mr. Décor to the task of finding the beast.
I threw in just a few things knowing I could do laundry while there, and thankful for the tons of space to bring things home.
When I first arrived at my Grandmother's home I was completely overwhelmed. I had a funeral to plan and an entire apartment, filled with almost 93 years of memories, that needed to be sorted through. I accepted that I would probably be there for awhile. I called Mr. and told him "I won't be coming home any time soon." I imagined myself at her table, alone, eating a tv dinner on Thanksgiving.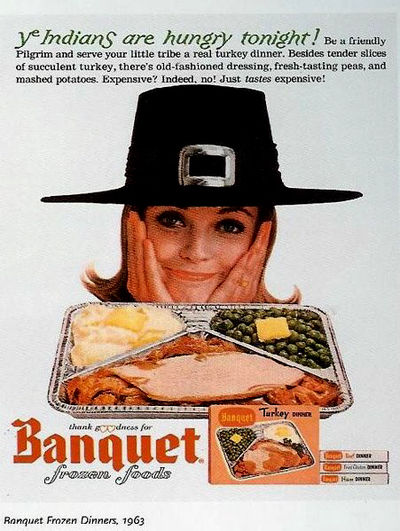 But family showed up and by some miracle all that needed to be done was accomplished in 6 short days. I caught my breath on Saturday afternoon and started packing so I could return home. I had 5 pieces of rather large artwork, four of which were painted by my parents, that needed to come home to me. So I got on the phone (as there was no wi fi) and searched for a local UPS. I found one. The operating hours were Thursday and Friday from 3 to 5 pm.
Boat missed, ship sailed.
Was it possible that I could drop off the five pieces of art in Minneapolis before heading to the plane?
UPS is closed on Sundays. Good for UPS.
So next on the call roster was Fed Ex.
In such a large city there was but one lone shipping office open late Sunday.
I left Deer River at 1:30 pm headed for the city.
The shipping office was downtown. I arrived at my destination at 5:10 pm. My flight was scheduled to leave at 8 pm.
I was horrified to discover that the office was located in a high rise building without temporary parking. A garage beckoned me down the street… but how does one carry 5 large pieces of art down a long city block?
So I decided to break the rules, pulled up to the curb, hit the car flasher button and proceed to run back and forth across the sidewalk, into the building and back to the car four times.
I was literally tossing the art at the Fed Ex employee then proceeded to breathlessly shout "I've got to park the car. I'll be back."
This is a good time to tell you that I had already been driving three and a half hours and needed to use a bathroom. Badly.
Car parked and praying that the art would still be at the Fed Ex office, I ran back.
I finally arrived at at the counter with my 46 years revealing themselves with deep, labored breathing.
Behind the counter the tall Fed Ex employee, wearing a black rasta hat, told me "Breathe, you are exactly where you need to be."
He had picked up a painting my mother had done. "This art is very powerful, I am drawn to it. In fact, all of your art speaks to me. It is large and heavy however and will be expensive to ship." I replied that while the art was not monetarily important, the work had been done by my parents and therefore priceless to me. I was willing to pay the cost as I was leaving on a flight that night. He promise that the art would arrive safely and I would make my flight.
By now it was almost 6 pm, the time I was supposed to turn in the rental car. I felt a rivulet of sweat travel down my back.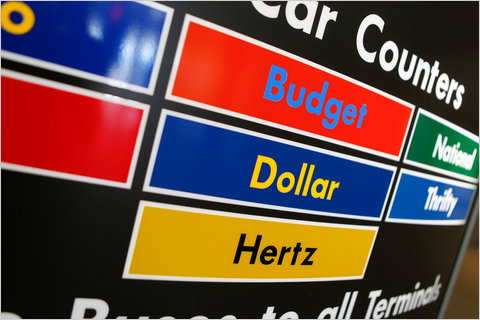 The man worked as if he was packing up priceless Rembrandts. Copious amounts of bubble wrap were used. Thinking I might speed him up I inquired "How long does it take to get to the airport?" His reply was he could not say, it depended on traffic.
Perspiration dotted my brow.
Once again he said, "Be in this moment. You are exactly where you need to be. You will make the flight." It was 6:30 pm and I was doubtful.
The work was carefully completed by 7 pm. I paid my bill and ran to the car praying the highway would be clear.
It was and I arrived at the airport at 7:15 pm practically throwing the car keys at the rental clerk as I struggled to get a handle on my three bags.
Then came the arduous and almost impossible task of running across a large parking lot, one long hallway, down two escalators and onto a tram ride.
The ginormous bag, through it all, did not cooperate. The smaller one was a coconspirator. They kept tipping over so that at times I was merely dragging their tremendous weight behind me.
Now would be a good time to mention that after five hours my bladder was pretty much at max capacity.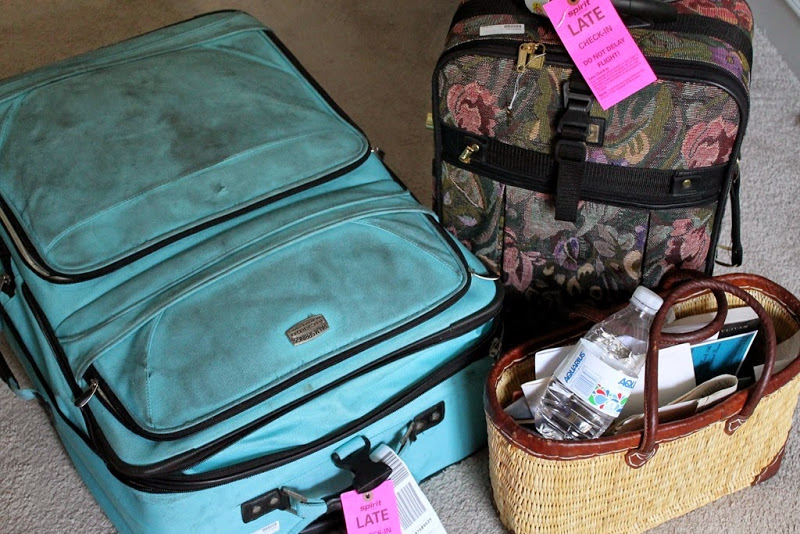 After exciting the tram there was yet another long walkway and brilliant bag struggle. I limped to the check in counter at 7:35.  I hopefully stated "I know I am too late for my 8 pm flight and it is Thanksgiving week, but perhaps there is a later flight I can board?" The clerk said nothing, typed a bit, then handed me a boarding pass. She then said she could not guarantee my bags would be on the flight but there was a chance I could be. I just needed to get my bags to the drop off point, travel through security, and down another ridiculously long hall.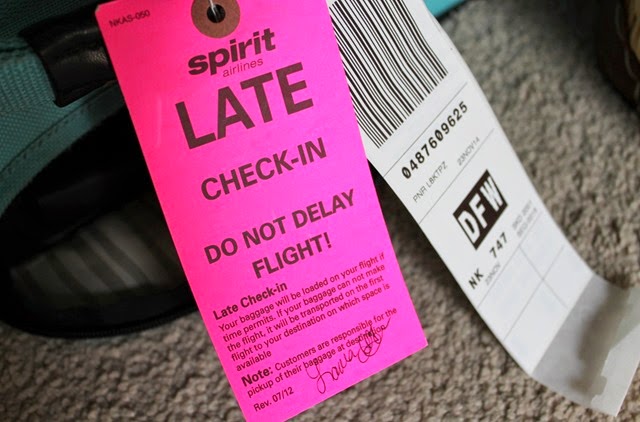 Of course my gate could not be the first but was positioned dead last.
I continued to run.
Over the loud speaker I heard "Final boarding call for flight 747 to Dallas. Seeking passenger Laura Gunn." I was still too far to call out so I just continued to run at breakneck speed. I finally caught sight of the gate desk agent and also began frantically waving my hands in addition to running on the hard pavement."
Big mistake. I'm sorry Minneapolis.
This Thanksgiving I am thankful for always having an extra pair of undergarments in my carry on and making my flight so that I can be with my family. 
As you can see, the bags somehow miraculously made it too.
Laura