Pinterest is filled with lovely images of Thanksgiving bar carts. Inspired, I sought to create a drink station for children and teetotalers. Here is our Thanksgiving Drink Station.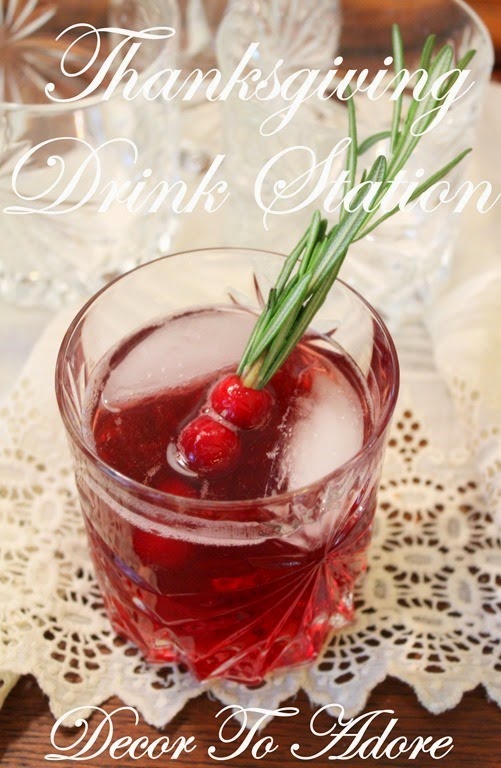 Thanksgiving Drink Station
On the sideboard, I used a bit of old petticoat ruffle as a runner and topped it with various bits of holiday sparkle.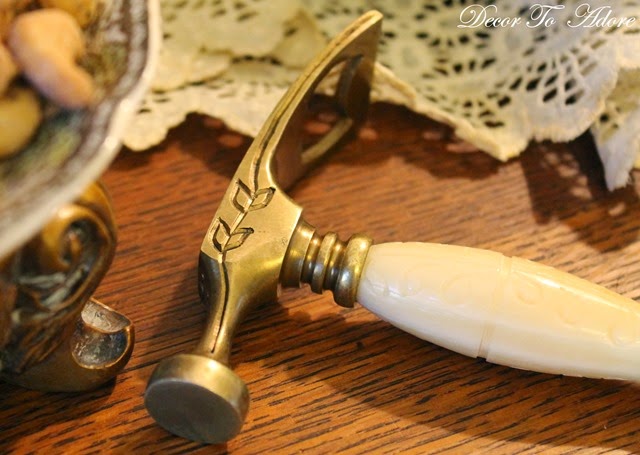 Keeping the harvest in mind I tried to bring in texture with wood trays, baskets, and the bounty of the season.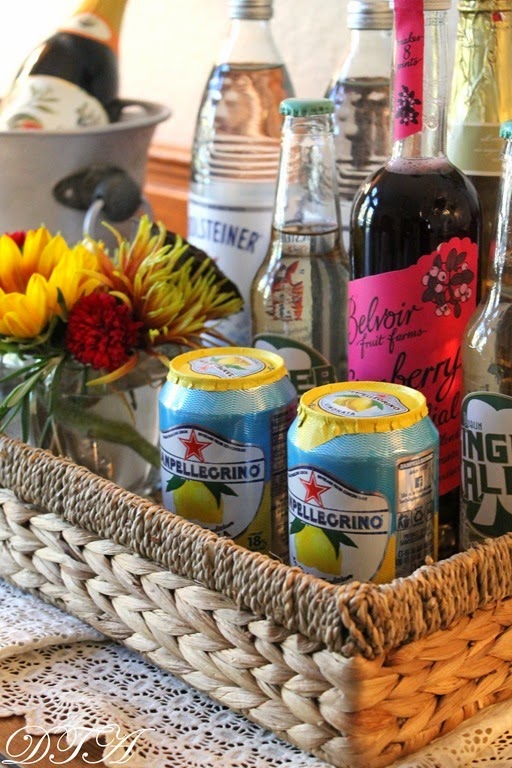 If you have a bit of difficulty getting the bottles to stand up in the basket just lay down a piece of glass from a picture frame.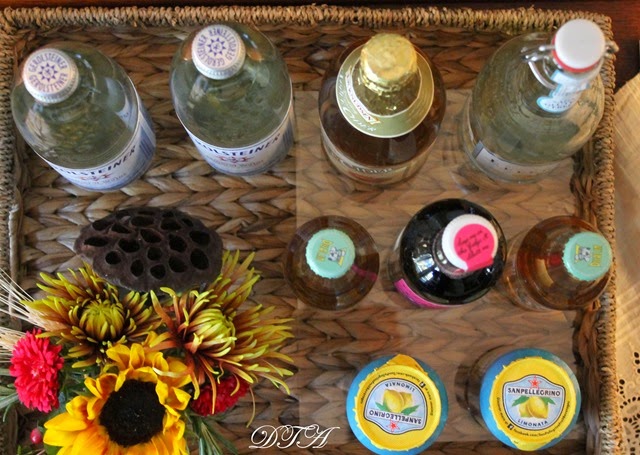 Caramel candy wrapped in autumnal shades, pretzels and nuts will stave off any pre feasting hunger pains.
Cranberry Swizzle Stick
Pretty cranberry swizzle sticks were made with organic cranberries and rosemary. Just strip the rosemary leaves off the bottom of the stem. (Save the leaves for use in stuffing, etc.) Use a toothpick to create an easy opening in the cranberry then insert the sprig of rosemary. It's festive and fragrant.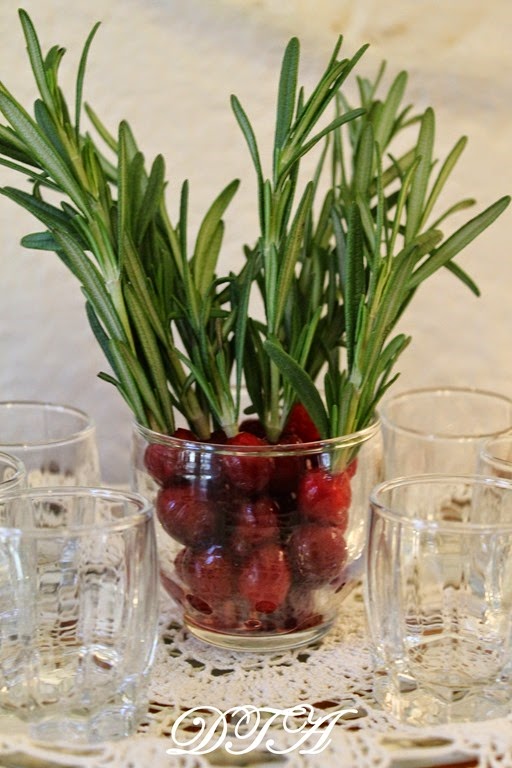 This years signature drink is one part Cranberry Cordial to 7 parts sparkling water. Add two ice cubes and top with a cranberry swizzle stick. Delicious!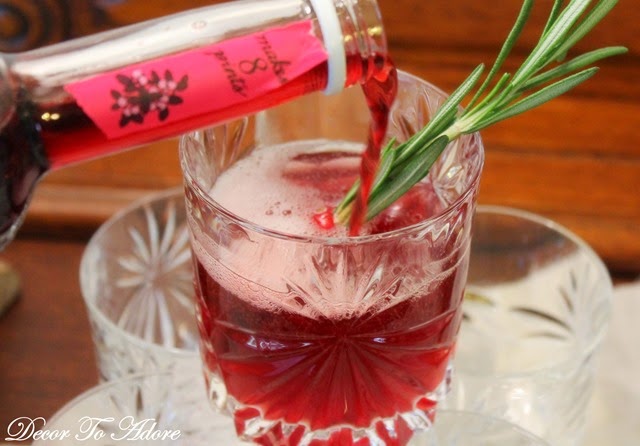 There is truly something for everyone.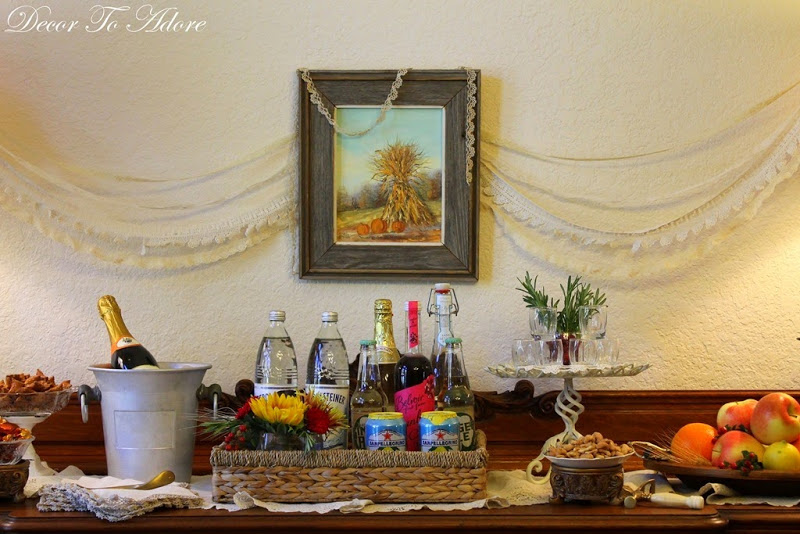 The artwork was purchased at a garage sale for $2. The antique lace streamers came from Grandma Jingles. They are a nice contrast to the rustic frame.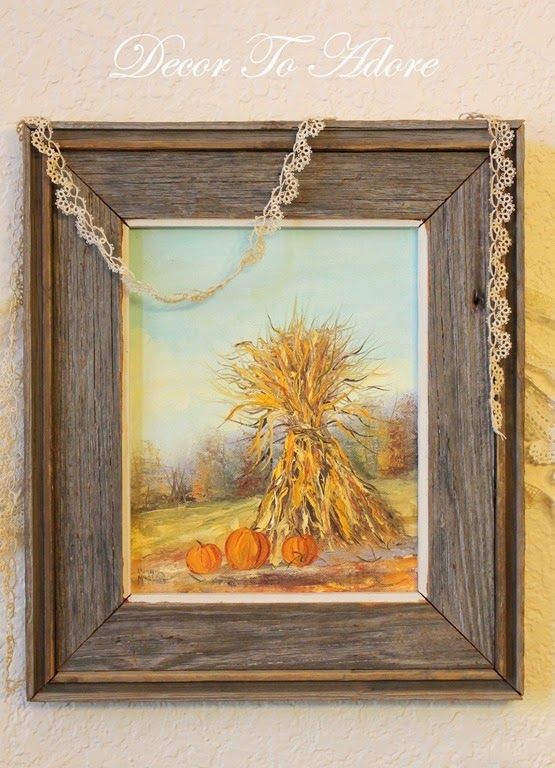 Baskets, bowls, and glassware: HomeGoods
Hammer bottle opener: Anthropologie several seasons ago.
Festive straws: Target
Assorted water, cider, soda, flowers, and food: Traders Joe's
Cranberry Cordial: Jolly Grub
Now off to decorate the table….
Laura
You might also enjoy a Thanksgiving Feast For Four.