Welcome to the One Room Challenge Week 6 The Family Room Reveal. I can't believe how fast time has flown by. It is an absolute MIRACLE that this room is being shown today. We actually just moved in on Halloween and I am still unpacking. If you are visiting Décor To Adore for the first time you can see the room's progress week by week below:
Week 1 / Week 2 / Week 3 / Week 4 / Week 5
Since we received the keys 6 weeks ago our 30-year-old home has welcomed us with a few gas leaks, a backed up main sewer line, mice in the attic, sketchy electrical wiring and a raging case of strep throat for me. But all is now well…for now.
Welcome to our Family Room.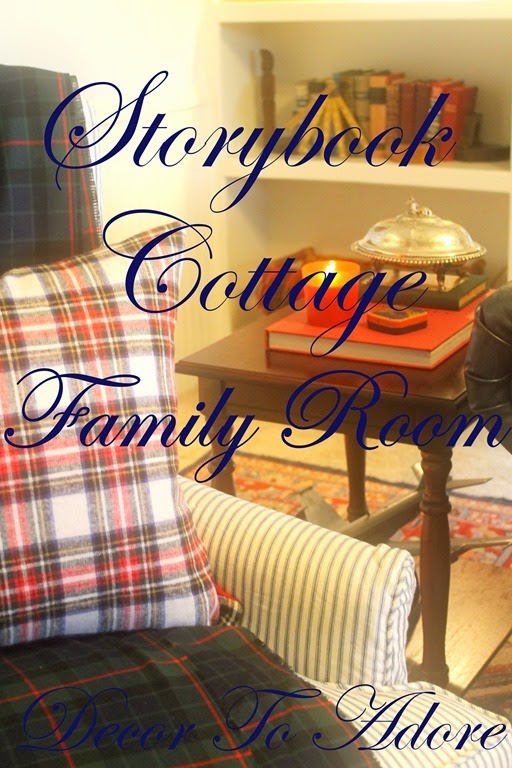 One Room Challenge Week 6 The Family Room Reveal
Remember what it used to look like?
These were the professional real estate photos that were taken for the listing. Without the lighting tricks, it was even more dark and gloomy in person.
Shades of brown, brown and oh yeah, brown!
Needless to say, we lightened things up. Drumroll, please….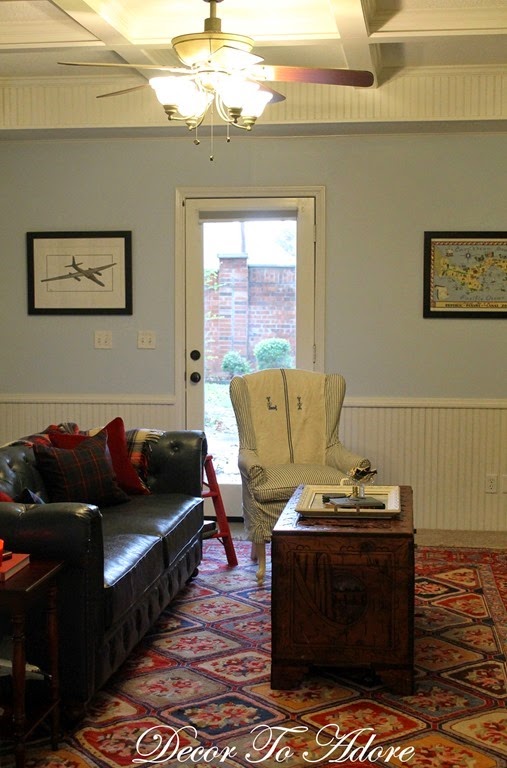 Every corner received a makeover.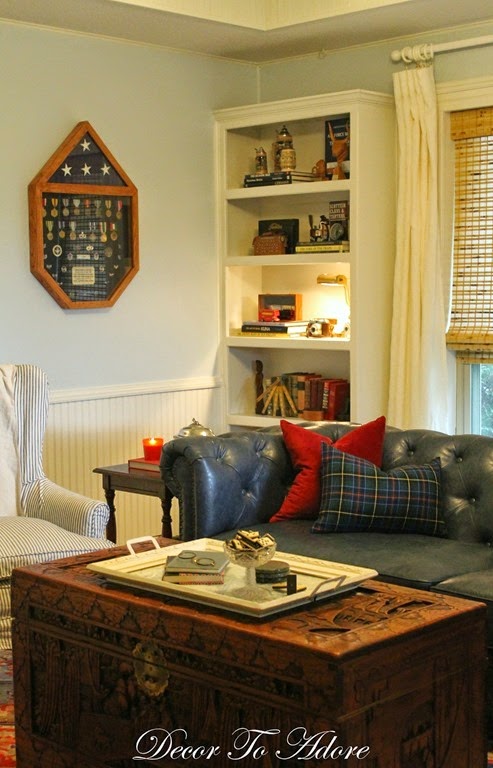 The blue leather Chesterfield sofa pairs happily with the estate sale rug.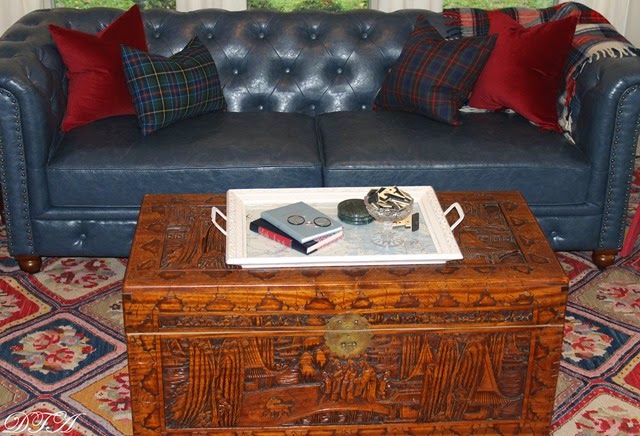 As well as the antique Chinese chest which is a family heirloom.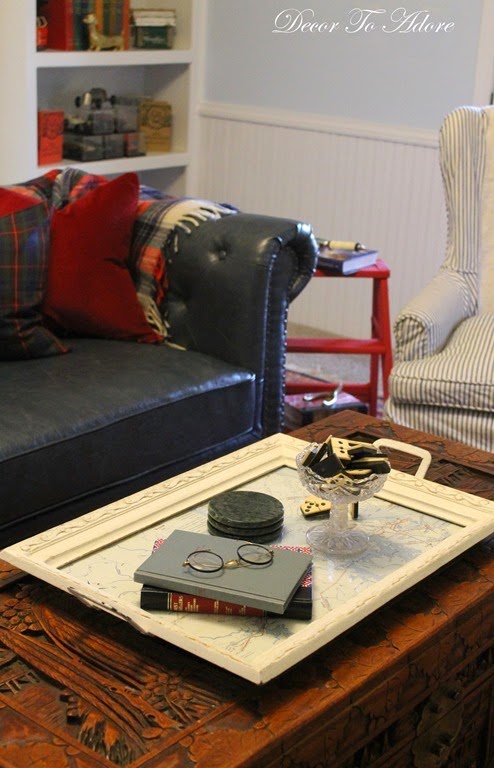 It's topped with a tray that features a Panamanian map which is where Mr. Décor was born.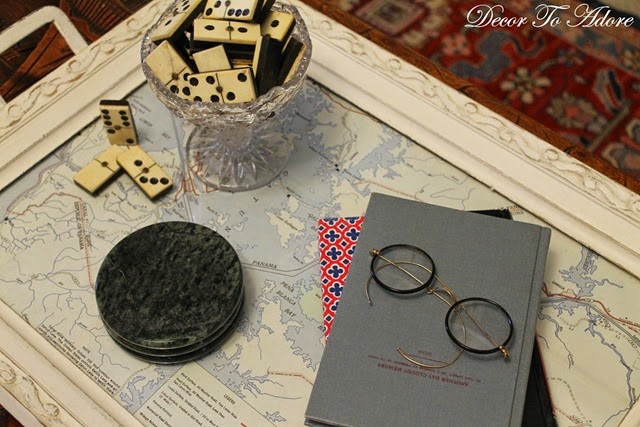 Happy little memories gathered together.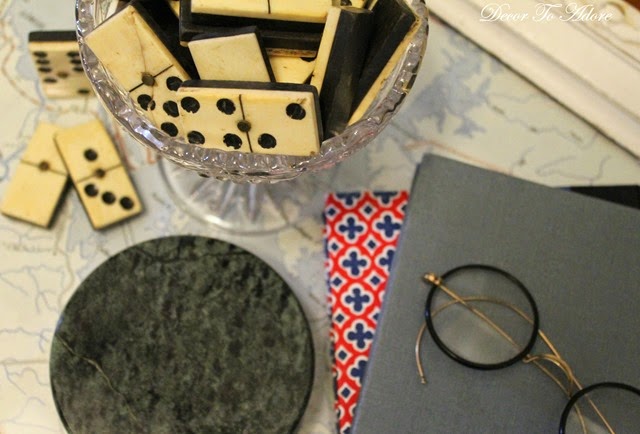 Sweet Guy asked for "lots of red in the room".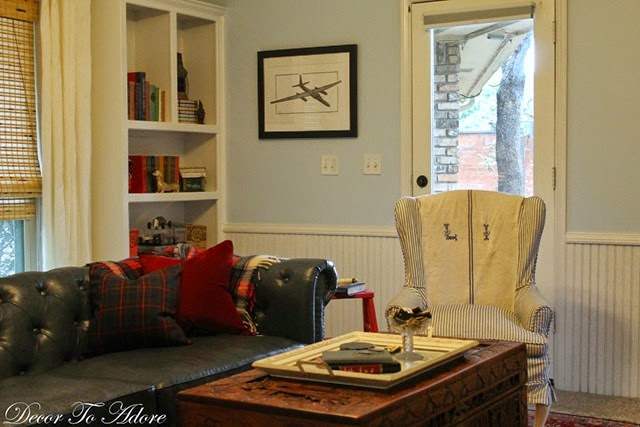 Longtime readers might recognize the wee stepstool now used as an end table. It received a new coat of red paint.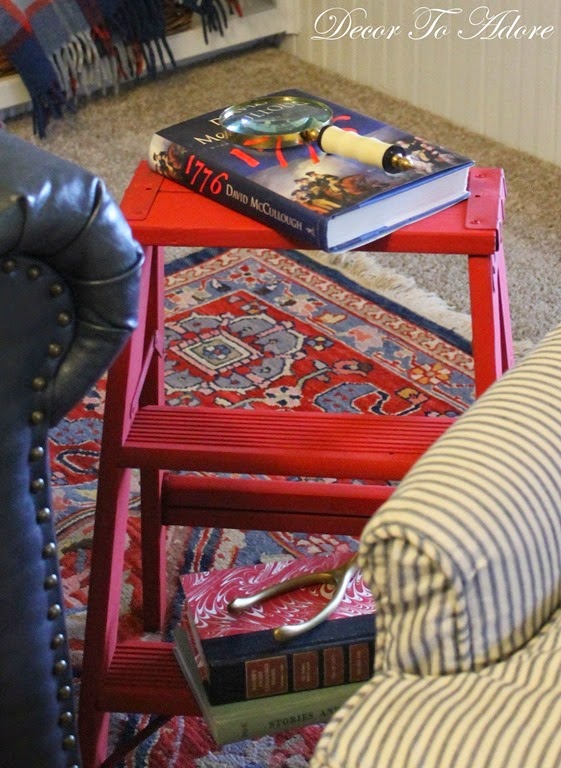 Built-Ins
The built-ins were such fun to decorate.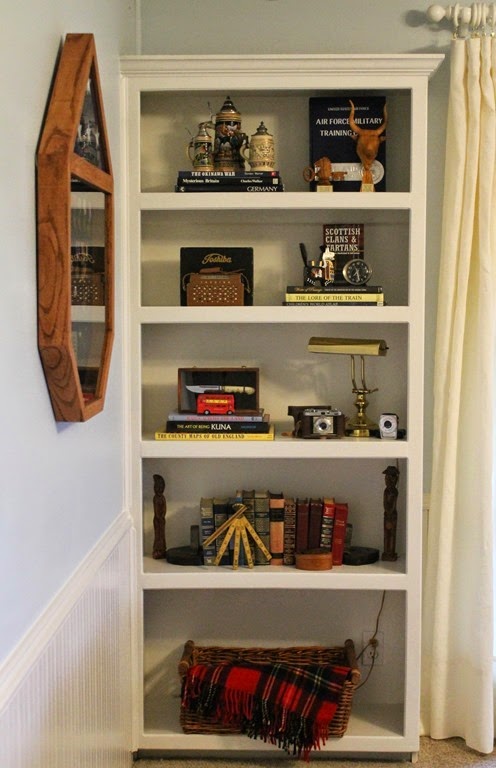 They hold favorite books and treasures.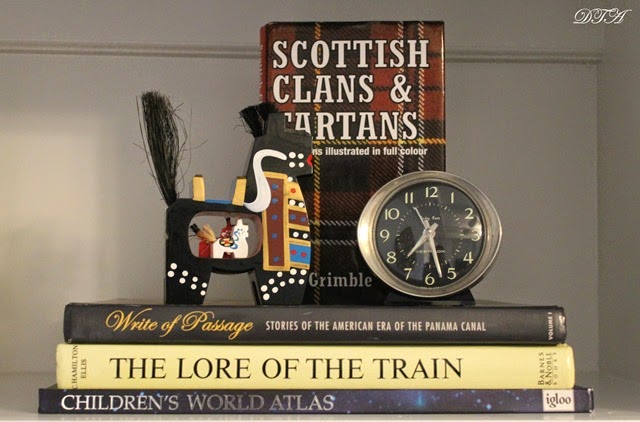 The bookcase on the left represents Mr. Décor.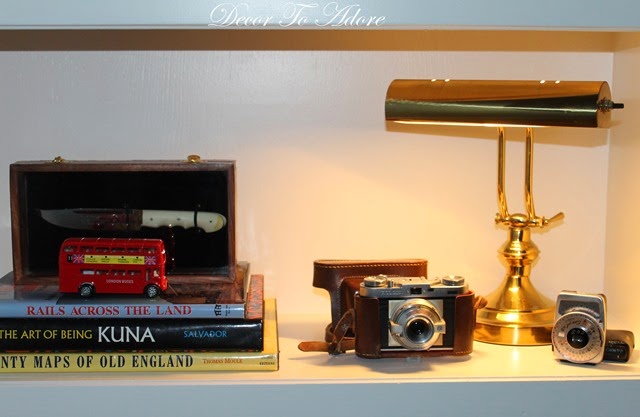 Small trinkets from generations past were also included. The radio belonged to my Grandpa Ingalls and still works.
The bookcase on the right embodies Sweet Guy.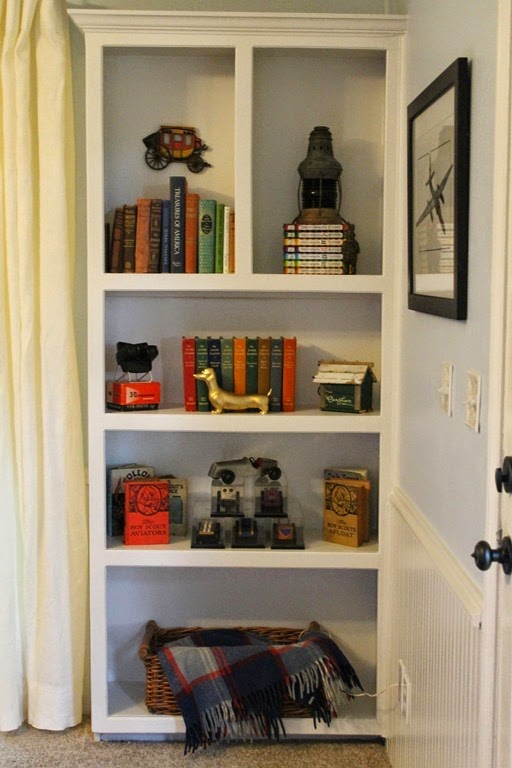 It includes Great Grandpa Gunn's old Panamanian lantern and a happy clown bank that belonged to Mr. Décor's mother.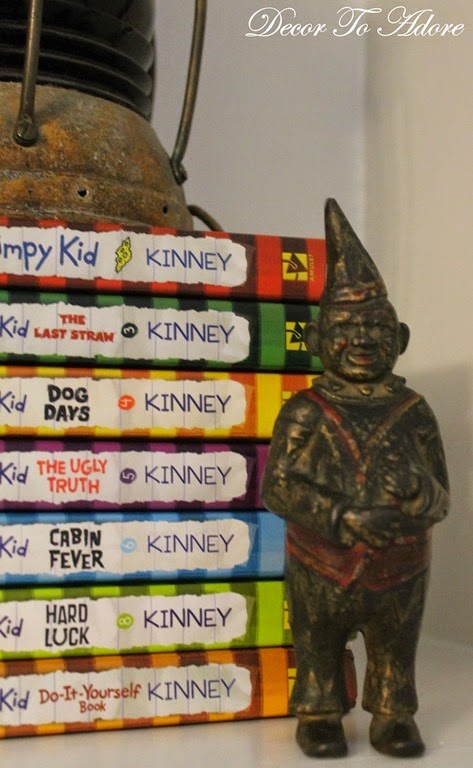 They are joined by a vintage 3D viewer that belonged to my mother, Karen.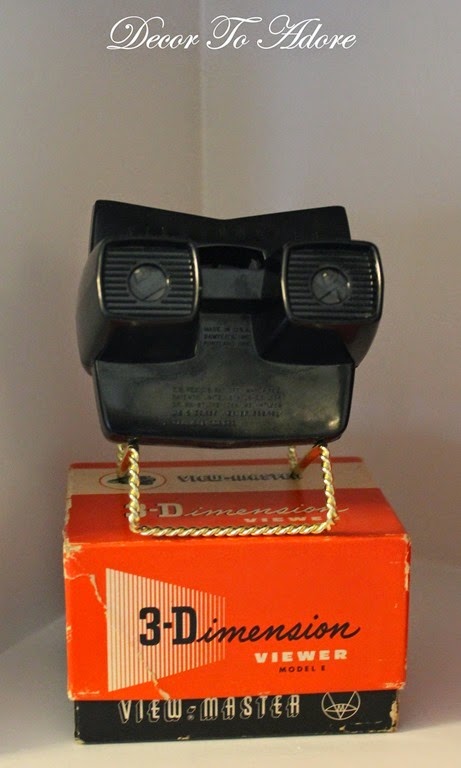 Window Treatments
Simple linen drapes (from our former living room) and new bamboo blinds let other elements in the room shine.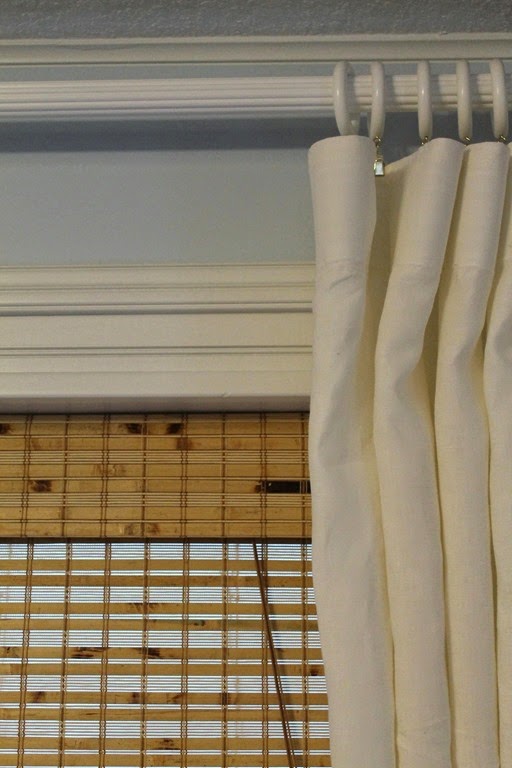 Such as the tartan pillows and throws which are a nod to Clan Gunn and a perfect touch for the holidays.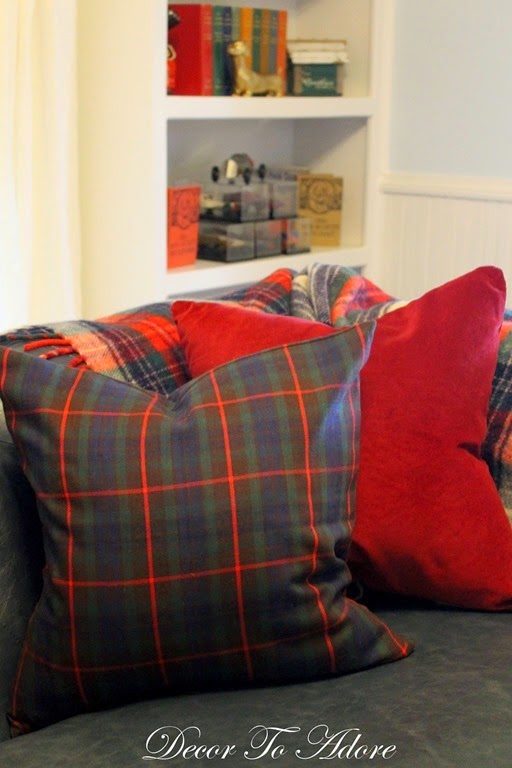 An accent of silver reminds us of the dear nanny goat that lived at our home on Crete (Greece). The Panama tin used to contain typewriter ribbon but it is now repurposed to hold matches for the softly glowing candle.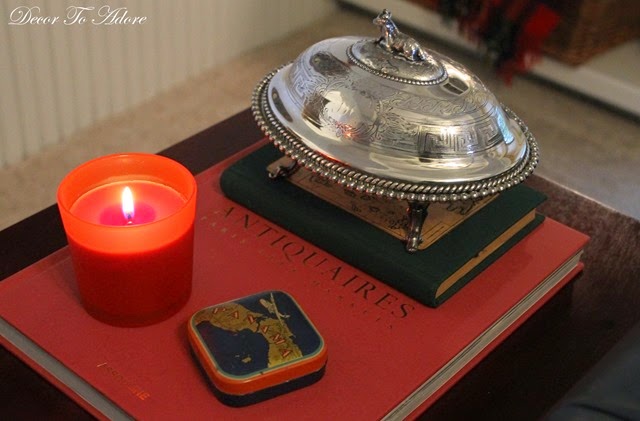 It truly is a room that tells our story.