Hello everyone~  Laura refers to me as Mr. Décor in blog land, but to everyone else I'm Eric.  She asked if I would like to join the "My Favorite 5" party with my own favorites as a way of keeping in touch since once again I am on the road on our anniversary for the second year in a row. 
My life is a bit of an open book as things I build or projects I help with are often shared on the blog.  So I thought on our anniversary it would be fun to share five favorite events from our personal life. 
1. The Wedding (16 years ago today)
You have seen this picture before, the joining of a family; a novice and two strong women.  The story behind this picture is Laura agreed to marry me with the understanding that we would be stationed overseas within 5 months and live there for 4 years.  This was her first trip to Europe and first time in a country that English was not the primary language.  Our first posting was to the Greek island of Crete.  Laura and Alyssa followed me a few weeks later transiting through Athens.  As they waited for the connecting flight Laura figured they would do some quick sightseeing of the Parthenon and Acropolis.  They hopped on a bus not knowing where it was going. Of course it was going the wrong way.  But they turned on the charm and got turned around by some Good Samaritans and were able to see the sights plus make their connecting flight.  Once I heard their story, I knew my adventures had just begun…
2. The Today Show
We had moved from Crete to Germany and were blessed with healthy baby boy a month early no less.  Sweet Boy, now Sweet Guy (and will probably be called Sugar Daddy later on) started life at just a smidge over 5 pounds, hence a "sweet 5 pound bag of sugar".  Now you get the "Sweet" references.  At two weeks old our family in America received their very first glimpse of him on a Today Show segment hosted by Ann Curry.  (The NBC network was doing a story on the Afghanistan humanitarian food drops staged at Ramstein AB Germany.)  Laura handed our baby over to Ann who could barely stand how tiny and sweet he was in his star spangled suit. We ended up as part of the baby intro segment of the show. Hello World.
3. Getting Piped Out
I decided to retire from military service after 21 years.  Most people have a quiet ceremony with a few coworkers and immediate family, but I believe protocol allows for a parade or pass-in-review from the unit assigned.  I opted for a Bag Piper from the Air Force Band. Scott Gunn, who has performed for the President, also happens to be a distant cousin. For the ceremony Laura carried on the Scottish theme as she and the kids wore the Gunn tartan. She also had plaid and Scottish thistle corsages made for my mother, step mother and sisters. We had great fun at the after party, which also had a Scottish theme. The highlight of the evening was when we had a chance to try and get the pipes to make some noise.  Laura's attempt still makes my knees weak every time I think of it. LOL!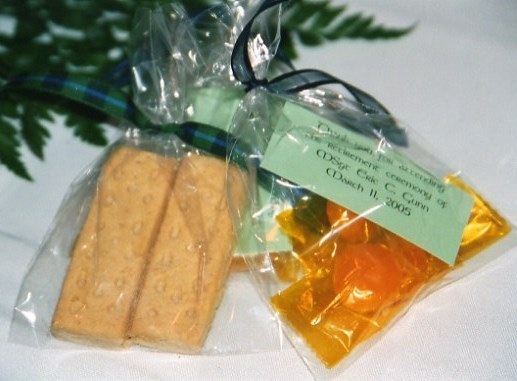 4. The Graduation
I'm so very proud of Alyssa's ability to overcome the constant change she experienced by being a part of a military family. Our first year together required Laura to take on the role of homeschool teacher to guide her through 4th grade. The following year was in Germany. Three years later we were in Georgia and three years after that we moved to Arizona. I realize it was hard on her to be the new kid, especially moving to a new high school. Alyssa is now a graduate from ASU and has life experiences kids her age dream about. The world is her oyster with pearls yet discovered.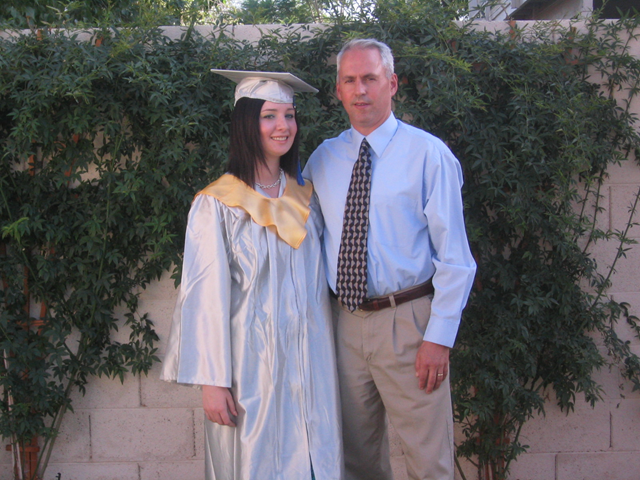 5. Sweet Guy completed 5 years of Cub Scouts and satisfied the requirements to earn the highest award a Cub Scout can earn, the Arrow of Light. A local Boy Scout troop presented this award during his cross over ceremony into Boy Scouts. His presentation arrow and display holder were hand carved on my wood working bench. I had volunteered to be the Cub Scout den leader when we first joined and held that privilege for the next five years. I think I had as much fun as the boys in the den did. I discovered early on that being involved with scouts allowed me to spend more time with my son during his development years. Not to mention fond memories of: camp fires, pulling cactus needles out of his shoe, the tent collapsing in high winds, trying to sleep while the coyotes are howling or the elks are bugling, and…you get the picture.
These are five of my favorite experiences that Laura has given me by saying "Yes" when I got down on one knee over 16 years ago.
Thank you Mr. Décor for the beaming light you have brought into my life. Dear readers now you know why I am always looking at him like this:
Happy Anniversary Mr. Décor!
Laura