Quite a few of my friends say that Sweet Guy's room is their favorite room in our home. But I've never shared it before on the blog. He didn't want me to. Sometimes my kids or Mr. Décor will do/say/create something SO great, but they want to keep it to just us. I respect that. But recently Sweet Guy decided his room was ready for the blog.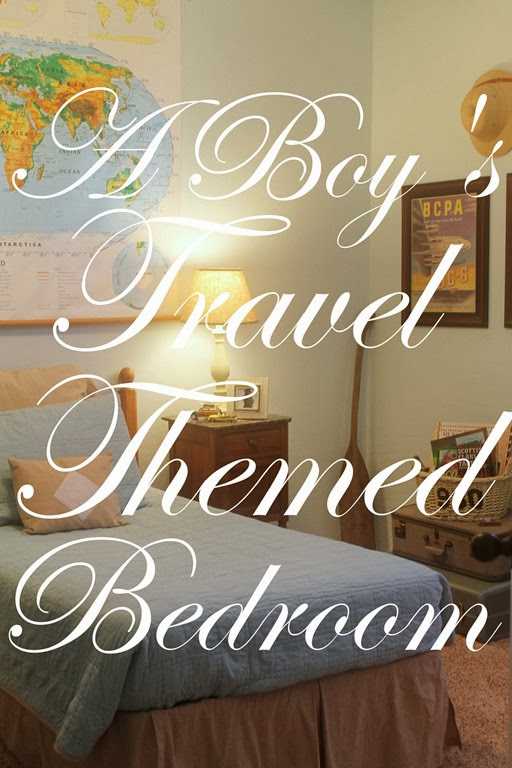 There is SO much wonderful goodness in this room that I am kind of giddy at the thought of sharing this space.
The bedroom to his door is at an angle and this is the first glace. You can see his twin bed with the headboard I found at a second hand shop, his large world map from the Rose Bowl flea market, and a single oar that belonged to my dad Norm's rowboat many, many years ago.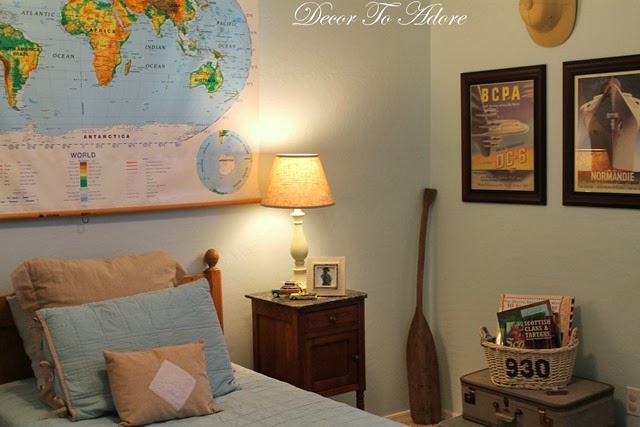 Right next to the bed is a nightstand I bought in Germany at a flea market. It's topped by a lamp that was once brass but I painted and stained the base, then added a linen shade from HomeGoods. The frame contains my all time favorite photo of our boy,  age 3,  wearing lederhosen (he was born in Germany). It's joined by two vintage cars.
Underneath on the nightstand is a shelf that contains a frame holding a post card of Jesus that belonged to me as a child and a baby shower gift of artwork that reads "We prayed for this child. ~ 1 Samuel 1:27".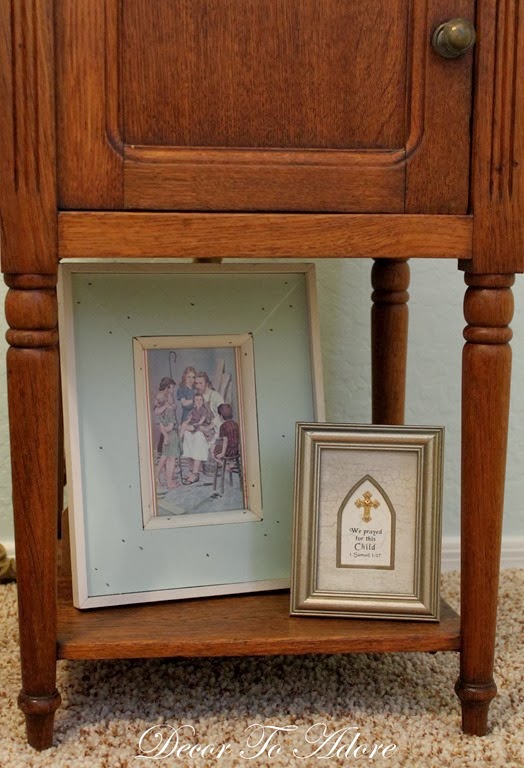 On the wall nearby are two pieces of travel themed artwork (found at Kmart no less) and a pith helmet. Every great adventurer needs one. This also came from the Rose Bowl.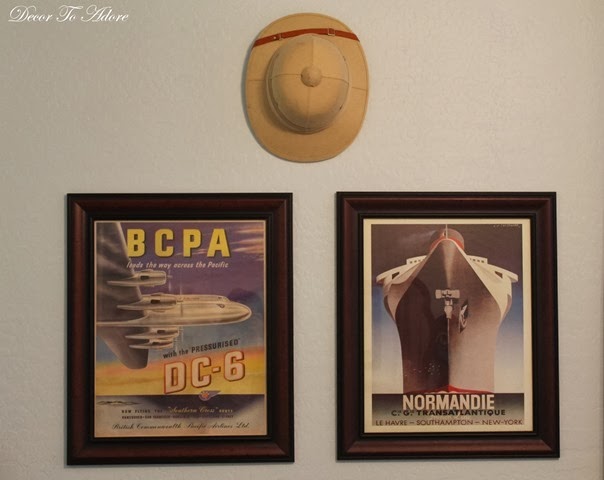 Underneath the prints is a stack of old suitcases from the flea market topped by a basket of favorite books. I painted the basket a few years ago and it's now getting good and chippy. The 930 references his date of birth, September 30th.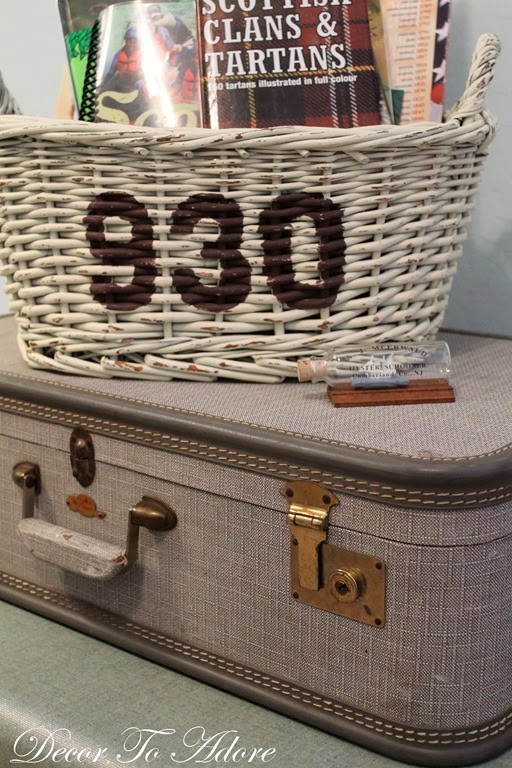 The only window in the room is a tiny, oddly placed specimen located next to the closet. Pottery Barn linen drapes can block out the light beautifully.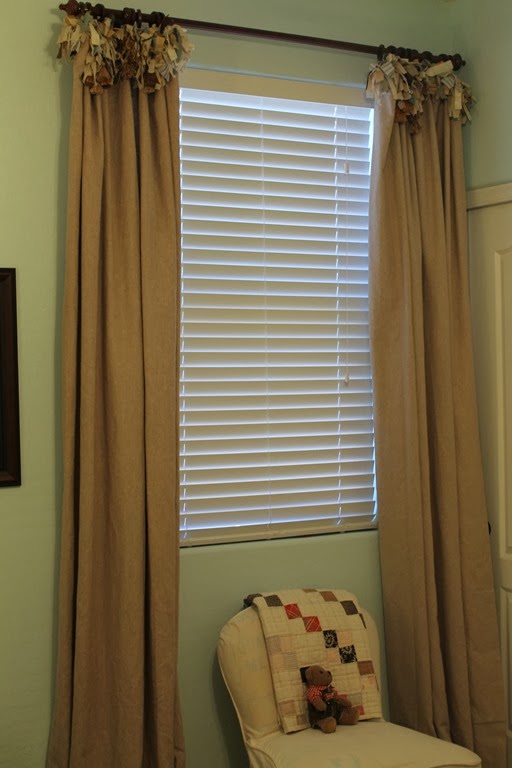 Every room needs a chair. This one used to belong to my Grandma Mary and then sat in my childhood bedroom. A few years ago I slipcovered it in old corn meal sacks given to me by Grandma Jingles. Cousin Linda did the quilting on a old topper made by my great Grandmother.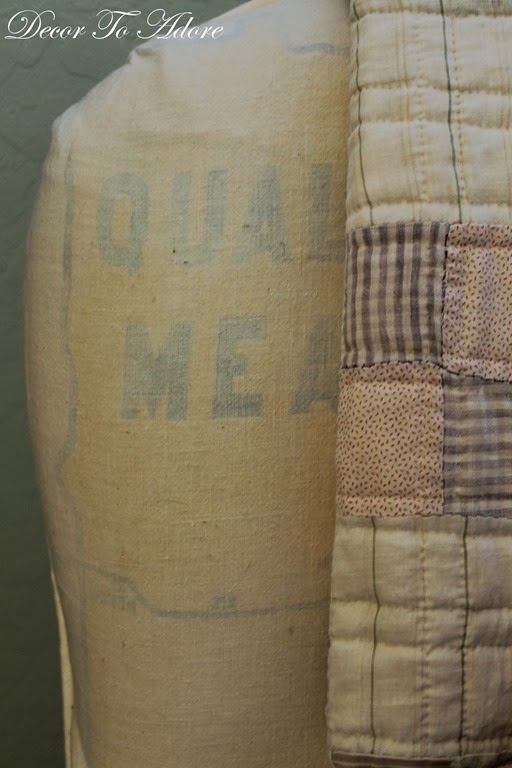 On the opposite wall sits his dresser that I purchased over 20 years ago in upstate New York.
Twenty years later and I am STILL in love with it.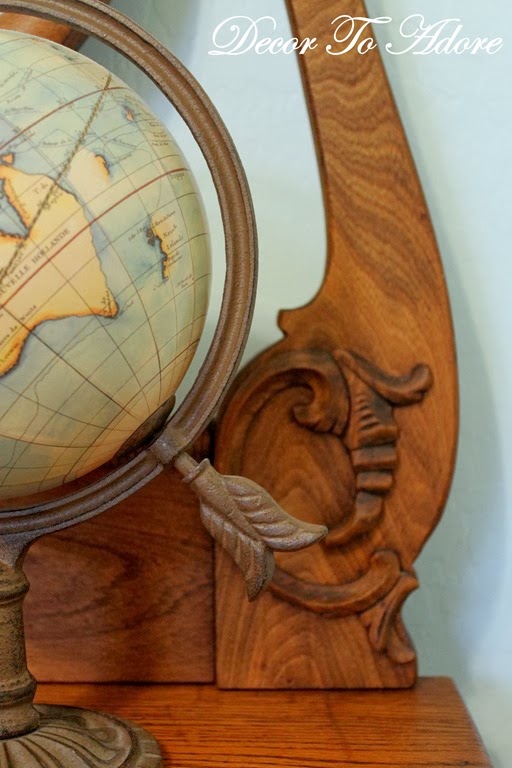 It's topped with his collection of world flags that rest in an old canning jar filled with vintage marbles.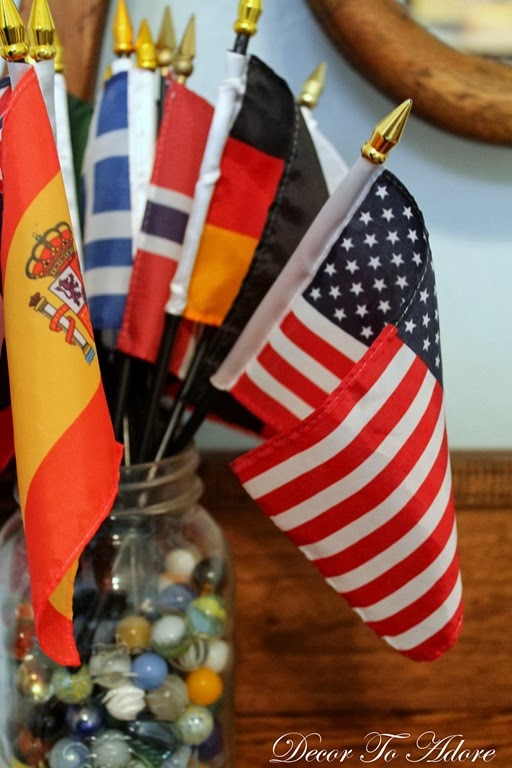 He is a bow tie man and wants to add to his collection. I bought the dachshund ring holder at Homegoods for his sister first and then had to find a second one when he expressed disappointment in not getting one too. 🙂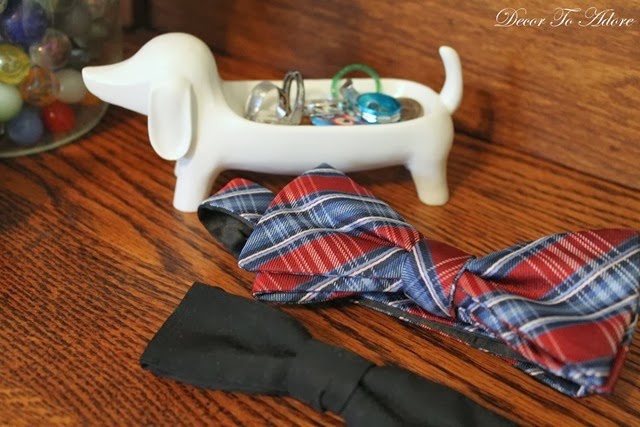 Next to the dresser is his Arrow of Light~ it is the highest award you can earn in Cub Scouts. His den leader whittled  the wooden shaft from a tree branch and it has an actual antique arrow head. The den leader also made the wooden shelf that holds it. Did I mention that his den leader is Mr. Décor? The man is amazing!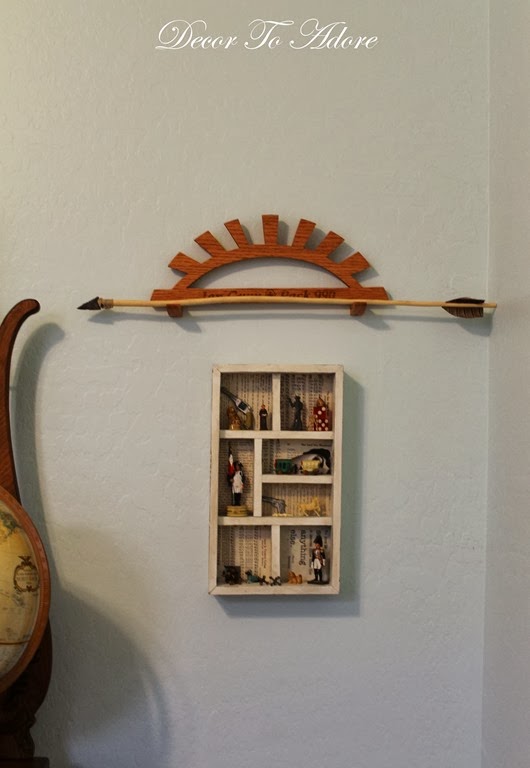 Underneath is a shadowbox I made. From the time Sweet Guy was small I have taken him with me to flea markets, thrift shops and estate sales. The secret to good behavior at such places is placing a few coins in the palm of their hand with the instruction to "Stay close, but search for a treasure."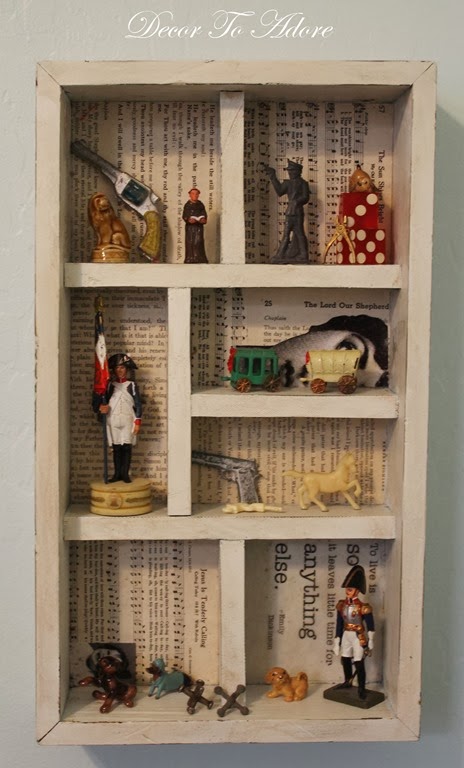 He has a fondness for animal figurines, soldiers and just look at the world's smallest pair of pliers!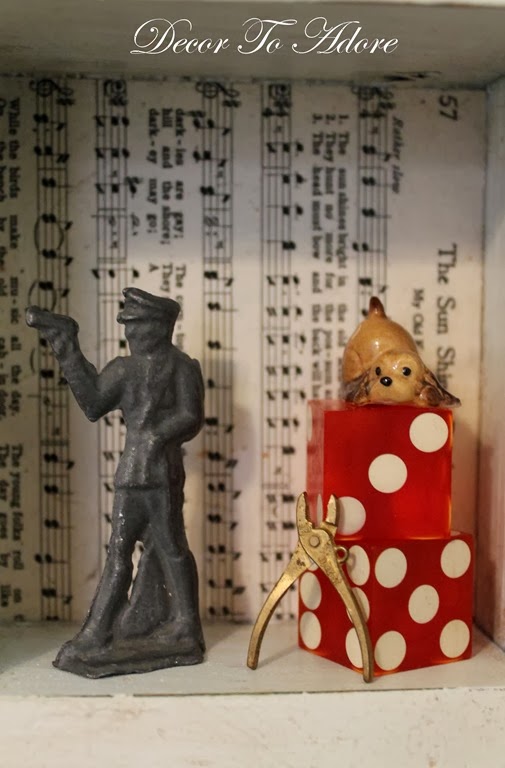 I adore the vintage French soldier, antique metal circus cage and covered wagon. Most people are a bit shocked to see so many guns. Then I remind them of our last name.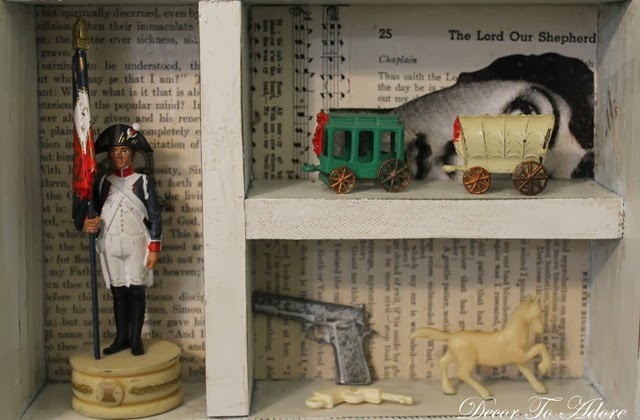 On the other side of the dresser, near the door is a wire frame filled with travel themed postcards. Can you see the card with the half timbered house hiding behind the old church postcard on the left hand side? It was the first postcard Mr. Décor ever sent me. We were dating and he was on a temporary duty assignment in England.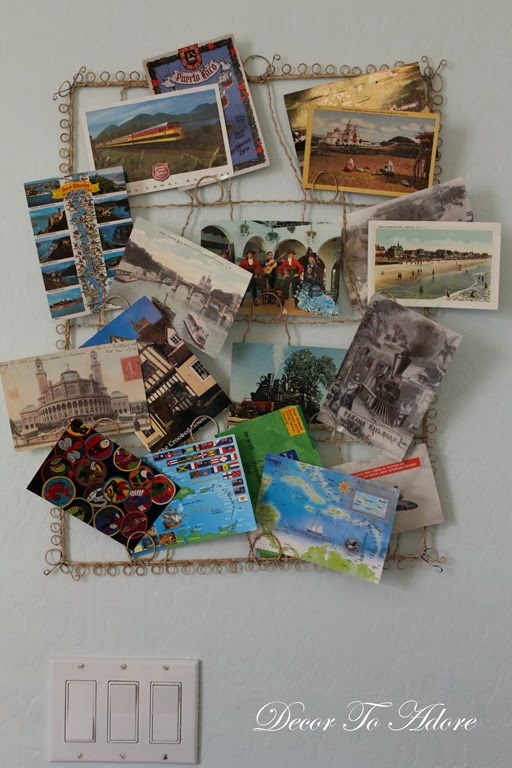 On the small wall on the other side of the door, which is hidden when the door is open, are two heavy duty hooks. Sweet Guy hangs his coat or backpack on one and on the other hangs a banner Mr. Décor bought while stationed in Japan, my Papa Jack's circa 1940's camera and a tomahawk our boy recently purchased when we visited a sacred Native American reservation. (I'll share that wonderful experience with you soon.)
I think that when you collect things that really speak to you or tell a story then over time you end up with a space that is truly your own. I have ALWAYS bypassed the common t shirt or shot glass while on vacation and searched for something that would really capture a memory. I have taught my children to do the same.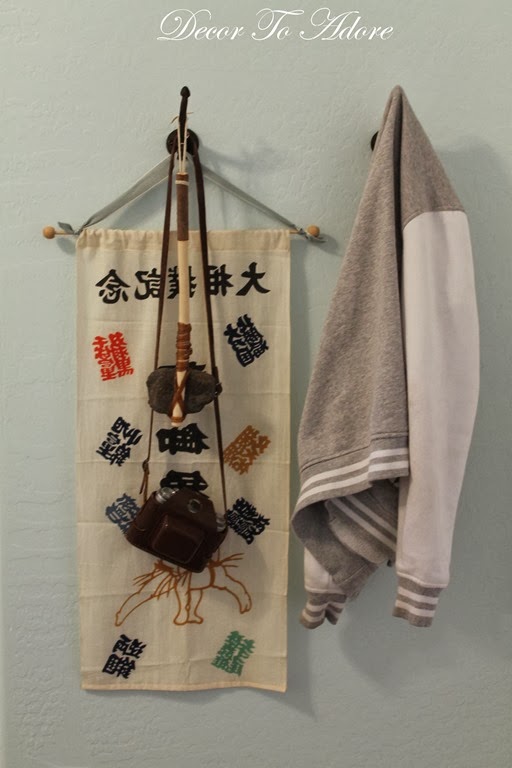 So why did our boy decide that he was now ready to share this space? Well, it will soon be changing. Mr. Décor has been working at stripping multiple layers of paint off of an antique double bed. Then it will be time for me to add my touch with new bedding and accessories.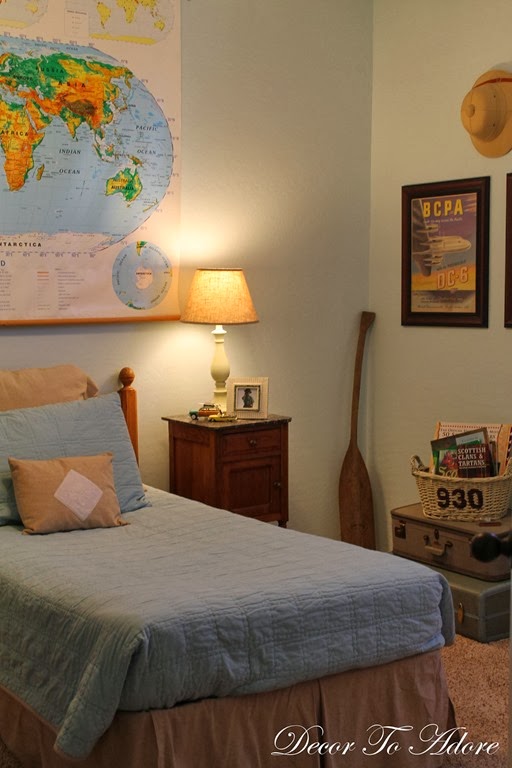 Where would you travel to?
Laura
Update:
We updated the space in May by transforming an antique bed and bedding we already had. See all the details HERE.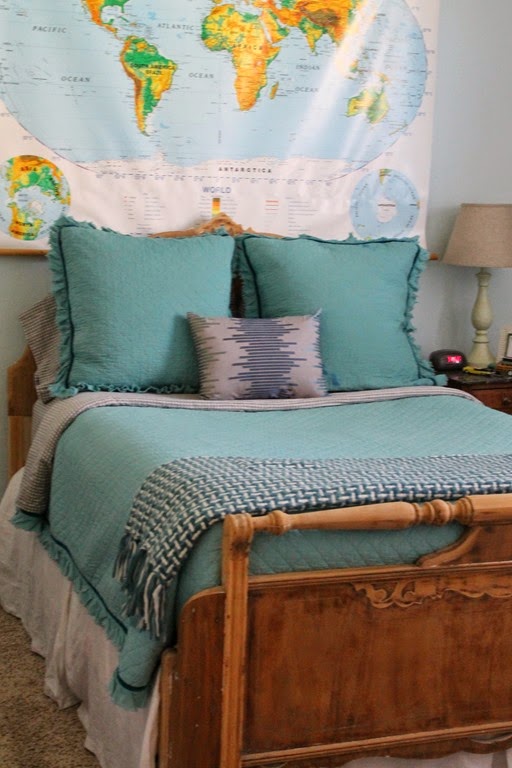 Linking to: Tip Junkie