I know for some people it may seem as if I am cutting this project close to the wire. But in days of old and still today in many other countries the first day of Christmas will begin tomorrow and continue through the 12th day of Christmas on January 6th~ Epiphany. So, I'm ahead of schedule by that calendar.  One Last Holiday Project and A Special Christmas Story.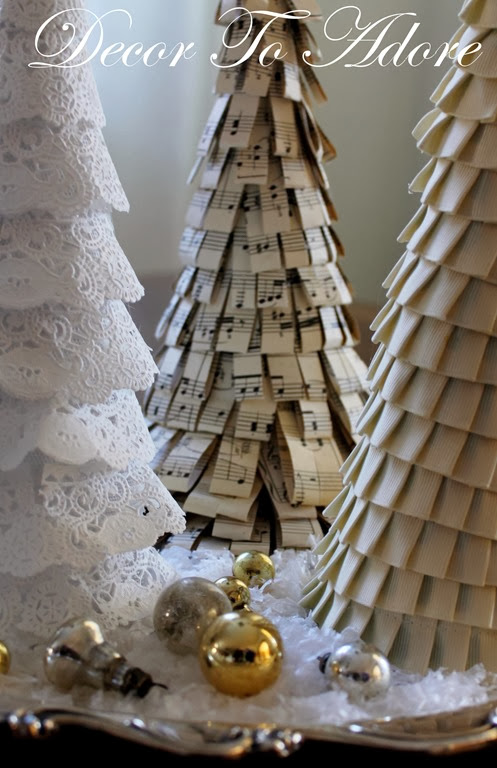 One Last Holiday Project and A Special Christmas Story
When I hosted my Perfect Cookie Exchange I encouraged the ladies to also bring along any Christmas décor they no longer used and we would have a swap. As I was cleaning up after the party I noticed a few green tinsel trees in the remaining swap pile and thought "I think I can transform these."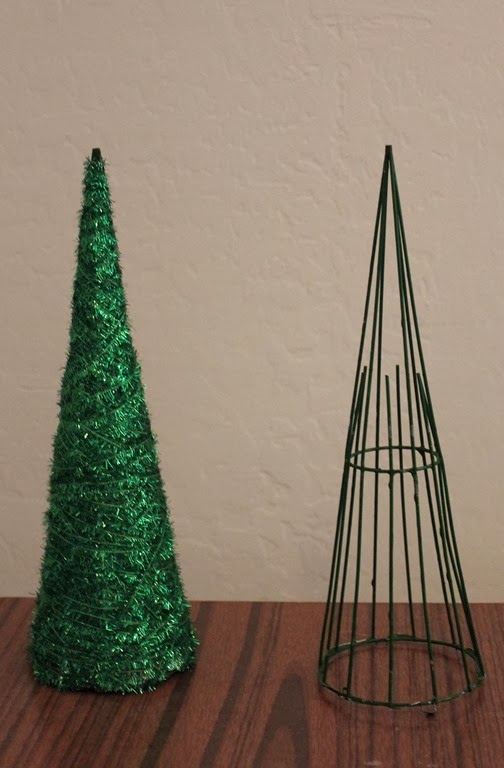 On the first tree I simply hot glued on pre ruffled ribbon that I had purchased awhile back at Hobby Lobby. It was topped by a pearl button. This transformation took less than 5 minutes. The next tree was created simply by hot gluing on loops of old sheet music. While this took a bit more time, it was just as easy.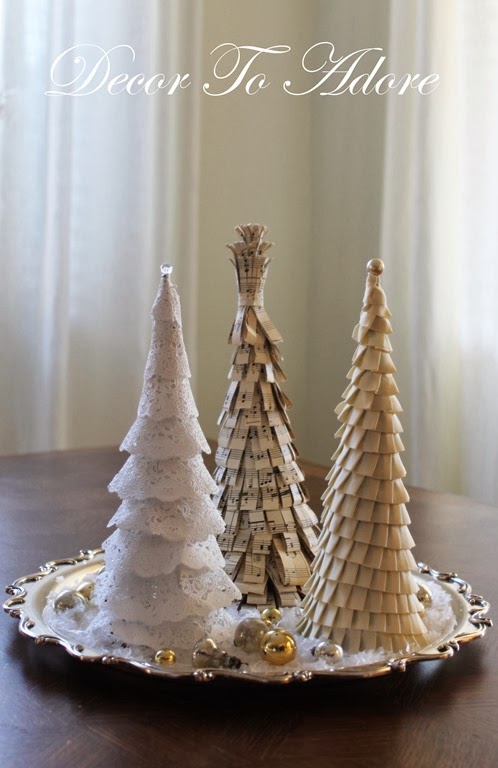 The last tree is my favorite. I stripped the green tinsel off of the wire base and then wrapped it in a rectangular doily adding a bit of hot glue to secure it.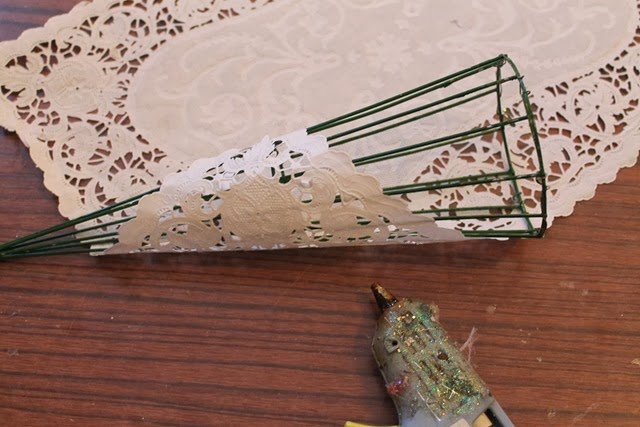 Then I took some round paper doilies and cut the centers out. I then hot glued on several layers of the lacey edge of the doilies.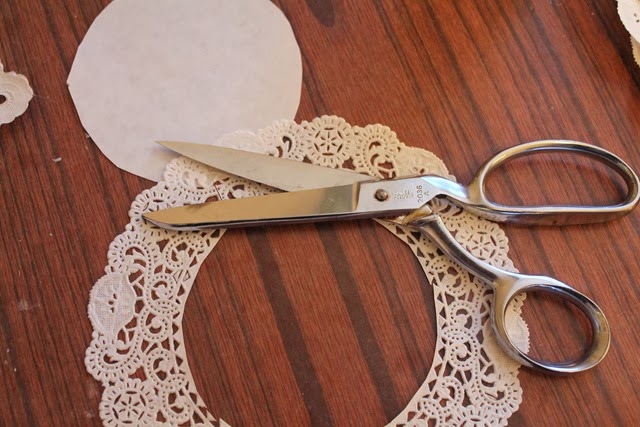 The magic happens at night with a battery operated votive candle. (Do not use a regular candle as it could be a fire hazard.)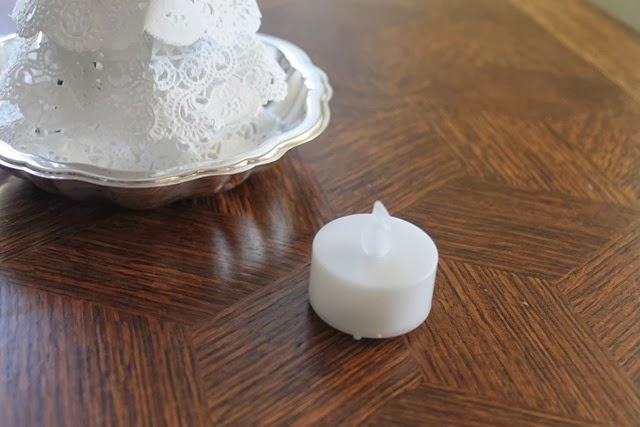 A pretty, shining light for all to see.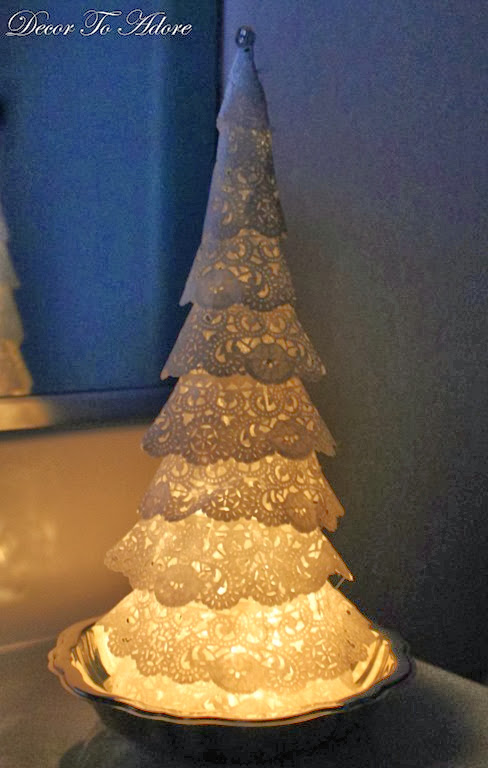 Now I am going to tell you a Christmas story.
On Sunday morning our family went to church just as we often do. On the entry table in the narthex were pretty postcards that listed all of our church's special Christmas Eve service times. I picked up a total of 5 cards and placed them in my purse. When we got home I announced that I was going to go pass out the cards so that I didn't forget.
I passed the cards out to our neighbors that live on either side of us and across the street. I had one card left. That is when I noticed that the screen door was open on the home of a lady who lives diagonally across from me. We often wave to one another as I walk my two dogs. But, other than that, I do not know her.
It might be hard for you to fathom but I am by nature a somewhat shy person when you first meet me. Reserved. Quiet. Both are good adjectives to initially describe me. 
As I held that last postcard I felt a nudging to go to her house. I resisted. But the nudge grew stronger. I thought to myself, "Why not go home and get some cookies. Then there will be an excuse to show up on her doorstep unannounced." My Jiminy Cricket told me I did not need cookies. I had what I needed in my hand. So I began the walk up to her driveway.
I called out "Knock, knock! It's your neighbor." She came to the door. I stammered a bit and finally said "I wanted to invite you to our church on Christmas Eve. Here is a postcard with all the times of our services."  She looked at me a bit shocked. I could feel the warmth crawling up my cheeks. How I wished this could be easier for me. Then she spoke.
"My mom died on Friday. I've been thinking about going to church but I didn't know of any. Thank you very much for this."
I couldn't speak, I just closed in and hugged her.
Jesus, in all His glorious perfection, had done it again.
Merry Christmas to you and yours!
Laura
"When they saw the star, they rejoiced exceedingly with great joy." ~ Matthew 2:10
"May the God of hope fill you with all joy and peace in believing, so that by the power of the Holy Spirit you may abound in hope." ~ Romans 15:13
"You are the light of the world. You cannot hide a city that is on a mountain. Men do not light a lamp and put it underneath a basket. They put it on a table so it gives light to all in the house. Let your light shine in front of men. Then they will see the good things you do and will honor your Father Who is in heaven." ~ Matthew 5:14-16